Surfshark Antivirus: 2023 Review and Pricing Plans
You know about Surfshark's VPN, but how does its antivirus stack up against the competition?
Surfshark One comes bundled with a VPN, data-breach detector, and search engine
You can buy antivirus subscription as add-on to Surfshark VPN
Surfshark measures up well with other top-rated antivirus software. But see which names came out on top in our best antivirus software guide.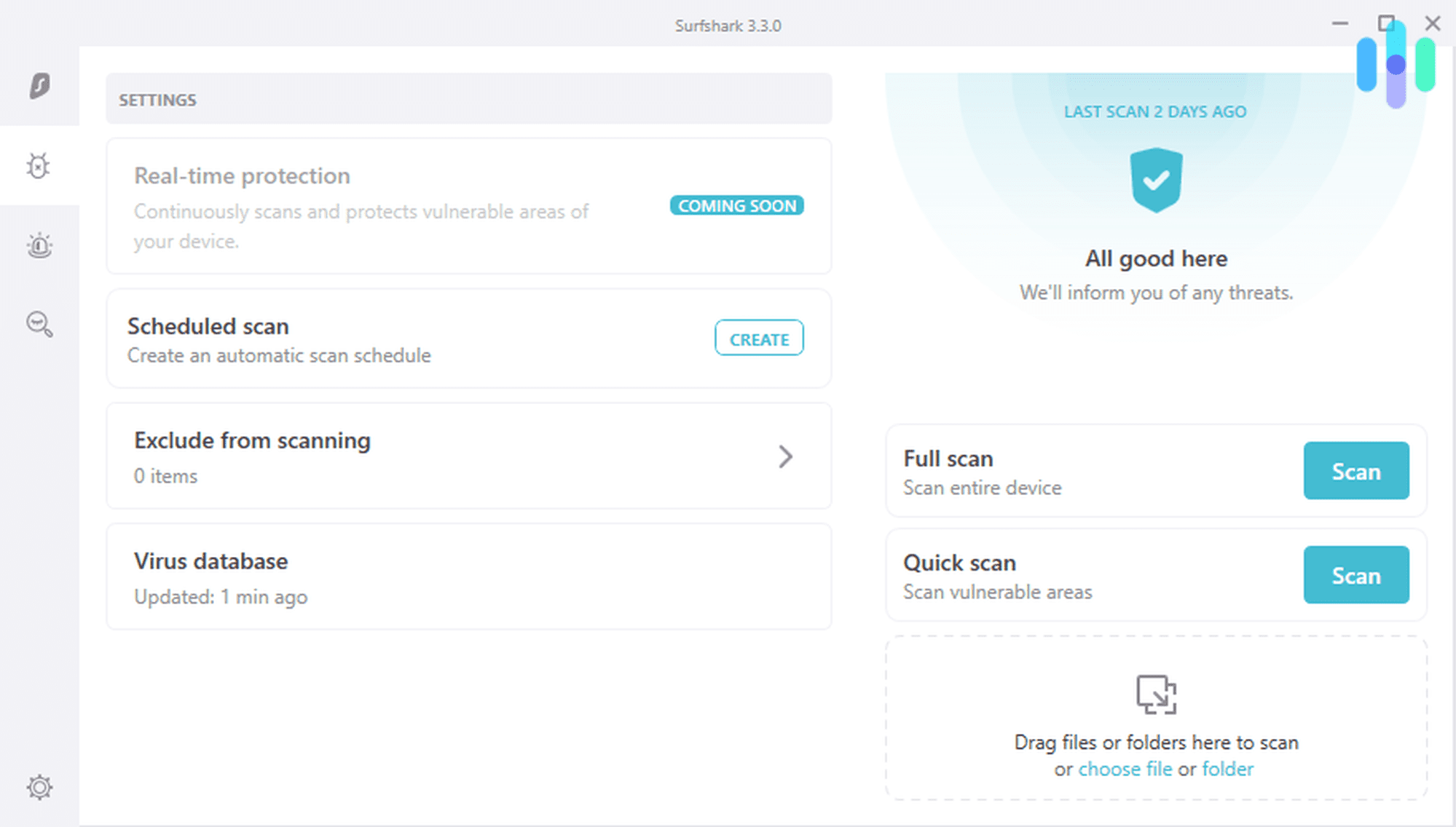 All of our content is written by humans, not robots.
Learn More
By

&

Last Updated
Jan 10, 2023
We've been singing Surfshark's praises for a while — as a VPN. We regularly place it near the top of our list of best VPNs. Recently, though, the company has begun bundling its own antivirus with the VPN, so we thought we should see what it can do.
Is it worth installing? How does it compare with other antivirus software on the market? As with all our analyses, we considered the price and overall value, put the antivirus through rigorous testing, and used it on our own computers. Want to know what we discovered? Keep reading.
Surfshark Antivirus Costs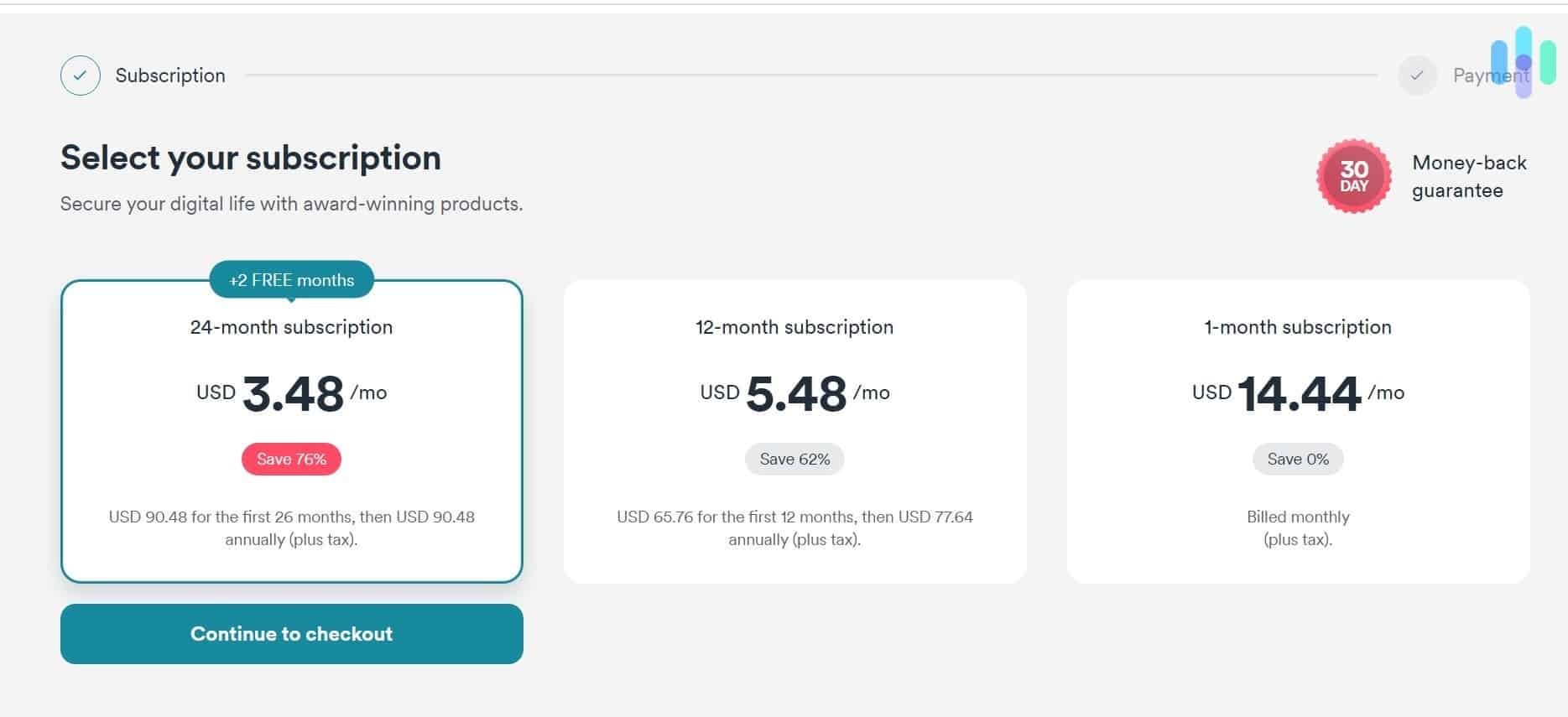 First things first: You can't get the Surfshark antivirus as a stand-alone product. It's available only when bundled with the company's VPN. When you sign up with Surfshark, you get four products in one:
VPN
Antivirus
Breach alerts
Search engine
That means you're getting even more value. What will you pay, though, for a Surfshark subscription?
Surfshark prices are based on what commitment you're willing to make. For people who aren't sure whether they want to be locked into a long-term contract, the company offers single-month plans at $14.44. The longer the contract you sign up for, the more money you can save. Here's a rundown of Surfshark's plans.
| Plans | Monthly cost | Annual cost | Annual savings |
| --- | --- | --- | --- |
| 1-month plan | $14.44 | $173.28 | 0% ($0) |
| 12-month plan | $5.48 | $65.76 | 62% ($107.52) |
| 24-month plan | $3.98 | $47.76 | 72% ($125.52) |
Note that prices for both the 12-month and 24-month plans rise to $77.64 for each additional year after the initial plan runs out.
Of course, signing up for a single month is often the best way to check out whether you like a service. You don't necessarily have to put $14.44 on the line though. No matter which plan you sign up for, Surfshark's 30-day money-back guarantee means you can get out of your contract if you decide the service isn't right for you.
Surfshark Antivirus Features
Now that you have a sense of what a Surfshark antivirus subscription costs, let's talk about what you get for your money.
Full-Service Malware Detection
Of course, the most important job of an antivirus is to detect viruses. Surfshark antivirus is designed to detect all types of malware, including:
Viruses
Worms
Trojans
Adware
Spyware
Ransomware
A Deeper Dive: Ransomware is a type of malware that takes over individual files or folders and denies access to them until you pay a fee to get them released.
Three Types of Scanning
Surfshark antivirus gives you the option to run three kinds of malware scan. First, you can run a quick scan, which examines files in your Documents, Downloads, and Desktop folders. For even more peace of mind, you can run a full scan, which looks at absolutely every file on every drive on your device. Finally, you can run targeted scans on single files or folders.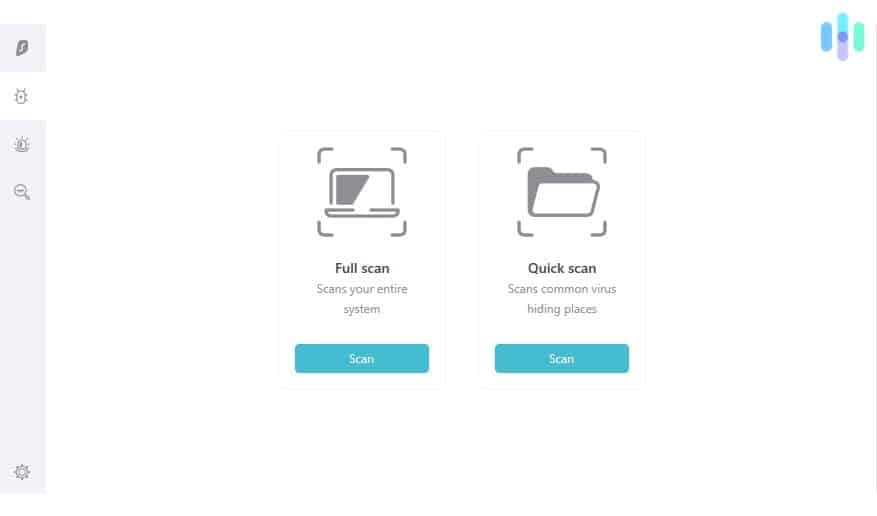 Lightweight Design
Surfshark gives you the option of scheduling a scan whenever you like. We usually pick a time in the middle of the night, since we're not likely to be using our device for anything else. The great thing about Surfshark is that it doesn't really matter when you run your scans. The antivirus is designed to be lightweight, so it doesn't interfere with normal device operation. The program itself uses a minimum amount of code. Surfshark also leaves out a lot of extras you find with other antivirus software, which means the antivirus can do what it needs to and you can do what you need to.
Real-Time Scanning
Surfshark also offers real-time scanning. The software's lightweight design means you can keep the antivirus running in the background and never worry it will interrupt what you're doing. It's the safest way to use an antivirus, since it means every file that comes into or goes out of your computer gets scanned. As a bonus, Surfshark uses a counting detection system rather than pop-ups. In other words, you don't have to stop what you're doing every time it finds a piece of malware on your device. Instead you simply check the counter once the scan is complete and take whatever actions you need to.
Daily Updates to the Malware Database
At least once a day, Surfshark antivirus connects to the Surfshark malware database to get information on the latest malware threats. That way you don't have to worry about some new piece of ransomware sneaking past your detection wall. You have the option to connect to the database more frequently, but once a day is enough.
Heuristic Detection
Malware databases help antivirus programs detect all known malware, but hackers can be tricky sometimes. They often release new versions of old viruses that traditional antivirus programs can't detect. Luckily, Surfshark antivirus also uses something called heuristic detection. In simple terms, the software doesn't just shut down known malware; it also scans files for suspicious-looking bits of code, so it can catch new malware even if it hasn't yet shown up in the database.
Multiple Suite Features
You don't get only antivirus when you sign up with Surfshark. You get an entire suite of programs, including a VPN, a data-breach detector, and a search engine.
Five Devices
It's hard to get by with just one device. Most of us have a phone, tablet, laptop, smart TV, and maybe even more devices. One of the nice things about Surfshark antivirus is that you don't have to buy a new license for all those devices. Surfshark lets you install the antivirus software on up to five devices. That's not quite as good as the company's policy on its VPN, which you can install on an unlimited number of devices. Still, it's in line with the industry average for other antiviruses. TotalAV Antivirus, for example, allows installation on six devices, just one more than Surfshark.
Multiple Platforms
Surfshark's VPN is available on a wide range of operating systems, including Linux, game systems, and smart TV systems. We were a little disappointed to find that the antivirus isn't quite as accessible. For now, it's available only for Windows, macOS, and Android. The company promises it's working to add more operating systems and platforms though.
What You Don't Get With Surfshark
Now that you know what you get with Surfshark, let's take a look at what you don't. In keeping with Surfshark's emphasis on lightweight software that doesn't slow your device, the company offers minimal extras with its antivirus.
No Firewall
Surfshark antivirus does not come with a firewall of any type. If you've turned on the Surfshark VPN, you're protected from anyone who may be trying to intercept your feed. A VPN can't block malware the way a firewall can though.
FYI: A firewall allows you to block incoming and outgoing traffic to your device or system based on a set of security parameters you put in place.
No Parental Controls
A number of antiviruses come with parental controls, which let you block certain types of sites, track your kids' device locations, and even track how much time your kids spend online. If you're looking for a feature like this, you should look elsewhere. Kaspersky antivirus and Norton antivirus, for instance, both come with preinstalled parental controls.
No Webcam Blocker
There are dozens of malware programs designed to take over built-in webcams. It makes sense, then, that many antivirus companies now offer a webcam blocker as part of their total package. This is another extra, however, that Surfshark doesn't offer.
No Vulnerability Scanner
Vulnerability scanners check your entire internet system for potential weaknesses that may allow someone to hack into your devices. For the most part, companies with larger IT systems use these scanners, so it's not necessarily a problem that Surfshark doesn't offer one. More and more antiviruses are beginning to include them, however, so it will be interesting to see if Surfshark decides to jump on the bandwagon at some point.
No Tune-Up
Another feature some antivirus companies now offer is device tune-up. These programs basically take a close look at your device folders and files for ways to improve device performance. Plenty of antivirus programs don't include this bonus feature, and we're willing to sacrifice it to keep Surfshark lightweight and agile.
No Backup
It's nice to have extra cloud storage, but if it's going to interfere with how smoothly our device works, we're happy getting our storage elsewhere and letting the antivirus do the job it's designed to do.
No Password Manager
Password managers can be handy. As we talk about in our guide to password security, best practice is never to reuse a password. Each and every device, app, and account needs its own separate password. The problem is, no one can remember all those passwords. Enter password managers, which store all your passwords securely. You need only one master password to access them all. If that's an important feature you're looking for in your antivirus, you may want to look elsewhere.
Here's an overview of everything you do and don't get with Surfshark Antivirus.
| Feature | Included with Surfshark Antivirus? |
| --- | --- |
| Protection from all forms of malware | Yes |
| Quick scanning | Yes |
| Full scanning | Yes |
| Individual file and folder scanning | Yes |
| Real-time scanning | Yes |
| Daily malware database updates | Yes |
| Heuristic malware detection | Yes |
| VPN | Yes |
| Data-breach alerts | Yes |
| Search engine | Yes |
| Firewall | No |
| Parental controls | No |
| Webcam blocker | No |
| Vulnerability scanner | No |
| Tune-up program | No |
| Backup storage | No |
| Password manager | No |
Bundled Features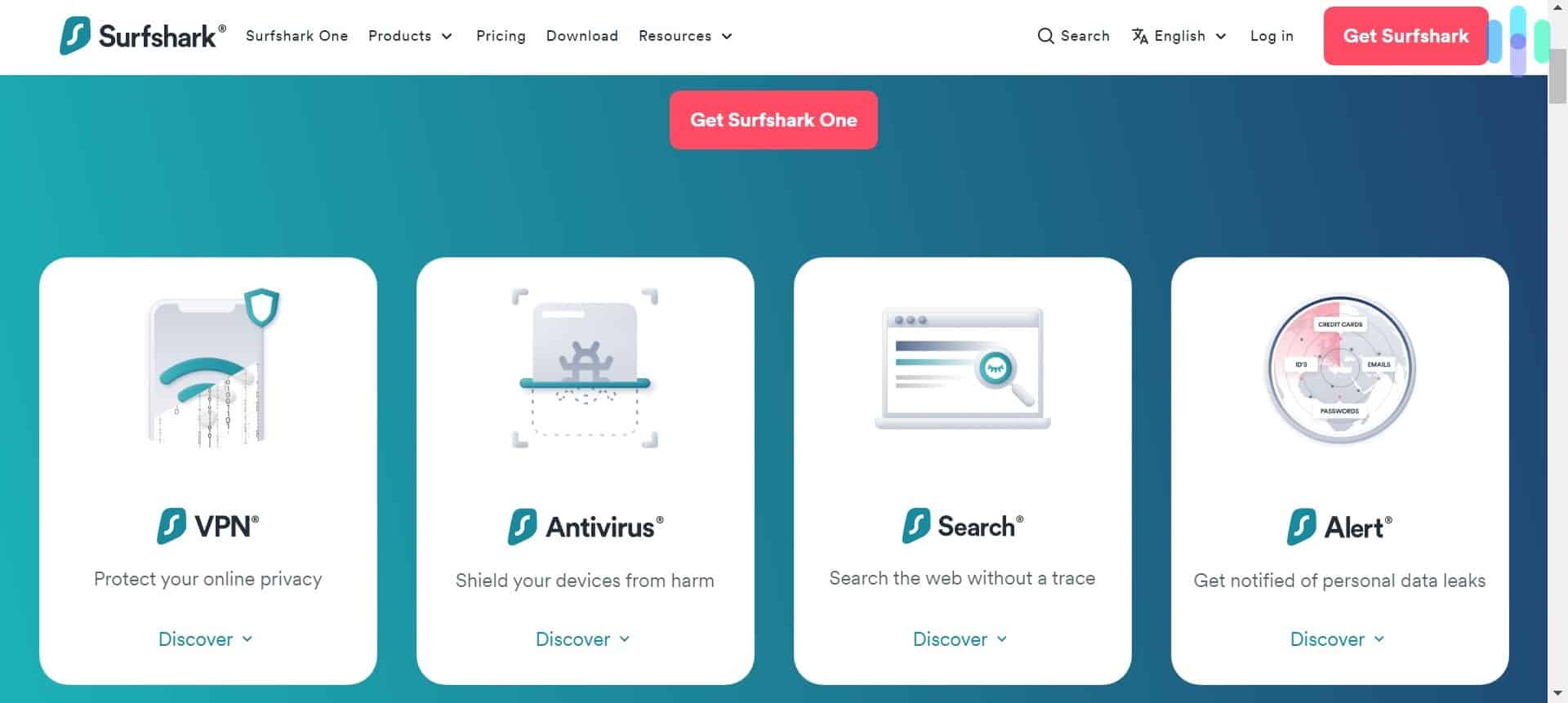 You can't purchase Surfshark antivirus by itself. Instead it comes bundled with Surfshark's VPN, breach alert, and search engine. Let's look at what each of these programs provides.
VPN
A virtual private network, or VPN, helps to ensure your internet connection is safe and secure. In simple terms, a VPN is an encrypted tunnel between you and a server. Once you're inside that tunnel, no one can see where you're going and no one can access any of your data. In addition, most VPNs provide you with an anonymous IP address, which further conceals who you are and what you're up to. VPNs are particularly useful when you're using a public Wi-Fi network. We recommend you install a VPN on all your devices, so the fact that Surfshark includes this with its antivirus is definitely a plus.
Breach Alert
Surfshark's breach-alert program monitors breach databases to see whether any of them contain any of your personal information. That's a handy service. Breaches are becoming commonplace, and it's useful to know when you're a victim. The breach-alert system, however, doesn't scan beyond these databases. It doesn't, for example, scan the dark web, which means it can miss lots of identity theft that doesn't have anything to do with hackers getting into corporate databases. It's nice of Surfshark to offer it, but we feel safer using full-service ID theft services like Aura. Read our full Aura review to learn more.
Search Engine
Surfshark's antivirus software also comes bundled with a search engine, which is designed to allow you to search the web without fear that your personal data — including your search history — can fall into the hands of a hacker, government, or corporation. As security and privacy advocates, we applaud apps like this. In our own testing, we found that the search engine has a few kinks. We got more than a few "Failed to load results" messages as we were searching. With fewer private search engines out there every day, however, we're hopeful that Surfshark's can add something important.
User Experience
Last but certainly not least, how does Surfshark Antivirus stack up against other antiviruses when it comes to actually using it?
Signing Up
Signing up for Surfshark antivirus is relatively straightforward. You have to know you're signing up for a full package, known as Surfshark One. There are lots of "Buy" buttons scattered throughout Surfshark's pages. Click any one of them and you'll find yourself at a payment page.
We like that Surfshark offers multiple payment options. In addition to paying with a credit card, the company allows you to use PayPal, Google Pay, Amazon Pay, and even cryptocurrency.
Using Surfshark Antivirus App
Surfshark doesn't have an antivirus app. Instead, the antivirus is a clickable feature on the Surfshark VPN app. You simply navigate to the antivirus tab and select a scan. In addition, the tab allows you to schedule scans.
We checked out the Android app and found it to be sleek and user-friendly. We had some occasional issues using other apps on our phone when the VPN was running, but that's not an unusual problem with VPNs since their job is to monitor all traffic on a device. More troubling was the fact that the VPN service would occasionally drop, forcing us to sign on to a different server. Surfshark includes a kill switch, so we never had to worry about a dropped connection exposing our data. It's also worth noting that these problems were directly related to the VPN function of the app. We had no problems with the antivirus features.
Final Thoughts
We wouldn't recommend signing up for Surfshark simply for the antivirus. Its lightweight design means it doesn't interfere with normal device operation, but it also means sacrificing useful features like a password manager and parental controls. On the other hand, if you're a fan of Surfshark VPN — and we are — then it's nice to have the antivirus bundled into the app. It means we can get all our security from a single company for a single low price.
Is it right for you?
Still looking for the right antivirus? Take a look at our complete list of the best antivirus available.
Surfshark Antivirus FAQs
Need even more information about Surfshark antivirus? Check out our answers to some of the most frequently asked questions about the service.