Vivint Security Review
Combining total home security with advanced smart home automation features
What We Like
Professional monitoring: All systems have the option of professional monitoring and cellular backup to secure homes.
Integrations with Alexa and Google Assistant: In addition, Vivint works with Philips Hue smart lighting and Nest thermostats.
User-friendly app: The Vivint app is easy to use on both iPhones and Androids.
What We Don't Like
Expensive monthly monitoring: Vivint is not a cheap system. You could end up paying as much as $39.99 per month for professional monitoring, and that's not including cameras, extra video storage, and other add-ons.
Moving fee: If you move, you'll have to pay $129 to get your system re-installed.
Proprietary equipment: Vivint uses its own equipment, and that means other alarm companies can't take over monitoring. If you stop paying Vivint for monitoring, the system becomes unusable.
Bottom Line
Vivint is one of the strongest smart home security systems. From its smart touchscreen control panel called the Vivint Smart Hub to its AI-powered security cameras, Vivint delivers a unique smart home security experience that no other security system on the market can match.
Recent Update: 3 weeks ago
Vivint rolled out a new policy extending the return and cancellation period to 60 days for customers over the age of 65. During this 60-day period, qualified new customers will be able to cancel their contracts and return the equipment without penalties or obligations, while also receiving a full refund.
Finding the right balance between price, features, and quality is key to choosing a home security system. You don't want to overspend, but you don't want to skimp on features and quality either. Striking this balance allows you to confidently assert that you are receiving the full value for your hard-earned money, especially when considering a higher-priced security system like Vivint.
Vivint isn't your average security system. It comes with a lot of advanced features, high-class equipment, and state-of-the-art home automation and controls. Are those enough to justify Vivint's higher price point, though? Let's find out!
In this review, we'll talk about everything you need to know before buying a Vivint system, from the installation and equipment to the monitoring service and the app.
Editor's Rating
Advanced smart home capabilities
Professional installation
Cellular monitoring
Vivint Review Video
Want to see Vivint in action? Watch our full video review below.

Vivint's cameras and video doorbells impressed us; find which ones are right for you here.
Vivint Basic Security System Components
Even a basic Vivint system can cost you hundreds of dollars. Truth be told, Vivint is one of the priciest security systems we've ever tested, so we had to be creative to test as many pieces of equipment with our limited budget.
Of course, we started with the basics: motion sensors, glass break sensors, and entry sensors. Then we purchased add-ons, like a Kwikset smart lock, a video doorbell, smoke and CO detectors, and an indoor camera. All of those components plus a Vivint Smart Hub set us back about $800.
Later on, we also purchased a $400 outdoor security camera, the Vivint Outdoor Camera Pro with AI-powered intrusion detection. If you're keeping tabs, that's more than $1,000 on equipment alone. Was it worth it, though? Let's review the equipment and our hands-on experience before we make the final call.
Vivint Smart Hub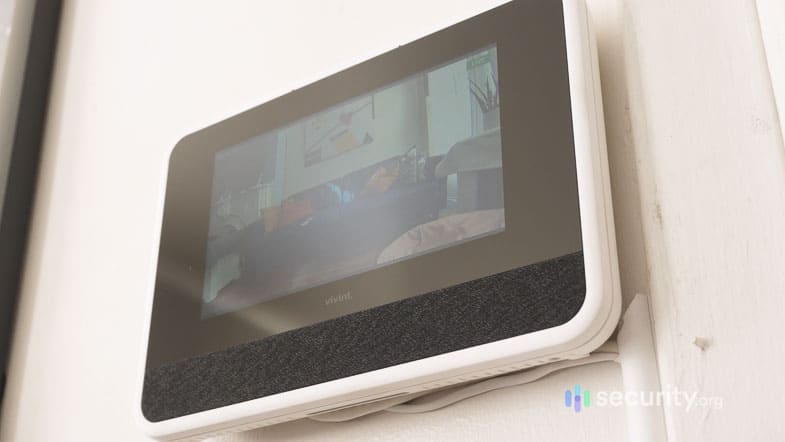 The Vivint Smart Hub is a touch-screen tablet computer that served as our command center throughout our testing process. It connected together all the Vivint equipment we bought as one cohesive unit, which made it possible for us to control and monitor everything in one place. In addition, the Smart Hub livestreamed footage from our security cameras, kind of like a CCTV monitor but much more high-tech.
Speaking of high-tech, the Smart Hub comes with a few extra technologies that most touchscreen panels don't have. For instance, it has a two-way talk link with the monitoring center, allowing instant communication when the system is triggered. When we tripped a window sensor, for example, we were able to speak with the monitoring center to explain what happened rather than having to pick up our phone. It was a timely reminder that we're not dealing with just another security system. Vivint is a well-thought-out system with features designed with user experience in mind.
The Smart Hub also comes with contingencies in the form of a built-in battery and a cellular chip for backup communication. These two power the Smart Hub through outages, allowing for uninterrupted protection. Except for the plug-in type devices like the security cameras, everything works just fine during power and internet outages.
Security Sensors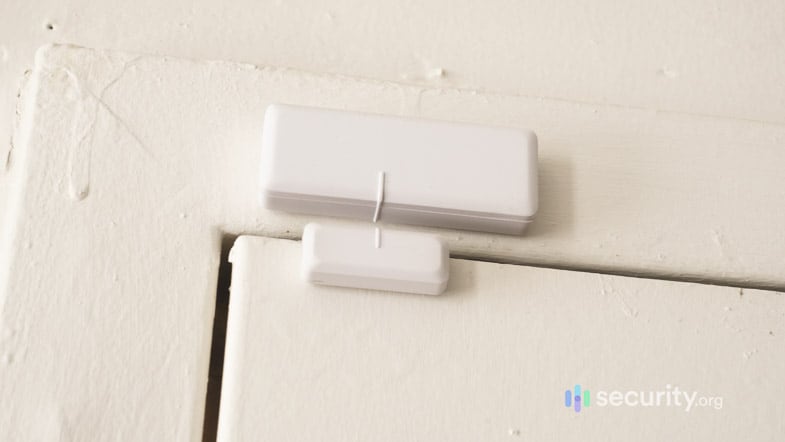 When it comes to home security, the main sensors we've seen are typically motion sensors, door sensors, window sensors, and glass break sensors, all of which we received from Vivint. Vivint's sensors wirelessly connected to our Smart Hub. And being the brains of the system, the Smart Hub alerted our smartphones and Vivint's monitoring centers when our sensors were tripped.
The security sensors worked quite well, but we have one quick note on the design: They weren't as sleek-looking as we expected from a premium brand like Vivint. We were expecting Apple-standards design, but all we got were boxy looking pieces of equipment. They weren't ugly, but they didn't exactly blend in easily.
With that in mind, we recommend the recessed door sensor in place of the regular door sensor. The recessed door sensors are installed flush with the doorframe, so they won't affect your door's aesthetics. And since Vivint offers professional installation, you won't have to worry about drilling your doorframe yourself.
Ping Indoor Camera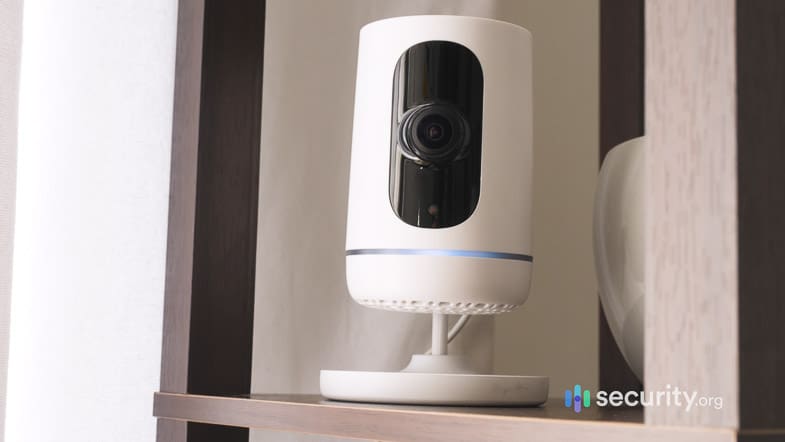 What excited us the most about Vivint is its line of security cameras. We tested all three cameras, but let's start with the Ping Indoor Camera, the cylindrical camera pictured above.
The Ping camera is a simple, plug-in indoor camera. Video-wise, it impressed with a clear, 1080p HD display and a wide, 155-degree field of view. The snapshot below shows just how much space it can monitor sitting on a two-foot high shelf. So when mounted overhead, this camera can easily protect a whole living room.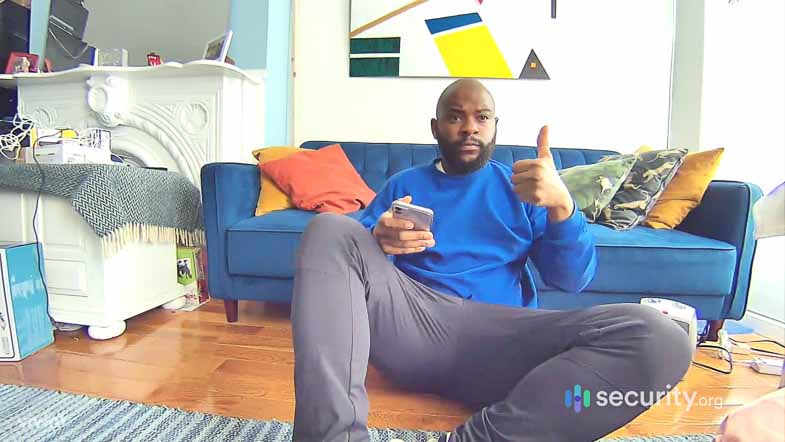 The infrared LED sensors allowed us to see clearly at night, plus, as we mentioned before, we were able to speak to our guests through two-way audio.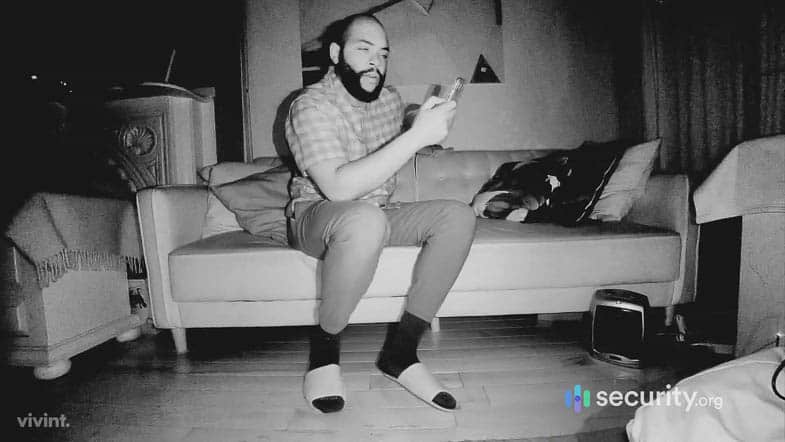 The Ping camera is more than just for security, though. It's designed as a makeshift intercom for members of the family who are either too young or too old for a smartphone. It has a nifty "call" button on top, and with a single press, it connects anyone on the camera side to the Vivint app of whoever's in charge of monitoring the security system. It's a helpful feature for parents, babysitters, and caregivers.
Unfortunately, the camera lacks local storage. Instead, we had to pay $5 a month per camera for 14 days of cloud storage, all divided into 30-second clips. However, there was another option if you want continuous recording for 30 days, namely, the Vivint Smart Drive, which costs $249.99. This was a bit expensive, so we stuck to those clips.
One more drawback of the Ping camera is that it detects motion, but can't distinguish people from other moving objects. We received a lot of unnecessary notifications because of that, especially when we sitted a poodle for a friend. Still, as a security camera, Ping met our standards. It has great video, a sleekly-designed app, and strong integrations with the overall Vivint system. That being said, if you're a pet owner, check out our best pet-friendly security systems or our list of the best pet cameras.
Before we move on, we'd like to point out that there's a new Vivint indoor camera that improves on the Ping camera in many ways. It also solves many of Ping's shortcomings. The Vivint Indoor Camera Pro has a microSD card slot for local storage and a sleeker design. Plus, it comes with artificial intelligence, which enables the camera to detect and distinguish people from other moving objects.
Vivint Outdoor Camera Pro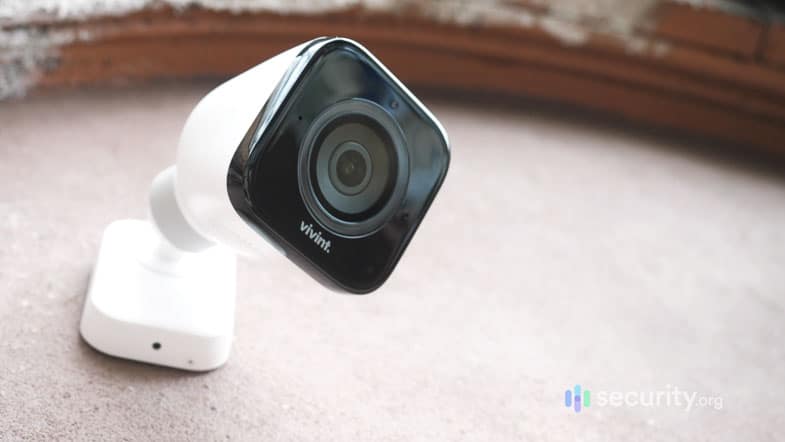 Not to overstate anything, but Vivint's outdoor camera is one of the most impressive models we've ever tested. It's also one of the most expensive, as one camera costs $400. In comparison, outdoor cameras typically cost around $200.
Why the premium price? For starters, it has impressive video quality. It has a clear, 1080p HD resolution, but on top of that, it has a 4K image sensor. This exponentially improves the video quality, clarity, and color contrast of the video. And with so much going on outdoors, we appreciate the improved video quality.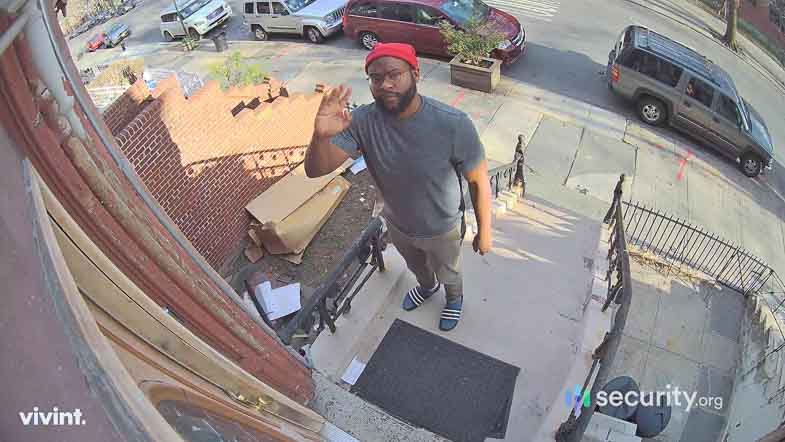 The camera also features HDR, which helps with light distortion outside. In the snapshot above, you can see that there are no glary or shadowy areas despite the high lighting contrast. That's largely thanks to HDR. 
Throw in the camera's wide, 140-degree viewing angle, three times optical zoom, 10 times digital zoom, and powerful night vision, and you get an impressively clear camera quality day and night. 
 Again, we stuck with the included two weeks' worth of storage per month rather than shelling out $249.99 for the Vivint Smart Drive. But if you're running a business operation and want to use Vivint for your business security, we see the value in getting the Smart Drive for your Vivint Outdoor Camera Pros rather than paying $5 per month per camera to store relatively shorter video clips. Remember, the Smart Drive enables continuous video recording. But we digress.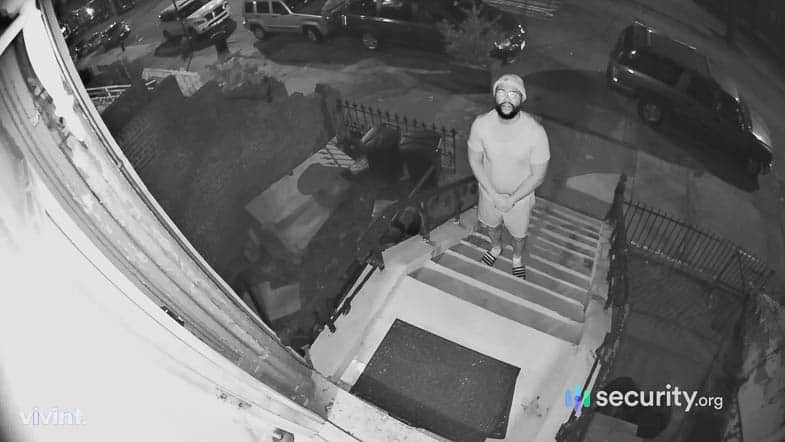 But by far the best feature of the Vivint Outdoor Camera Pro was the artificial intelligence — no, not that kind of AI that can doom humanity. The AI on the Outdoor Camera Pro was immensely useful. It was able to differentiate between people and other moving objects, which made its notifications all the more reliable. This seriously reduced the number of false alarms we got, which was good because we have things to do and places to go, too!
On the flip side, one drawback of the Vivint Outdoor Camera Pro was the fact that it's a plugged-in camera. While this meant we didn't have to worry about the battery running out, it certainly made our placement options a lot more limited, as it had to be near an outlet. However, once we got the proper extension cord, it didn't end up being a problem. Overall, we're more than happy with the Vivint Outdoor Camera Pro, although it's pretty expensive at $399.99.
The Nest Cam Battery we reviewed, for instance, cost $179, more than half the price of the Vivint Outdoor Camera Pro. However, the Vivint outdoor camera comes with person detection built-in, plus a smart feature that detects and deters loiterers. The Nest Cam Outdoor, on the other hand, requires a Nest Aware subscription starting at $6 per month to be able to use its smartest feature, facial recognition, although the person detection comes built-in as well. That being said, the Nest Cam Battery can completely run on battery power, so it has a leg up on Vivint Outdoor Camera Pro in some areas.
The Outdoor Camera Pro has very little room for improvement, but Vivint managed to improve it even more. This year, Vivint launched a new line of cameras with an Outdoor Camera Pro that is a little different from what we tested.
For starters, it has a built-in microSD card slot, so you can store videos locally without a need for the $249 Smart Drive. Additionally, it has a better computer chip resulting in more accurate person detection. Vivint improved its video and audio quality a little bit as well.
Perhaps the biggest upgrade, however, is the new camera's compatibility with the Spotlight Pro, which was released later on. This $249 spotlight add-on connects to the camera and provides color night vision and soft lighting for its surroundings. It also acts as a deterrent. If the camera detects a lurker or intruder, the spotlight shines its light in their direction, and thanks to the camera's AI, it can even follow the intruder as they move around your yard.
Vivint Doorbell Camera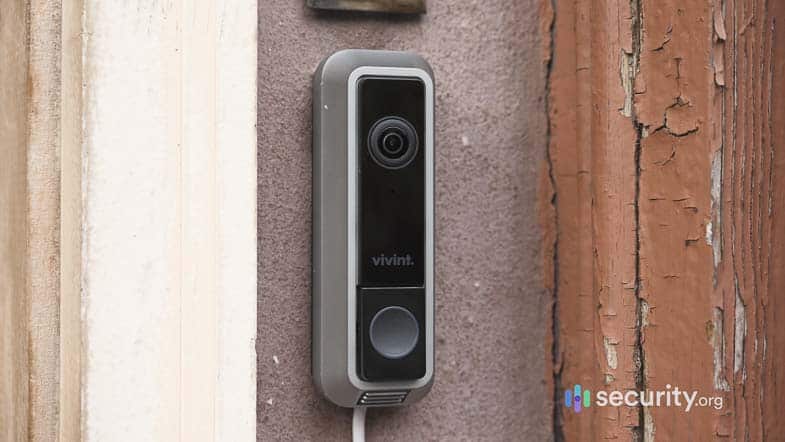 One really easy way to make it seem like you're home when you're not is to get a doorbell camera that lets you "answer" your door remotely. The waterproof Vivint Doorbell Camera, which works in temperatures from 14 to 104 degrees Fahrenheit, retailed for $249.99 at the time of our test. Vivint stopped selling the Vivint Doorbell Camera and replaced it with the similarly priced Doorbell Camera Pro later on. However, we are yet to test the new doorbell camera, so let's talk about the one we tested.
For its price then, the Vivint Doorbell Camera was definitely a bit expensive compared to the industry average of around $190, especially when we saw that the camera's video display was only 720p HD, not 1080p HD. When you consider the fact that something like the Ring Video Doorbell 2 costs $169 and has 1080p HD video, the Vivint Doorbell Camera seems even more overpriced. On the bright side, it had person detection, which the cheaper Ring Video Doorbell 2 lacks. In Ring's lineup, only the Ring Video Doorbell Pro, Ring Video Doorbell Pro 2, and Ring Video Doorbell Elite have the same feature, and they all cost $249.99 or higher. So in terms of artificial intelligence, the Vivint Doorbell Camera's value is on par with the competition.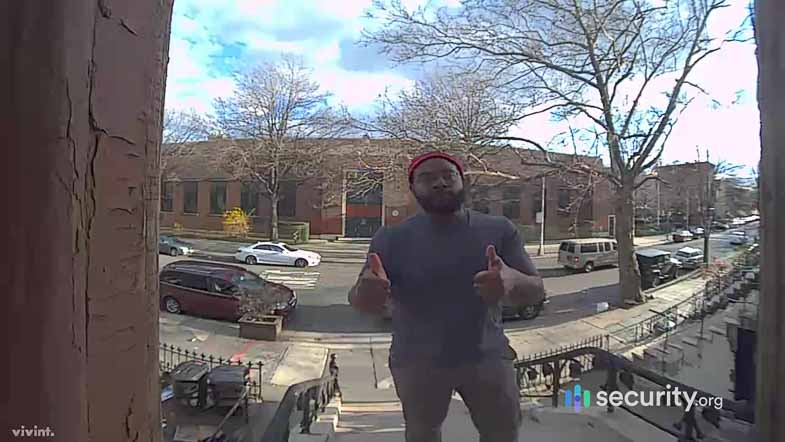 In our opinion, person detection is an essential doorbell camera feature, especially since our front door faces the street. Thanks to person detection, we didn't get alerted of every car passing or every squirrel running by. Instead, we only received alerts when there were actual people at our door.
Although the video quality wasn't as clear as we would've liked, the 180-degree field of view gave us the widest possible image of our front yard, which we appreciated. Of course, it had pretty clear infrared night vision and the same storage options as Vivint's other cameras.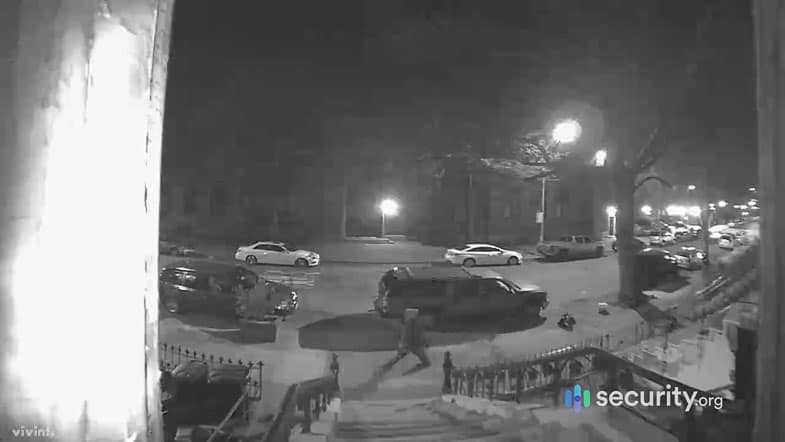 When we reviewed the Vivint Doorbell Camera, we went ahead and hardwired it to our existing doorbell setup. However, for those who want to go wireless, it can run on batteries, too, for three to five years.
As for the new doorbell camera from Vivint, the Doorbell Camera Pro, it fixed a lot of the issues that we had with the original model. For example, it has that clear, 1080p HD video plus HDR, which helps with interference from the sun. It's totally wireless, and it even has detection for packages as well as people, courtesy of the on-board computer vision chip. Like the new indoor camera and outdoor camera, the new video doorbell also has a slot for local storage. And since it also sells for $249.99, just like the older doorbell, we think it's a much better value than the original.
Kwikset Smart Lock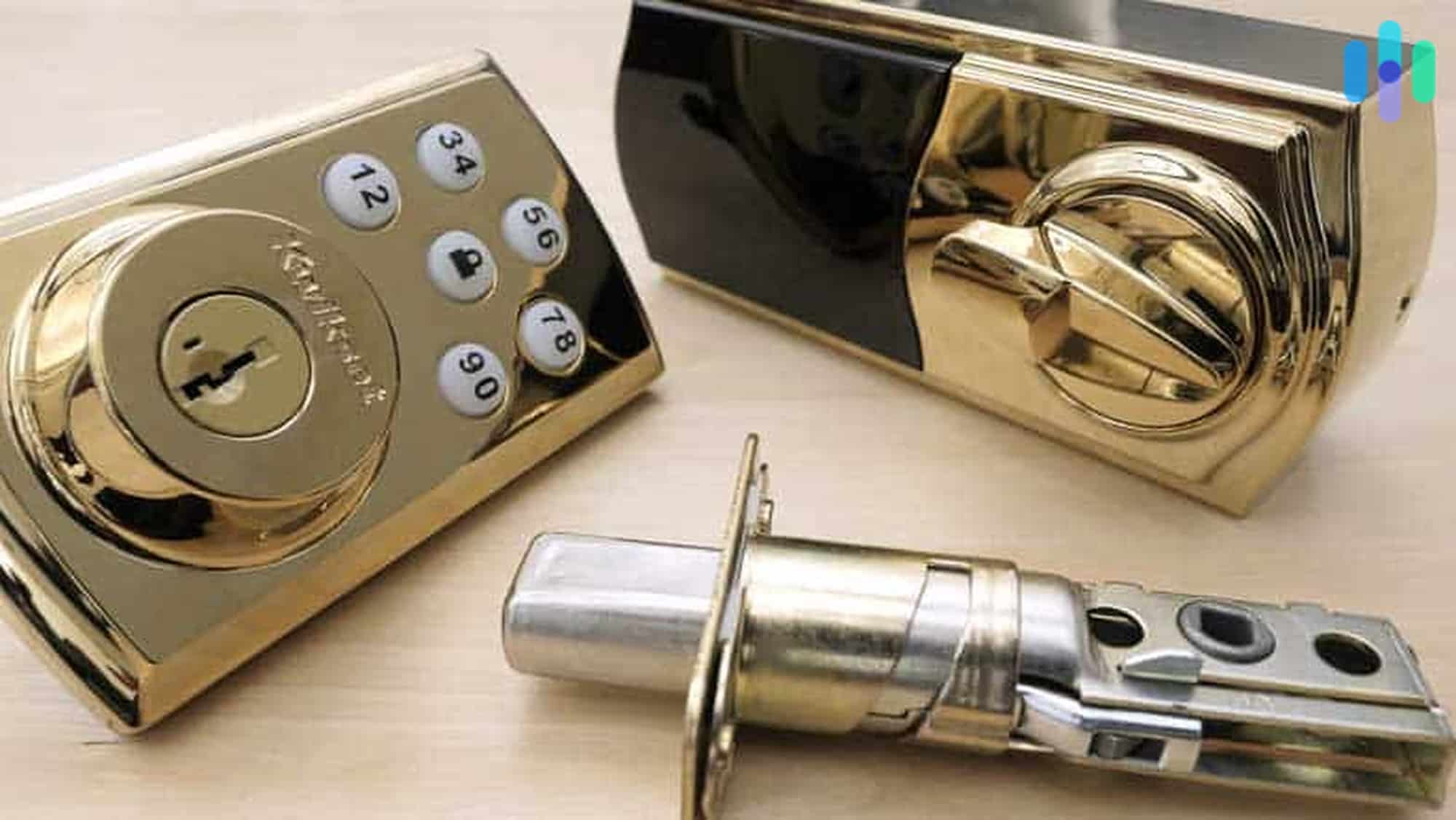 With a smart lock, we don't have to worry about losing keys or getting locked out anymore. Vivint gave us a smart lock from Kwikset which we could either control remotely through the app or open via a numerical code, which was great the one time we left our keys at the office. We gave 30 unique codes to people so that they could come in when we weren't home, which we used for friends, family, and even the house sitter. And even though a third party, Kwikset, manufactured the lock, we had fun connecting it to other home automation devices and creating automated actions. For us, that meant having the doors unlock when the smoke alarm went off, which brings us to our next point…
Did You Know: Don't leave a key under that mat. Rather, use a smart lock that lets you give users unique access codes.
Smoke Alarm
Vivint also gave us a WiFi-connected smoke alarm so that we'd receive alerts if it went off, even when we weren't home. It protected a 35-foot radius and had an 85-decibel siren and a five-year battery life. In our experience, it worked well, alerting us as soon as we burnt our popcorn (which is too easy to do, by the way). It was cool to see how the smoke alarm tested itself throughout the day to ensure it had enough power and connected with the control panel properly; with so much self-testing, we felt protected from smoke and fires.
CO Detector
Vivint offers a nearly identical detector, except that it detects carbon monoxide and not smoke. While we didn't actually release dangerous levels of CO into the air (as it can be deadly if you ingest enough of it), the detector impressed us with the fact that it linked up with other connected devices. For example, if it goes off, the doors will automatically unlock, the window sensors will automatically disarm and the furnace fan will turn on, allowing for ventilation and an easy escape. Basically, the CO detector does more than beep!
Water Sensor
Finally, Vivint offers a water sensor that prevents leaks, which we placed near our washing machine (although it can be anywhere that leaks can occur). The water sensor is also wireless and has a battery life of three to six years.
Unlike the other sensors, the water sensor won't trigger an emergency response from Vivint's monitoring center. You wouldn't want the cops dispatched to respond to a pipe leak, and Vivint's monitoring center doesn't exactly have plumbers on speed dial. Rather, the water sensor sends a soft alert to your phone via the app, so you can repair the leak as quickly as possible.
Vivint and the Smart Home
We're huge smart home nerds, so imagine our excitement to see that Vivint home automation works with both Alexa1, Amazon's voice assistant, and Google Assistant2, Google's version. Let's talk about how we could command our Vivint system with Alexa vs. Google Assistant.
Alexa
Vivint and Alexa worked together seamlessly. We used Alexa to control our Vivint-compatible Philips hue lights, smart thermostat from Nest, and Kwikset smart lock. Additionally, we used Alexa to arm our Vivint security system, although we couldn't disarm it with our voice for security purposes. Lastly, we had Alexa show our live-streamed footage on our Echo devices, like the Amazon Echo Show 8 we reviewed, along with our Fire TV. It was great to see our footage on the big screen!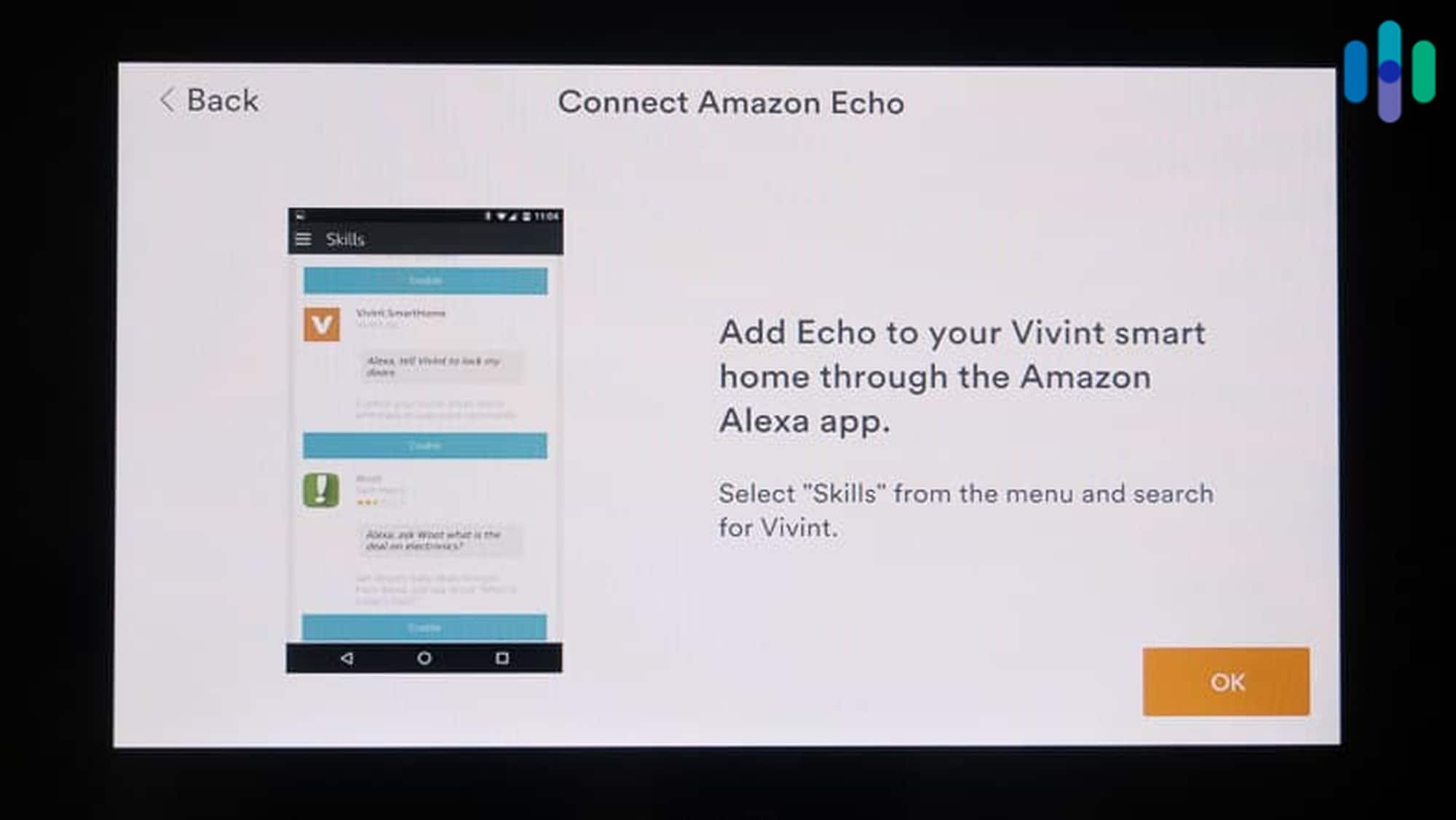 Google Assistant
Alexa wasn't the only voice assistant we commanded. Google Assistant performed the exact same functions as Alexa, except we viewed our footage on our Google Nest Hubs and Google Nest Hub Max instead of the Echo Shows. You can read our Google Nest Hub review and our Nest Hub Max review for more details about these smart displays.
All in all, Vivint fits in really nicely with any smart home, unless of course, you have the rare Apple ecosystem. But for most smart homes, Vivint is a great addition. Not only does it work with Alexa and Google Assistant, but we created automated actions like having our thermostat go down to 60 degrees whenever we armed the security system in away mode. Not only did this prevent us from having to adjust the thermostat every time we left the house, but it also saved us money on heating and cooling, a win-win!
The Vivint App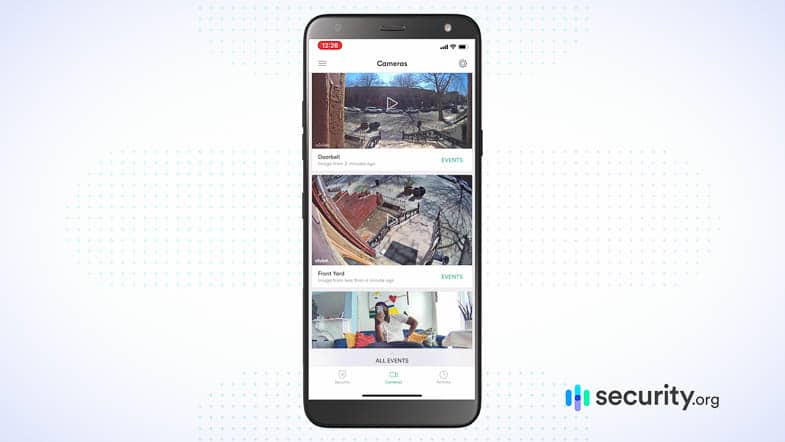 The Vivint app was our home away from home, a way to arm and disarm our system, control connected devices, speak through two-way audio, live stream footage, view cloud storage, and receive notifications when we weren't at home. In terms of usability, we had no issues with the Vivint app and other users agreed; it has a 4.1 rating on the Google Play3 store and a 4.7 rating on the Apple store4. Easy to navigate and free of bugs, we enjoyed total access to Vivint using its app.
One of the great things about the app was that it's basically an extension of the control panel. The controls were similarly intuitive, and although it lagged a bit whenever we streamed live camera feeds, it wasn't a deal-breaker for us. Just a quick relaunch of the app usually solved the issue.
In addition, the Vivint app has a version for smartwatches. This new twist to home security control proves that Vivint is ahead of the competition, as only a handful of home security systems have smartwatch apps.
Installing Vivint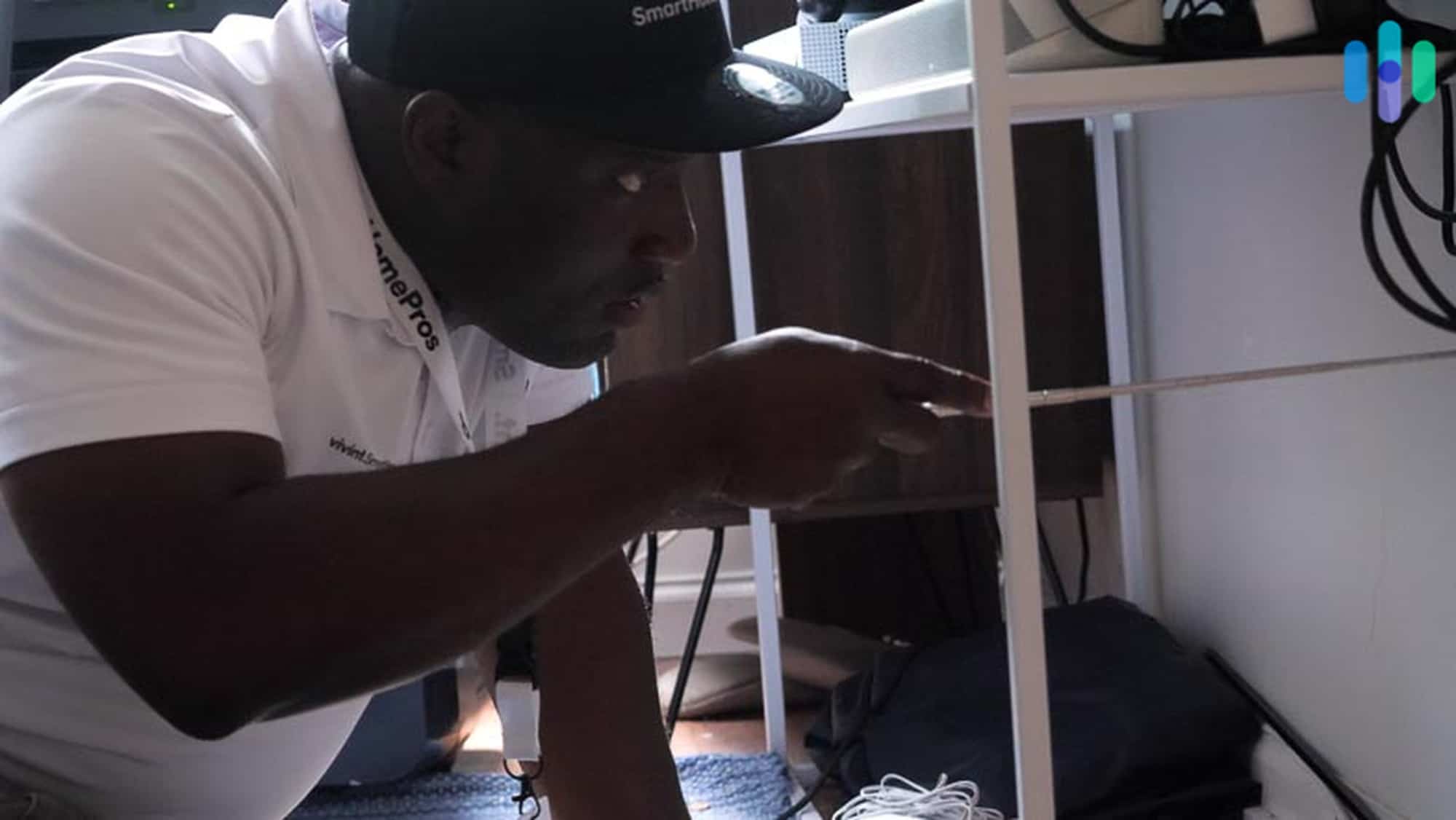 We were lucky to have timed our purchase with a Vivint deal that gave us free professional installation, but since we're talking about costs here, we asked the technician and he told us that the service typically costs $199. Again, that's a little pricier, since most installation services charge about $100. If you look at it, though, you'd be happy that a trained technician will be doing all the work. Vivint security systems are sophisticated, and installing one is definitely not a job any regular Joe can do.
Of course, you could time your purchase to coincide with Vivint special offers, but ultimately, just prepare yourself for the professional installation cost.
Another thing to note is if you're moving residences, you'll have to pay $129 to get your system re-installed. That is a bit of a burden, which is why Vivint isn't very renter-friendly. For those that want DIY installation, check out our review of Ring Alarm.
FYI: If you're planning on moving anytime soon, plan to pay an $129 installation fee to move your Vivint security system.
Did Vivint Work Well?
SSince Vivint's technicians did the installation for us, let's talk about how well it worked post-installation. Using our system on a day-to-day basis, we didn't encounter any problems, and we've had it up and running for over a year at this point. The Panel made the system really easy to navigate if you're home, and the app made it easy if you're not. Overall, the Vivint system is really painless to install and use. It's also super durable; not one component has broken in our time using it.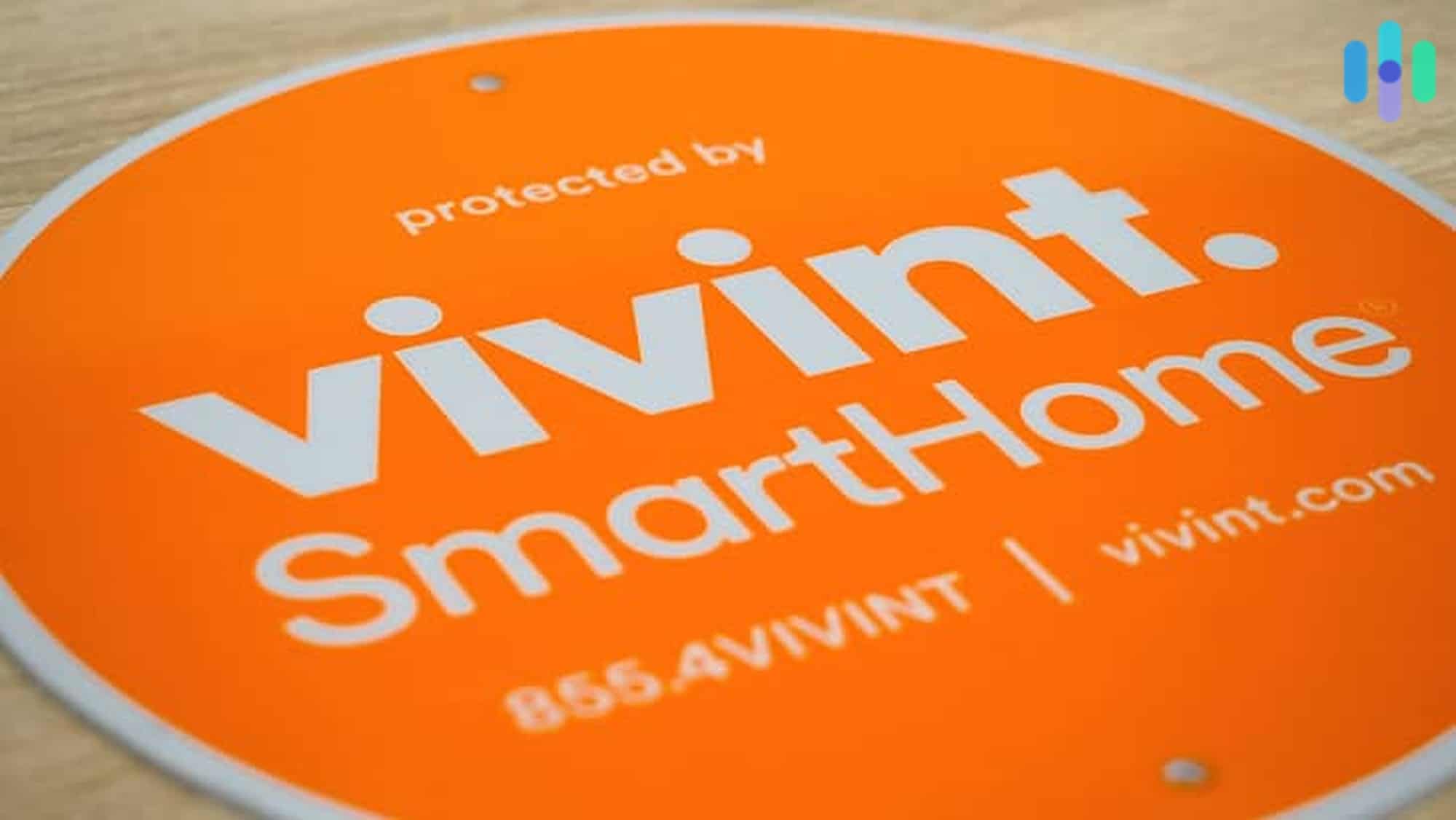 Vivint Monitoring and Pricing
When it comes to monitoring, professional monitoring is a must for Vivint customers. Although you can cancel your security monitoring plan down the line and keep your Vivint system, doing so will deactivate all of Vivint's smart features. Essentially, it will turn into a local alarm, relying on sirens to alert you. You'll also have to use the touchscreen panel to control the system every time, since the app will no longer work for you.
You also have to keep in mind that there's likely going to be a contract, especially if you finance your equipment. The contract can be up to five years, and canceling before the end of the term will result in hefty cancellation fees. You will also have to pay the remaining cost of the equipment.
There is one sliver of good news, though. For the first 72 hours after signing a contract, you have the option to cancel your monitoring agreement without penalties. You'll receive a full refund provided that you can send back the equipment in good condition. 72 hours is a small window – other companies allow returns for up to 30 days – but it's better than nothing.
That 72-hour window applies to most Vivint customers, but customers 65 years old and above enjoy a more relaxed return policy. Rather than three days, they are given 60 days to fully test out the system and return it if it doesn't work out for them.
In any case, pairing Vivint with a monitoring plan is the best route, so let's talk about pricing.
Monitoring & Pricing Overview for Vivint
| Monitoring plan | Smart Home Service | Smart Security Service |
| --- | --- | --- |
| Regular monthly cost | $39.99 | $39.99 |
| Discounted monthly cost(s) | $14.99, $19.99 | $29.99 |
| Monthly cost for cellular network maintenance | $1.48 | $1.48 |
| Monthly cost per camera for video service | $5.00 | $5.00 |
| Monthly price of Car Guard Service for the first device | $9.99 | $9.99 |
| Monthly price of Car Guard Service for second devices on | $4.99 | $4.99 |
Overall, we'd say that in terms of pricing, Vivint is certainly on the higher end. Ring Alarm costs only $10 a month for professional monitoring and cellular backup and even throw in 60 days of cloud storage compared to 14. So for those on a budget, Vivint definitely isn't for you. On the brighter side, Vivint does offer deals occasionally. Pay special attention to Vivint's Black Friday deals, as they've been impressive in previous years.
Buying Vivint didn't just give us protection for our apartment, but also peace of mind. View your options.
Support with Vivint
There's no harm in asking for help! Vivint offers support5 via phone and live chat. We have had mixed experiences with the customer support team. When we first chatted with a representative, the connection dropped and the conversation ended. The next time we tried to click on the "Support Chat" button, it was not clickable. As we much prefer chatting online over speaking on the phone, this was a bit annoying.
Vivint really wants you to call and speak to their representatives, so we called to ask for some information about Vivint's discount packages, and 25 minutes later, we still did not have all the information we wanted. All in all, it was not a great experience; we were on hold for a while, then transferred between multiple people, and told to "look at the website", which has little to no information on it regarding packages. So when it comes to customer support, Vivint wasn't up to par with Frontpoint, whose representatives were truly helpful when we reviewed Frontpoint's system. In fact, if you're looking to find answers to your questions about Vivint, we suggest you check our Vivint FAQ page before calling Vivint.
Conclusion
Although Vivint certainly has its disadvantages, which mostly had to do with pricing, as a security system it worked really well. The Outdoor Camera Pro, in particular, impressed us, and the entire system integrated nicely into our existing smart home ecosystems. We'd recommend it for some people more than others, fully broken down below.
There's a reason Vivint is routinely on our lists of the best home security systems. Order Vivint today.
See How Vivint Compares To Other Home Security Providers