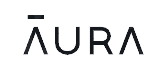 Aura Identity Theft Protection Costs and Pricing
We assessed Aura's pricing to see if its features justify its premium costs.
Criminal and court records monitoring
Monthly credit scores
$1 million identity theft insurance reimbursement maximum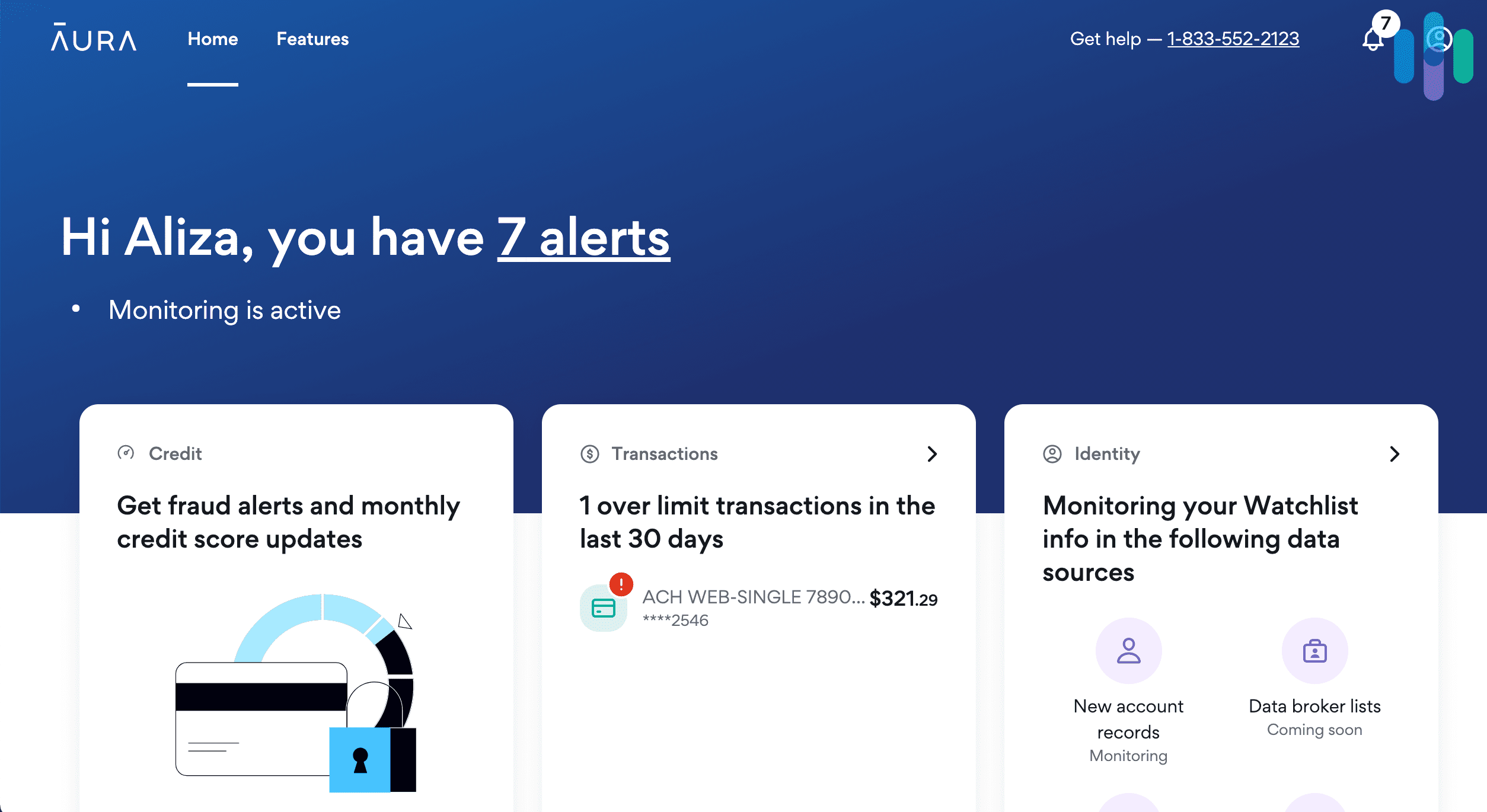 Aura is known for its comprehensive identity theft monitoring packages, and it measures up against even the most affordable competitors.
Affordable plans starting at $10 per month
Financial fraud monitoring service that pulls information from all three major credit bureaus
Secure personal data storage with military-grade encryption
We're geeky about digital security, so of course, we're staunch advocates of identity theft prevention plans. But we get it; it takes time to research the ins and outs of identity theft prevention, and time is money. Rest assured, we've done the research to help you get the most bang for your buck.
In this article, we'll dive into Aura's pricing, how it measures up to other identity theft protection services we've tested, and whether we think an Aura plan is worth it.
Subscription Options and Pricing
Aura's plans are all-encompassing and aimed at individuals who want to ensure protection for their wallets, devices, and personal information. However, Aura isn't just for individuals. With the recent addition of family plans, Aura has stepped up its game to join the companies that offer identity theft protection for families.
Although more expensive than typical family plans, Aura's family plans provide coverage to up to 10 people, regardless of age. That's unique, considering that other companies provide protection to only two adults and a number of minor children. So if you have adult children living with you and you want them to enjoy robust identity theft protection, you should definitely look into Aura. Otherwise, if you're looking for affordability, check out Identity Guard's family plans.
TIP: Aura's family plans can cover up to 10 individuals, whether children or adults, making it perfect for large families with a mix of adults and children.
Aura's plans range in price, and the company encourages users to pay the yearly subscription upfront, as the annual plans include discounts.
| What's included | Basic | Total | Ultimate |
| --- | --- | --- | --- |
| Personal ID and password monitoring | Yes | Yes | Yes |
| $1 million in identity theft insurance | Yes | Yes | Yes |
| Number of devices protected by antivirus and VPN | 1 | 5 | 10 |
| Credit monitoring using all 3 major credit bureaus | No | Yes | Yes |
| Monthly credit score | No | Yes | Yes |
| Financial transaction monitoring | No | Yes | Yes |
| Credit locking | No | Yes | Yes |
| Home title and address monitoring | No | No | Yes |
| Criminal and court records monitoring | No | No | Yes |
| Annual credit report | No | No | Yes |
| White-glove fraud resolution | No | No | Yes |
| Monthly subscription cost for individuals | $12 | $26 | $40 |
| Monthly subscription cost for families | $20 | $35 | $50 |
| Annual subscription cost for individuals | $120 | $240 | $360 |
| Annual subscription cost for families | $204 | $308 | $468 |
Basic Plan
We think the Basic plan is a great fit for college students or young adults who only need to protect one device and can't afford the Total or Ultimate plan. Identity theft coverage is especially important for students, since they are four times more likely to experience fraudulent activity by a perpetrator known to them. In addition, 15 percent of students have experienced a moderate to severe form of fraud.1
The Basic plan doesn't have all the bells and whistles that come with the Total or Ultimate plans. However, it provides essential identity protection features at a more feasible price for college students (or recent grads on a ramen diet). The Basic plan includes features such as:
Personal ID monitoring: Aura will notify you if your personally identifiable information has been exposed online, even on the dark web.
Online account monitoring: Upon signing up, Aura will ask you to provide your online account credentials, such as emails logins, online shopping accounts, and more. Aura will then monitor these accounts and alert you if it thinks they have been compromised or if they have been included in data breaches.
Identity theft insurance: All of Aura's plans offer the industry-standard $1 million maximum reimbursement for identity theft coverage, including the Basic plan.
Aura's Basic plan is cheaper than the most affordable ID Watchdog plan, but we wish it offered home title and address monitoring, as well as criminal and court records monitoring. Most basic identity theft plans seem to offer these features, and we'd pay an extra couple bucks a month if we could add them on.
Court records monitoring helps make sure our Social Security numbers, addresses, and names aren't found in the United States' public records and criminal court records database. Home title and address monitoring prevents fraudsters from opening a home title in our names, or changing our addresses to intercept our mail.
Total Plan
We think the Total plan is the way to go for single adults or students looking for comprehensive identity monitoring. We were disappointed that it doesn't monitor home titles or court records, but because the price was right, we could live with a plan without those monitoring services. If you can pay the fee upfront, you'll pay an average of only $20 per month for the year.
We love that this plan is not only preventative but proactive. It offered a single place to link all our banking and spending accounts so we could make sure all our transactions were secure. It also let us keep up to five of our devices safe from cybercriminals, on top of the Basic plan's identity theft monitoring services.
These are some of the services the Total plan offers on top of the Basic plan's features:
Credit monitoring: You'll get real-time alerts of credit file inquiries from the three major credit bureaus (Experian, Equifax, and TransUnion).
Monthly credit scores: Aura will send monthly credit score updates, and you could also view your credit score trends over time via Aura's app.
Credit lock: If you suspect that someone might be using your credit information fraudulently, you could freeze your credit instantly.
Financial transaction monitoring: You could link all your financial accounts, like online banking accounts, and set alerts on spending activity. Aura will alert you of any fraudulent or suspicious actions.
Ultimate Plan
We can see how it might be worth it for someone with more than five devices to invest in the Ultimate plan, since it offers antivirus and VPN for up to 10 devices, and the Total plan only protects up to five devices. We also like that this plan offers the security of white-glove fraud resolution. Here's what the Ultimate plan includes:
Home title and address monitoring: This plan detects and will notify you if someone attempts to steal your home titles or filed an address change in your name.
Criminal and court records monitoring: There are more than 2.2 billion textual pages of court materials in the National Archives, and as the court retires materials annually, this number continues to grow.

2

Aura's Ultimate plan will make sure that your name is represented accurately within the U.S. Courts database.
Annual credit report: In addition to monthly credit scores, Aura will send you yearly credit reports with detailed information from all three bureaus.
Antivirus and VPN: These digital safety features, exclusively available to Ultimate members, help prevent identity theft executed through the use of malware or hacking.
White-glove fraud resolution: Aura's case managers are always ready and eager to help if your identity ever gets stolen.
Family Plans
As for the family plans, we think they're all worth it. If you have 10 family members sharing the subscription, you'd only pay $1.70 to $3.90 a month per member if you go with an annual subscription. If you go with a monthly subscription, you'd pay $2 to $5 a month per member, assuming, again, that you have 10 family members on the plan. Those are extremely low prices to pay for identity theft protection.
Now, it's all up to you to choose how comprehensive your identity protection service will be. Remember, the features of the family plans are the same as the features of their individual plan counterparts, so keep in mind our recommendations above when choosing between Basic, Total, and Ultimate. Personally, we'd be willing to pay $468 a year for the Ultimate plan if that would mean identity theft protection for the entire family.
How Aura Compares to Other Identity Monitoring Plans
We thought Aura's prices were fair compared to other identity monitoring services with similar plans. This is especially true if you can afford to pay upfront for the year.
For example, PrivacyGuard pricing is around $20 per month just for a financial fraud monitoring plan. If you paid annually for Aura's Total plan, it would average out at $20 per month and include far more than financial fraud monitoring. That's a pretty good deal, in our opinion.
FYI: We saved $72 by paying for Aura's annual Total plan instead of subscribing to the monthly plan.
Here's a look at a few similar plans, what they include, and what they cost compared to Aura's Total plan.
| What's included | Aura Total plan | IdentityIQ Secure Pro plan | LifeLock Ultimate Plus plan | PrivacyGuard Total Protection plan |
| --- | --- | --- | --- | --- |
| Social Security number/password monitoring | Yes | Yes | Yes | Yes |
| $1 million in ID theft insurance | Yes | Yes | Yes | Yes |
| Antivirus | Yes | No | Yes | No |
| VPN | Yes | Yes | Yes | No |
| Number of devices protected | 5 | 10 | Unlimited | N/A |
| Financial fraud monitoring | Yes | Yes | Yes | Yes |
| Number of credit bureaus monitored | 3 | 3 | 3 | 3 |
| Credit score updates | Yes | No | Yes | Yes |
| Lost wallet assistance | Yes | Yes | Yes | Yes |
| Home title and address monitoring | No | Yes | Yes | Yes |
| Criminal and court records scanning | No | Yes | Yes | Yes |
| Junk mail reduction | No | Yes | No | Yes |
| Neighborhood reports | No | No | No | Yes |
| Monthly subscription cost | $26 | $22 | $30 | $25 |
| Cost when billed annually | $240 | $225 | $300 | N/A |
| Monthly cost with annual plan | $20 | $18.75 | $25 | N/A |
In terms of costs for individual plans, we think Aura is right where it should be. And since losses from identity fraud climbed to $56 billion in 2020,3 we think a plan with Aura is well worth the investment. To learn more, read our Aura review.
What We Liked About Aura
Aura covered all our bases without breaking our bank accounts, and it even offered some perks that made it stand out from its competitors. Here's what we liked about Aura.
One-stop shop: With comprehensive identity theft, financial fraud, and network protection, Aura is a one-stop shop for our personal security. While its Basic plan offers simple identity theft coverage at just $10 a month, Aura's biggest flex is its scope. It's got our whole world in its hands, from Social Security number monitoring to dark web scanning to triple-bureau financial fraud monitoring.
60-day money-back guarantee: We're more comfortable purchasing items when we can return them, and that includes identity theft coverage. Naturally, we were thrilled that Aura offered us a 60-day guarantee when we purchased an annual plan. If we weren't satisfied with our plan within 60 days, we could give Aura a call and receive a refund.
Information security: Aura allowed us to log in to its mobile app using Touch ID. It secured our information using 256-bit AES (Advanced Encryption Standard), the encryption standard that banks and the U.S. military typically use.
Industry-standard insurance package: Aura's $1 million maximum in identity theft coverage isn't anything special, but it checks the box.
Military-grade antivirus and VPN on each plan: Aura offered us military-grade encryption to hide our online information from cybercriminals. Antivirus software protected us from malware and viruses, which included ransomware, adware, spyware, Trojan viruses, and computer worms. Aura's VPN encrypted our internet traffic, concealing our information from our internet service provider.
LEARN MORE: It's important to protect your devices with both antivirus and VPN software, so look for an identity monitoring plan that offers both.
How To Cancel Your Aura Subscription
We've all had buyer's remorse before. Given Aura's annual subscriptions that can cost several hundred dollars, it's natural to wonder if and how you can get out of the service in case you change your mind. Well, it's pretty easy actually. You can either call 1-855-712-0021 and tell them you want to cancel, or log into your Aura dashboard and cancel your subscription from there.
You could also get a full refund if you cancel within 60 days of your enrollment. We recommend testing Aura's features extensively during those 60 days to find out if it's really the right identity theft protection service for you. Beyond the 60 days, you can still cancel Aura, but you won't get a refund. Instead, your subscription will remain active for the remainder of the time you've paid for. Once that's over, Aura will stop monitoring for you.
Recap
In terms of identity theft and financial fraud protection tools, Aura has flown under the radar, but we don't think you should overlook its plans. We love its all-encompassing security capability options — who doesn't love the idea of having white-glove investigators at the ready in case of a fraud crime?
While Aura doesn't market itself as the cheapest option, it stacks up well against comparable providers that offer similar services. And the 60-day guarantee helps us feel even better about our purchase. While we think Aura's prices make sense, if you're looking for a different option, check out our article on this year's best identity theft protection services to shop around.
FAQs
There's a lot to take in about Aura's plans and pricing. Here are some frequently asked questions.