Package Theft Remained Near "Peak Levels" Throughout the Summer One-in-Five Households Victimized in the Last 90 Days
The rapid rise of online shopping has given rise to package thieves, sometimes given the more innocent-sounding name "porch pirates". These burglars grab packages off of doorsteps, often following delivery trucks around. Forty percent of Americans claim to have been victims of package theft at some point, with the most incidents occurring during the holiday season.
With COVID-19, there has been a further spike in online shopping, which has given rise to a spike in package theft. According to research that we conducted this May, an estimated 25 million U.S. households (or one in five) had been victims of porch pirates in the previous 90 days. During follow-up research conducted in late August, these numbers have stayed the same.
In essence, during the entire COVID-19 pandemic, package theft rates have remained at highs normally only seen in the winter holiday season.  Is this the "new normal"?
Key Findings:
As of August, one in five Americans reported a package theft at their home in the over the summer, equating to around 25 million households. This is consistent to our research in May with one in five Americans reported being victims of package theft over the previous 90 days. These high rates of package theft are typically only seen during the holidays, when increases in online deliveries lead to increases in porch piracy.
Evidence is being shared with police by owners of doorbell cameras. Our research found that sixty-five percent of homeowners with doorbell cameras or security systems filed a report with the police, compared to just 27 percent of homeowners without doorbell cameras or security systems. These numbers remained the same throughout spring and summer.
All home types, from apartments to mobile homes, are at a high risk of package theft.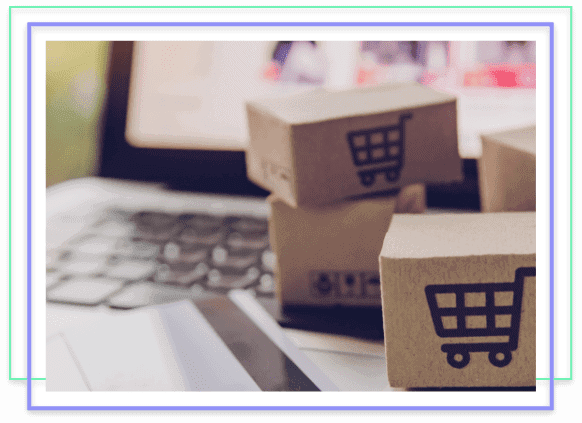 Package theft spiked this spring and remained high during summer
In March 2020, as COVID-19 was discovered in the US and states issued stay-at-home orders and closed stores, there was a sudden surge in online sales that had only been previously seen on a day like Cyber Monday. Consumers were unable or unwilling to go into a store and turned to delivery. Target saw five million people order from their website for the very first time over the last three months and reported an online sales jump of 141 percent from the previous year. Walmart saw a 74 percent growth in online sales, and Amazon has hired an additional 175,000 people to keep up with demand.
This boost to an already all-time high number of package deliveries seems to have led to an increase in package thefts. In research conducted this May, and again this August, approximately twenty percent of Americans report having had a package stolen last spring and summer. This was surprisingly high considering that many people have been working from home and are able to bring in their packages more quickly than normal. The rise also came during a time when many other types of crimes, including residential burglary, had dropped. Police in Bellevue, WA theorized that criminals who would otherwise rely on more brazen break-ins have fallen back on package theft. Bellevue has reported a 141 percent increase in mail theft during the current pandemic.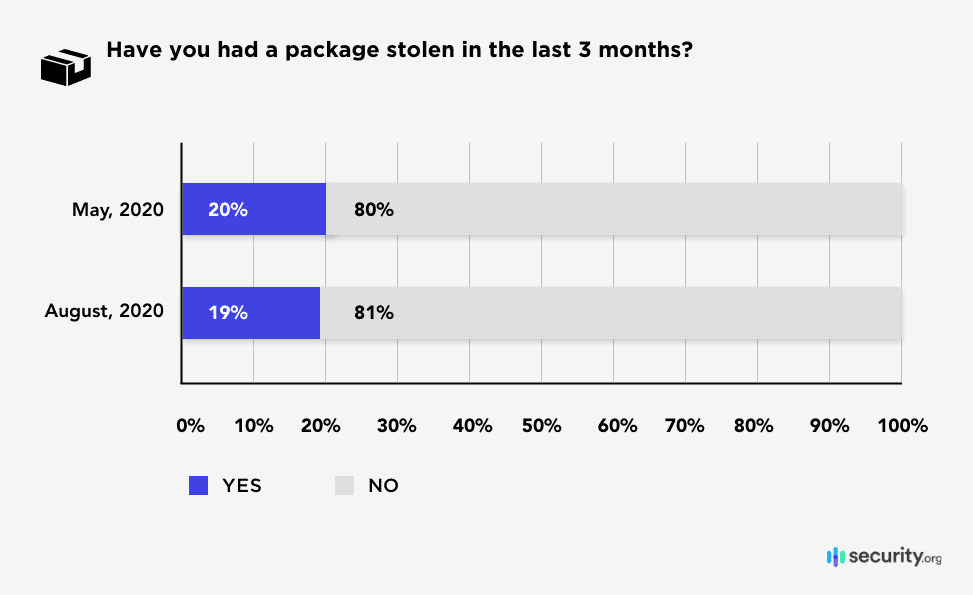 Is this the "new normal"?  Where I live, in Brooklyn, many have echoed the experience shared by Ayanna on Nextdoor this month: ""I've noticed a [spike] in package theft around the area…I'm wondering if this is just due to the lack of work during COVID or what but please be on the lookout. Crime is definitely on the rise in this area."
No home type is safe from package theft
While it may seem like living in a single-family home on a quiet residential street might offer some protection against theft, our survey shows that every type of dwelling is subject to package thieves. The question below pertains to having ever been a victim of package theft, rather than the last 90 days.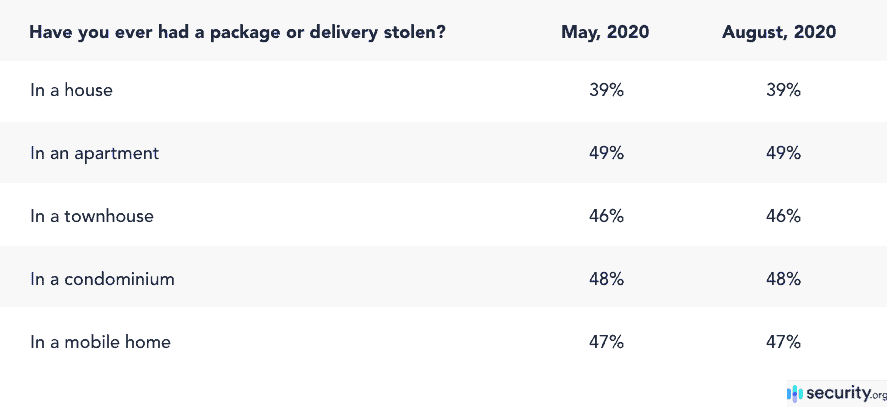 Doorbell cam owners reporting package thefts to police
In the spring and summer, 65 percent of those that own a doorbell camera or security system reported package theft to the police, compared to just 27 percent of people without these smart security products.

So what should you do when you suspect your package has been stolen?
Check your tracking information. Most deliveries come with the ability to track your package. If your tracking shows the package was delivered, see if there are any other details. It may specify that the package was left in a mailbox instead of at your door, or it could include a photo that will help you determine whether it was left at your front door.
Check with neighbors. Often a package gets mistakenly delivered to a nearby neighbor, especially in townhomes where addresses are very close together and GPS can be deceiving.
Contact the sender. Whether a company or someone you know, let the sender know you believe the package to be stolen. Many companies cover buyers for stolen packages and will let you know what the next steps are. Some sellers may ask you to contact the shipping company directly, in which case you may need to file a theft claim.
File a report with the local police. Many cities want you to report these thefts as it can help local authorities better track crime. Share video evidence if you have it as most porch pirates are repeat offenders.
Report the theft on Security.org's database: Because the F.B.I doesn't differentiate package theft and other types of larceny, there's no national database with information on porch piracy, which is why we made one ourselves. Report your package theft and help us to collect a data set that covers the entire U.S.
Share the incident with your neighbors. Many neighborhoods have online discussion groups and your neighbors will appreciate being alerted.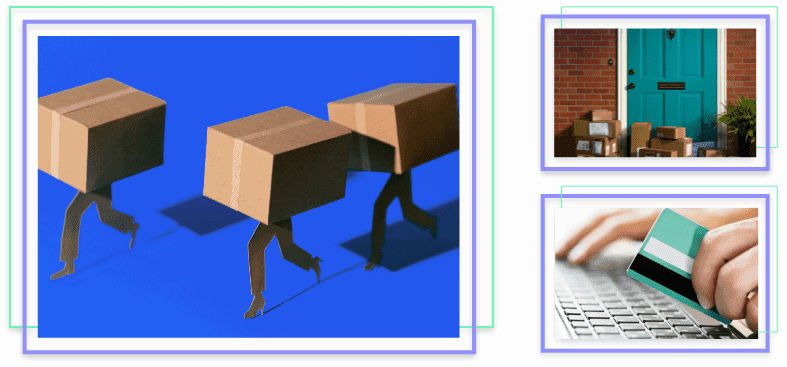 How to avoid or deter package theft
A doorbell camera or home security system may be a deterrent for some porch pirates. Package thefts are one of the main reasons for the rise in sales of doorbell cameras in recent years. The thought of someone stealing from you can be unnerving and frustrating. Some other tactics experts suggest in order to avoid having a package stolen are:
Have your packages delivered to a secure location. Amazon has set up "lockers" in many major cities where your package will wait for you securely. Some shipping companies allow you to divert your package to a local retailer and pick it up by showing your ID. Some people have packages delivered to their offices.
Add detailed delivery instructions. You could tell a delivery person to put the package in a place that can't be seen easily, or request that the delivery require your signature so the package will not be left out all day.
Ask a neighbor to bring in your package. If you know a package will be sitting out all day and someone is home at a neighbor's house you could ask if they are willing to hold onto it until you can get home.
FYI: After months and months of testing, we've selected the best home security systems of the year to prevent package theft and more.
About Security.org Research and This Study
We asked more than 1,200 US household decision-makers about their online purchases, homeownership, and package deliveries at their place of residence over May 17th to 23rd, 2020, and August 18th to 25th, 2020. Security.org's research team focuses on physical safety, digital safety, and identity theft. What it means to be safe has expanded beyond just home security and means protecting our personal and financial data and digital footprint. We study the issues facing modern society and partner with organizations and research institutions to broader America's understanding and awareness of digital safety.