Security.org Survey: Nearly 4 in 10 People Have Had Packages Stolen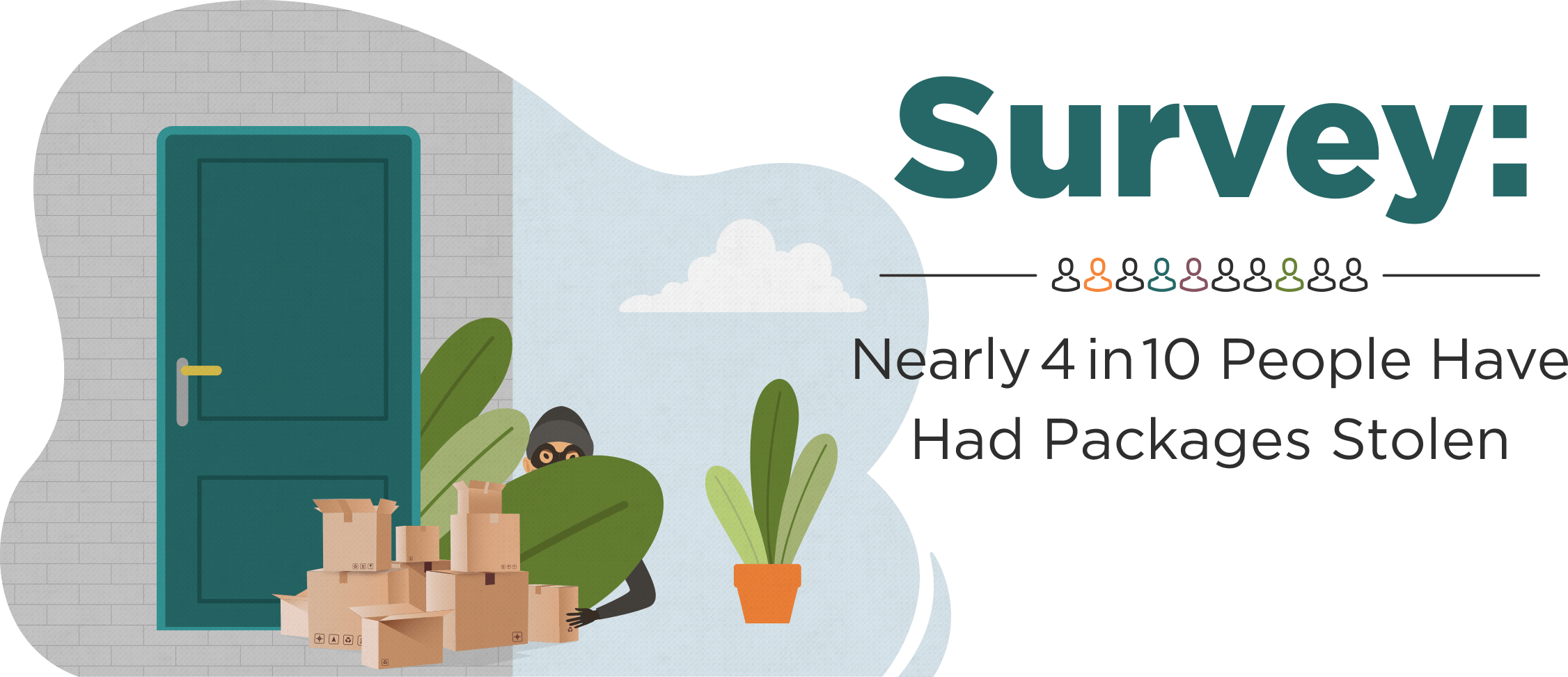 As shoppers gear up for the holiday season, those who rely on online shopping could find themselves targeted by package-stealing Grinches. Americans are expected to spend more online this year when they purchase holiday gifts (a 13% increase over last year), but a new survey could throw some cold water on the digital spending spree.
That's because, according to our research, close to 40 percent of people have been the victims of so-called porch pirates, who snatch package deliveries from porches, stoops and doorsteps. What's creating this crisis? In short, online shopping.
Nearly 8 in 10 U.S. adults are regular online shoppers, and those numbers are only expected to continue rising in the future. In fact, by the end of 2019, it's projected that Americans will spend more than $605 billion online, which would be a 15 percent increase from 2018.
The growth of online retail creates ripple effects around various other industries, including parcel and package delivery, an industry that has seen rapid growth over the past few years and is expected to reach $107 billion this year.
These national findings largely track with a new Security.org survey that asked users about their package delivery habits and what steps they've taken to make sure their homes aren't targets for package thieves.
According to our survey, 38 percent of respondents believe they've had packages stolen from their homes after the packages were delivered. This figure is higher than other surveys and studies that have been conducted, though the other studies are a few years old. A recent survey by Shorr Packaging Corp. found that just 31 percent of people had experienced package theft.
While our new study indicates that package theft is on the rise generally, not all states seem to be targets to the same degree. Which states and cities present the greatest risk, what is the shape of the online shopping and delivery economy and what are people doing to prevent their eagerly anticipated packages from being swiped from their porches?
Which States and Cities Are Most at Risk for Package Theft?
Stealing packages from homes, porches and mailboxes is usually classified as a larceny theft. Larceny is taking property from someone else without permission through means other than violence or fraud. Federal data does not yet distinguish package theft from other larceny, so it's not 100 percent clear exactly how many package thefts take place every year across the country.
But by examining larceny theft statistics, we can begin to develop a picture of which places are most at risk. Some larceny thefts could be classified as mail theft, which is a federal crime. And depending on the value of the items stolen, for those caught stealing Amazon and other ecommerce deliveries, their offenses could move into felony status, depending on the state.
According to the most recent, more than 5.5 million larceny thefts were reported across the country, which represents a slight dip from the previous year, according to the FBI's 2017 Crime in the United States report, the most recent annual data available.
Larceny accounts for nearly three-quarters of property crime, making such thefts incredibly common throughout the entire nation. The average value of items taken per larceny-theft incident was $1,007, and the total estimated value of all items stolen through larceny was nearly $6 billion in 2017.
Larceny is divided into several categories. Here's a look at how the total offenses recorded in each category breaks down, using the most recently available data: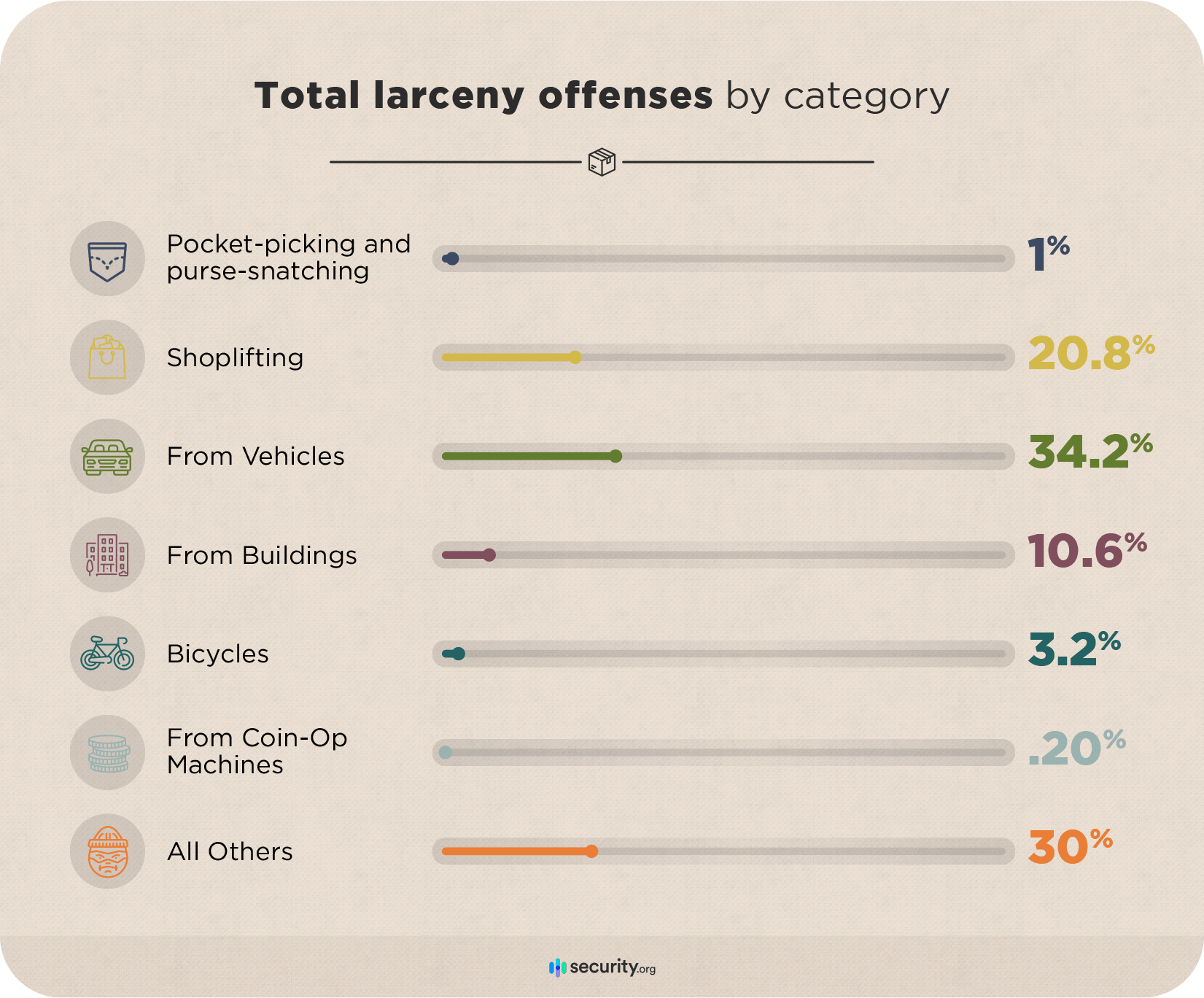 To understand how much package theft occurs, let's drill down on the 10.6 percent of larcenies that involve theft from buildings, which accounts for about 1 in 10 of all larceny thefts. Most larcenies occurred in major metropolitan areas and smaller cities.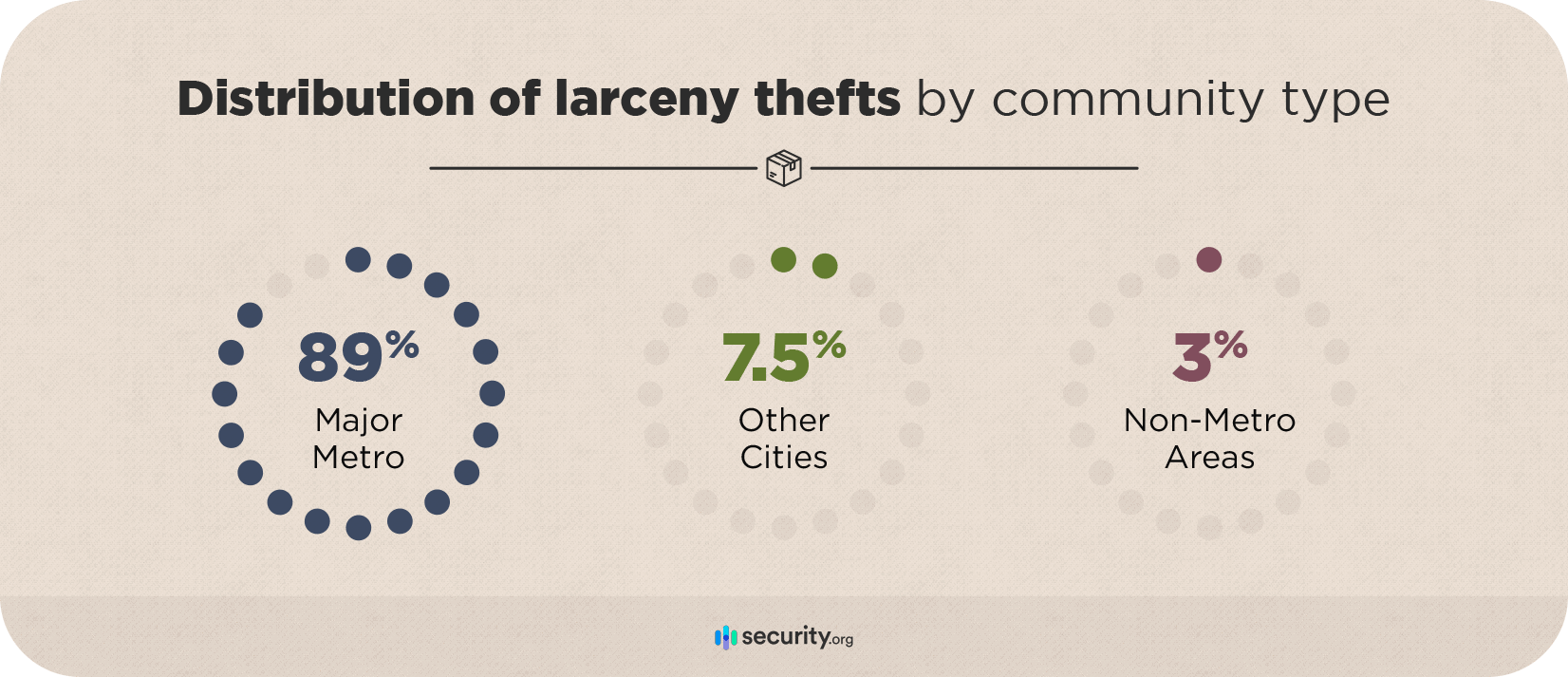 The FBI's data doesn't split thefts from buildings from all larcenies on the state level, but we can reasonably infer that in places where larceny is more common, package theft is also more common.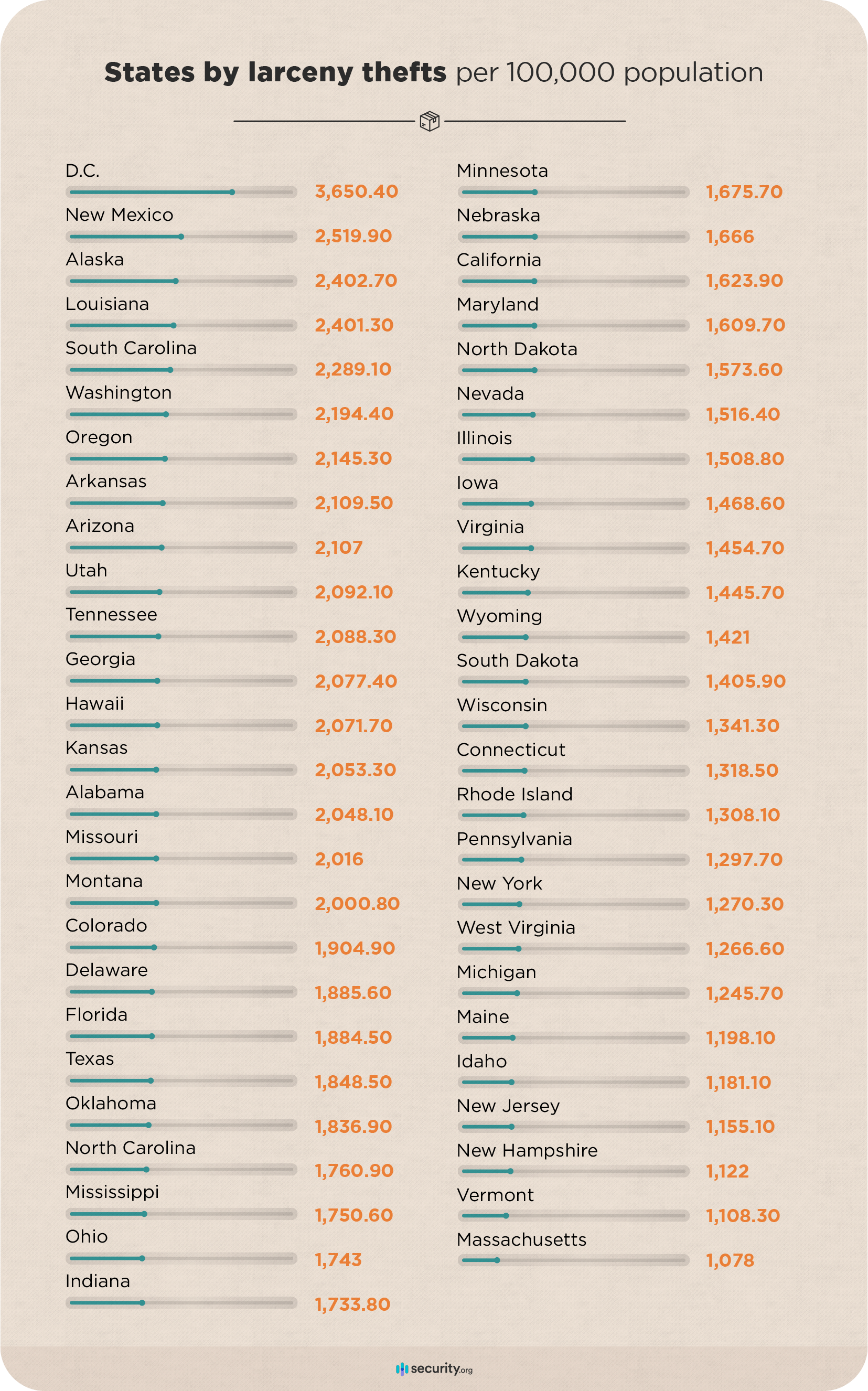 The Northeast and Midwest are the regions with the strongest concentration of thefts from buildings in the total larceny mix, indicating package thefts may be most common in these areas.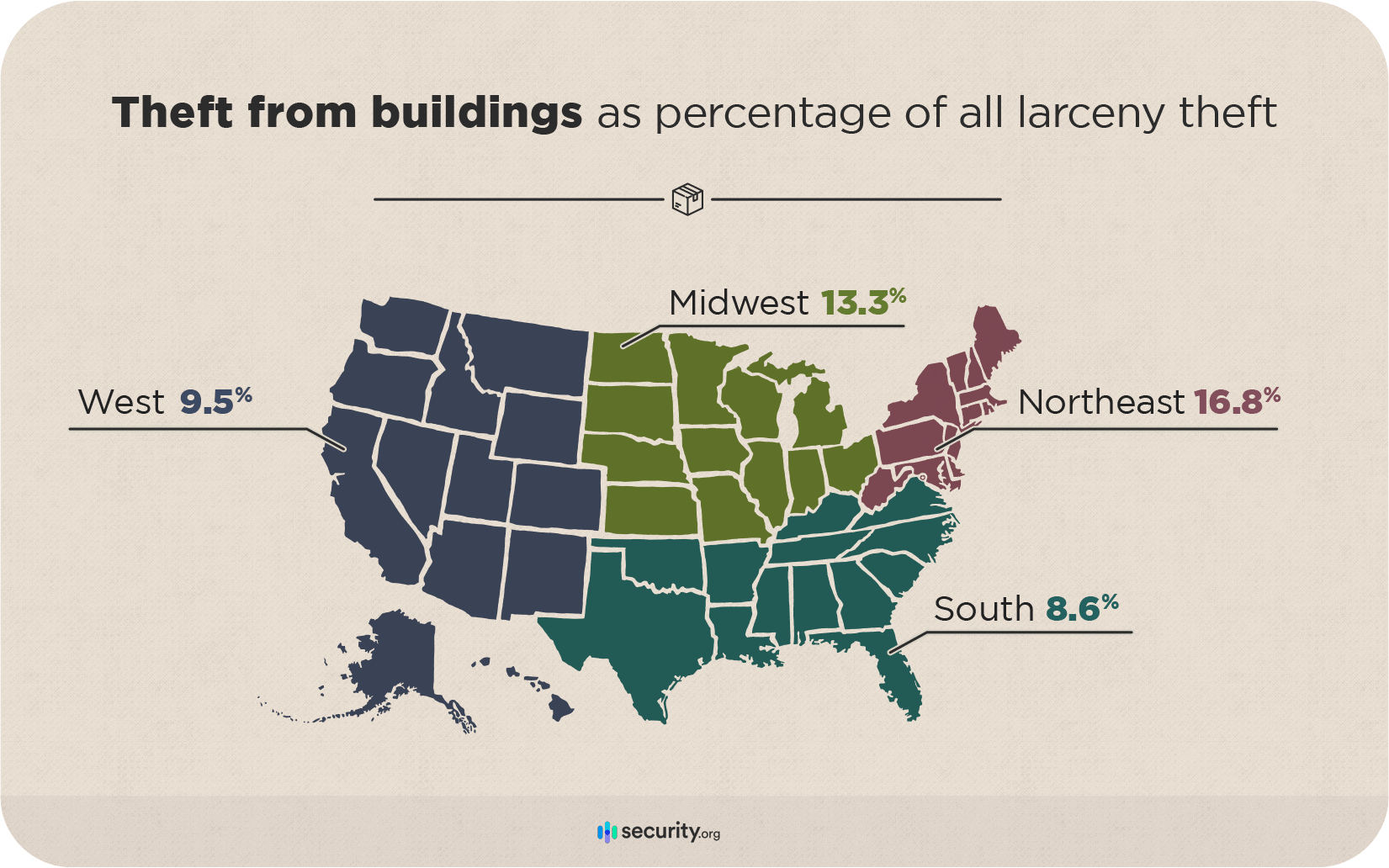 In addition to wide-ranging differences between the states, cities around the U.S. also have widely variable rates of larceny. Here's a look at the 25 best and 25 worst cities when it comes to larceny theft.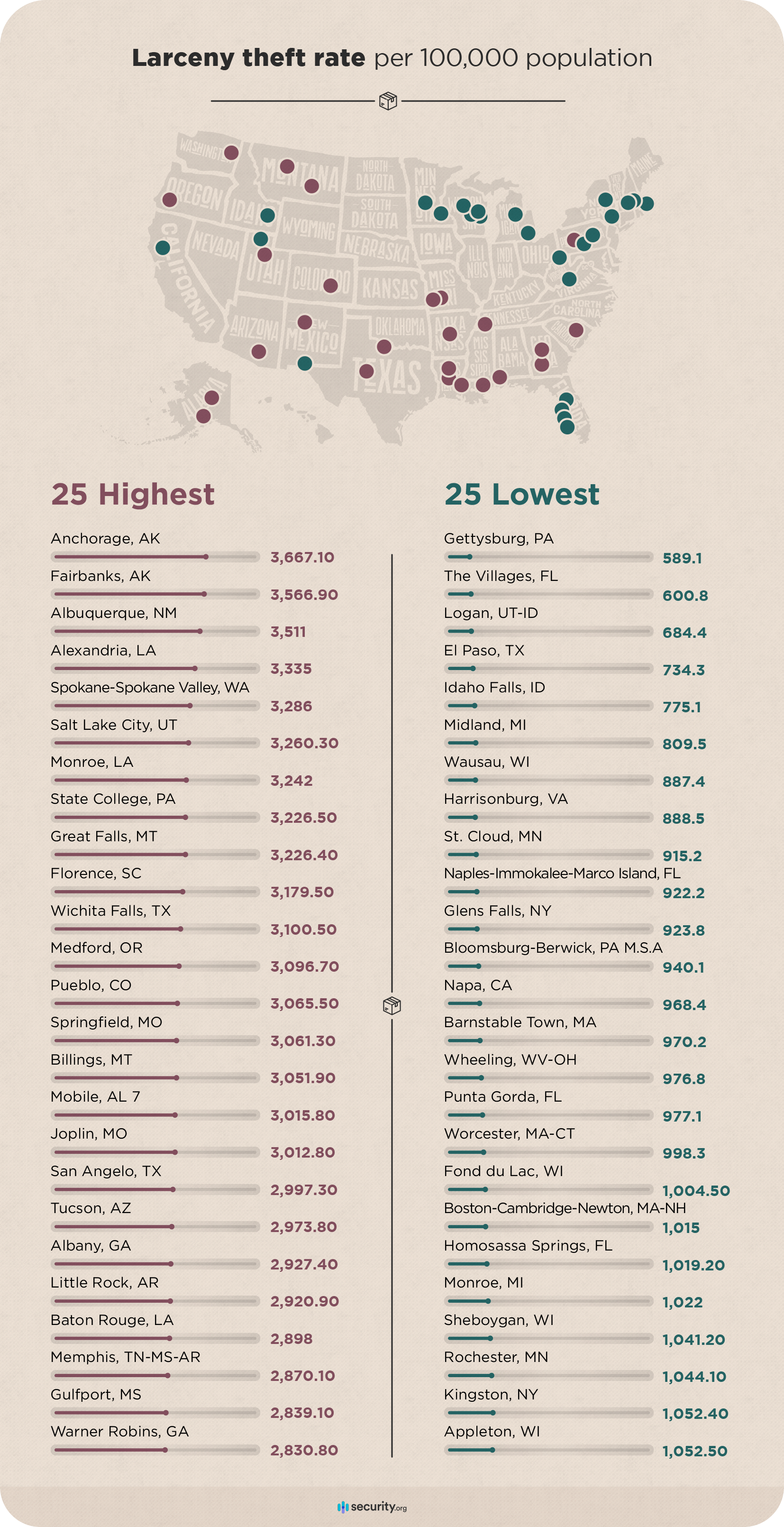 The Delivery Economy
Package theft is becoming so common that it's given rise to a new term: "porch pirate." In at least one major city, Los Angeles, police have noticed an upward trend in residents reporting that they've been the victim of package thefts. According to the LAPD, reports of packages being taken off doorsteps and porches has exploded by nearly 600 percent since 2010.
While it's hard to know exactly what's behind each and every package theft, the fact is that more of us are shopping online and having things delivered to our homes with ever-increasing frequency. In short, the delivery economy may be to blame for the rise of porch pirates.
From the figures surrounding how common online shopping is, we know that most U.S. adults shop online and have packages delivered, though the frequency varies. According to the Shorr Packaging Corp. study, multiple deliveries per month are very common, with nearly 1 in 5 people receiving packages as many as 10 times per month.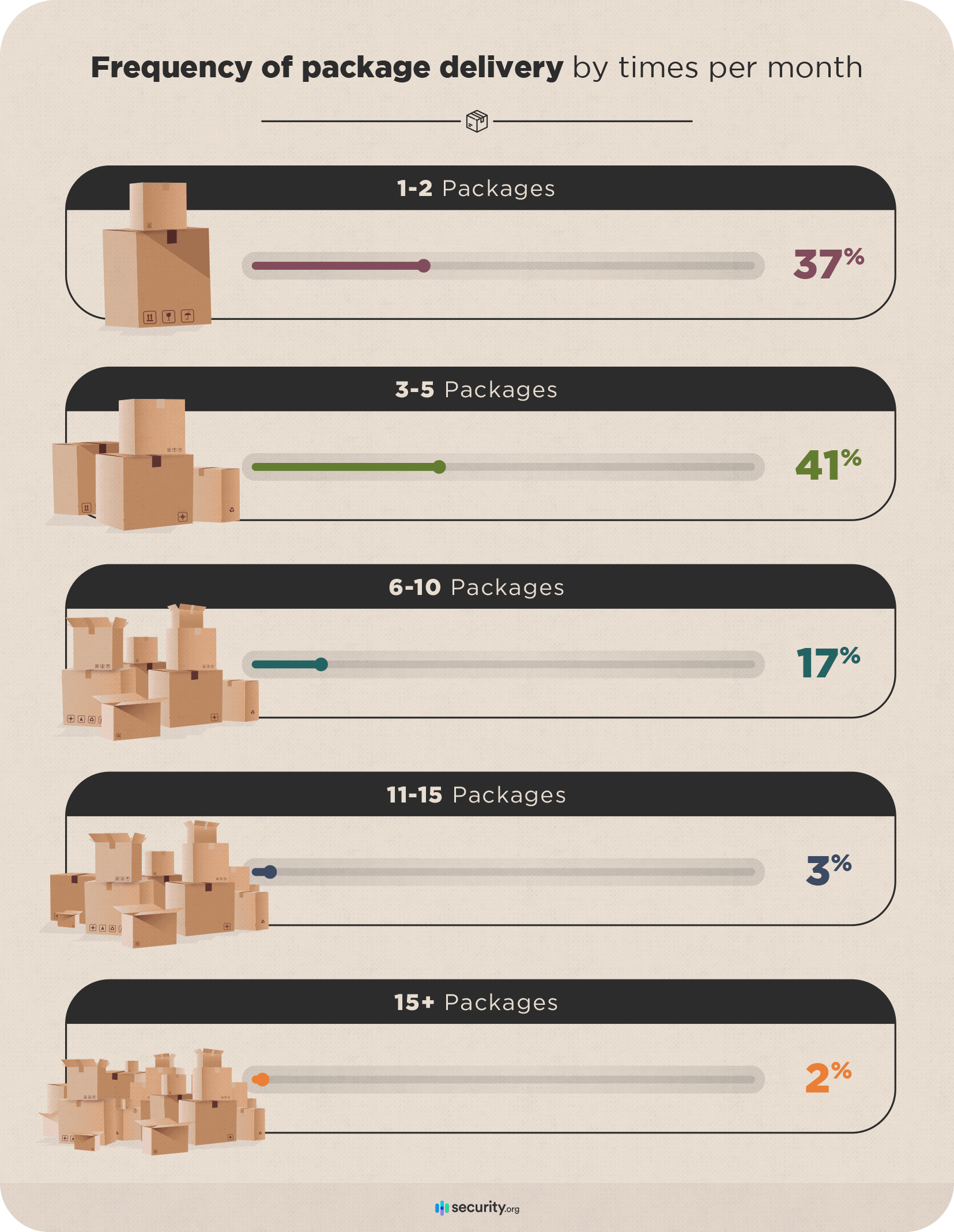 Shoppers also are divided by how much they'd be willing to spend on an item that's being delivered via package, though most of us seem OK with putting as much as $5,000 at risk. In the Shorr survey, 27 percent of respondents said they're comfortable with having a $500 to $1,000 package shipped to them, and another 22 percent are OK with even higher-value items being delivered.
However, the Shorr survey also found that 41 percent of people have avoided purchasing certain items online so that they can limit their exposure to package theft.
Package delivery is a huge industry in the U.S., with total revenue projected to reach $107 billion this year and employment in the field nearing 1 million total. The industry has grown by nearly 5 percent every year since 2014, and the continued adoption of online shopping will likely keep driving growth in the parcel and package delivery sector.
Did You Know: You can prevent package theft by installing one of the best video doorbells. Look for a model with smartphone alerts and two-way audio.
Not only is package delivery an already huge and still-growing sector, the growth of Amazon is helping keep the U.S. Postal Service in the green, as about 6 in 10 Amazon packages flow through the post office. It's estimated Amazon accounts for as much as 5 percent of FedEx revenue and around 10 percent of revenue at UPS.
How Are People Preventing Package Theft?
In addition to avoiding purchasing high-value products online, consumers are considering other ways to ensure the goods they buy online get to them before they get to a thief. From installing security systems and cameras to diverting packages to neighbors homes or other secured locations, there's no reason for your precious package to fall into the wrong hands.
More than 80 percent of our survey respondents said they were concerned about package theft, so we asked them to share details of what they planned to do in the future to ensure their packages are safe. The good news is most of our users were considering some common-sense solutions.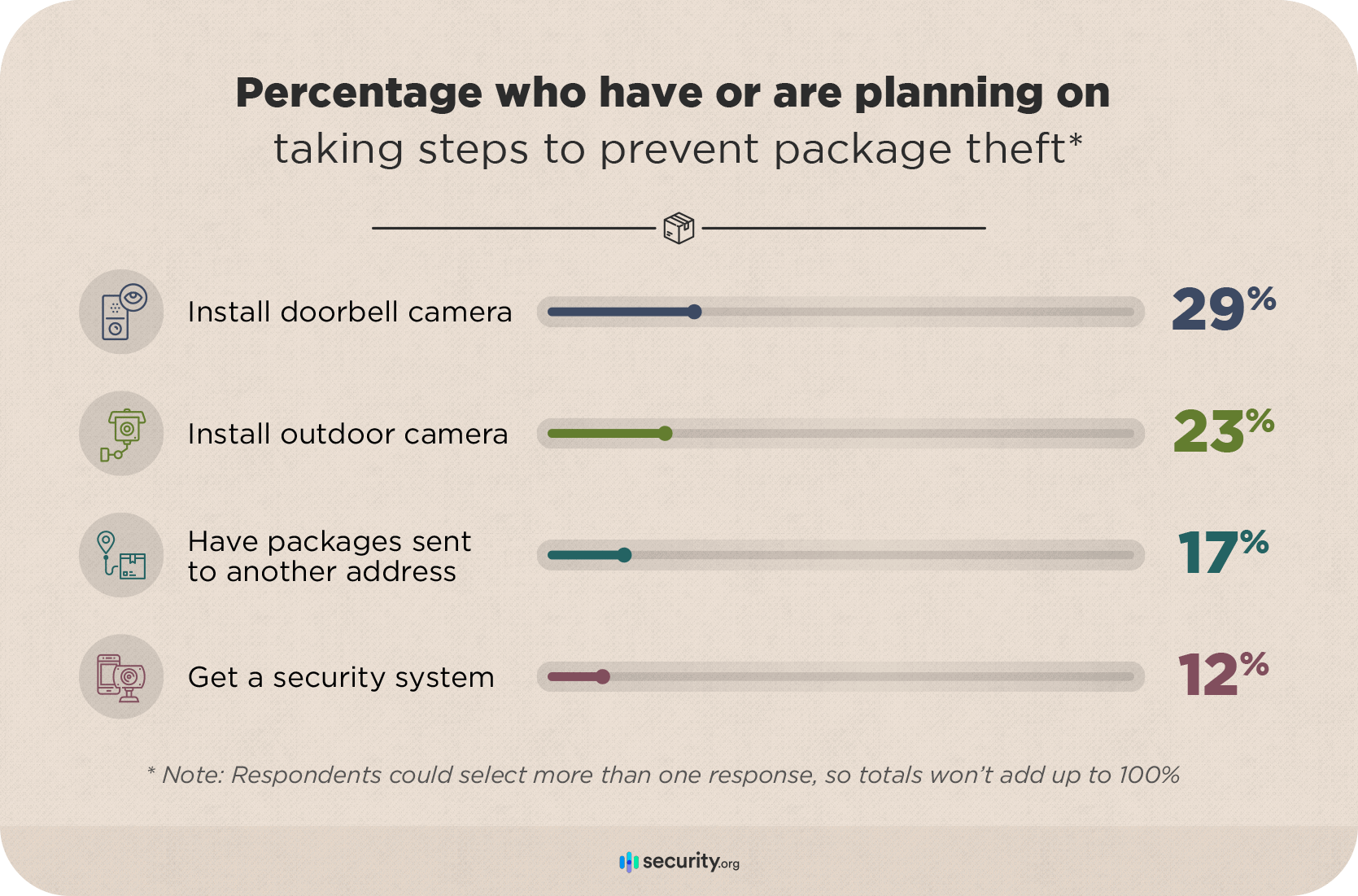 Other package security solutions suggested by our users included: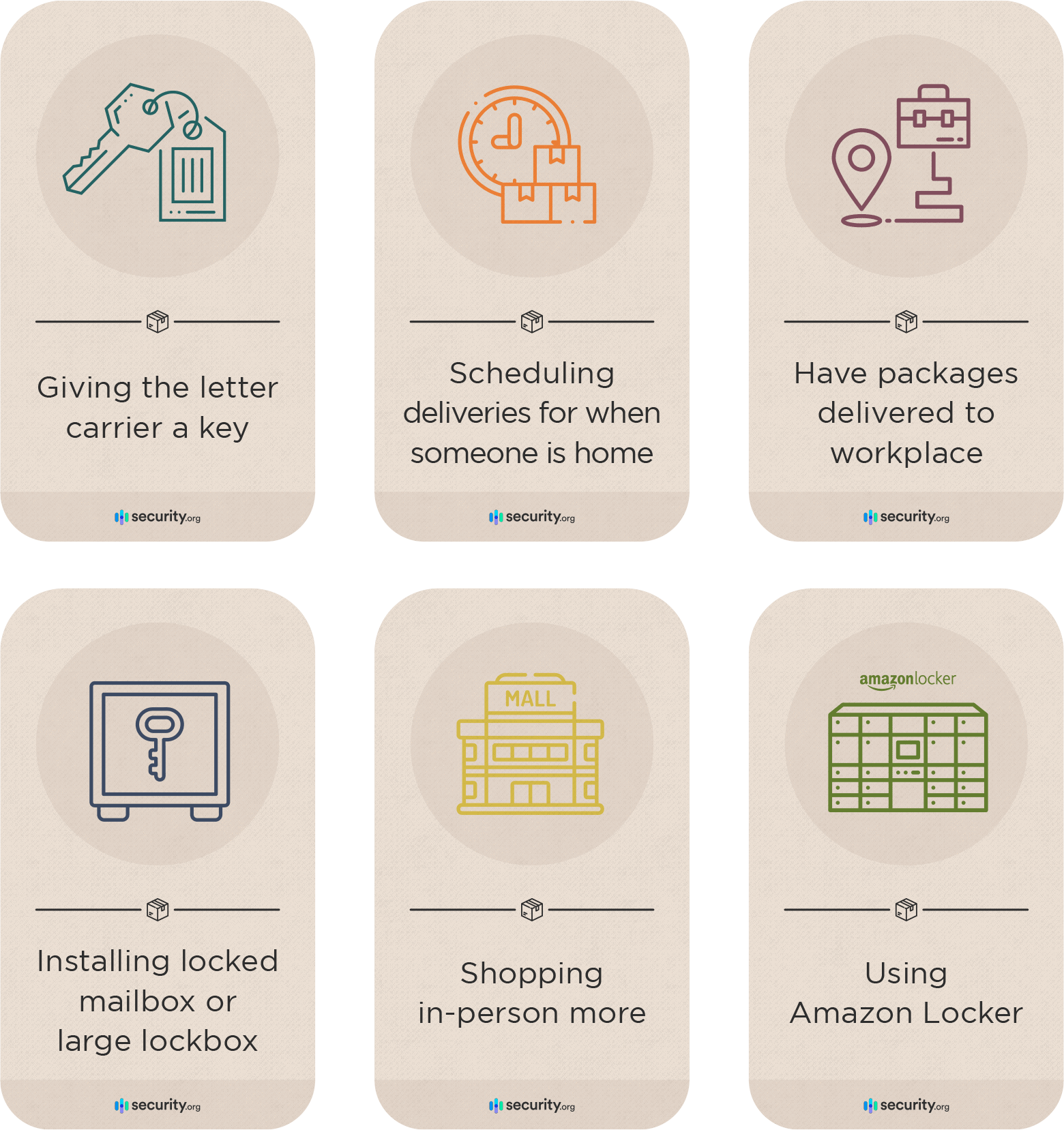 About This Report
Security.org survey: We surveyed 1,011 people in mid 2019 on their habits surrounding package delivery. Only those who have packages delivered to their homes were asked to participate. Of those individuals, we asked questions about whether they have had packages stolen, if they are worried that will happen in the future and what methods they're planning to use to prevent package theft.
Crime statistics: All of the data we used on larceny theft reports came from the FBI. Check out the available tables here. For the Los Angeles crime report information, we used data from Crosstown Crime.
Online shopping and shipping: We used information from industry groups to build a picture of the state of online shopping and package delivery. Our sources for this information were IBIS World, eMarketer, Shorr Packaging Corp. and  the Pew Research Center. Other data was gathered from ZDNet.
Fair Use Statement
The material on this page is free to share for noncommercial use. When using the text or images from this page, all we ask is that you properly attribute it with a link back to the URL of this page.