Safety While Dating

Somewhere between all that swiping, private messaging, and blind dating, finding a good relationship can feel a bit like winning the lottery. Whether your dating method is meeting people online or getting set up by a friend, there will always be some concerns for personal safety.
There is plenty of advice for staying safe when meeting someone for the first time, but do people follow these tips as diligently as they should?
For a closer look, we surveyed over 960 people about their dating concerns, the safety techniques they use while on a date, and how much information they're willing to share prior to meeting up. Curious how many people have been scammed by someone posing as a romantic interest, and how you can avoid the same fate? Read on to learn more.
Keeping Your Guard Up
When it comes to finding a romantic connection in the digital age, steering clear of sexual predators isn't the only concern. As much as it's important to pick a public space for your first meeting and let someone know where you're going (and with whom), it's equally crucial to protect your personal information every step of the way. Lurking beneath a charming photo and a few casual conversations could be someone looking to swindle you out of money, steal your financial information, or worse.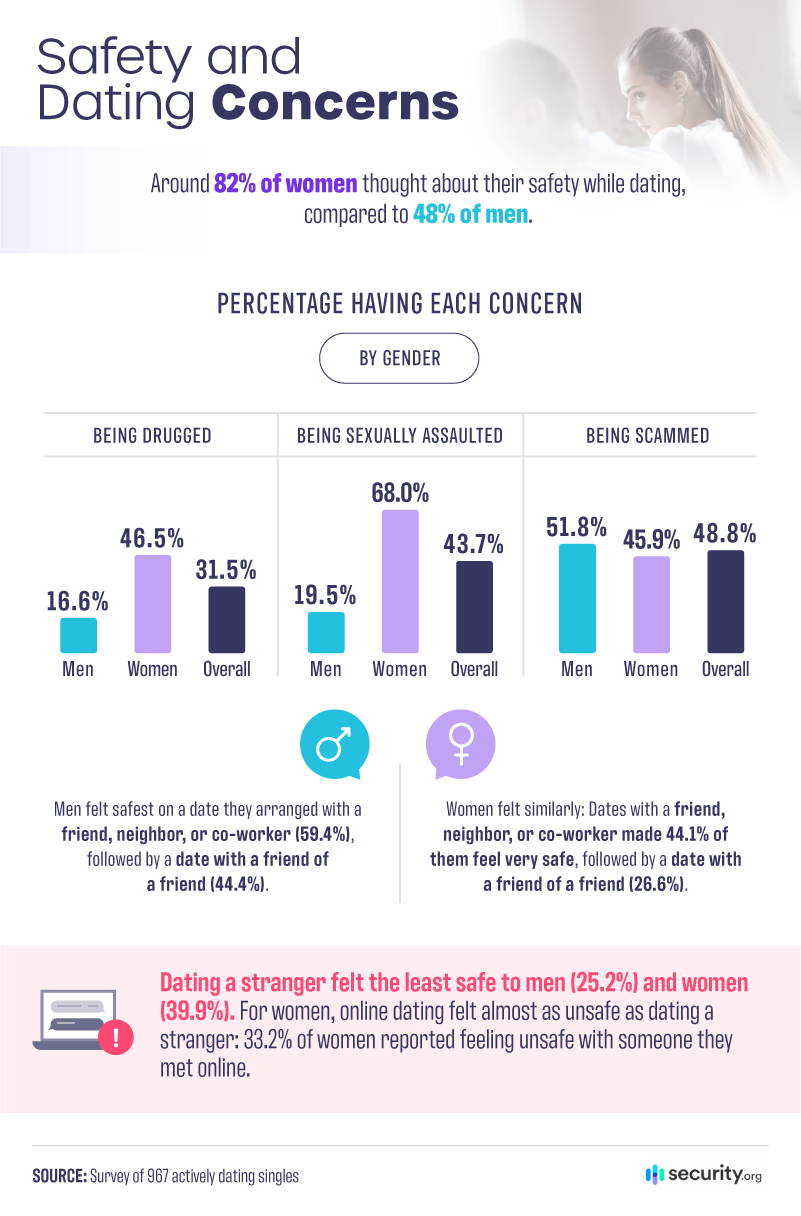 Being scammed was our respondents' biggest concern when dating (almost 49%), followed by sexual assault (nearly 44%) and being drugged (32%). However, women were far more likely than men to consider their personal safety while dating (82% versus 48%).
While there was more than a 20 percentage point difference between the number of men and women worried about being drugged on a date, women were much more likely to worry about sexual assault. In contrast, over half of all men dating said they were most worried about getting scammed by their date.
Women also felt that online dating was about as safe as dating a stranger. Around a third of women who went on a date with someone they met online felt unsafe in that situation, less than 7 percentage points behind a date with a stranger.
Remaining Vigilant
Whether you're concerned about scams, phishing, or your physical well-being, you should protect yourself against the dangers of dating in the digital age. According to our study of actively dating singles, 70% of women said they researched their date online beforehand compared to 45% of men. Of those who researched their dates online, around 40% of them said they found incriminating evidence, ranging from misleading photos to job descriptions that differed from their date's telling. Surprisingly, nearly half of our single sleuths (50%) also went on the date, despite discovering less-than-assuring evidence on their date.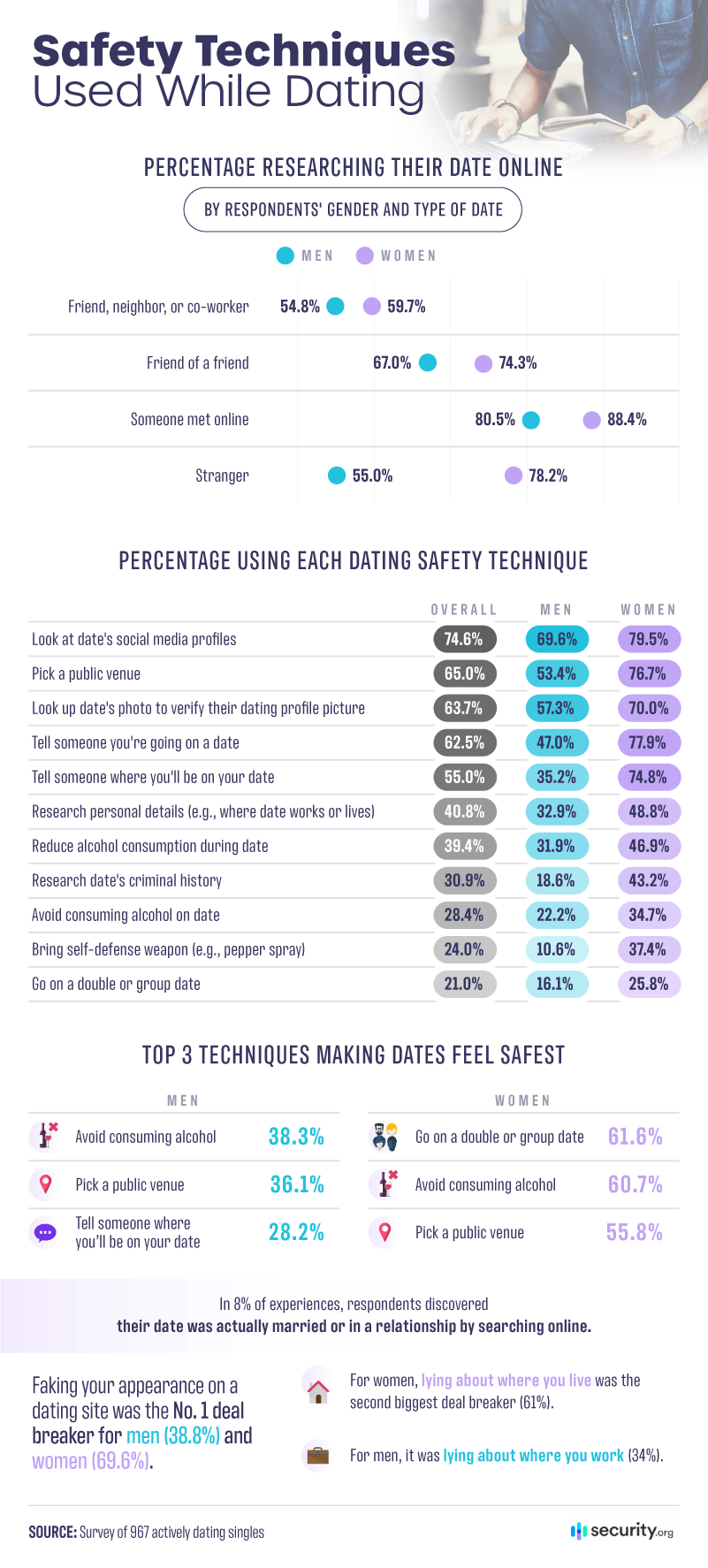 Compared to nearly 70% of women who researched their date online before meeting, just 45% of men did the same. While it may feel like "lurking," experts say a certain bit of investigation before meeting someone can keep you safe. However, while 2 in 5 people found incriminating information, around half of those people decided to go on a date anyway.
And although more than 88% of women and nearly 81% of men did some digging before meeting someone they met online, just 78% of women and 55% of men vetted a stranger before going on a date.
So, what kind of research are most people doing before their first date? The majority of men (70%) and women (80%) looked up their dates on social media. Meanwhile, 65% of all respondents picked a public place for their date, and about 64% made sure the person they were supposed to meet looked like their dating profile picture.
While around 38% of men said avoiding alcohol made them feel safest while on a date, nearly 62% of women pointed to group settings or double dates instead.
Getting Too Personal
The FBI cautions people to be wary of online dating scams, or online romance scams, which can also take place on dating platforms.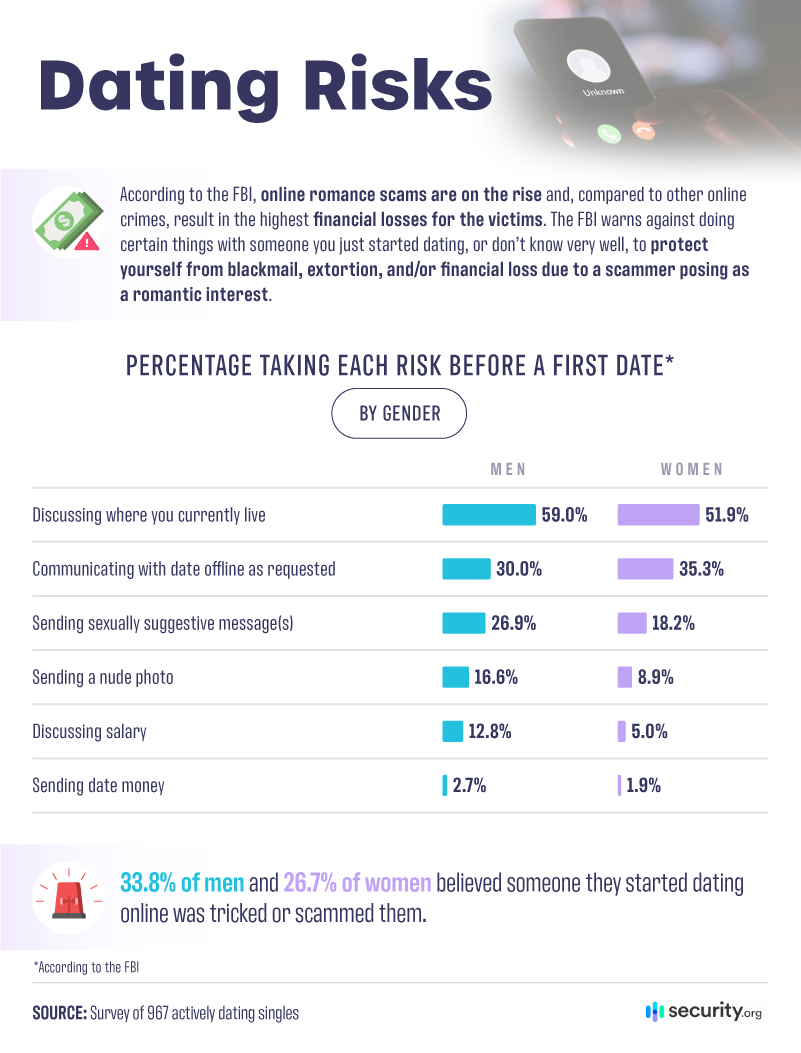 According to our study, more than half of people engaging in courtship via an online platform told the person where they live. Roughly 1 in 3 men and women agreed to switch their communication offline (outside of the dating site or social media), and 27% of men and 18% of women sent sexually suggestive messages.
Deciding whether you want to take things to the next level with someone you haven't met is a personal decision, and almost 17% of men and 9% of women sent nude photos before going on their first date. However, stories surrounding blackmail over suggestive photos, also called sextortion, reveal the risks that people take when they share this kind of content. The following are some stories of uncomfortable dates our respondents experienced:
| Experiences with suspicious dates: | Age | Gender |
| --- | --- | --- |
| Guy said his grandmother was really sick, and he needed bus fare to come to my town where she lived. Then he sent me a really sexy pic of himself, but it really wasn't him. | 54 | Man |
| I had someone try to get me to join their church. They had no interest in dating. She was good looking, though. So, I went along with it for a while. I had time to spare, and it didn't cost me any money. I did meet another girl at one of the church functions. She had to move out of state, so I didn't get to spend much time with her. | 43 | Man |
| An online conversation developed into a long-distance relationship, and she then told me some sob stories on how she needed money in order to meet me. I only sent 1/3rd of what she requested, though. | 42 | Man |
| Upon meeting, the person described the company she worked for and wanted to get more personal information for me to apply to said company. | 40 | Man |
| The person kept asking for me to send her gas money so she can drive to see me, but she wanted me to buy google play gift cards. I knew automatically it had to be a scam because how can you get gas with a google play gift card? | 40 | Man |
| The person claimed she was single, when, in fact, she was married. Fortunately, my best friend's wife went to school with this person and advised me of her true relationship status. I canceled the date. | 35 | Man |
| The person I was talking to kept putting off meeting in person until she finally ended up asking me for money. | 32 | Man |
| The person online seemed genuinely interested in me. [She] responded back quickly to messages and sent lots of pictures. [She] said she lived nearby and wanted me to come over to visit. The frequency of her messages increased to the point where something seemed wrong. Later, she asked for money and said she was in a tight spot and needed help. She would do anything I wanted if I brought her the money. That's when I knew something was up and I did not respond back and blocked her on Messenger. | 29 | Man |
| Things were going fine initially. [It was] not until she started bringing up various financial challenges [that I] had to block her number on my phone. | 26 | Man |
| You know how it is. Sometimes you meet someone or they message you first, and at first it seems all fine and dandy until they're 'in a really bad place right now' and 'just need a few hundred to get out.' I mean, sure, maybe, but I doubt it. People in bad places don't solicite strangers on dating sites, you know? | 23 | Man |
| On Tinder, quite a few people are simply trying to earn money rather than go on dates. I have matched with people before who asked that I sent them money before they talk to me. | 20 | Man |
| A man who had the same religious preferences as me wanted donations for his church. | 64 | Woman |
| After meeting online, he suggested we email off the site right away and then text message. Very quickly he was acting like we were already in a relationship and he wanted to move near me after one week. He kept calling me 'Honey' and wanted to text all the time. When I suggested we talk on the phone he finally agreed, but I could tell that his accent did not sound like where he said he was from. When I asked him about it, he said he picked up his accent from traveling to different places. I stopped communicating with him right then because I saw too many red flags and I think the next thing he was going to do was ask for money. | 62 | Woman |
| They were trying to act as if they were sick and in need of medical attention due to their issues. I found out they lied about that and lived very well. They would get professional women to date to take care of them. | 47 | Woman |
| [It] seemed too good to be true. [They] kept stating that they wanted to help me financially and asked me about my banking information, job, and where I lived ... all so they could 'help me.' | 42 | Woman |
| Things she said weren't adding up, and she wouldn't get on the phone. She was really eager to meet. I got the sense it was actually a man. | 39 | Woman |
| I had someone who insisted on going on a hike in a remote area, even though I told them I was not interested. | 39 | Woman |
| I had one guy that gave me a Google number, which I found weird. I asked him why he didn't give me his regular number, and he made up some excuse about his regular phone getting fixed. I ended up researching him, and everything he told me and his profile picture were stolen, and all of his information was fake. | 32 | Woman |
| I was told a very sad story to make me feel bad enough to send money to help this person, and after I sent the money, they blocked all communication with me. | 31 | Woman |
| This guy I went on a date with one time said he was looking for something casual (which met my expectations). We shared photos, messages, sexually explicit messages and photos, and, overall, I felt like I got to know this person pretty well considering I hadn't gone on a date with him yet. We met in person and he was completely different. He was much heavier than his pictures led me to believe, and on the first date, he was talking about adopting my child and getting married. Like, um ... no? You're not adopting my child. He gave me a major pedophile feel just because of this conversation ... It made me wonder if he was trying to see me to see my kid. He insisted on us meeting at my house, which I refused because of my daughter's safety (she was almost 5 at the time). I went to dinner and a movie with this guy, and I had sex with him at his house (well, his parents' house – this was a lie I also encountered. I was told he was a mechanic who owned his own business and lived alone in a 3-bedroom house), I guess as a sort of thank you for paying for our date and went home alone. I texted him after a few days and said I was no longer interested. A year later, he messaged me out of the blue to find out what I was up to. I didn't reply. He messaged me again a few months after; at this point, I blocked his number and never spoke to him again. | 30 | Woman |
| They wanted to text via [phone] instead of the dating site. I used a phone number I downloaded from an app to keep my cellphone private. | 25 | Woman |
| I've been blackmailed. People often openly share personal info. I did when I was younger and still have people 'following' me because of this. I'm much more careful now but have to accept that some people know where I live, who my family is, etc. | 25 | Woman |
| This person told me they were losing their place to live and couldn't pay the rent, so my empathetic nature always feels bad for them and [wants to] help them out. [It] Turned out they were lying and just wanted to get money. | 20 | Woman |
Jumping Ship
Despite conducting extensive research, you might still feel uncomfortable on your date, and you should listen to your gut in these cases.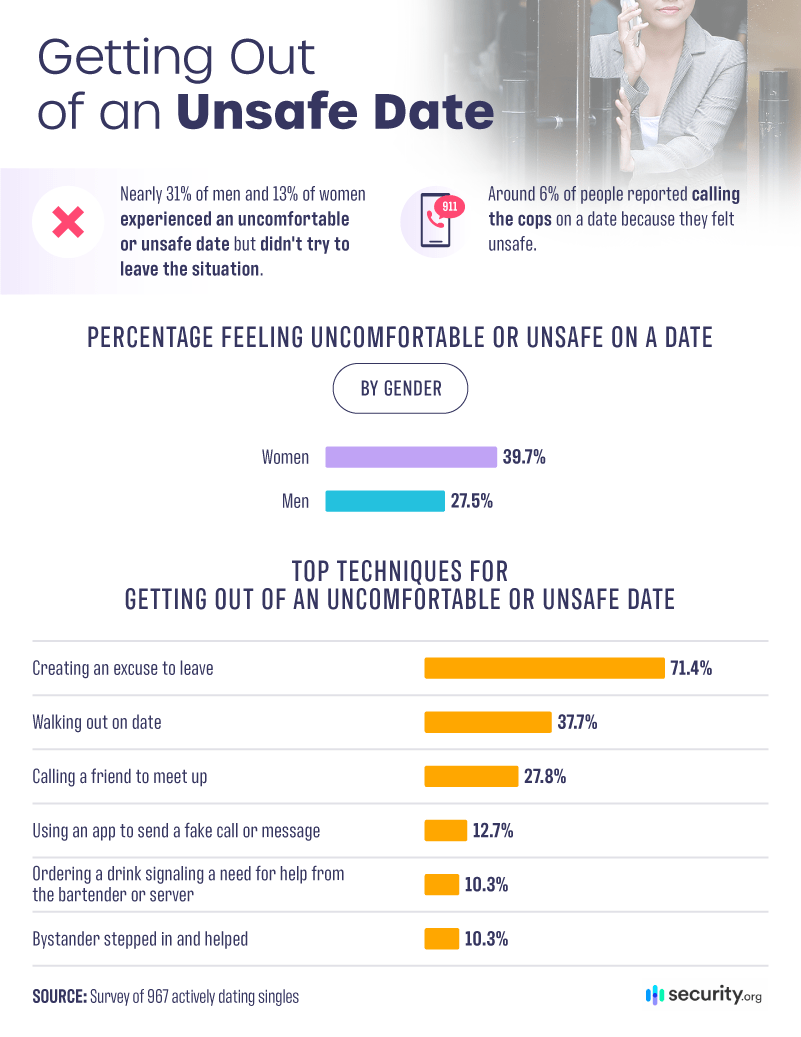 Almost 40% of women and 28% of men said they felt uncomfortable or unsafe on a date at some point. Despite 6% of people having called the police due to a dangerous dating scenario, 31% of men and 13% of women didn't try to leave a date even though they felt uncomfortable or unsafe.
If you feel the date has gone beyond "not clicking," but you're unsure how to end things, creating an excuse to leave is common. Seventy-one percent of respondents did this, followed by 38% who walked out and 28% who called a friend to meet them. One in 10 people also signaled to a bartender or server that they needed help.
Some bars now offer women a way out of unsafe dates, such as advising them to order an "angel shot" or providing posters in bathrooms about exit routes.
Making Safety a Top Priority
If online dating is anything, it's unpredictable. And while you might walk away with enough funny stories to write a book, it's imperative to be mindful of your safety at every turn. As respondents acknowledged, even when the situation was uncomfortable, they were unwilling to walk away from a bad date.
Methodology
We surveyed 967 people who are actively dating to explore safety and other concerns surrounding the dating scene. Around 50% of respondents were men, and 50% were women, with ages ranging from 18 to 77, an average age of 33, and a standard deviation of 10 years. We did not have a validated measure for personal safety, so we created one using a bipolar scale ranging from "very safe" to "very unsafe." We did not weight nor statistically test our hypothesis. All data are based on self-report and carry the limitations of such data. This was an exploratory study on dating in the modern age and safety.
Fair Use Statement
You don't have to swipe right to show us you're interested in this story. Help spread the word about dating safety with your readers for any noncommercial use by including a link back to this page as credit to our incredible team of contributors.