2023 Cryptocurrency Adoption and Consumer Sentiment Report
Though more than 40 percent of people with cryptocurrencies have lost money on their investments, more than half are planning to expand their wallets.
Written By: Security.org Team | Published: March 8, 2023
---
Even by cryptocurrency's volatile standards, 2022 was incredibly tumultuous. A year that began with celebrity endorsements and Super Bowl ads ended with market values down more than 60 percent.
Industry supporters characterize last year's "Crypto Winter" as growing pains for an emerging asset class. However, analysts debate whether the crisis is catastrophic or presents a ripe opportunity. These mixed signals continue into 2023: crypto prices have risen slightly as the federal government cracks down on trading and warns the public about high scam potential.
Against this turbulent background, we conducted our third annual cryptocurrency study (following reports of 2021 and 2022). By gathering insights from over 1,200 Americans, we measured prevailing public perceptions, confidence, and planned activity in the market.
Key Findings:
Though cryptocurrency awareness increased by nine percent since 2022, ownership rates dropped from 33 percent to 30 percent of American adults.
New crypto investors dropped by one-half in 2022, compared to the previous two years.
Only one in three crypto owners have turned a profit on their investment, but many remain optimistic: nearly 75 percent expect the market to hold its value or rebound in 2023.
About half of crypto owners plan to expand their portfolios in the next 12 months, while only five percent of non-owners plan to invest for the first time.
Crypto Awareness and Ownership in 2023
Cryptocurrency values declined significantly in 2022 but made further gains in public awareness. Prominent marketing campaigns, stadium names, and scandalous headlines combined to keep crypto in the spotlight.
Percentage of the public familiar with cryptocurrency
By year
| | |
| --- | --- |
| 2021 | 47% |
| 2022 | 63% |
| 2023 | 69% |
When we conducted our first study just two years ago, 47 percent of American adults were familiar with crypto. Today, 69 percent of Americans consider themselves familiar with the concept.
Though overall awareness has climbed, the notorious nature of crypto's recent publicity may have harmed the currency's reputation. As consumer awareness reached new heights, ownership numbers stagnated over the past year – a notable deviation after the number of  participants more than doubled between 2020 and 2021. Still, nearly a third of Americans currently hold crypto tokens.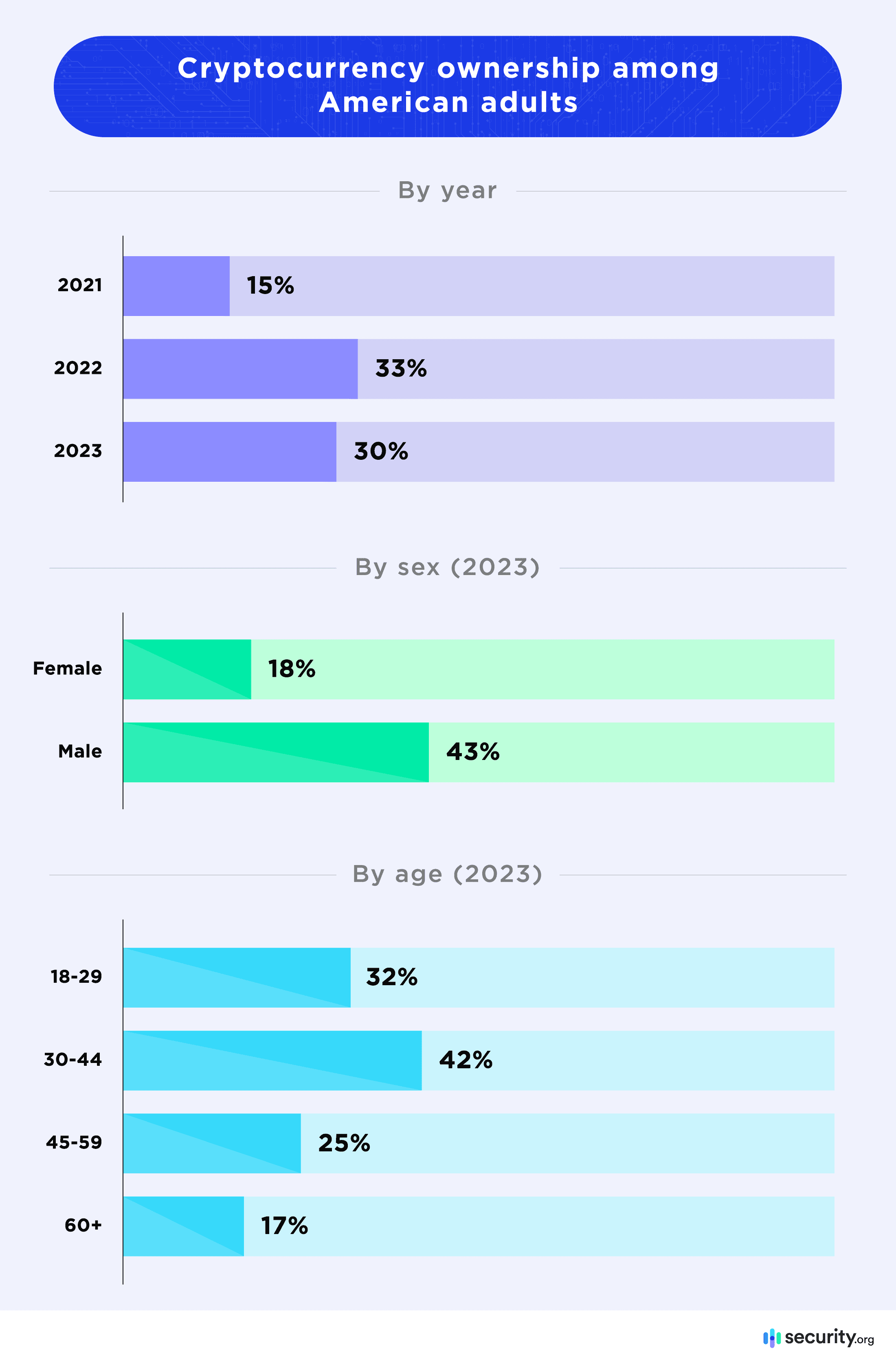 Those who still own cryptocurrency tend to be younger and male. The sweet spot for ownership falls between the ages 30-44 when consumers are young enough to be familiar with crypto yet old enough to have some disposable income.
Spooked speculators may have sold off assets in recent months, partially explaining the overall drop in crypto participation. Similarly, volatile market conditions discouraged fresh investors from entering the market. The number of new crypto buyers dropped significantly in 2022 compared to the previous two years.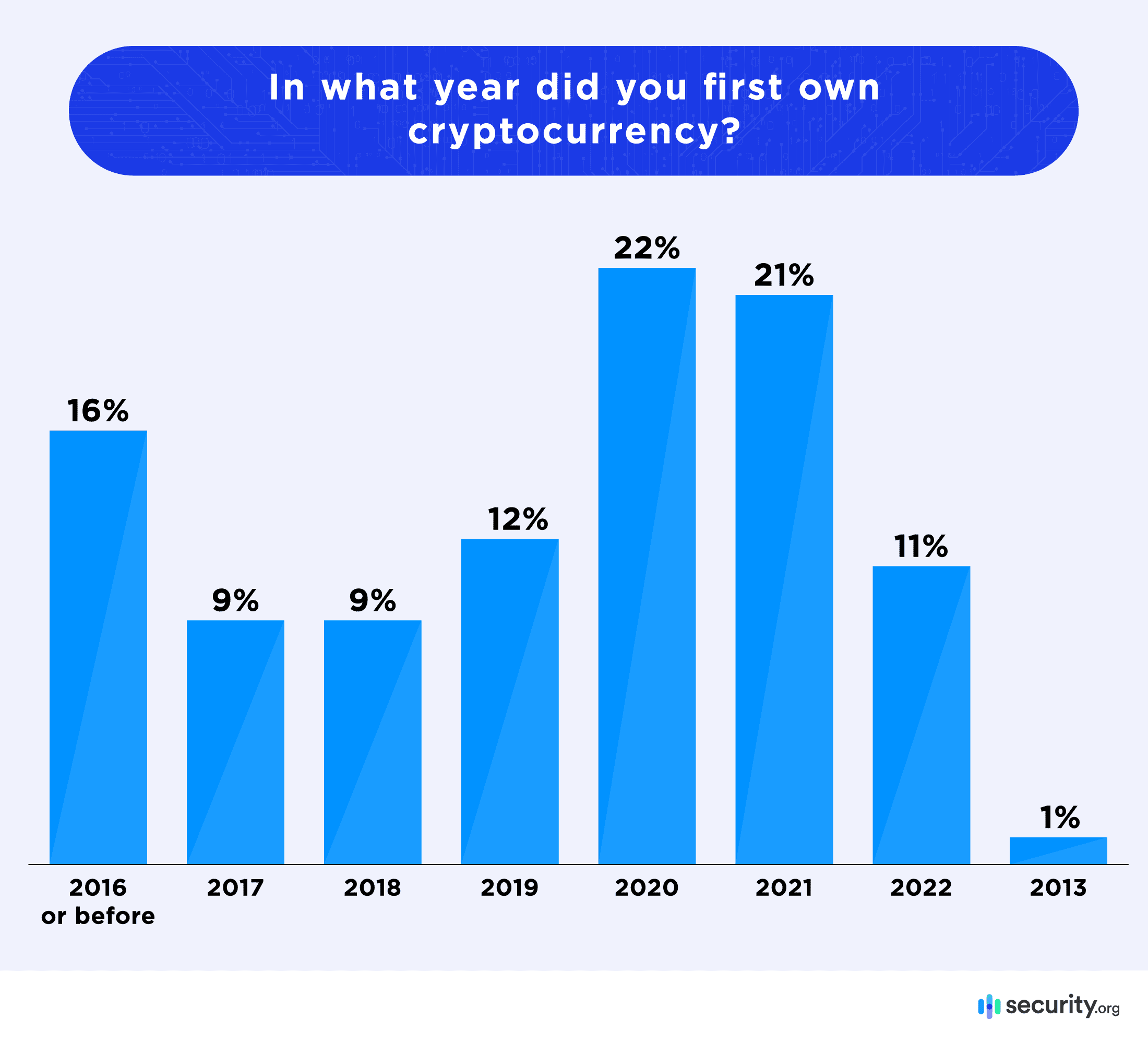 As a result of this investment stagnation, the popularity of individual currencies remained relatively stable between 2022 and 2023. Ethereum and Cardano each lost significant shares of their following, but most names held market share in a year when values tumbled across the board.
Which cryptocurrencies do you currently own?
| Currency | 2023 | 2022 | Percent Change in Price Since January 2022* |
| --- | --- | --- | --- |
| Bitcoin (BTC) | 78% | 77% | ↓65% |
| Ethereum (ETH) | 58% | 65% | ↓68% |
| Shiba Inu (SHIB) | 18% | 19% | ↓76% |
| Cardano (ADA) | 14% | 19% | ↓82% |
| Stellar (XLM) | 14% | 16% | ↓73% |
| US Dollar Coin (USDC) | 10% | 12% | N/A |
| Solana (SOL) | 10% | 11% | ↓94% |
| Binance (BNB) | 6% | 6% | ↓52% |
| Ripple (XRP) | 7% | 6% | ↓59% |
| Tether (USDT) | 5% | 5% | N/A |
| Avalanche (AVAX) | 6% | 5% | ↓90% |
| Terra (LUNA) | 2% | 3% | ↓100% |
| Other | 13% | 18% | |
* Jan 1, 2022- Jan 1, 2023 price history from CoinDesk
The lack of drastic changes in the most popular currencies may reflect crypto owners' unwillingness to dump their tokens at a low point, believing they could ride out the storm and bet on a market rebound. Earlier adopters may also endure the slump via profits from the earlier boom. Let's examine how crypto has performed overall for American investors.
Crypto Performance and Public Perception
As a decentralized, digital currency housed on a borderless blockchain, crypto promises wide-ranging potential. The asset's most prominent advantages include enhanced privacy, easier cyberspace purchasing, and evading inflation or government interference. Still, most Americans who have purchased crypto tokens have invested with the hope of turning a profit.
What were your main reasons for investing in cryptocurrency?
As an asset in my portfolio of investments, to diversify investments
56%
I am interested in crypto technology
38%
I believe it is the future
25%
Someone I know encouraged me to try it
24%
I think it's cool to own crypto
14%
To protect my money from inflation
13%
To facilitate online purchases
13%
To make purchases more privately
11%
To avoid government regulations
7%
Move money to other countries without exchange fees
3%
Other reasons
8%
Note: Respondents could select up to three reasons
Unfortunately, only about one-third of all crypto buyers have thus far received a return on their investments, while more than 40 percent of those currently holding tokens have seen their investments diminish.  Americans who bought into cryptocurrency earliest are the most likely to have earned a positive return. Most investors who purchased crypto before 2018 have seen a net value gain, compared to less than one in four who entered the market after 2020.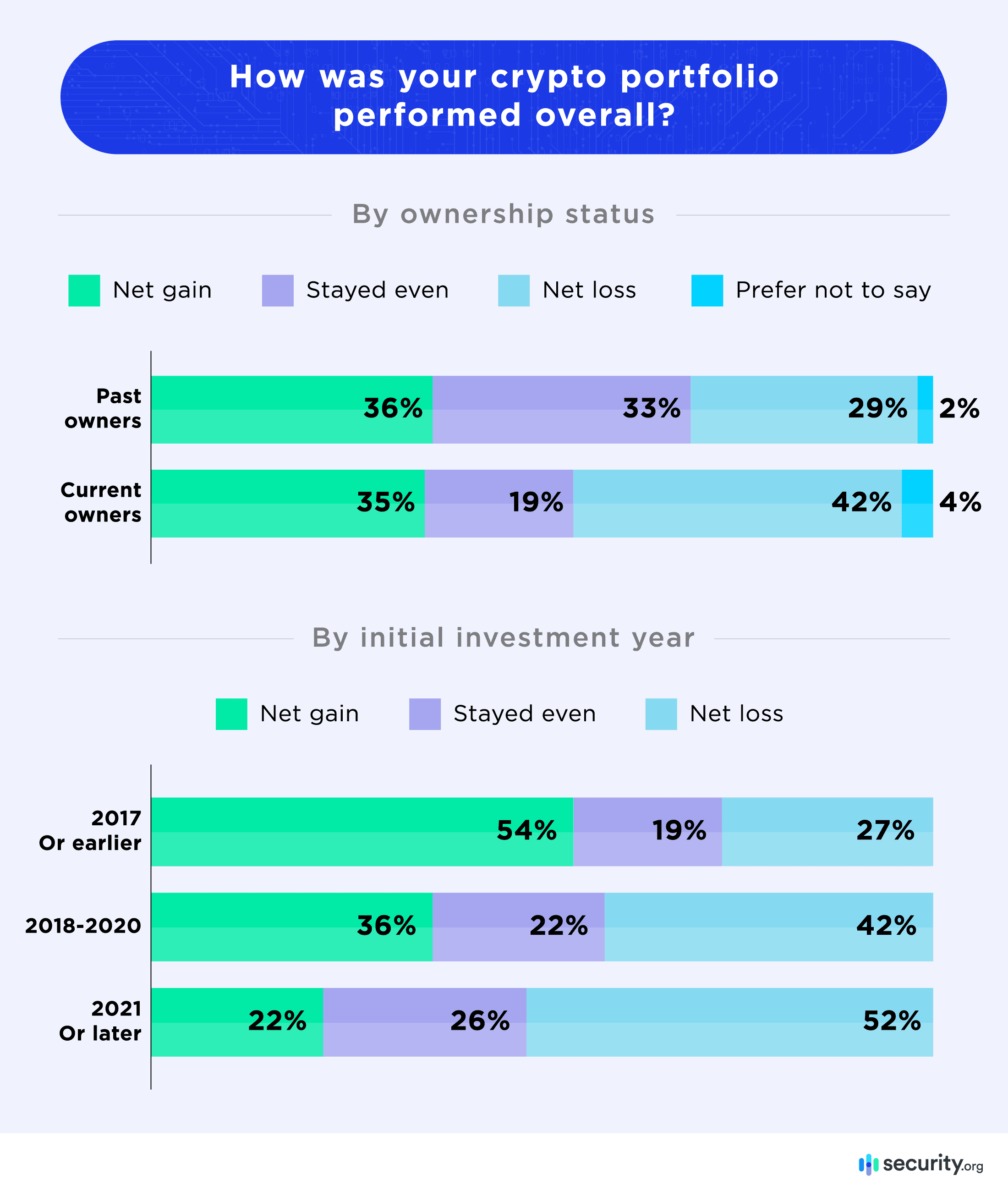 With the cryptocurrency market collectively losing more than $2 trillion last year, it's little wonder that late-joiners and current coin holders bore the brunt of this crisp "Crypto Winter". Still, crypto's boom-and-bust history supplies optimism to many investors who remain bullish about a rebound. Among those currently owning cryptocurrency, 97 percent believe the commodity presents benefits – and many still anticipate a potential return on their investments.
Since it exists only as digital code, cryptocurrency can operate independently of borders or conventional financial forces. This disconnect explains how only 17 percent of crypto owners hold a positive view of the U.S. economy, yet nearly half believe cryptocurrency will rebound in 2023. Most of those who have divested from crypto expect the market to continue its decline.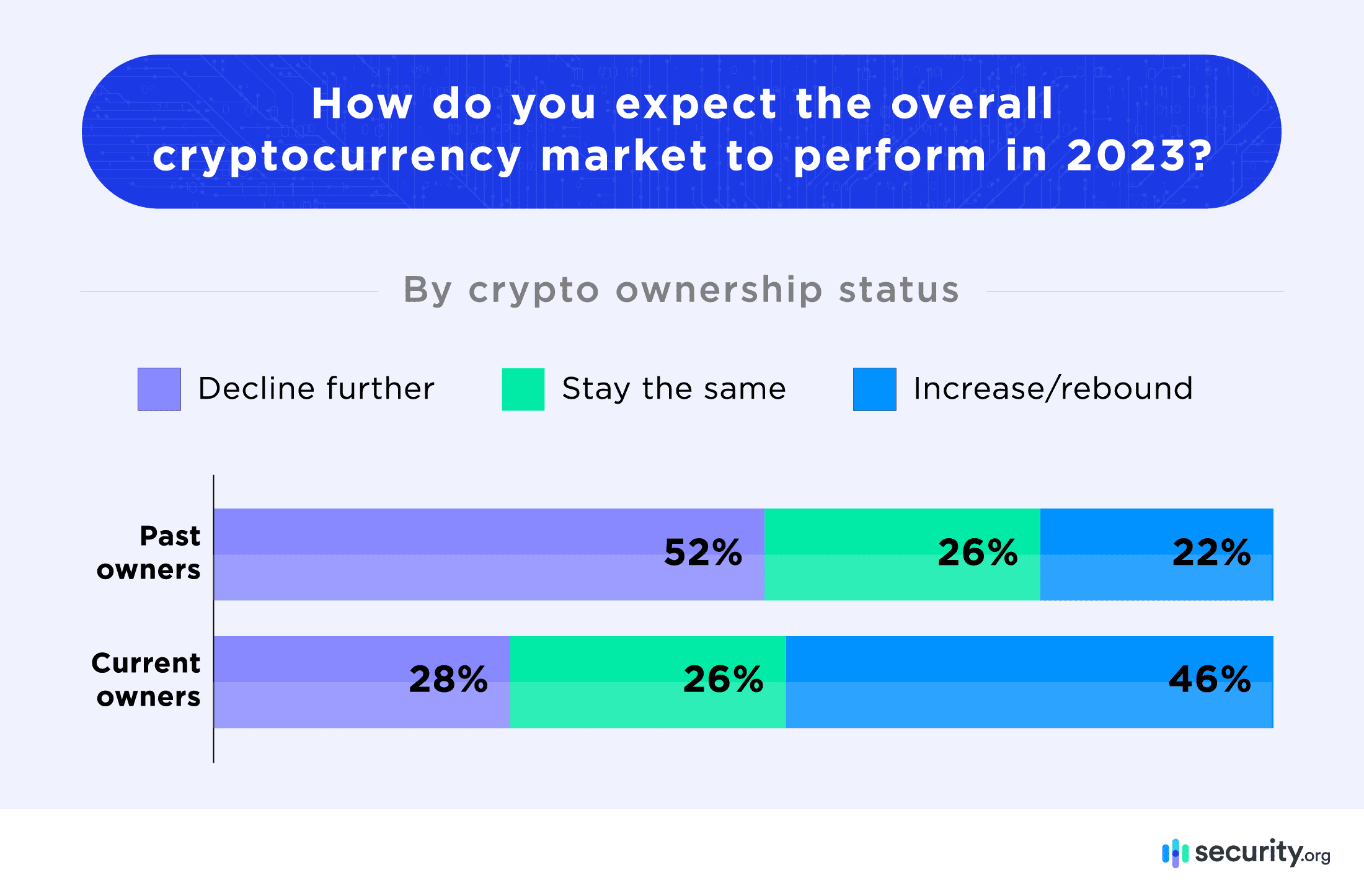 Given this divided outlook and cryptocurrency's recent poor performance compounded by bad press and security risks, what can we expect for the market in 2023?
Market Outlook:  A Crisis of Confidence
Last year's study found that two-thirds of crypto-less Americans were planning or willing to enter the market during 2022. Following the carnage of the past twelve months, that number has dropped to one-half of non-owners.
Cryptocurrency purchase plans among non-owners
By year
| | 2022 | 2023 |
| --- | --- | --- |
| Definitely intend to purchase in next 12 months | 12% | 5% |
| Would consider purchasing in the future | 55% | 46% |
| Will never purchase | 33% | 49% |
Enthusiasm runs higher among those more familiar with trading. One-half of current crypto owners plan to double down by supplementing their wallets. Of those who previously held tokens, one in five plan to buy back this year.
The market must address consumer concerns to attract new buyers, bring back former owners, and encourage crypto holders to increase investment. Many are very concerned about the lack of government regulation and trustworthy exchanges.
Greatest concerns about cryptocurrency
By ownership status
| | Never owners | Past owners | Current owners |
| --- | --- | --- | --- |
| Unstable value | 47% | 47% | 48% |
| Lack of oversight | 23% | 13% | 9% |
| Difficulty trusting exchanges | 9% | 17% | 14% |
| Environmental impact | 8% | 6% | 4% |
| Cyber attacks | 5% | 5% | 7% |
| Possibility of losing access | 2% | 6% | 10% |
| Hard to trade | 1% | 2% | 3% |
| I have no concerns | 3% | 1% | 3% |
Note: Multiple responses allowed
Those who have already owned crypto are particularly concerned about the reliability of trading exchanges. Much of the market's chaos, including the widely publicized FTX collapse, is rooted in fraud, misuse of funds, and liquidity crises at crypto exchanges rather than the collapse of any one currency.
Additionally, experienced traders harbor more pronounced fears about losing access to their digital wallets. Issues with passwords, technology, or exchanges have blocked 13 percent of crypto owners from accessing their funds at some point.
Security concerns are also rife among those with first-hand cryptocurrency experience. Fewer than 50 percent of crypto owners have confidence in the market's safety and security. That number drops to less than one-third among those who have sold off their holdings.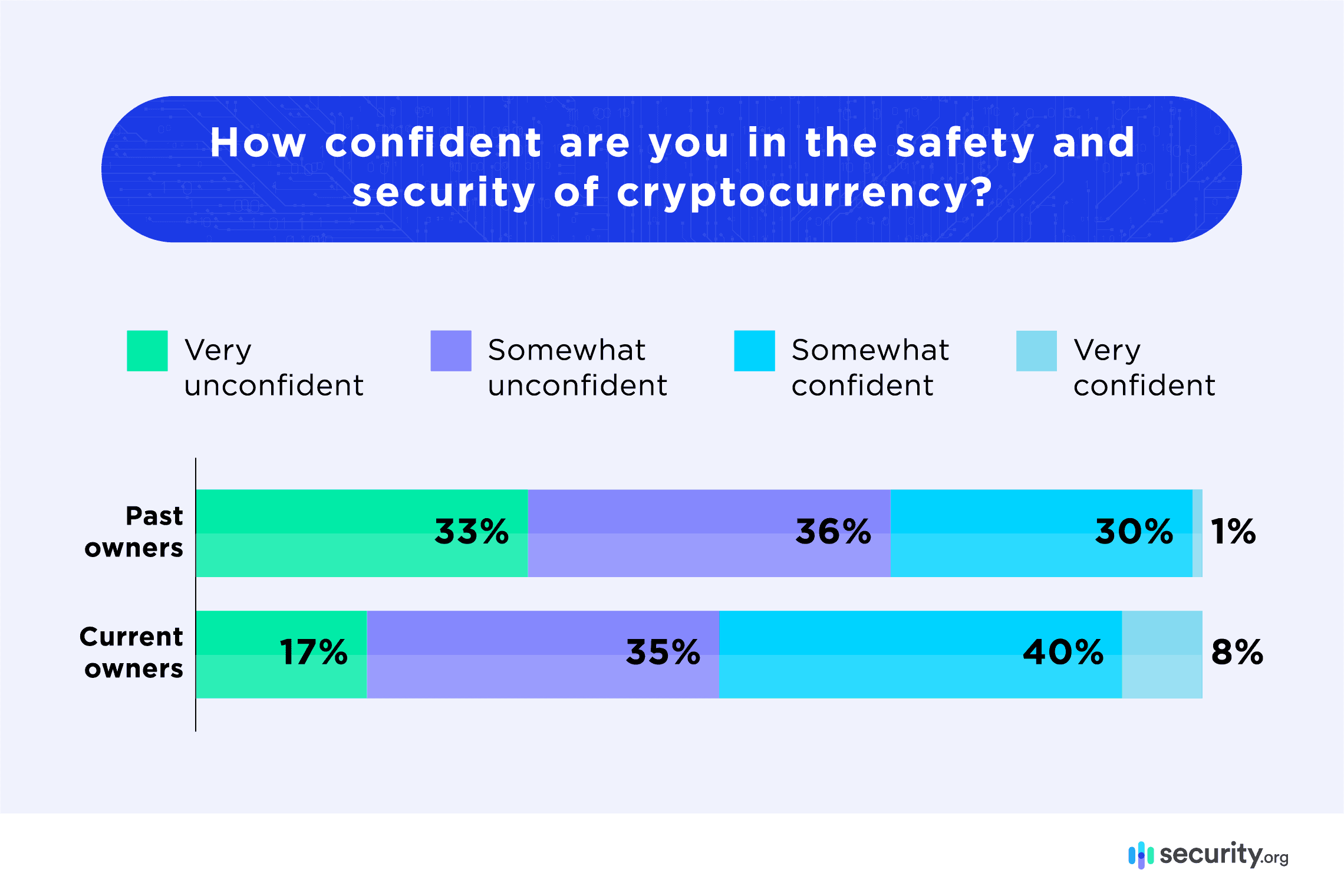 Views on Government Oversight of Cryptocurrency
A recent government warning further undermined consumer cryptocurrency confidence. On January 3, 2023, the Federal Reserve, FDIC, and Office of the Comptroller of Currency issued a joint statement advising the public about the perils of crypto investment. It highlighted "significant volatility," "deceptive" practices, and "risk of fraud and scams" in the cryptocurrency sector.
Overall, 70 percent of Americans believe this announcement will negatively affect the cryptocurrency industry, and just three percent thought it would positively impact. The others had neutral or no opinions. The statement's stark words particularly impacted those who have never owned crypto, with one-third saying they are now less likely to invest. Current crypto owners weren't as daunted by the government's message.
Imposing additional government oversight and regulations could reassure prospective investors about crypto's security. Most of the public believes that cryptocurrency should be subject to increased regulation (which Congress is currently considering). That sentiment is strongest among those who have never owned any crypto.
Should there be more or less regulation on cryptocurrency?
By ownership status
| | People who never owned crypto | Current crypto owners |
| --- | --- | --- |
| Less regulation | 6% | 25% |
| Same amount or no opinion | 28% | 38% |
| More regulation | 66% | 37% |
Potential regulation might include measures to monitor crypto exchanges, separate investor funds from company assets, license stablecoin issuers, demand exchanges maintain adequate reserves, minimum security requirements, and more.
Conclusion
Our last cryptocurrency study occurred early last year when the industry was riding a crest of inflated prices and widespread popularity. Ten million new customers were expected to invest in crypto assets during 2022. Ultimately, less than half that number (4 million) took the plunge, and total ownership ranks fell.
Plummeting values, the collapse of a prominent exchange, government scrutiny, and allegations of rampant fraud, theft, and faulty bookkeeping pummeled the crypto industry. Despite these public challenges and causes for doubt, many remain optimistic about the technology's future and expect cryptocurrency values to rebound.
The path forward will be tricky. Regulation might stabilize markets and encourage consumer confidence but alienate investors who embrace crypto's decentralized model and lack of sovereign interference. Finding an optimal balance between oversight and independence could provide protection while retaining the asset's appeal, yet comprises a difficult task.
Data
We conducted two separate online surveys of 1,200 American adults about their experience, opinions, and anticipated activity regarding cryptocurrency ownership and markets. The respondent pool represented the American population based on gender, age, race, and income. Where appropriate, certain questions were directed only to subsets of the pool to ensure familiarity with the subject matter or prevent bias created by crypto ownership (or lack thereof).