Cryptocurrency
Adoption and Consumer
Sentiment, 2022
Later-stage Investors Are Taking Their Chances With Cryptocurrency: Nearly 60 Percent of Female Crypto Investors and 54 Percent of Those Over Age 60 Entered the Market in the Past 15 Months.
In a few short years, cryptocurrency has risen from the Internet's darkest corners to the spotlight of Superbowl advertisements. Thanks to celebrity endorsements on Twitter, a growing variety of easy-to-use purchasing apps, and a recent price dip, more people than ever before are familiar with cryptocurrencies – and many of them are buying in.
We first researched public cryptocurrency sentiment in 2021 and predicted major market growth over the next year. Our 2022 research, which included more than 1,000 people in the United States, revealed that current levels of interest and ownership have far outpaced our optimistic predictions from 2021.
Key Findings:
The number of people who own cryptocurrency more than doubled in the last year alone: today, as many as 33 percent of Americans own cryptocurrencies.
Nearly half of all crypto investors in our study made their first purchase of digital currency in the past 15 months. Women and older adults were most likely to have recently purchased cryptocurrencies, compared to men and young adults who were earlier adopters.
The market will only continue to grow in the next 12 months: 10 million adults in the US plan to purchase in the upcoming year, and many more plan to buy at some point in the future.
Half of crypto investors have seen their portfolio grow in value, but those who made their first purchase in 2018 or before are most likely to have net gains on their crypto investments.
Familiarity and Adoption Update: Crypto Surges in 2022
This year's study waded into deeper detail, producing additional insight into crypto's recent explosion of exposure and ownership.
In 2021, fewer than half of Americans were familiar with cryptocurrency, and 8 percent had never heard of it. But after 12 more months of intensive mainstream media exposure, crypto has practically become common knowledge.
We found that nearly every adult in the U.S. has now heard of crypto, 95 percent could correctly define the term, and 63 percent consider themselves familiar with digital currency.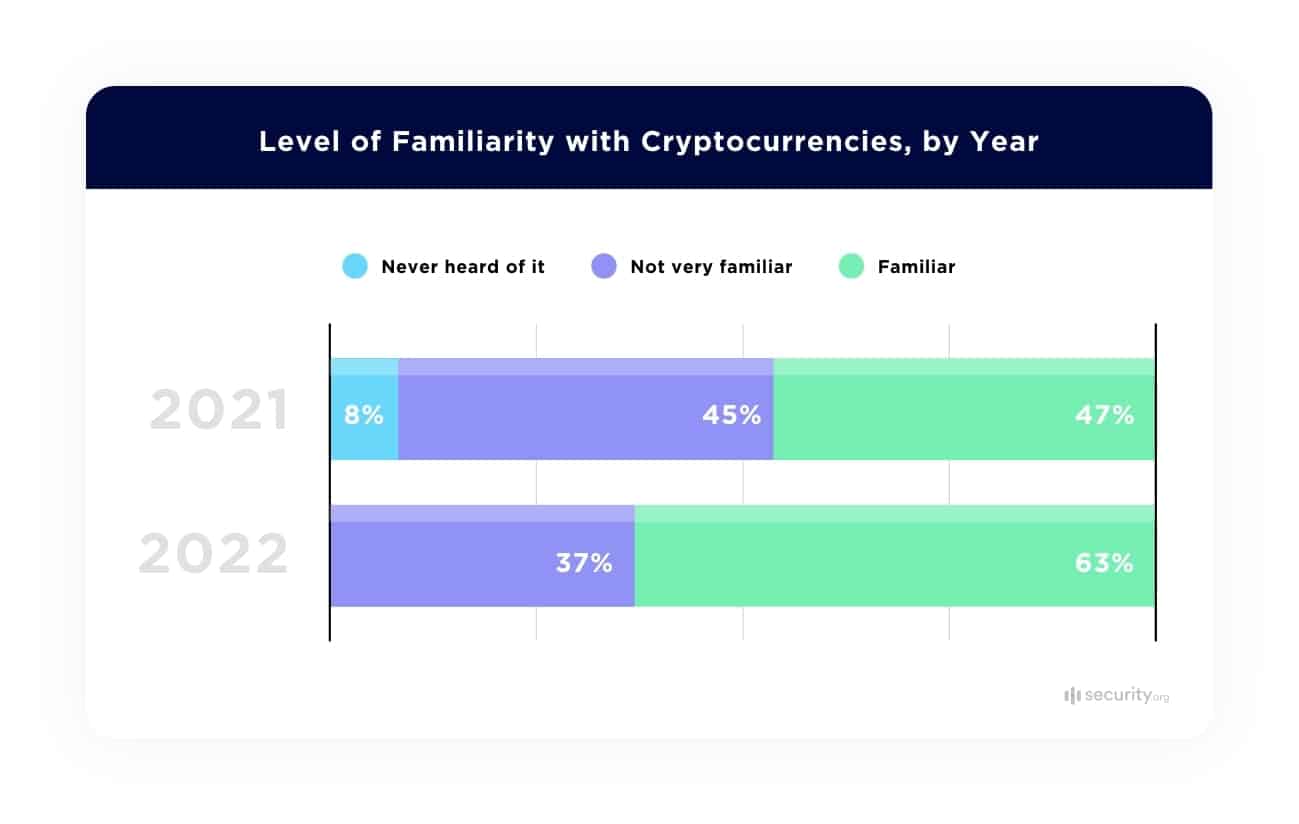 In 2021, our research showed that 15 percent of Americans owned cryptocurrency, and 6 percent told us they planned to invest in the coming year. The actual growth proved more dramatic. The number of crypto investors has more than doubled in the last 12 months, and now includes one-third of American adults.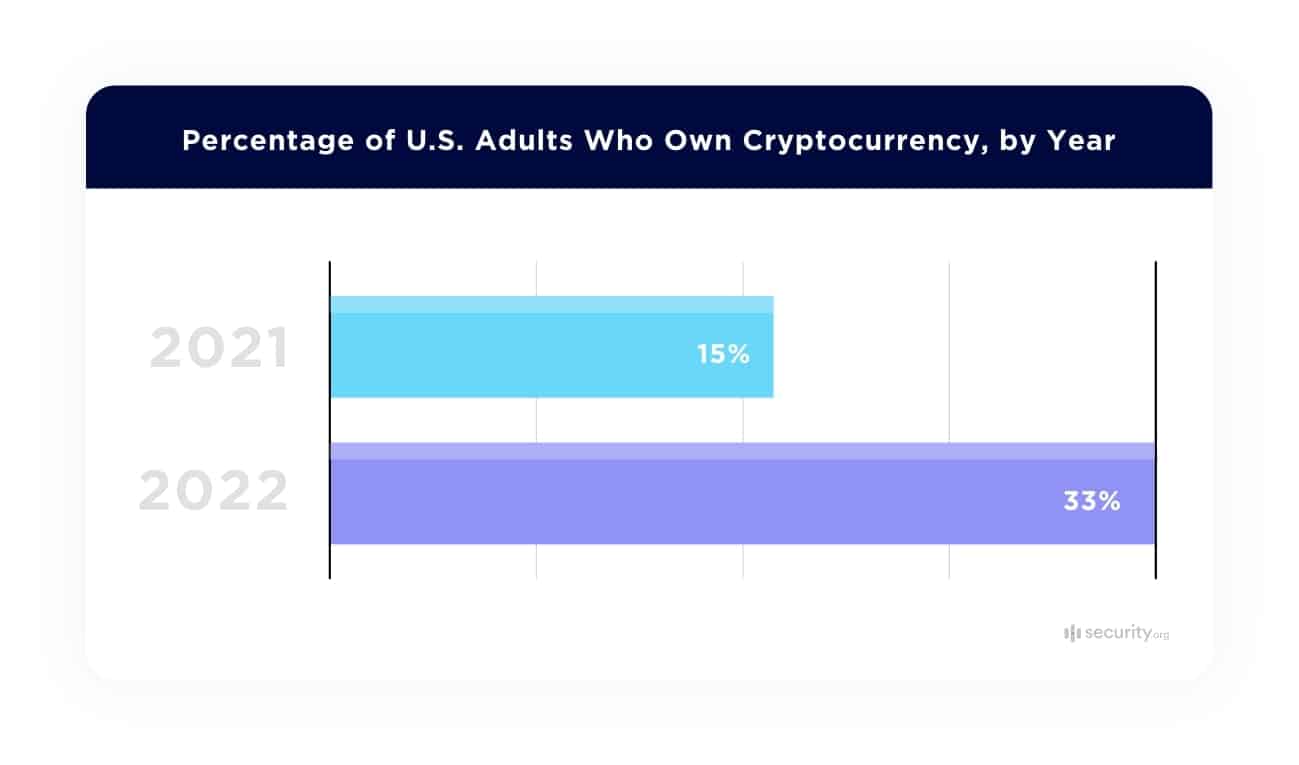 While ownership numbers have grown gradually over recent years, an unexpected surge may have occurred in just the last few months.
Other studies conducted last year estimated that around 20 percent of American adults owned cryptocurrencies. But since then, many factors may have driven even more people to enter the market for the first time: in January, cryptocurrency prices began to decline. In February, three major crypto players ran high-profile ads during the Super Bowl, and as inflation spiked over recent months, some people have shifted their assets to decentralized currencies in an effort to protect purchasing power.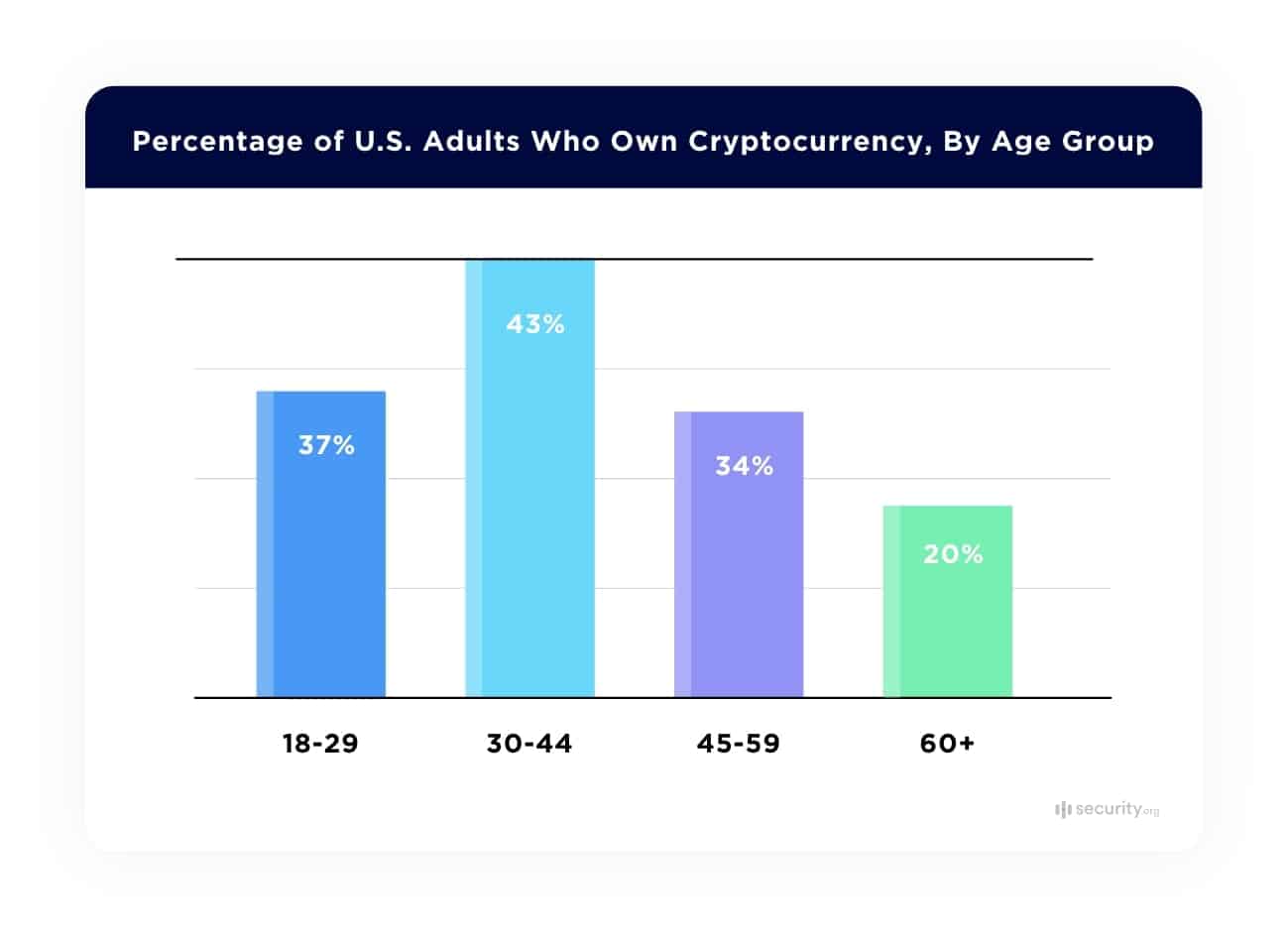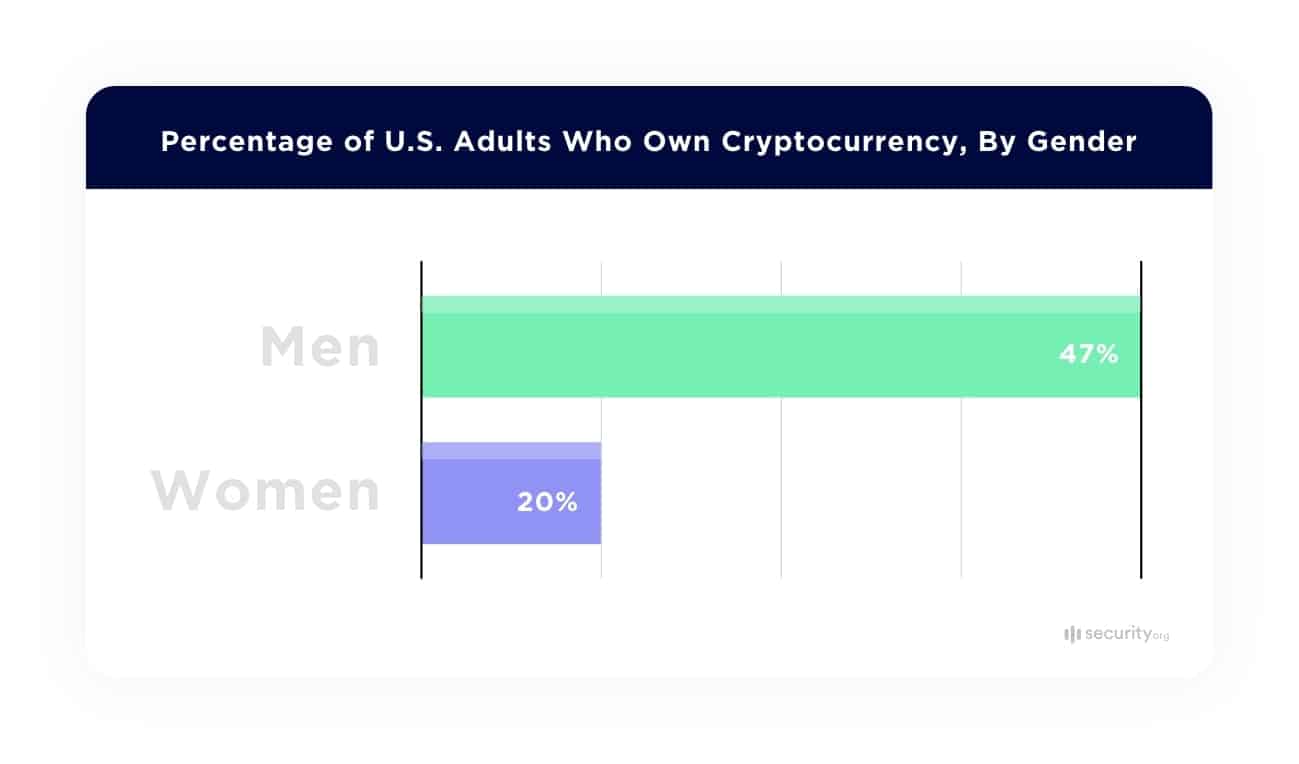 Currently, those between the ages of 30 and 44 are most likely to own cryptocurrencies. These individuals are mostly millennials, who are extremely comfortable with digital money management. Some in this generation are including cryptocurrencies in their retirement savings plans, and they are more likely to do this than older adults. Today, one in five individuals aged 60 or older own cryptocurrencies, though their ownership has increased over the last year. As the value of some currencies seemed to explode overnight, older adults interested in catching up on their retirement savings may have been enticed to take a chance on crypto.
Though more and more women are entering the market, men are currently more than twice as likely as women to own cryptocurrencies. The crypto ownership gap between men and women is larger than with mutual funds, real estate, bonds, and other assets. Cryptocurrencies have been touted as ways to democratize and diversify finance, but CNBC research shows that women of color especially are still facing high barriers to investing in cryptocurrency.
Numerous Newcomers: More Women, Older Adults Buying In Recently
Overall, nearly half of all crypto owners in our research first purchased their digital currencies in 2021 or 2022, and 73 percent have owned crypto for 3 years or less.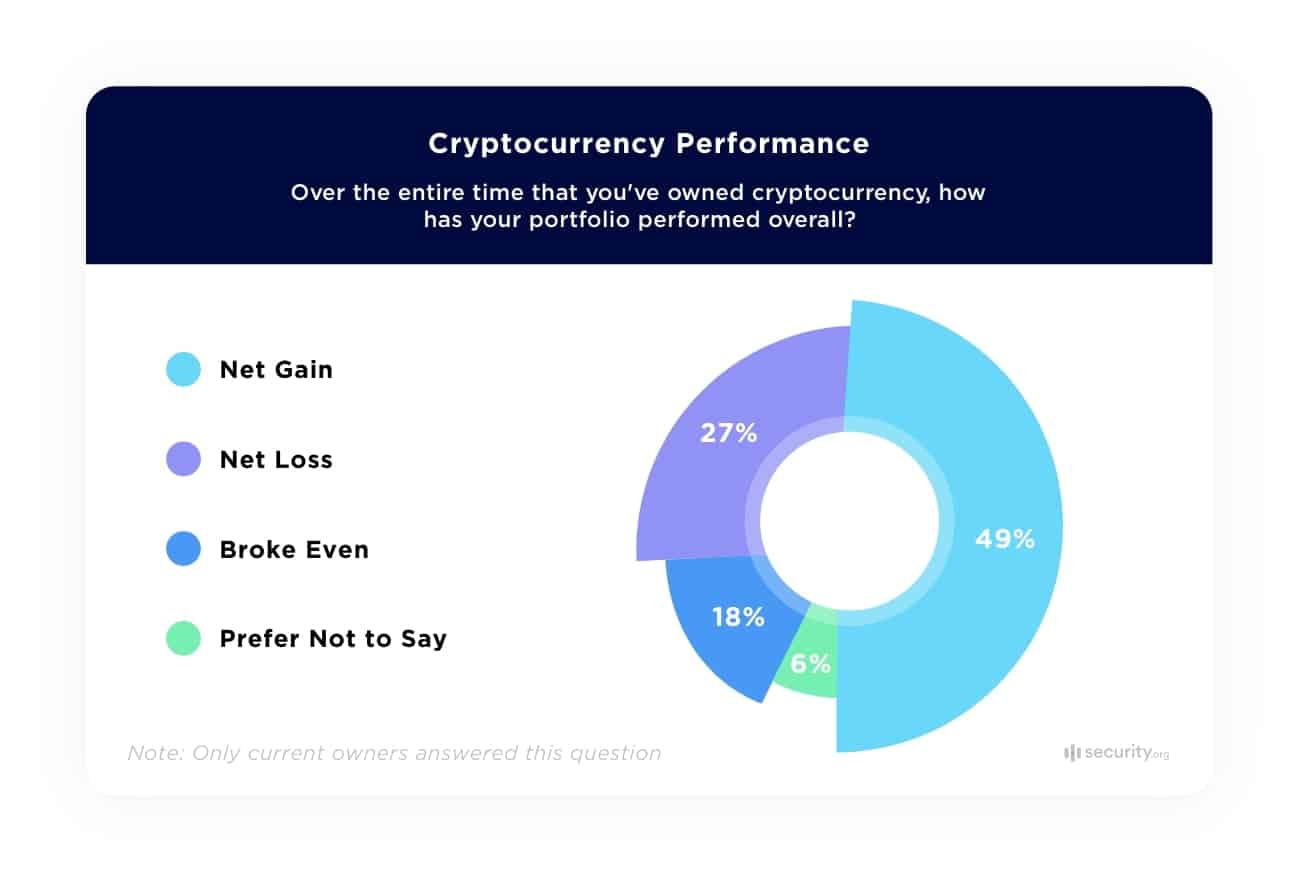 Cryptocurrencies' earliest adopters tended to be younger adults and men. In other words, individuals with greater risk tolerance dove into cryptos quickly, without the benefit of historical performance data. Now that crypto has become recognized as a legitimate asset, diversity has increased among owners. Women and older adults, in particular, have accelerated their crypto investments more recently.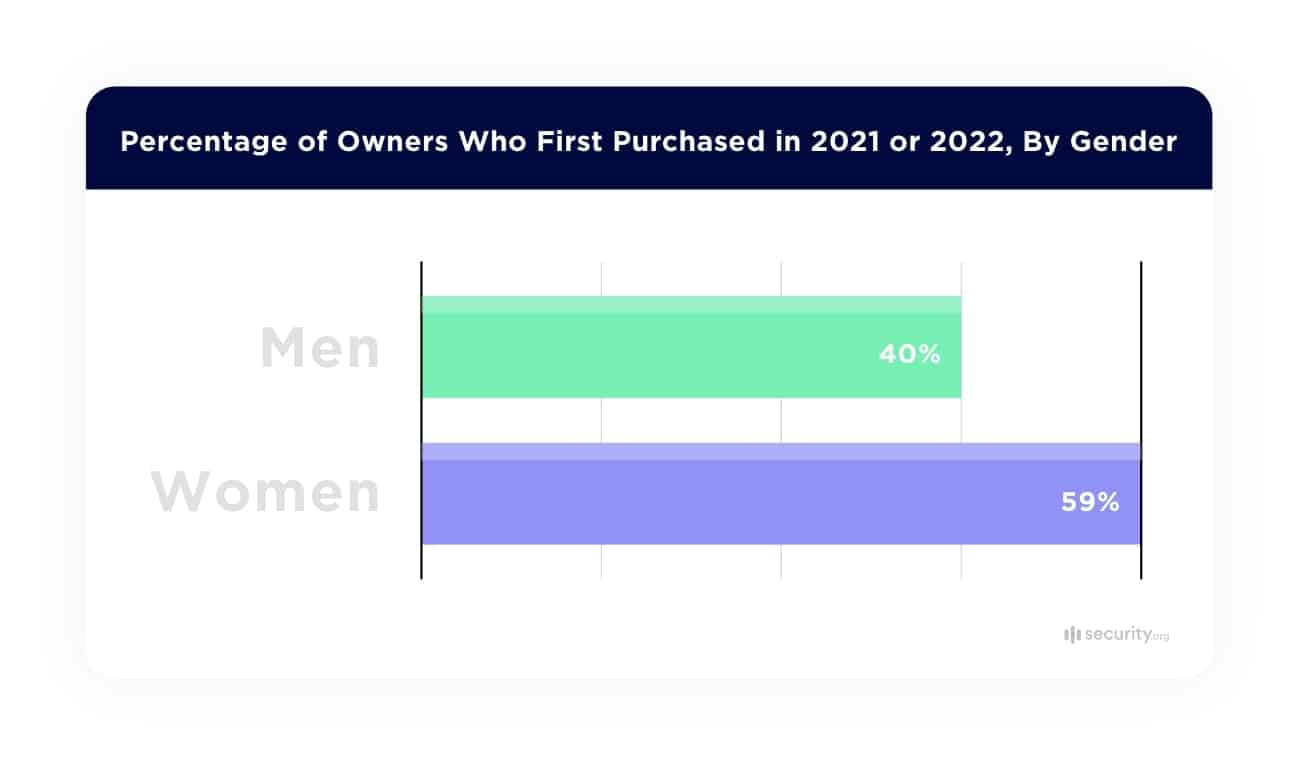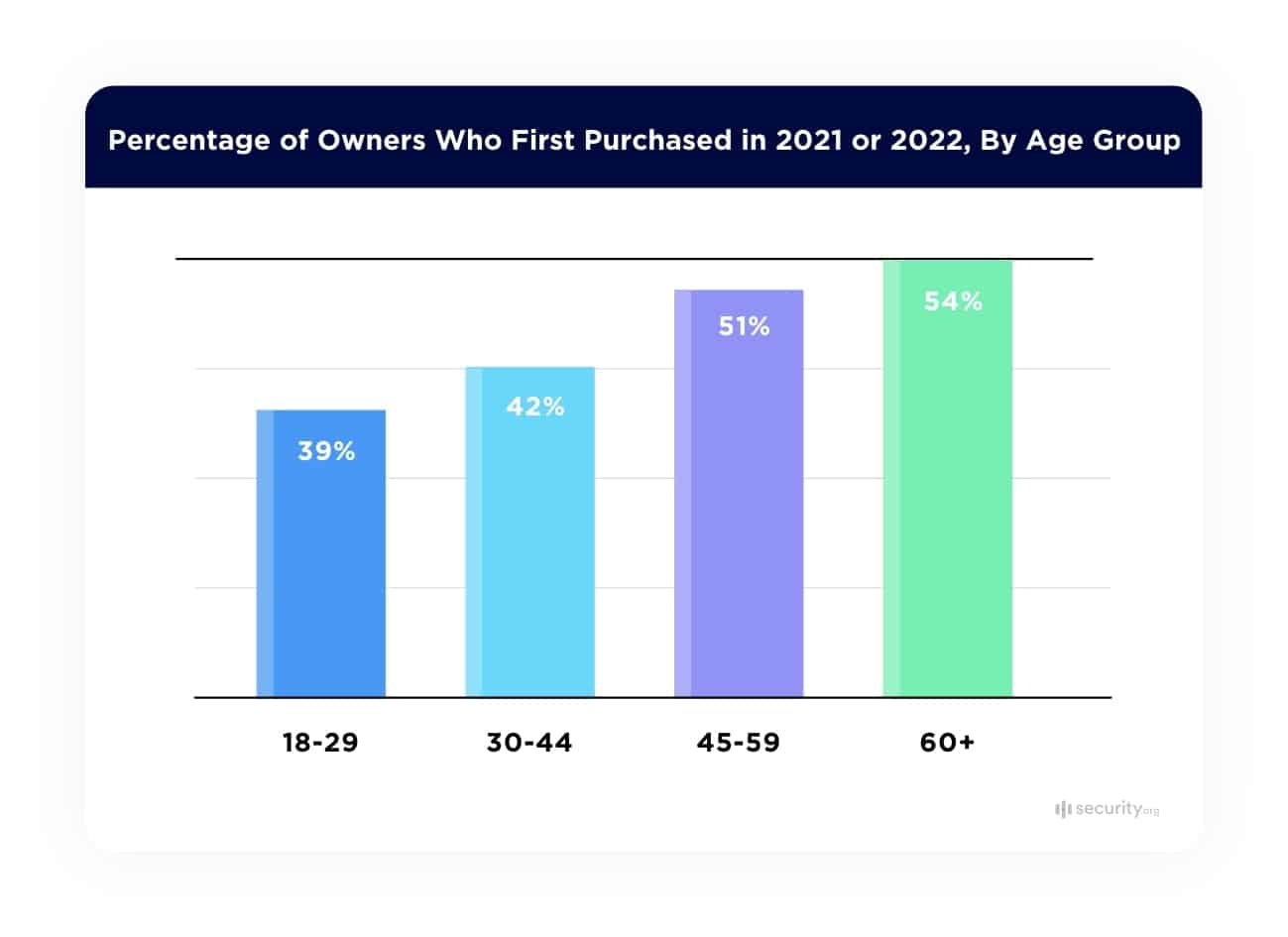 Fifty-nine percent of crypto-owning women purchased their currency in the last 15 months, as did half of investors over age 45 – trends that foreshadow a balancing of the field. But have these late bloomers found profits?
Crypto Performance: Time Will Tell How Investments Fare
Crypto proponents tout the economic advantages of decentralized currency, but many purchasers see it only as an investment. Viral stories of instant crypto-millionaires fueled a digital gold rush to get in on the boom, yet not everyone turns a profit.
Overall, almost half of crypto holders currently report net gains on their portfolios.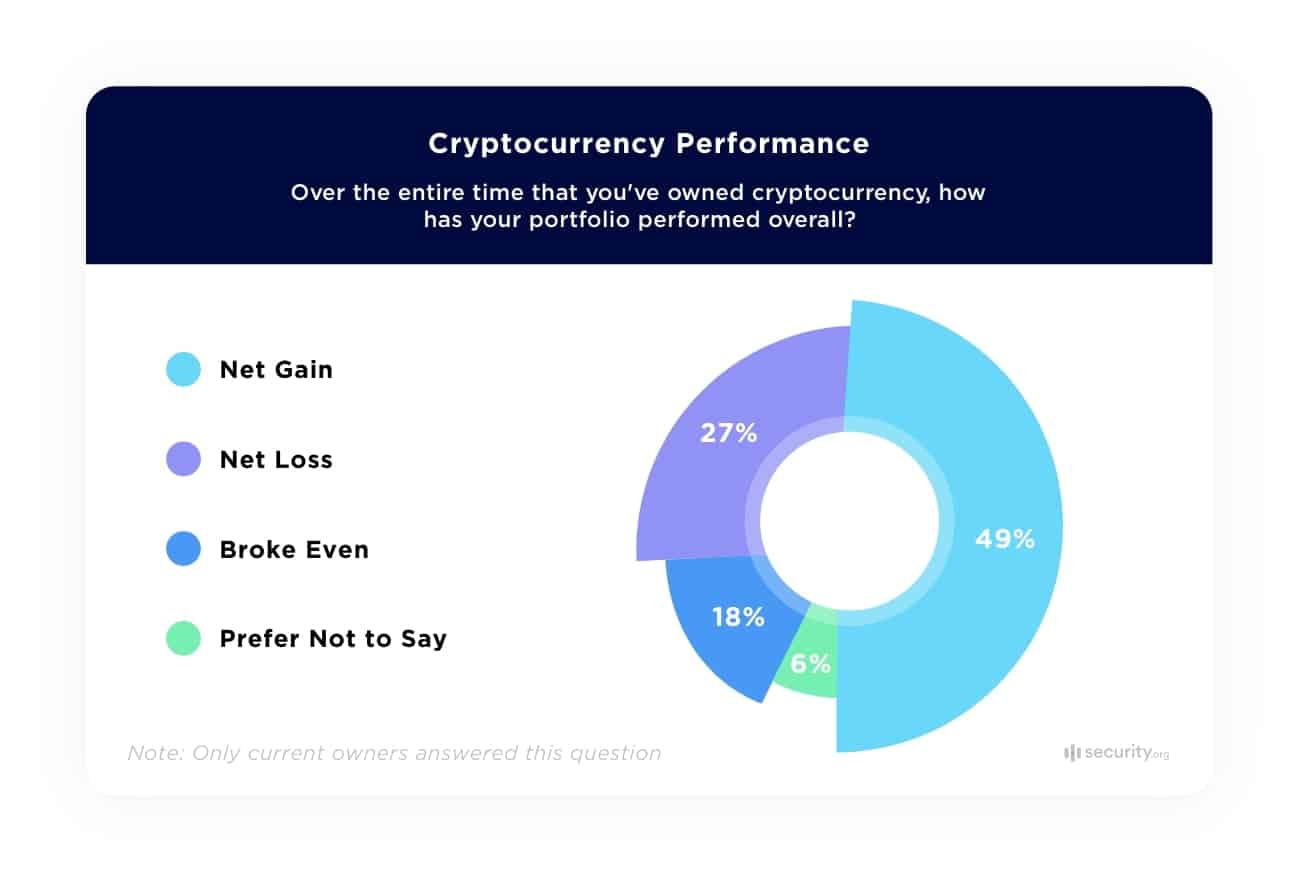 Gains were largely symmetrical among age groups, and higher-rolling investors have made money more frequently than modest buyers. Most notably, men have turned profits nearly twice as often as women (58 percent to 31 percent), due in part to their earlier investments in digital currencies.
The most determinative factor for crypto success is the initial time frame of investment. Those who brought cryptocurrencies earlier are far more likely to have registered gains today. Nearly three-quarters of those who first forayed into crypto more than three years ago have already shown a profit.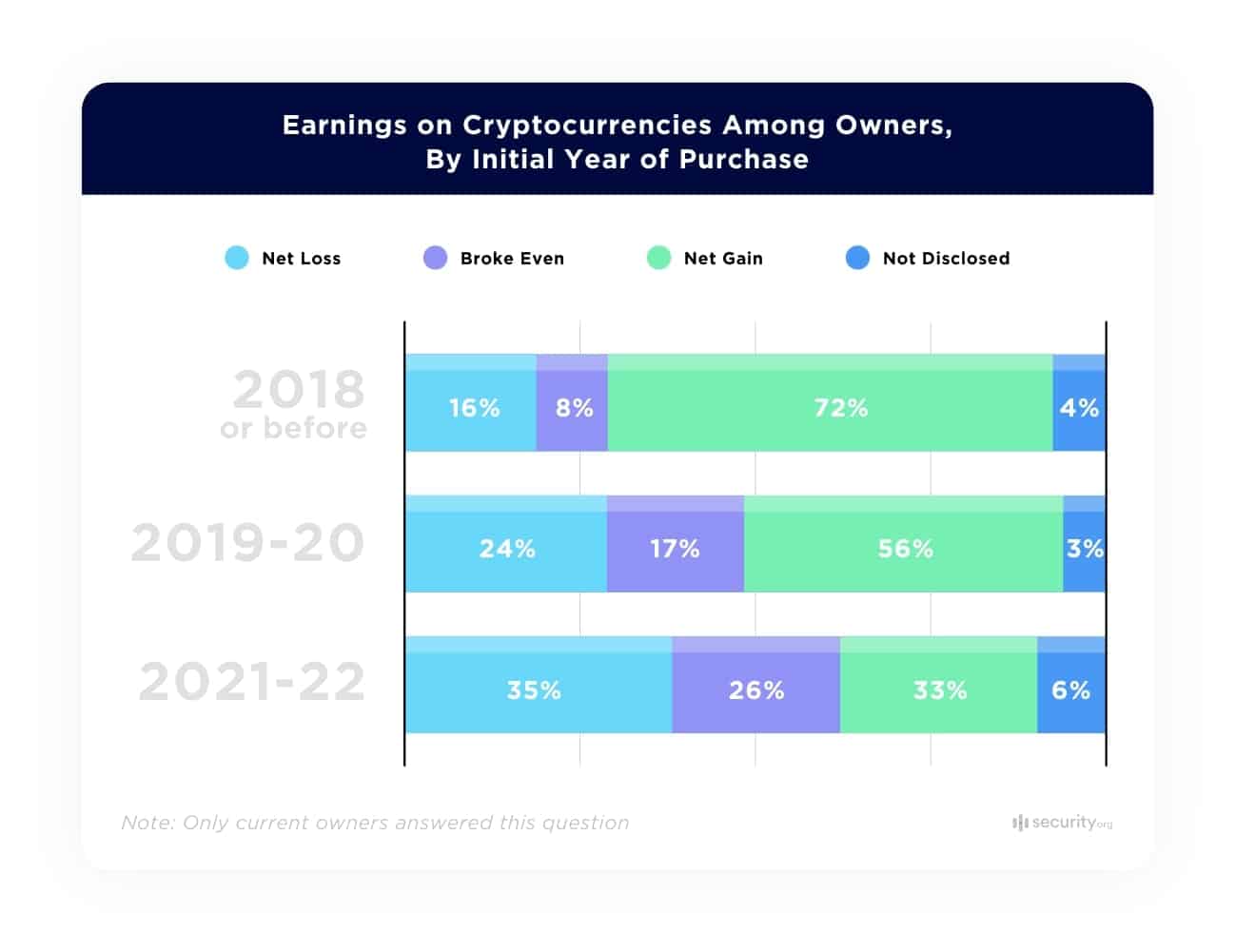 More recent buyers may need to wait to see their portfolios in the positive. About one in three people who first purchased cryptocurrencies in 2021 or 2022 said they have lost money on their investments, and another quarter have just broken even.
Fastest Growing Currencies in 2022
The virtual world is awash with thousands of cryptocurrencies, and new ones are constantly launching. Many investors hedge their bets by simultaneously holding numerous coins, but a handful of tokens have consistently been more popular and reliable than others.
Bitcoin was the world's first crypto (minted in 2008), and is synonymous with cryptocurrency for many casual followers. Bitcoin remains the gold standard of tokens and the leading name in digital currency, followed by Ethereum and then an assortment of various less stable "altcoins."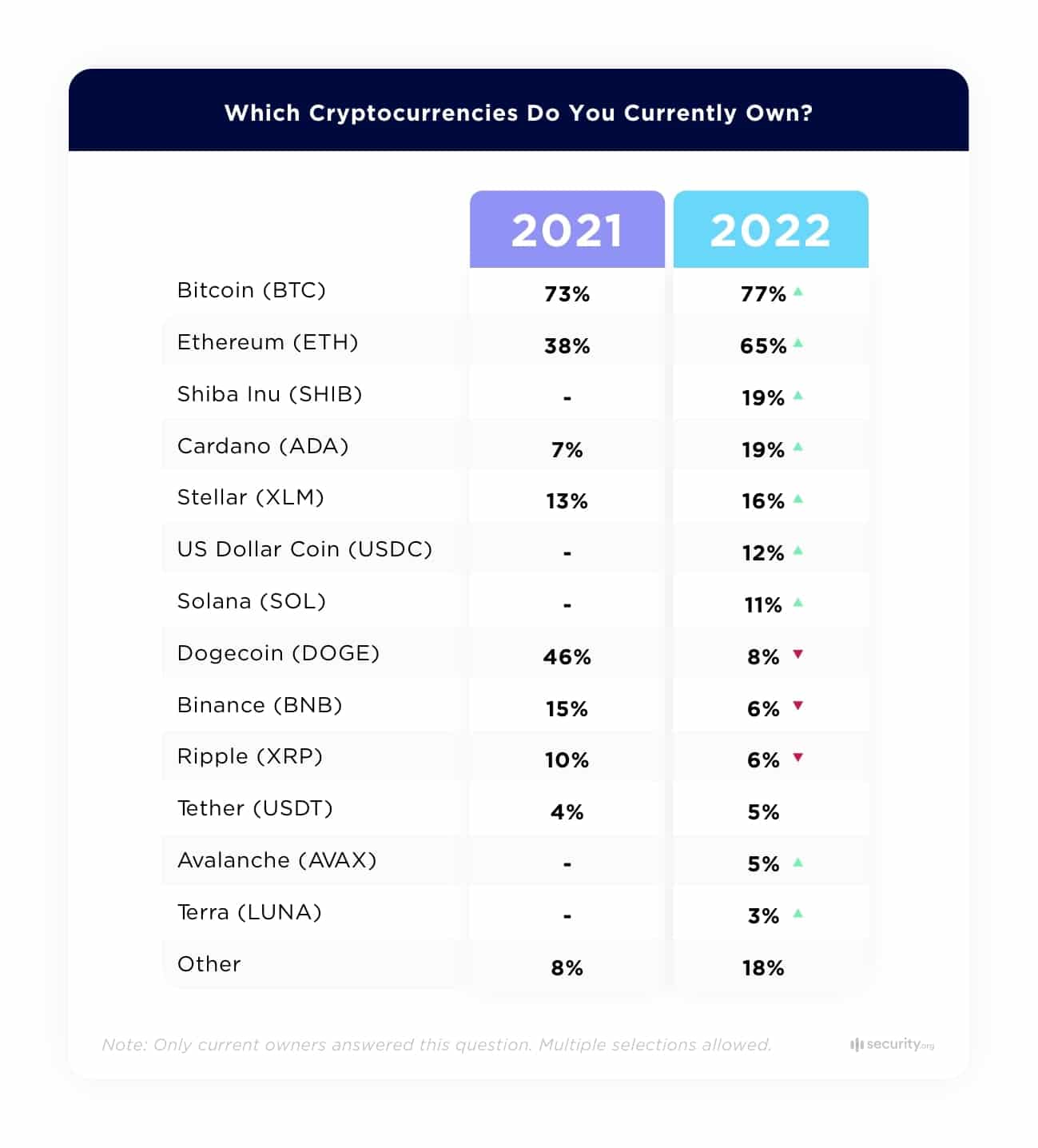 Several names joined and left the above list in only one year, demonstrating the swift tides of brand popularity (and value). For instance, Dogecoin was the second most popular currency in our 2021 study, but has significantly declined in value and popularity since.
Such fluctuations demonstrate crypto's volatility and susceptibility to passing vagaries. In May 2021 (when our last poll was taken), Dogecoin's popularity was peaking, as its value increased by a staggering 20,000% over one year. However, in the 12 months since, its price and popularity have sharply declined.
With such quickly-changing fortunes, how have most crypto owners navigated the market?
Growth Potential: Can the Crypto Boom Continue?
Despite the rapid increase in ownership, at least two-thirds of the nation still have not purchased any cryptocurrencies. How many are willing to join the digital currency revolution, and what might entice them to invest?
Two in three people who don't own cryptos are open to purchasing some, and 12 percent plan to do so in the next year. One in three say they will never hold cryptocurrencies.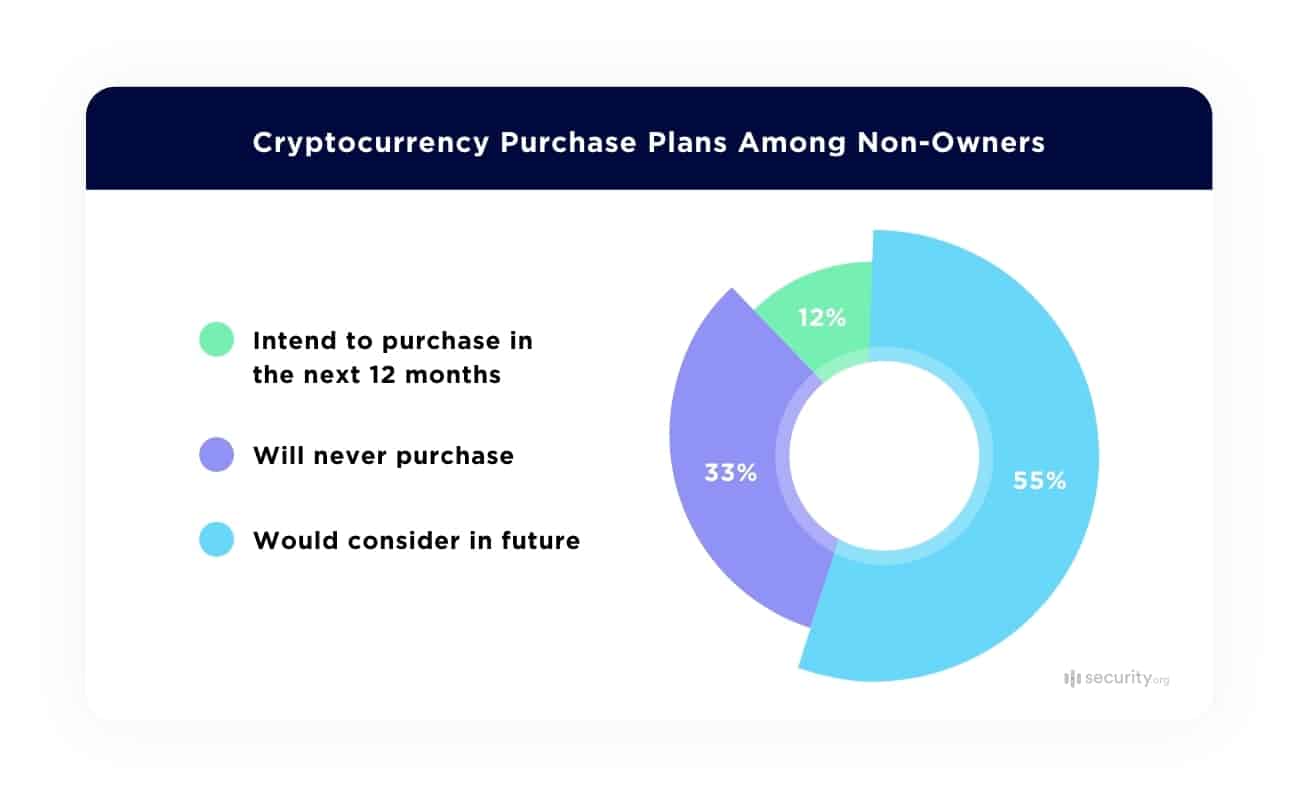 Men and women are equally likely to become new investors, which may signal the closing of the cryptocurrency gender gap. Among those who don't yet own crypto, 67 percent of both men and women are planning or considering future crypto purchases.
A majority within every age group is open to purchasing cryptocurrency, most notably those aged 45-59. These people are likelier than younger adults to have extra income to invest, or some may feel the urge to catch up on their investments as they draw closer to retirement.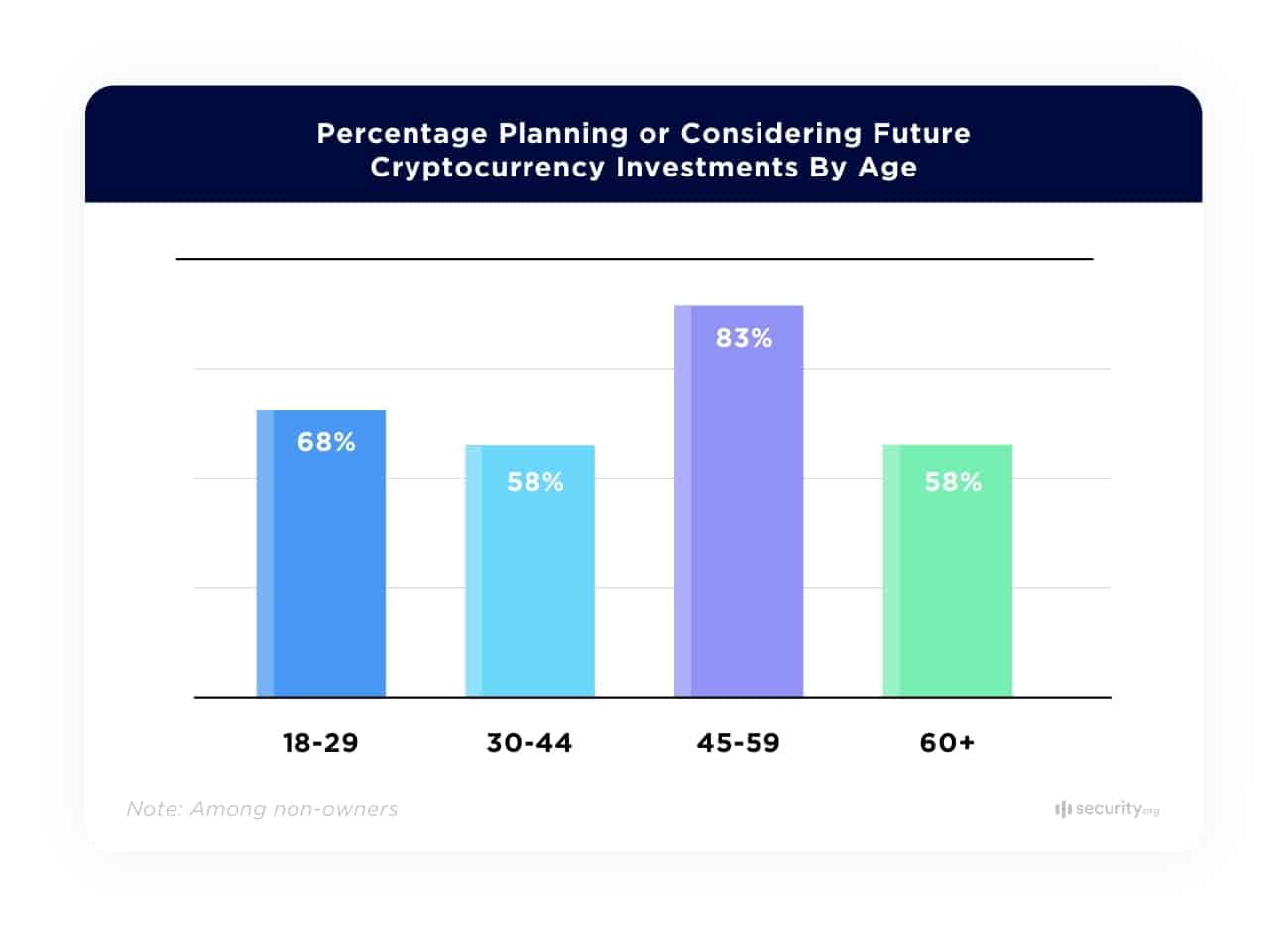 Eighty-four percent of those who don't yet own crypto believe that digital currency holds benefits. The most-cited advantage is the possibility of turning a profit.
Such positive perceptions are offset by apprehension, as 97 percent of non-crypto-owners have concerns about digital currency. Ironically, the same features that appeal to some constitute a concern to others. The foremost worry is unstable value, but there are also worries about reliable access and security.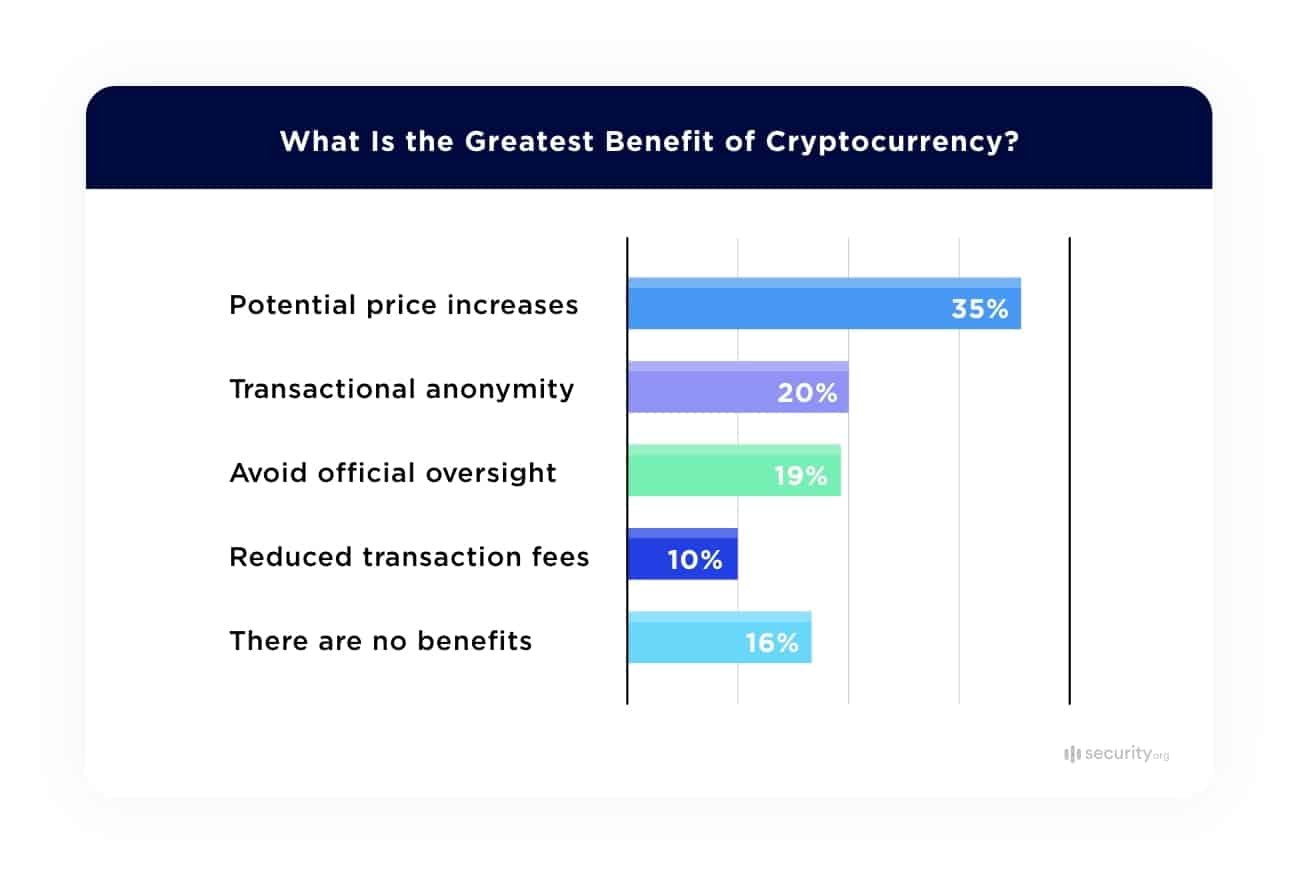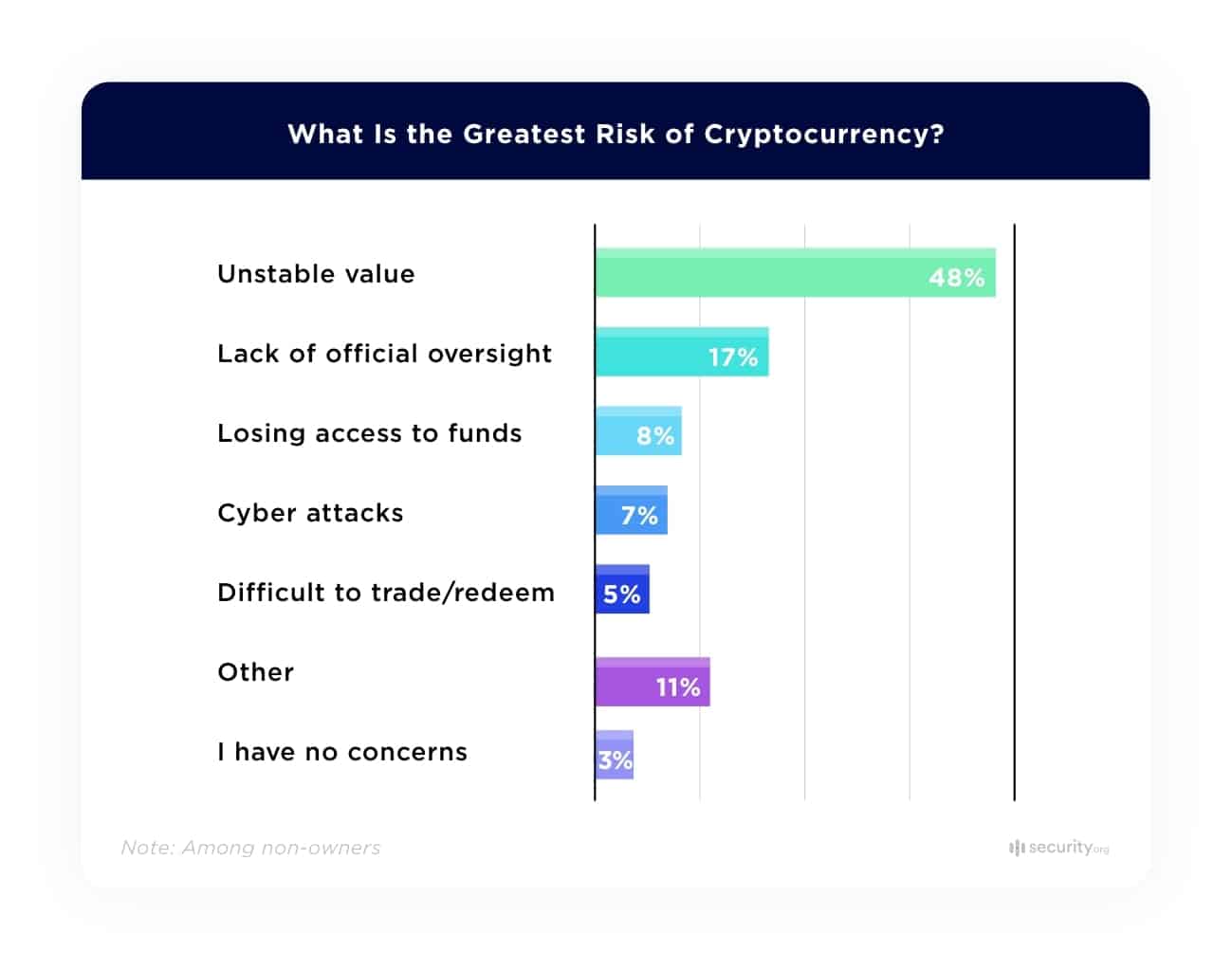 Even those who already own cryptocurrency remain wary of the sufficiency of digital protections. While 63 percent of crypto owners feel confident in their security, 27 percent lack confidence.
Despite high-profile tales of crypto investors locked out of their assets, such fears seem largely unwarranted: only 2 percent of owners in our study reported permanently losing access to any digital wallets.
Crypto's reliability might be enhanced by government regulation, but such "interference" could also reduce digital currency's rogue appeal. The Biden Administration recently issued an executive order to consider cryptocurrency regulation and explore issuing official digital dollars. The move was widely praised as a step towards legitimization, but some in the crypto community are underwhelmed by the action.
Eighty-five percent of cryptocurrency owners were aware of the order, though only 8 percent were very familiar with it. Opinions were divided about the policy's prospective impact, and three-quarters said it wouldn't affect their investment plans.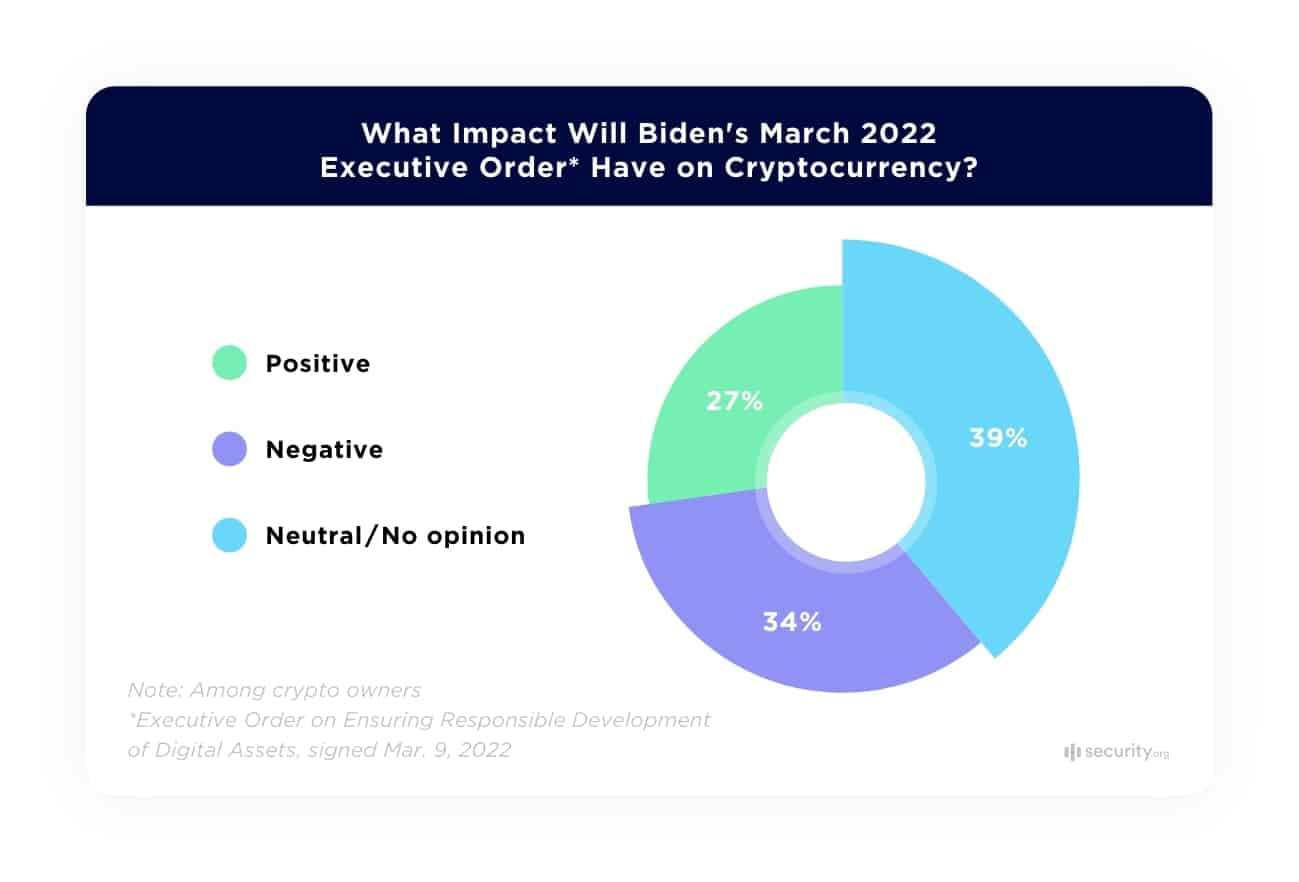 Conclusion
Until recently, few Americans could have accurately defined cryptocurrency but its status has changed quickly and dramatically among the public, thanks in part to popular culture. Matt Damon and Larry David have pitched crypto, Elon Musk constantly Tweets about tokens, and Netflix has given digital currency the movie treatment with documentaries like "Trust No One: the Hunt for the Crypto King."
With that kind of exposure, public awareness has rocketed and investors are flocking to get in on the action. Cryptocurrency ownership more than doubled in America from 2021 to 2022, and the industry looks poised for additional expansion.
Questions remain about digital currency's volatility, security, and long-term legality, but investment enthusiasm continues to surge. With interest increasing across age groups, tax brackets, and genders, our survey results suggest that a minimum of 10 million Americans will join the ranks of crypto owners in the next 12 months.
Our data
We conducted an internet-based poll of 1,002 adults living in the U.S. The survey respondents ages were reflective of the ages of the U.S. population and are as follows:
18 – 29: 207 respondents
30 – 44: 254
45 – 59: 247
60+: 291
Three participants declined to report their age. 50% of respondents were women, 49 % were men, and 1% were another gender.
Need additional insights for a story?
Send our research team an email