Credit Karma Review
Credit Karma is a free service that monitors your credit, but is it sufficient for identity monitoring overall?
What We Like
Fast and free credit checks in the app
Easy-to-use apps that let you monitor credit
Direct Dispute button for Transunion reports
What We Don't Like
Doesn't check Experian credit scores
No insurance options
No live chat or phone support options
Bottom Line
Credit Karma offers more than just credit monitoring. They also can guard against data breaches, which could potentially lead to identity theft.
Whether it's your first time or your 20th, checking your credit can feel a little scary. If there are any unknown bank accounts started or tax refunds filed, you may have had your identity stolen, which can lead to a whole slew of other problems. Fortunately, Credit Karma identity monitoring offers a free service to monitor your credit and check the web for any data breaches involving your email. Sure, it's free, but is it enough to protect your identity online?
In this Credit Karma identity monitoring review, we're focusing specifically on identity monitoring, although the company also offers loans and other financial services. Is Credit Karma accurate? How often does it update? And the most important question of all, is it safe to use? We have a lot to go over, so let's get started.
Credit Karma Identity Theft Protection Features
| | |
| --- | --- |
| Dark web scan | Yes |
| Credit report agencies | TransUnion, Equifax |
| Identity theft insurance | No |
| Alerts | Email, SMS |
| Price | $0.00 |
Editor's Rating
Free, weekly credit monitoring from TransUnion and Equifax
Data breach and dark web monitoring
Highly rated iOS and Android apps
More Security.org Recommendations
Check out more of our favorite identity theft services.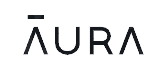 Credit Karma Features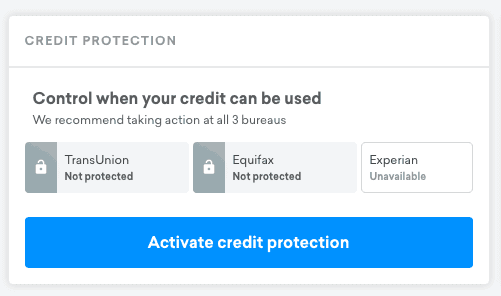 Credit Karma will check two out of the three credit-reporting agencies for any changes to your report, specifically TransUnion and Equifax. Now, I'm a bit disappointed that they don't also check Experian, as it's important to check for errors or negative information on all three, so that's a definite drawback right upfront. The good news is, you'll get weekly credit reports so you can stay on top of everything.
So what happens if you do find an error? Well, if it's on the report from TransUnion, you can actually dispute it without having to leave the Credit Karma website. This is certainly a lot easier to do from one platform, so I'm a fan of the Direct Dispute feature. On top of that, Credit Karma will also scan the dark web for the email address associated with your account, plus, they'll tell you if that email has been involved in any data breach. Looks like I wasn't so lucky this time…

Oh, no, my email was involved in a breach!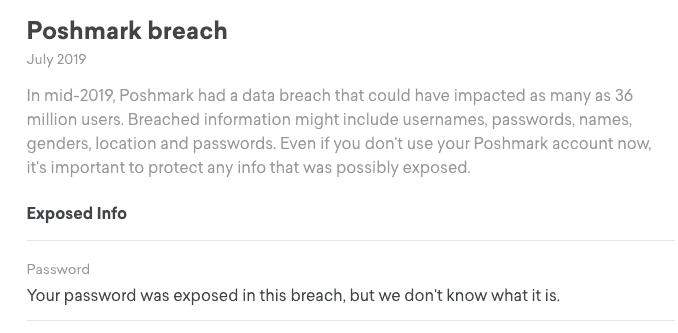 And it's from the clothing e-commerce website Poshmark, no less! But really, there was no need to worry, as Credit Karma told me exactly how to deal with this breach (for starters, change my password).
Although breaches are relatively commonplace, we're often not alerted when our personal information is involved, as this isn't always required by law. But with Credit Karma's identity monitoring, I can know as soon as my information is involved in a breach so that I can take action. They even have email and SMS alerts, which is essential because honestly, this is some pretty urgent information.
Unfortunately, Credit Karma doesn't offer any paid options that would give you insurance money if your identity is stolen; rather, they can only tell you your credit reports and if your email was in a data breach or the dark web. In this regard, Credit Karma is missing some essential features of an identity monitoring service, which isn't so surprising considering it's free. Keep in mind that they also don't monitor any bank accounts, credit cards, or investment accounts, so as far as identity monitoring goes, this service provides just the basics.
Credit Karma Privacy
To sign up for a Credit Karma account in the first place, you need to put in some personal information such as:
Name
Email
Social Security Number
Address
Birthday
This is information I want to keep to myself, so I was curious about what Credit Karma does with my information. Do they encrypt it? Do they sell it to third parties so they can target me with ads? In this day and age, I wouldn't put it past them!
It turns out that Credit Karma does keep quite a bit of information, from the personal information listed above to device, log and location information. However, the company does not share your credit reports, credit scores, or personal information with unaffiliated third parties, particularly for advertising and marketing. Although I wish they wouldn't keep so much information, I'm pleased that getting free identity monitoring doesn't have to mean a total lack of privacy.
In fact, Credit Karma actually encrypts this information using AES 128-bit encryption. Now, this isn't exactly at the military-grade, industry standard of AES 256-bit, but I am glad that they encrypt my data in the first place. Another thing to keep in mind is the company's physical location. Based in San Francisco, California, Credit Karma is subject to the Five Eyes, Nine Eyes, and 14 Eyes international surveillance alliances. While it's unlikely, this does mean the that United States government could force Credit Karma to hand over customer data. This is the case with any company based here, of course, which is why it's so important the Credit Karma encrypts customer data. Thank god for encryption!
How Easy Is Credit Karma To Use?

I found Credit Karma super easy to use. The first thing you do is set up your account, filling in the personal information I mentioned above. I actually had already set up an account and forgotten about it, which the site knew because of the matching Social Security number and birthday. From there, the website is easy to navigate. Once you click on identity monitoring, you can easily set up credit protection and data breach monitoring. They also have a section full of useful advice like password management (a topic I am already very well-versed in if I do say so myself). Overall, this website has a great user experience and made keeping my identity safe online a breeze.
Is Credit Karma Free?
Short answer? Yes, Credit Karma is free! But that's not too surprising considering how little identity monitoring services are offered. For example, if your identity is stolen, you don't get any sort of reimbursement from the company, whereas you probably would if you paid a monthly or yearly subscription elsewhere. So while Credit Karma doesn't cost anything, it certainly doesn't provide the full-service identity protection you might be looking for. Still, as a free tool, credit and data breach monitoring are very useful.
Credit Karma Customer Support
Another disadvantage of a free service is the lack of customer support options. If you need help with your identity monitoring, you can only check out the online help center or submit a request to the support team. Unfortunately, there's no live chat or phone number you can call, which is a bit of a disappointment. But I will say that when I submitted a request, I got a response back in half an hour, which is pretty good.
Of course, I don't just want to go off of my experience, which is why I checked Amazon and Google to see what Credit Karma customers had to say about their support. On Amazon, Credit Karma has a 4.4 rating overall from 218 reviews, but unfortunately, none of them mention customer support. Google, on the other hand, was another story. The company's San Francisco headquarters has a three-star rating overall from 89 reviews, and out of the 22 reviews that mentioned customer support specifically, they were all negative!
It seems like people shared my complaints about the lack of a phone line. Many also said emails took anywhere from days to months to answer. Google user Sheila McCabe wrote in a recent one-star review,
"Their identity verification is lax and their customer service is a joke. I decided to register for a Credit Karma account only to learn that someone else had already made an account using my personal information. If the thought of some impostor having access to all my information for who knows how long wasn't bad enough, none of my messages to Credit Karma's online-only support team have been addressed."
Clearly, customer support is not Credit Karma's strong suit.
The Credit Karma App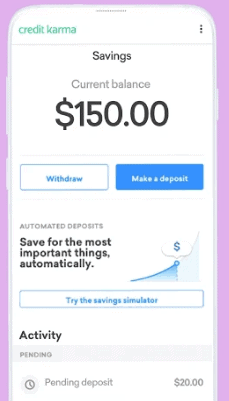 The Credit Karma app allows you to check your credit and monitor the web for data breaches on the go. Fortunately, it's highly-rated with a 4.7 from the Google Play store and a 4.8 from the Apple store. Personally, I found the app to be as easy to use as the website, and I like that you can get SMS notifications if you prefer. It's clear that when it comes to designing a user-friendly experience, Credit Karma knows what they're doing.
Recap of the Credit Karma Review
All in all, I'm a little underwhelmed by Credit Karma's identity monitoring service. Without monitoring of Experian and with no identity theft insurance plans available, this service only skims the surface of identity monitoring. However, I do think it's a good first step to get the basics of credit and data breach monitoring.
That's it from me!