What We Like
Fast and efficient antivirus scans
By default, automatically scans once an hour
Firewall protection included, standard
What We Don't Like
Low virus detection score from AV Labs
Functionality involves moving back and forth between app and website
Only detected one of our five test viruses
Bottom Line
Webroot is one of the few antivirus programs to offer a 14-day free trial to try out its PC, macOS, iOS or Android apps. Its scans are fast and efficient, for the most part, but it does tend to miss a few pieces of malware here and there. Its apps also don't offer the best user-experience.
Webroot may not be as big an antivirus brand as the likes of Norton and McAfee, but it's pretty intriguing. Any cybersecurity brand brave enough to put cat memes on its website deserves a closer look. That's exactly what we did, and we found some pretty interesting things.
Among those things is that Webroot is quick with its scans — our initial scan, which often lasts about an hour with other antivirus software, lasted just 22 minutes with Webroot. Was that a sign of efficiency, or did it compromise reliability for speed? Let's find out in this hands-on test of Webroot antivirus.
Webroot Antivirus Features
| | |
| --- | --- |
| Price range | $2.49 – $3.17 per month |
| Scan types | On-access, On-demand |
| Blocks malware and viruses | Yes |
| Blocks phishing | Yes |
| Password manager | Yes |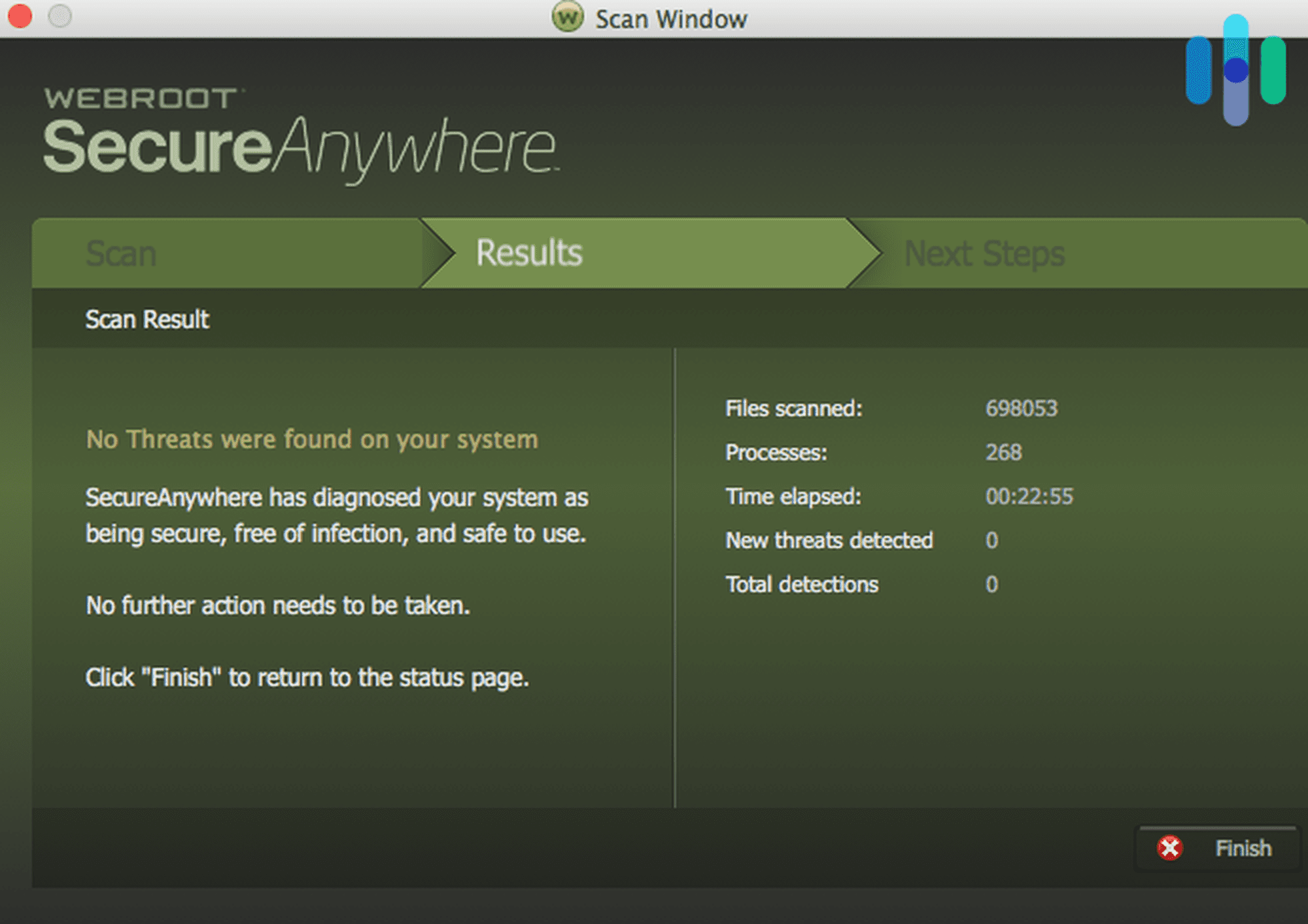 Editor's Rating
Detected 98.9 percent of widespread malware as of June 2020
14-day free trial
70-day money-back guarantee
Webroot Antivirus Overview
The speed at which it scans computers is probably the best thing about Webroot. Other than that, it's a pretty mediocre antivirus. It also didn't do that well in detecting live viruses on our computer, which is the whole point of having antivirus. For other options, check out our highest-rated antivirus brands here:


Webroot's Security Breach: Are You Protected?
When we dive deep into antivirus software, it's not only about our user experience, although that's clearly an important part of our reviews. We also look into the company's past to see if they've had any lawsuits, security vulnerabilities, or other events that would make us trust them less.
Believe it or not, even antivirus companies can and do get targeted by malware. It happened to Webroot in 2019 when it had a security breach where hackers spread ransomware across its customer systems.1 Webroot was able to contain this breach, fortunately, by mandating two-factor authentication to keep the hackers out. And to be fair, only a small number of customers were affected.
Aside from this security blip, we checked out Webroot's privacy policy2 to see what data of ours they kept, and whether or not they shared it with third-party advertisers. Well, it turned out that they kept a lot of our information, including:
Contact and account registration: Name, billing and shipping addresses, type of business, email address, phone number, security code, username.
Financial and transactions: Card, banking or payment information, product and transaction information, purchase history.
Content we provided: Any information in customer cloud storage
Devices: Operating system, MAC address, device ID, browser type, IP addresses, websites visited, location information.
Connecting and usage: License and account information, features utilized, session length.
Misc: Any communications we have with Webroot, etc.
While this data is pretty standard for antivirus software, we wondered exactly how Webroot shared it with third parties, if at all. Webroot makes it clear that they don't sell personal information, although it may be shared when advertising their services on other apps or websites. However, you can adjust these settings in your browser, so overall, we're happy with Webroot's handling of our personal data.
Webroot's Software and How It Performed
Let's look into Webroot's features more closely, namely what it scanned for and the other ways that it protected us from cyber threats.
How Webroot Protected our Macbook Pro
Realtime Shield: Listed first on the right hand side of Webroot's app, Realtime Shield ran its database of threats against our computer to see if we had anything harmful on our computer. Enabled by default, Webroot recommends keeping the Realtime Shield on at all times. If our computer is a castle, think of Realtie Shield as a mote. And no, it didn't find anything on our computer that was malicious, thankfully!
Note: Webroot's software monitored our computer for suspicious behavior, not just signatures that are already known to be malicious in established databases.
Web Threat Shield: The Web Threat Shield, on the other hand, monitored our internet usage for threads, giving us a warning if we encountered any malicious sites. According to Webroot, this detection compares our web activity with a database of over 200 million domain names and IP addresses to identify sites that may contain malware. We're pretty good about not clicking on shady phishing links, so Webroot didn't detect anything on our Chrome browser.
Quarantine: If Webroot had found any viruses or malware on our computer, they would've "quarantined" them in this folder, protecting the rest of our computer from these cyber threats.
Our Experience Using Webroot
When we first opened Webroot, it immediately scanned our Macbook for malware and viruses, finding none. That first scan took about 22 minutes, which is actually much faster than many other services we've tested. Not only could we do a scan whenever we wanted to, but by default, Webroot automatically scans every hour. And unlike other software, it doesn't slow down computer performance or internet browsing speed while scanning. Plus, a firewall protected our network at all times, which isn't always guaranteed with antivirus software.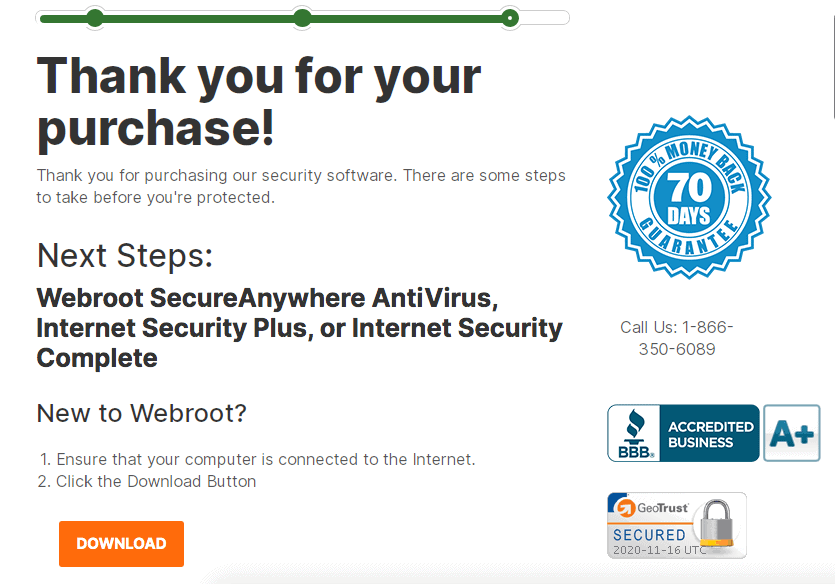 Overall, the Webroot app was lightweight and easy to use. It wasn't like some of the antivirus apps we've tested that really slow down your computer, or run multiple processes in the background, causing delays. Everything was lightning quick with Webroot.
Our only qualm is that we had to switch back and forth the app and website to access some features. This took out some of the app's user-friendliness, but it wasn't a big issue and is certainly not a deal-breaker for us.
Did Webroot Detect Viruses and Malware?
Let's get back to the basic function of antivirus software: how well did Webroot actually protect our computer?
To test, we loaded five pieces of malware into our laptop and ran a scan. Of the five we hid, Webroot found just one. That was disappointing, and was way below our passing score of three out of five.
Of course, we used a very limited sample, but third-party tests seem to confirm our findings as well. For example, AV Test, an independent antivirus testing lab we trust, gave Webroot a two out of six protection score in their last test as a result of Webroot's failure to detect about a third of the 307 zero-day attack samples. Although Webroot did catch 98.9-percent of prevalent malware at the time, that's still almost a full percentage point lower than the 99.8-percent industry average.
In short, Webroot has a tendency to be inefficient. It may be fast, but we think a more thorough malware scan would be better than a speedy but inefficient one.
Navigating Webroot: Our Experience
Although Webroot's virus and malware detection were lacking, we did appreciate its user experience, which was pretty seamless in our opinion.
Downloading Webroot
We bought the "antivirus-only" plan from Webroot, which cost $37.49 for three devices for one year (if you want one device or a plan for two or three years, check out our Webroot pricing page to learn more about their options). After filling out our payment information on the Webroot website, we downloaded the app from the website directly (no intermediary installer app here!). Within a few seconds, the app was downloaded and began its first scan. Overall, this process was super smooth, which is not always the case for antivirus software. But how did it work after we got it downloaded?
Identity Protection
The next section was Identity Protection, which only included one feature called Phishing Shield.
Phishing Shield: Enabled by default, Phishing Shield would've blocked any fraudulent websites that were meant to obtain our personally identifiable information. But again, we're pretty good at recognizing phishing links, so this didn't come up for us while browsing the web.
Backup & Sync
Between our Macbook Pro, Kindle Fire, iPhone and Smart TV with built-in Chromecast, we're constantly toggling between different devices, and accessing files can be a bit of a pain to email back and forth. But since we didn't buy the Internet Security Complete package, we didn't actually pay for this 25 GB of cloud storage, so when we clicked on it, we were brought back to Webroot's website in hopes of buying more software. The price was $59.99 for coverage of up to five devices for a year. While that's decent value, in our opinion, we were happy with our current coverage. Many antivirus companies tack on extra features, like VPNs, secure storage or password managers to up the prices. Unfortunately, this sort of upselling is really common in antivirus software, but that doesn't make it any less annoying.
Password Manager
Another feature only available in the two Internet Security packages is a password manager. Webroot's password manager is powered by LastPass, which uses Touch ID to log into accounts rather than manually entering credentials. The sign-up process from the Webroot app is a bit clunky, at the end of which we discovered a simple Chrome extension integration…and a charge for the service (boo!). We already happen to have a LastPass subscription, but the Webroot Internet Security bundle is actually a better value. We wish we had known about it earlier!
Utilities
Under Utilities, we saw two buttons: Manage Active Processes and Reports. When we clicked on Manage Active Processes, we found a tab called System Control, which showed us all "Active Processes", or files and web pages we had open, and whether or not they were allowed, monitored or blocked. The Reports section is divided into Scan Logs, which includes logs of our most recent scans. It also includes an area to submit files like screenshots when things go wrong, a way to help Webroot improve their products.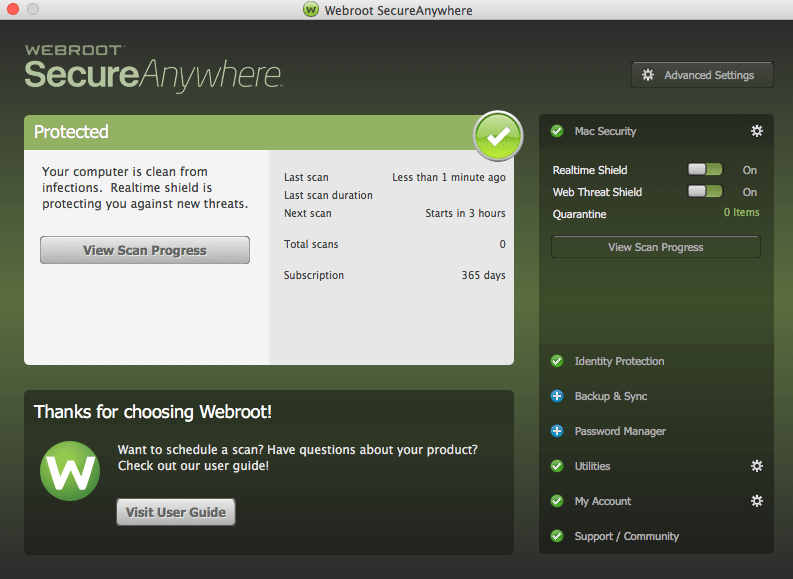 My Account
The Webroot app didn't have all of its functionality built-in; rather, many features, like the password manager, required us to open the Webroot website. That's where the My Account section came in. My Account provides access to the web console, keycode, subscription info and main support page on their website.
Support/Community
Last but not least was Support/Community, which included buttons to contact customer support and speak in user forums.
Webroot Costs
Here, we have the pricing for Webroot's antivirus plan, but again, look at our pricing page for more options. Webroot also has plans for businesses and VPNs, so make sure you read about all the options at hand. There's even an antivirus software for gamers!
| Maximum Number of Devices and Contract Lengths | Price |
| --- | --- |
| 1 device, 1 year | $29.99 |
| 1 device, 2 years | $59.99 |
| 1 device, 3 years | $89.99 |
| 3 devices, 1 year | $37.49 |
| 3 devices, 2 years | $79.99 |
| 3 devices, 3 years | $109.99 |
FYI: While the Internet Security Plus plan adds a password manager to the Antivirus Plan, Internet Security Complete adds protection against tracking plus 25 GB of cloud storage.
Webroot App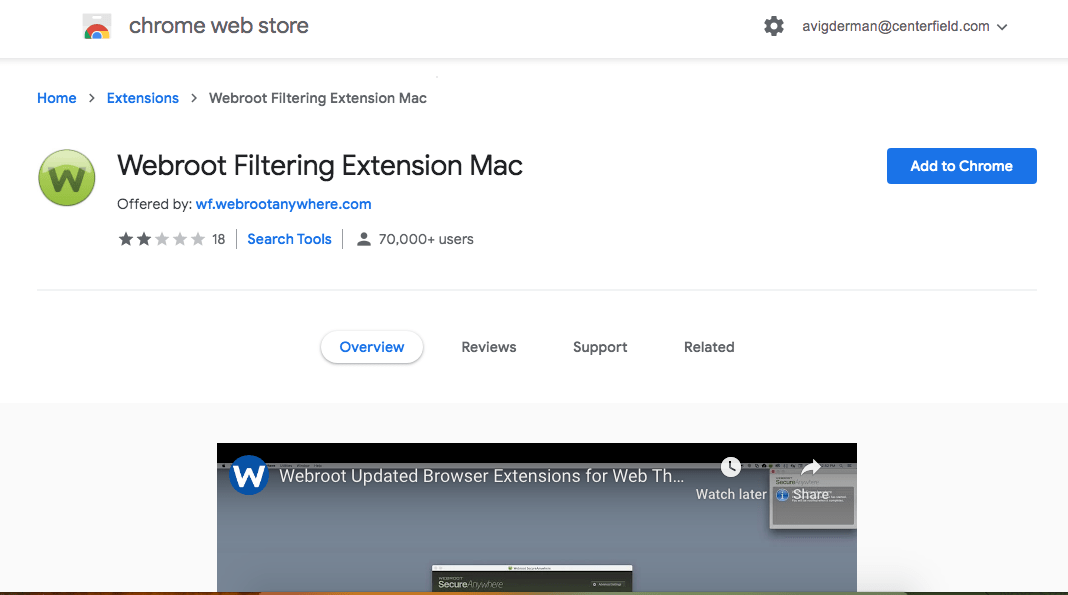 We tested our Webroot on our Macbook Pro, but they also have iOS and Android apps, both of which have ratings of 3.7 out of five on the Apple and Google Play stores. However, the apps are named differently:
iOS: Webroot WiFi Security & VPN
Android: Webroot Mobile Security & Antivirus.
These are decent but not great ratings; many Android-users, in particular, claimed that the app didn't work on their tablets, so Webroot may be a better antivirus software for iPhone than it is for Android.
Customer Support
There were a few ways for us to contact Webroot's customer support, including creating an online ticket, send them a message, calling them on the phone or simply checking out their online help center. While we wish they had live chat as well, we found their support page to be pretty clearly laid out and extensive.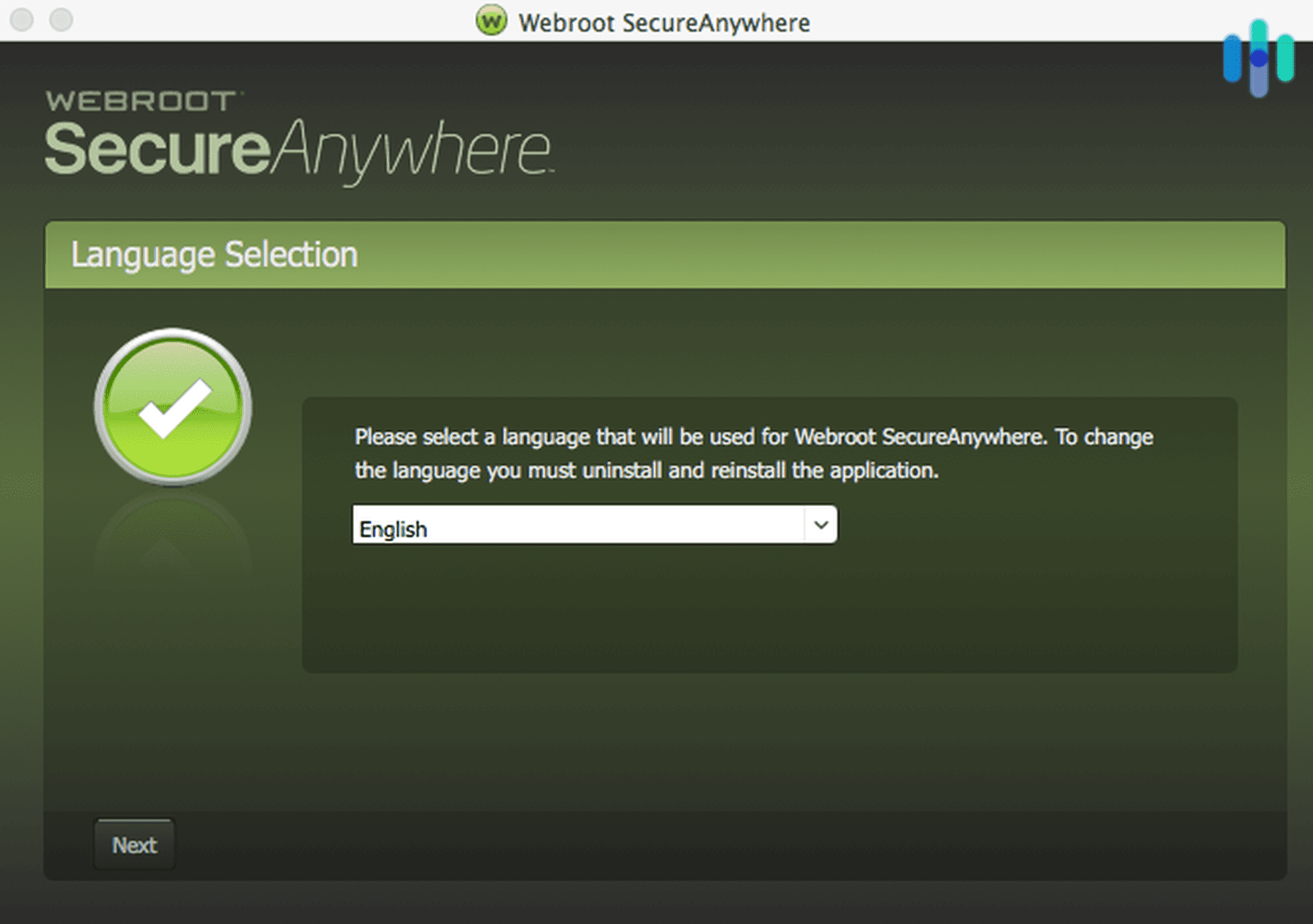 Summary
Given their low virus and malware detection, we don't recommend Webroot overall. However, we'd be willing to reconsider if Webroot improved its detection. As it did have a pretty seamless user experience, we didn't dislike everything about the software. However, when it came to that core antivirus and anti-malware functionality, Webroot missed the mark.