Webroot Antivirus Cost and Pricing Plans
Detected 98.9 percent of widespread malware as of June 2020
14-day free trial
70-day money-back guarantee
All of our content is written by humans, not robots.
Learn More
By

&

Last Updated
Nov 21, 2023
They say that the best things in life are free, but with antivirus software, chances are that you're going to have to pony up some money. Of course, we still want to be wise with where we're spending our dollars, so we did the due diligence of looking into the true costs of Webroot. How much will you pay for their antivirus software? Can you try it out for free? And if you cancel it, can you get your money back? We've covered all that and more information here. Read on to find out the answers!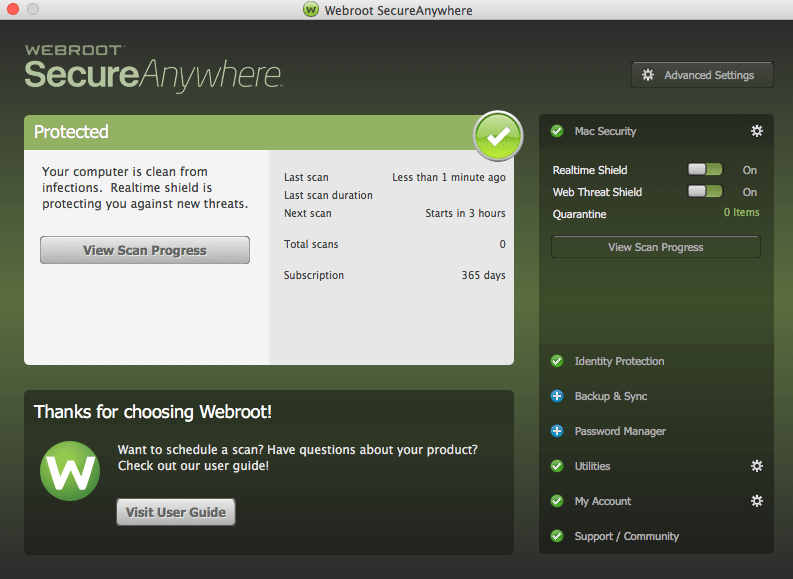 Can I Try Webroot for Free?
You can try out WebRoot's AntiVirus, Internet Security Plus and Internet Security Complete for 14 days without putting down a credit card; sign us up! The only thing we had to do to start our free trial was to fill out our names, email addresses and what state we were from; that was it.
However, there is one way you can use a free virus scan from Webroot that doesn't expire. The Webroot Mobile Security iOS app along with the Webroot Mobile Security & Antivirus Android app will scan your smartphone for viruses and malware in a maximum of 30 seconds. You'll also be kept safe when you're shopping online, checking your bank account summary (womp womp) or simply surfing the web. Now, this doesn't include scanning for harmful apps, but it's certainly a great start for someone that wants antivirus protection on their mobile devices, without ever having to put down a card.
More Web Security Options
Webroot is an easy-to-use product and does a pretty good job protecting your devices, but we would have liked to see them perform a little better in our tests. They didn't exactly pass our virus detection test with flying colors. If you want to consider your options, start by checking out these three great providers below:


Webroot Costs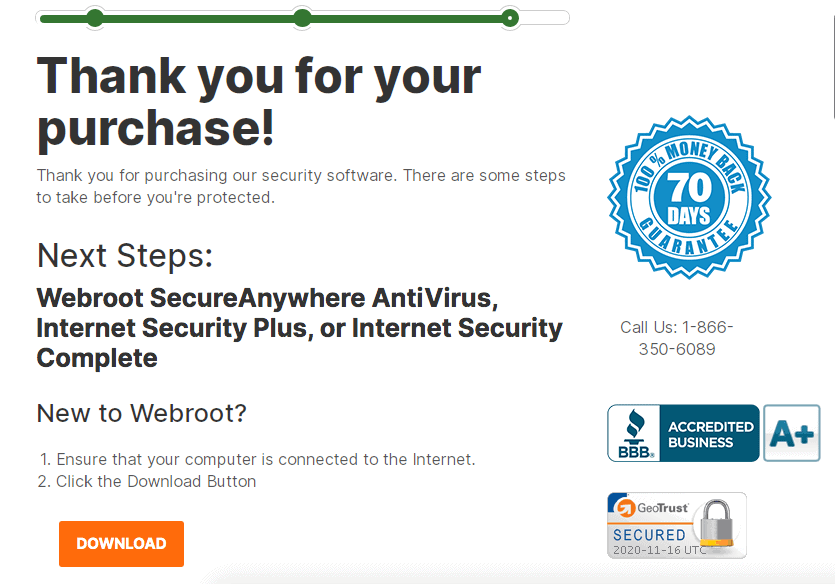 WebRoot sells antivirus software on its own and in packages with other digital security features, as well as a standalone VPN. Let's start with their antivirus-only package, pure and simple.
SecureAnywhere AntiVirus
If you just want antivirus software that protects against ransomware and phishing, as well, then go with the pure AntiVirus package, which works on PCs and Macs. While we wish it covered more than three devices, the prices are decent, especially if you sign up for three years.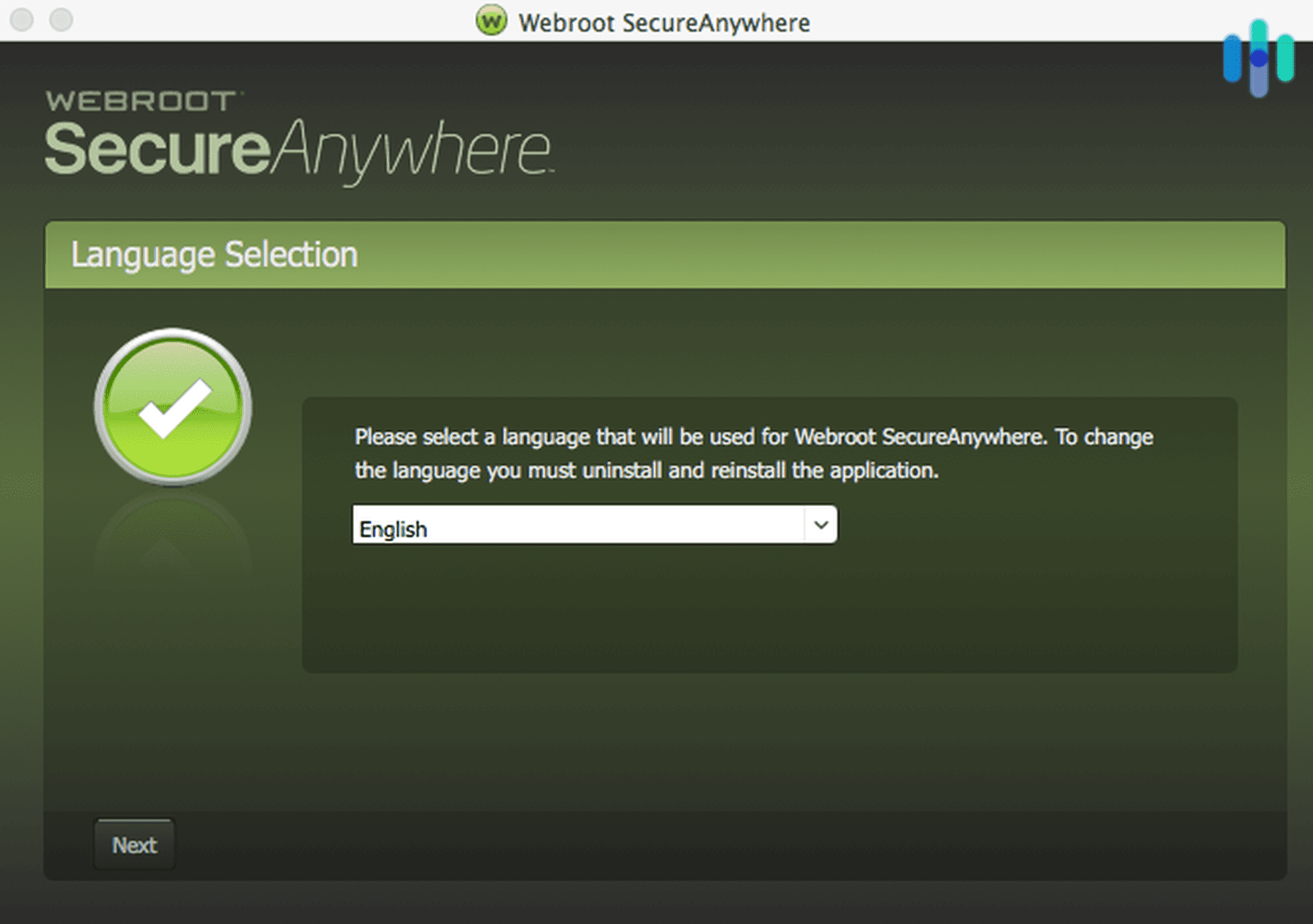 | Number of Devices | Length of Contract in Years | Price |
| --- | --- | --- |
| 1 | 1 | $29.99 |
| 1 | 2 | $59.99 |
| 1 | 3 | $89.99 |
| 3 | 1 | $37.49 |
| 3 | 2 | $79.99 |
| 3 | 3 | $109.99 |
AntiVirus for Gamers
Another option for gamers on PCs is AntiVirus for Gamers, again, reasonably priced although one subscription only covers one device. Still, most gamers probably use the same PC for all of their gaming needs, so this won't necessarily be a problem for many.
| Length of Contract in Years | Price |
| --- | --- |
| 1 | $29.99 |
| 2 | $59.99 |
| 3 | $89.99 |
FYI: If you're also looking for a VPN to use while gaming, check out the best VPNs for gaming, tried and tested by yours truly.
Internet Security Plus
Next is Internet Security Plus, which is basically the antivirus software plus password and account protection. One big advantage of this package is that it allows up to five devices, bumping that maximum up from three.
| Number of Devices | Length of Contract in Years | Price |
| --- | --- | --- |
| 3 | 1 | $44.99 |
| 3 | 2 | $99.99 |
| 3 | 3 | $139.99 |
| 5 | 1 | $69.99 |
| 5 | 2 | $109.99 |
| 5 | 3 | $159.99 |
Internet Security Complete
The most comprehensive antivirus software from WebRoot is Internet Security Complete, which includes everything from Internet Security Plus and, in addition to that, anti-tracking and 25 GB of cloud storage. Oddly, there's no option to cover one or three devices, so we only recommend this package if you have four or five devices you'd like to cover; otherwise, you may be better off sticking to a three-device plan from Internet Security Plus.
| Number of Devices | Length of Contract in Years | Price |
| --- | --- | --- |
| 5 | 1 | $59.99 |
| 5 | 2 | $129.99 |
| 5 | 3 | $179.99 |
| 10 | 1 | $159.99 |
Antivirus for Businesses
Now, we're not going to talk about all of Webroot's business products, as we only have so much time and space on our hands, but we will summarize their antivirus offerings for any business people reading.
| Number of Seats | Business Endpoint Protection Price | DNS Protection Price | Security Awareness Training Price |
| --- | --- | --- | --- |
| 5 | $150 | $690 | Custom quote |
| 25 | $150 | $690 | Custom quote |
| 50 and more | $150 | $690 | Custom quote |
If you work at an education company or nonprofit, or, if you're an employee of a state or government organization, Webroot will provide you with a custom quote; call 1-800-870-8102 or request it through their website to get an idea of what you'll pay.
WiFi Security
Antivirus software aside, Webroot's final product for home use is what they call WiFi Security, which we refer to as a VPN. Working on Windows, Mac, iOS and Android devices, if we turned on this VPN, all of the websites we visited, as well as our devices' private IP addresses, would have been encrypted. That being said, we wish that they offered monthly options, as that's the standard for most VPN competitors. If you want a VPN that you can pay for on a monthly basis, check out ExpressVPN or NordVPN. To see what they'll cost you to compare with Webroot, read our pages on ExpressVPN costs or NordVPN costs.
| Number of Devices | Length of Contract in Years | Price |
| --- | --- | --- |
| 3 | 1 | $39.99 |
| 5 | 1 | $59.99 |
What You Get
We already touched on this a bit, but here's exactly what you get with the pure antivirus plan compared with the two Internet Security plans. To see exactly how we liked the plans, read our Webroot review.
| Features | AntiVirus | Internet Security Plus | Internet Security Complete |
| --- | --- | --- | --- |
| Compatibility | PC, Mac | PC, Mac, iOS, Android | PC, Mac, iOS, Android |
| Threat protection | Yes | Yes | Yes |
| Data and identity security | Yes | Yes | Yes |
| Ransomware protection | Yes | Yes | Yes |
| Phishing and harmful site protection | Yes | Yes | Yes |
| Firewall and network monitor | Yes | Yes | Yes |
| Automatic scans | Yes | Yes | Yes |
| Protection for account passwords and logins | No | Yes | Yes |
| Anti-tracking online | No | No | Yes |
| 25 GB of secure cloud storage | No | No | Yes |
How To Opt-Out of Auto-Renewal
Subscriptions can really add up, and some people won't want them to automatically charge their cards at the end of their subscription cycle. While this isn't typically an option, you can opt-out of automatic renewal with Webroot simply by giving them your keycode and clicking "Yes, please remove auto-renewal from my subscription". That way, even if you end up wanting to stay on, you remove the risk of accidentally paying for a subscription that you don't want anymore. As people that subscribe to Netflix, Hulu, Amazon Prime, the Hallmark Movie Channel, Spotify, the New York Times and even an exercise app, we more than feel your pain.
Will They Share Our Data?
One of the major reasons why the total growth in revenue of security software raised nearly 14 percent from 2018 to 20191 is, in our personal opinion, because people like their privacy. Viruses, for example, can take over your computer so hackers can take your personally identifiable information and steal your identity, in the worst case scenario. So naturally, we took a look at Webroot's privacy policy to see if they were spying on us, as well.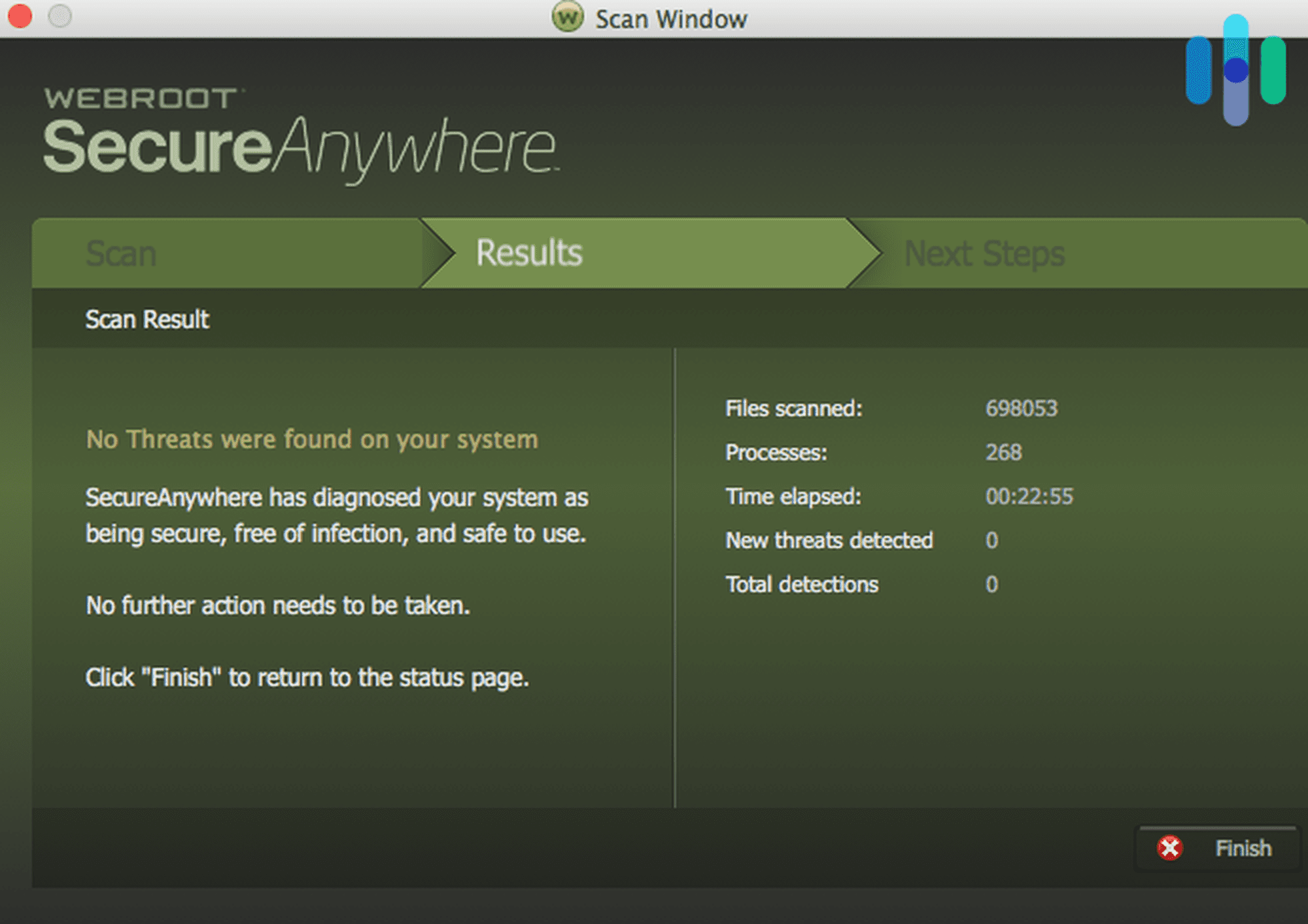 The software itself logs a lot of user information, including:
Contact and account information: Name, billing and shipping addresses, type of business, email address, phone number, username, security code
Financial and transactional information: Card, banking or payment information, product and transaction data
Customer content: Any information stored in their secure cloud storage
Device information and identifiers: Operating system information, device ID, browser type, IP addresses, URLs of websites visited, location information, etc.
Connection and usage data: License, keycode, account information, session length, etc.
Miscellaneous information: Any other information that you share with Webroot.
Although this sounds like a lot, Webroot needs all this information to be able to scan our entire devices for viruses, malware, ransomware and more. But that doesn't mean they can sell it to advertisers to create creepy targeted ads…correct? Well, no, unfortunately not. On the contrary, Webroot will share our data to third parties, but only in events like mergers or joint ventures, or with law enforcement, when required. However, these third parties can also include "service providers" who want to deliver what they call "online behavioral advertising", which means it's based on our interests. That's not ideal, but we were happy to see that we could opt-out on both mobile and desktop. Check out their Cookies Policy2 to find out how!
That being said, many people won't be too mad about this third-party advertising, as it's standard not only across the antivirus industry, but across the tech industry in general. And, according to research from digital marketing agency Adlucent, over 70 percent of consumers actually preferred these personalized, more relevant advertisements.3 That being said, if you fall into the minority on this issue, we recommend opting out.
What We Liked
Why is Webroot one of the best antivirus software providers on the market? Here are a few key reasons, in our book:
Secure firewall
Malware scans automatically and manually
Behavior-based detection
Works on Mac, Windows, iOS and Android devices
Some plans include password protection, secure storage, and more extra features
Discounts for longer-term lengths
98.9 percent malware detection
14-day free trial
70-day money-back guarantee
Strong Android and iOS apps with free scans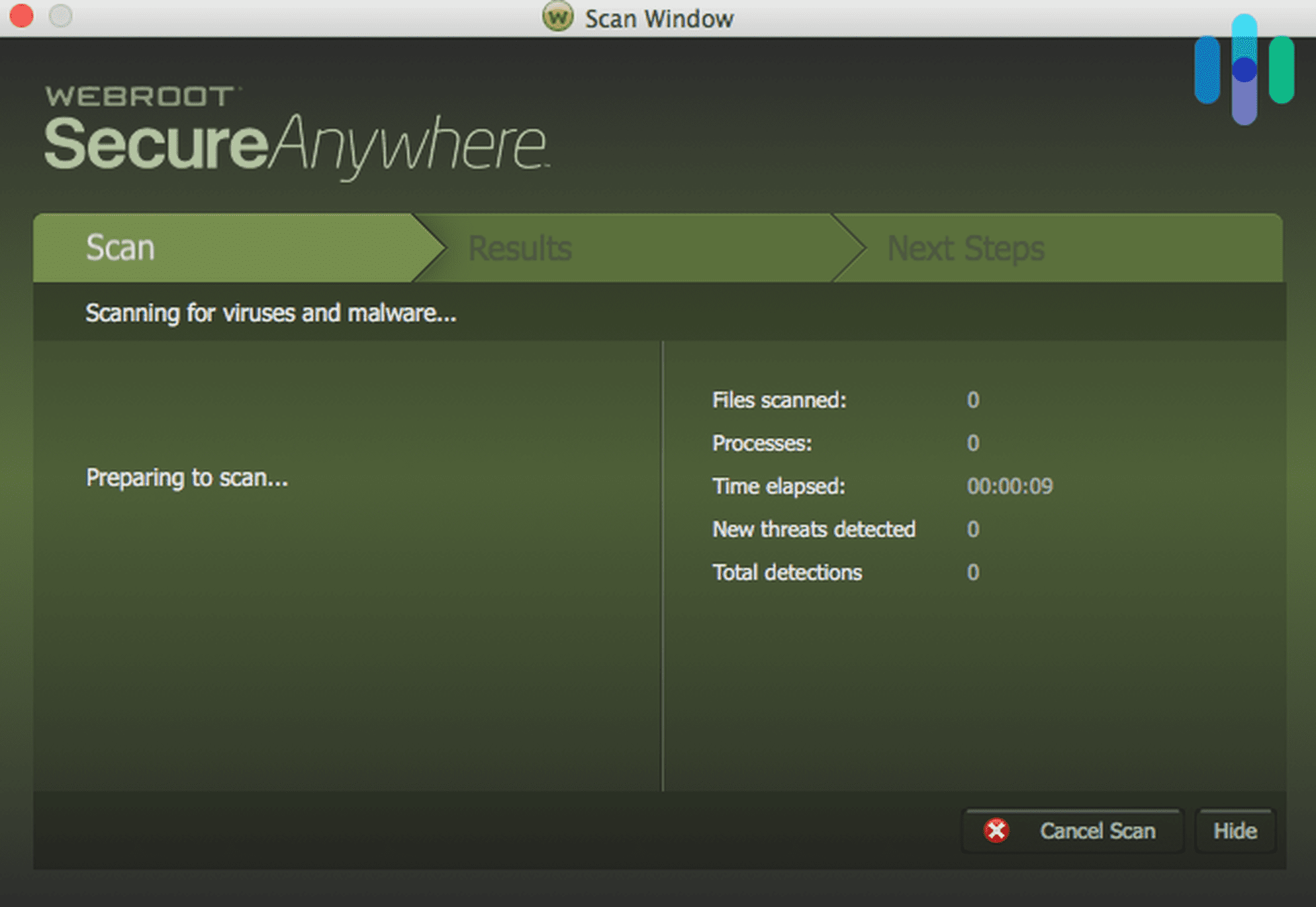 Refund Policy
We've looked at a ton of different refund policies for antivirus software, but we haven't found a money-back guarantee as long as Webroot's. While typically, they tend to be around 30 days, Webroot gave us 70 days to get a full refund. If you bought it online, you can start the refund process online, but if you purchased it in a store, just bring it back with its original receipt, disc and package insert. Otherwise, you can send it to Webroot to their address in Broomfield, Colorado, if you live in the United States. So long as your receipt is within 30 days of your refund request, you'll get your money back.
Note: Webroot's refund does not include any shipping or handling fees or sales tax, so you won't get a true "full" refund, just the cost of the software itself.
In Conclusion
In terms of their subscription prices, Webroot is on-par with their competitors in the antivirus marketplace, but where they really shined was with their extra-long money-back guarantee. And with 14 day free trials that don't require a credit card, a rarity, we love that trying out Webroot is risk-free.
Frequently Asked Questions
We're not done yet. If you've got more questions, we've got more answers.