Parents Want Stricter Legislation to Protect Kids on Social Media
89% of parents support laws requiring children under 18 to obtain parental permission before joining social media platforms.
Written By: Security.org Team | Published: June 27, 2023
---
In May 2023, the U.S. Surgeon General released a report detailing the damage social media inflicts on youngsters and teens, and parents and lawmakers alike are paying attention.
In recent weeks, the Biden administration has threatened a national TikTok ban. Congress is considering setting a minimum age for social media access, with parental permission required until age 18. Some state houses have already passed laws: Montana banned TikTok, Utah and Arkansas restricted underage access to social media, and California set stricter privacy rules for minors.
To learn whether parents believe such legislation is necessary – and which regulations they support most – Security.org asked nearly 1,000 Americans with children under 18 about their social media fears and suggestions for reducing harm online.
Here are some of our key findings.
98% of American parents believe social media platforms are dangerous to users under 18. They are most worried about children being exposed to age-inappropriate content.
More than two-thirds of parents believe that children under 18 need more legislative protections from social media, and that kids under 9 shouldn't access social media at all.
89% of parents support laws requiring children under 18 to obtain parental permission before accessing social media, and 85% of parents believe they should have complete access to their children's social media accounts.
91% support laws prohibiting social media apps from collecting personal data from children.
Parents identified TikTok and Snapchat as the most dangerous social media platforms for their children.
Nearly All American Parents See Social Media – Especially TikTok – as a Danger to Children
In the U.S. Surgeon General's 2023 Advisory on Social Media and Youth Mental Health, Dr. Vivek Murthy said, "There are ample indicators that social media can have a profound risk of harm to the mental health and well-being of children and adolescents."
American parents overwhelmingly agree: 98 percent of those with young children and teens believe using social media platforms is dangerous for children under 18.

Similar numbers expressed concern about specific social media aspects; 95 percent worry about the impact on children's well-being, with the same number fretting over inappropriate content. Ninety percent are concerned about how much time kids spend on the networks.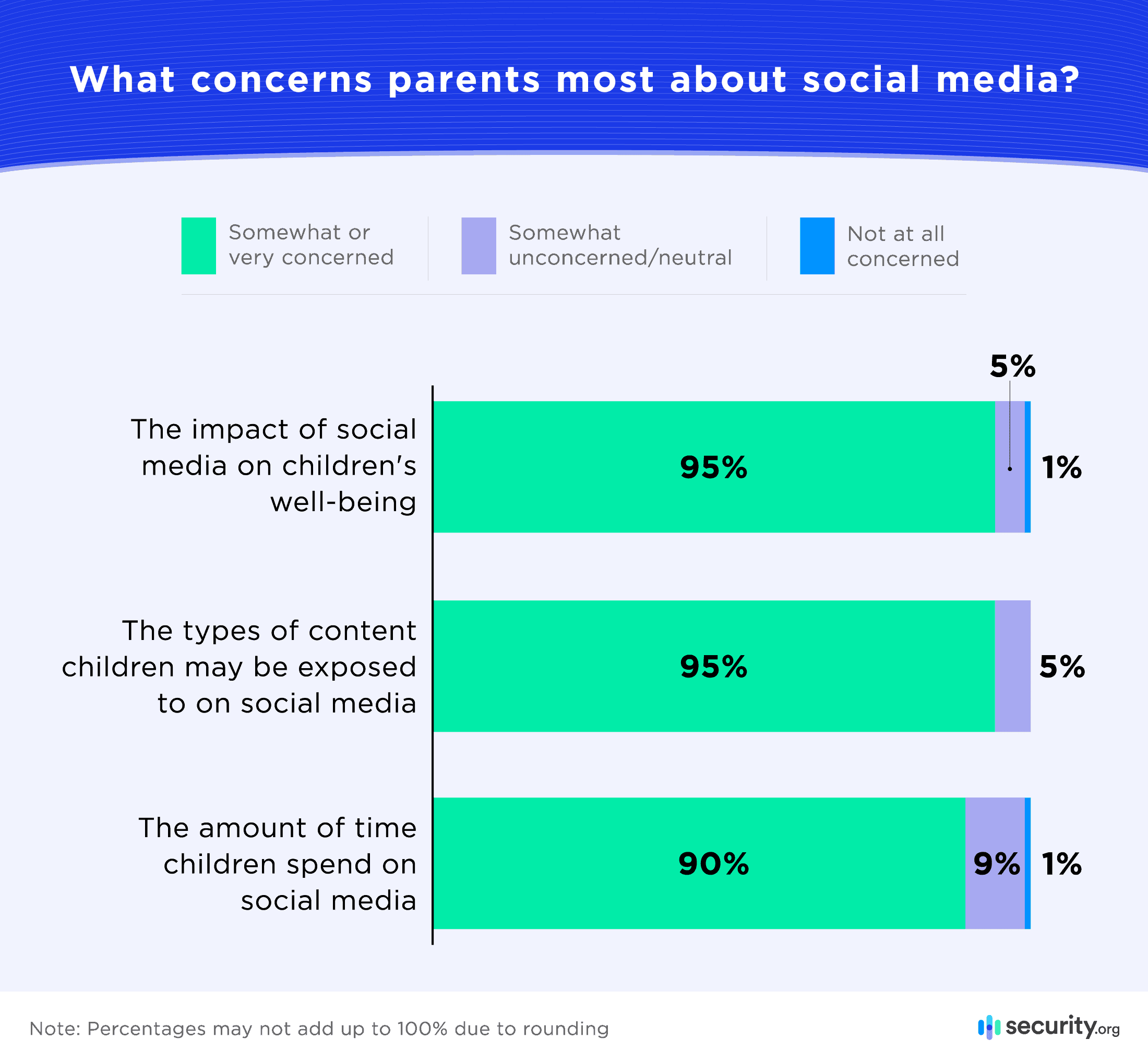 When we asked parents to identify the most threatening social network for children, 26 percent said that all platforms are equally concerning. Parents selected TikTok and Snapchat as the most dangerous to their children compared to other social media platforms.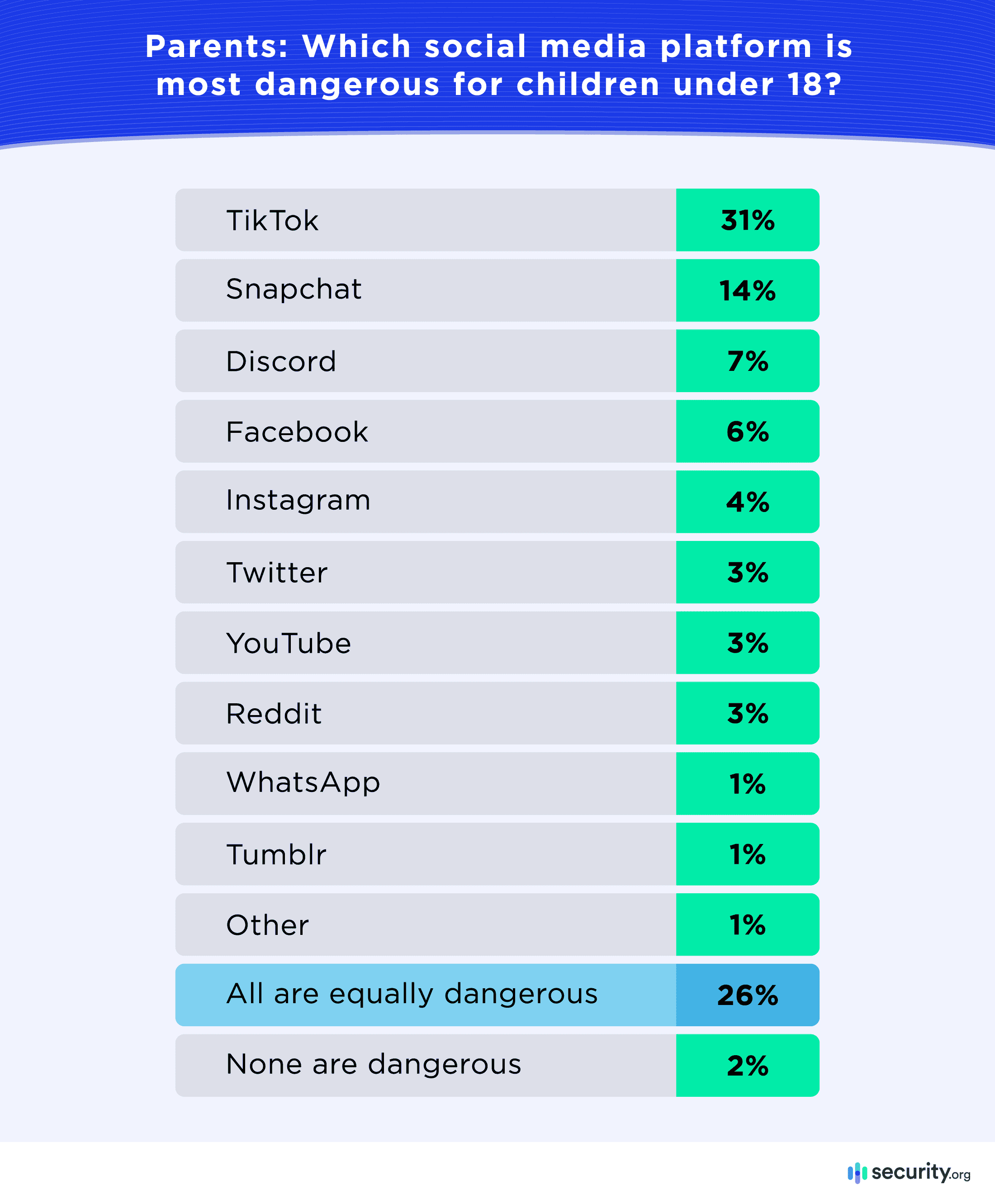 TikTok and Snapchat are considered particularly menacing due to their designs and user experiences. TikTok's precision algorithm supplies an endless scroll of targeted trends that are both addictive and influential. Snapchat's automatically-erased encrypted messages enable sharing of inappropriate content that avoids parental detection.
Parents consistently referenced these troubling traits while ranking the platforms' dangers. They cited TikTok as incredibly influential and addictive while flagging Snapchat for its problematic monitoring and condemning. Parents criticized both platforms for allowing content they felt was inappropriate for children.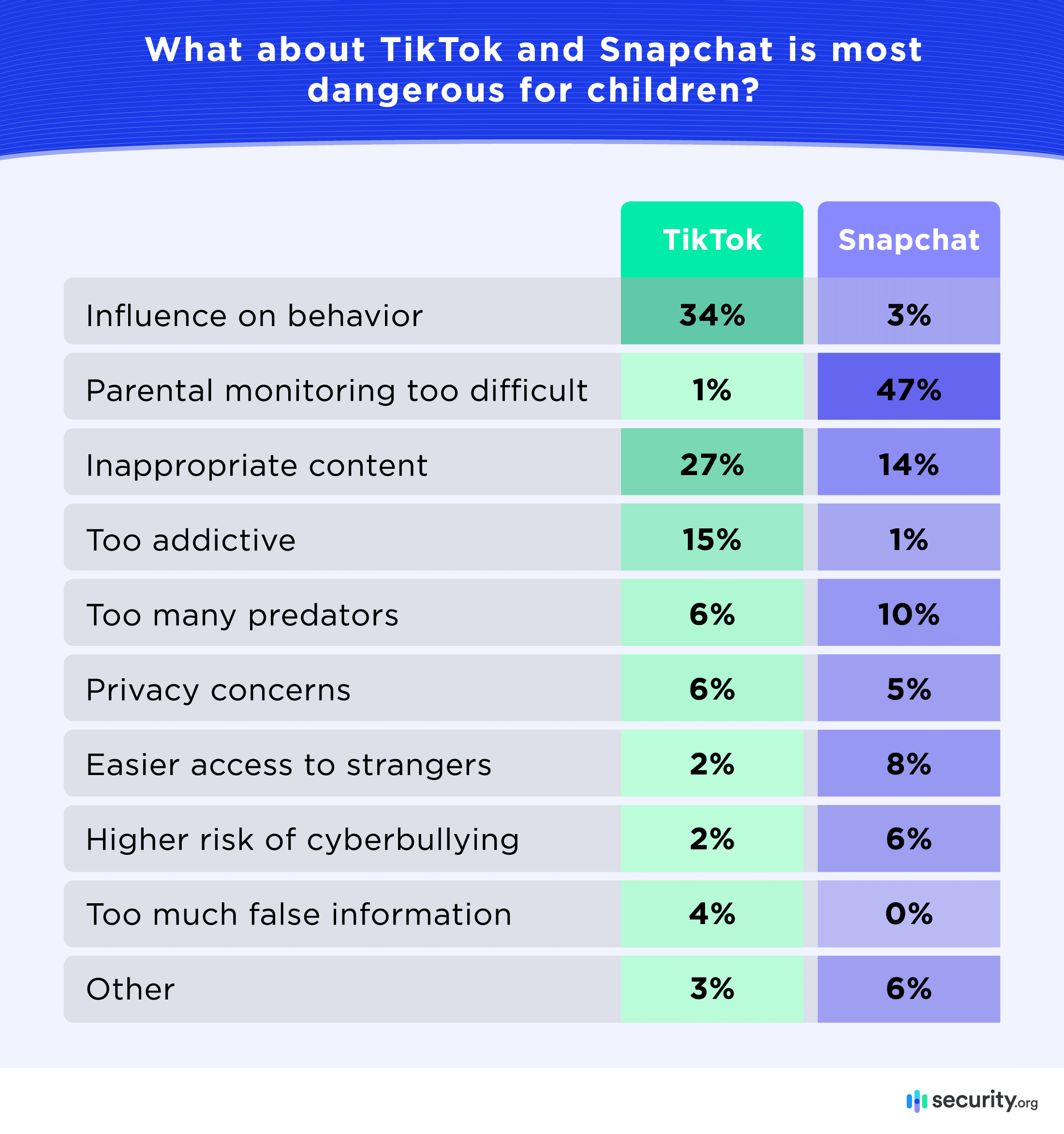 It's clear that American parents believe social media threatens their children, so what do they think should be done?
A Majority of Parents Want More Government Regulation of Social Media
The American Medical Association says minors who spend more than three hours daily on social media double their risk for depression and anxiety. Unfortunately, studies show that the average teen spends 3.5 hours daily on various platforms, with one-third "constantly" logged on.
Parents in our study agreed that kids under age nine shouldn't be on social media and that teens should be restricted to two hours max each day. Yet strategies varied when asked how they'd enforce such limits or protect their children online. Here's what some parents in our study suggested to reduce harm from social media:
"The content for those under 18 should be drastically different than what's shown to adults." 
 "Children should be educated against social media just as they are against smoking and drug use." 
"Kids should have to take a class and pass a test before they can even have an account."
"Social media is an addiction that should not be made available to children."
Though opinions on the specifics differed, most parents agreed legislation is needed to reign in companies and keep the online environment safer for kids.
Sixty-eight percent of surveyed parents think minors require legislative protections from social media, with 40 percent believing this is "very true ." Another 18 percent had no opinion on the matter.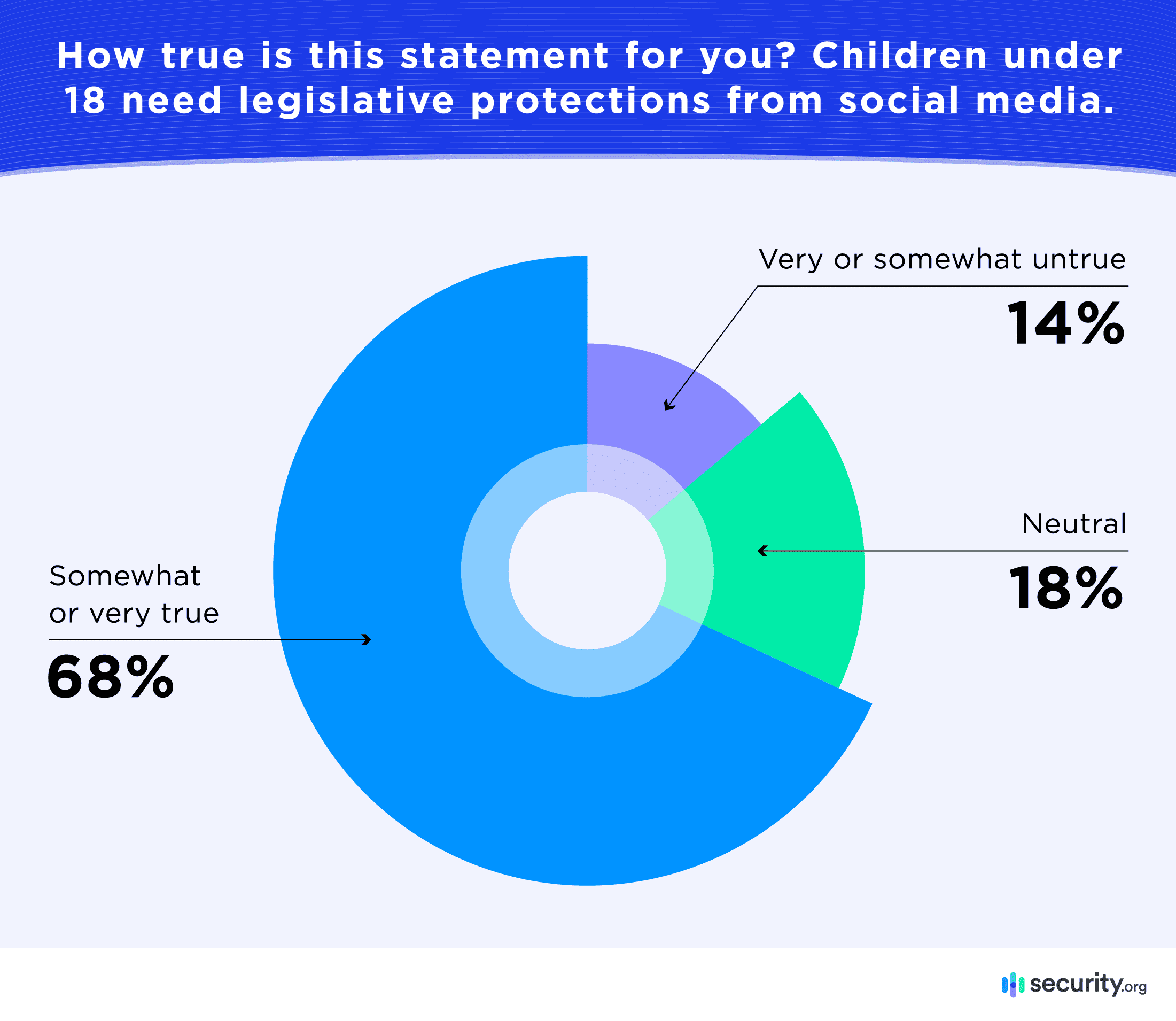 Mothers felt more strongly about the need for regulations than fathers: 45 percent of moms thought it was "very true" that minors required legislative protection compared to 35 percent of dads.
Some parents had concerns about giving the government too much control. About one in six parents felt that social media restrictions violated their right to set their own rules. However, more than half of them still supported at least one of the measures we asked them about.
When asked about specific restrictions, almost all parents supported improved privacy settings for minors. The majority also favored measures such as limiting data collection, requiring parental consent for access, and granting parents full access to their children's accounts . Additionally, many parents liked the idea of social media curfew laws that would limit the hours kids could get online.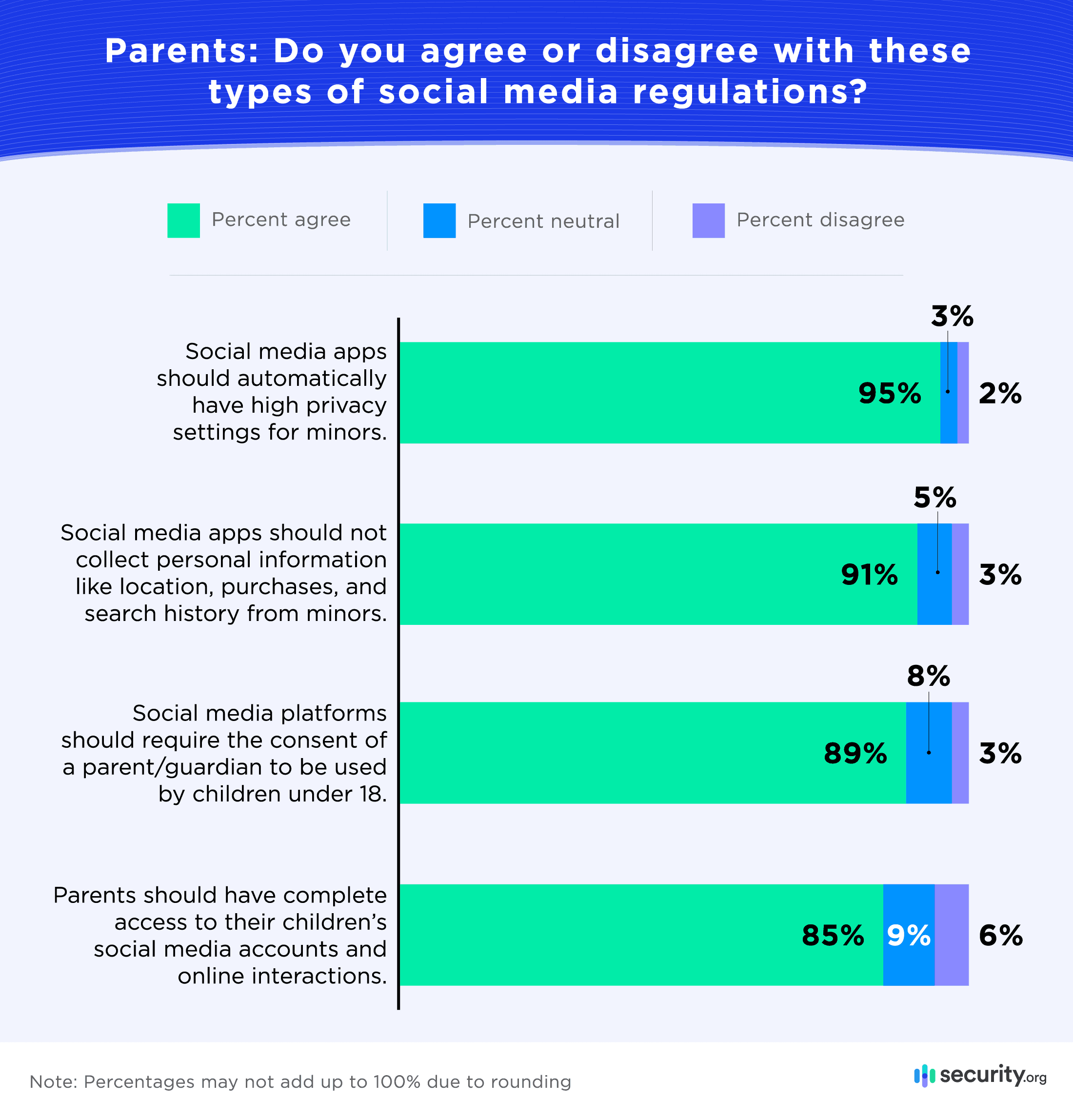 Until any or all of these proposals become the law of the land, parents are in charge of establishing guardrails for their children on social media. We've gathered some tips to help.
Tips For Protecting Kids on Social Media
Experts (including the U.S. Surgeon General) suggest several approaches for protecting kids who engage with social media. While parental engagement and vigilance remain key, here are some other helpful tactics to consider:
Embrace education and transparency: It's crucial for parents to educate themselves about the dangers of social media and the platforms their children use. By openly and honestly discussing these risks, without resorting to exaggerated fears, parents can help their youngsters understand the stakes, the need for precautions, and foster a sense of partnership in staying safe online.
Establish family media contracts: Create reasonable ground rules that clearly outline which apps are allowed, set limits on screen time, and establish designated "off-limits" hours for social media use. For example, you can restrict online activity before bedtime or make the dinner table a "phone-free zone" so everyone can focus on real-life conversations. Parents should lead by example and adhere to the house rules, putting their own phones away to prioritize quality connections.
Connect with other parents: Building relationships with parents in your children's social circle can help create shared understanding and normalize established rules. When communities establish common social media guidelines, it helps ensure that everyone follows them, reduces peer pressure, minimizes resentment, and discourages rule-breaking.
Stay informed about technology: Parents can work with their children to create strong passwords and activate the highest privacy settings on all social media platforms. Opt for parental controls that can add extra protection and limit potential risks. Some parents may choose to monitor their kids' online activities or keep access to their accounts and devices.
Report abuse and bullying: Parents should pay attention to any signs of distress in their children's behavior. Parents can foster an environment where kids feel comfortable confiding in them about online bullying, abuse, harassment, or solicitation without fearing judgment or consequences. Reporting harmful behavior to the appropriate authorities, such as other parents, schools, platforms, or law enforcement, is crucial to protect potential victims and address the issues effectively.
Conclusion
Social media's growing hold on American life places more and more youngsters in danger. Despite medical groups and government agencies warning of the hazards to children, screen time and social media activity continue to soar among tweens and teens.
Parents are worried about their children's well-being and believe social media contributes to anxiety, depression, and distress, yet they cannot limit exposure. Accordingly, they overwhelmingly support government restrictions that are currently under consideration.
Big tech hopes to avoid regulation by voluntarily introducing safety measures. Snapchat has enabled limited monitoring, and TikTok has promised more parental control, but it may all be too little, too late. With Congress and parents aligned in their concerns, new litigation is likely en route.
Our Data
In May 2023, Security.org conducted an online survey of 988 American adults with at least one child under age 18 about their experiences, concerns, and expectations regarding their children's use of social media.