Betternet VPN Review 2023
We tested Betternet VPN, a free VPN with no signup process that has optional premium subscriptions.
All of our content is written by humans, not robots.
Learn More
By

Aliza Vigderman
, Senior Editor, Industry Analyst
Last Updated
on
Mar 28, 2023
What We Like
Free VPN: If you don't want to spend money on a VPN, you can use Betternet for free with ads and some limitations.
Hydra VPN protocol: Betternet offers one of the fastest proprietary VPN protocols – Hydra – made and developed by Hotspot Shield.
Strong IP address protection: Betternet's VPN architecture leaves no holes for IP address leaks.
What We Don't Like
Pricey subscriptions: Going premium means paying $12.99 per month or $95.99 per year, which is not very affordable for a VPN of Betternet's caliber.
Sluggish upload speed: While the download speed was stellar, our upload speed took a hit when we connected to Betternet.
Split tunneling on desktop: The split tunneling feature on Betternet's desktop apps isn't as comprehensive as on mobile.
Bottom Line
Betternet isn't going to kick out any VPN on our list of the best VPNs, but it's an adequate option with strong security features and fast speeds. The free version is a nice addition, and we like that it offers the same level of security as the premium version.
Using a VPN is a quick and easy way to access a better internet. It gives you privacy by encrypting your online traffic and hiding your IP address, removes censorship by giving you a different IP address location, and even lets you access content that is otherwise unavailable in your region.
Not all VPNs are created equal, though; some are simply better. In this review, we're giving you a tour around Betternet VPN, a free VPN with optional premium subscriptions. To see if it's better than the best free VPNs we've tested, we took Betternet out for a spin and tried both its free and paid versions. Here's what we found out.
Is Betternet Really Free?
Betternet is part of a larger group of companies that offer digital security and privacy products called Pango. And much like the other VPNs in the group, Betternet offers a limited free version as well as premium subscriptions. So yes, Betternet is really free if you can live with its limitations. Otherwise, you'll need to shell out some cash if you want the full Betternet experience.
Although limited, the free version is actually impressive. You can customize your VPN experience by changing VPN protocols, you get access to must-have features like a kill switch, and split tunneling is available.
The only differences between the free version and the premium version are:
The number of servers available
Data usage limit
Speed
The free version gives you access to only one server, which means you can't choose the location to which you want to connect. Additionally, you can only use up to 500 MB of data per day. And lastly, the free version offers slightly slower speeds than the premium version.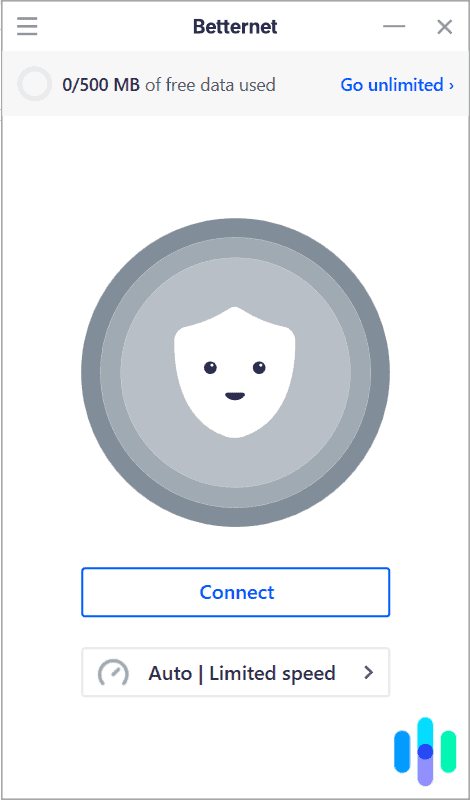 Those limitations are pretty normal for a free VPN. In fact, even the best free VPNs have those kinds of dampers. But again, if you want the full, limits-free experience, you can always upgrade to the premium version. That's what we did. Is the premium version worth it, though?
| Betternet premium subscriptions | Monthly plan | Yearly plan |
| --- | --- | --- |
| Total price | $12.99 | $95.99 |
| Average monthly cost | $12.99 | $7.99 |
| Free trial with premium features | 7 days | 14 days |
| Money-back guarantee | 30 days | 30 days |
FYI: Hotspot Shield is the best free VPN overall, and interestingly, it's also a part of the Pango group just like Betternet.1 What sets Hotspot Shield apart, though, is its impressive speed and numerous server options. You can learn more about it in our Hotspot Shield review.
More Security.org Recommendations
Check out more of our favorite VPNs.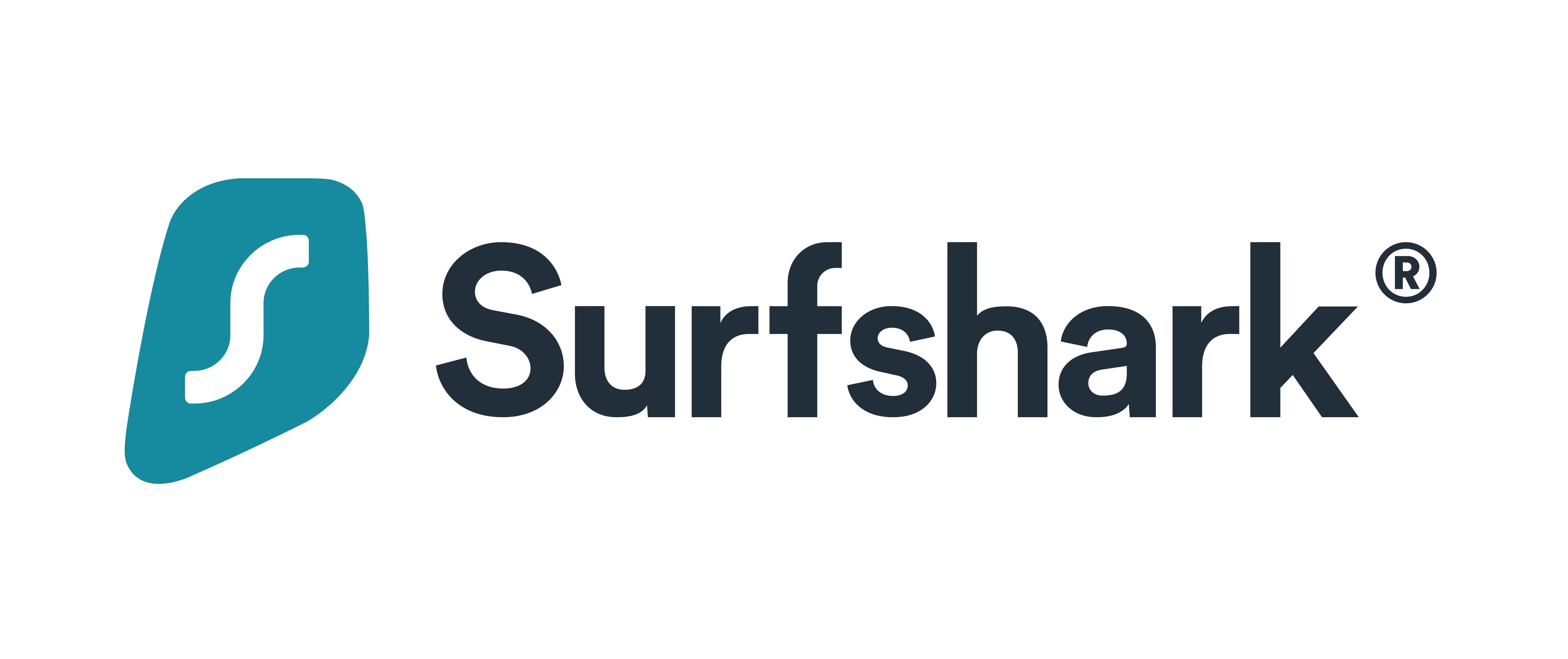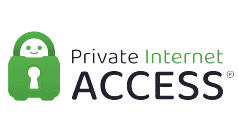 Betternet Premium: Its Most Important Features
Betternet Premium offers unlimited browsing data, faster speeds, and a wider selection of servers. It doesn't unlock any new features, though, but that's because premium features like the kill switch and split tunneling are already included in the free version.
Now, let's see how the premium Betternet VPN fares.
Kill Switch: Does It Work?
The kill switch is a safety mechanism that disables the internet connection of your device when the VPN disconnects to stop your online data from leaking out. VPN kill switches work in a variety of ways. Some activate whenever the VPN is disconnected, whether intentionally or not. Others only activate when the disconnection is unexpected and are not initiated by the user. Betternet's kill switch is the latter.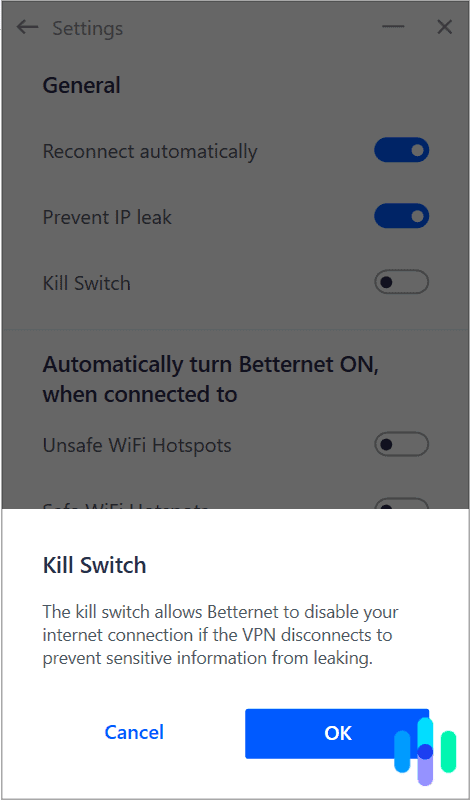 It activated once in our testing when, for some reason, our VPN connection was interrupted. Immediately, Betternet cut our device's internet connection, and we were able to resume browsing only after we opened up Betternet again and reconnected.
Pro Tip: We recommend always turning on the kill switch when using a VPN. While losing internet connection temporarily can be a hassle, it stops your device from sending data packets through unencrypted networks, which could reveal your past browsing activities to your internet provider.
Split Tunneling: How It Works
Split tunneling doesn't protect your privacy in any way. It allows you to use some apps and visit some websites outside your VPN connection, even if your entire device is connected to a VPN. It's useful for multitasking or when you frequently use websites or apps that don't work well with VPNs, such as mobile banking apps.
Betternet's split tunneling works differently on smartphones and desktops.
The Android app lets you choose both apps and websites that bypass your VPN connection (Bypass VPN), as well as apps and sites that can connect to the internet only through the VPN (Route via VPN). For example, if you want to connect to Betternet every time you use Chrome, you can use Route via VPN. However, you can't use both Bypass VPN and Route via VPN at the same time.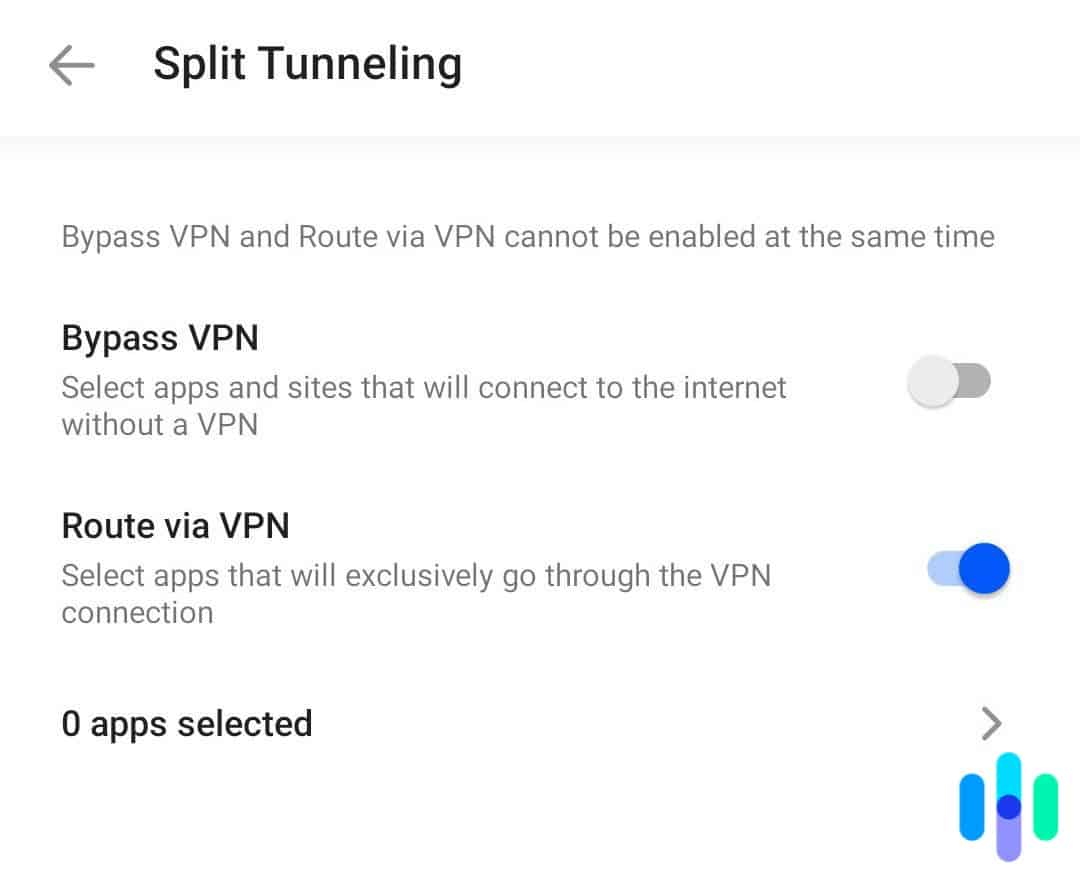 On Windows, split tunneling affects only websites and not apps and programs. Additionally, you can only set it to bypass the VPN connection.
VPN Protocols: How Do They Affect Your VPN Experience?
One of the key features of a VPN is the VPN protocol. You likely won't need to tinker with this feature, though, but it's good to know what it means and how it works.
The VPN protocol is a set of rules the VPN follows to get your online traffic from point A, which is your device, to point B, the VPN server. Because the VPN protocol decides the speed and security of your connection, it is critical.
The best VPNs we've tested typically offer OpenVPN2 and WireGuard,3 the two most common, and arguably the best, VPN protocols available today. Betternet offers neither of the two, but instead opted for a VPN protocol we've come to love when we compared the speed of VPNs: Hydra.
Hydra is a proprietary VPN protocol made by Hotspot Shield, which you may remember is a part of the same group of companies as Betternet. It's a really speedy VPN protocol that also does well in preventing IP address leaks. That being said, the speed and security of a VPN protocol really depends on how it's implemented within a VPN infrastructure. That brings us to the next part of this review – testing out Betternet's performance.
Betternet Premium: Performance in Speed and Security
We tested two aspects of Betternet's performance: speed and security.
Speed Performance Test
For the speed performance test, we compared Betternet's speed with our own internet speed to see how much it affected our connection. Most VPNs will slow down your internet connection. The question is, by how much?

Above is our internet speed without Betternet. We notched a 495 Mbps download speed, a 313 Mbps upload speed, and pretty good latency at 4 milliseconds.
When we connected to a Betternet server in Australia, several thousand miles from where we're based, the download speed went down by almost half to 248 Mbps. That's still well within the average speed decline caused by VPNs. The upload speed, however, took a serious hit. It went down to 45 Mbps, about seven times slower.

Overall, though, we wouldn't call Betternet slow. Downstream data is much more utilized than upstream anyway. So, unless you're uploading large files, you likely won't have any problems with Betternet's speed. Plus, when we switched to a nearby server, the upload speed improved drastically, showing that Betternet is capable of even faster connections if you choose the right server.
FYI: Your distance to the VPN server affects your internet speed. The farther away you are, the lower speeds you'll likely get. We use Australian servers to test VPN speeds in order to level the playing field, but if you want optimal speeds, choose the server closest to you.
IP Address Leak Prevention Test
The second part of our performance test checks whether there are loopholes within the VPN architecture that would allow others to see our IP address when we're connected to a VPN. That's important because there are many things someone can do with your IP address, most of which are harmful to your online safety.
We check for two main things: DNS leaks and WebRTC leaks. We won't go into too much detail, but basically, those two are the most commonly used exploits to reveal a VPN user's real IP address.
We used online tools that we trust to test for such leaks. These tools essentially try to find out our real IP address using the DNS and WebRTC method. So if our real IP address comes up in the results, that means the VPN has a potential leak.
In both tests, this IP address showed up, which does not belong to us but to the server in Australia to which we connected:

Our verdict? Betternet and its VPN protocols offer adequate IP address protection.
The Final Verdict: Is Betternet VPN Better Than Other VPNs?
Betternet is a decent VPN overall. It uses one of the speediest VPN protocols we know, offers sufficient IP address protection, and has some of the must-have VPN features. It also performs pretty well.
Is it better than, let's say, our top-pick VPNs NordVPN or Surfshark? Not really. One of our concerns is the price. Betternet premium costs as much as top-tier VPNs without offering top-shelf features. It doesn't offer anything we haven't already seen.
The free version, however, is great. It offers the same level of security as the premium version, and it doesn't have a lot of limitations. It may even be on the same level as the best free VPNs we've tested.
The bottom line? The free version is worth it, but the premium version, not so much.
Betternet VPN FAQs
Now to cap off this review, let's answer some frequently asked questions about Betternet VPN.