McAfee VPN Vs. NordVPN
A VPN is standard equipment these days, but which one is right for you?

All of our content is written by humans, not robots.
Learn More
By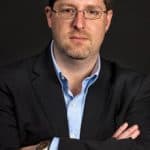 Matthew Adkins
, Staff Writer, VPN & Antivirus
Last Updated
on
Sep 27, 2023

A two-year plan costs just $3.49 per month.
Each plan comes with a 30-day money-back guarantee.
Students can receive a 15-percent discount for a two-year plan.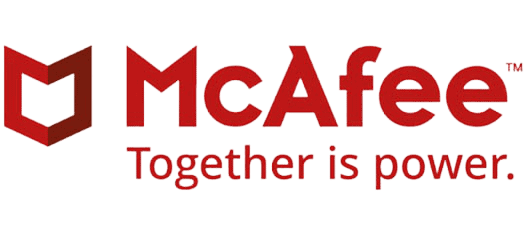 Free version with 250 GB daily data limit
Monthly or yearly plans for up to five devices
Costs go up after the first year
It seems like everyone is getting into the virtual private network (VPN) game these days. New companies spring up all the time, and companies that offer completely different services, like antivirus or web browsers, have suddenly started offering their own VPNs. That makes sense. A VPN is one of the most important computing tools you can have. A VPN provides you with an encrypted tunnel to the internet and can assign you an untraceable IP address. That way, hackers can't hack you, and government agencies can't track you.
A lot of these new VPN companies offer big savings or make extravagant claims that they can protect you in ways existing VPNs can't. After all, their goal is to disrupt the market and make a space for themselves, and grandiose claims help. Whether they can actually compete with well-established VPNs is another matter altogether.
Take McAfee's new VPN offering, which the company calls Safe Connect. On the webpage, McAfee brags that you can browse confidently and securely wherever you are. Maybe. But how does McAfee stack up against an established VPN? NordVPN, for example, has been around since 2012. It's earned a solid reputation for secure online connections. It also happens to sit at the top of our list of best VPNs. Can a VPN newcomer like McAfee, which, admittedly, offers a great antivirus, even compete?
A Key Similarity
McAfee Safe Connect has just one thing in common with NordVPN.
To be fair, that one thing is pretty important.
Both McAfee VPN and NordVPN utilize AES-256 encryption. Given that a VPN is defined as an encrypted tunnel, the nature of that encryption is basically the most important factor in the security of the VPN. How good is AES-256? It's the same encryption the U.S. military employs in all its communications. Now, we value our privacy, but we probably don't have any secrets as sensitive as the U.S. military's. If they trust AES-256, we can trust AES-256.
Both Safe Connect and NordVPN also offer a choice in how you deploy this encryption, and both offer OpenVPN and WireGuard. OpenVPN is the gold standard in terms of protection. Introduced as open-source in 2001, it's been subjected to rigorous testing by the online community for over 20 years. Likewise, WireGuard is open source, and though it's been around only since 2016, its security is impressive. Plus, it works faster than OpenVPN. We're comfortable with either, and again, McAfee and NordVPN let us choose.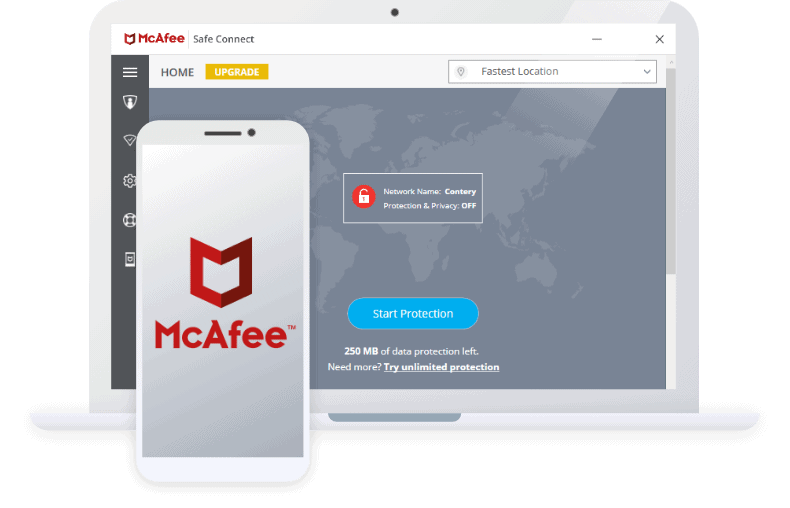 That's it, though. That's the only notable similarity between these two VPNs. And unfortunately, when we weigh these two companies' different features against one another, McAfee struggles.
Digging Deeper: OpenVPN remains the choice of both the U.S. military and U.S. intelligence agencies, but some lawmakers, such as Oregon Senator Ron Wyden, have called for a switch to WireGuard.
A Lot of Differences
OK, so let's get right to the meat of this comparison. Let's look at the differences between McAfee and NordVPN. It's a long list, but let's start at the top, with some important security features.
Security
As we said before, NordVPN and McAfee both utilize AES-256 encryption. Beyond that, they have little in common when it comes to security.
Location: McAfee is headquartered in the U.S., in Texas, to be exact. It may seem counterintuitive, but a U.S. location is a problem for a VPN company. The U.S. is one of the principal members of Five Eyes. Five Eyes, Nine Eyes, and 14 Eyes are groups of countries that have agreed to share intelligence information with one another. That includes any information they may have gained by spying on their own citizens. In other words, if the FBI or British intelligence should contact McAfee with a subpoena demanding to see your browsing history, McAfee must comply. NordVPN is located in Panama, and, you guessed it, Panama is not a member of these surveillance organizations.
Privacy policy: McAfee's location might not be such a big deal if it didn't keep so much information about us. McAfee claims to maintain a "no-logs" policy. The company's privacy policy tells a different story. In fact, it keeps records of IP addresses and copies of our entire browsing history. As we noted in our full McAfee review, that's among the worst policies we've come across. Put that together with McAfee's location in the U.S., and you can see why signing up with the company makes us a little nervous. NordVPN's privacy policy is a lot more airtight. The company doesn't record our IP addresses, our browsing history, or any time stamps related to our online activities.
Multi-hop: NordVPN is always investing in new technology. That includes multi-hop. When you engage multi-hop, the company routes your internet connection through at least two separate servers. Each of those servers provides its own encryption, raising your security exponentially. Unfortunately, McAfee has not yet added a multi-hop option to its VPN.
Camouflage mode: In addition, NordVPN offers obfuscating servers. This technology is so new that Nord is one of the only companies that has it. Basically, camouflage conceals the fact that you're using a VPN at all. That's useful for all sorts of reasons, but it's an especially important feature for anyone using a VPN in a country where such services are illegal. This is another feature NordVPN has, and McAfee doesn't.
Kill switch: A kill switch shuts down all your internet activity any time your VPN goes down. That way, your activities remain hidden even if you lose your VPN connection. NordVPN has a kill switch. In fact, most VPNs these days offer one standard, even McAfee. However, McAfee offers this feature for Windows devices only.
Dynamic IP addresses: We will give McAfee credit where it's due. The company offers dynamic IP addresses. These rotate regularly, which makes it hard for anyone to track your online movements. NordVPN's shared IP addresses frustrate hackers and government agencies by assigning multiple users to a single address. That's safe, but dynamic addresses are safer.
Keeping You Safe: VPN usage is illegal in China, Russia, North Korea, Belarus, Turkmenistan, Iran, Iraq, Turkey, Myanmar, and Pakistan.
Convenience
A VPN's first job is to keep you safe and your data secure. Let's face it, though: If your VPN offers some bonus features, you're not going to turn them down. Here again, NordVPN gets the best of McAfee for the most part.
Servers: First, NordVPN offers more servers in more places than McAfee. In total, NordVPN has some 5,500 servers in 60 countries. In comparison, McAfee operates around 2,000 servers in 23 countries. That's not bad, but the more servers a VPN offers, the more likely you are to find a fast local connection
Streaming: Streaming services like Netflix aren't fans of VPNs. Here's why: Every Netflix country offers slightly different content. You can find movies and series on Netflix U.K., for instance, that you just can't find in the U.S. Log in to a U.K. server with a U.K. IP address, and you have access to all that content. So, Netflix and other streamers work hard to block anyone using a VPN address. As a result, you can't always log on when you're using McAfee VPN. NordVPN, though, uses camouflage mode to disguise the fact that you're using a VPN. That means you can always count on a connection to Netflix, Hulu+, Disney+, and Max.
Torrenting: McAfee does provide solid support for torrenting, including servers specifically devoted to peer-to-peer (P2P) connections. Of course, NordVPN does too. And because NordVPN doesn't keep track of your online activities and isn't located in a country where the government can access that information, you're far safer when you're downloading files. In fact, you'll find NordVPN at the top of our list of best VPNs for torrenting.
Split tunneling: Split tunneling lets you access the regular internet at the same time you're using a VPN. That way you can assign sensitive tasks to the VPN and ordinary tasks to plain old Wi-Fi. Ultimately, split tunneling saves you bandwidth and results in faster speeds. McAfee does offer split tunneling for Android devices. If you use Windows, iOS, or Mac, though, you're out of luck. On the other hand, NordVPN provides split tunneling across all of its platforms.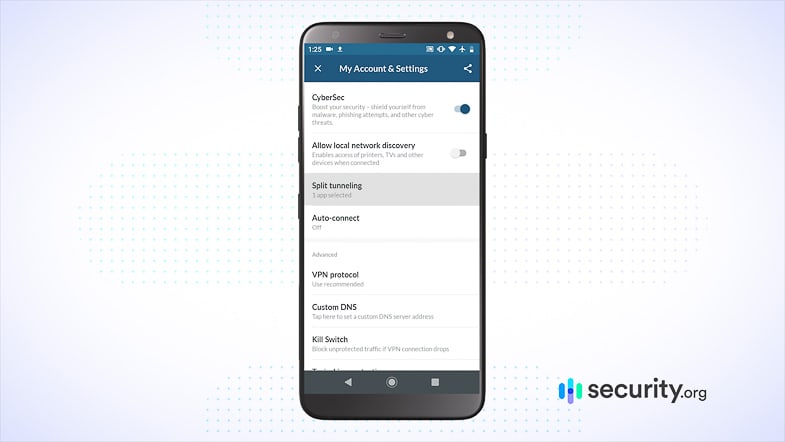 Want a more complete sense of what these two VPNs offer? Check out our McAfee VPN review and our NordVPN review for lots more details.
Pricing
We've been pretty hard on McAfee up to this point, but we can report that the company does beat NordVPN when it comes to price.
For one thing, McAfee offers a free version of its VPN. There are some limitations to the free version. You can register only one device, and you're limited to 250 GB of data per month. This can be a useful option, though, if you don't use a VPN for an enormous amount of your online activities.
In addition, McAfee's price for an annual subscription is some $20 less than NordVPN's. Per month, you'll pay just $3.33, compared to $4.99 for NordVPN.
Price Comparison
| VPN | Single-month price | Total price with annual plan | Price per month with annual plan | Total price with two-year plan | Price per month with two-year plan |
| --- | --- | --- | --- | --- | --- |
| McAfee VPN | N/A | $39.99 | $3.33 | N/A | N/A |
| NordVPN | $12.99 | $59.88 | $4.99 | $102.33 | $3.79 |
Of course, that price difference comes with a caveat as well. At present, McAfee offers a one-year subscription only. If you're looking to sign up for a single month of service, you have to choose NordVPN. In addition, NordVPN offers a two-year subscription, and its cost is actually pretty close to McAfee's annual rate.
Bottom Line
Although it's not perfect, NordVPN is basically unbeatable (so far). That's why we rank it as our No. 1 VPN. It's got the best security features on the market, like AES-256 encryption, multi-hop technology, and an ironclad privacy policy. It also offers some great features, like access to 5,500 servers and reliable connections to Netflix and other streamers.
You will pay a little more for NordVPN than McAfee, though. The question, then, is whether you can live without all the extra bells and whistles in exchange for a lower price. We'd say yes if it wasn't for that pesky privacy policy. McAfee's basic security is sound. In fact, if all you are trying to do is protect yourself from hackers and identity thieves, it's a perfectly good option. We don't like the idea that the government can spy on our web surfing, though. It's the principle. McAfee VPN just collects too much data, and because it's located in the U.S., that data is readily available to the government.
Of course, as always, we'll leave the final decision up to you.
FAQ
There's even more to be said about how McAfee VPN and NordVPN compare. Check out our answers to some of your most frequently asked questions below.