What We Like
Won industry awards from Virus Bulletin and Frost & Sullivan
Both on-access and on-demand scans available
Android app is just as functional as the desktop version
What We Don't Like
iOS app doesn't include antivirus protection
Weak U.S. privacy policy
Cluttered interface isn't user-friendly
Bottom Line
ESET's antivirus software for Mac, Windows, Android and Linux devices detected an impressive 99.8 percent of all of the most widespread malware.
ESET is a top contender among antivirus providers. It's been around since the early nineties and is a big name among tech geeks and the public at large alike. There's a good reason for this: as you'll see in this review, ESET antivirus is a powerhouse of protection that scored exceptionally well on both our tests and those from AV Test. If you're worried about malware or viruses, ESET is just the ticket to get rid of them.
ESET Antivirus Features
| | |
| --- | --- |
| Blocks malware | Yes |
| Blocks ransomware | Yes |
| Includes password manager | Yes |
| When it scans | On-demand, On-access |
| Annual price | $39.99 – $59.99 |
Editor's Rating
30-day free trial
Protection against viruses, ransomware, hackers, etc.
Plans for Macs, Linux, Windows and Android devices
How ESET Fares Against The Competition
The antivirus market is competitive, and ESET is only one of the dozens fighting their way to the top. While we found ESET great at detecting malware, it's the cluttered user-experience that made it fall a bit short compared to these top-performing antivirus software:


ESET History
Before we get into it, here's a short history lesson. ESET is a Slovakia-based company originally founded in 1992,1 though its very first code for the NOD software was developed as early as 1987 in then-Communist Czechoslovakia. It has some serious pedigree, not only as one of the very first antivirus companies, but also one of the longest existing. ESET has been holding on strong, too: it has won awards for its software several times. We feel that this kind of longevity is worth something, especially in an always changing industry like digital security.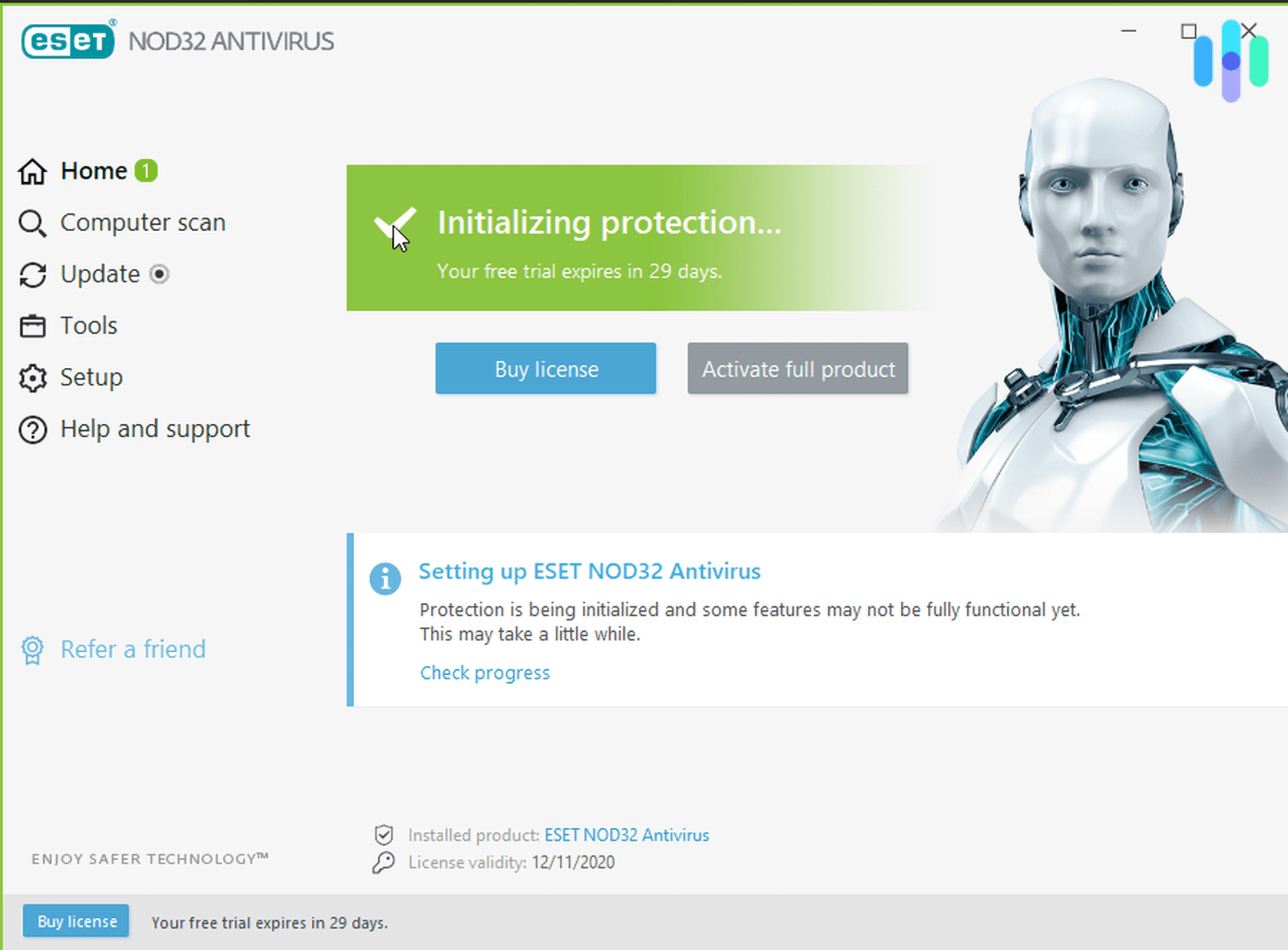 ESET Antivirus at a Glance
ESET has a lot going for it, so let's go over its main points before getting into details. Note that for this review we tested both the basic Windows version (called NOD32) as well as the Mac version, Cyber Security Pro. We'll assume that most readers are Windows users, so we used the Windows app as default, although there are also versions for Linux and Android. All in all, there are three packages you can get on Windows (bundled for Mac users): the basic NOD32 antivirus package, an intermediate plan called ESET Internet Security and ESET Smart Security Premium. This is a full suite of DIY cybersecurity apps, but more on that later.
NOD32, which we used for our tests, is a basic but sturdy product that scans computer systems, detecting and removing the following:
Viruses
Malware
Spyware
Ransomware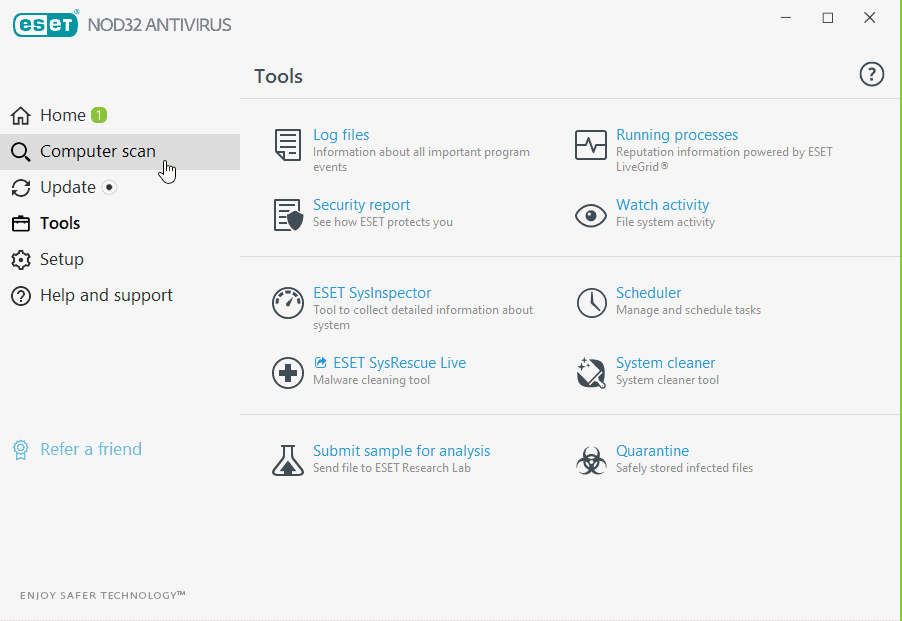 In the features list, it claims to "protect you from attacks," which is ESET's ransomware detection system. With one ransom demanded in France in 2020 coming in at almost $12 million,2 ransomware protection is a good thing to have, especially for businesses.
ESET's scans are both on-access, when the app is open, and on-demand, whenever you want, meaning you can scan unknown or suspicious-looking files in their File Explorer with a single click. We really like this kind of capability as it makes it very easy to protect yourself: if you're ever browsing your file system and see a file that you don't know where it came from, you can scan it right there and then. ESET will also alert you if files are acting suspiciously, prompting you to scan them.
The next package is ESET Internet Security, and it does all that NOD32 does, as well as:
Stops hackers
Helps secure your online shopping
Makes the license usable across all of your devices
This is a nice little package, and we especially liked the online shopping and banking protection, which is essentially a protected browser session that opens any time you submit payment information, adding an extra layer of security to your most vulnerable and valuable information. The "stop hackers" feature is a firewall, though if you scan regularly, you probably won't need a firewall much. The last new feature makes the license usable among all your devices, which is just a great way to save money, making it well worth the price of the upgrade.
Last but not least is the ultimate package called ESET Smart Security Premium, which does all that NOD32 and Internet Security do, plus:
This last upgrade makes ESET an antivirus, encryption tool and password manager in one, which is a great deal and pretty much all we needed to secure our computer and phone against the dangers that lurk in the Internet. However, if you don't want to pay for the upgrade, you can generate strong passwords for free on our site.
Tip: NOD32 is more than enough if all you're worried about are viruses and malware. The ESET Internet Security and Smart Security Premium options are useful, but not vital.
Testing ESET Ourselves
We installed ESET NOD32 on our computer (well, a virtual machine running Windows 10 and rocking a five GB hard disk) and ran a scan using the recommended settings. Because of our tiny disk size, the scan finished in 34 minutes and, because it was a fresh install, it detected no viruses, malware or anything like that.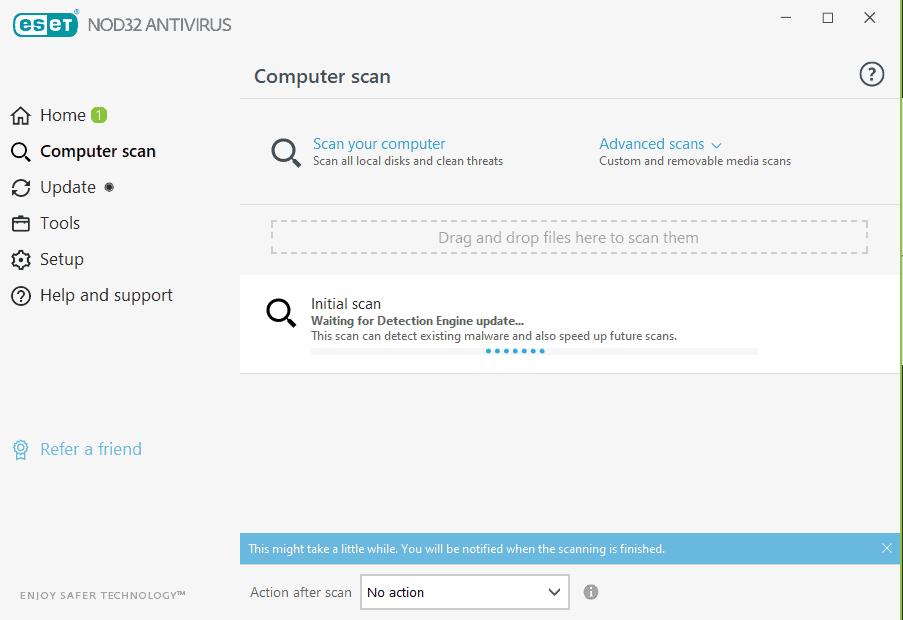 Of course, running a virus scan on an uninfected computer was no fun, so we infected it. We used five separate file types containing viruses. Though the temptation was there to open the files and let the nasties within run rampant, we resisted it and instead ran five separate scans with the dicey packages on our system. Below is a table with the results.
| File type | Percent of Antivirus Software That Detected It | Did ESET catch it? |
| --- | --- | --- |
| .xlsx file | 34 percent | Detected |
| .exe file | 66 percent | Detected |
| .doc file | 36 percent | Detected |
| .xlsm | 35 percent | Undetected |
| .xls | 51 percent | Detected |
Well, four out of five ain't bad. Really, though, it isn't: we were surprised as most of the 40 antivirus services we've tested generally get three out of five or worse. The viruses we used are pretty new, so any that are detected means the scanner in question has a good, up-to-date database.
Caution: It's never a good idea to click on a file you're not sure about. If you're not sure where a file came from, scan it first before opening it.
ESET's Lab Tests
We're not the only ones with good results when using ESET. The AV Test from the Independent I.T-Security Institute also gives ESET high marks. Testing in July and August 2020, researchers found that ESET protected against malware 100 percent of the time, every time. That's pretty impressive, as is the 99.8 percent protection from Android malware attacks. ESET is clearly one of the best providers around when it comes to malware protection, and we're more than happy to endorse its protection capabilities all around.
Installation and First Impressions
To combat those dangers, we needed to, of course, install the program first. The nice thing about ESET is that it has a 30-day free trial which only requires an email address to activate, so we decided to go with that plan first. This process was simple: we just went to ESET's website, selected NOD32, the most basic package from the "for home" menu and clicked a download link. It was just that easy. The download of the installer took maybe a minute. Then the installation process, which included the full program, took another five and we were good to go.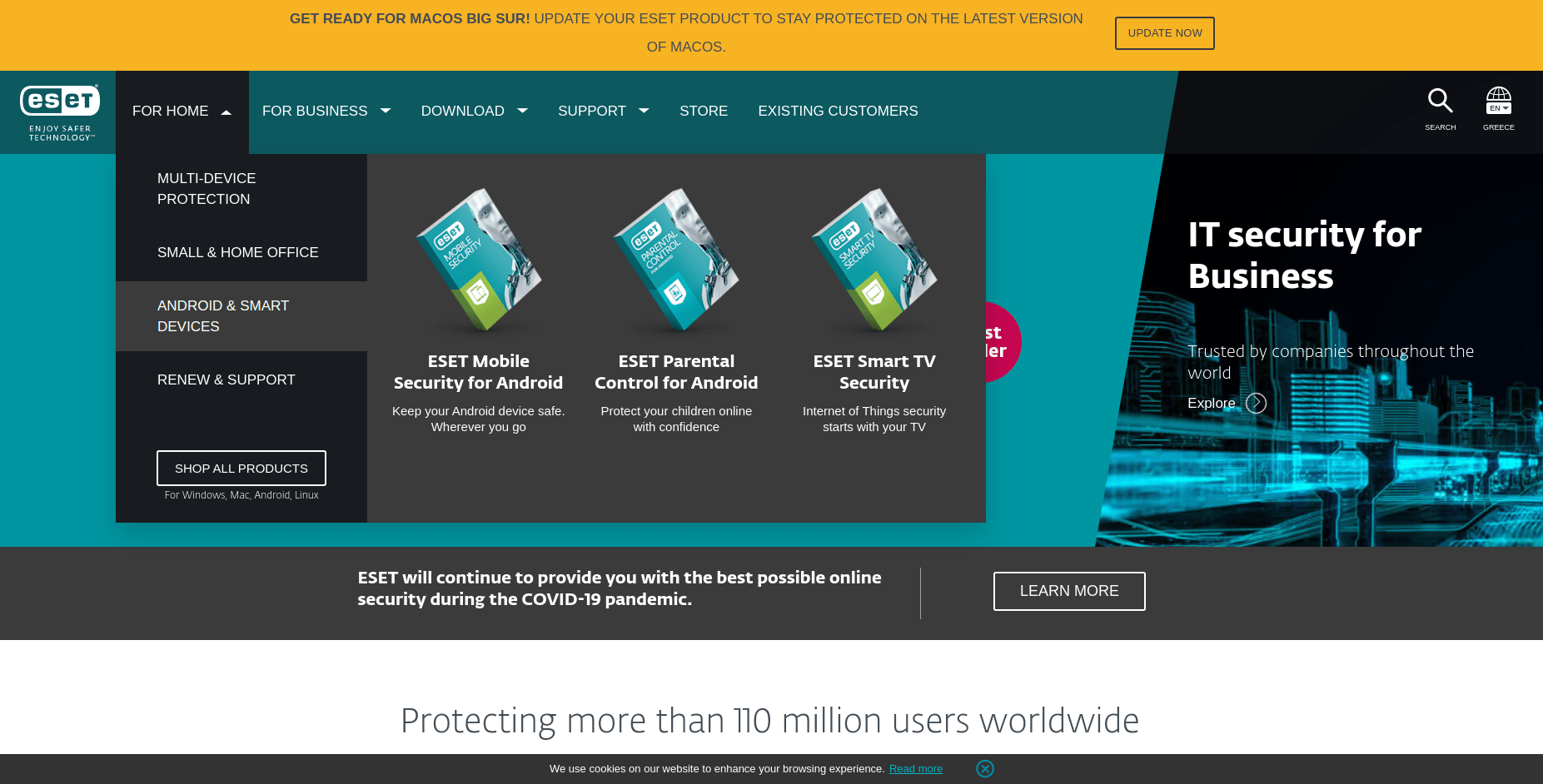 The ESET app opened up right after installation and looked pretty professional, except for a picture of a creepy robot man staring us right in the eye. Then again, if he scared us, maybe he scared viruses, too. The interface is well laid out, and we were never endlessly clicking through menus looking for a specific function or ability. The main scan button was right there in front of us, so we could get started right away. Before we get to that, though, we'll quickly go over the interface. There are several tabs to the left of the client that controls pretty much everything that ESET can do. Here they are, top to bottom.
Home: At the top is "home," which is the main screen from where we could initiate a scan, upgrade to a paid plan or visit the ESET site.
Computer Scan: This is where we could initiate scans from. We could set scan parameters, basically saying if we wanted to scan our whole disk or just a part of it. We could also select scan types, picking from a Smart Scan, which only scans files that have changed since the last scan, or an In-Depth Scan, which scans everything. There's also a dropbox where we could put individual files to be scanned, which was pretty handy.
Update: The button below Computer Scan let us update the client and its database of viruses. When it comes to antivirus software, these updates are really important, as viruses are always evolving.
Tools: This is where the tools that tweak EST are found. These include the log files and activity reports, a task scheduler, and the SysInspector, which collected detailed information on our system's security status. There was also a quarantine option that let us safely store files away from others, unable to infect them.
Setup: Below that is setup, where we could enable and disable specific program features, such as the web access protection (which prevents you from accessing suspicious sites, on by default) or the anti-phishing system, which alerts you when you try to access a site associated with a known phishing scam.
Support: Below that is a section from where you access support, but before we get to that, let's first see how ESET looks on mobile.
Warning: Unless you're an antivirus expert like us, we recommend you leave Setup and Tools alone or run the risk of viruses overrunning your computer.
Mobile Apps
We really liked the Android app for ESET, called Mobile Security and Antivirus on the Google Play store. It has many of the same abilities as the desktop app, only fit to a much smaller screen. It ran a scan in about the same time as the desktop version, probably because the storage was about the same size. Google Play users seemed to agree with us, as the app currently has a rating of 4.7.
However, the Apple app scores only 3.3, probably because the ESET iOS app doesn't have antivirus software. It's called ESET Secure Authentication and really that's all it offers, two-factor authentication. We wish that ESET offered antivirus on iOS!
Pricing Information
For this review, we went with the ESET NOD32 plan, which costs $39.99 for one year, for one device. ESET works with a sliding system of pricing, meaning the upfront fee changes depending on the plan, duration and number of devices. More years (the maximum is three) and more devices (up to five) means bigger savings, so it pays to spend some time looking through ESET's pricing before making your final purchasing decision.
Customer Support
ESET has great customer support which can be accessed either via the site or the client under the "support" tab all the way at the bottom of the app. You can also contact ESET support staff by email and live chat; the phone numbers on the website seem more for corporate inquiries. However, both email and live chat are fast and responsive, so if you ever have trouble with any ESET software, it should be sorted out quickly.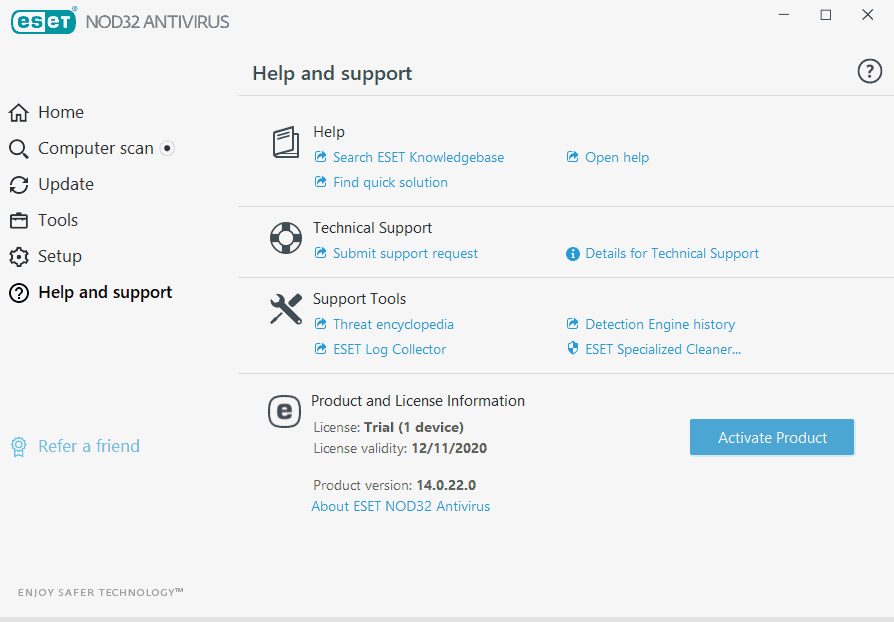 However, ESET's trump card is its excellent knowledge base, which is almost an encyclopedia of everything ESET. It's easy to navigate, though you do need to know some basic information about your product, like its exact name and version number, to get the most out of it.
Privacy Policy
ESET has two privacy policies, one for the European Union, which is pretty good, and one for the United States, which isn't as good. The E.U policy just restates that all customer data is protected by the GDPR, so nothing funny can happen to it. ESET only uses data it collects (your email address, location and phone number) to improve the experience for you and that's pretty much it. The data is not shared with third parties.
Because 47 states in the U.S have basically no data privacy laws, American customers outside of California can have their data sold to third parties for marketing purposes but is mostly used to target ESET advertising at you. The data collected consists of your email address, phone number, IP address, and some device fingerprinting as well, as ESET collects your operating system and browser information. Honestly, we're not comfortable with all the data that ESET collects on its paying customers like us, but there are very few competitors that aren't guilty of these data-collection practices. Check out our Bitdefender review for one service that keeps its hands clean of data selling.
Conclusion
Overall, we love ESET antivirus, which is why it's part of our best antivirus list. It's a powerhouse of a solution and caught almost all the threats we laid before it. Plus, it was easy to use, to boot. Though for U.S-based customers, the privacy policy may give some pause and the pricing is a little confusing, ESET outshines the competition in almost every other aspect. We definitely recommend that anybody try out the ESET 30-day trial to see if the program is right for them.