Bitdefender Antivirus Review
What We Like
Top-tier malware and virus detection
On-demand and on-access scans
Affordable pricing
What We Don't Like
Personal data collected
A history of data breach problems
A free version without all the bells and whistles
Bottom Line
Our own virus detection test concurred with the results of third-party antivirus testing labs that Bitdefender is excellent at detecting malware. It's one of the few software to detect all five viruses we threw its way.
Sometimes when we go home to visit our parents, they borrow our computers. Is that normal? Anyway, they'll think they're downloading a new stage version of Annie: The Musical when actually they're inviting a host of viruses onto our computers. So, software like Bitdefender Antivirus for Mac, which has been around almost as long as the internet itself, was exactly what we needed. We tested Bitdefender Antivirus for Mac on a 2019 MacBook Pro to see just how well the software could keep a device protected.
Bitdefender Antivirus Features
| | |
| --- | --- |
| Utilizes behavior-based detection | Yes |
| Includes firewall | Yes, with the Total Security Plan |
| Blocks viruses and spyware | Yes |
| Blocks phishing | Yes |
| Annual price | Starts at $19.99 |
Editor's Rating
30-day free trial
Plans range from $2.50 to $7.50 a month
Contract lengths are one, two or three years
More Security.org Recommendations
Check out more of our favorite antivirus softwares.


Testing the Relationship: How Bitdefender Measures Up
While most malware targets Windows operating systems, Apple users certainly shouldn't use that as an excuse to get too comfortable. And the first thing we liked about Bitdefender was that it detects and removes malware targeting macOS and Windows devices so that we know if any files we share with Windows users are compromised. Bitdefender scans for viruses, ransomware, zero-day attacks, and rollbacks.
FYI: The development of malware targeting Mac systems has shot up in recent years. There were over half a million new malware software targeting Macs in 2020.1 Compared to over two million for Windows devices, it doesn't sound like that much, but it's a number increasing year after year.
The dashboard for Bitdefender's app for Mac is relatively intuitive. There are buttons to do a quick scan or a system scan. There's also a notifications tab where you can easily see all of the updates the software is doing so that they're constantly up to date on the latest malwares that are out there. When we used it, the app performed these updates as much as four times in a day. That's certainly more preferable to antivirus software with outdated virus definition databases.
Bitdefender offers both on-demand scans (meaning we can perform one whenever we're feeling a bit anxious) and on-access (whenever the app is open, even in the background). Bitdefender continuously scans the device for any suspicious files that it compares against a list of daily updated security threats. We love the way Bitdefender is constantly updating its intelligence on the latest viruses. And to even further cater to our anxiety, Bitdefender allows users to run multiple scans at once. Even if a full system scan is in progress, we could launch an on-demand scan of anything suspicious, such as a recent download or other specific file.
During our trial with Bitdefender, we first performed a quick scan, which just looks at the critical areas where malware can usually be found lurking. It was done in just 13 minutes, and we were able to continue using the computer the entire time without any interruption in our network speed. After the quick scan, we settled in for a deeper cleaning: a full system scan. This did take about one hour and 40 minutes, but again, it never interfered with our regular usage. We were even able to do the whole scan without our laptop being plugged in, no problem; although because of the extra background process, our laptop performed a bit slower than normal.
Neither of those scans detected anything, and we were proud that our computer had been spared from malware. But we know that's not quite useful for our readers, to whom we are eternally devoted. So, we downloaded (but didn't open, we swear!) five different files containing everything from adware to spyware to even Trojan malware. We know viruses come in a variety of forms, so we wanted to use these files across all of the antivirus software that we tested to see how they performed.
To our delight, Bitdefender detected all five viruses, which we were super impressed with since the average is closer to around 60 percent detection. In fact, of the roughly 40 top antivirus software that we've tested, only two detected 100 percent of the viruses, and Bitdefender was one of them.
Aside from our own extensive testing, we also looked at independent lab data from AV Test to see their results for Bitdefender. And when it came to the detection of widespread malware popular in the past four months, Bitdefender could detect over 97 percent of it, which, if we remember how school works, comes out to an A+. (We're not still obsessed with grades even though we're adults, you are!). That means Bitdefender is already part of a pretty elite crew in our books, but if you're interested in more general information about antivirus software, read our antivirus guide.
The Basics: Viruses, Ransomware, Malware, Oh My!
Now that we know Bitdefender can pass our test measures, let's break down some of the more specific features that come with a Bitdefender antivirus package.
Phishing: Try to convince us that phishing isn't the most embarrassing way to get infected with malware. You can't! Luckily, Bitdefender uses a feature they call a "Web Shield" that protects against phishing and access to malware and other dangerous sites, safeguarding all network activities.
Behavior Monitor: No, this isn't a new socialization program for disciplining Brooklyn toddlers! It's a Bitdefender-specific program that stops ransomware from encrypting any files. It can run at the same time as the Ransomware Remediation feature, which helpfully backs up any targeted files that Bitdefender thinks are suspicious.
Bitdefender Autopilot: This is a highly personalized service that Bitdefender offers, working to a user's specific security needs, which we really appreciate. Autopilot is designed to act as a "Security Advisor". It gives deeper insights into our security posture, recommending security actions in the context of our system needs and usage patterns. We love a software that listens to our needs!
Behavior-based Detection: The more we think about it, the more that all these personalized, individual antivirus features sound like parenting techniques. But no, behavior-based detection is actually a very cool tool: for anything that comes into the computer, it evaluates the object's behavior, or in some cases its potential behavior, for suspicious activities.
Firewall: Bitdefender didn't always have a firewall, but we're so pleased they do now via their Total Security Plan. Firewalls provide protection from outside cyber attackers by shielding a computer or network from malicious or unnecessary network traffic. They can also prevent malicious software from accessing a computer or network via the internet.
Apps: We downloaded Bitdefender's Mac app, of course, but they also have apps for Windows, iOS and Android devices. The app in the Apple Store has a much worse rating than in the Google Play store—2.6 compared to 4.7. We found the Mac app to be fairly intuitive, but we haven't yet tried the iOS app to see if perhaps that's where the problems lie.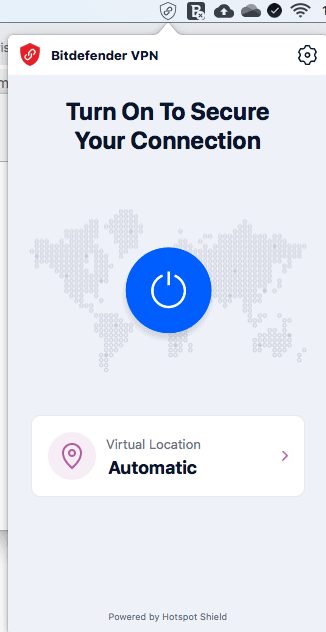 Also: Bitdefender Antivirus for Mac also comes with an option for a VPN, which encrypts web traffic and your IP address. If you're interested in VPNs and how the best of the best operate, find the best VPN for you, or check out our Bitdefender VPN review.
Privacy, Please!
We always like to highlight a software's privacy policy, as it's such a critical part of understanding how well we're going to be protected. Bitdefender's policy notes that they collect user information provided in a few main ways:
Directly provided by a user or a Bitdefender Partner
Indirectly provided by its products or other sources, such as:

Technical data sent by the Bitdefender products and installed by users
Publicly available information from data leaks
Bitdefender claims that they only share information with specific contracted partners in providing the antivirus software, and that those partners are under strict agreements to also not share our information. That being said, there was a data breach in 2015 that exposed some users' usernames and passwords. It only affected about 250 customers—less than one percent of Bitdefender's users—and the company was able to resolve the issue with the affected server. They quickly let customers know about the breach and to change their passwords. So, not great, but at least they responded actively.
There's one more thing, though. In addition to the 2015 breach, Bitdefender had an even more recent offense. In 2019, there was a security flaw in their free version for Windows, allowing attackers to fully take over a Windows machine. This didn't affect Apple products in any way, but it's important to note when looking at a company's successes and failures in privacy protection. Keeping up with your digital security is no joke!
The Deal: Costs and Subscription Info
First off, if you're looking for a free version of an antivirus software, you're in luck. Bitdefender Antivirus for Mac does have a free version, which comes with many of the best features that the paid options offer. The free version has antivirus scanning, real-time protection, web protection, and anti-phishing and fraud protection. Of course, there's no such thing as a free software lunch. We needed to splurge for a paid version in order to get extra features like ransomware protection, a password manager, and the Safe Pay feature. For the paid versions, there are a few tiers, where users pay for a full year of protection upfront.
| Features: | Bitdefender Internet Security | Bitdefender Total Security | Bitdefender Family Pack |
| --- | --- | --- | --- |
| Windows protection | Yes | Yes | Yes |
| macOS protection | No | Yes | Yes |
| Android protection | No | Yes | Yes |
| iOS protection | No | Yes | Yes |
| Protected family devices | No | No | Yes |
| Automatic upgrades | Yes | Yes | Yes |
| Free online support | Yes | Yes | Yes |
| Maximum number of devices | 3 | 5 | 15 |
| Cost for first year | $34.99 | $39.98 | $49.99 |
These tiers don't only differentiate the strength of protection that users will receive. All three plans are similar, but definitely with a few more features in Total Security and the Family Pack. We each have roommates, so we went with the Total Security package so we could make sure that everyone in the household was covered. The tiers also differentiate how many different devices we could have on the plan at the same time. To learn more about the specifics of Bitdefender's offerings, check out our Bitdefender costs and subscriptions breakdown.
Buyer Beware: Bitdefender packages are differentiated by the number of devices they can cover, but keep in mind that means devices within one household. We can share with family or roommates, but one subscription isn't going to cover both ourselves here in New York and our best friends in Los Angeles who keep refusing to move here to be with us.
Call Customer Support, Maybe?
You know we have high standards for customer service. It's frankly just annoying when software companies only have one or even two ways to get in contact with them if we have a question. So we were pretty pleased to see that Bitdefender has a ton of ways we can reach out to them: online help center, email, call, live chat, or their expert community (like a combination of Reddit and news, but about Bitdefender). When we had a question, we tried an old fashioned phone call because sometimes it's cute to be retro, and we were talking to a real live human astonishingly quickly.
The Bottom Line
While we don't appreciate how Bitdefender Antivirus for Mac tracks our data without a super clean record of keeping that data safe, their defense skills are unmatched. Out of 40 different antivirus software that we tested, they were one of only two that detected all five malware files that we planted for them to find. If that doesn't pique your interest, we don't know what will!
It's so important to protect our computers from viruses and malware. There are dozens of reliable software providers out there, and Bitdefender is certainly among them. At the end of the day, we're always happy for them to have our back.