Trend Micro Antivirus Review
What We Like
Choice of subscription plans, including low-cost options
Behavior-based virus detection
Camera and microphone protections available
What We Don't Like
Difficult, confusing installation process
Application uses too many pop-up windows
2019 data breach affecting 70,000 users
Bottom Line
With plans for one month, one year or two years, Trend Micro gives customers the flexibility that many antivirus programs don't offer, as they usually begin with one-year commitments.
Sometimes, the built-in antivirus software on your device or web browser simply isn't powerful enough to protect you from all types of security threats, from viruses to malware to ransomware. That's where a powerful antivirus software comes in…hopefully. In this review, we're testing out Trend Micro, specifically their Maximum Security subscription. The process was definitely rocky, but was it worth the speed bumps? Keep on reading to find out.
Trend Micro Antivirus Features
| | |
| --- | --- |
| Real-time scanning | Yes |
| Social media protection | Yes |
| Behavior-based detection | Yes |
| Parental controls | Yes |
| Blocks viruses and other malware | Yes |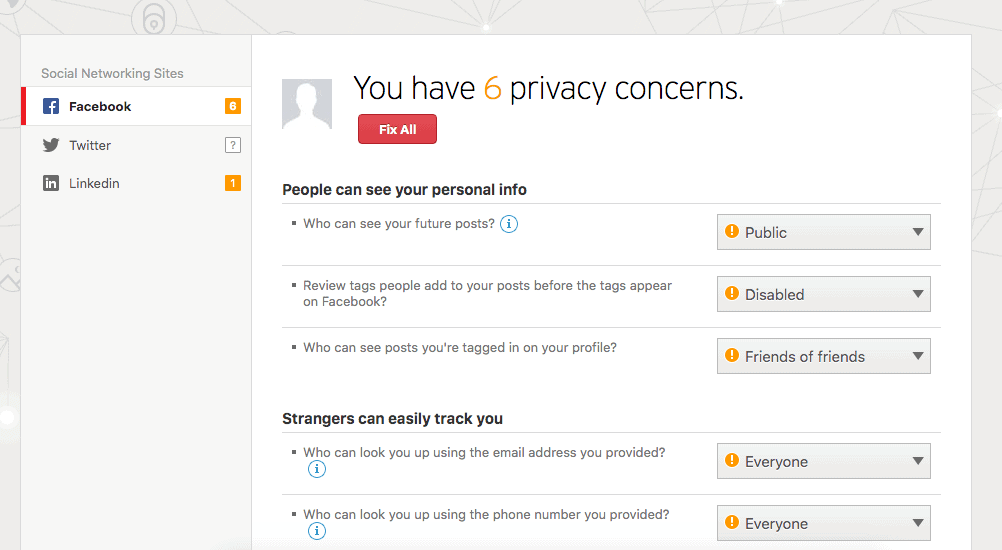 Editor's Rating
Detected 100 percent of all Android malware
Antivirus software for iOS, Android, Mac or Windows devices
Prices start at $39.95 a year, with yearly and two-year packages available
More Security.org Recommendations
Check out more of our favorite antivirus softwares.


Trend Micro Setup
Setting up Trend Micro was certainly not the smoothest process we've ever experienced. Right after we paid for the Maximum Security subscription on the website, we got an email with an activation code and a link to download the installer, which we clicked on immediately. But we got a message that we had to uninstall some other antivirus software we already had on the computer for the previous testing. Once that was done, we got the installer downloaded and installed the actual app, which for some reason required us to shut down our Chrome browser (see ya, Slack channel!). This was a bit annoying, as we had a ton of tabs open, and we've never seen this with software before, but it's not a dealbreaker by any means.
Note: We recommend not having any web browsers open when you're installing Trend Micro, as you'll have to shut them down to activate certain services.
Once we installed the app, we immediately got pop-ups for camera and microphone protection and a folder shield, which we checked off. Then, we were brought to the actual antivirus portion of the app. How did it work?
Using Trend Micro: Our Experience
Once we opened the Trend Micro app, which we downloaded onto our 2011 Macbook Pro with the operating system High Sierra 10.13.6 (we had to download the 2019 version of Trend Micro, not the 2020 version), we noticed that it divided into five main sections: Overview, Web, Scans, Folder Shield and Logs. But before we could dive into these sections, we had a few things to take care of first.
As soon as we opened the app, it prompted us to get security updates. While it might be unusual for a freshly installed app to immediately ask for updates, that's a process we welcome with antivirus software. You see, antivirus apps need updated virus definition databases in order to protect us from the latest malware; sometimes, in fact, updates happen every hour. At least we're starting off knowing that Trend Micro can protect us from the latest malware. That being said, we didn't appreciate that we had to restart our device after the updates finished, and that once we opened the app back up, we were asked once again to turn on camera and microphone protection. Remember, we already had those features turned on, but we didn't have any other choice. Clicking through those windows, we got yet another signal to activate Trend Micro Antivirus to get the "latest protection." Deja vu? No, just a poorly streamlined app.
Once we clicked on Activate, we got a new window that said "unable to contact Trend Micro" due to a lost Internet connection, it claimed, although the Internet was working fine for us on Chrome and iMessage. During this process, we had to enter our computer keychain multiple times, at least three times in the first hour even after installing the app. We're not sure why this process was so clunky, but it's something that Trend Micro definitely needs to work on.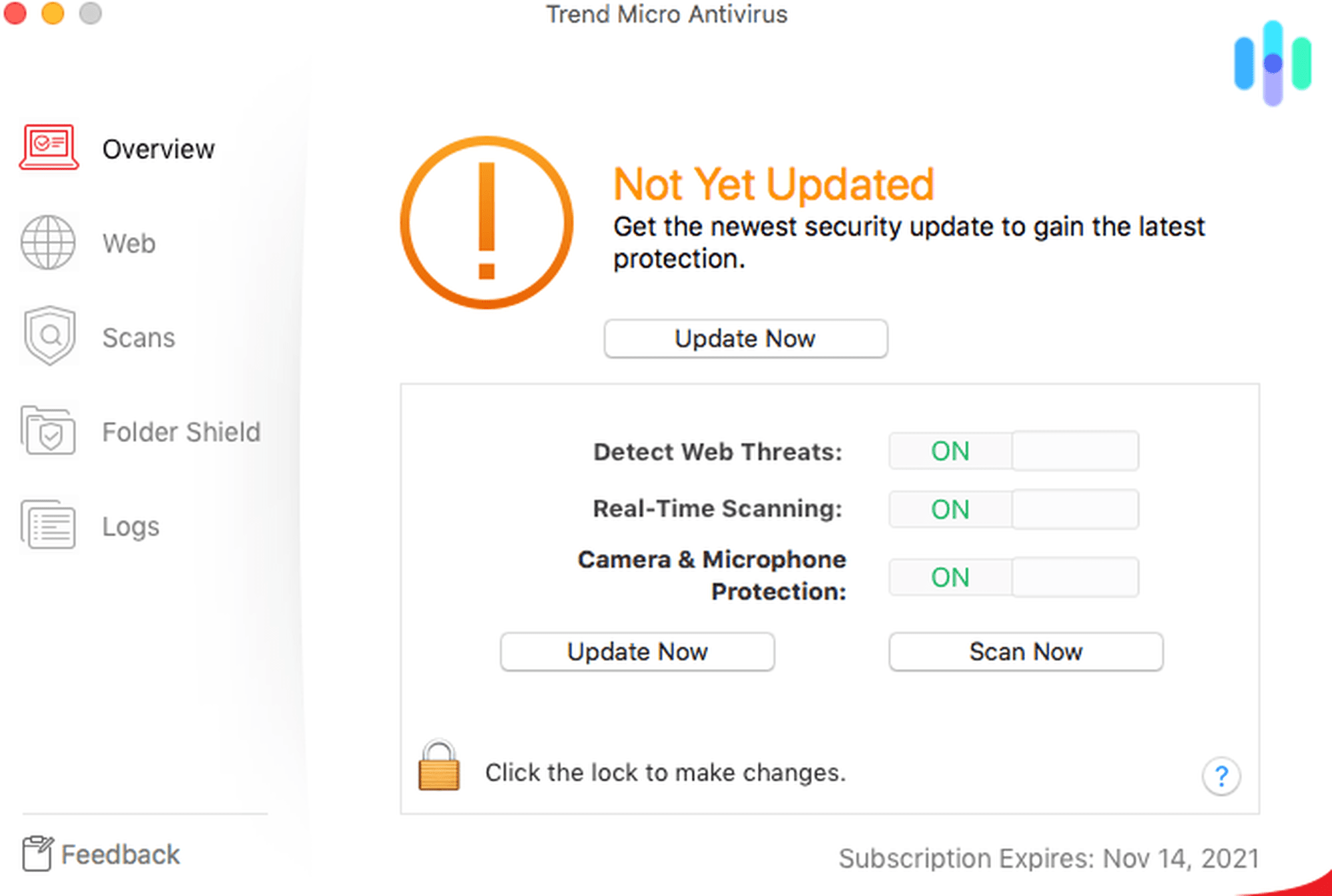 Overview
Updates aside, we started testing Trend Micro in the Overview section by clicking on the button that said Scan Now. Another pop-up appeared that said Smart Scan and scanned our computer for malware (although it didn't scan every file; to do that, we would've had to use Full Scan, which we describe more below; Trend Micro did not make that clear, initially). We wish Trend Micro could keep everything in one window like Avast does, as you can read about in our Avast antivirus review. But about 10 minutes later, which felt like forever, we finally got the signal that our computer was good to go and that nothing malicious was found in over 4,000 files.
Now, aside from the Scan Now button, there were also three toggles for detecting web threats, scanning in real-time (which basically means automatically without us having to do a manual scan), along with that protection for our camera and microphone that we signed up for. We ended up never being able to activate Trend Micro Antivirus to get the "latest protection", but the scans still seemed to do the job; at least, we hope!

So, what exactly does Trend Micro scan for? A little background information: these days, behavior-based detection is preferred over signature-based detection, meaning that the software scans for suspicious or malicious behaviors as opposed to signatures, meaning parts of the code that match a database of known malware. However, signature-based detection has its disadvantages, as it's easily evaded by hackers and can't detect any malware that's not already in said database.1 The big advantage of behavior-based detection, on the other hand, is that it can spot unknown malware and zero-day attacks. This sort of detection was enabled by default with Trend Micro, although it's not the case for the business subscriptions; for business-users, you'll need to enable the behavior-based detection manually.
Web
The Web tab was divided into three subsections:
Privacy Scanner: Did you know that over 70 percent of American adults use social media of some sort?

2

We may not realize how much information we're sharing on these social networks, which could lead to identity theft if our personally identifiable information gets in the wrong hands. Privacy Scanner, in response to these risks, is a link on the Trend Micro Toolbar, a.k.a Chrome extension, that will check our "privacy" whenever we share any data on LinkedIn, Twitter or Facebook (oddly, Instagram, TikTok Youtube and other popular social media sites and apps weren't covered). We switched over to Chrome to test the Privacy Scanner out. Once we clicked on the Chrome extension and then on "Check social network privacy", we were brought back to Trend Micro's website where we had three tabs, one for each social network, that brought us to the social network's websites so we could sign in. Once we signed into Facebook, we were brought to our regular News Feed, so we went back to the Trend Micro window and saw that we had six privacy concerns, the fact that everyone could track us through our email address and phone number. We quickly changed these permissions to "Friends", although Trend Micro wasn't necessary for this as we could've just done it in our Facebook settings. The process held true for LinkedIn and Twitter, and although this function could've been more convenient than going into each site's individual settings, the various apps, Chrome extensions and web pages made it not worth it.
Web Threat Protection: Moving on, we had to activate Web Threat Protection in order to use it; this must have been the fourth time we've had to activate a feature, and we wish we could've just activated everything when we downloaded the app. We digress. Upon activating this feature, again, we had to enter our computer Keychain and restart our Chrome browser, which certainly got tiresome. And once we clicked "Enable", it actually opened Safari, even though we're exclusive Chrome-users. Then, once we quit that and reopened Chrome, we saw that, when we did a search on Google, all of the legitimate results were highlighted in green, which we actually found a bit jarring; we wish that, instead of marking all legitimate websites green, they kept them as is and simply marked suspicious websites in red. But this is a largely personal preference, we'll admit (plus, our favorite color is blue, so we're biased).
Website Filter: Finally, Website Filter is basically setting parental controls for kids by category, including Nudity, Sex Education, or even things like Email or Blogs to keep your employees in check. Since there are no kids or employees using our computers aside from us, we decided to keep everything open, although we could see this feature being really useful for families.

Scans
Next, we clicked on the Scans tab, which included the Smart Scan that we did on the Overview tab, which looked for malware in "places where it tends to hide", a Custom Scan that would've only scanned a specific folder or drive, or a Full Scan, which would've tested every file on our computer. At first, we had assumed the Smart Scan covered everything, so it was a bit disappointing to see how Trend Micro buries its Full Scan in the Scan section rather than on the main Overview page. Nevertheless, we decided to do the Full Scan as well, which took a lot longer than the Smart Scan; we had to wait about 30 minutes, and while we could've done other things, it significantly slowed down our web browsing speeds. Again, not ideal.
FYI: To scan absolutely everything on your computer, do a Full Scan as opposed to a Smart Scan.
Folder Shield
While the Full Scan reigned on, we decided to click over to FolderShield and see what was up. Essentially, this feature let us know if any program tried to open or change any files we placed in the "Protected Folders" list. And, if there were certain programs we trusted, we could create a "Trusted Program List", but for some reason we had to do this in the Logs section of the Trend Micro app.
Logs
Last but possibly least was Logs, which basically kept track of any threats we encountered, their response, and where they were found. It also kept track of:
Unsafe websites found
Folder Shield (although it's unclear why this is a separate window, if it's available in Logs as well)
Filtered websites
Any updates received.
Basically, the Logs section was like a diary detailing Trend Micro's every move. But since our computer was clean, it was completely empty.
And that was it for the process of using Trend Micro! If it wasn't completely obvious, this user experience was less than ideal, between the toggling back between web browsers, Chrome extensions and the app and the constant need to "activate" features and shut down Chrome. Trend Micro definitely loses points for its usability, but how did it work when we tested it for performance?
The Testing Process
Now, since our Macbook was squeaky clean (despite us using it for going on a decade), we actually downloaded three different viruses for Trend Micro to scan— don't try this at home, kids! Overall, Trend Micro detected two out of the three: an XLSM file that only 35 percent of the 40 antivirus software we detected found, and an XLS file that about half found. However, it missed an XLSX file that would've tried to convince us to disable Trend Micro so it could steal our session and password data; no thanks. However, only 34 percent of all the products we tested got this virus in their scan, so overall, two out of three ain't bad.
Trend Micro was a bit more successful in AV-Test's independent malware detection tests, though. On Mac, it detected 100-percent of all the prevalent malware in the last four months before their test, which covered August to December of 2021. Although Trend Micro is certainly lacking in a few areas, user experience among them, when it comes to performance, they hit the mark.
Privacy and Security: Can I Trust Trend Micro?
We consider ourselves to be not cynical exactly, but realistic. We know that, while antivirus software certainly serves a noble purpose of protecting our devices, it still comes from for-profit companies, so their intentions are not always pure. When we read Trend Micro's privacy policy, for example, we found that they kept our:
Name
Phone number
Email address
License key
Device IP address
URLs, domain names and IP addresses of websites visited
App behaviors and more
Now, even though we're fairly private people, we acknowledge that in order to scan the files on our devices as well as the websites we go to, Trend Micro does need this information. But do they keep our information safe?
When we did a little Googling we found that, in 2019, a Trend Micro staff member gone rogue sold customer data from 70,000 users to a malicious third party for personal profit.3 This sort of data included customers' names and phone numbers. While this definitely isn't ideal, it could technically happen to any company, and of course, after they investigated the incident, they took away access and fired the employee, even contacting law enforcement and apologizing to their customers.4 Oh, Trend Micro, you are forgiven!
Apps
We used the MacOS 2020 app for Trend Micro, but they also have apps for Windows, Android and iOS devices. Both of the mobile apps, the Mobile Security & Antivirus app for Android and the Trend Micro Mobile Security app for iOS, have good ratings, 4.6 and 4.7, respectively. This is a huge step up from our experience with the Mac app, which was less than satisfactory. We were happy to see that users were pleased with their experiences on the mobile apps, so this could be a better option for mobile than it is for desktop.
Customer Support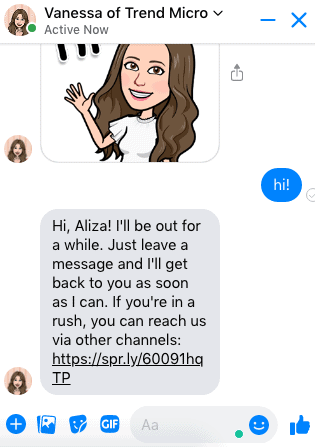 When we needed to figure out if our Maximum Security Mac app had a firewall, we scoured the online help center for answers, searching things like "Maximum Security Mac firewall" to no avail; even the product guide didn't have any information on it! So, we knew we had to ask someone at Trend Micro ourselves. We were initially attracted to the live chat support system, but when we clicked it, we found that it was down for whatever reason. So, not wanting to leave our computer bubble and speak to a human over the phone or god forbid wait for an email response, we decided to try to speak to Vanessa over Facebook Messenger, a site that we don't find ourselves on often. About 15 minutes later, we got a response from Vanessa in the form of a Bitmoji, but it was just that she'll be "out for a while". Finally, we got an answer that there is no firewall, another con as it means that our network isn't completely secure on Macs. However, on Windows devices, there is a "firewall booster" that supports the devices' built-in firewalls. This means that Trend Micro may be a better choice for Windows than Mac users.
Pricing
We paid $39.95 for a year of the Maximum Security package, which covered five devices total; Macs, iOS, Android or Windows, it didn't matter. However, there were cheaper options out there, like paying for one device only for a year, or a month with the iOS plan. To learn more about your options, read our page on Trend Micro's pricing.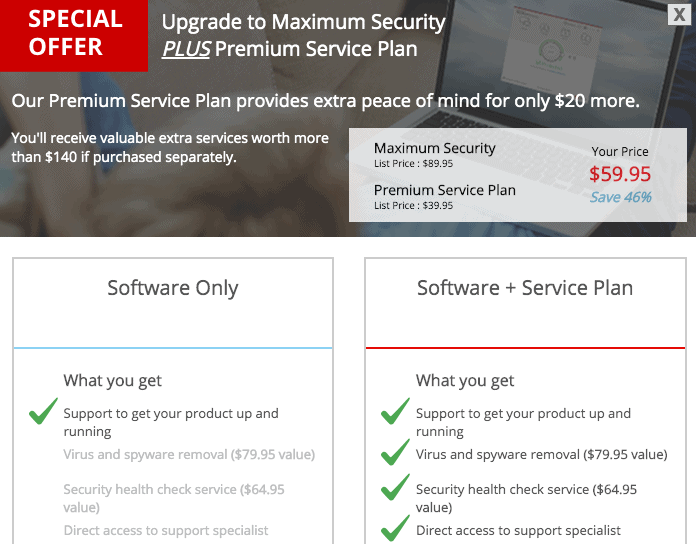 Recap
We're pretty conflicted about Trend Micro. While we appreciate the fact that it detected 100 percent of all the most prevalent malware, our experience actually using the app (not to mention the Chrome extension) was anything but smooth. But for those that just want a scan running in the background, this won't matter so much, as you won't actually spend much time in the Trend Micro app. And price-wise, Trend Micro is on the money, so while it's not in our top two, we would recommend Trend Micro overall, especially if you want to sign up for a month. Plus, Trend Micro has a 30-day free-trial, so try it out for yourself and see if it's worth it or not.