What We Like
Extensive scanning for malware, ransomware, etc.
Great apps for iOS and Android
Affordable pricing
What We Don't Like
Pop-ups on Mac
No phone or live chat support
Subscriptions are one-year minimum
Bottom Line
Avast's antivirus software scans for spoofing, malware, ransomware, viruses, spyware, and other cyber dangers.
Announcement: You may have heard that Avast sells its customer's data to third-party advertisers, a practice commonly done by social media companies like Facebook and Twitter. In 2019, it was revealed that Avast uses its customers' web activity to create targeted advertisements. However, because this information is anonymized and is never linked with any customer's specific personal information, we don't consider it a dealbreaker, not to mention the fact that it's so commonplace in the tech industry. Also, there is a way to opt-out of this data collection if you use the paid version of Avast's software; request your opt-out by emailing customerservice@avast.com using the subject line "PRIVACY REQUEST", or send physical mail to AVAST Software "Attention: PRIVACY" s.r.o., Pikrtova 1737/1a, 140 00 Prague 4, Czech Republic.
You're probably reading this because you're concerned about malware or viruses on your devices. We're concerned too, which is why we've reviewed Avast Antivirus, along with other popular antivirus software on the market. We tested out Avast on our 2011 Macbook Pro extensively; here's how well it worked.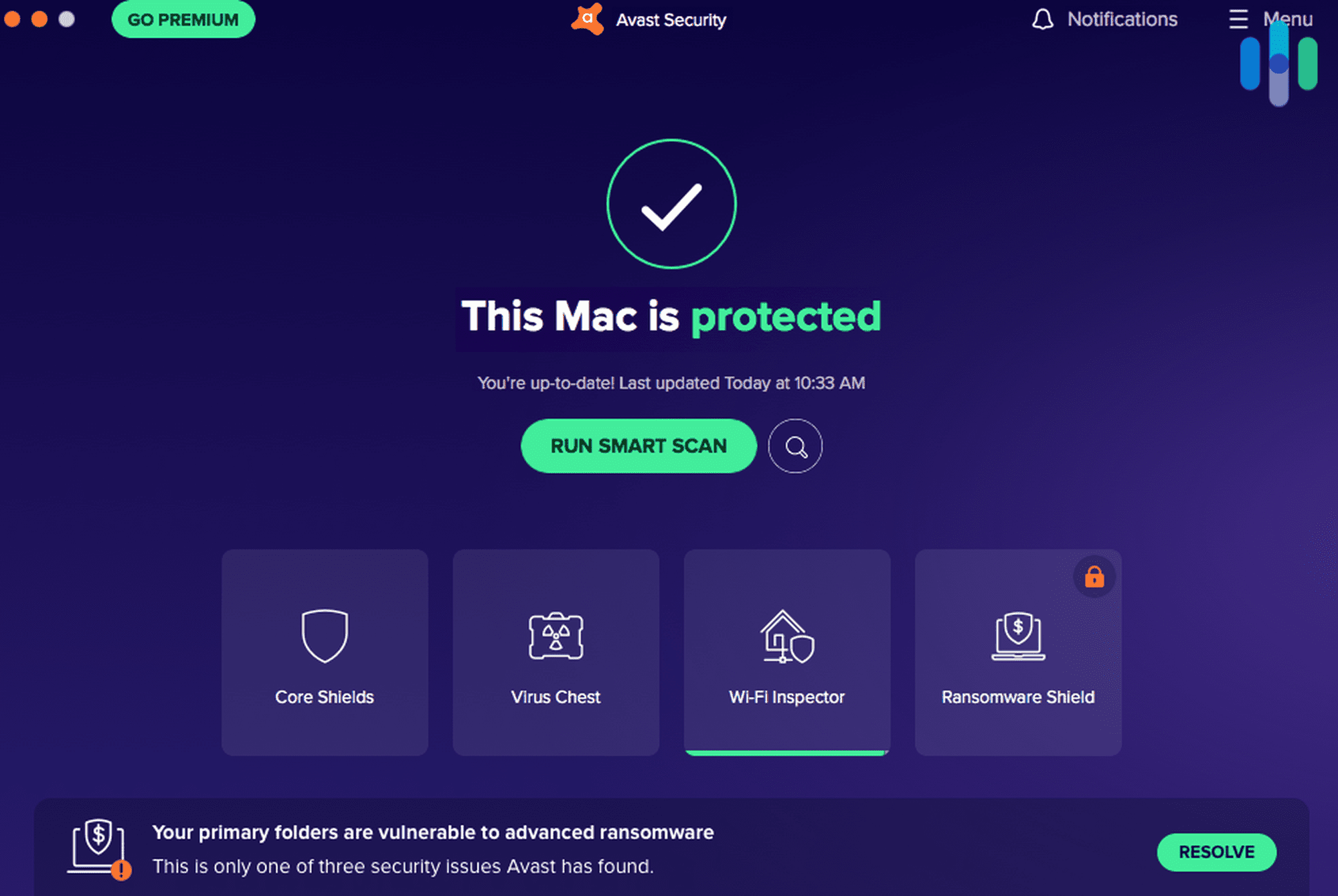 Avast Antivirus Features
| | |
| --- | --- |
| Blocks viruses, spyware, and more | Yes |
| Blocks ransomware | Yes |
| Detects Wi-Fi vulnerabilities and intruders | Yes |
| Blocks phishing | Yes |
| Annual price | $50.28 – $69.48 |
Editor's Rating
Free iOS and Android apps
Prices for Mac and Windows start at $39.99 a year for one device or $49.99 for 10 devices
Cost will increase after first year
More Security.org Recommendations
Check out more of our favorite antivirus softwares.


How Does Avast Antivirus Affect Our Devices?
As we said, we tested out Avast Antivirus on a 2011 Macbook Pro. Not only did the software scan our laptop for malware every time we opened the app using what they call Smart Scan, but it also let us scan it for malware whenever we wanted, or, as it's known in the antivirus industry, on-demand. And because we signed up for Premium, we also got a firewall, a form of network security that filters out untrustworthy traffic.1 The software used behavior-based detection to find suspicious files, scanning for:
Spoofing
Malware
Ransomware
Spyware
Remote access attacks
Dangerous downloads or websites
Viruses
Malicious email attachments
Weaknesses in our Wi-Fi network
Intruders
Phishing
Fake websites.
If we wanted to, we could even schedule malware scans. All in all, Avast's coverage was comprehensive, and we felt safe knowing that our device was protected, a computer we've continued to use for almost a decade!
The Installation Process
While Avast lists prices on its website, we couldn't actually buy the software on the website. Rather, we downloaded the free app first. That downloading process only took a few minutes, and from there, the app told us that we had several areas in which ransomware was detected. Once we clicked on that, it took us to a pricing page, where we selected the one-year subscription for one device. Then, after another virus scan, which took about two minutes, we learned that we didn't really have any ransomware; this was a bit of a ploy to get us to subscribe, sort of like when you type your ex's name into Google and click on one of those shady identity sites that doesn't actually show you any information without paying (not that we still look up old ex's, of course!).
We don't appreciate the bait and switch, although these sorts of deceptions aren't uncommon with antivirus software, unfortunately; Norton, for example, also had a lot of confusing pop-ups meant to get us to sign up for their paid subscription when we tested the free version, which you can read more about in our Norton Antivirus Plus review.
Another confusing thing was that the pricing on the app differed from the pricing displayed on their website, although the former ended up being accurate. All in all, aside from the somewhat misleading setup and inaccurate prices, Avast was really easy to set up, and definitely didn't require cybersecurity experts like ourselves.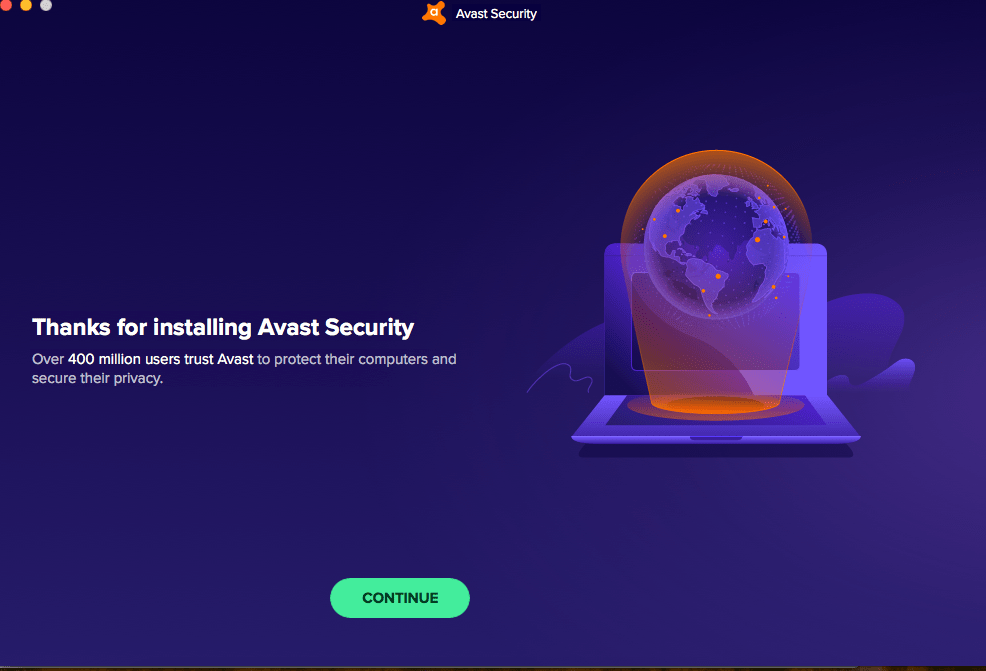 Using Avast Antivirus: Our Experience
Once we were set up with the app and our subscription, the main page was divided into four sections: Core Shields and Virus Chest, which were also part of the free account, and then Wi-Fi Inspector and Ransomware Shield, part of our Premium subscription only.
Core Shields: The Core Shields were pretty self-explanatory, constantly exploring our Macbook for malware and blocking it as soon as it's detected. We could turn off specific functions of Core Shield if we wanted to, but we decided to keep them all on for maximum protection. Let's get a bit more specific.

File shield: Since we've had this computer for nine years, we have a ton of files on it, all of which Avast scanned for malware. Somehow, none was found!
Web shield: This shield would've blocked any unsafe downloads from the web as well as web attacks. We download a lot of files onto our Mac for work, so this made us feel more comfortable, especially when it came to torrenting.
Email shield: A common method of phishing attacks and malware is through email attachments, so Avast scanned our email to automatically block attachments it deemed dangerous.
Real site: Finally, real site made sure that the sites we spend money on, and manage our money on like the Wells Fargo site, are safe and secure. With the pandemic, we've been doing more and more shopping online, so this feature is essential for anyone involved with e-commerce or online banking.

Virus Chest: If the Avast app had found any viruses, it would've stored them in the Virus Chest, where they couldn't harm the rest of our computer. That was where we put the five viruses we tested with Avast, which you'll hear about in a second.
Wi-Fi Inspector: Since we typically work from a shared co-working space (yes, we live in Brooklyn and drink kombucha and are total cliches), the Wi-Fi Inspector showed us everyone who was connected to the space's Wi-Fi network, which ended up being over 10 devices. It told us that all of the devices were secure, but if we were on a home network, it would've been really useful to see people stealing our Wi-Fi. That's why it's important to password protect your Wi-Fi network, folks!
Ransomware Shield: Finally, the Ransomware Shield, as you would imagine, monitored our computer for ransomware and made sure that apps couldn't keep our data hostage, be it our sensitive files or photos. We could decide which folders were protected, manually adding new folders to the main documents and pictures folders that had uploaded automatically.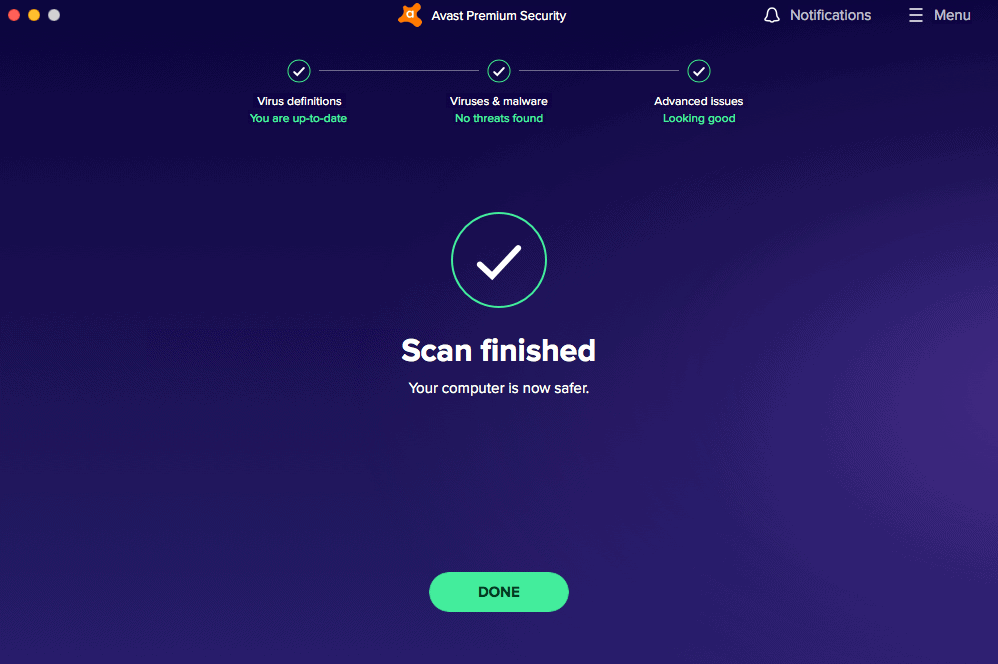 Those were the four main functions of the app and overall, it was really easy to use and very clear. Again, had we not signed up for Premium, we would've only been able to use the Core Shield and Virus Chest; there wouldn't have been any detection for ransomware, our Wi-Fi network or phishing, the leading cause of cyber attacks. Once we were done clicking on those four services, we ran a Smart Scan on our entire computer. That ensured that our virus definitions were up to date and that our 2,080 files had no viruses or malware aside from the viruses we downloaded specifically for testing.
Finally, the third step of the Smart Scan was called "Advanced Issues", which wouldn't have been available had we stuck with the free service. In a nutshell, it gave us a Ransomware Shield on two of our folders, meaning they couldn't be held hostage, scanned our WiFi network for threats and protected us from fake websites. And that was it for the Premium Service!
All in all we found it really simple to use and loved the clear interface, but one thing that was annoying was a pop-up trying to get us to buy additional Avast products, like a cookie-blocker. We don't like ads in general, especially from a service we paid for literally seconds earlier. Being upsold simply never feels great! However, there was only one pop-up, so Avast wasn't too aggressive about its sales overall.
Testing Avast for Multiple Viruses
Simply scanning our Macbook as is for viruses wasn't good enough for our testing. To find out if Avast could really find viruses, as opposed to there just being none on our laptop, we downloaded (but didn't open!) five different files containing everything from adware to spyware to even Trojan malware. We know viruses come in all different forms, so we wanted to use these files across all of the antivirus software that we tested to see how they performed. Overall, Avast detected three out of five, while two remained undetected by their software. While 60 percent may not sound great, it's actually pretty average when it comes to antivirus software; of the roughly 40 top antivirus softwares that we've tested, only two detected 100 percent of the viruses, believe it or not. Let's talk a little more about each.
XLSX file: If we had clicked on it, this seemingly innocent Excel spreadsheet would've tried to convince us to disable Avast and enable their macros, then steal our sensitive information like our web history and passwords. Only 34 percent of the different antivirus software we tested detected it, and unfortunately, Avast fell into the majority, not detecting it.
EXE file: The virus detected by 66 percent of antivirus software was an EXE file that enables debug privileges and tries to steal sensitive data, like the websites we've visited and our login credentials. In this case, Avast fell into the majority, detecting the virus during the Smart Scan.
DOC file: When a user opens or closes this document, this virus embeds a macro with malware, detected by 36 percent of all antivirus programs we tested out. Avast was part of this minority! Two for three so far, not half bad.
XLSM file: Only 35 percent of the antivirus programs detected this XLSM file, and unfortunately, Avast fell into the majority, not detecting this high-reputation virus.
XLS file: Finally, when we tested out this Excel sheet virus that 51 percent of the softwares could detect, Avast detected it. That's good news, because this virus, like the XLSX file, would have tried to convince us to take down Avast before putting malware on our computer. Fortunately, Avast detected this virus so we didn't have to worry when working in Excel (or in any other desktop app, for that matter).
Here's an overview of our virus testing with Avast:
Virus File Type
Percent of Antivirus Software
That Detected It
Did Avast Detect It?
XLSX
34%
No
EXE
66%
Yes
DOC
36%
Yes
XLSM
35%
No
XLS
51%
Yes
Overall, we were happy with our Avast performed in our test in general. While no antivirus software is 100 percent effective, Avast certainly met our standards in terms of digital security and virus detection.
How Avast Antivirus Performed in Lab Tests
Aside from our own extensive testing, we also looked at independent lab data from AV Test2 to see their results for Avast. Out of 10 points each, Avast got a 5.5 for protection, a five for performance, and a six for usability, resulting in a 5.5 average overall. This is pretty run-of-mill and is comparable to most of the top antivirus software. And when it came to the detection of widespread malware popular in the past four months, Avast could detect nearly 99 percent of it, nearly as perfect as you can get. So while we weren't thrilled with their third-party sharing of our web data, the service does what it says in terms of detecting malware.
Avast Antivirus Pricing
Now, since Avast's pricing was different on the app versus the website, we're going to use the website as our gold standard, but note that these prices are subject to change; to see the most information, read our page specifically on Avast's pricing.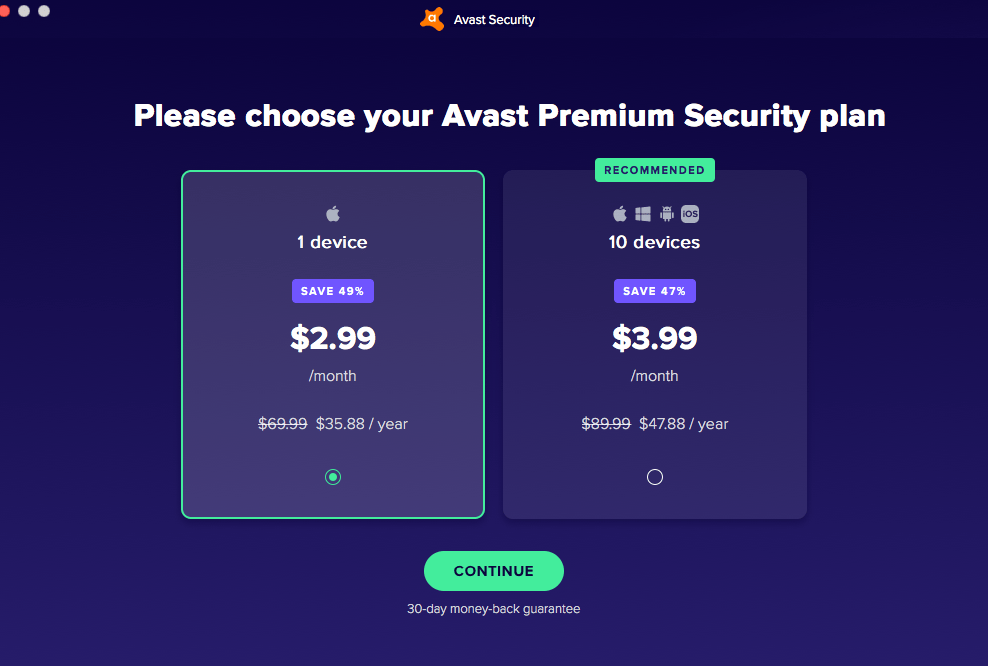 Premium Service Pricing
We paid $50.28 for one year of Premium service on our Mac, although we could've paid a roughly extra $20 to cover nine more devices. One thing to note is that if you want the antivirus software on your mobile device or tablet, it's free. Another thing? The prices will go up after the first year for the paid subscriptions, so make sure you keep that in mind. And speaking of first-year prices, Avast has a subscription called Avast One, which rolls together all of Avast's digital security tools (antivirus, VPN, device booster, etc.) into one subscription. Weirdly, the first year prices of Avast One are the same as Avast Premium, but the former offers more features and covers more devices than the latter. We're guessing that the price difference will only be apparent after the first year.
| Plans | Price |
| --- | --- |
| Avast Premium Antivirus for 1 device | $50.28 |
| Avast Premium Antivirus for 10 devices | $69.48 |
| Avast One for five devices (individual plan) | $50.28 |
| Avast One for 30 devices (family plan) | $69.48 |
Premium vs. Free
Let's jog back to that free service. While it has blocking for things like viruses and spyware, it lacks protection against ransomware and phishing plus weak Wi-Fi connections. For the whole kit and caboodle, we recommend that you use the Premium service like we did.
| Features | Free | Premium |
| --- | --- | --- |
| Blocks viruses, spyware, etc. | Yes | Yes |
| Ransomware protection | No | Yes |
| WiFi weakness and intruder alerts | No | Yes |
| Phishing protection | No | Yes |
Note: Aside from the one-year plan, Avast also offers plans for two and three years, but they are only available for purchase in the app itself, available for macOS, iOS, Android or PC.
What Information Does Avast Antivirus Collect?
If you're concerned about privacy, namely what data Avast Antivirus collects, we checked out their privacy policy to find out. It turns out that they keep a decent amount of information not only about us but also about our Macbook Pro. Here's some of what they keep:
Name
Email
Phone number
Username
Password
Card number
IP address
Billing data
Subscription information
Operating system
City or country of device
Browser type
Network
Service data like malware samples and detections
URLs and referrers
Usage statistics.
This is all pretty standard for antivirus software, believe it or not. Seeing what websites we visit is necessary to block viruses and potential malware, a feature we've seen in most antivirus softwares' privacy policies. However, this privacy policy only applies to Macs and Windows computers; there are different policies for Androids and iOS devices, to make sure you check out Avast's privacy policy3 before purchasing or downloading their software. We would say that the most concerning that is the fact that Avast tracks the URLs we visit, which they say is for "protection, detection, blocking, quarantine and deleting of malicious software". While this information is necessary for the software to function, we were wondering how the data is stored, so we did a little more digging to find out.
Pro Tip: To use the Avast Antivirus macOS app, you'll need macOS 10.10 or higher along with at least 500 MB of hard disk space.
Company History
Although privacy policies are important, they can't tell us everything we need to know about an antivirus software. We also did some Googling to find out if they had a history of security breaches or privacy violations and unfortunately, they had the latter, reported by Forbes last year.
In a nutshell, Forbes revealed that the company had been selling users' web activity since 2013 at the latest. While Avast's CEO said that this information isn't matched with any individual users, it still doesn't feel great that our antivirus software is essentially spying on us, even if it's stored in an anonymized format.
FYI: All information on users' web activity is not stored with any of their personal information, so it can't be matched to any particular user even when shared with third parties.
As far as background information is concerned, Avast is pretty clean. The company has been around since 1988 and they're based in the Czech Republic with over 435 million active users per month. That makes them have the second most market share for anti-malware software as of this past spring, 2020. Going public in 2018, the company bought AVG, another organization that makes antivirus software, which you can read more about in our AVG review. If you're looking for a popular antivirus software that's served millions of users around the world, then Avast is for you.
Avast Antivirus Customer Support
When we had a question about Avast's pricing, there was no way to contact a human. Rather, we had to find the answers in their FAQs, or fill out an online form. But when we typed in "Antivirus pricing" into their help center search box, nothing useful came up. Overall, we found Avast's customer support to be pretty lacking, and we wish they had a phone line or at the very least a live chat, like many of its competitors.
Avast Antivirus App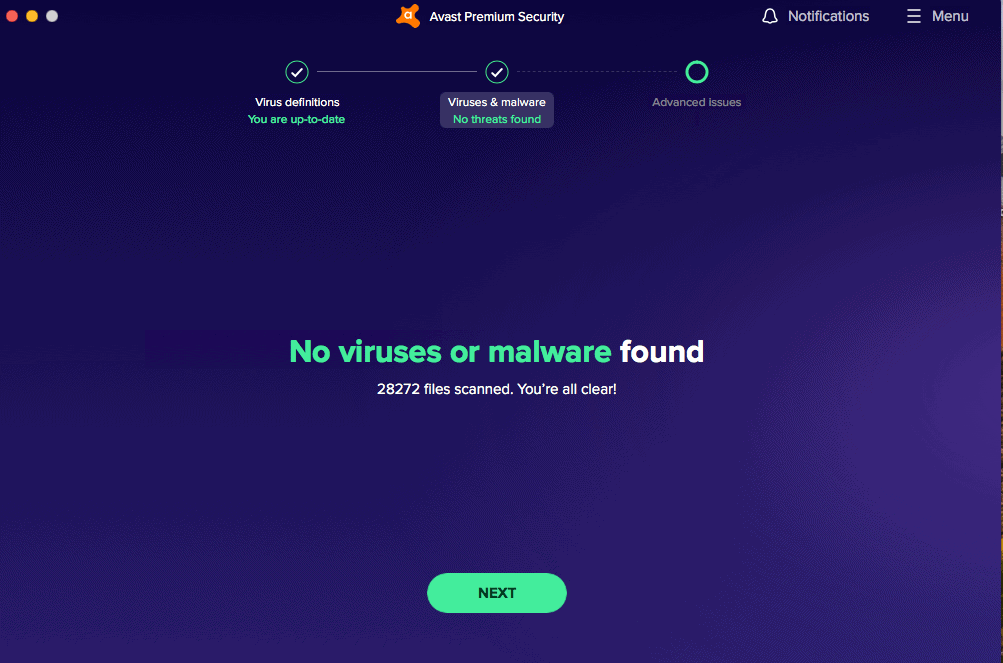 While we downloaded Avast's Mac app, they also have apps for Windows, iOS and Android devices, as we mentioned before. On Google Play, the app is called Avast Antivirus- Scan & Remove Virus Cleaner, while the iOS version is named Avast Security & Privacy. Both apps have 4.7-star ratings, which is pretty high. Although we only tested the macOS app, we're glad that iPhone and Android users had good experiences.
Recap
Clearly, we had some issues with Avast, namely its history of sharing customer data with third parties, its confusing pricing and the pop-ups we got with the macOS app. But in terms of the actual functionality, Avast did a great job scanning our Macbook Pro for malware, ransomware, and the like. So as long as you're not super-obsessed with maintaining your privacy online, Avast is a good pick for antivirus. And if you want to encrypt your web traffic and IP address, may we suggest a VPN? Avast has their own in the form of the Avast Secureline VPN, which we tested out in our Avast Secureline VPN review. They also have other digital security products, so be sure to explore all your options.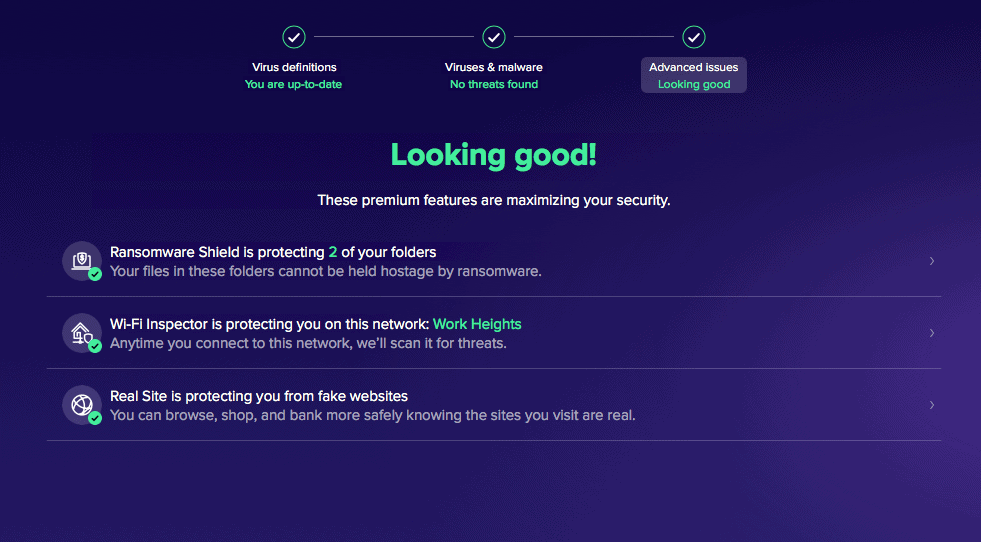 To explore other options, read our review of the best antivirus software. We're more than excited to help you increase your digital security, and antivirus software is a must, and is relatively easy to install and use regularly with minimal effort.