Is AliExpress Safe?
Online shopping always comes with risks, but is the risk greater if you buy from the China-based AliExpress?
All of our content is written by humans, not robots.
Learn More
AliExpress is widely considered the Amazon of China. Much like Amazon, it has almost anything you can imagine — even earrings designed to look like toilet paper, apparently. But unlike Amazon, listings on AliExpress are super cheap.
Before you go on an online shopping spree, however, it's important to look into whether or not it's actually safe to shop on AliExpress. And if it is fairly safe, are there still any risks to consider? If so, what are they and how can you avoid them? We'll discuss all of this and more in this guide to AliExpress safety and security.
Is AliExpress Safe?
We know you're itching to check out what AliExpress has to offer, so we'll give you the answer right away: Yes, AliExpress is a safe place to shop, but it's not completely risk-free. From counterfeit goods to undelivered parcels, there are things to be wary of when shopping on the platform.
Before we discuss the risks, here's a quick explainer of what the company actually does. AliExpress is an online marketplace where third-party sellers can list their products for consumers to buy. It handles the shipping arrangement, usually through Cainiao, which is an Alibaba-owned shipping service.1 There are also premium shipping options via FedEx, UPS, and DHL, but these options cost more.
In addition to shipping, AliExpress also facilitates payments. When you shop through the platform, it holds the payment in escrow and releases it to the seller only when the order is complete. This escrow payment system is what makes AliExpress' buyer protection possible. More on that below.
Interesting Fact: Singles' Day, which falls on November 11 every year, is the largest shopping holiday for AliExpress. In 2021, it sold over $85 billion worth of items during the 11-day sale that started on November 1 and lasted through November 11.2
What Makes AliExpress Safe?
Now that we know what AliExpress does, let's look at the things that make it safe.
Buyer Protection
Undelivered parcels, defective items, unsatisfactory products, and counterfeit goods are just some of the problems we might encounter when shopping online. Fortunately, AliExpress has a buyer protection program that protects the interests of consumers.
Buyer Protection for undelivered items: Every qualified listing carries a Buyer Protection badge. That badge means that your order should arrive at your doorstep within the time period indicated — for example, 75 days. If it doesn't arrive on time, you can file a claim and AliExpress will refund you within 15 business days following the claim process.
Money-back guarantee for defective, unsatisfactory, or counterfeit goods: You're also entitled to resolution if the item you received is defective, unsatisfactory, or fake. The claim process for such items, however, is longer and can often drag on. First, you'll need to file a dispute, which will go to the seller directly. You and the seller will try to negotiate an amicable solution, which could be a full or partial refund, an item replacement, or a voucher. If you don't come to an agreeable solution within 15 days, AliExpress will step in to decide the right course of action.
Important Note: You can file a claim for an unreceived order only after the buyer protection period is over. Almost all the items we checked had a 75-day Buyer Protection badge, which means it could take you 90 days or more (the 15-day refund process included) to get your money back if your order doesn't arrive.
Payment Information Security
Since AliExpress also handles payments, the safety and security of your payment information is another pressing concern.
You can pay for your orders using credit or debit cards either directly to AliExpress or through AliPay. Either way, you'll be transacting with a company owned by Alibaba, since it owns both services.
Direct credit card or debit card transactions: If you choose to pay with your credit or debit card directly, AliExpress will have to know your payment details. The good news is that only AliExpress will see them, so third-party sellers won't have a chance to capture your card information. Additionally, you can opt not to store your payment information. You'll have to enter your card information every time you check out, but that's just a minor inconvenience if you really want to keep your payment details under wraps.
Paying through AliPay: AliPay is a secure payment service, much like PayPal, Cash App, and Venmo. You can load up your AliPay account with your credit or debit card and then use the balance to pay. If you use AliPay, neither AliExpress nor the sellers can see your card details, so it's safer than transacting directly with AliExpress.
FYI: Although less common, you can use PayPal to pay for some items sold on AliExpress. PayPal is a secure payment service with features like buyer protection and end-to-end encryption. If available, PayPal is the safest payment method for AliExpress.
AliExpress Red Flags and How You Can Stay Safe
While AliExpress is generally safe, it's not a perfect platform. Here, we'll discuss the issues associated with AliExpress that you might run into, how to spot them, and how you can stay safe.
Counterfeit Products
The Office of the U.S. Trade Representative currently lists AliExpress as one of the top global sources of counterfeit products3, so if you buy from AliExpress, you always run the risk of receiving fake items from unscrupulous sellers. To its credit, AliExpress is making efforts to combat counterfeiting. Intellectual property rights holders can now report listings that violate their rights, and it seems that AliExpress is actually taking action.4
As consumers, though, we have to do our part in avoiding counterfeit goods, not only because they're illegal and harmful to the economy, but also because buying them could get us in trouble.5 However, it's not easy to spot fake items when our only reference is a picture of a product, so here are a few tips:
If the price is too good to be true, it likely is. Although AliExpress is known for its unbeatable prices, don't expect to be able to buy the latest iPhone for $10.
Avoid branded items. Counterfeiters often target trending brands. If you're looking to buy branded goods anyway, it's safer to go directly to the manufacturer or to an authorized seller.
Check the product's reviews. This is important. The best way to determine counterfeit listings is to check what previous buyers say about it. As a rule of thumb, avoid products with one- or two-star ratings. Also, even if the ratings are good, read the low-star reviews as some sellers inflate their products' ratings by posting fake positive reviews.
Look for the Buyer Protection and money-back guarantee badges. If the item turns out to be fake, you'll have these guarantees to fall back on.
Listing Tricks
AliExpress is a competitive marketplace, and some sellers are willing to employ shady listing tricks to get a leg up on the competition.
One common trick is listing prices that are well below MSRP. AliExpress lets sellers add variations to their product listings such as, let's say, sizes for T-shirts. However, some take advantage of this feature. They create product listings that describe a real product, but the price advertised is of an optional accessory. To buyers, the listings appear to be good deals. When you click them, however, you'll discover that the listed prices are that of cheaper accessories, and the real products actually cost more.
Here's one example: We saw a pair of sunglasses listed for $0.50. That's a pretty good price, but when we clicked it, we discovered that only the case was worth that much. The pair of sunglasses shown in the picture was actually $5. If you're not careful, you might end up buying just the case instead of the sunglasses. And since the listing isn't technically inaccurate — just misleading — you can't invoke the money-back guarantee. That's why you should be attentive to detail. Double-check your order before paying, and don't rely on photos alone. You should read the description thoroughly, and if you find any discrepancies, it's best to look elsewhere.
Brushing Scam
Many sellers also use "brushing" to get ahead of the competition. This type of scam is a bit of an odd duck because it seems like a victimless crime at first, but since it involves identity theft, you should immediately take action if you suspect that you've been targeted.
How exactly do brushing scams work?
First, a supplier creates a fake AliExpress account under your name or hacks into your existing one.
They use the account to order their own products. They might use your credit card to pay if you had it saved in your account, but in most cases, they pay for the items themselves.
Once the items arrive, they leave glowing, five-star reviews using your name and account to inflate their products' ratings. Plus, since those count as sales for them, it improves their shop's reputation.
They repeat the process hundreds of times to create an illusion that their items are selling hot and have positive feedback to attract more buyers.
You get free products and the seller gets more buyers, so it's a win-win, right? In truth, brushing just shows how easily others can steal your personally identifiable information. If a seller in China can get their hands on your personal information, so can scammers around the world who might have more nefarious plans. What's more, they could have gotten your personal information from a data breach, which means other sensitive information might be there as well, like your Social Security number, credit card numbers, and passwords. That is why you shouldn't ignore brushing scams.
Having good digital security hygiene is the best way to protect yourself from identity theft. That means using strong passwords, avoiding sites and services that are prone to breaches, and taking your information off of data broker services and people-search sites, just to name a few.
There are tools you can use to prevent, or at least decrease, the chances of identity theft. Identity protection services, such as Aura or Identity Guard, can help you remove your personal data from data brokers. They also monitor your personal information and alert you of possible theft, and should things get worse, they'll help you recover your identity and even reimburse your financial losses. You can read our Aura review or our guide to the best identity protection services for more details.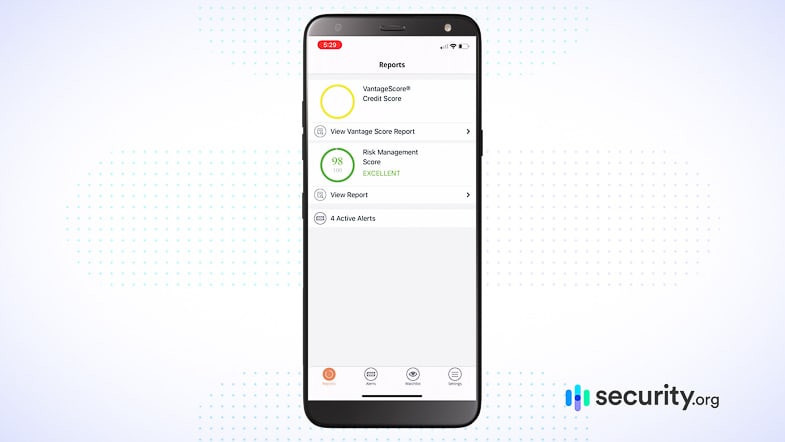 And don't forget that password managers, such as the one included in the Norton Antivirus Plus we tested, can also help you safeguard your online accounts by securely storing your passwords.
Is Your Privacy Safe With AliExpress?
Digital safety and your privacy go hand-in-hand, but while AliExpress is generally a safe platform, it does collect personal information. Is your information safe?
According to AliExpress' privacy policy, it collects the following:
Contact information, such as your name, email address, and physical address
Payment and billing information, including your payment method, billing, and delivery address
Purchase information, such as items and quantities
Support information provided while requesting customer support
Collection of these types of information is normal for online marketplaces — so far, so good. We also checked the company's policy for disclosing personal information. We found that it shares data with sellers, business partners, other companies under the Alibaba Group, logistics partners, third-party service providers, and credit risk assessment providers, among others. Again, this practice is normal among e-commerce platforms and is generally harmless to you.
The only possible cause of concern is that AliExpress also shares data with third-party advertisers and marketing partners. This means they can use your personal data to target you with ads or marketing campaigns. The bad news is that any other e-commerce platform shares data with third-party advertisers, even Amazon.6 If you don't want advertisers to have access to your personal information, avoiding online marketplaces is your only choice, unfortunately.
Recap: Is It Safe to Use AliExpress?
Based on our assessment, AliExpress is safer than most people think. Even though the company and majority of its third-party sellers are based in China, AliExpress has good buyer protections, information security, and payment systems.
That being said, though, you have to be smart in picking items to buy from the platform in order to get your money's worth and not get scammed. Although there are really good finds on AliExpress, you're also likely to come across counterfeit or subpar products.
FAQs on AliExpress
Before we end this guide, we'll leave you with these frequently asked questions (and answers!) related to AliExpress.