Identity Guard Pricing and Subscription Costs
Learn how much it costs to protect your identity with Identity Guard
Identity theft protection powered by IBM® Watson™ AI
Impressive $1 million in identity theft insurance
Multiple service levels, from basic to advanced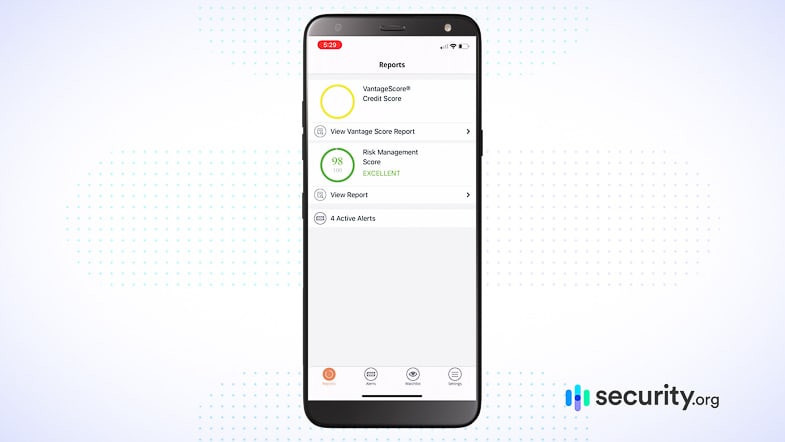 All of our content is written by humans, not robots.
Learn More
By

&

Last Updated
Dec 16, 2022
Our identity is one of the most important shreds of our being, but what happens when that identity is stolen? There are lots of possibilities, among them, financial losses, destroyed credit, and lots of mental stress. That's why making sure our identity is protected is critical to having a happy and enjoyable life.
An identity protection service can be an important tool to prevent identity theft — or at the very least, detect it early before it causes damage. Identity Guard is an example of an identity protection service, and you could say that it's one of the best there is. Today, we'll tour you around Identity Guard's pricing and help you decide which of its plans provide the best value for your money.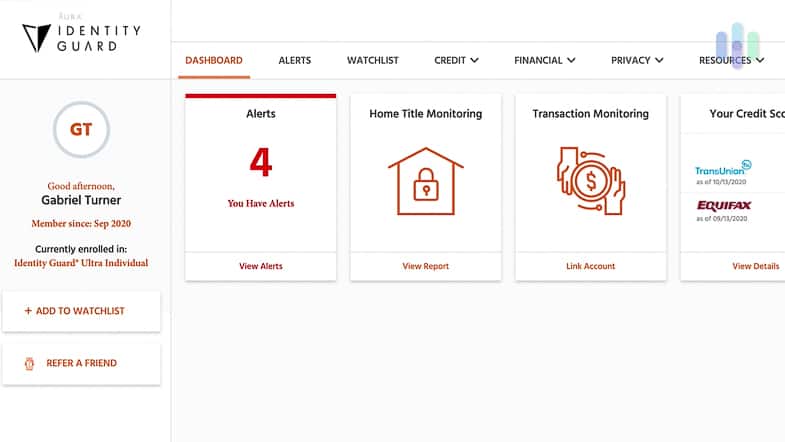 How Much Does Identity Guard Cost?
Choosing an Identity Guard plan is straightforward. You just have to pick between these three plans: Value, Total, and Ultra.
| Feature | Value | Total | Ultra |
| --- | --- | --- | --- |
| 401k and investment account monitoring | No | No | Yes |
| Annual credit report from 3 bureaus | No | No | Yes |
| Bank account monitoring | No | Yes | Yes |
| Credit and debit card monitoring | No | No | Yes |
| Credit monitoring from 3 bureaus | No | Yes | Yes |
| Criminal and sex offense monitoring | No | No | Yes |
| Customer support based in U.S | Yes | Yes | Yes |
| Dark web monitoring | Yes | Yes | Yes |
| Data breach notifications | Yes | Yes | Yes |
| High risk transaction monitoring | Yes | Yes | Yes |
| Home title monitoring | No | No | Yes |
| Identity theft insurance with $1 million maximum reimbursement | Yes | Yes | Yes |
| Monthly credit score from 1 bureau | No | Yes | Yes |
| Risk management report | Yes | Yes | Yes |
| Safe browsing tool | Yes | Yes | Yes |
| Social media insights report | No | No | Yes |
| USPS address change monitoring | No | No | Yes |
| White glove resolution concierge | No | No | Yes |
| Monthly plan for individuals | $8.99/month | $19.99/month | $29.99/month |
| Monthly plan for families | $14.99/month | $29.99/month | $39.99/month |
| Annual plan for individuals | $90.00/year | $200.00/year | $300.00/year |
| Annual plan for families | $150.00/year | $300.00/year | $400.00/year |
| Monthly cost of the annual individual plan | $7.50 | $16.67 | $25.00 |
| Monthly cost of the annual family plan | $12.50 | $25.00 | $33.33 |
Each of the three plans caters to both individuals and families. Plans for individuals protect the identity of one adult, while family plans protect up to two adults and any number of children in the same household. The latter is a good value, especially since family plans cost less than twice the individual plans but protect way more identities. For the sake of this review, however, we went with an individual plan.
Did You Know: The latest 2021 Census data shows there are 46,000 non-family households in the U.S.1 To help protect the people you do life with, we highly recommend talking to your roommates to save on identity protection! Make it like electricity or Wi-Fi, just another bill you're splitting.
Once we decided to go forward as individuals, we had to decide which level of coverage we wanted. Since there's no free trial, we were hesitant about spending too much, but the plans are all reasonably priced.
The Value plan lives up to its name and is a great value—just $8.99 for an individual and $14.99 for a family on a monthly basis. For one person, that's the cost of less than two fancy Brooklyn coffees per month. We figured that we can brew a pot at home once or twice a month in order to protect the most important digital information of our lives.
The Value plan provides even better value to families, as you can divide the cost among family members living with you. One subscription, which costs $14.99 per month, protects the identity of two adults and all of their minor children. Even if it's just you and your spouse, getting the Value family plan still makes more financial sense than buying two individual plans.
The plans increase from there, but there are a lot of core services that Identity Guard offers across all three levels:
$1 million insurance with stolen funds reimbursement: As you might know from reading our other identity monitoring reviews, $1 million is the standard insurance coverage across the industry. But ID theft plans from LifeLock, for example, don't provide this much coverage at the most basic level, so it's nice to see that Identity Guard does. Whether you're on the most affordable Value plan or the $39.99 Ultra plan, you'll be covered by this insurance.
U.S-based dedicated case manager: In case of identity theft, LifeLock would provide us with a real-life person who would work with us in recovering and restoring our stolen identities. As cool as IBM Watson © is, it's nice to know that if everything goes wrong, there will also be a real person there to walk us through freezing our credit and taking back control of our credentials.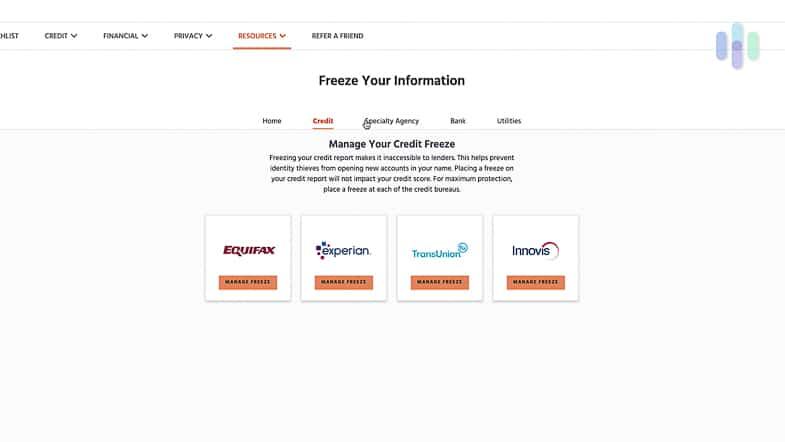 Risk management score: This is the score that doesn't lie. It tells us how at risk of identity fraud we might be, and how our actions and lifestyles change our score. Without naming names, let's just say one of us has a lifestyle much more conducive to high-risk management scores than the other.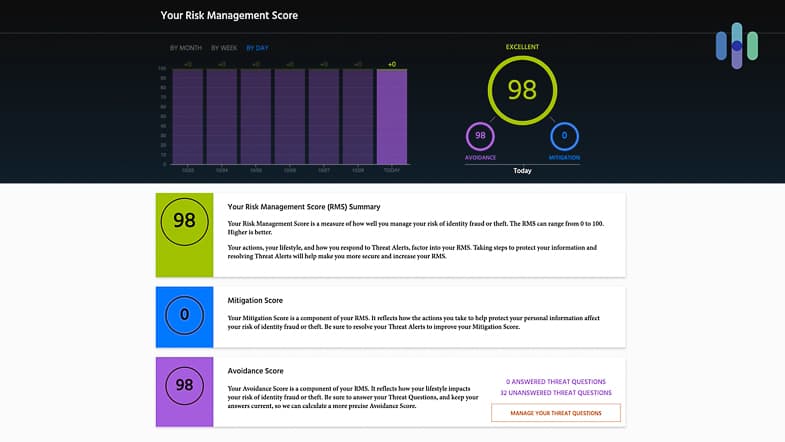 Online identity dashboard: The more information we feed the beast, the more monitoring it can give us. The dashboard has many boxes that provide easy access to potential alerts, the Watchlist, and our credit reports and scores.
Mobile application: We love having a mobile app companion for the services we use. You may not know this about us, but Aliza is an iPhone girl for life and Gabe swears by his Android. It's the biggest fight we have, but somehow we get by. Luckily, the Identity Guard app was available on the Google Play Store and Apple App Store for both of us to enjoy, bug-free on either device.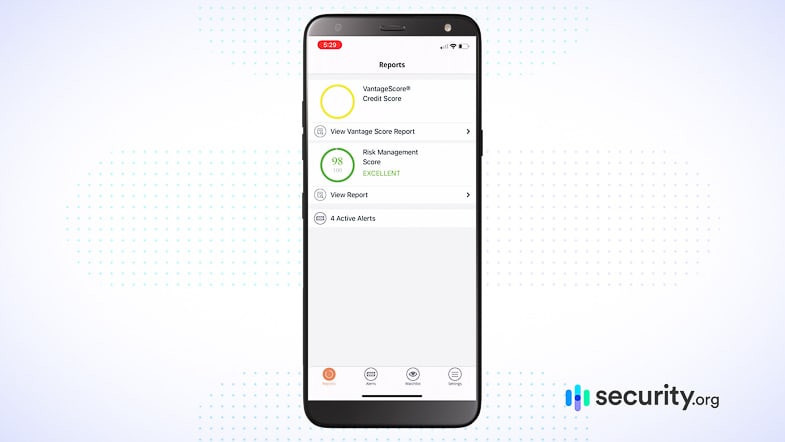 Monitoring for personal information on the dark web: We've never personally been on the dark web, but that doesn't mean our information hasn't been there; it's a hotbed of anonymous cybercrime.While we were trying out Identity Guard, there was a data breach at one of the online platforms we use to order sushi, and our username and password were actually on the dark web, just waiting to be sold. Fortunately, Identity Guard sent us an alert and we were able to change our password on the platform in minutes. Our sushi was safe, but so were our identities.
Monitoring high-risk transactions: If you're a millennial like we are, think of a high-risk transaction as one your mother would make, but you never will. It's hard to know who exactly you're giving your credit card information to online these days, with all the middlemen payment services companies use, which is why this monitoring is key.
Anti-phishing mobile app: A second app! Identity Guard also offers the Anti Phishing by Identity Guard app, which can detect and block phishing websites on Chrome, Dolphin and Samsung Internet. That's a good thing because phishing has gotten so sophisticated that even digital security experts like us have fallen for it in the past (it turned out to be a Target coupon that was too good to be true).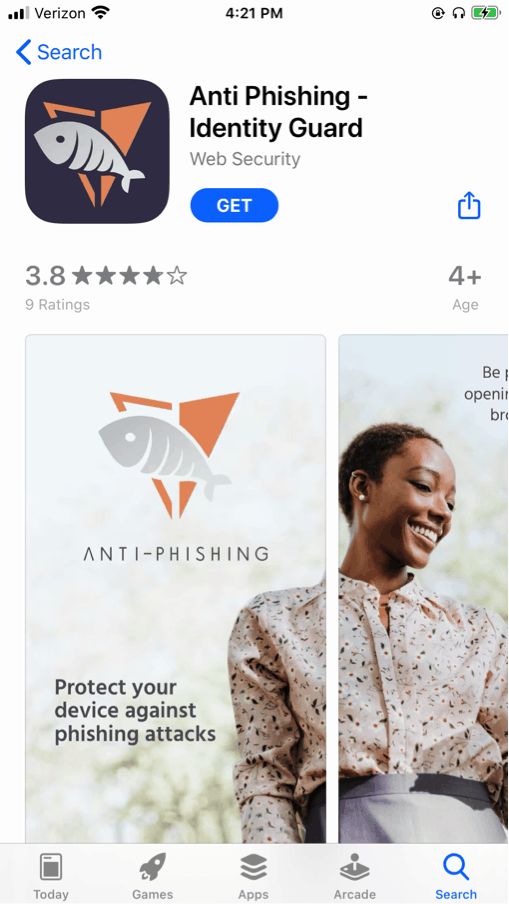 Safe browsing extension: With Identity Guard, we were protected not only on our phones but also on our laptops. Identity Guard has a browser extension that helps protect our privacy online, which includes an ad and flash blocker, tracking protection, mining protection, and more.
App ratings
| App name and compatibility | Rating |
| --- | --- |
| Identity Guard, iOS | 2.2 |
| Anti Phishing, iOS | 2.9 |
| Identity Guard, Android | 2.7 |
| Anti Phishing, Android | 3.2 |
FYI: In 2021, phishing attacks are on pace to rise 47 percent compared to 2020, and most phishing takes place in the United States.2 You always think you're too smart to be susceptible…until you aren't. Apps and tools like Identity Guard's browser extension will protect you even when you're being too confident.
It is comforting to know that all those protections and features are available even with the value plan, but one important feature is missing: Credit monitoring. If you want Identity Guard to monitor your credit scores and reports as well as credit lines, you'll need to upgrade to either the Total or Ultra plan. The former includes monthly credit score updates from one credit bureau, while the latter includes three-bureau credit scores monthly and a yearly credit report. 
We could say, then, that your decision on whether to choose the Ultra plan or go with a lower tier plan hinges on how much you value credit monitoring. Identity Guard's credit monitoring monitors all three major credit bureaus — Experian, Equifax, and TransUnion. As previously mentioned, the Ultra plan includes credit scores and reports, the Total plan includes monthly score updates but no reports, and the Value plan includes none of those features.
The credit score updates themselves are less important to us—we rent our apartments and don't plan on going to graduate school anytime soon, or ever—so the monthly one-bureau updates were plenty. That's right folks, we played it right down the middle with a Total plan.
But you should know some of the monitoring we missed out on that's available with Ultra: social media insights, bank accounts, credit and debit cards, 401(k), address changes, and more. To learn more, read our full review of Identity Guard.
Can We Do A Free Trial of Identity Guard First?
Much to our dismay, Identity Guard doesn't do free trials. If you want to try it, you have to pay for it. That being said, you can always use the monthly plans to test out a service. The Value plan starts at just $9 per month. You can sign up just to get a feel of how the service works and see how the app looks.
Another thing is, there are deals here and there on Identity Guard. Once, we saw a 20-percent off deal for the first month. You can use deals like those to offset the cost of trying out the service. It's not a free trial, but it's not nothing.
Other theft protection services do offer free trials, like IdentityForce and IDShield, but you might find they don't offer the same level of service as Identity Guard.
Our Favorite Features
Once we got over the fact that we'd be paying from the get-go, we logged into Identity Guard and began to explore what all the fuss was all about. It turned out we liked Identity Guard enough to name it one of the best ID theft protection services overall. Its top features?
IBM Watson © artificial intelligence: Available through all the plans, IBM Watson © is a feature that gathers insights about potential identity theft threats, which Identity Guard claims gives them the quickest response time for inquiries made with the three credit bureaus. Next to identity theft protection, early detection and damage control is the next most important feature of these services.
Low prices: Identity Guard has some of the lowest prices around, with the Value plan pricing at $7.50 per month for an individual and only $12.50 per month for a family. Even at the highest tier, the Ultra plan, Identity Guard family plan pricing only goes up to $39.99 a month.
Three credit bureaus: Even though credit reports are only available through the Total and Ultra plans, these offerings cover all of the basics we need to keep up to date on our credit. Simple and to the point.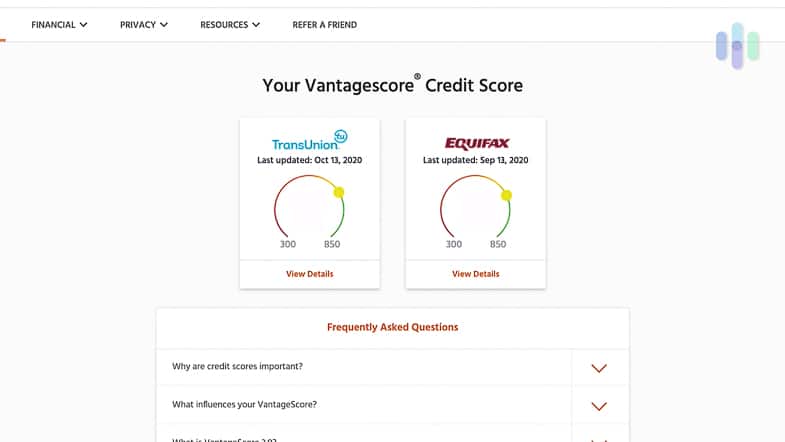 Identity Guard's Cancellation Policy
You know that feeling when something is supposed to be easy and simple, but it never is, so then the one time something is actually easy and simple, it feels like a miracle? Identity Guard's cancellation policy makes it simple to stop its service and makes up for the fact that there are no Identity Guard free trials.
We could cancel online literally just by logging into our account and going to the settings page. However, if we had been feeling up to a little human interaction (a rarity for us, personally), we could call the Customer Care Center at 1-855-443-7748.
We signed up for a month-to-month subscription because we like to live on the edge and are testing out the latest identity theft protection on the block constantly, but if we'd signed up for an annual subscription, we also could have canceled within 30 days of purchase and gotten our money back.
Recap
Overall, we're fans of Identity Guard's comprehensive features and affordable pricing, especially on the lower-tier Value and Total plans. Also, we really appreciated how easy it was to reach a human through a specific case manager or customer service. While it still annoys us that it doesn't have a free trial, this certainly isn't a dealbreaker, and we think Identity Guard is worth it overall.
FAQs
Here's how it works: you have questions, and we have the answers. Below are some of the most frequently asked questions that we get regarding Identity Guard: