Is Webull Safe?
Don't risk your money while you're trying to invest your money.
All of our content is written by humans, not robots.
Learn More
Webull has become a popular brokerage platform for investing in stocks and exchange-traded funds. Users seem drawn to it not just because it offers commission-free trading, but because it provides a number of unique services you can't find on other platforms. For instance, the app features a Community tab, where you'll find thriving discussions on a range of investment topics. There's a news feed and a stock ticker. Plus, Webull gives users access to 11 cryptocurrencies.
Of course, as with any investment app, the real question is just how safe it is. No app is worthwhile if it puts your personal information, to say nothing of your money, at risk.
Security isn't a simple matter. Evaluating security requires thinking about privacy policies, insurance policies, and even which sorts of scams are out there. Below, we get into all of these so you can decide for yourself whether Webull is safe enough for your investing needs.
Years in Business
| | |
| --- | --- |
| Webull | 4 |
| Robinhood | 7 |
| Stockpile | 12 |
| Acorns | 10 |
| Ellevest | 7 |
Is Webull Safe?
Let's get right to the point: Is Webull safe? The simple answer is yes. Webull isn't just user-friendly, but it has a number of important protections in place to make sure both your money and your identity are safe and secure.
You need to know, though, that this question is a complicated one. When evaluating an investment app like Webull, it's important you consider the following factors:
Credentials: First, you want to look at a company's reputation. Does it have a solid reputation? What is its history? Has it taken the necessary steps to insure customers' accounts?
Protections: Next, examine what sort of security protections the company has in place for its users. Which security tools does it employ? What does its privacy policy say about customer information, and what steps has it taken to make sure it's not vulnerable to data breaches?
Vulnerability: Finally, you want to consider which kinds of scams and schemes platform users can fall prey to. In general, which kinds of attacks should you look out for when you're using the app? Does the app make you particularly vulnerable to any of these scams?
Webull's Credentials as an Investment Company
First things first: How does Webull stack up as an investment firm? Can you trust the company with your money?
Not Much History
Some users may be put off by Webull's relatively short history. The company is only four years old, and it's owned by a Chinese firm, Fumi Technology.
The reality, though, is that the company is actually headquartered in New York City, so it's not susceptible to meddling from the Chinese government. And, while four years isn't a lot of time to establish a reputation, it is significant that Webull has managed to amass over 11 million registered users in that time. In fact, it has over 750,000 active users each day.1
Regulated and Insured
While a company's history can tell you a lot about how seriously it takes its customers' security, the real proof is in how that company insures its customers' money. In other words, do they put their money where their mouth is, so to speak? It's hard to argue with Webull's bona fides in this department.
First, the company is regulated by top-tier financial authorities, including the U.S. Securities and Exchange Commission (SEC) and Financial Industry Regulatory Authority (FINRA).
FYI: The SEC is an independent government agency tasked with regulating markets and protecting investors.2
In addition, Webull insures its customers' accounts with the Securities Investor Protection Corporation (SIPC), a leader in the industry. There is up to $500,000 in total coverage, with a $250,000 limit for cash. These limits should be more than enough for the average investor. And, let's face it, if you're investing millions, you're probably going to want to work with a full-service Wall Street brokerage anyway.
As if the security offered by SIPC was not enough, Webull employs Apex as its clearing company, and Apex carries additional insurance on all Webull customer transactions. Individual investor transactions are protected up to $37.5 million for investments and $900,000 for cash.
Webull Customer Protections
Of course, money is only part of the equation when it comes to online security. Insurance won't prevent an identity thief from draining your bank account, for instance. Which tools does Webull have in place to protect users' identities?
App Security Features
Webull secures all online activities with 128-bit encryption. That isn't quite as good as the 256-bit encryption you'll get with the best VPNs, but for all practical purposes, it can't be hacked through a brute-force attack. In addition, the app employs firewalls and two-step user authentication.
Plaid authentication: All financial transactions between Webull and customer bank accounts take place through Plaid. This adds additional encryption for bank account numbers and other important personal data. It also adds multifactor authentication to your account.
Apex Clearing
App security features are one thing. Clearing security is another. Clearing refers to how actual investment transactions take place, the literal process of moving money from one account to another. As we mentioned above, Apex handles all of Webull's clearing, and they insure transactions up to $37.5 million for each investor.
Definition: "Clearing" refers to the actual process of completing a financial trade. It involves the transfer of funds to the seller and the transfer of securities to the buyer.
Privacy Policy
Finally, it's worth noting that all the security tools in the world aren't much use if a company collects its customers' data and sells that data to the highest bidder.
According to Webull's policy, it collects only the information it needs to conduct business. It shares that information only with third-party analytics companies like Google Analytics. These third parties help improve performance.
The policy also notes that no company is entirely immune to the possibility of a data breach that could potentially expose user information. In addition, Webull points out that if the company were to be purchased, user data would become the property of the new owners.
Addressing Your Personal Vulnerability
Finally, no matter how safe an investment company may be, and no matter how safe its app might be to use, you need to recognize that investment security is only as safe as the person who's doing the investing. That is, you as the investor have to be on the lookout for scams.
Now, we can't tell you about every investment scam out there. There are dozens, if not hundreds. But we can tell you a few of the most common to watch out for.
High-Yield Investment Programs
Also known as prime bank schemes, high-yield investment programs (HYIPs) promise impossibly high returns on investment, sometimes more than 100 percent. Most HYIPs are some version of a Ponzi scheme in which money from new investors is used to forestall established investors from discovering the truth. Warning signs include the following:
Promises of an excessive return on investment
Extreme secrecy
Unusual complexity
Claims of exclusivity to the offer
Fictitious financial tools
Overpayment Schemes
Overpayment schemes convince you to hand over money you think you have but in fact don't. Here's how they work. Someone overpays you, maybe for a freelance work assignment, or a couch you advertised on Craigslist. They send you a check for more than the amount with some explanation as to why they decided to give you more than you asked for. You deposit the check. Within a day or two, they contact you again and ask you to return the amount they overpaid. Your online banking app may tell you their check was processed, leading you to believe it has cleared. You send them the money, through PayPal or Venmo or some other cash-on-demand platform. Then the original check bounces. The prime warning sign in these cases is anyone offering you more money than you originally agreed on.
Cryptocurrency Scams
Cryptocurrency scams are relatively new, but they're growing in popularity at an alarming rate. The simplest sort of scam involves creating a fake cryptocurrency and convincing people to invest in it. Once you've invested, you are on the hook, and you can't know what the company you've invested with might do with your money. Cryptocurrency — even legitimate cryptocurrency — isn't backed by any government. This means if you should lose your money for any reason, the government has no obligation to step in and help.
As with HYIPs, you should remember that an investment deal that sounds too good to be true almost certainly is. Don't trust anyone who promises an impossibly high yield on your money. In addition, be on the lookout for money managers who contact you out of the blue. They may promise to teach you about cryptocurrency, but their real job is likely to direct you toward fraudulent investments.
How to Stay Safe Using Webull
Webull is safe enough. Ultimately, though, as the list of scams above suggests, the power to keep your money and your identity safe rests in your hands. Here are a few tips to keep you safe.
Use strong passwords. Make sure you create strong passwords for all your accounts. Avoid basing your passwords on personal information like birth dates and maiden names. In addition, use numbers and symbols to make it more difficult for hackers to crack your passwords.
Use multifactor authentication when offered. Multifactor authentication means you must provide at least two pieces of information in order to log in to your account. Webull offers two-factor authentication. In addition to providing a password, you must also enter a code sent directly to a device you own. This makes it less likely anyone can impersonate you.
Never share login information. Webull is connected to your financial accounts, so anyone with access to your Webull app can gain access to those accounts.
Set your account to private. Turning off your access to Webull's social media functions will limit your ability to get news and talk about the markets on the site. However, it will also ensure shady money managers and other scammers can't contact you.
Trust only businesses and users you know. It should go without saying, but any time you get involved online with someone you don't know, you risk becoming a victim. Double- and triple-check the credentials of anyone you deal with.
Install antivirus software. You can't even tell when someone you deal with on Webull's social media function might try to sneak malware onto your device. The best antivirus software can make sure they don't succeed.
Use an identity theft protection service. These days, we're all vulnerable to fraud and identity theft. That's why it's a good idea to sign up with one of the best identity theft protection services. We recommend Aura. It doesn't just keep track of your identity; it also monitors your financial accounts. And it insures customers for up to $1 million.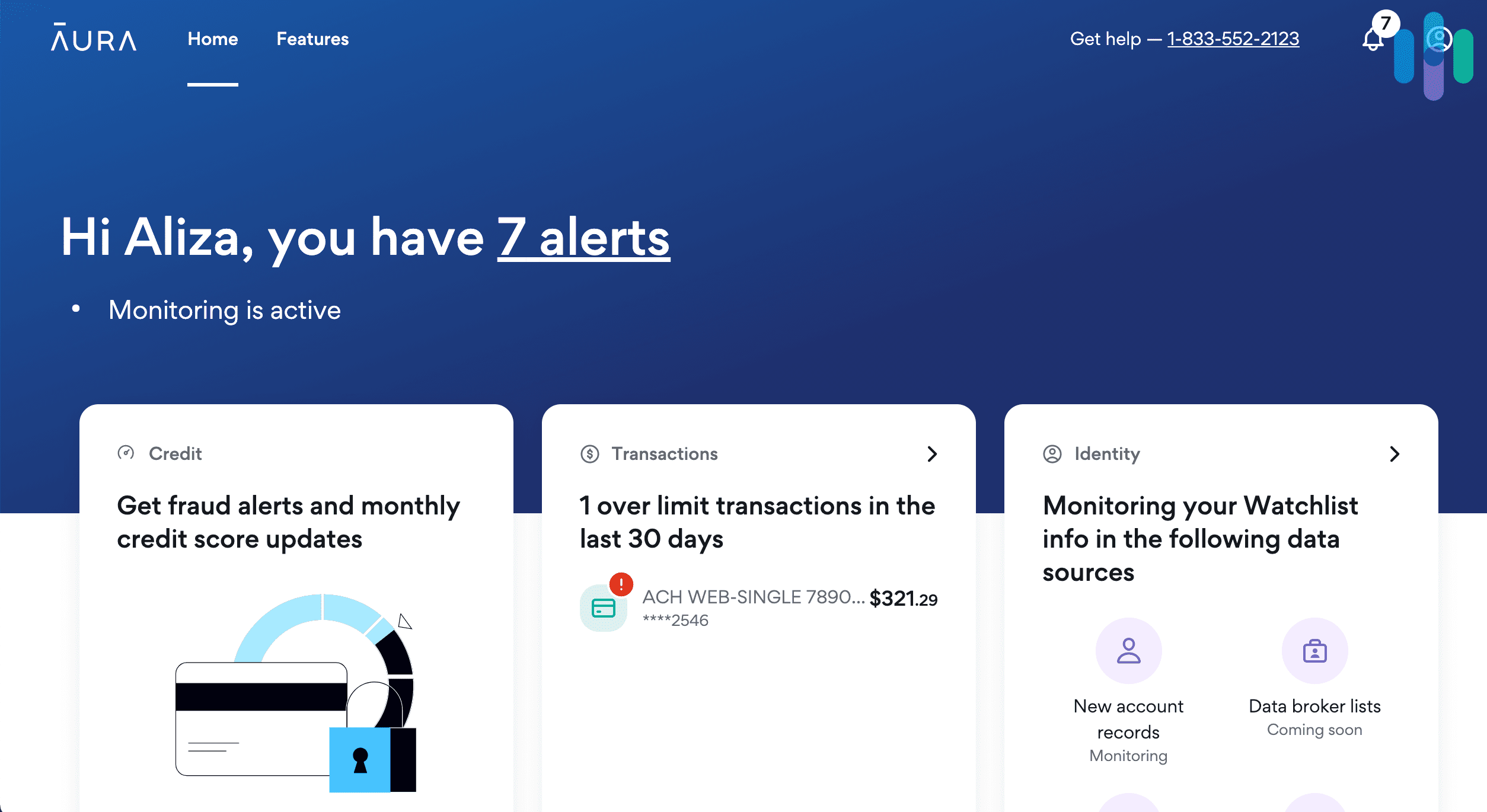 The Bottom Line
When you're dealing with money, you can't ever be too safe. Investment apps like Webull are great because they put the tools to grow your money in the palm of your hand. They also centralize your accounts and connect your personally identifiable information directly to your finances. That creates risk.
As far as investment companies go, Webull is among the safest. It's backed by respected regulators and insured by some of the best companies in the world. In addition, the app itself provides security features like encryption and two-factor authentication. Even with all these protections in place, however, you have to do your part to avoid scams and keep your data safe.
FAQs
Before you go, we recommend you take a look at our answers to some of the most frequently asked questions about Webull's safety.