SkyBell Slim Line Video Doorbell Review
This wireless video doorbell has a battery life of three to five years, tried and tested by our security experts.
What We Like
Wireless setup: The SkyBell Slim Line is battery-powered, making the setup process a lot more convenient.
Battery life of three to five years: Although it depends largely on the usage, SkyBell's doorbell can last three to five years on a single charge.
Works in temperatures from -40 to 140 degrees Fahrenheit: If you experience harsh winters, the SkyBell Slim Line is one of the few doorbells that will work for you.
What We Don't Like
Wi-Fi connection with no other backup: You'll need to have a pretty good Wi-Fi signal at your front door to use the doorbell camera.
No zoom feature: Want to zoom in on the speeder's license plates? No luck for you, as the SkyBell doorbell doesn't have zoom.
Requires paid subscription: Like most video doorbells, the SkyBell Slim Line doesn't have local video storage, so you'll need a cloud subscription in order to record videos.
Bottom Line
Now branded as the Trim Plus, the original SkyBell Slim Line is wireless with a three to five-year battery life, among the longest we've seen for a doorbell camera. Control it remotely through the Alarm.com app, highly rated by iPhone and Android users alike.
SkyBell is a video doorbell brand that mostly provides video doorbells customized to work with its home security partners. Among those partners are Alarm.com (the platform that powers security systems from Frontpoint, Brinks, and Link Interactive) and Honeywell. That said, you can still buy SkyBell doorbells from Amazon and use it with a compatible app. One of the few remaining SkyBell models you can buy is the SkyBell Trim Plus II, formerly called the SkyBell Slim Line.
We tested the doorbell, and in this review, we'll tell you everything you need to know about it from its design, features, how well it works, the setup process, and the mobile apps you can use to control it. Ultimately, we'll help you decide if it's the right doorbell for you.
Editor's Rating
Wireless setup with battery that can last up to five years
Huge temperature range of -40 to 140 degrees Fahrenheit
Bright white light allows for color night vision
SkyBell Slim Line Video Doorbell Pros and Cons
Right off the bat, let's talk about the doorbell's pros and cons.
Among its best features are its temperature range of -40 to 140 degrees Fahrenheit, its battery which has a life of three to five years, and its 180-degree field of view.
Among its worst? The SkyBell app that rarely gets updated and is a bit behind SkyBell's highest-rated competitions (listed below).
SkyBell Slim Line Video Doorbell Design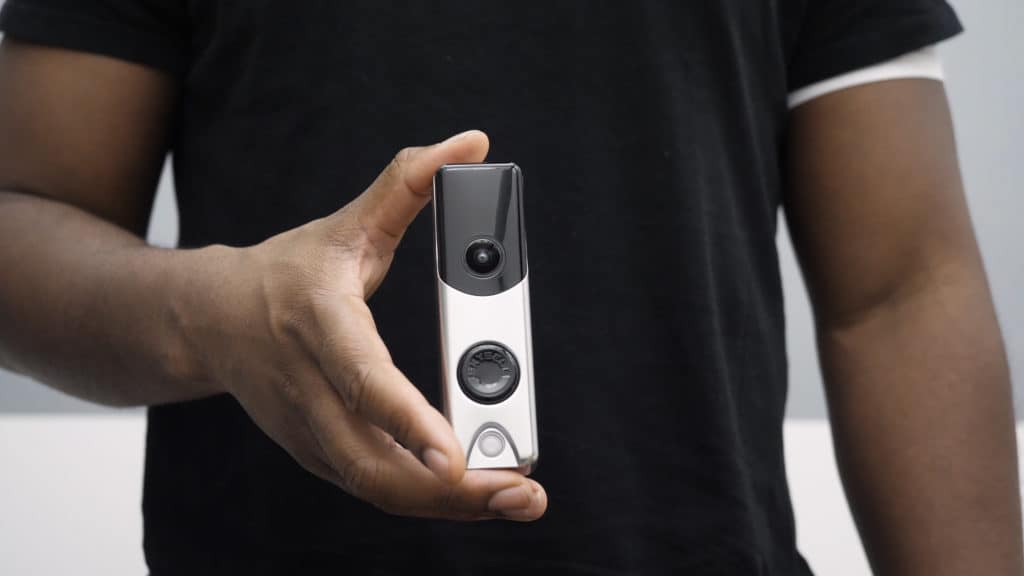 The original SkyBell doorbell, the SkyBell HD, was round and, for the lack of a better term, ugly. The company made significant strides in the design when it launched the SkyBell Slim Line. Most noticeably, the Slim Line is slim and rectangular, so it fits most door frames better than the round SkyBell HD.
That said, it's still not the most aesthetically pleasing doorbell. The camera lens has a purple hue for some reason, and the doorbell button lights up in lime green with SkyBell written across it. It kind of gives an "alien technology" vibe, and not those high-tech aliens but those slimy green aliens. Of course, beauty is in the eye of the beholder, and sometimes, beauty is not even a factor at all.
Now let's talk numbers. The Slim Line Video Doorbell works in temperatures from -40 to 140 degrees Fahrenheit. That's an impressive temperature range given that most video doorbells don't work in temperatures below minus 20 degrees. Battery-powered doorbells, in particular, don't do well in frigid temperatures.
The doorbell is wireless and has a battery life of three to five years, which is pretty long. It either records when it detects motion, when the doorbell button is pressed, or whenever you demand it to through your mobile app.
Keep in mind that the connection between your phone and your video doorbell is based on Wi-Fi, so it's only as dependable as your home internet connection.
With a battery life of three to five years, we simply installed our Slim Line and forgot it, unless we were receiving motion alerts. View on Amazon.
SkyBell Slim Line Video Doorbell Features
Design aside, let's talk about what the Slim Line can do, and what it can't.
Video
The doorbell's camera has a fantastic field of view of 180 degrees- the widest angle possible. However, that is where the video quality ends. The camera only shoots reliably in 720p HD, which is inferior to the industry standard of 1080p HD. You could set the resolution to 1080p via the app, though, but when we did, the feed lagged heavily. Plus, it can't zoom in at all even at 720p, so your footage may not be as detailed as you'd like.
Audio
Fortunately, the video doorbell does have two-way audio allowing you to speak to your visitors. Two-way audio is a standard for video doorbells, so I'm not surprised the Slim Line includes it.
Night Vision
SkyBell Slim Line also includes infrared night vision, which enables the camera to see in the dark with the help of infrared LEDs. We prefer infrared night vision over color night vision that uses bright lights to illuminate the surroundings. Being blasted by bright lights coming from a doorbell isn't exactly welcoming for guests, plus, we don't want intruders to know they're being recorded.
Storage
You'll access your footage through the Alarm.com app, discussed in more detail below. Automatically, 1000 motion-activated clips will upload to the cloud and will remain there for a month. In that time, you can download the clips to a local hard drive or have them emailed to you. For an additional $5 a month, you'll receive an additional 5,000 clips. I love the flexibility of having both cloud and local storage, so kudos to Alarm.com for providing both.
Smart Platform Integrations
The SkyBell Slim Line will not work with Amazon Alexa or Google Assistant on its own, but if you have an Alarm.com system or a compatible security system that works with Alexa, you can set up integrations through the system. It's not the most convenient setup, but it's the only option available.
Artificial Intelligence

Unfortunately, the Slim Line's camera does not have any artificial intelligence capabilities. When it comes to cameras, artificial intelligence usually refers to either person detection or facial recognition. Without A.I, you'll receive a lot of irrelevant notifications – whenever a car drives by, whenever a squirrel runs across your lawn, and even notifications from shadows. The camera can only tell you when it detects movement, but it can't go any further as to what moved or who it was.
We'd also like to point out that the Slim Line uses a PIR motion sensor, which stands for Passive Infrared. Basically, heat signatures set off the sensor, so in theory, it should only trigger when a person (or anything with body heat) moves in its view. However, since it's a doorbell camera, a PIR motion sensor isn't the best option. If your door is facing east or west, for example, sunlight can cause the sensor to trigger false alarms or worse, miss real movements. Passing vehicles, which also emit heat, could also cause false alarms. Based on our experience, person detection and facial recognition are the best technologies to use in video doorbells to cut down on false alarms.
Installing the SkyBell Slim Line Video Doorbell
To install the SkyBell Slim Line Video Doorbell, you'll first need a paid subscription with Alarm.com.  Like I said before, security systems like Brinks and Link Interactive offer this doorbell and its Alarm.com subscription, so you may already have it and not be aware of it. Aside from the subscription, you'll also need a SkyBell Digital Doorbell Adapter for your existing doorbell.
You can either have your Slim Line Video Doorbell professionally installed or do it yourself.
The Alarm.com App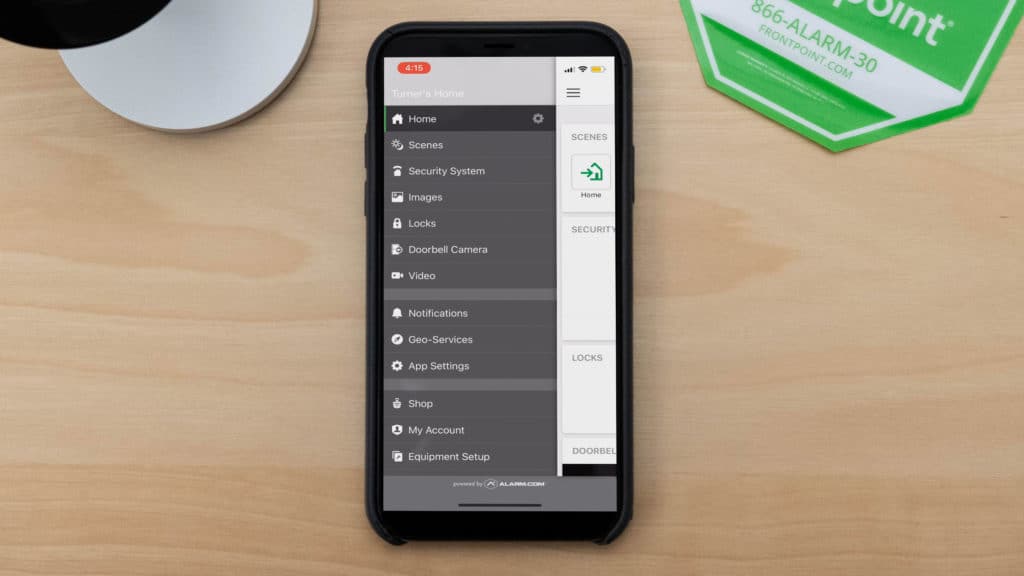 This is where things might have gotten a little confusing for you. While SkyBell does have its own mobile app, this only works for their older cameras, the SkyBell and SkyBell HD. With the Slim Line, you'll use the Alarm.com app. Let's talk about what you can do on the app and what customers think of it.
Features
Through the Alarm.com app, you'll be able to livestream footage from your doorbell camera, speak to your visitors, make the camera record, view your old footage, and turn off the camera if you want.
Reviews
Alarm.com is actually a pretty solid home security platform. Its app holds a four-star rating on Google Play and an impressive 4.7 stars on the App Store. Those reviews, though, refer to the app in general. When we looked at reviews that mention SkyBell, that's when we started to see patterns. One of the most common complaints is that notifications arrive late, up to 10 minutes according to some users. Some are also complaining about laggy live feeds and missing recordings among others.
It's important to remember that SkyBell didn't build the Alarm.com app, so the problems could be from either side. One thing is clear, though: The experience of SkyBell users with the Alarm.com app isn't always smooth, so if app access is important to you (it is to us!), that's something to think about.
The Bottom Line: Is SkyBell Slim Line Worth It?
Overall, the SkyBell Slim Line is a decent video doorbell. It has all the essential features — motion detection, live viewing, night vision, and two-way audio. It falls short when it comes to video quality, integrations, and artificial intelligence, though.
We'd like to point out that you can buy sub-$100 doorbell cameras from brands like Ring and Blink, and brands like Nest and SimpliSafe offer smart video doorbells in the $150 to $200 range. That puts the $179 Slim Line on the pricier end of the spectrum, and without advanced features to make its case, it's just not worth it as a standalone video doorbell. That said, if you own a security system powered by Alarm.com, the SkyBell Slim Line could be a good addition to your system.
The best way to avoid home invasions is to seem like you're home, and the Slim Line let us do just that. View on Amazon.
SkyBell Slim Line Video Doorbell FAQs