Vivint Doorbell Camera Review
This hardwired doorbell camera is great if you already have an existing doorbell setup.
What We Like
24/7 continuous recording is available
180 degrees field of view
Works with Amazon Alexa and Google Assistant
What We Don't Like
720p HD resolution
Requires professional installation
Continuous recording only available with the $249 Smart Drive
Bottom Line
If you already have the Vivint security system, then the Doorbell Camera will take things to the next level. You'll be able to see and speak to visitors as soon as your doorbell camera detects them or if they press the doorbell or knock, your choice!
Vivint's security cameras have always impressed us. That's why when the company launched the Vivint Doorbell Camera years ago, we jumped at the opportunity to test it immediately. Fast-forward to now, and Vivint has launched an improved version of the video doorbell, the Vivint Doorbell Camera Pro, and has done away with the original. While we haven't tested the new doorbell yet, we kept this review of the original Vivint Doorbell Camera updated to show just how ahead Vivint is when it comes to home security technology.
Editor's Rating
Can run on batteries or can be hardwired to existing doorbell setups
180-degree field of view
Requires the Vivint home security system with touchscreen panel
Is Vivint's Doorbell The Best?
We've tested dozens of video doorbells, and even though the Vivint Doorbell Camera is an older model, it's still one of the best we've tested. The question, though, is, "Is it practical?" At $250, it's expensive considering that you can buy solid sub-$100 doorbells from brands like Lorex, Ring, and Arlo. But again, if you're looking for quality build and top-shelf features, Vivint is a top choice.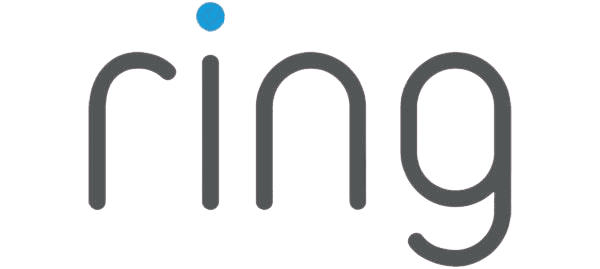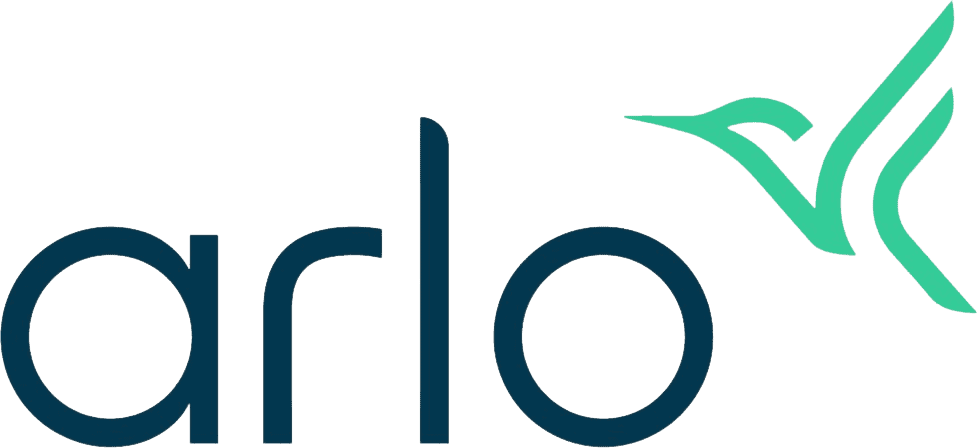 A Quick Look At The Specs
In this review, we'll go over the Vivint Doorbell Camera's design, features, and app, focusing on its camera and applying our Necessary Features Test. Let's jump into the Vivint Doorbell Camera review now!
Vivint Doorbell Camera Key Features
| | |
| --- | --- |
| Operating temperature | 14-104 degrees Fahrenheit |
| Power | Hardwired or battery |
| Battery life | 3-5 years |
| Video resolution | 720p HD |
| Night vision | Infrared |
Vivint Doorbell Camera Pros and Cons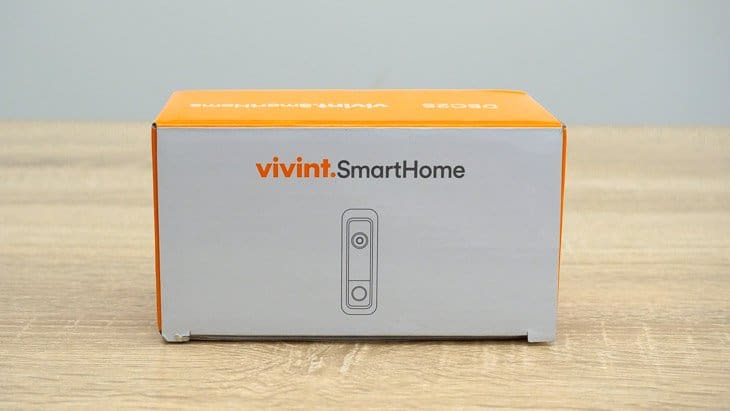 To make sure you're in the right ballpark, we're going to break down the key pros and cons of the Vivint Doorbell Camera.
First of all, we loved that we could hardwire the Vivint Doorbell Camera into our existing doorbell setup or power it using batteries, in which case, it would have a life of three to five years. In terms of features, our favorites were its person detection, which is essential for smart notifications, the 180-degrees field of view, and the Alexa and Google Assistant integrations. Also, we appreciated that Vivint had the option for the camera to record continuously, although this feature required the $249 Vivint Smart Drive, so it's both a pro and con.
Unfortunately, the camera only shot video in 720p HD, not up to the industry standard of 1080p HD. Additionally, the doorbell required professional installation. While the installation cost us nothing thanks to Vivint's free installation offer, if we wanted to move the doorbell to a different house, we would have had to pay $129 for re-installation. Lastly, adding the Vivint Doorbell Cam to our Vivint monitoring plan cost us an additional $5 per month, so it wasn't exactly affordable, especially because Vivint is already expensive. Keep in mind that when we tested the Vivint Doorbell Camera, the device itself cost us $249.99, the same price as the Vivint Doorbell Camera Pro now.
Vivint Doorbell Camera Design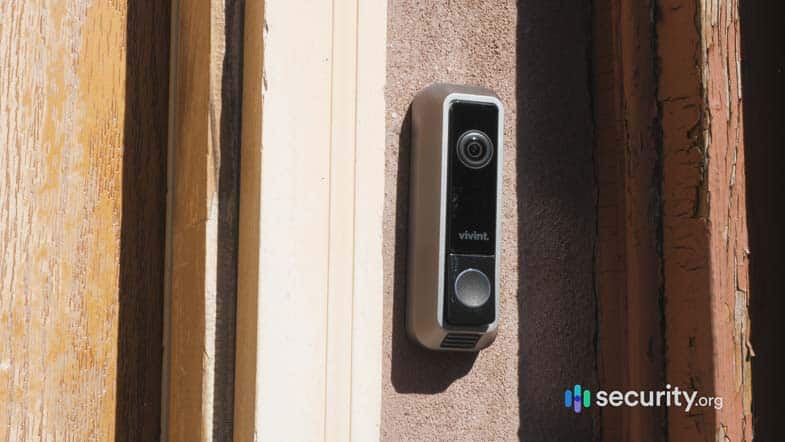 Upon first look, the Vivint Doorbell Camera wasn't the most attractive video doorbell we've seen. While we're usually fans of sleek and modern designs, the doorbell looked a bit outdated and overly detailed with the number of lines around the camera. However, it's pretty slim, measuring only 1.5 inches wide, so it fits our door frame easily. In comparison, the Ring Video Doorbell 3 we tested measured 2.4 inches wide, almost a full inch wider than the Vivint Doorbell Camera.
More than its looks, we cared about how the Vivint Doorbell Camera would adapt to outdoor conditions, such as extreme temperatures and moisture. First of all, the doorbell was waterproof, thankfully, because raindrops splash onto our front door when it rains. Secondly, the Vivint Doorbell Camera could operate in temperatures between 14 to 104 degrees Fahrenheit. Now, if you live in an area that gets below 14 degrees Fahrenheit in winter regularly, we don't recommend the Vivint Doorbell Camera. Otherwise, the Vivint Doorbell Camera is a sturdy little doorbell.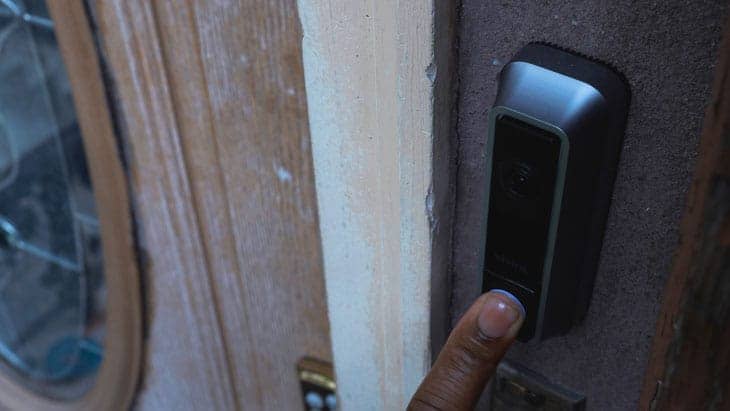 Another advantage of the Vivint Doorbell Camera? You can either hardwire it into your existing AC or DC doorbell set up or use a battery. If you choose the latter, the battery will last a whopping three to five years, which is a really long time, and Vivint's app will alert you when the battery gets low. Keep in mind, though, that a number of different factors can affect the doorbell's battery life, such as the amount of activity it detects, frigid temperatures, and how often it records or live streams. We chose to hardwire the doorbell camera, which meant that we didn't have to worry about it getting low on battery.
Vivint Doorbell Camera Features
When testing security cameras and video doorbells, we use the Necessary Features Test to test categories such as video, audio, night vision, and more. How did the Vivint Doorbell Camera stack up?
Video Quality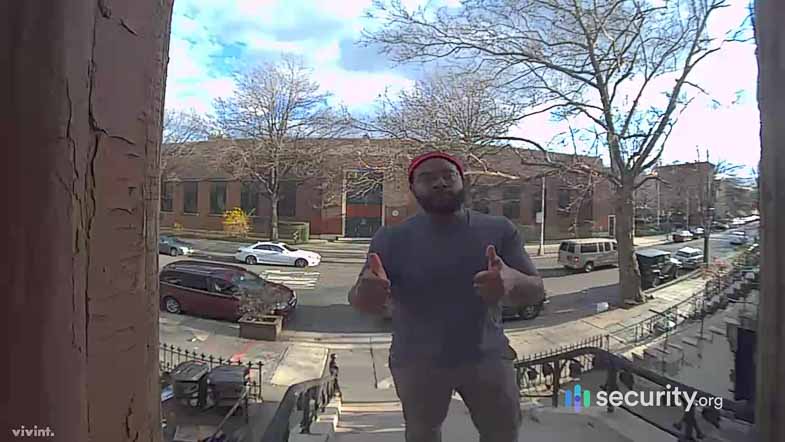 Right off the bat, we're disappointed that the Vivint Doorbell Camera only had 720p HD, less clear than the current industry standard of 1080p HD. However, we did like that we could zoom in and pan digitally, plus the camera's field of view was the widest possible at 180 degrees. It captured our entire doorstep and then some.
Now, if you're looking for something similar to the Vivint Doorbell Camera but with better video quality, Vivint came out with the Vivint Doorbell Camera Pro. It has a 1080p HD resolution, a 180-degree field of view, and zooming and panning abilities. Also, you might want to check out video doorbells from other brands. We recommend reading our review of the Nest Doorbell, which is a sleek-looking video doorbell with an impressive video quality plus person detection, just like the Vivint Doorbell Cameras.
Audio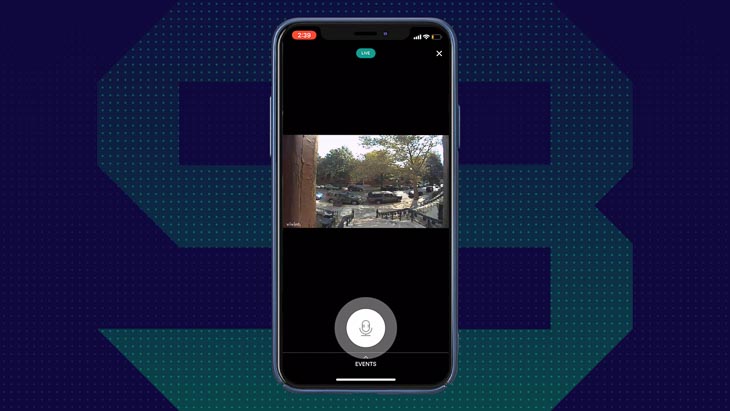 Naturally, the Vivint Doorbell Camera had two-way audio so we could speak to our guests as well as see them through the Vivint app, a standard feature for video doorbells. The audio quality was okay; we could hear our guests and they could hear us. However, the doorbell didn't have noise cancellation, unlike some of Ring's budget-friendly video doorbells, so it got hard for us to hear our guests when cars passed by. Since our Brooklyn apartment's front door is only a few feet from the street, we had trouble communicating with guests at times.
Night Vision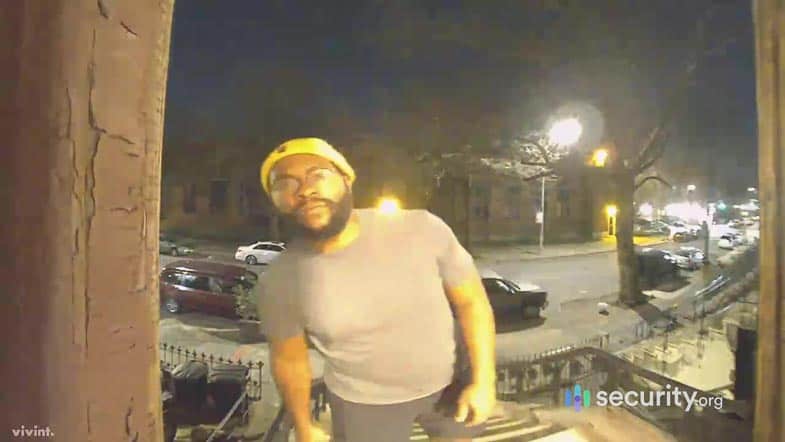 The camera also has infrared night vision from two LED sensors, which we really prefer over color night vision from a bright white light. Infrared is a lot less conspicuous, which, when we were recording people at night, was clearly a good thing. Another commendable thing about the Vivint Doorbell Camera was its ability to pick up images even in low-light conditions. As you can see in the picture above, it managed to capture the face of our Chief Editor, Gabe, with the help of streetlights and the faint indoor light emanating from our decorative door glass.
Storage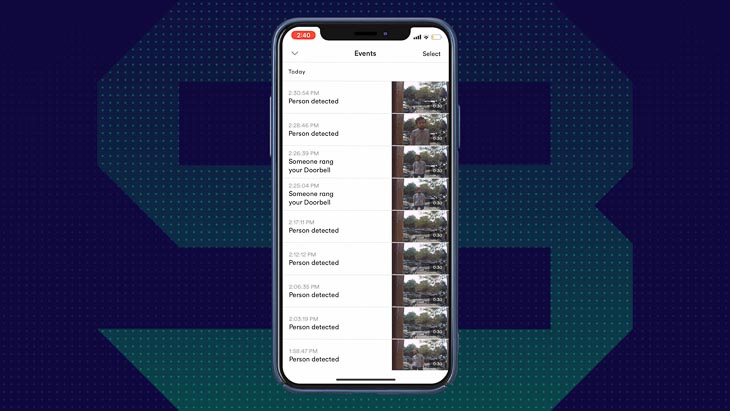 When it comes to any home security camera, be it in a doorbell or otherwise, we want to make sure we're backing up our footage in at least two ways. That way, if one of the ways fails, we have a fallback. Although the Vivint Doorbell Camera lacked a micro-SD card slot for direct local storage, Vivint let us store 30-second event clips in the cloud for 14 days. It cost us $5 per month for each camera. That was on top of the $39.99 a month we were paying Vivint for professional monitoring. You can learn more about Vivint's monitoring plans here.
Now, if you're looking for local storage, which you can use as a backup to cloud storage, you can invest in a $249 Vivint Smart Drive. The advantage of the Vivint Smart Drive is that it can store videos for up to 30 days, and instead of just event videos, it records continuously. It connects to Vivint cameras over Wi-Fi, so it's wireless, and you can also transfer video files to computers wirelessly for longer storage.
Smart Platform Integrations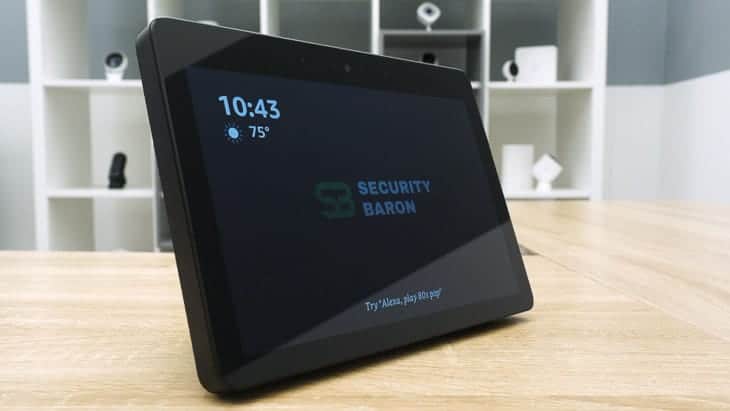 As we've detailed in our Vivint security system review, the entire Vivint system, including the Vivint Doorbell Camera, works with Alexa and Google Assistant. One of our favorite features included in these integrations was the ability to live stream footage on our smart TVs or displays. We could simply say "Alexa, show me the doorbell camera," or "Hey Google, show the front door camera on the living room TV," whenever we wanted to check our front door without getting up.
We tested these voice commands when we reviewed the Echo Show 8 as well as when we wrote the Nest Hub review and the Nest Hub Max review. It is thanks to these integrations that we named Vivint one of the best Alexa security systems and the best Google security systems.
Artificial Intelligence

Doorbell cameras are fun to use and all until you start receiving lots of false motion alerts from cars, animals, and other moving objects. One thing we loved about the Vivint Doorbell Camera was that it came with person detection built-in, meaning it could tell the difference between people and other moving objects. Thanks to this feature, we only received motion alerts when there were people at our door. That led to fewer but more important notifications, which made our life a lot easier, especially since we live on a moderately busy Brooklyn street.
Video Review
To gain a better understanding on how the Vivint Doorbell Camera stands out, check out this video review we made.
Vivint is known for its top-of-the-line devices and the Vivint Doorbell Camera is no exception. Get yours today.
Installing the Vivint Doorbell Camera
Unlike video doorbells from brands like Nest and Ring, you can't just walk into a store to buy a doorbell camera from Vivint, whether it's this Vivint Doorbell Camera or the newer Vivint Doorbell Camera Pro. Rather, you need a Vivint security system to go with the doorbell, or if you already have a Vivint system, you need to buy the doorbell camera from Vivint directly. Either way, Vivint requires professional installation, which is now free, but it used to cost $129.
The installation process was extremely professional. We scheduled a date, the technicians arrived and proceeded to install our Vivint system and video doorbell. After that was done, they gave us the chance to ask any and every question we had about the system. They even left us a direct number that we could call if we had additional questions or concerns moving forward. Installing a video doorbell doesn't get easier than that.
The Vivint Smart Home App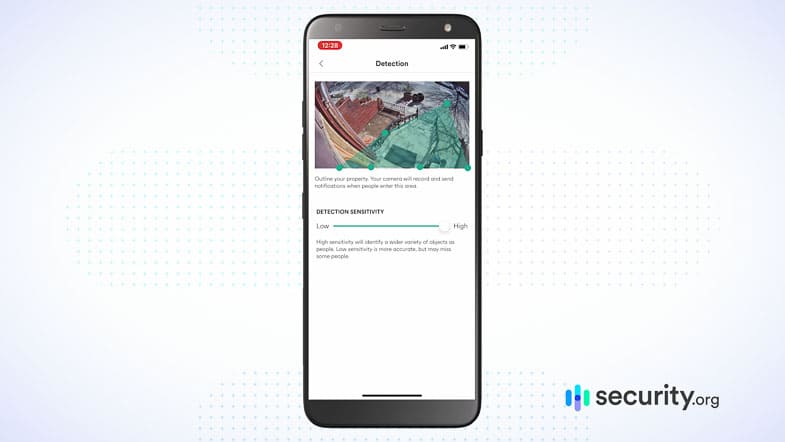 Aside from the Vivint touchscreen control panel, our main access to the Vivint Doorbell Camera was through the Vivint Smart Home app. It was through this app that we talked to visitors at our door, monitored event clips that our doorbell camera recorded, and tinkered with our camera settings. It was super convenient to use; whenever someone rang our doorbell, we received a notification on our phone. From there, we simply tapped the notifications to pull up a live video and audio feed from our doorbell camera. It's no wonder that the Vivint Smart Home app has one of the highest ratings among home security apps. Currently, it holds a 4.4-star rating on the Google Play Store and a 4.6-star rating on the App Store.
See how Vivint stacks up against the competition
Wondering if Vivint is right for you? We squared it up with the best systems available to help you make a smart decision.
Recap of the Vivint Doorbell Camera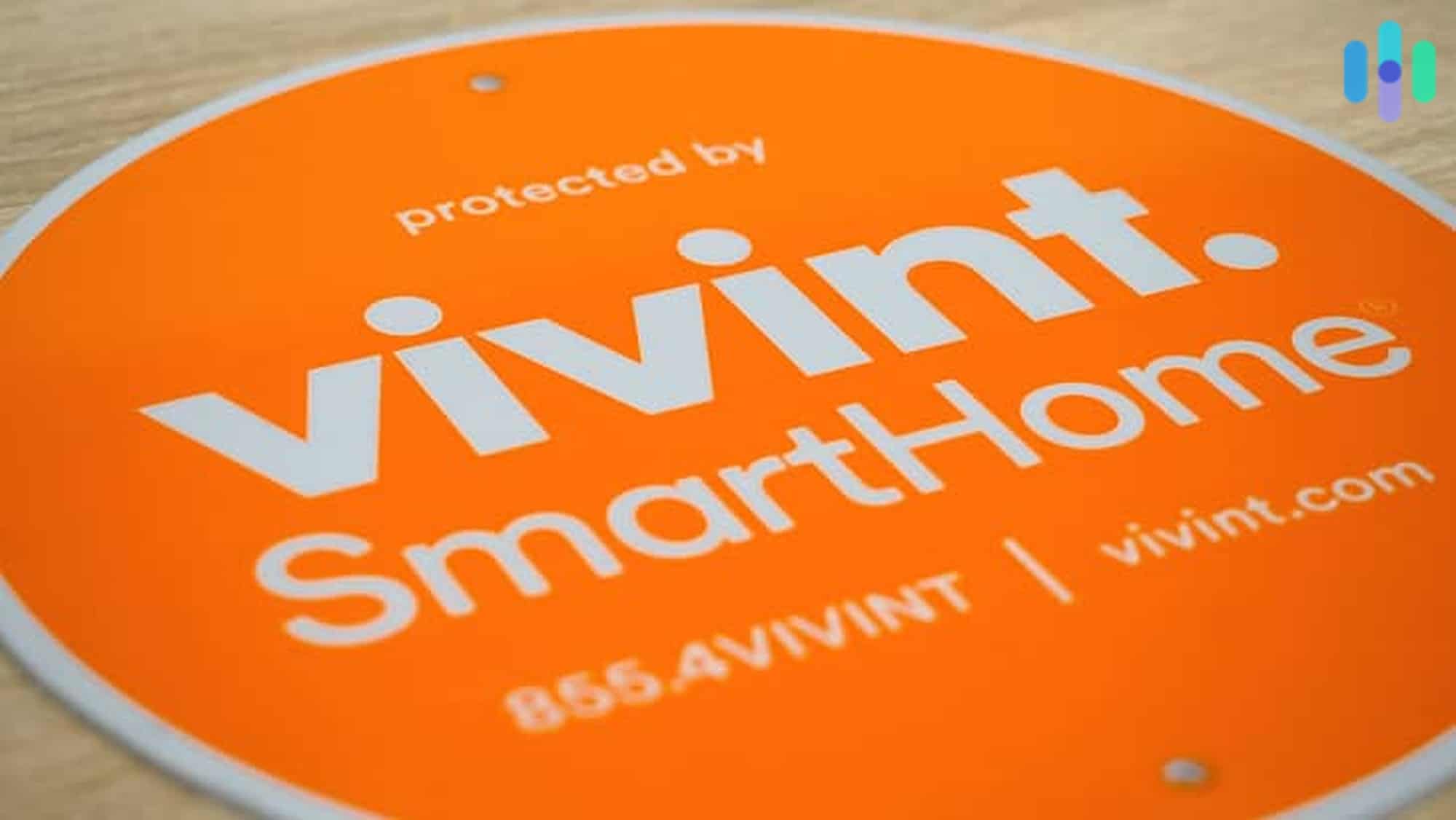 The Vivint Doorbell Camera was and still is one of the best video doorbells that integrate with a security system directly. Unfortunately, Vivint no longer sells this model, but the good news is, the company replaced it with the Vivint Doorbell Camera Pro.
For the same $249.99 price, the Doorbell Camera Pro offers all the good features of the Vivint Doorbell Camera— person detection, a 180-degree field of view, cloud and local recording options, and infrared night vision. The Doorbell Camera Pro also improves on the older video doorbell's video quality, now offering 1080p HD resolution with HDR. And instead of just person detection, it can also detect package deliveries to prevent package theft. If you have a Vivint system or are planning to get one, the Vivint Doorbell Camera Pro is an excellent choice to go with it. The free professional installation doesn't hurt either!
However, if Vivint's doorbell cameras don't tickle your fancy, you can always go with another brand. If you do, you'll need to monitor your video doorbell using its own app instead of the Vivint Smart Home app, but at least you'll get your pick of features. To learn more about other options, find the best video doorbell camera for your home.
Since Vivint offers professional installation only, we didn't have to lift a finger to get the Vivint Doorbell Camera up and running. Schedule your appointment.
Vivint Doorbell Camera FAQs
How much is the Vivint Doorbell Camera?

The Vivint Doorbell Camera used to cost $249.99 when Vivint was still selling it. The newer model, Vivint Doorbell Camera Pro, also costs $249.99.

Does Vivint have a doorbell camera?

Vivint does have a doorbell camera. The first doorbell camera Vivint released was the Vivint Doorbell Camera, but it soon replaced it with the Vivint Doorbell Camera Pro. The features are the same, but the Doorbell Camera Pro has a 1080p HD resolution, better than the Vivint Doorbell Camera's 720p HD resolution.

Can I use a Ring doorbell with Vivint?

Unfortunately, you can't use a Ring doorbell with Vivint.