Can You Have A Home Security System Without A Landline?
Home security systems have used landlines for decades, but as technology evolves, so do alarm systems.
All of our content is written by humans, not robots.
Learn More
When was the last time you asked for a person's landline number? Exactly. Landline usage in the U.S. is declining. But what does that mean for landline-reliant home security systems? Can you have a home security system without a landline? We get those questions a lot, so we decided to answer them here once and for all.
Can You Have A Home Security System Without A Landline?
The short answer is yes, you can have a security system without a landline. Only 40 percent of adult Americans have a landline, so alarm companies came up with more modern alternatives: cellular, internet, and VoIP security systems.1 And truth be told, you won't have to look far for landline-less home security options, as our top-pick alarm companies offer those. You can see those here:
How Security Systems Without Landlines Work
Essentially, these landline alternatives work the same way as landline-based security systems. They detect threats, like break-ins or fire, using sensors. If something goes amiss, these sensors report to a control panel, which then alerts the alarm company's monitoring center. Now, that's where each system differs. Landline systems use landlines to transmit the alert, while cellular, internet, and VoIP systems each use a different mode of communication.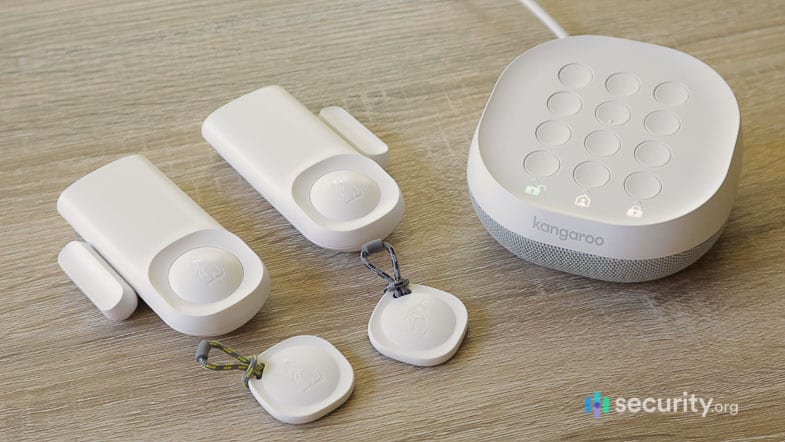 Cellular: Cellular alarms use a cellular signal, the same wireless signal that mobile phones use.
Internet: Internet security systems transmit alerts through the web via Wi-Fi or Ethernet, so an internet connection is required.
VoIP: VoIP security systems utilize the user's VoIP service. However, not alarm companies with VoIP systems don't support all VoIP services.
Pros and Cons of Landline, Cellular, Internet, and VoIP
Each type of system has its pros and cons.
Landline
Pros
Low monthly monitoring cost of $10 to $30
Reliable
Works in any home with a landline
Cons
Requires professional installation
Slower alarm transmission
Vulnerable during landline outages
Landline systems are the cheapest of the bunch, with monitoring plans from $10 to $30 a month. They're also quite reliable, which is why they're still in use. However, landline systems have some glaring vulnerabilities. For instance, if the landline is cut, whether intentionally or due to inclement weather, the alarm will stop working. Landlines also transmit slower alerts because the signal has to pass through miles of landline wires, whereas digital channels like cellular and internet are known to transmit signals almost instantly.
Cellular
Pros
Wireless
Easy installation
Home automation and remote access
Cons
More expensive monitoring plans ($40 to $60)
Cellular signal could be subjected to interference
Higher maintenance for battery-powered sensors
The biggest advantage of cellular is that it's wireless. There are no wires to cut, so it's harder for criminals to disable the system. Cellular systems also support features like home automation and remote access, which landline systems don't. However, cellular monitoring plans typically cost more than landline monitoring by at least $10 a month.
Internet
Pros
Security cameras
Home automation
Fast alarm transmission
Cons
Prone to internet outages
More expensive equipment
Higher monthly rates for professional monitoring ($40 to $60)
Over 85 percent of U.S. households have an internet connection, and security systems can use that very same connection to transmit alerts.2 Not only is the internet faster than landline, but it also enables features like video monitoring through security cameras and home automation. However, power and internet outages are common in the U.S., with dozens of ISP outages each month.3 Without both, internet-dependent security systems won't work. To avoid that vulnerability, some security systems use battery and cellular backup.
VoIP
Pros
Works with some landline security systems
Cheaper than landline
Fast alarm transmission
Cons
Not all VoIP services are supported
May require professional installation
Stops working when power is out
VoIP security systems are the least common type of system. For one, not all alarm companies support VoIP. Also, those that do don't support all types of VoIP services. Still, it's a cheaper landline alternative that transmits alert signals as fast as internet and cellular systems.
What We Recommend
Weighing the pros and cons of each type, we recommend cellular as the best landline alternative. For starters, it's wireless and thus more secure. Landline, internet, and VoIP services all have some wires, so all it takes to defeat them is a $5 pair of wire cutters. And another thing: you don't need extra subscriptions to get a cellular system. No landline, no internet, or no VoIP? No problem!
Pro Tip: Some alarm companies with landline or internet systems offer cellular backup for an extra fee. With cellular backup, the system still uses landline or internet to transmit alerts, but will switch over to cellular during outages.
Landline vs. Cellular— How They Stack Up
Now that we've established that cellular is the best landline alternative, you're probably wondering how cellular stacks up against landline. Here's a quick side-by-side comparison.
Cost
Landline monitoring: $10 to $30 per month
Cellular monitoring: $40 to $60 per month
Alarm companies charge less for landline monitoring than cellular monitoring. However, landline systems require a landline service. With the average landline cost sitting around $40 per month, the overall long-term cost of cellular monitoring is still lower.4
Installation
Traditional landline systems have wires (lots of them!) and because of that, professional installation is often required. In contrast, most cellular systems are wireless, so they're easier to install even by yourself, making them perfect security systems for renters.
Installation 101: Most alarm companies charge for professional installation, so DIY installation is often more economical.
Alarm Signal Transmission
Landline: Alarm signals travel through copper landlines which can be cut or affected by external factors like inclement weather
Cellular: Alarm signals travel wirelessly through cellular airwaves, sometimes even reaching 4G/LTE speeds
In terms of speed, it's not even a battle. Cellular is faster than landline. Just imagine how quickly it takes a text message to reach a friend's phone versus how long it takes for a telephone call to connect. In a burglary, those few seconds difference can greatly affect the outcome. According to studies, a burglar can get in and out of a house in less than 10 minutes, but of that amount of time,they only need one minute to break in.5
Reliability is another factor. Landline security systems send alerts through copper landline wires. If those lines were damaged, the signal might not even reach the monitoring center. With the diminishing state of landline infrastructure in the U.S., it's wiser to choose a more reliable technology such as (you guessed it!) cellular.6
What Features To Expect From Security Systems Without Landline
Before you make the switch to cellular, it's best to know what to expect from a cellular system. Here are some of the most useful features of cellular systems: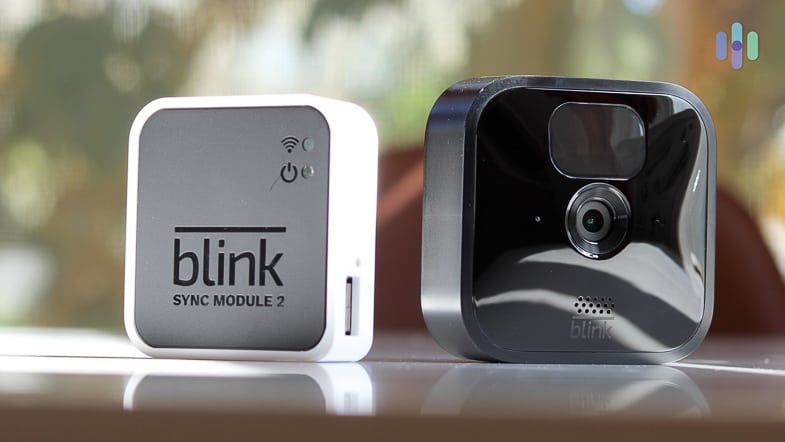 Wireless— Who doesn't hate having wires running through their house? With wireless cellular systems, wire management isn't a problem. And on top of that, burglars can't disable the system by cutting the wires, simply because there aren't any.
Home Automation— You could turn your home into a smart home by connecting smart lighting, smart locks, and thermostats to your security system. And it's not just for convenience. Home automation can improve security, for instance, by setting your door to lock whenever you arm your security system.
Remote Access— Cellular security systems often have a companion app that serves as your control center when you're away. These apps let you arm your system remotely, so if you forget to arm your system, no problem! You could just arm it with your smartphone.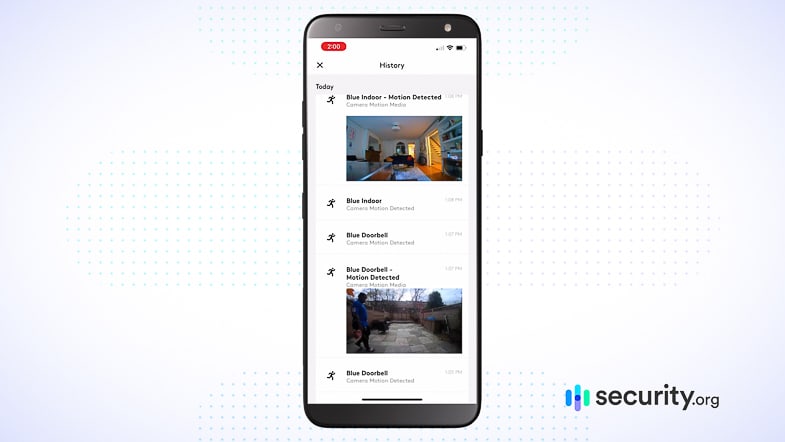 Mobile Alerts— Similarly, cellular systems can send real-time alerts straight to your smartphone through text, call, email, or push notifications. These alerts can help you assess the situation before getting a call from the monitoring center, speeding up the response time.
Security Cameras— Cellular systems work with security cameras to give you a visual link to your home. Cameras can also store video evidence in case of a break-in and help speed up police response via video verification.

7
What To Look For In Security Systems Without Landline
Not all cellular systems are created equal, however, so before getting one, you must know what features to look for. Our home security systems guide can help you with that, but if you're in a hurry, here's a quick checklist of what to look into: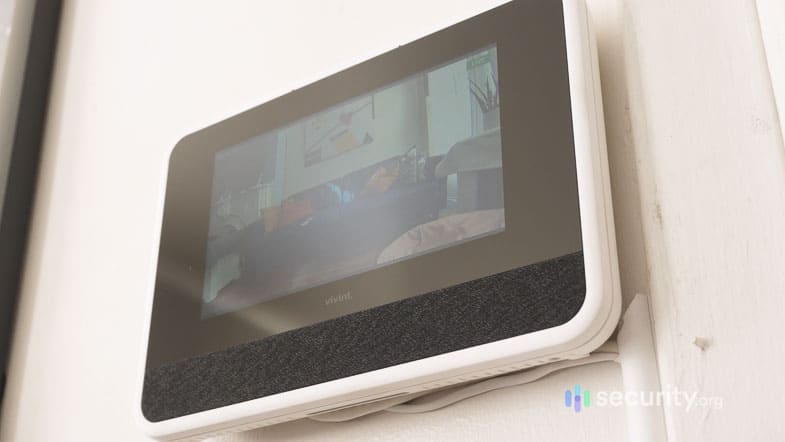 Professional monitoring
Security sensors
Security cameras
Home automation
Video monitoring
Monitoring contract length
Upfront and monthly fees
Professional or DIY installation
How To Switch To Cellular Alarm Monitoring
Once you know what to look for, the natural next step is security system shopping. So how do you switch to a cellular system? If you're looking to get a new security system, simply look for an alarm company that offers cellular monitoring. We recommend choosing only from the best cellular systems. Once you've found the right company, you'll need new equipment and a professional monitoring contract. If you have an existing landline system, you probably won't need to buy a new system. Rather, your alarm company might be able to convert it to a cellular system. If they can't, find another company that can and ask them to take over the monitoring. If that doesn't work either, only then should you get a new system.
FYI: If you have an existing monitoring contract, you might need to buy it out if you want to switch companies.
Can Cellular Security Systems Be Jammed?
All wireless signals can be jammed, so yes, it's possible to jam cellular systems. But is it plausible? No. For one, jamming devices are illegal, hard to obtain, and expensive.8 It also requires technical knowledge to use a jammer on a security system. Burglars would rather just pick up a rock and smash a window than use a jamming device. Also, according to the FBI's 2019 crime report, 90 percent of burglaries involved forced or unlawful entry.9 And of the remaining 10 percent, 6.5 percent were failed attempts of forced entry. Break-ins that involve jamming devices and other forms of technology are so rare that the FBI doesn't even track them.
Recap
With landline having clearly lost its edge over more modern technologies like cellular and the internet, it's time to reconsider our choices regarding security systems. You can have a security system without a landline. In fact, choosing cellular or internet over landline might bring you more benefits, such as home automation and remote access. If you're ready to switch to a non-landline security system, check out our review of the best security systems. There you'll find cellular and internet systems, as well as a few landline systems, that we recommend.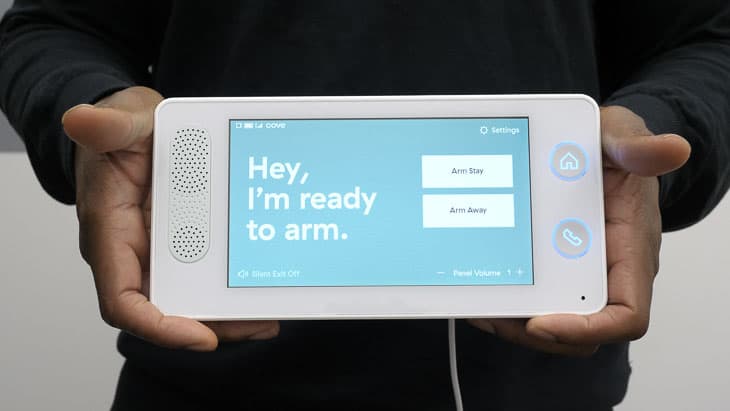 Frequently Asked Questions
In case we missed anything, here are some of the most frequently asked questions about landline and non-landline security systems (and our answers to them, of course).