Allstate Identity Theft Protection Review
Is your identity in good hands with Allstate?
What We Like
90-year reputation
Digital Footprint monitoring service
Social media monitoring
What We Don't Like
Only uses one credit agency
Provides no credit reports or scores
Doesn't specify how identity monitoring works
Bottom Line
From their user-friendly iPhone app to their affordable pricing, IDNotify satisfied in terms of their comprehensive credit and identity monitoring. From social networks to court records, we felt protected with a subscription from IDNotify.
On paper at least, Allstate seems like a natural fit for identity theft protection. After all, they've been protecting houses and cars for over 90 years. When it comes to protecting identities, though, they're still relatively new to the game. Does all that history mean they've hit the ground running, or are they still struggling to find their footing? Read on to find out.
Monitoring Features
| | |
| --- | --- |
| Dark web monitoring for individuals | $9.99-$17.99/month |
| Dark web monitoring for families | $18.99-$34.99/month |
| Personal information leak alerts | Yes |
| Email address leak alerts | Yes |
| Credit card information leak alerts | Yes |
Editor's Rating
Family, individual, and business plans available
30-day free trial for all personal plans
Monthly contracting
Where Allstate Stands In The Market
Allstate offers reliable identity theft service, but it's still lacking in some areas. One of the things we noticed was its lack of three-bureau credit monitoring, an important feature we saw from our top three identity protection services below: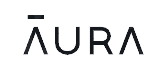 Features
On the surface, Allstate Identity Theft Protection covers all the areas a good identity theft protection service should, offering the most important features we list in our identity theft protection guide. These include financial monitoring, identity monitoring, and social media monitoring. However, upon closer look, their coverage was spotty, especially for financial monitoring. Below, we break down just what they offer in each category.
Financial Monitoring
Allstate Identity Protection monitored our financial activity across a number of key categories.
Credit monitoring: Allstate did monitor our credit using one of the big three consumer credit reporting unions, TransUnion, and they sent us alerts when they noticed any suspicious activity or unusual changes. However, most companies use all three services, including Experian and Equifax, so we were a bit disappointed.
Student loan monitoring: Allstate kept up with our student loan activity, making sure that no one decided to run up our tab. Good thing, too, since it's high enough as it is.
Credit card monitoring: Once we entered all of our credit card information in our dashboard, Allstate sent us alerts about any unusual purchases.
Bank account monitoring: Allstate also kept an eye on all of our bank accounts, looking for large or uncharacteristic withdrawals.
401(k) monitoring: Retirement funds are the last thing we want anyone messing with. Luckily, Allstate had these covered too, making sure no one made any early withdrawals.
High-risk transaction monitoring: Finally, as a catchall, Allstate promised to be on the lookout for any transactions that seemed risky or out of character across all of our various financial accounts.
Allstate monitored all of these areas and sent us alerts if they noticed a problem, but they didn't actually provide us with credit reports or scores as most identity theft services do. These scores can be helpful when it comes time to apply for loans or credit cards, so we were pretty disappointed not to have access to this information.
Pro Tip: It is best to keep track of all three of your credit scores, since different creditors will report different information to each bureau. Knowing your scores with all three major credit bureaus makes you less likely to miss any problems.
Identity Monitoring
Allstate monitored our identity, promising to keep track of any identifying information we gave them, including Social Security numbers, driver's license numbers, birthdates, and addresses. They noted any suspicious activity anywhere on the web, with their service specifically including dark web monitoring. The dark web is where most stolen data is bought and sold, so Allstate constantly scanned these sites to make sure our data never came up in anyone's checkout cart.
Social Media Monitoring
This feature was only available with a Premier subscription, but it allowed us to keep track of our social media accounts. Basically, Allstate scanned our LinkedIn, Twitter, Facebook, and YouTube accounts regularly, alerting us if anyone posted anything offensive in connection with our accounts. They also alerted us in the more serious case that anyone managed to take over our accounts altogether.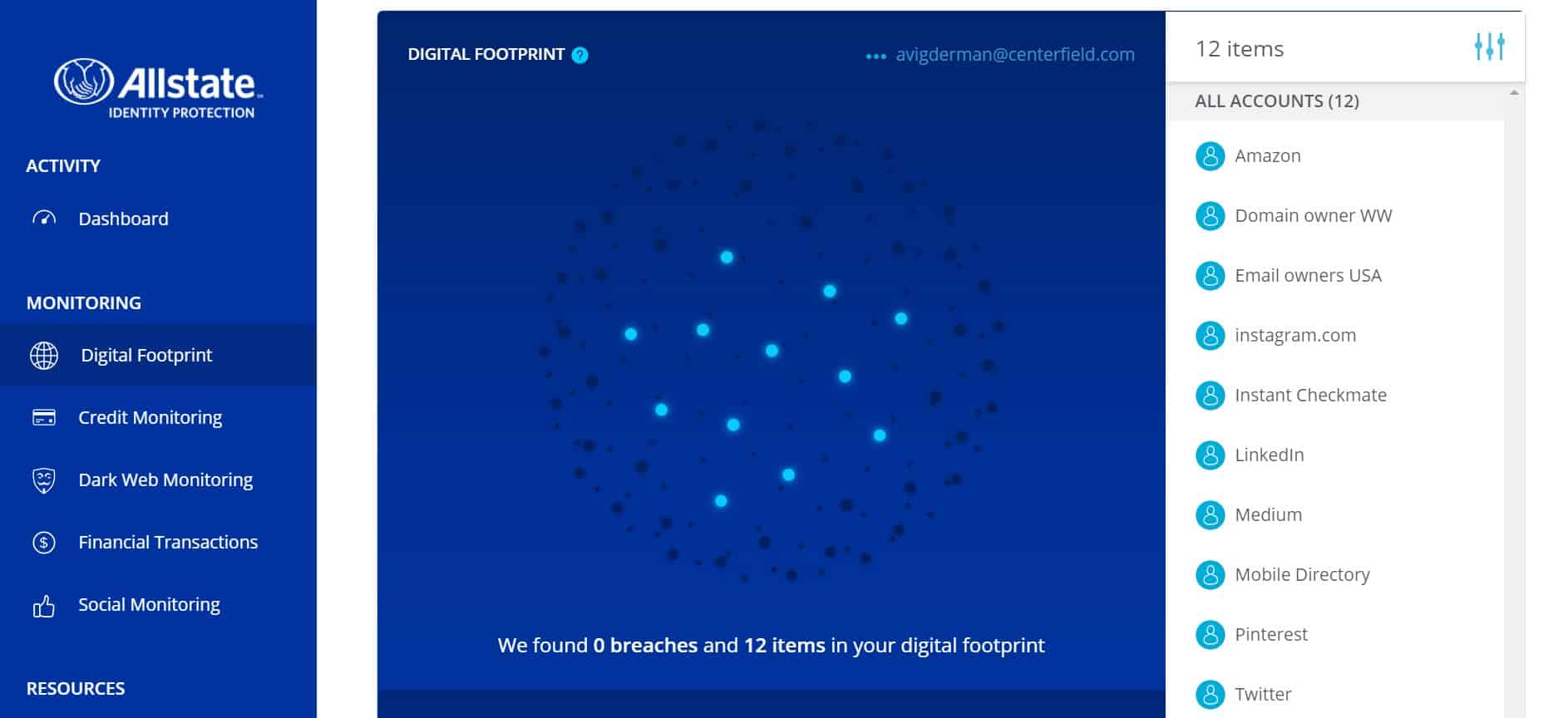 Digital Footprint
Allstate's Digital Footprint monitoring feature scanned the web for every account listed in our names, from bank accounts to Amazon to Pinterest. They managed to find our accounts whether we remembered opening them or not. For instance, they uncovered a savings account we started back when we were 7 and had completely forgotten about. (It had only $6.37 in it, but it was still exciting.) They let us know if any of these accounts had ever been breached. Once we knew about all our accounts, it was much easier to manage them all.
FYI: It's no surprise that Americans often lose track of what accounts they have open. According to a survey by NordPass, 7 in 10 Americans have at least 10 online accounts that require passwords, and 2 in 10 have over 50.1
Full-Service Remediation and Insurance
Of course, all this monitoring was great, but we wanted to know what Allstate would do for us if we actually had a serious problem. It turned out that Allstate Identity Protection came with full-service assistance that would cover any instances of identity theft or stolen funds. This assistance included:
Account professionals: Allstate's experts handle cases of identity theft from start to finish. This can include contacting the police and even recovering stolen funds.
Stolen funds reimbursement: Allstate offers reimbursement of up to $50,000 on any stolen funds.
Out-of-pocket reimbursement: The company also provides up to $1 million reimbursement for any out-of-pocket expenses incurred as a result of identity theft.
Tax refund coverage: Allstate replaces tax refund money immediately if a check is stolen.
Lost wallet services: Finally, Allstate helps cancel credit cards and replace IDs and documents in the event of a lost or stolen wallet.
The Allstate Dashboard
The Allstate online dashboard was easy and straightforward. The homepage featured three boxes showing our identity health, a summary of our Digital Footprint, and all our current alerts. We liked having all the important information right up front in plain English the moment we signed on. On the left-hand side of the page was a menu listing additional items to explore. This included links to:
Digital Footprint
Credit monitoring
Dark web monitoring
Financial transactions
Social media monitoring
Most of these items needed to be set up before we could really use the service. For example, we needed to tell Allstate where we had social media accounts before they could start monitoring them. But the site prompted us to go through these processes the first time we signed on, and they took less than five minutes to complete.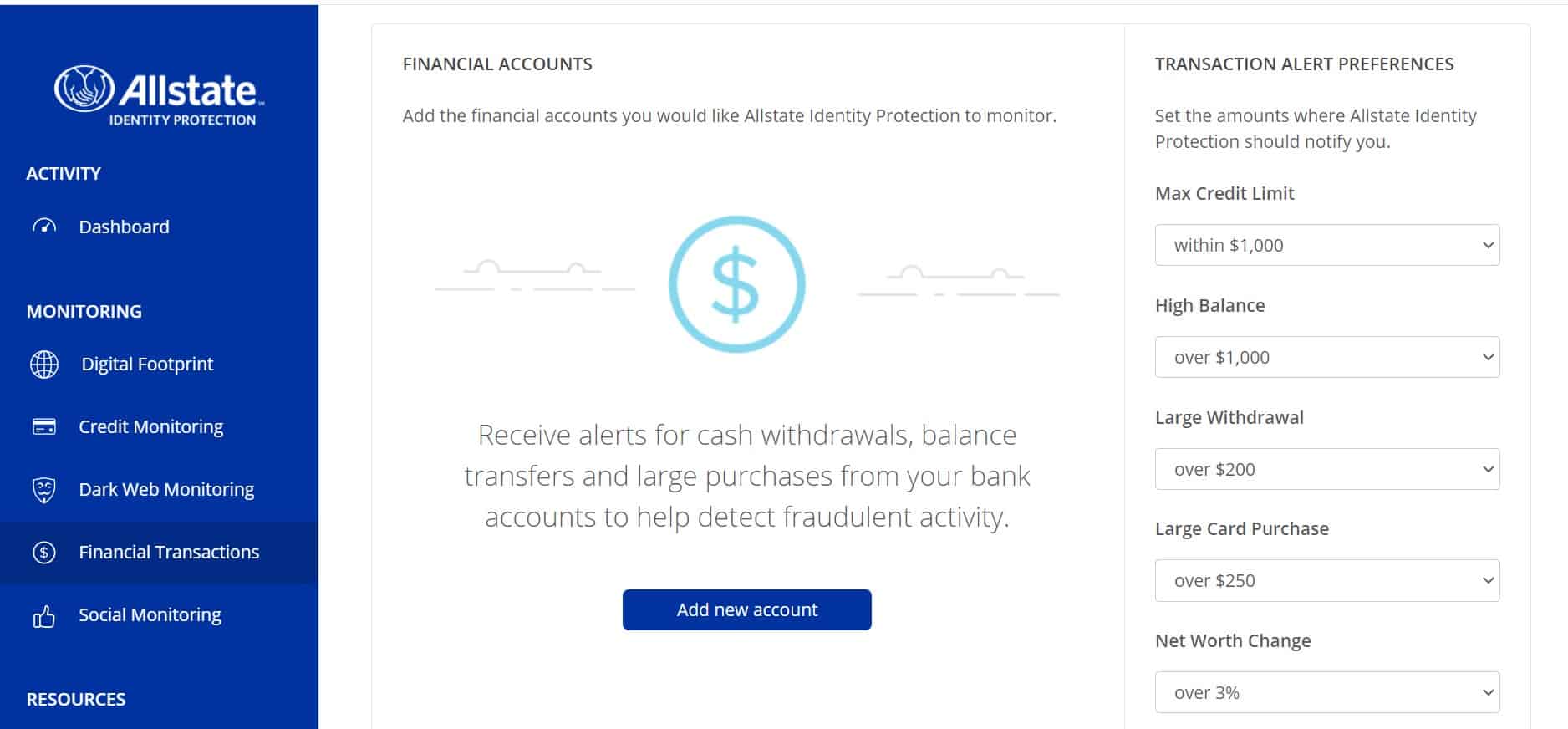 We also had the option to tinker with some of the settings. For instance, we set the financial transaction monitor so that we received alerts only for charges to our account over $1,000. After all, we don't need to get emails every time we buy a gallon of milk.
The account settings were just as easy to adjust. We found a link in the upper right-hand corner of the homepage that took us to a complete rundown of our settings. Most of these settings were pretty straightforward, allowing us to change information like our email and our password. There was also an option for how to get alerts: email, text message, or both. We like plenty of warning when there's a problem, so naturally, we chose both.
Allstate's Apps
Allstate's mobile apps are a little confusing. They have the Allstate Identity Protection (AIP) app for both Android and iOS devices. While this app is free to download, you have to have a paid plan to use it. As soon as you open the app, you're prompted to sign in to your account. In general, we found it easy to use when we wanted to quickly check status updates and get alerts. However, we couldn't actually do much about any of this information without logging on to a computer. In addition, Allstate doesn't seem very committed to this app, as they rarely update it, so it wasn't super helpful overall.
Privacy Policy
We also took a peek at Allstate's privacy policy. According to this page, they collected our:
Names, addresses, and other important identifying information
IP addresses
Browsing histories
Allstate says they don't sell any of this information, though they do share it with business partners and third parties involved in their monitoring processes. Typically, a policy like this means Allstate might let us know of good deals we can get on associated services, but there's no real reason they should be collecting our browsing histories, which can be rather personal.
The Cost of Allstate's Protection
Allstate's Identity Theft Protection can be purchased at two different levels, Essential and Premier. In addition, Allstate offers family identity protection on either plan, featuring coverage for up to four additional family members total. Allstate also has a free mobile app and advertises its Digital Footprint monitoring feature as a free service available on the app.
| | Free | Essentials Individual | Essentials Family | Premier Individual | Premier Family |
| --- | --- | --- | --- | --- | --- |
| Monthly price | Free | $9.99 | $18.99 | $17.99 | $34.99 |
| Number of credit bureaus monitored | 1 | 1 | 1 | 1 | 1 |
| Credit score monitoring | Yes | Yes | Yes | Yes | Yes |
| Additional financial monitoring (bank accounts, student loans, 401(k), credit cards) | Yes | Yes | Yes | Yes | Yes |
| Digital Footprint monitoring | Yes | Yes | Yes | Yes | Yes |
| Dark web monitoring | Yes | Yes | Yes | Yes | Yes |
| Social media monitoring | No | No | No | Yes | Yes |
| Full-service remediation | No | Yes | Yes | Yes | Yes |
| Stolen funds reimbursement (up to $50,000) | No | Yes | Yes | Yes | Yes |
| Out-of-pocket expense reimbursement (up to $1 million) | No | Yes | Yes | Yes | Yes |
| Tax fraud advance | No | No | No | Yes | Yes |
| Lost wallet assistance | No | Yes | Yes | Yes | Yes |
| Solicitation reduction | No | Yes | Yes | Yes | Yes |
Family Coverage
Finally, for an additional charge, we had the option to upgrade our plan to include up to four family members — a spouse and/or minor children. While we don't have children ourselves, we'd definitely recommend this upgrade to all of our friends who do. Child identity theft is on the rise; more and more hackers are hunting for children's Social Security numbers, since their credit is usually clean. We should mention, however, that many family identity plans on the market offer coverage for two adults and up to 10 children, so Allstate is only a good choice for families with either a single parent and three kids, or two parents and two kids.
Bundling Discounts
We could have also saved money on Allstate's Identity Theft Protection if we used Allstate for our other insurance needs. The company offers a whole host of services, including home, auto, and even pet insurance. Allstate encourages customers to bundle these services and offers discounts to those who do.2 It's impossible to know just how much we might have saved without contacting an agent first, but we like discounts and we're not afraid to say it.
Recap
We'd rate Allstate Identity Protection as a fair identity theft service, with typical features such as credit monitoring, identity monitoring, and social media monitoring. We were also intrigued by their Digital Footprint tracker. However, we don't trust their financial protections. The company only uses one credit bureau rather than the standard three to monitor credit, and they don't provide users with any credit reports or scores. In addition, their privacy policy left us uneasy, and their family plans don't cover nearly enough family members compared to their competitors.
In the end, Allstate is a big name, but they'll have to shore up some of these weaknesses if they want to impress us. If you're looking for identity theft protection, we'd suggest checking out our list of the best identity theft protection services out there.