Lookout Identity Protection Review and Pricing Guide 2023: Does It Work?
What We Like
Personal information and financial account monitoring: It monitors personal information, such as email addresses, medical insurance numbers, and passports, as well as financial accounts like bank accounts and credit card numbers.
Device threat protection: It protects smartphones from a wide-ranging list of threats, including phishing, malware, adware, and spyware.
An affordable service: Starting at $5 per month, Lookout is far more affordable than full-fledged identity theft protection services.
What We Don't Like
Cross-platform protection: Lookout only protects iOS and Android phones, leaving desktops and laptops unprotected from digital threats.
Comprehensive identity monitoring: Lookout doesn't offer change of address monitoring, court and arrest record monitoring, home title monitoring, and other important identity monitoring features.
Credit monitoring: Lookout doesn't monitor credit scores and reports.
With so many identity theft protection services out there, Lookout is aiming to make a name for itself by focusing on one avenue of attack fraudsters often use — the internet. It promises to protect your digital identity from breaches, malware, phishing, and local network attacks, among other cyberthreats.
But is Lookout worth your money? And more importantly, are its protections enough to safeguard your personal information? We'll answer both questions and cover everything you need to know about Lookout in this review, so let's get into it.
Lookout Identity Protection Subscriptions
Lookout offers two levels of digital identity protection — Premium Protection for $29.99 a year and Premium Plus for $59.99 a year. What are the differences? Check them out below.
| Features | Premium Protection | Premium Plus |
| --- | --- | --- |
| Price per year | $29.99 | $59.99 |
| Antivirus | Yes | Yes |
| VPN | Yes | Yes |
| Scans apps for threats | Yes | Yes |
| Web protection | Yes | Yes |
| Privacy advisor | Yes | Yes |
| Breach monitor | Yes | Yes |
| Device theft protection | Yes | Yes |
| Wi-Fi network scan and alerts | Yes | Yes |
| Identity monitoring | No | Yes |
| Financial accounts monitoring | No | Yes |
| Social media monitoring | No | Yes |
| Lost or stolen wallet remediation | No | Yes |
| $1 million identity theft insurance | No | Yes |
| Expert identity restoration services | No | Yes |
FYI: The Premium Protection plan doesn't offer any real identity theft protection features. It may be able to stop attempts to steal your identity through malware, phishing, and malicious sites, but it can't alert you when someone is using your identity to commit fraud. It also doesn't include identity theft insurance and identity restoration services.
Premium Protection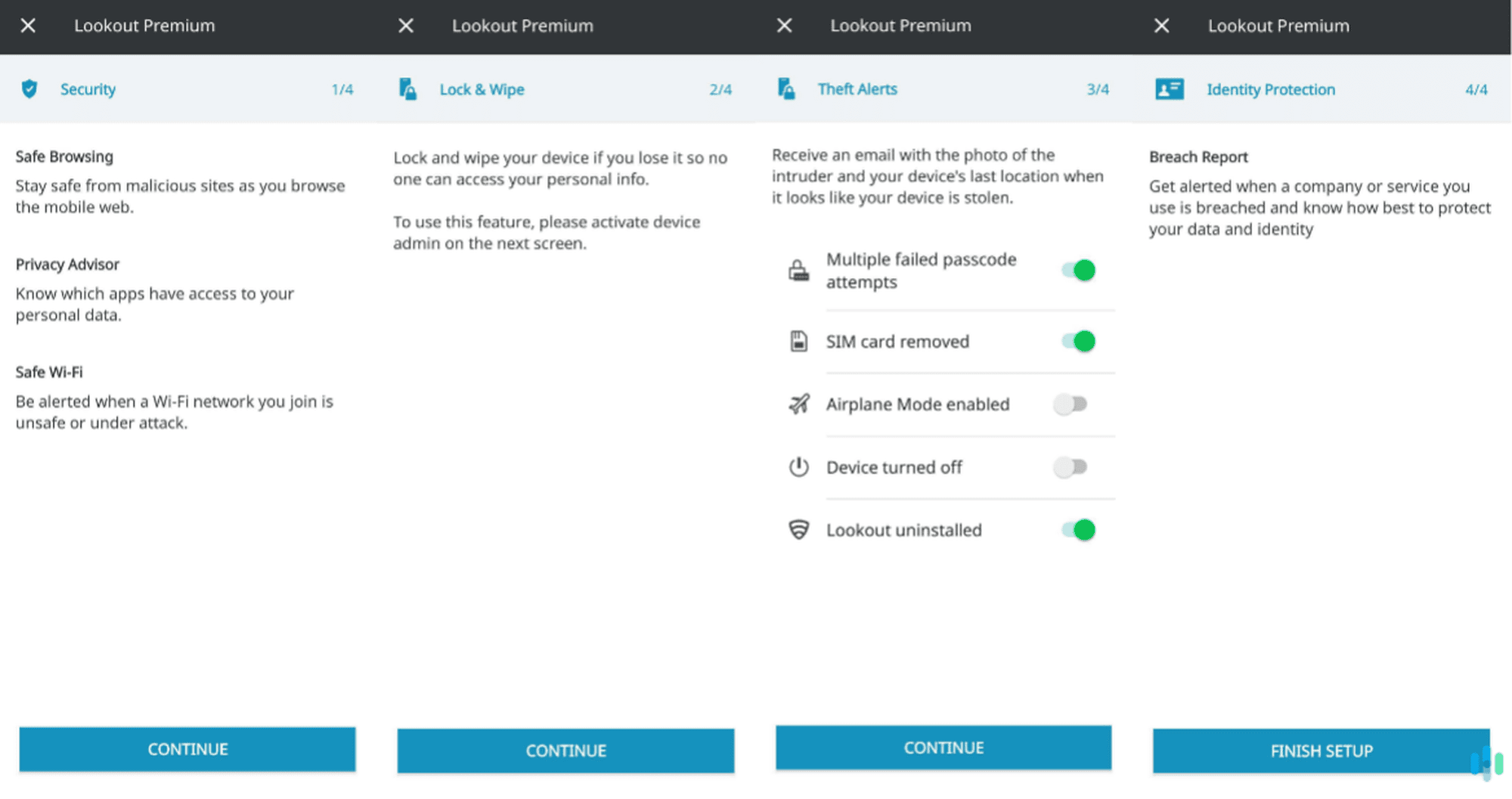 Premium Protection offers great mobile device protections. Its primary features include:
Security: Lookout analyzes your smartphone's apps, browsing activity, emails, and wireless networks to detect threats such as malware and phishing links.
Lock & Wipe: In case your mobile device gets lost or stolen, Lookout lets you see your device location, lock your mobile device, or wipe all your information from your device.
Theft Alerts: Lookout can alert you via email of activities that might indicate that someone is trying to access your device without permission.
Breach Report: You'll get alerts from Lookout if the apps or services installed on your phone suffer a data breach so you can take action immediately.
If we're talking about device protection alone, the Premium Protection service is a winner. However, since we're reviewing Lookout's capability in identity theft protection, there are a couple of things you should note.
First, Premium Protection is not an identity theft protection service. It doesn't detect identity and credit fraud and it doesn't include identity theft insurance and restoration services. Second, it only protects iOS and Android devices, leaving your digital identity on your laptop or desktop vulnerable. And according to hacking experts, computers tend to be more at risk of breaches than smartphones. 1
That being said, at $29.99 a year, Premium Protection does actually provide premium protection for your smartphone.
Premium Plus
Premium Plus, on the other hand, is a full-featured identity protection service. It provides the same device security features as the Premium Protection plan, but it also includes:
Identity monitoring: Lookout monitors your personally identifiable information (PII) to see if anyone is using it to commit fraud. It also alerts you if your information pops up where it shouldn't, like in data breaches or the dark web.
Financial account monitoring: Lookout makes sure your bank accounts details, credit and debit card accounts information, and Social Security number aren't exposed online.
Social media monitoring: Lookout monitors your Facebook, Twitter, LinkedIn, and Instagram accounts to make sure no one is stealing personal information through them.
Identity theft insurance: If, despite all the protections Lookout provides, someone manages to steal your identity and commit fraud in your name, you'll get up to $1 million in reimbursements for financial losses.
Expert over-the-phone restoration service: Lookout will also assist you in restoring your identity's clean standing in the event of identity theft.
What Premium Plus lacks is credit monitoring. While it can monitor your financial accounts, it doesn't look into your credit reports and scores from any of the three major credit bureaus. That means that even if someone tries to open a new credit line in your name, you won't get alerts. Lookout also doesn't provide regular credit scores and reports, and if you want to freeze or unfreeze your credit, Lookout won't be able to help you with that either.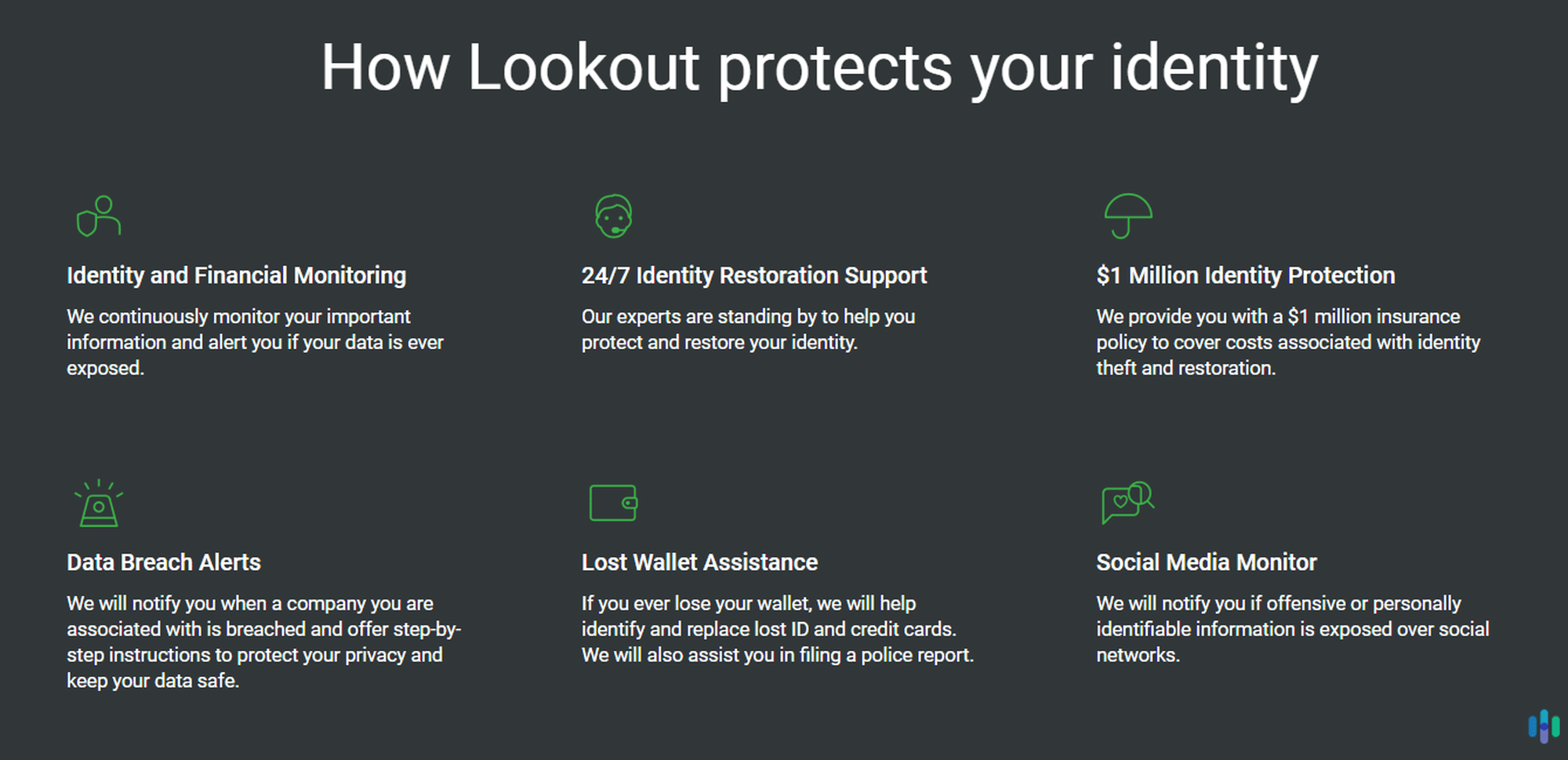 Lookout's lack of credit monitoring features is disappointing, but that's to be expected of an identity monitoring service that costs just $59.99 a year. It's much cheaper compared to services that offer both identity and credit monitoring.
Take Aura's pricing, for example. Aura's identity theft protection service, as we've detailed in our Aura review, costs $144 per year. It includes identity monitoring and three-bureau credit monitoring, among other privacy features. If you ask us, we'd happily pay $144 for those protections.
Pro Tip: You don't need an identity protection service to access your credit reports; you can get one free credit report per year from the federally authorized website, AnnualCreditReport.com.1 And currently, TransUnion, Equifax, and Experian offer free weekly credit reports online.
More Security.org Recommendations
Check out more of our favorite identity theft services.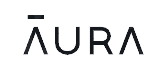 Lookout Identity Protection Features
But pricing isn't and shouldn't be the only factor that goes into deciding which identity protection service to choose. Even if Lookout is affordable, does it have what it takes to shield you from identity theft? Let's discuss its features.
Device Protection
Lookout's brand of identity protection relies heavily on mobile device security. It has a comprehensive list of features aimed at preventing tech-savvy fraudsters from obtaining your personal information. It even has features that protect your data in case your phone gets stolen or lost.
When we tested Lookout, these features stood out.
Breach Report: No matter how airtight your device security is, your personal information can be exposed online through company breaches. Upon installing Lookout on our phone, it tallied the apps and services we use and started monitoring them for breaches. If one of the companies we're dealing with experiences a breach, we'd be one of the first to know.


Lookout breach monitor

App scanning: Apps, especially on Android, can contain hidden malicious codes. Even seemingly trustworthy apps can be vectors of threats such as trojan, adware, and spyware. As soon as we turned on Lookout's app scanning feature, it scanned the 200-plus apps we had installed on our phone and looked for such threats. To our delight, it found nothing.
Virtual private network: Lookout installed a virtual private network on our phone, but it isn't like the other VPNs we've tested. Lookout's VPN didn't hide our IP address and encrypt our data. It uses the virtual network to analyze our browsing traffic and look for cyberthreats like malware and phishing sites.
Wi-Fi threat detection: Aside from threats on the internet, Lookout also searched for threats on the network level. Whenever we connected to public Wi-Fi, it reminded us that the network might not be safe based on its security protocols. It also prevented other devices on the same network from accessing our device without permission.
Privacy access report: Lookout's privacy access report provided us with accurate and useful insights as to how apps access our phone's peripherals. For instance, it told us how many apps had access to our camera, calendars, and messages. From there, Lookout made it easy to manage app permissions. Just click on an app and select Manage Permissions, and Lookout will lead you to your device's app privacy settings.
Locate My Device: Aside from digital threats, fraudsters can try to gain physical access to your smartphone in order to steal personal information. If your phone gets stolen or lost, Lookout's Locate My Device feature can help. We simply logged into our Lookout dashboard on our computer and located our phone from there.
Scream, Lock, and Wipe: In addition to locating your device, you can also control it remotely using Lookout. You can trigger your phone to issue a loud warning sound (aka, "scream"), lock itself and display your contact information, or wipe all your device's data. That last one makes sure that all data is gone from your phone in the event that you can no longer recover your phone.
Theft alerts: Lastly, theft alerts alert you via email if someone attempts to steal your phone. Lookout detects instances such as when there are multiple failed login attempts or when someone tries to uninstall Lookout. Theft alerts include your device's current location and a snapshot from your phone's front camera.
Identity Protection
For Lookout, identity protection means that it monitors important personal information and notifies you if this information pops up anywhere on the internet. For instance, it keeps an eye on black-market forums that sell stolen information.
To use Lookout's identity protection features, we first had to enter our personal information, including our email addresses, phone numbers, driver's license number, medical insurance numbers, and passport number. There's a limit to the number of entries you can register for each type of information. For example, Lookout monitors only one driver's license and passport.
Email addresses9
| Types of personal information monitored | Number of entries for each type of information |
| --- | --- |
| Phone numbers | 3 |
| Driver's license | 1 |
| Medical insurance numbers | 2 |
| Passports | 1 |
Lookout's identity protection was pretty basic, in our opinion. It didn't monitor public records, arrest records, and change of address requests, for instance. Most identity protection services we tested monitored those areas, so we didn't feel as secure with Lookout.
That being said, monitoring the entire internet is a tall task, and we're glad Lookout provided some help. But if you're looking for a more comprehensive identity protection package, we suggest you look elsewhere. Based on our Identity Guard review, we think this theft protection service is a solid option since it combines device protection with extensive identity monitoring.
Financial Accounts Protection
Lookout's approach to financial account protection is similar to its approach to identity protection. It monitored the internet for our bank accounts, credit and debit card numbers, and Social Security numbers.
Bank accounts5
| Types of financial accounts monitored | Number of entries for each account |
| --- | --- |
| Credit and debit card numbers | 10 |
| Social Security number | 1 |
Again, Lookout's financial account protection isn't as comprehensive as other services we've tested. It doesn't alert you when there are potential fraudulent transactions made to your financial accounts or credit cards.
It does, however, watch your Social Security number closely. After we provided the number, Lookout gathered our Social Security history, including names, addresses, and aliases associated with it. After that, it watched for changes and activities that could indicate identity theft, such as inquiries and information changes.
Lookout Privacy Policy
When you sign up for identity theft protection, there should be mutual trust between you and your service provider. The service provider trusts that all the information you'll provide is accurate, and you should be able to trust your provider to keep your data safe.
We looked into Lookout's privacy policy, and here are the key takeaways.
Lookout collects personal and contact information from its users, which is normal for an identity theft protection service. After all, Lookout can't protect what it doesn't know.
When you use its services or visit its website, Lookout may collect cookies and device identifiers, including IP addresses.
Lookout may disclose your information to its partners and third parties for the purpose of providing and improving its services, improving internet ad relevance, and to comply with local and international laws.
As a company based in the United States, Lookout is bound by laws that require it to provide customer information to government agencies to comply with national security and law enforcement requirements.
You may opt out of receiving promotional communications via email, personalized ads, and cross-device ads.
Lookout uses a combination of physical and digital security measures to protect your stored data. For instance, it uses firewalls, authentication, and physical security. While it doesn't specify the measures that it uses, it promises to make "every reasonable effort" to protect your data.
Overall, we have mixed feelings about Lookout's privacy policy. We understand that it's necessary for Lookout to collect personal information, but it also collects information that we feel isn't that necessary; for example, IP addresses. We also don't like that Lookout shares data with third parties for marketing and ad purposes.
On the other hand, it's good that Lookout provides the option to opt out of some tracking features, and that there are security measures to protect customer data from physical and digital threats.
FYI: We've tested several identity theft protection services, and data collection seems to be a common theme among them. Also, since they are all based in the United States, they comply with data-sharing laws present in Five Eyes, Nine Eyes, and 14 Eyes Alliance member countries.
The Lookout User Experience
Lastly, let's talk about our experience with Lookout as customers, from its app to its customer support.
The Lookout App
Lookout's app, both on iOS and Android, pretty much works on its own. Once you activate its features and provide your personal and financial information, there isn't much you need to do. The app just runs in the background, providing you with all the protections necessary. That said, we like how informative the app is. It explains what each feature does, and even provides tips on how to better protect yourself from identity theft.
One thing to note, though: Some features need to run in the background constantly, and they may affect your mobile data and battery usage. For example, if you turn on browsing protection, Lookout connects you to its virtual private network so it can analyze your traffic. Routing your traffic through the VPN not only uses more data and slows down your internet a little, it also drains your battery faster. But you have to decide whether to turn on the feature or not; there's no in between.
Customer Support
With regards to customer support, Lookout is so-so. It doesn't have live chat and phone support. If you have questions, you can only contact Lookout through its email ticket support. The good news is that you might not have to contact support at all. Lookout has FAQs, articles, and blog posts that cover a wide range of topics. Before contacting Lookout, we suggest searching through its knowledge base. Yes, it takes more effort to find answers there, but there's a good chance that you'll get the help you need quicker than waiting for a response from email ticket support.
Summary: Is Lookout a Good Service?
We tested Lookout extensively, and frankly, it's not on the same level as our best identity theft protection services. We mean that both positively and negatively. On one hand, it's great for mobile device protection. It provides better device protections than many services we've tested, from its malware and browsing protection to device theft protection. On the other hand, we found its identity and credit monitoring lacking. So here's our recommendation:
Lookout might be a good entry-level identity theft protection service, but for long-term use, we suggest using a more comprehensive solution. Not sure what to look for? Check out our identity theft protection service guide to learn what to consider when choosing a service.
Lookout FAQs
Let's check out some of the commonly asked questions about Lookout!