Nest Cam Indoor vs Arlo Pro 2
It's indoor vs. outdoor in this comparison of Nest and Arlo.

Best Person Detection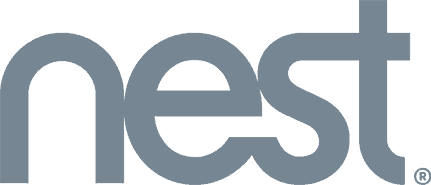 Most affordable Nest camera at $199
1080p HD video display
Works with Alexa, Google Assistant, Chromecast, Fire TV and Philips Hue lightbulbs
Best Storage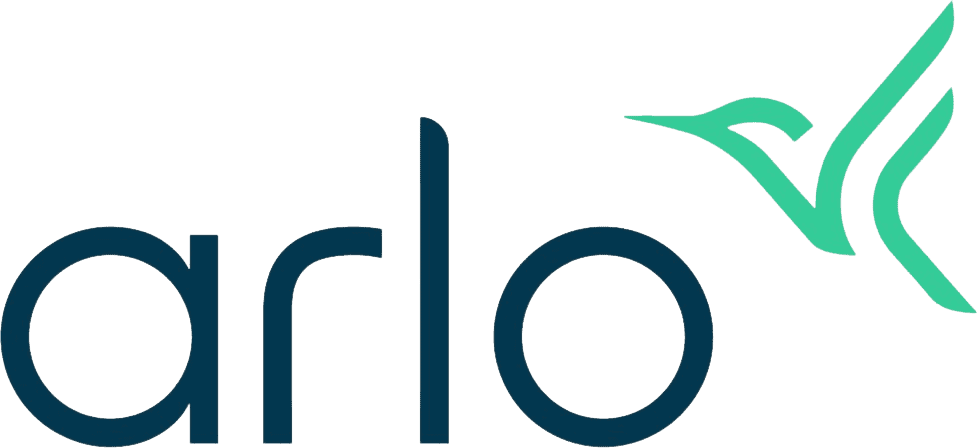 Works in temperatures from -4 to 104 degrees Fahrenheit
Clear, 1080p HD video display
Wide 130-degree field of view
Editor's Note: The Arlo Pro 2 has been discontinued. If your heart is set on Arlo, check out all of the new Arlo security cameras.
When it came to indoor security cameras, there were many options on the market. In this article, we compared the Google Nest Indoor Camera and the Arlo Pro 2, two of the most popular indoor security cameras out there.
While they both brought a lot to the table, they also had some key differences we thought might influence buying decisions. Right off the bat, we wanted to know whether both the Google Nest Indoor and the Arlo Pro 2, which also functioned as an outdoor camera, actually worked.  To inform our ratings, we used our Necessary Features Test, of course. Keep reading to learn about our findings.
Design
Our first step in our evaluation was to decide whether the Nest Indoor Camera and the Arlo Pro 2 were up to snuff with regard to design.
Arlo Pro 2
The Arlo Pro 2 had a white plastic exterior with a shiny black face. It was only about three inches tall, but was surprisingly heavy, weighing five ounces. We liked this because it showed that the camera was durable.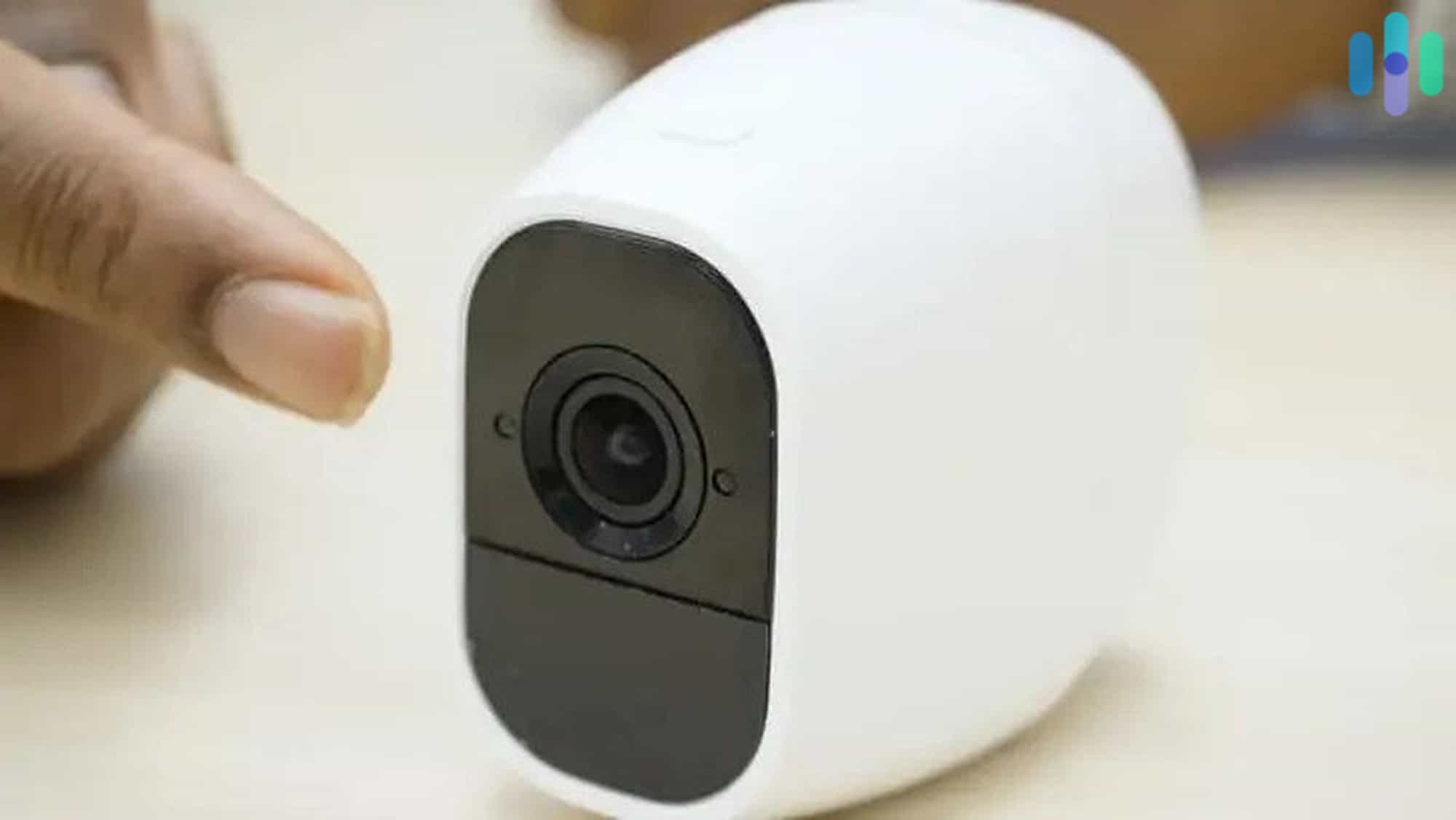 One thing we weren't crazy about was Arlo Pro 2's magnetic ball mount, which didn't allow for a full range of motion. This made setting up the camera a bit more difficult, depending on which angle we were going for.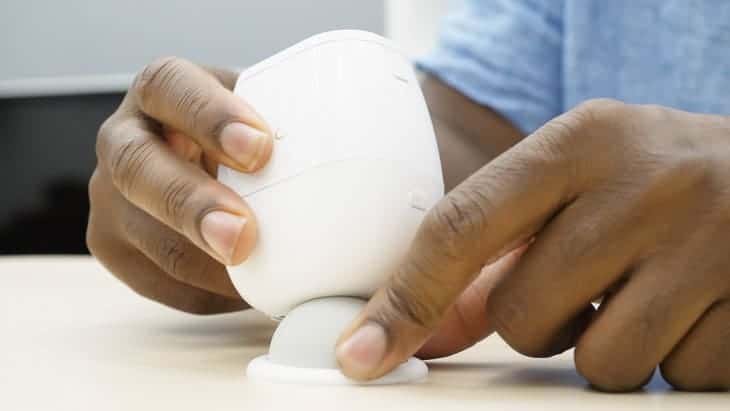 We'd be remiss if we didn't mention the Arlo hub, which connected to the Internet through an ethernet cable. Our camera worked up to 300 feet away from the hub with normal connectivity and up to 140 feet away if we were in a bind or experiencing some connectivity issues. The hub, which was included free with a pack of two cameras, was also where we downloaded the camera's footage to our local storage.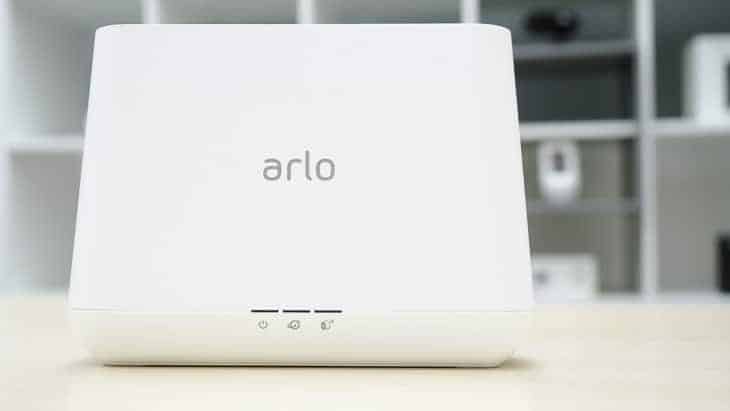 Nest Cam Indoor
We preferred the Nest Cam Indoor's design to the Arlo Pro 2's. The base was black with a gunmetal coating while the camera itself was shiny black plastic. It also came with a rubber backing and a magnetic base, which was particularly useful for setting up the camera standing up, on a wall, or on a tripod. Unlike the Arlo Pro 2, the Nest Cam Indoor swiveled 360 degrees, making it easy to capture whatever area we wanted.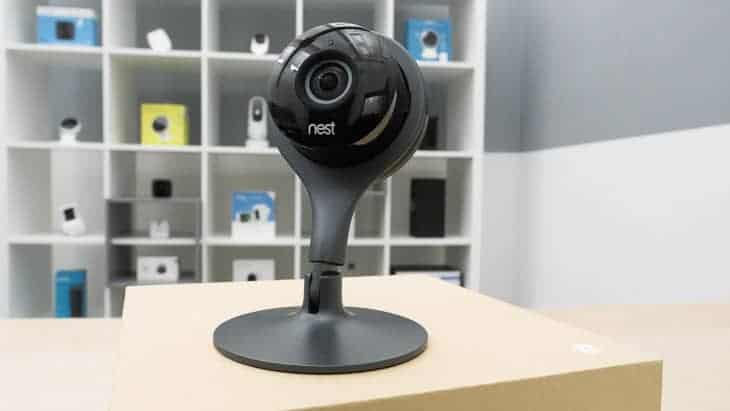 Our only critique was the camera's white USB cord. In a sea of black, we found the cord a bit jarring. Overall, though, the Nest Cam Indoor's design was more aesthetically pleasing and functioned better than the Arlo Pro 2.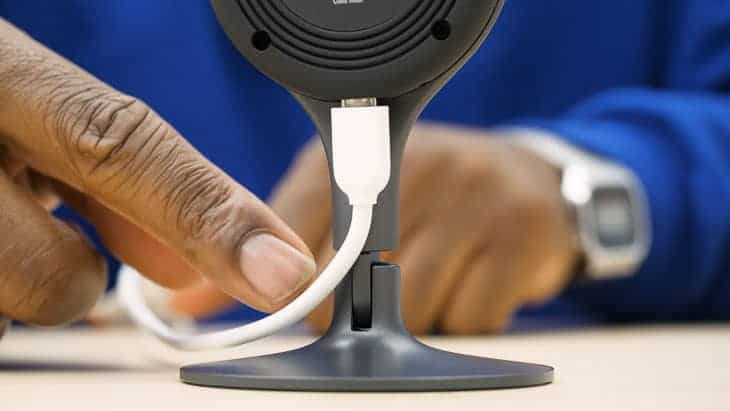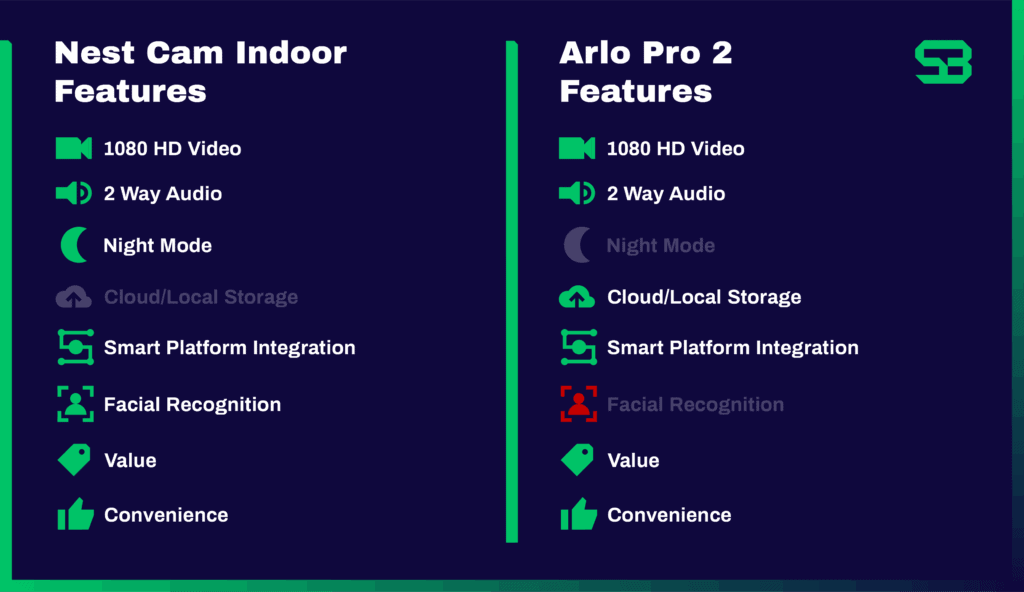 Key Similarities
The cameras were extremely similar when it came to video, audio, value, convenience, and warranties.
Video and Audio
In terms of video and audio, both cameras performed well with 1080p HD, fields of zoom at 8x and 130-degree fields of view.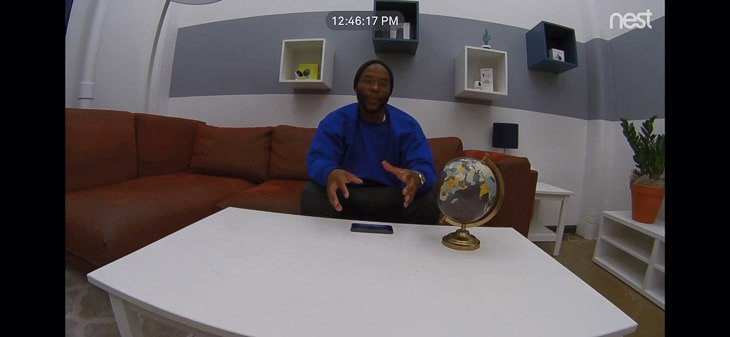 Alongside the video, the audio was crisp and clear. Both cameras featured two-way audio, which meant we could communicate with whoever was in the room where our cameras were, whether that was an intruder or our dog.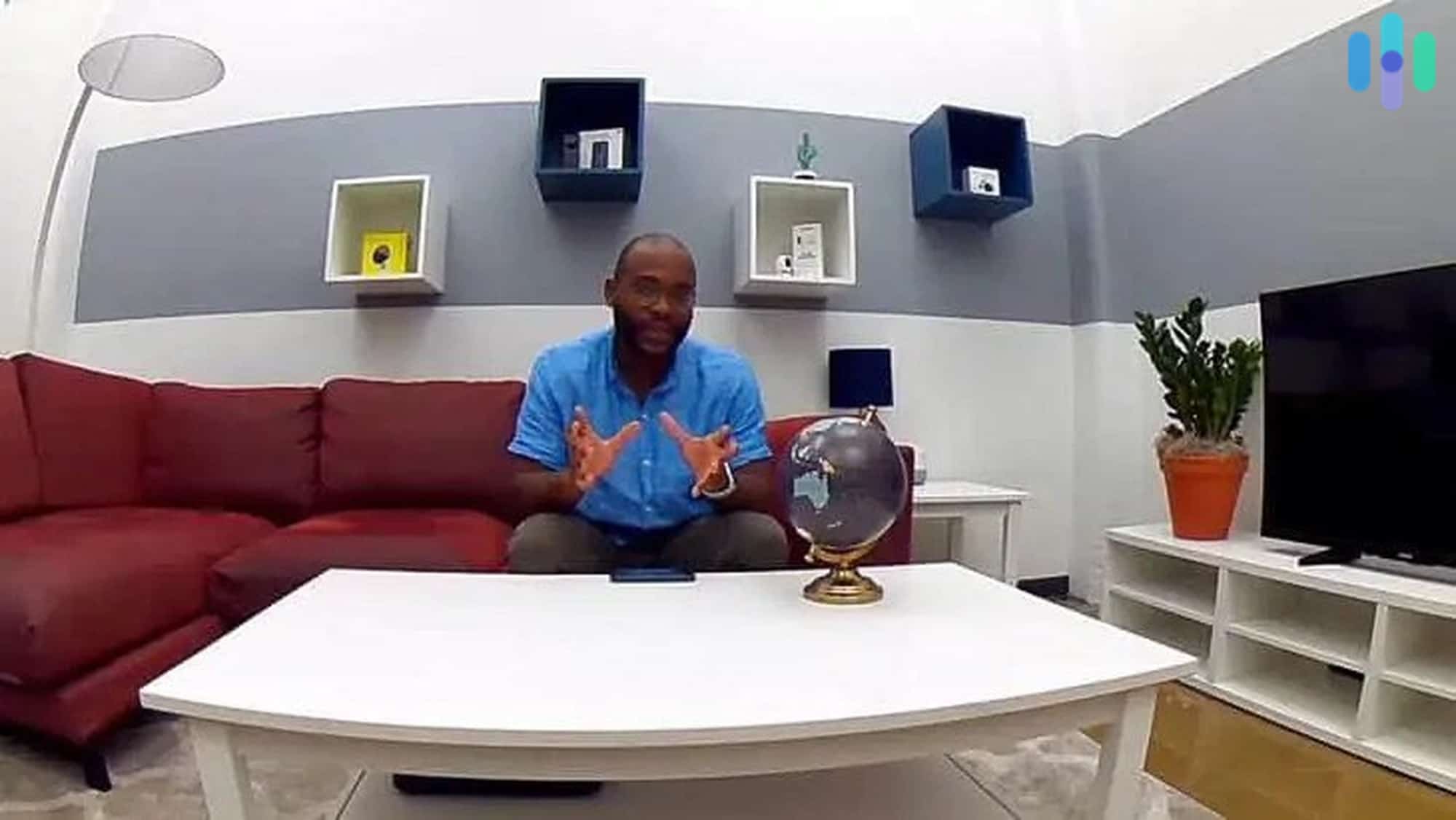 Warranty
Both cameras came with a one-year warranty, which was pretty standard for home security cameras.
Convenience and Value
We didn't have any issues setting up either camera. The Nest was especially easy because it was already part of the Google ecosystem. Overall, these were both great cameras and worth their prices. Thus, we decided our recommendation had to come down to the cameras' differences.
Key Differences
For the Google Nest Indoor Camera and the Arlo Pro 2, differences definitely outweighed  similarities. Our ultimate decision hinged more on categories like night vision, storage, artificial intelligence, and smart platform integration than anything else. Read on to see how the cameras stacked up in these areas.
Night Vision
The first thing that disappointed us about the Arlo Pro 2 was its night vision. Despite the fact that the box said its night vision captured up to 25 feet, our camera only displayed images from a few feet in front of the camera. The Arlo community at large shared our opinion, with many online complaints about the camera's night vision.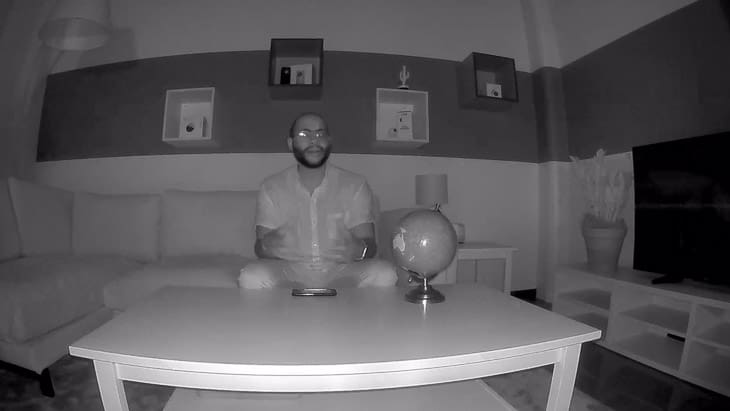 Unlike the Arlo Pro 2, the Nest Indoor had great night vision, with eight infrared LED sensors.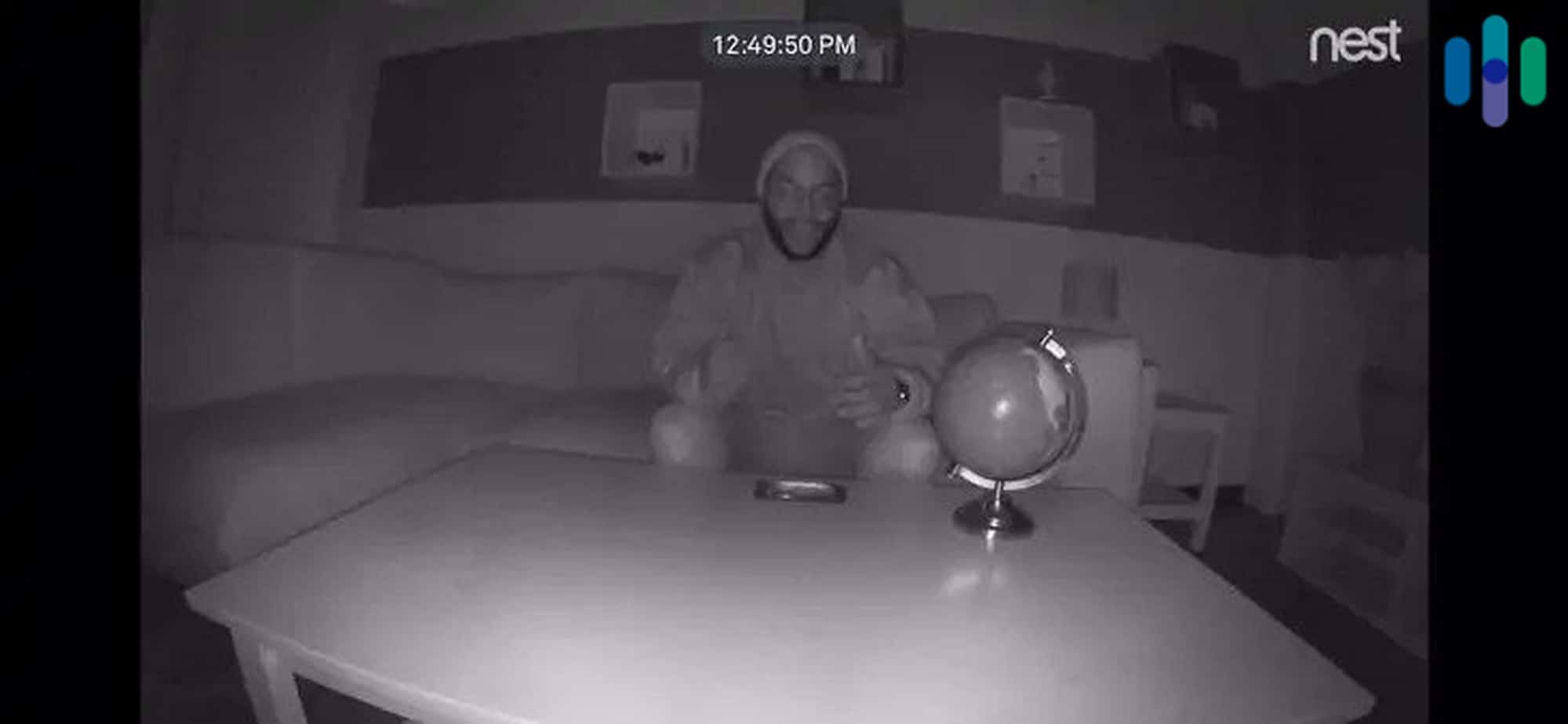 Storage
| | Nest Cam Indoor | Nest Cam Indoor | Nest Cam Indoor | Arlo Pro 2 | Arlo Pro 2 | Arlo Pro 2 | Arlo Pro 2 |
| --- | --- | --- | --- | --- | --- | --- | --- |
| Time Length in Days | 3 hours | 30 | 60 | 7 | 30 | 30 | 60 |
| Maximum Amount of Amercas | All Nest Cameras at 1 Address | All Nest Cameras at 1 Address | All Nest Cameras at 1 Address | 5 | 1 per add-on subscription | 10 | 20 |
| Monthly Price | $0.00 | $6 | $12 | $0.00 | $2.99 | $9.99 | $14.99 |
| Yearly Price | $0.00 | $60 | $120 | $0.00 | $35.88 | $119.88 | $179.88 |
| Yearly Savings | $0.00 | $12 | $24 | $0.00 | $0.00 | $0.00 | $0.00 |
When it came to storage, however, it seemed like the Arlo Pro 2 had the Google Nest Indoor Camera beat. While the Nest only offered cloud storage, the Arlo Pro 2 offered both local and cloud storage. At Security.org, we preferred cameras with both local and cloud storage for a couple of reasons. First, we felt that having both was an excellent way to backup our footage. For example, if our hard drive was stolen or the cloud experienced difficulties, access to two types of backup provided us with a fallback. We also valued features that put us, as the users, in the driver's seat; With local storage, we were in complete control of our footage.
While Arlo Pro 2 started out with a clear lead in this section, our review of storage rates led us to declare a draw. Arlo offered us a full week of storage free for up to five cameras, which was impressive, especially since Nest only offered three hours of cloud storage free. However, Nest only charged us $6 per month for 30 days of storage and included all the Nest cameras in our home. The same deal, for 60 days of storage with Nest was $12 per month. For 30 days storage on only one camera, Arlo's rate was extremely affordable, at $2.99. However, if we wanted comparable plans to what we had with Nest (coverage of many cameras at our house), Arlo charged us $9.99 for 30 days and $14.99 for 60 days. At an annual rate, Nest storage options were even cheaper.
Artificial Intelligence
We were disappointed to find the Arlo Pro 2 was seriously lacking when it came to artificial intelligence.
Person detection, one of the most hailed forms of artificial intelligence in home security, meant the camera zeroed in on people, notifying camera users when someone came into its view.  More specifically, this intelligence differentiated between humans pets, and other moving objects, like cars. We liked that this meant that when we used cameras with person detection we didn't receive a notification every time our neighbor's dog ran across our lawn. More advanced artificial intelligence systems even started to recognize specific faces, distinguishing loved ones from intruders.
On a free level, the Nest Indoor came with person detection, which is quickly becoming an industry standard. With Nest Aware, Google's paid subscription program, we received features like motion and sound detection, plus specific alerts for dogs barking, people speaking, and familiar faces.
The Arlo Pro 2 did not include any artificial intelligence. However, we were given the option to pay for person detection through Arlo Smart Home, which started at $2.99 per camera each month.
Even during our comparison of Arlo Pro 2 and Nest Cam Indoor, home security cameras were getting smarter. They didn't just show us the area we recorded. They also analyzed the area to extract important data, like who was our friend and who was an intruder. For artificial intelligence tools, we chose the Nest Indoor over the Arlo Pro 2.
Smart Platform Integration
When it came to smart platform integration, the Google Nest Indoor Camera and the Arlo Pro 2 were separate but equal.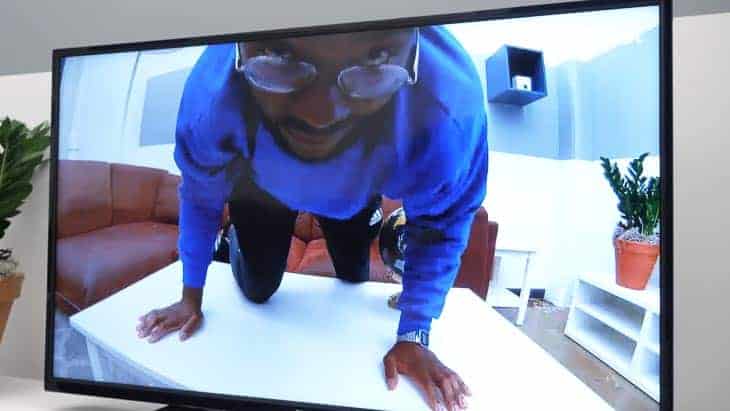 Both cameras integrated with the Google and Amazon ecosystems. We were able to tell our Alexa or Google Assistant to turn on our cameras and stream our footage through Chromecast or Fire TV, to name a couple of capabilities. Beyond that, the Arlo Pro 2 integrated with IFTTT, Apple HomeKit and Stringify while the Nest Indoor integrated with Philips Hue lightbulbs.
We liked that both cameras worked with Amazon, Apple and Google. This gave us the flexibility to set up our connected devices however we wanted. Our selection of a winner for smart platform integrations came down to IFTTT, Stringify, and the Philips Hue lightbulbs. If we required IFTTT and/or Stringify, the Arlo Pro 2 would have been a better choice for us. If we needed integration with Philips Hue lightbulbs, the Nest Indoor was our camera. Here, again, we had a tie.
Battery Life
While the Google Nest Indoor Camera needed to be plugged into a wall, the Arlo Pro 2 worked with batteries, which lasted three to six months, or while plugged in.
We liked the flexibility of the Arlo Pro 2's design. When the devices were plugged in, we had the advantage of never having to change the batteries. Its cord was a bit unsightly, though.
Extras
The Google Nest Indoor Camera and the Arlo Pro 2 didn't just stop at necessary features. They went above and beyond with amazing features like activity zones, geofencing, and more. Below, we took a more detailed look at each camera's extras.
Nest Aware
Nest Aware was Google's paid subscription program. Along with cloud storage options for up to 30 days, the subscription offered advanced artificial intelligence features, which we discussed above. With Nest Aware, we also set up activity zones (specific areas of interest like a window or a baby's crib) that we wanted our camera to monitor more closely.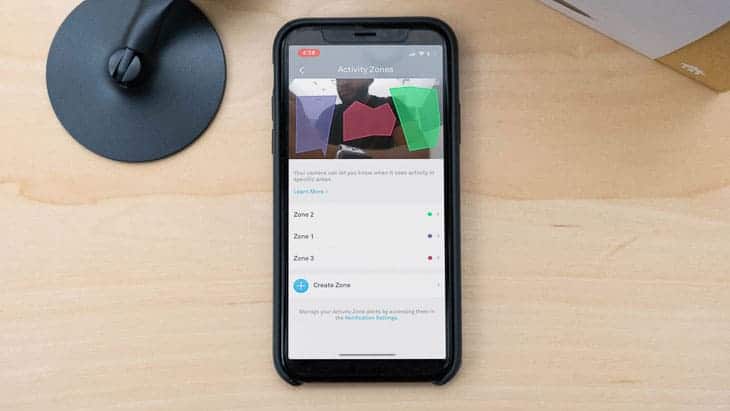 Both the artificial intelligence features and the activity zones helped the cameras to capture more useful data. Instead of alerting us when cars drove by our window, we were alerted if someone attempted to go through our window. Rather than being notified when our elderly grandmother came to visit, we were notified if a strange man was in our living room.
We also used Nest Aware to set up 24/7 continuous recording. Subscription plans were based on the length of cloud storage (see the storage section above for pricing details).
Nest App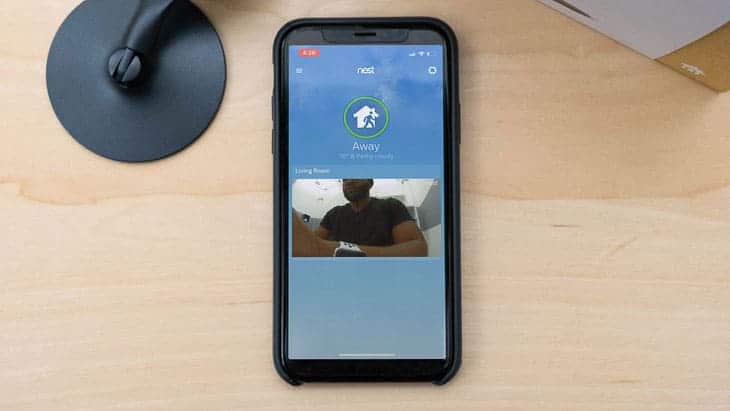 We used the Nest app to control our camera. The first cool thing we noticed about the app was the Home/Away feature. Through a process called geofencing, we linked our phones to our camera. That way, our camera knew when we were home and automatically disarmed. We really enjoyed not having to manually arm and disarm our camera every time we left or entered our home.
The Nest app also allowed us to adjust any paid features we set up, like the 24/7 continuous streaming, activity zones, and the artificial intelligence features. We also changed the mic sensitivity and the status lights, managed storage, and rotated our camera. If we wanted to share footage with others, we could do that through the app as well.
Overall, the Nest app was easy to use and definitely put us in the driver's seat.
Arlo Pro 2 App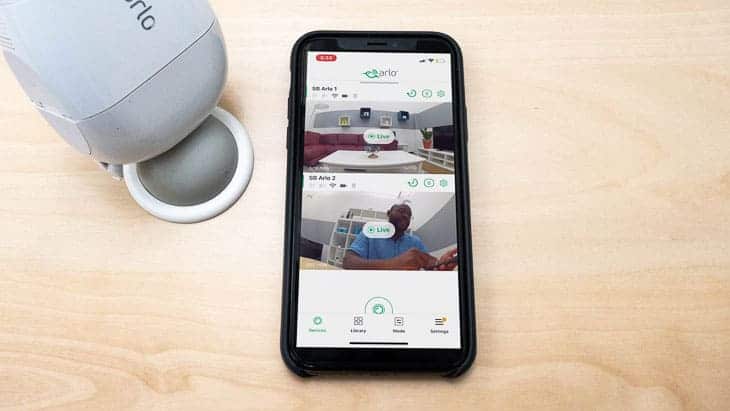 The Arlo Pro 2 killed it when it came to the app. Like the Nest Indoor, the Arlo Pro 2 also had geofencing, activity zones, motion and sound notifications, and continuous recording, all of which were adjustable through the app.
In addition, the Arlo Pro 2 offered a 100-decibel siren, which was very loud. We thought the siren was great for a couple of reasons. First, it could scare away an intruder. Second, it alerted our family if our security had been compromised. It was so loud that even the neighbors heard it when it went off. This made us feel safe, knowing our neighbors would know to call the police if our alarm wasn't shut off right away. It was a smart feature that, in our opinion, should be included with every security camera.
Another great feature of the Arlo Pro 2 app was its safety button. Instead of having to call 911, we could discreetly alert law enforcement of an intruder. We liked knowing that in a delicate situation we wouldn't be overheard calling the police. With 4 stars on both the Google Play and Apple stores, we agreed the Arlo Pro 2 app was intuitive and incredibly useful.
Recap
Like we noted earlier, both the Nest Cam Indoor and Arlo Pro 2 were high-quality cameras for indoor usage. Ultimately, our personal preferences determine our buying decision, so, to recap:
Nest Cam Indoor vs Arlo Pro 2 FAQs
Which is a better camera, Nest or Arlo?

We recommend the Nest Indoor as the best indoor camera and the Arlo Pro 2 as the best outdoor camera.

Nest Indoor has great night vision and artificial intelligence additions while Arlo Pro 2 works well both indoors and out, offers both local and cloud storage, and comes with a very loud siren.

Does Nest Indoor Cam or Alro Pro 2 have more smart features?

Both cameras have impressive smart features like smart platform integration, but we think the Nest Cam Indoor slightly outdoes the Arlo Pro 2 with its ability to recognize faces.