HotBot VPN Review 2023
What can you do with HotBot VPN, where will you run into problems, and how much does it cost?
2,000 servers globally
Located outside of surveillance alliances
Highly-rated mobile app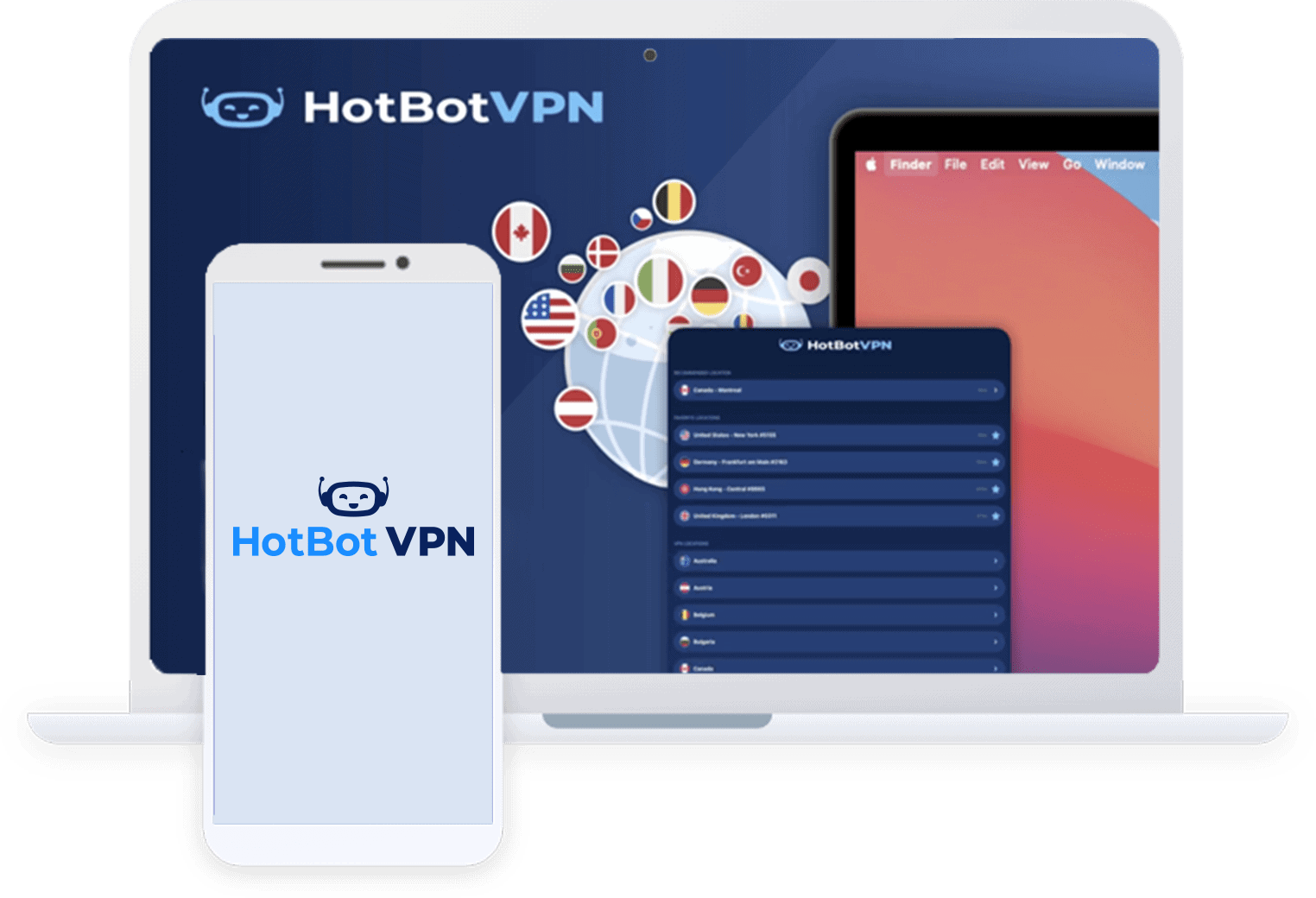 All of our content is written by humans, not robots.
Learn More
By

&

Last Updated
Jan 12, 2023
Back in the day, HotBot was something of a legend in the search engine game. In the mid-to- late '90s, it was one of the top search engines on the web. Of course, like every other search engine back then – Altavista, Bing, AskJeeves – it was eventually eclipsed by Google. It seemed like HotBot was done. In 2020, though, the company reemerged, this time as a VPN. Can it reclaim its legendary status with a completely new product?
The thing is, there are a lot of great VPNs out there. There are free ones, high-priced ones with tons of features, affordable ones with great security and little else, and everything in between. How does HotBot compare? Will it keep you safe? Is it easy to use? Can you Netflix with it? And, of course, what's the price?
We've got all the answers to your burning questions, plus information you didn't even know you needed. In short, we've got everything you need to decide if HotBot VPN is right for you. So let's get right to it!
What HotBot VPN Costs
In general, we'd say HotBot is nicely priced. In terms of a single-month subscription, it's at the lower end of the market, at just $9.99. Like most VPNs, you get deep discounts if you're willing to sign up for longer subscriptions. The one-year subscription is just as reasonably priced as the single-month subscription. It costs just $39.92, which works out to $3.33 per month — a 66 percent savings.
We were a little disappointed that HotBot doesn't offer any longer subscriptions for even cheaper rates. For example, Ivacy VPN offers a five-year plan that costs just $1.33 per month.
Still, HotBot offers a seven-day trial with all its subscriptions, so you can be sure you want the service before you actually invest any money. Need longer to make up your mind? The company also offers a 30-day, money-back guarantee.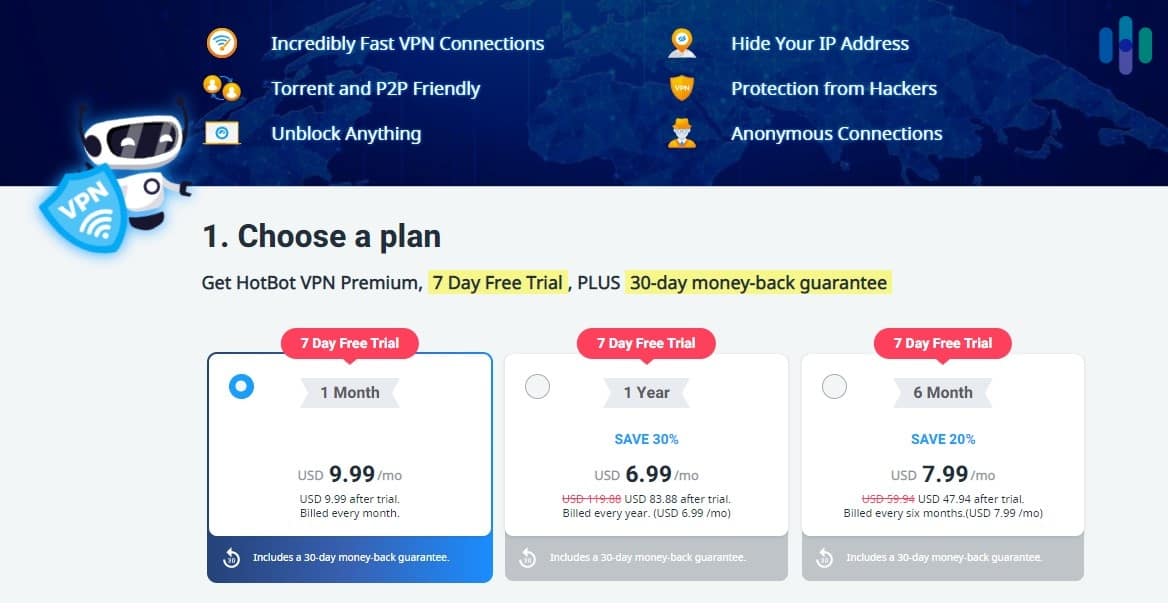 What Features Does HotBot VPN Offer?
A low price is great and all, but even a free VPN isn't worth the cost if it doesn't do what it's supposed to do. In fact, most free VPNs are big trouble, but that's a story for another day. Our question is this: do HotBot VPN's features justify its price tag? Here's what you get when you sign up with the company.
Encryption
A VPN is literally an encrypted tunnel through which you connect to the internet. A VPN's security, then, is by definition only as good as the encryption it uses. How good is HotBot's encryption? HotBot VPN uses the industry standard, AES-256 encryption. Now, on the one hand, that means they're not doing anything exceptional. But when you consider the fact that this is the same encryption the U.S. military uses, what more could you really want?
2,000 Servers
The more servers a VPN has, the easier it is to find one with relatively little traffic, and the more likely you'll have a fast connection. We give bonus points to companies that spread their servers out over several countries, since connection speed is also related to how close you are to a server. HotBot's number of servers is 2,000, and those servers are located in 32 different countries, including the U.S., Canada, the UK, France, Germany, Australia, Mexico, Israel, and Japan. Sure, there are companies out there with more servers. For instance, Private Internet Access (PIA) has over 12,000 in 80 different countries. With 2,000 servers in 32 countries, you should always be able to find one nearby.
Seychelles Headquarters
HotBot is headquartered in the Seychelles, a beautiful archipelago of islands just off the east coast of Africa. The choice of Seychelles is important beyond its beauty, though. The country is also outside the Five Eyes, Nine Eyes, and 14 Eyes surveillance organizations. Countries in these organizations have agreed to share intelligence with one another, including information about their citizens' online activities. Luckily, HotBot can never be forced to turn over any customer data to any government law enforcement agency.
FYI: Government agencies in Five Eyes, Nine Eyes, and 14 Eyes member countries can access customer records from any company in any other member country just by obtaining a subpoena.
Privacy Policy
HotBot refers to itself as a "no-log" VPN, suggesting it never records any information about its customers. That's a bit misleading. No VPN is truly "no-logs." They all need some data from you in order to operate. We will give HotBot this, though – they collect as little information as possible. This means they only collect your username, email address, and password. If you think about it, how could you sign in to the service if they didn't have these things? What they don't gather is more important. They don't collect IP addresses, timestamps, or browsing histories. In other words, we're the only ones who know what we're up to online. That's just the way we like it.
Streaming
Security is one reason to invest in a VPN. The other? Access to more content from all the best streaming services. HotBot gets around geo-blocks from Netflix, Hulu, Disney Plus, and Amazon Prime Video. That means you can log in to these platforms around the world and watch content you couldn't normally see without actually going to those countries. As a bonus, wherever you are in the world, you can always log back into your home country's servers and see the content you're used to.
Torrenting
A lot of VPNs these days offer torrenting features. After all, one of the best reasons to use a VPN is so you can download content without anyone watching you over your shoulder. HotBot, though, goes the extra mile to make sure torrenting is safe and easy. For one thing, almost every one of the company's servers is configured to allow for peer-to-peer sharing. Even better, though, if you should log on to one that isn't, HotBot will automatically redirect you the moment it detects that you're trying to torrent.
No Leaks
You don't want leaks in your pipes, your water bed, or in your VPN. A WebRTC leak can expose your IP address to the world, making it easier for hackers to track you. A DNS leak can reveal your browsing history. Luckily, when we tested HotBot, we found exactly zero leaks.
More Connections on More Devices
We recommend installing a VPN on all of your electronic devices since any one of them could potentially compromise your safety, security, and privacy. HotBot makes that easy by allowing you to install the software on up to six different devices at once. In fact, the company also offers six simultaneous connections, so you can surf the web on all your devices at the same time. We couldn't juggle that many devices at one time, but, you know, if that's your thing …
A Choice of Platforms
HotBot VPN works smoothly with a variety of different operating systems and platforms, including Macs, Windows, Android, and iOS devices. It also has apps geared specifically to Chrome and Microsoft Edge browsers.
Kill Switch
A kill switch shuts down all your browsers and apps when you lose your VPN signal. That way, no one can see what you're up to, even if you lose your VPN signal completely. Now, most VPNs these days have a kill switch, so we're not super-impressed HotBot has one. Still, if they didn't have one, we'd be pretty horrified.
What's HotBot Missing?
No VPN is perfect. Even the best VPNs out there have flaws. What is HotBot missing that could make the experience of using it even better?
A Choice of Protocols
HotBot uses the IKEv2 protocol for every transaction. A protocol is essentially the set of instructions the VPN uses to employ its encryption methods. And IKEv2 is a good one. It's been around a long time, and it's very stable. We prefer a choice of protocols, though. OpenVPN is the gold standard, and WireGuard has become increasingly popular for its speed. Different connections sometimes call for different protocols, and it certainly wouldn't hurt for HotBot to expand its options.
Camouflage Mode
Camouflage mode is a relatively new technology in VPNs. A regular VPN conceals your actual IP address behind an untraceable address, but some sites have found ways to identify that you are using a VPN. They don't know who you are, but they'll cut you off just because you're using one. Camouflage mode conceals the very fact that you're using a VPN. It makes it impossible for any site or service to block you. As we say, the technology is new, so not everyone has it. Still, HotBot is also new, so we're a little disappointed that it doesn't.
Did You Know? In some countries, including Russia, North Korea, and the UAE, law enforcement can arrest you simply for using a VPN.
Multi-hop
Multi-hop is also pretty new when it comes to VPN technology, but it adds a bonus level of protection any time you use a VPN that has it. Basically, instead of routing your connection through one encrypted tunnel to one remote server, multi-hop routes your connection through two or more tunnels to two or more remote servers. More encryption equals better protection. Again, it's not a deal-breaker that HotBot doesn't offer it, but we're never going to turn down extra layers of protection.
Split Tunneling
Most VPNs offer split tunneling these days. HotBot, unfortunately, doesn't. Split tunneling is a handy little feature that lets you log on to the regular internet at the same time you're logged on to the VPN. That way you have a tunnel for data that needs to be encrypted, and, if necessary, a tunnel for data that doesn't. Split tunneling offers a great way to save bandwidth and, in some cases, money. Do you have to have it? No, but it's a nice feature when you can get it.
Router Support
Finally, while HotBot offers support for lots of devices and platforms, it doesn't support routers. Of course, it does let you install software on six devices, but we like to install our VPNs on our routers so that we know every device on our network is protected every time we log on.
What It's Like to Use HotBot VPN
What's it like using HotBot? Here's what happened when we tried it.
Installation
HotBot installation was simple and easy. There are several buttons scattered through the homepage that direct you to Get HotBot VPN. Click on any of these, and you'll find yourself on a checkout page.
Choose a plan.
Type in your email address and create a password.
Enter your payment information, and you're done.
Once you have an account, it's a simple matter to download the specific apps you need for your various devices and enter your account information. We set the software up on six devices – the maximum HotBot allows – and it took us less than 10 minutes.
Using the App
One of the things that impressed us most about HotBot VPN is just how clean and easy-to-use its app is. Each function of the app has its own dedicated window, so no window winds up too cluttered. Want to know your current status? The monitor window tells you how long you've been connected and what server you're using. That's it. It doesn't try to give you tons of extra information at the same time. Want to change servers? That's a different window that's equally clutter-free. The design helps ensure you're never confused or overwhelmed by what you're looking at.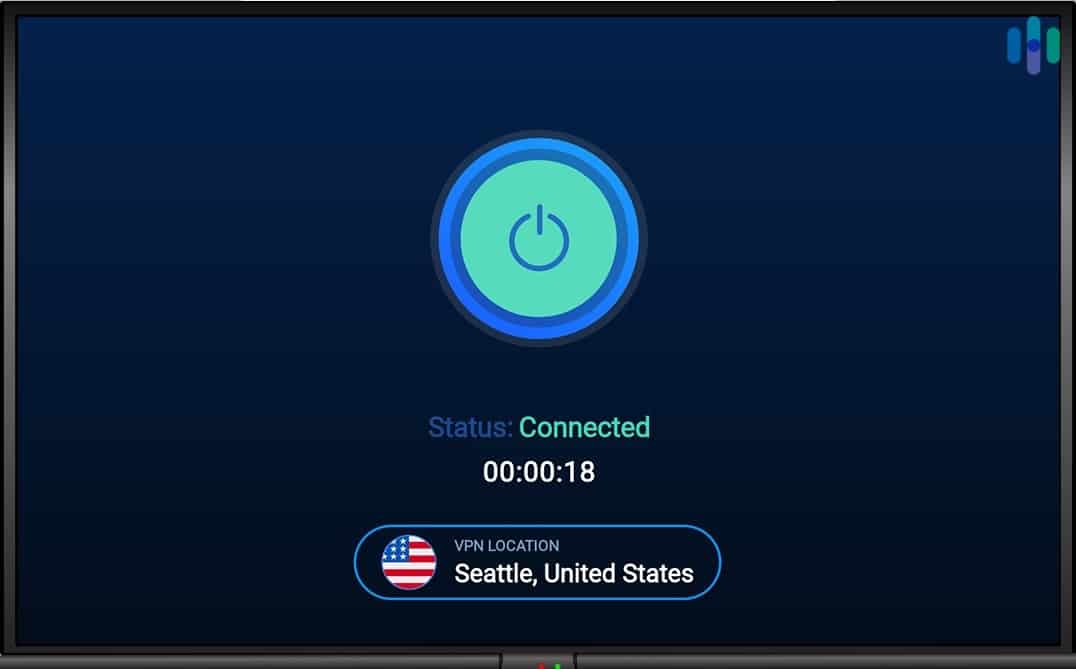 Support
HotBot offers 24/7 email and ticket support for any and all issues that might come up while you're using the service, from installation to server outages. We found that most of our questions were answered in less than 24 hours. Of course, we wish there was a phone number and an online chat feature. We get it, though: a less-reputable company might use those as a back door means of gathering information about us. As a result, almost no VPNs offer them, and we don't hold it against HotBot that they don't either.
The Bottom Line
HotBot could be a great VPN if it went the extra mile to offer bonus features like split tunneling and multi-hop. That said, it's a pretty darn good VPN as-is. With AES-256 encryption, a strict privacy policy, and a location in the Seychelles, it does exactly what it's supposed to do: let us surf the web safely and anonymously. Plus, we were able to stream content from other countries and torrent to our hearts' content on over 2,000 servers in 32 different countries. That's a win in our books, and we have no trouble recommending HotBot as a good solid VPN choice.
Of course, as we like to say, there's someone in the world for everyone, and that applies to VPNs as well as people. So who would be better off with HotBot, and who would be better off taking a hard pass on this VPN?
HotBot VPN FAQs
We don't want you to walk away from this guide without knowing everything you need to know about HotBot VPN, so we've taken the time to answer some of your most frequently asked questions.