Radmin VPN Review 2023
A different kind of VPN, Radmin VPN is a useful tool for gamers and remote offices.
What We Like
Virtual local area network (LAN): Normally, devices can be on the same local area network if they are in close proximity to each other, but with Radmin VPN, you can create a LAN with members from anywhere in the world.
End-to-end encryption: All traffic shared between virtual LAN members is encrypted.
Free and easy to use: The free Radmin VPN app works on Windows 7 and newer, and it's very simple and easy to use, even for beginners.
What We Don't Like
Not a real VPN: While it calls itself a VPN, Radmin VPN doesn't encrypt your online traffic or hide your IP address. Instead, it creates a virtual LAN for you.
For Windows only: Radmin VPN doesn't work on any other operating system besides Windows.
Lax security: Virtual LANs created by Radmin VPN are protected only by passwords. If you use an easy-to-guess password, hackers could access your LAN and see your shared files or take full control of your computer.
Bottom Line
Radmin VPN answers the needs of a very specific niche, but it performs well. While it's not a VPN for privacy at all, we recommend it if you need a virtual LAN setup for business or personal use.
Radmin is a prominent name in the IT business because of its remote access tool that helps IT professionals troubleshoot problems remotely. On this page, however, the spotlight is on Radmin's VPN service.
We've tested dozens of VPNs, but the Radmin VPN is very much different from the VPNs you're probably used to seeing us review. It is technically a VPN service, but it will neither encrypt online traffic nor hide your IP address. And if you read our VPN guide, those two things are the main jobs of a VPN. So what is Radmin VPN for, and to whom do we recommend it?
What Is Radmin VPN?
Radmin VPN is a free Windows-only virtual LAN service. It creates a virtual LAN for you, which is technically a VPN, so you can connect to other computers as if you're on the same LAN.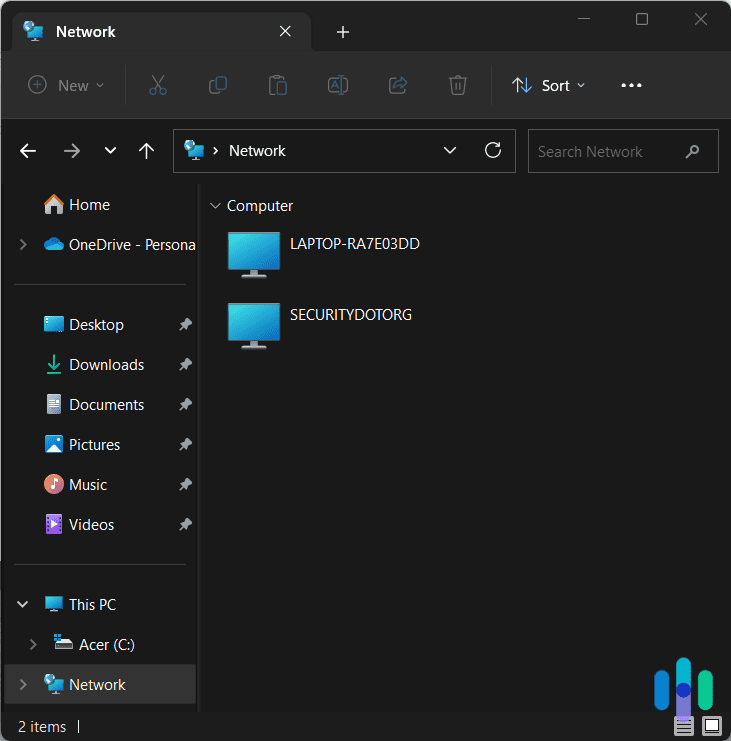 To those unfamiliar, a LAN is a group of devices in close proximity to each other that interconnect through a central internet connection. For example, your devices connected to the same Wi-Fi router form a LAN, which is why you can print from your computer to a Wi-Fi printer without having to connect them physically.
The devices in a true LAN have to be close to each other because they have to be connected to the same internet source. Radmin VPN, however, creates a virtual central connection. That means you can connect any two or more devices from anywhere in the world as long as they are connected to the internet, and it would be like they're a part of the same LAN.
Once the virtual LAN is established, you'll gain access to usual LAN benefits, such as:
Sharing resources like Wi-Fi printers, servers, and applications
Sharing files directly with LAN devices
Protecting all LAN-connected devices using network security tools
Reminder: Keep in mind that Radmin VPN works on Windows devices only, which means your device and the devices to which you're trying to connect must both run on Windows.
Can Radmin VPN Protect Your Privacy?
Radmin VPN also works to protect your privacy, but not in the same way as typical VPNs.
A VPN like the Surfshark service we reviewed creates a virtual tunnel between you and the internet. The VPN encrypts all traffic that you upload and download, and that's what gives you privacy. Additionally, at the end of the encrypted tunnel is a VPN server. That server routes traffic back and forth the tunnel, which creates the illusion that you're browsing from that server's location. In effect, it hides your real IP address from the websites you visit.
With Radmin VPN, encryption is also a huge part of the virtual network, but it doesn't encrypt all your traffic. It encrypts only the data being shared within the virtual LAN. That doesn't give you privacy while you browse the internet, but it does make sure that all the data you share with other members of your virtual LAN cannot be intercepted by third parties.
Radmin VPN uses 256-bit AES for the encryption, which is the gold standard for VPN encryption. It is an advanced type of encryption that even the U.S. military uses to lock down classified data.1 So again, Ramin VPN isn't lacking in terms of encryption. It's just that it applies encryption only to a limited type of data; namely, the data being shared within your virtual LAN.
Radmin VPN did also change our IP address, but only the other devices on the virtual LAN can see that new IP address. The websites we visited outside the LAN network still saw our real IP address.
Sometimes a Password Isn't Enough
RadminVPN is a great choice for small offices that want a password-protected local network without paying a dime. But Radmin isn't a true VPN. It doesn't encrypt traffic or hide IP addresses. If you need more than just secure interoffice communication, these three VPNs are the best in class for encryption and privacy: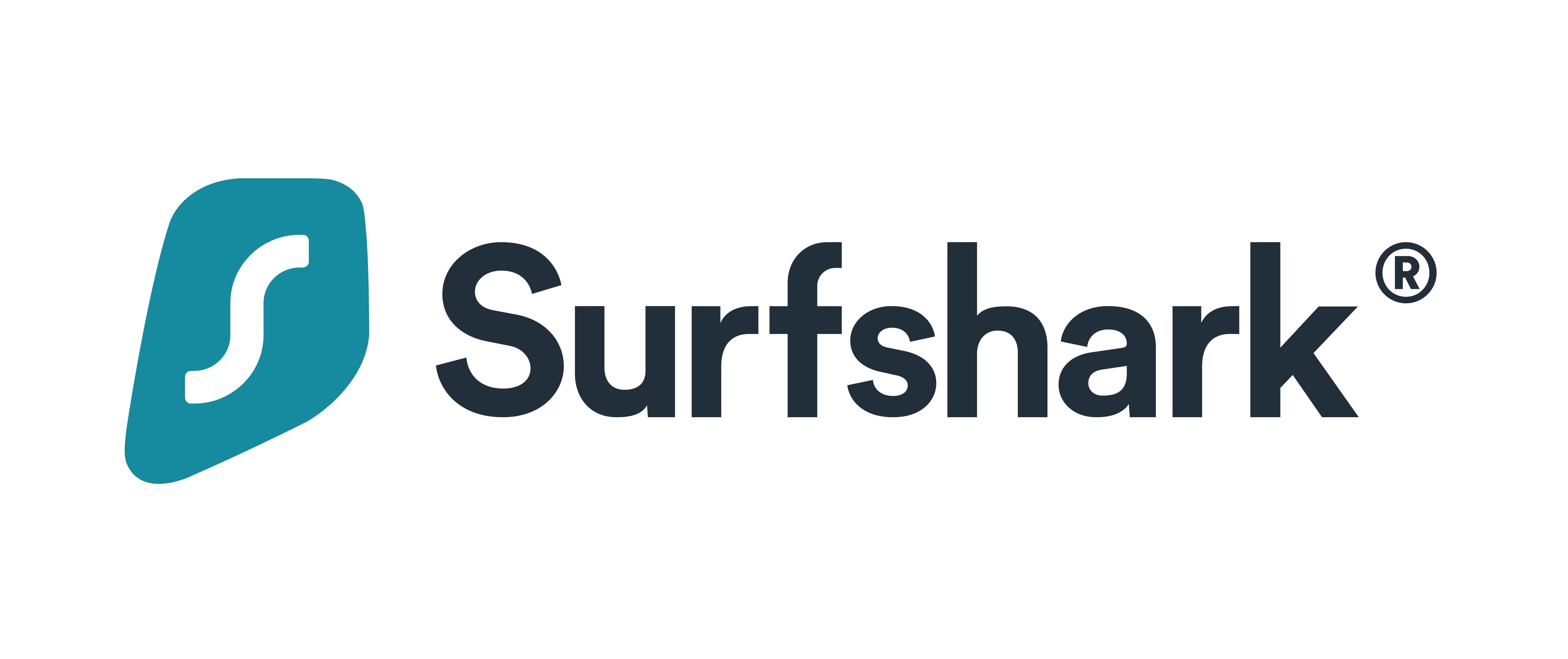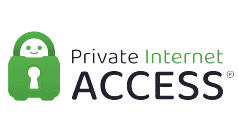 What You Can Do With Radmin VPN
Since it's not a typical VPN, Radmin won't let you do the things you can normally do with a VPN. For example, you can't access Netflix libraries from other regions, unblock restricted content, or bypass censorship.
Radmin also doesn't offer the features we normally see in VPNs, like split tunneling and a kill switch. Rather, it gives you features specific to the virtual LAN.
To test out Radmin VPN, we installed it on two of our computers. We then connected the computers to two different Wi-Fi networks so that they're not in the same LAN, and then set up a virtual LAN through Radmin.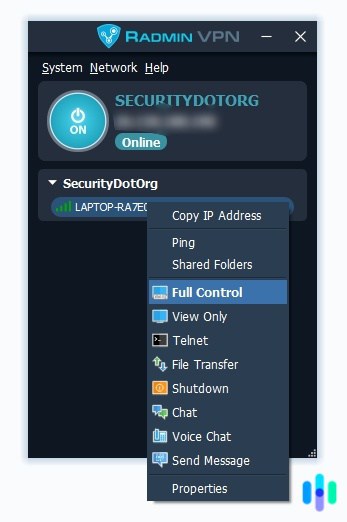 After connecting both computers to the virtual LAN, we gained access to features such as:
Full control: This enabled us to take full control over a device in the virtual LAN. It mirrored the device's screen onto our main computer's screen, and we were able to use keyboard and mouse functions with minimal lag.
View only: This mirrored the remote device's screen onto ours, but unlike with full control, we had no access to controls.
File transfer: This feature opened up a window that showed us all shareable files between two computers and let us move around files right there. All files being transferred are end-to-end encrypted using 256-bit AES.
Chat/voice chat/send message: These were all communication features that allowed us to send messages, chat, or even call a connected computer, perfect for remote work collaborations.
FYI: You'll need to download another Radmin software to use any of the LAN features above. It's also free, but you'll need it to remotely access, control, or communicate with a LAN device.
Who Can Benefit From Radmin VPN
Radmin VPN is a very niche product. It's not for everybody, but it's a great online tool for very specific purposes, such as remote work setups and old-school LAN-party gaming.
Remote Work Setups
For businesses with a remote work setting, having a virtual LAN setup is beneficial in keeping sensitive information within a closed network while also enabling collaborations. For example, workers can easily share sensitive documents through the file transfer feature. It's safer than just emailing or using a P2P service because the virtual LAN is encrypted.
Additionally, if employees have a mixed work setup, they won't have to take home company computers to access their work files. They can just use the full control feature to work virtually or access files through the file transfer feature.
The communication features are also a nice addition, especially if you want communications to remain within your organization.
Pro Tip: Aside from the LAN features built into the Radmin VPN app, you can configure Radmin to use your device's native network manager. If you do, your LAN devices will appear in Windows' network computers and devices settings.
LAN-Party Gaming
Radmin VPN is also a good throwback for old-school gamers who grew up playing LAN games and joining LAN parties. In fact, Radmin VPN has a long list of networks specifically for LAN games, from older titles such as "StarCraft" and "WarCraft" to newer ones like "Minecraft" and "Valorant."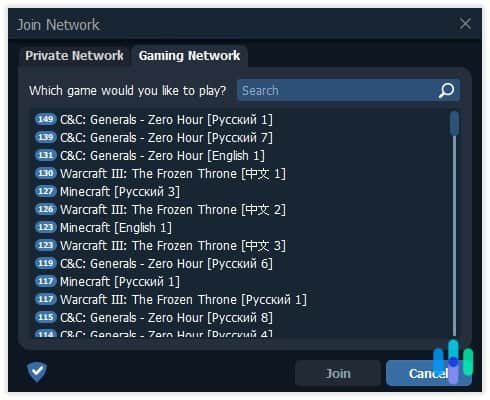 Final Thoughts: Does Radmin VPN Pass As a VPN?
While Radmin VPN calls itself a VPN, it's not really a privacy-focused VPN. And if we tested it as one, it would have failed spectacularly. It doesn't encrypt all internet traffic, it doesn't hide your IP address, and it has none of the usual VPN features.
Radmin VPN is simply not cut out to protect your privacy, but the thing is, it's not trying to be that kind of VPN. It serves a different purpose, which is to create virtual LANs so computers can remotely interconnect without having to be in close proximity with each other. And for that specific purpose, Radmin VPN does an awesome job.
That being said, there is one VPN that can both protect your privacy and create a virtual LAN for you. We're talking about NordVPN and its newly added Meshnet feature. Meshnet works pretty much like Radmin VPN, but it's even better because it works on Windows, Mac, iOS, Android, and Linux devices. Meshnet comes free with a NordVPN subscription, so head over to our NordVPN review to find out more about one of the best VPNs in the market today.
FAQs About Radmin VPN
Radmin VPN isn't your normal VPN, so we figured we'd answer some of the most frequently asked questions about this service.