What We Like
On-demand and on-access malware scans
Behavior-based detection can find malware not in databases
Protects against 99.8 percent of the latest Android malware attacks
What We Don't Like
Sells browsing and search history to advertisers
Yearly contracts only
Bottom Line
With both free and paid options, AVG is a consumer-friendly antivirus software with strong malware protections and extra features to make it easier to lockdown your digital security.
Now more than ever, strong antivirus software is a necessity for the health and safety of every Internet-enabled device. Everything is now online, and the internet has become the favorite hangout spot of many. As such, opportunities for cyberthreats have increased dramatically, and criminals are salivating at the possibilities.
Will antivirus software protect you from all types of cyberthreats? Not really, but having one puts you in a better position to protect yourself, your data, and the very devices you use to go online. With that in mind, we'll take a closer look at the AVG antivirus software. You probably know the brand – it's one of the most widely-distributed antivirus software since the mid-2000s – this time, however, we'll scratch more than just the surface and see how well it actually performs.
We tested both the free and paid Internet Security software from AVG, and here's everything you should know.
AVG Antivirus Features
| | |
| --- | --- |
| Blocks viruses and other malware | Yes |
| Firewall | Yes |
| Webcam protection | Yes |
| Blocks ransomware | Yes |
| Annual price | $44.99 – $59.99 |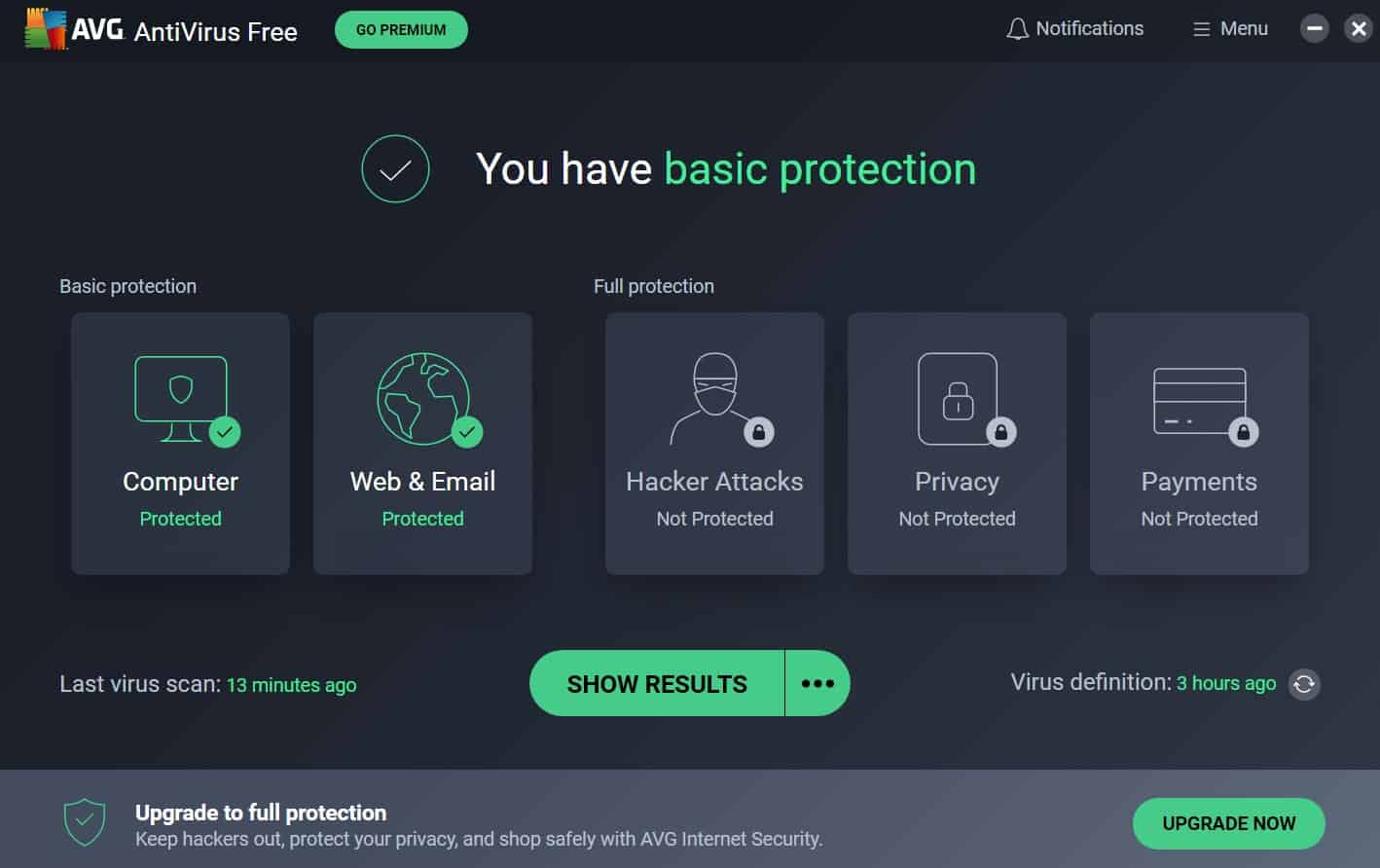 Editor's Rating
30-day money-back guarantee
Coverage for up to 10 devices
Plans for Macs, PCs, Androids and iOS devices
AVG Pros and Cons
AVG does well in detecting malware, given its multiple scanning options and behavior-based detection, but it has some pretty glaring issues in terms of data privacy. For antivirus options that will protect you from malware and your data, check out our top picks below.


A Quick Overview
AVG started in 1992 as Anti-Virus Guard, but it didn't enter the U.S. market until 1998. That said, it only really took off after the new millennium thanks largely to its free software.
The AVG software we see today is the same software that it was back in the early 2000s, but of course, it has gone through many improvements. For example, in 2006, AVG added anti-spyware to its features, and then in 2008, it added LinkScanner, a feature that detects threats from websites that users visit. Both those features were considered groundbreaking at the time.
Over the years, AVG as a company has gone through many other changes. It was acquired by Avast in 2016,1 for example, and then recently by NortonLifeLock in 20222. By and large, however, AVG continues to exist and operate as a separate brand with its own products and services.
Those are what we'll be tackling in this review: Are AVG's products good? Do they offer enough digital protection? How do they compare to other antivirus products? Is AVG one of the best antivirus software? Let's find out.
Our Antivirus Testing Process
We ran AVG through its paces on our 2020 Lenovo Thinkpad to see just what it could do. We examined both its free and Internet Security versions, we studied its privacy policy in-depth, and we considered what programs it offers for other platforms.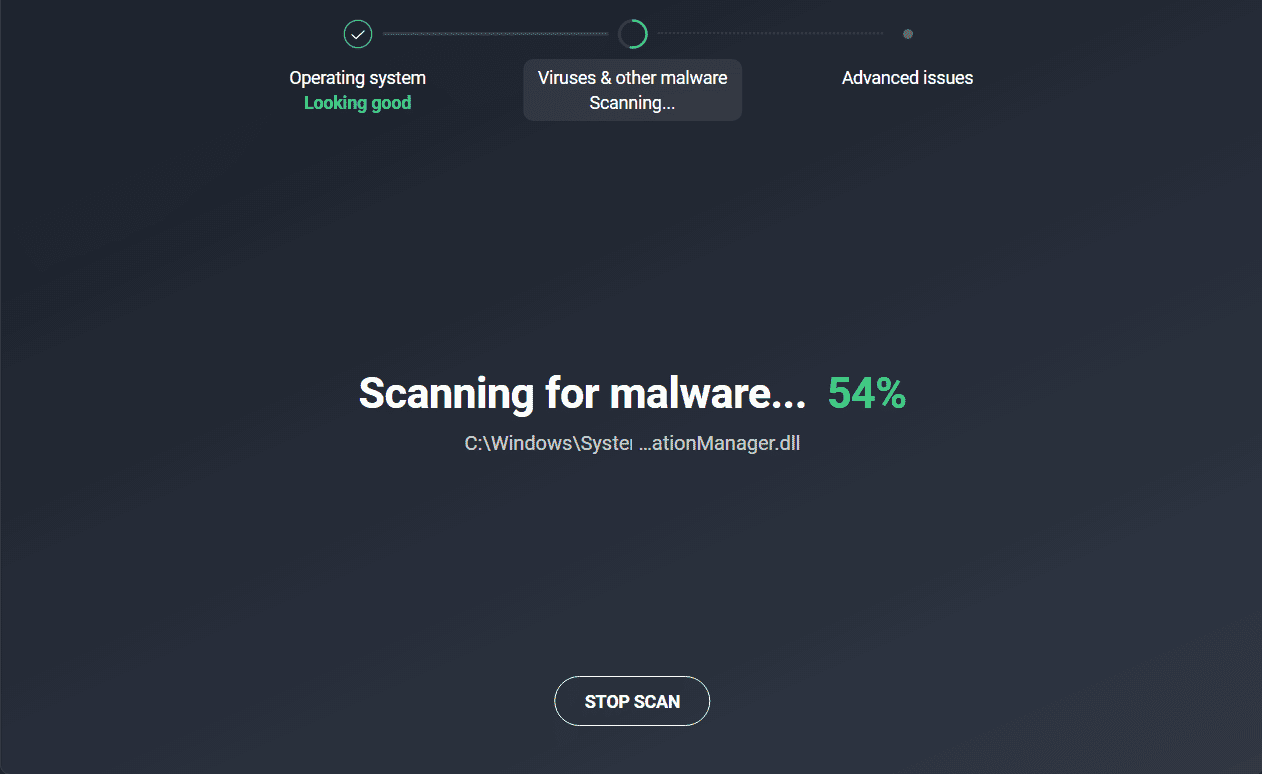 AVG includes on-access scanning, which means as soon as we opened the program it began scanning and continued to scan in the background as long as it was open. But it also offered the option for on-demand scanning. Any time we felt just a bit nervous, we could run a Smart Scan, which took just seconds to search for basic issues like viruses, malware, and bad browser add-ons. Or, we could run a deep scan that checked out absolutely every file on our laptop. AVG uses a behavior-based approach to its scanning, looking specifically for:
Viruses
Malware
Malicious email attachments
Fake websites
AVG's more advanced tools, available for less than $6.49 a month, include additional features:
Ransomware protection
Password protection
A VPN
Wi-Fi Guard
A data shredder
Webcam protection
Payment protection
An advanced firewall.
We went with AVG's mid-range package, which they call Internet Security, and we were able to protect 10 devices. Because, after all, what's the point of protecting our laptop if our tablet and our phone are vulnerable to attacks?
Downloading the Software
Downloading AVG Antivirus software was straightforward enough. The company's homepage has a nice bright green link right at the top offering a "Free Download." Of course, there are links to the paid Mac, PC, and Mobile versions, but we prefer to try things out before we lay any money down. And to be honest, AVG makes it easy to start with a free plan, which includes a file scanner and a basic firewall against viruses and malware; the download and installation took under a minute.
Once we were convinced that the tools they offered were worth an investment, there was an easy option in the program's drop-down menu to enter an activation code. We instantly went from Basic to Full protection, which included access to webcam protection, payment protection, and an advanced firewall.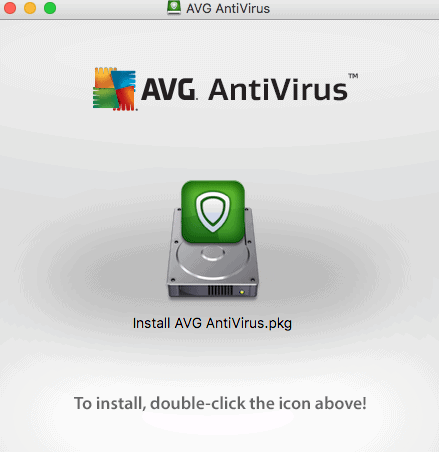 Like a lot of antivirus companies out there, AVG seems always out to convince us that we won't be completely safe until we've purchased enough subscriptions to feel as though our computer is as protected as Fort Knox. We saw the same marketing tactics from Avast, Kaspersky, and almost every other antivirus software we tested.
In AVG's case, our first encounter with those advertisements came after performing a Smart Scan. It highlighted three areas. The first area was about operating system issues, like our notifications appearing when on our laptop's lockscreen. AVG resolved that issue with one click of the "Resolve" button. The next area was viruses and malware. It found nothing, so we moved on to the third area: Advanced issues.
Here, AVG found that our computer was "cluttered" and slowed down by 314 performance issues requiring our immediate attention. Of course, the moment we clicked the "Resolve" button, we were taken to a link where we were encouraged to buy more software. We've never been especially cool with these sorts of marketing tricks. Does our computer really need a tune-up just six months after we bought it? We're doubtful.
Still, AVG didn't actually lie and tell us our computer had malware when it didn't. If there's one thing we won't stand for, it's flat-out lying. In the end, once we knew the scans were always going to claim we had performance issues, it was a pretty simple matter to ignore the constant advice that we repair them.
FYI: Ransomware can attack your device using a number of different vectors. All of them have the same result, however: ransomware encrypts user files and then demands a ransom to restore them.
Pricing
In addition to its free version, AVG offers two levels of paid antivirus security for a yearly fee. Each level provides a variety of different tools, and all three are available on the AVG homepage.
| | Free version | Internet Security version | Ultimate version |
| --- | --- | --- | --- |
| Price | $0.00 | $47.88 for the first year | $77.88 for the first year |
| Number of devices | 1 | 10 | 15 |
| Malware and virus blocking | Yes | Yes | Yes |
| Ransomware protection | No | Yes | Yes |
| Wi-Fi network security | No | Yes | Yes |
| Protection from fake websites | No | Yes | Yes |
| AVG VPN | No | No | Yes |
| AVG TuneUp for performance issues | No | No | Yes |
It was easy to start with the free version and simply step up to the level of protection we felt was right for us. It was also nice to know, though, that when we did buy a year subscription it came with a 30-day money-back guarantee.
If that's not enough, you can also get a 60-day free trial from the AVG app. That's a really generous offer, especially since antivirus brands don't normally offer free trials, or if they do, it's only good for 30 days. Just take a look below.
| Top antivirus brands | Free trial duration |
| --- | --- |
| Total AV | 7 days |
| Kaspersky | 30 days |
| Surfshark One | 30 days money-back guarantee |
| Norton 360 | 7 days |
| McAfee | 30 days |
| AVG | 60 days |
Learn more about AVG's pricing.
The Experience of Using AVG
Like we said before, we took the time to see what came in the free package before we went all in. Below, we outline both experiences.
Free Package
As soon as we opened the software, the main page laid our options out in clear, easy-to-understand terms. At the bottom of the screen, a button offered us an on-demand Smart Scan. Of course, we pushed that before we bothered checking out the other tools, and to our great relief discovered in under five minutes that we were virus-free.
We liked the Smart Scan feature as opposed to an initial full scan of drives, memory, and rootkits (or Deep Scan in AVG's terms). It was quick and it immediately gave us an overview of our computer's health. As we detailed earlier, it looked at not just malware and viruses, but also potential operating system and advanced issues (like our webcam being potentially vulnerable to spying).
That said, it may make sense to do a Deep Scan as well. The Smart Scan may cover a wider scope of potential issues, but the Deep Scan looks for malware in more areas, not just the ones where viruses normally hide. We did end up doing a Deep Scan later on, which took 34 minutes.
Other scan features include scheduled scans, wherein the app scans your computer at a scheduled time, and file scans, wherein AVG scans a specific file of your choosing. The latter comes in handy after downloading an email attachment or a file off the internet. Although the File Shield feature (more on this below) can detect potentially malicious incoming files, the file scan feature is a nice additional layer of protection.
Above the Scan button, the page displayed our additional options. To the left were our two primary tools, those that came with the free version. On the right, AVG reminded us of the three tools that were unlocked when we put in our credit card. The free tools included:
Computer protection: Computer protection essentially means what it says. AVG kept a constant eye on the health of our computer, ensuring it was fine now and that it stayed that way. Selecting this icon opened another, equally user-friendly page detailing the various functions within computer protection, which we could turn off and on individually.

File Shield: This shield scanned every file either added to or opened on our computer. It made sure we didn't download any nasty files in the first place, but just in case something did sneak past, it scanned all these files again each and every time we opened them.
Behavior Shield: This shield monitored all our applications, looking for any suspicious behaviors that might indicate something malicious at work.
Ransomware Protection: This tool walled off all of our files, ensuring they weren't vulnerable to attacks from ransomware.
Network Inspector: Last, but not least, this tool scanned our entire Wi-Fi network and provided useful information about all our connected devices. Turns out we'd forgotten to shut down our Kindle after getting caught up in a mystery one night!

Web and email protection:

Web and email protection is designed to make sure we're safe while we're surfing and includes two more specific functions.

Web shield: AVG's web shield kept us from logging onto any suspicious websites and blocked any potentially unsafe downloads.
Email shield: Meanwhile, the email shield kept an eye on our emails, making sure we weren't exposed to unsafe attachments. Web and email protection: Web and email protection is designed to make sure we're safe while we're surfing and includes two more specific functions.
At the top of the main page, we discovered a drop-down menu with a couple of more tools, including a data shredder and a quarantine folder. The data shredder allowed us to permanently and irreversibly remove a file, a folder, or an entire disc from our computer. The quarantine folder, on the other hand, provided a safe place to store any suspicious files, completely isolating them from the rest of the system.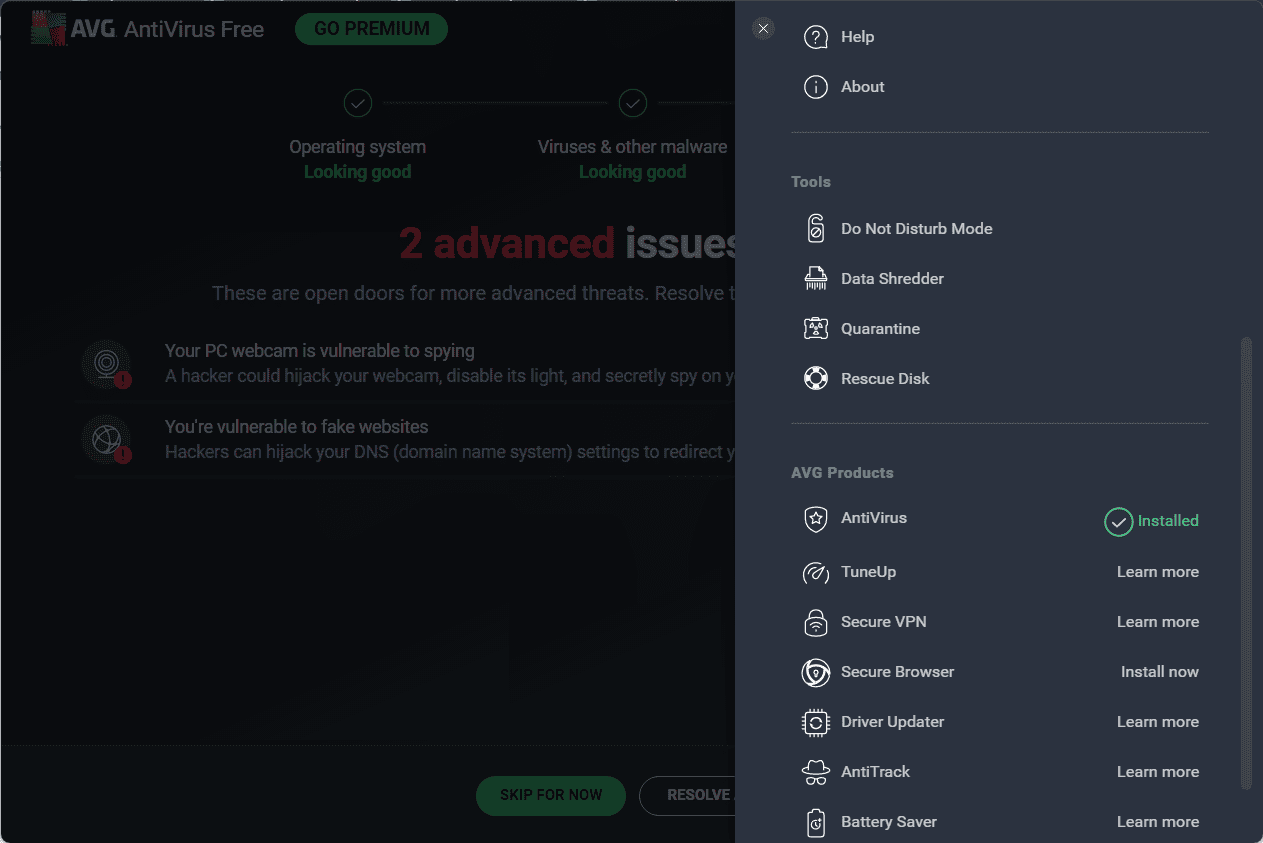 One of our favorite tools, though, was the Do Not Disturb mode. We gave AVG a list of which programs require our absolute uninterrupted attention: spreadsheets, for example, and solitaire. AVG made sure that when those programs were running full-screen nothing and nobody could bother us. No pop-ups: none. Not even, incidentally, from AVG itself.
Finally, the drop-down menu included a list of other AVG services to check out.
For free software, AVG is quite comprehensive. Notably, it includes ransomware protection and a sort of a real-time protection feature in File Shield, which are features often reserved for premium software. For example, Kaspersky's free antivirus, one of the best free antivirus software, limits its features to just on-demand scans.
Of course, you have to consider how effective the free software is at detecting malware – here, Kaspersky really stands out, scoring 100-percent on our virus detection test – but if you want free antivirus with lots of useful features, then AVG is a strong choice.
Tip: A behavior shield constantly scans your computer looking for processes that exhibit suspicious behaviors. Once it detects such behaviors, it can block the file, even if the malware itself hasn't yet been added to the virus database.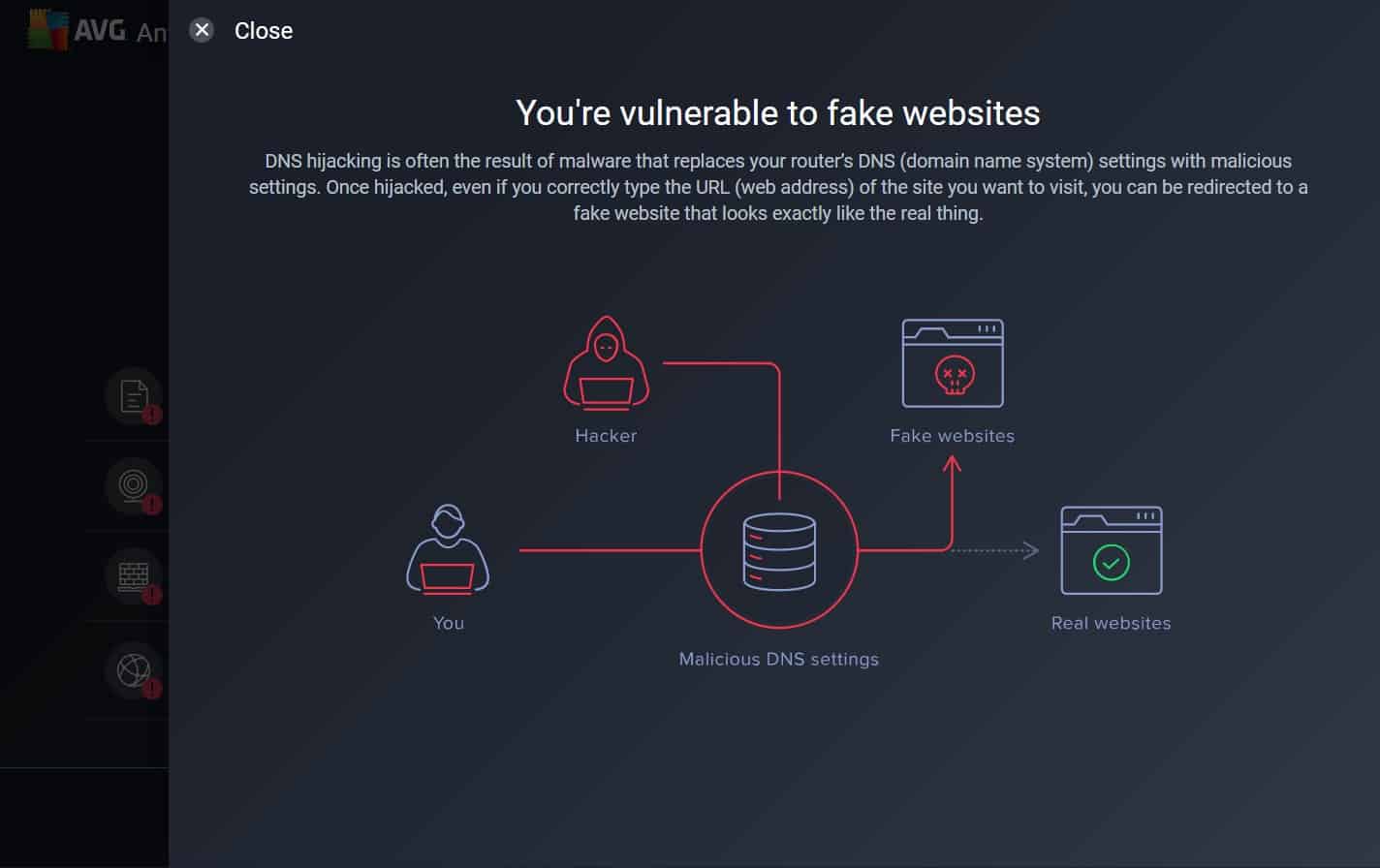 Paid Package
In the end, we liked our free experience with AVG so much that we decided to go with its Internet Security package (there is also an Ultimate package). Once we keyed in the activation code, three more functions, located on the right-hand side of the main page, magically lit up as well, including more protection modes:
Hacker attack protection: The three functions here made sure we were safe not merely from random viruses, but also from specific attacks from hackers.

Enhanced firewall: While the free version of the software offered us some basic protection against hackers, the enhanced firewall looked for more targeted attacks.
Password protection: This feature kept our saved passwords nice and secure, allowing us to autofill forms when we wanted but only when we wanted.
Remote access shield: This shield made sure we were impervious to unwanted remote connections.

Privacy protection: We're sort of rabid about maintaining our privacy, and these functions meant we had no worries on that score.

Webcam protection: This feature ensured no one could use spyware to access our webcam.
Sensitive data shield: This shield prevented snooping on our most sensitive documents.

Payment protection: Finally, the paid version of AVG provided complete protection for all our online purchases.

Fake website shield: As part of maintaining our safety, the fake web shield made certain we weren't taken in by any fake websites phishing for our credit card data.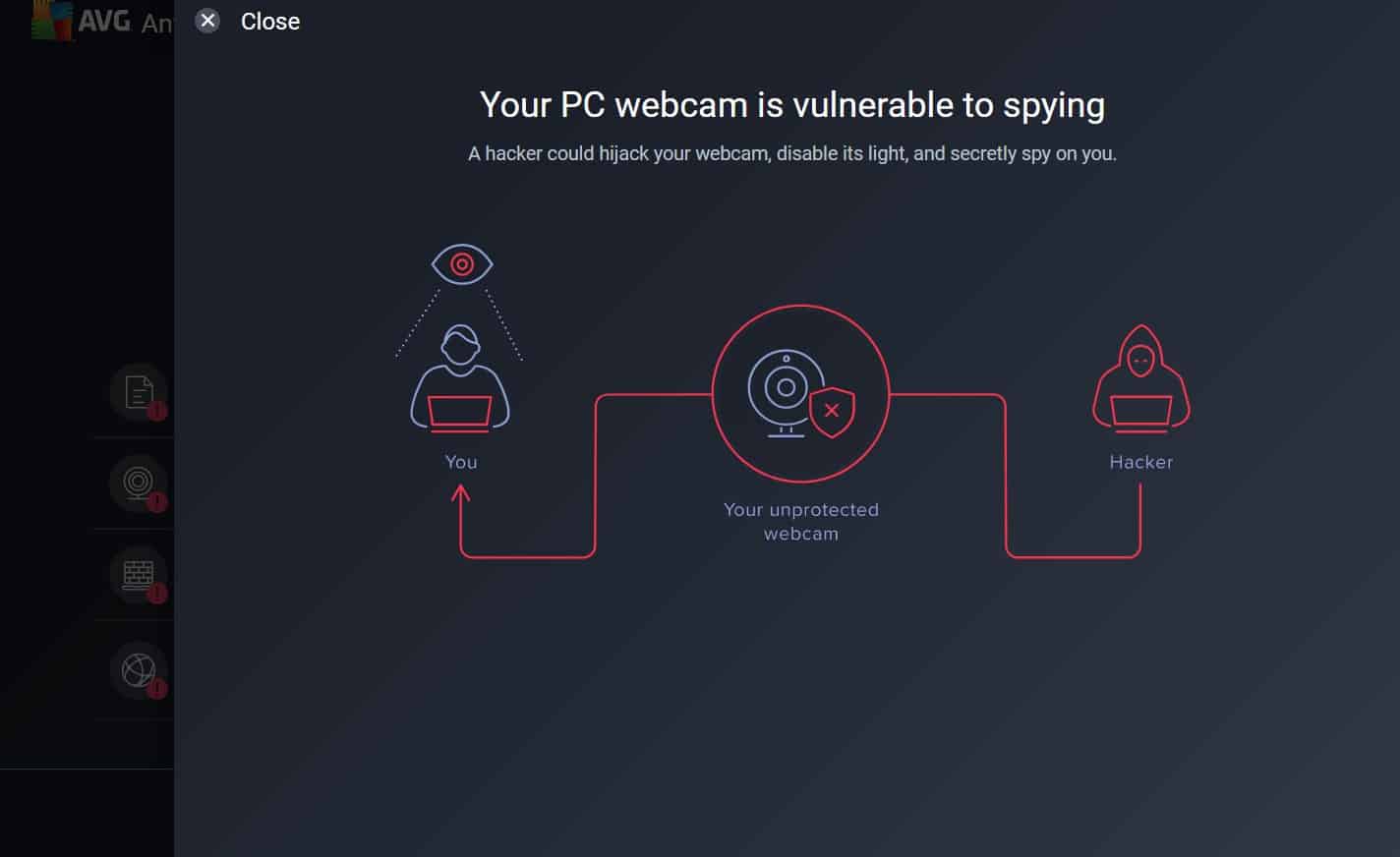 We installed the package on 10 different devices; we have a lot of devices, okay? And as a bonus, it came with a VPN, a virtual private network that routes your online surfing through a third party server so that your browsing and even your IP address are shielded from prying eyes. If you're interested in comparing AVG's VPN to others on the market, check out our list of the best VPNs.
Putting AVG's Virus Detection to the Test
Any antivirus software is only as good as its ability to do its job: stop viruses. That's why we took the time and effort to download (but not open!) five files that we knew contained viruses. Of course, we made sure to check out a variety, from adware to Trojan malware. In the end, AVG managed to detect three of the five, a 60 percent success rate. We were alarmed at first, until we discovered that this is actually a pretty standard percentage for antivirus software. We tested over 40 different programs and found only two that managed to catch 100 percent of what we threw at them, believe it or not.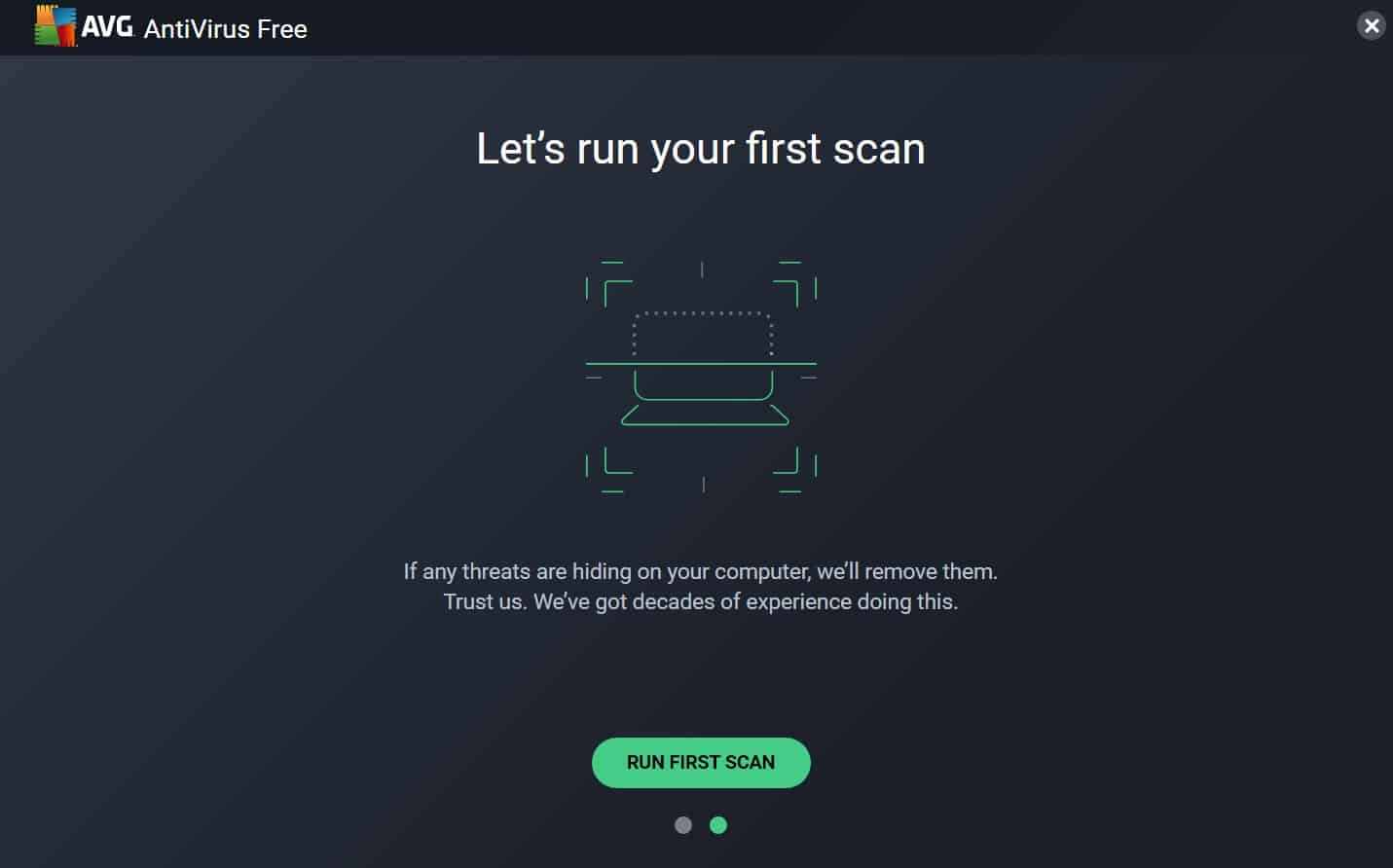 Our Tests
XLSX file: First up, we tested AVG's prowess with a spreadsheet file, Order.XLSX, a tricky little virus that would have tried to convince us to turn off our AVG protections so it could steal our browser histories, passwords, and email credentials. Only 34 percent of antivirus programs detected this one, so we weren't terribly surprised that AVG failed as well.
EXE file: Next we checked out whether AVG could spot RsBvabnsg1, a virus that frequently appears in the form of an exe. RsBvabnsg1 is better known as AgentTelsa, a remote access tool (RAT) that allows bad guys to completely take over a computer. Luckily, the majority of programs manage to catch this one, 66 percent, and AVG managed to also.
DOC file: We find doc files to be especially pernicious since we do a lot of writing and files can sort of just blend together. We tested Reservation.doc, and AVG did manage to detect it. This was an impressive result given that only around 36 percent of all programs spotted it.
XLSM file: AVG let us down again on this one, 97655499.xlsm, which usually shows up as an email attachment. Only 35 percent of antivirus software programs managed to detect it though.
XLS file: Finally, we ran a check for BDO-1218.xls, an xls file that about half of antivirus programs manage to find. Here AVG performed well, detecting it with ease.
In the end, here's how AVG measured up.
| Virus File Type | Percent of Antivirus Software That Detected It | Did AVG Detect It? |
| --- | --- | --- |
| XLSX | 34% | No |
| EXE | 66% | Yes |
| DOC | 36% | Yes |
| XLSM | 35% | No |
| XLS | 51% | Yes |
Lab Tests
Just to set our minds completely at ease, we also checked out how AVG performed in independent tests run by AV Test.3 In terms of protection, AVG received a six out of six. Under performance, AVG was also rated six out of six. And in terms of usability, they were awarded six out of six as well. Those are pretty good scores overall, but how about AVG's virus detection?
We were more excited to discover that when it came to detecting the most recent viruses, malware released over the last month, AVG had a strong 99.9 percent success rate.
AVG's Available Apps
We downloaded the Windows version of the software, but the AVG homepage offers a Mac version as well. In addition, our software came with extensions for both Chrome and Edge browsers.
In addition to its PC products, AVG also offers mobile apps. The Apple Store offers AVG Mobile Security, which we noticed has a 4.8 rating out of 5. Meanwhile, Google Play offers AVG Antivirus Free and Mobile Security, Photo Vault, which despite its lengthy name is highly rated at 4.7 out of 5.0. We tested Google Play's version and saw right away why it's rated so highly. The interface is just as easy to use as the PC version. Also, it doesn't take up a lot of space, which is good since most of our phone space is taken up with cat pictures.
AVG's Customer Support
We were pleased to discover that AVG not only offers solid customer support, but it offers a number of different options for support. First, there is a help file integrated into the program itself, which managed to solve most of our basic problems, explaining the software and how to make the most of its capabilities. In addition, AVG offers 24/7 phone support for its products, where we found the representatives to be knowledgeable and friendly. Finally, AVG has an extensive searchable database of community troubleshooting posts and a blog that provides useful tips on their own software and malware protection in general.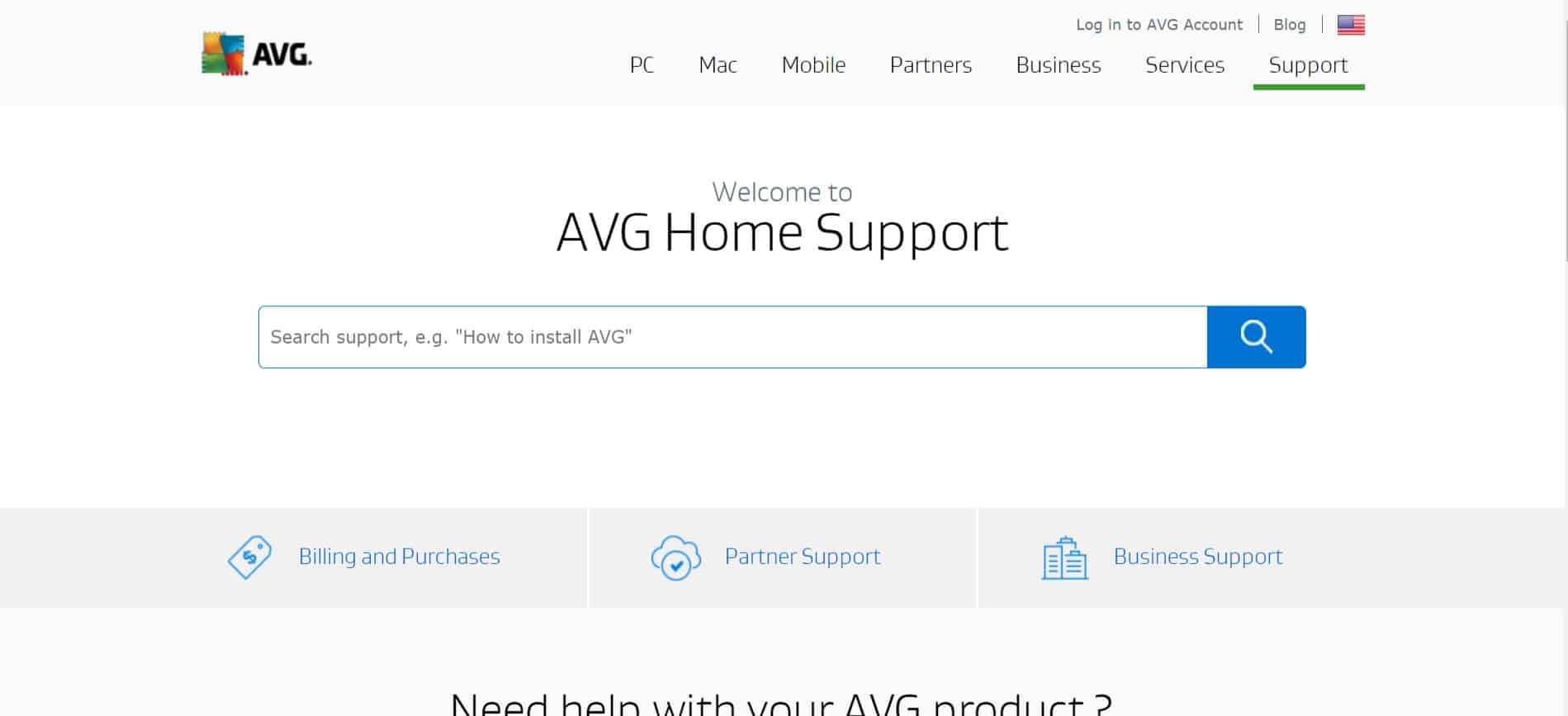 We were a little disappointed that there was no live chat online support option, but with all these other options, we never had a problem we couldn't get an answer for. Even when we made that call at two in the morning just so they'd explain the difference between Smart Scans and Deep Scans, everyone was quite pleasant.
AVG's Privacy Policy
Recently, Avast, which merged with AVG in 2016, was thrust into the spotlight due to their privacy policy, which we read ourselves. Certainly it is true that AVG does collect data on its users, something it makes clear in its privacy policy.4 That information includes:
Name
Email
Phone number
Username
Password
Card number
IP address
Billing data
Subscription information
Operating system
City or country of device
Browser type
Network
Service data like malware samples and detections
URLs and referrers
Usage statistic
Data collection of this type is actually pretty standard in the industry, and AVG maintains that it needs this information as a means of constantly improving its service. In addition, AVG does provide a means of turning off data-sharing, though this is not the default setting.
Overall, AVG itself hasn't been in any serious controversies regarding privacy, and that's certainly a good sign. We hope it can keep its relatively clean reputation.
Recap
If you're looking for good basic protection from malware and viruses, AVG's free app definitely fits the bill. It's feature-rich for free antivirus software, even including a host of extra tools to its arsenal. Plus, since you can use the free software indefinitely, it can work as your permanent antivirus software.
That said, if you're looking for some extra capabilities like an enhanced firewall or device optimization tools, you're going to have to fork out extra money. If you choose that path, AVG is still worthwhile, although it's worth noting that it's not perfect. It didn't score as well as we had hoped in our virus test, for instance, and the apps are riddled with marketing strategies to try and persuade you to buy more products.
AVG is a pretty solid piece of software overall, but for now, we're leaving it off our list of the best antivirus software. Instead, check out our Norton review and Avast review, both of which made our cut and are partners of AVG. Head over to our reviews to see how they are better.