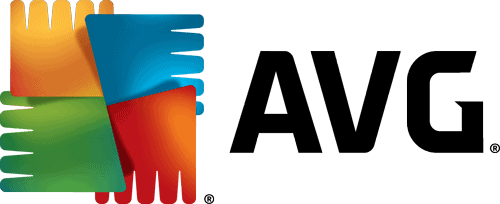 AVG Antivirus Cost and Plan Pricing
30-day money-back guarantee
Coverage for up to 10 devices
Plans for Macs, PCs, Androids and iOS devices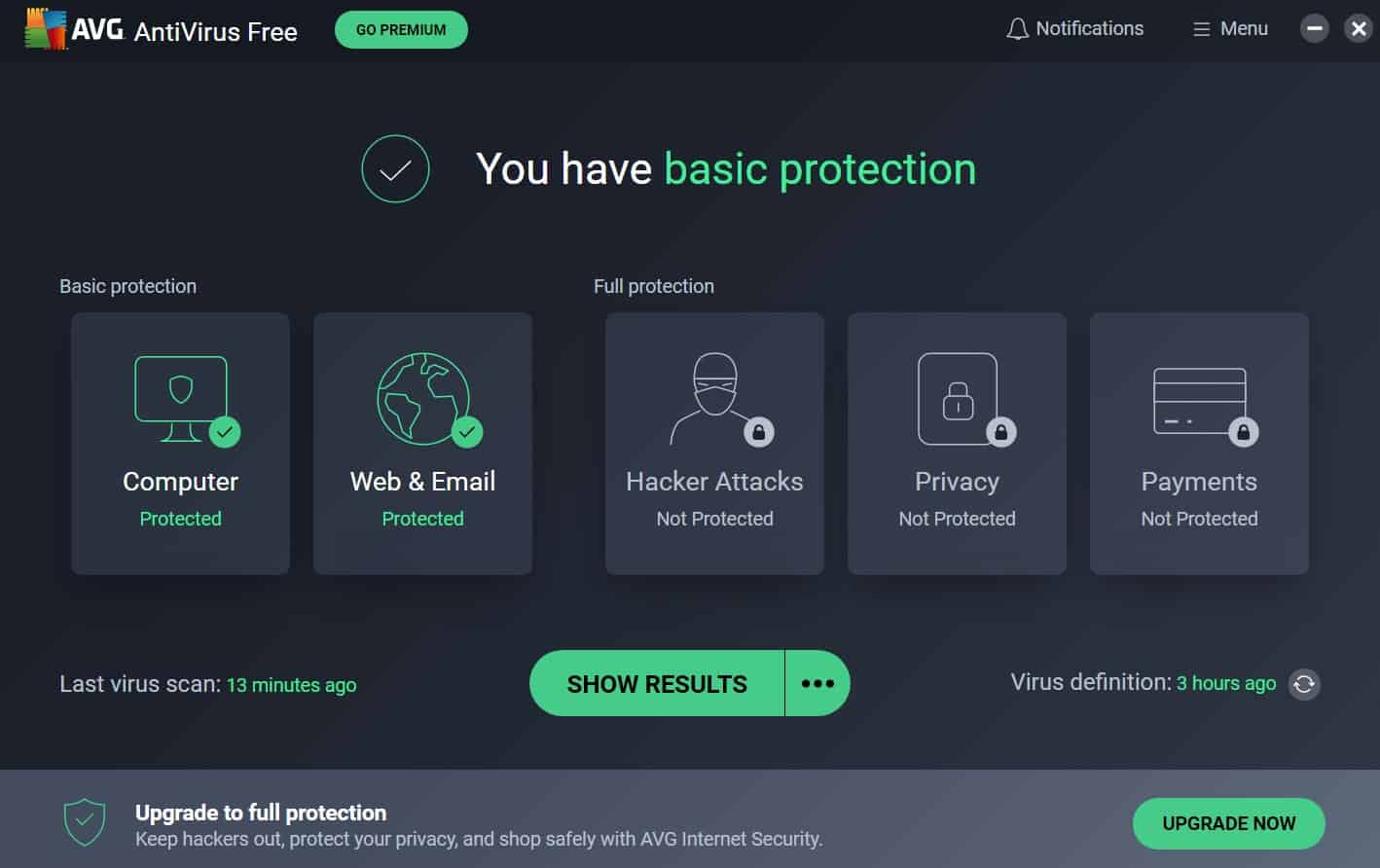 All of our content is written by humans, not robots.
Learn More
By

&

Last Updated
Sep 25, 2023
With so many things to spend on in life, antivirus software shouldn't exactly break the bank. Well, we've already tested out the antivirus software from AVG, but now we want to know how much it costs, whether or not we could try it for free, and if we could get our money back after paying. We've done the research, and here's exactly what we found.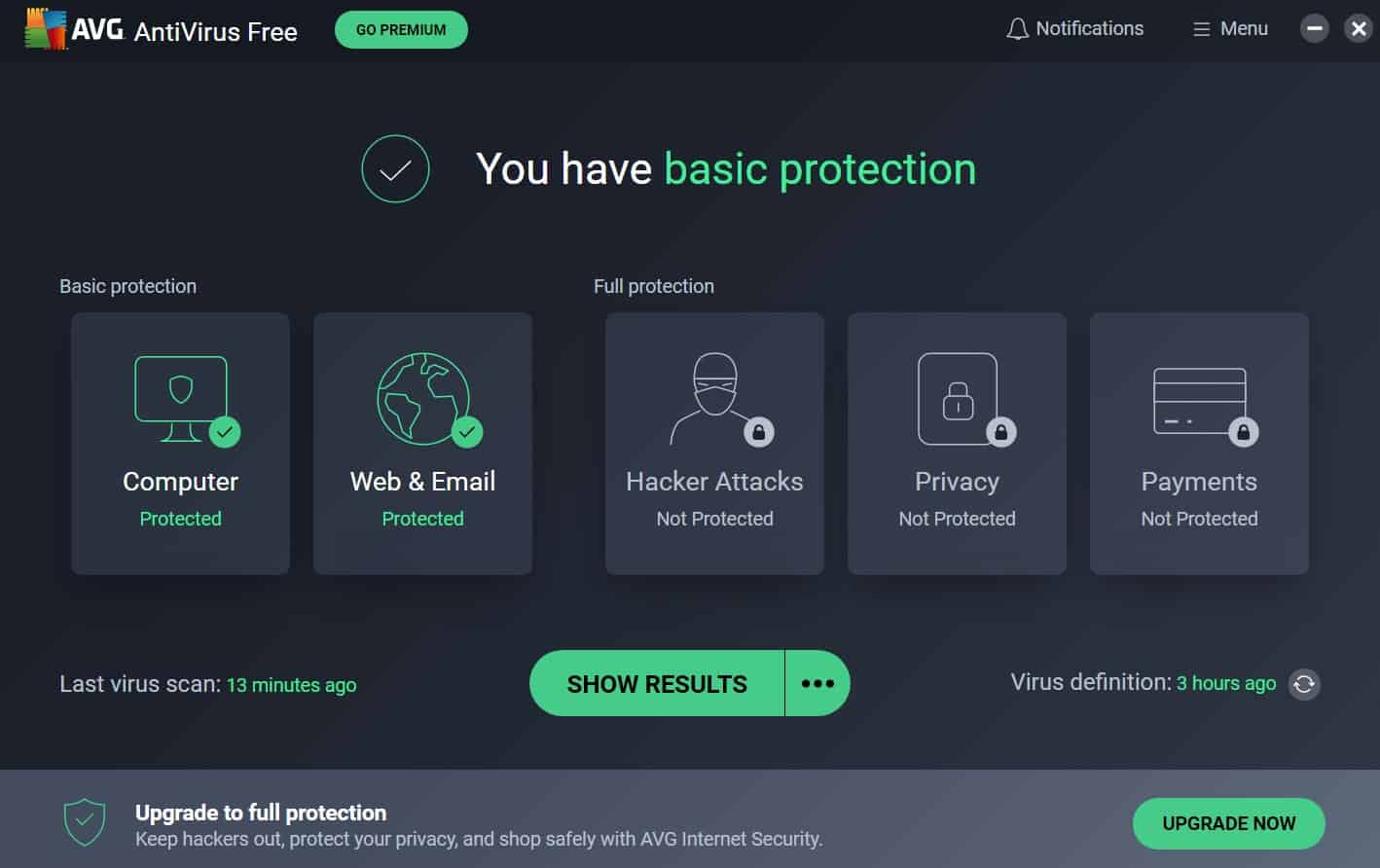 Try AVG For Free
Many people don't want to pay for antivirus software, and according to our list of the best free antivirus software, this is a distinct possibility, and AVG made the cut. They offer free antivirus software for iPhones, Macs and Androids, and although it doesn't cover everything, i.e detection for ransomware, fake websites, and phishing, you can't beat free!
How AVG's Pricing Compares
If you're thinking about upgrading to a paid antivirus subscription — and you should in order to enjoy the best protections — AVG is an affordable option. Is it the most affordable? Not entirely, as we found the three options below more affordable. Nonetheless, you'll likely get your money's worth with AVG.


AVG Antivirus Subscription Costs
You can either buy antivirus software on its own or combine it with other of AVG's services. Let's start with the antivirus software only package.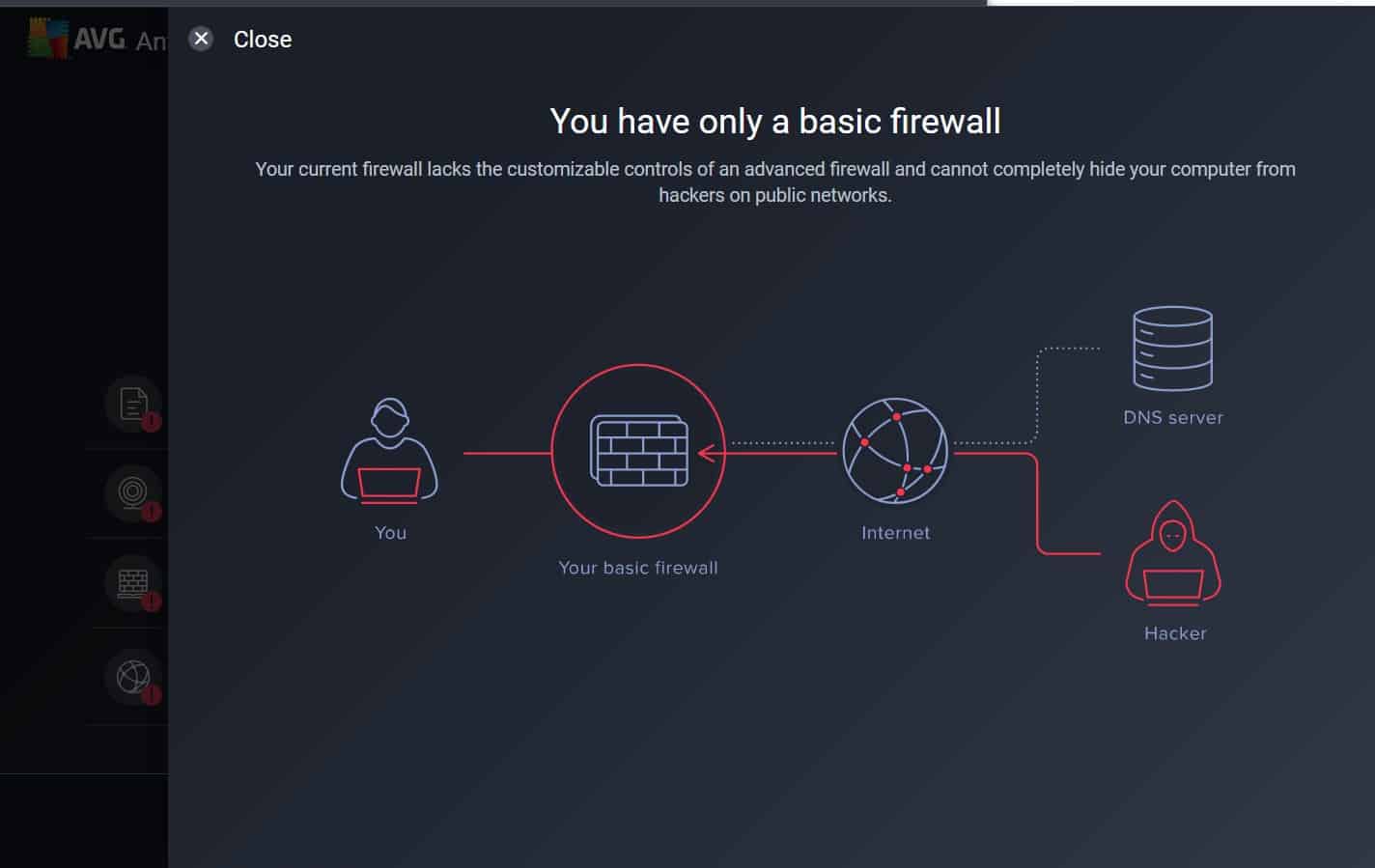 AVG Antivirus for Mac, Android and iPhone
As we said, you can try out AVG's antivirus software for free, but if you want the whole enchilada, which we tried out in our AVG review, opt for the Internet Security package. It costs $39.99 for the first year, and while the price will go up for the next few years, it's not clear by how much. Compared to other antivirus software, this price is a bit on the higher end, as we've seen prices as low as $2.50 a month compared to $3.33, which is what AVG's yearly subscription breaks down to. However, considering there is a free option, AVG won't necessarily break the bank.
| | AVG Antivirus Free | AVG Internet Security- 1 Device | AVG Internet Security- 10 Devices |
| --- | --- | --- | --- |
| Blocks viruses, spyware, ransomware, malware, unsafe links, attachments, and downloads | Yes | Yes | Yes |
| Scan files and programs for threats | Yes | Yes | Yes |
| Automatic security updates | Yes | Yes | Yes |
| More ransomware protection for personal files | No | Yes | Yes |
| Avoid fake websites for secure payments | No | Yes | Yes |
| Anti-phishing protection | No | Yes | Yes |
| Coverage | 1 Device | 1 Device | 10 Devices |
| Yearly Price for First Year | $0.00 | $39.99 | $47.88 |
AVG Ultimate
If you're anything like us, antivirus protection for one device simply won't cut it, but you may need more than what the Internet Security plan affords. Meet AVG Ultimate, which combines the antivirus coverage for 10 devices with something called TuneUp and a VPN, which you can read about more below. AVG Ultimate is available on Windows, Macs, Androids and iOS devices; here are its costs, which if you have 10 devices, breaks down to less than a dollar per device per month, extremely affordable compared to competitors.
| Number of Devices Covered | Monthly Cost During First Year | Total Amount Billed First Year |
| --- | --- | --- |
| 10 | $6.49 | $77.88 |
Pro Tip: Only the AVG Ultimate plan covers Windows devices, not the free or Internet Security packages which only account for iPhones, Androids and Macs.
Best Features
After extensive testing, we've determined that AVG's antivirus software offers a good value compared to the rest of the antivirus industry. Here's why: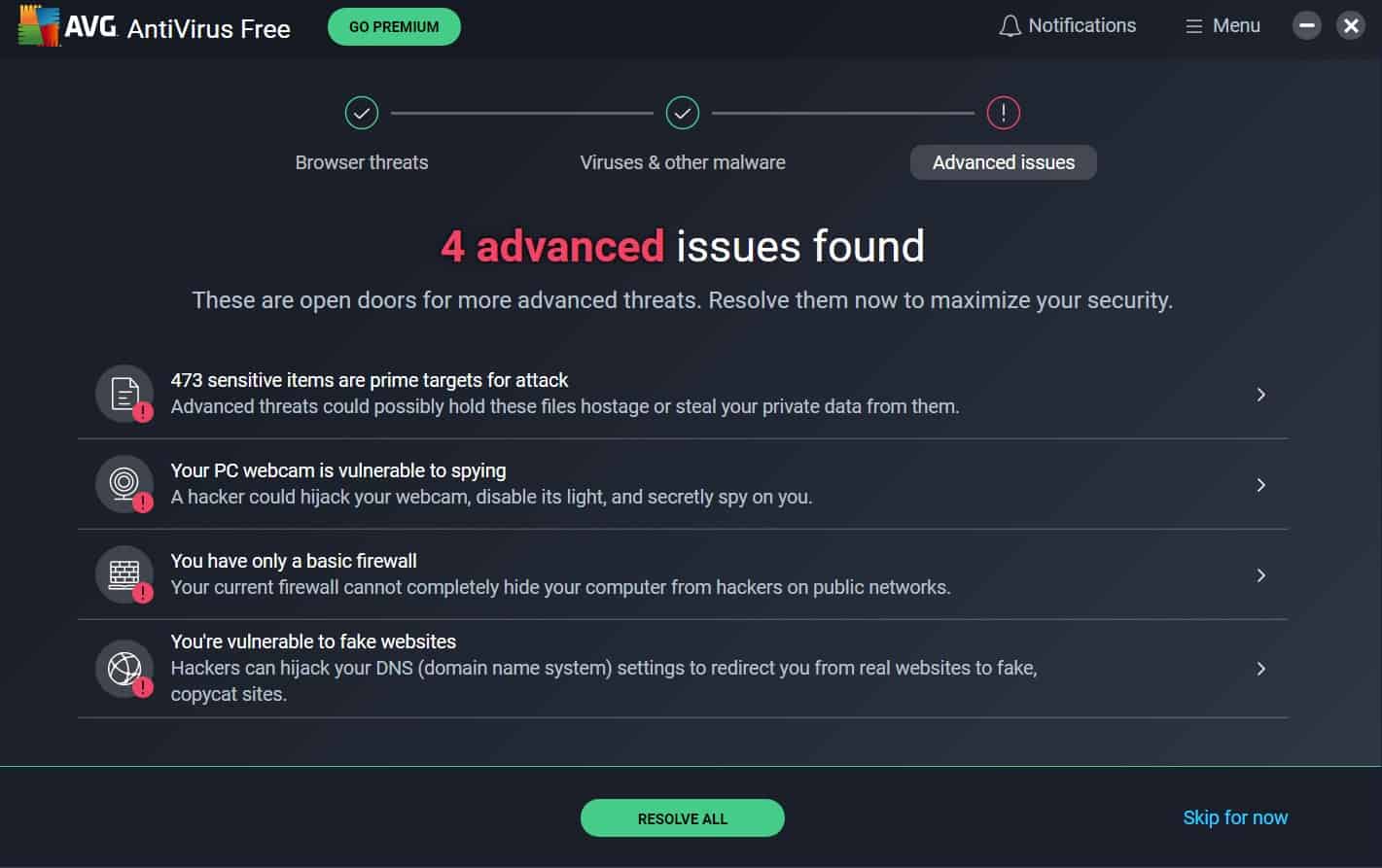 Free tool for iOS, Android and PC: If you want the basic antivirus protection, then you don't have to pay anything with AVG; just download their free apps on the Apple, Google Play or Microsoft stores.
Firewall: One advantage of paying for Internet Security is the enhanced firewall, which constantly monitors a network for intrusions when enabled.
Performance: When we tested AVG against five different viruses, it detected three of the five, which is on the higher side compared to the other software we've tested out.
Behavior-based detection: For bots, malware, identity theft, and more, AVG doesn't just look for malicious signatures, but suspicious behavior that could lead to cyber-attacks.
Detects 99.8 percent of malware: AV Test found that AVG detected 99.8 percent of the latest malware attacks on Androids as of July 2020,

1

and as far as widespread malware in the past month, that number went up to 100 percent, which is pretty incredible.
Money-back guarantee: While it doesn't cover all of their products, we're glad that AVG offers 30 days to get a full refund for many of its options.
Great Android and iOS apps: With a 4.8 rating in the Apple store and a 4.7 rating in the Google Play store, the AVG Mobile Security app for iOS and the AVG AntiVirus Free & Mobile Security, Photo Vault app for Android are both easy to use, despite their unnecessarily long names.
Up to 10 devices: If you spring for the Internet Security plan like we did, you'll get coverage for up to 10 devices as opposed to one with the free service. Considering the fact that 96 percent of Americans have cell phones, nearly 75 percent have computers and around half own tablets and e-readers,

2

coverage for one device probably won't cut it for most people.
More AVG Product Pricing
Antivirus software isn't the only thing AVG does. They offer a few different ways to up your digital security on Macs, Androids, Windows devices and iOS devices. However, some of the services are redundant, and we don't think they're all worth the money. Let's go into more detail.
| Product | Price for First Year | Number of Devices Covered | Compatible Devices |
| --- | --- | --- | --- |
| Secure VPN | $59.88 | 4 | Windows, macOS, Android, iOS |
| AntiTrack | $49.99 | 1 | PC |
| Secure Browser | $0.00 | 1 | Windows, MacOS, Android |
| BreachGuard | $39.99 | 1 | Windows |
| TuneUp | $39.99 | 10 | Windows, MacOS, Android |
| Driver Update | $39.99 | 1 | Windows |
| Express Install | $19.99 (one-time fee) | 1 | Windows |
AVG Secure VPN
While we haven't tested AVG's Secure VPN ourselves, which is why it's not on our list of the top VPNs, their prices are right at $4.99 a month for five devices, billed at once as $59.88 for the first year. We wish they had monthly options, but that doesn't seem to be AVG's style and is the case for all of their products.
FYI: VPN stands for Virtual Private Network, so when you connect to a VPN, all of your web activity and devices' IP addresses will be hidden from your Internet Service Provider.
AVG AntiTrack
Another way to increase your privacy online is through AntiTrack, which deletes web trackers so companies can stop collecting your data as you bounce from site to site. However, it's only available for PCs for around $50 a year, and AVG offers a free secure browser for PCs, which we think is a better deal for essentially the same web protection. Let us explain a little further…
AVG Secure Browser
Yet another way to stay safe online is by using AVG's Secure Browser, which is free for PCs, Mac computers and Android phones. Basically, the Secure Browser does the exact same tasks as the VPN and AntiTrack, but it covers Macs and Androids in addition to PCs. But given that the Secure Browser is free and AntiTrack costs $50 a year, there's really no point in getting AntiTrack; your best bet is to go with the VPN if you want coverage for apps and browsers, or Secure Browser if you're okay with protecting browsers only.
AVG BreachGuard
Did you know that not every state requires companies to alert their customers when their data has been exposed in a data breach?3 That means that, in some states, your personal information may have been compromised without you knowing. AVG's BreachGuard monitors data breaches for your information, removing it from the Internet when it's found. That being said, most identity monitoring services cover security breaches and more, so we think it makes me sense to invest in a comprehensive identity theft protection subscription over BreachGuard. To learn more, read about the best identity theft protection.
AVG TuneUp
Sick of slow speeds and little storage space on your PC, Mac or Android? TuneUp will help your device to perform better and clear out any junk it finds, according to AVG. For $39.99 a year covering 10 devices, this is a pretty good deal, although remember, this is something you could do for free, if you're willing to spend a little time poking around your devices.
AVG Driver Updater
The Driver Updater is another product that doesn't seem entirely necessary, updating PC's drivers which is something any user can do for free, manually. Also, that annual $39.99 fee for the first year only covers one device. Our advice? Turn on automatic updates so that your software is always up to date, and save that money for something more fun.
AVG Express Install
We can't all be digital security experts, which is why AVG offers installation for a one-time fee of $19.99 for any of their products. Again, we don't think this is necessary, as AVG has a ton of setup guides in its support section. And you know what else is free? Calling your kids and asking for help!
Can I Get My Money Back?
So you've pressed "purchase" and now you want to rid yourself of AVG, for whatever reason. If you request a refund within 30 days of your purchase date, you may be able to get your money back, whether you bought the product on AVG's website or through the Google Play store. However, it depends on the product; the money-back guarantee only covers:
AVG AntiVirus Business Edition
AVG Internet Security Business Edition
AVG File Server Business Edition
AVG PC TuneUp Business Edition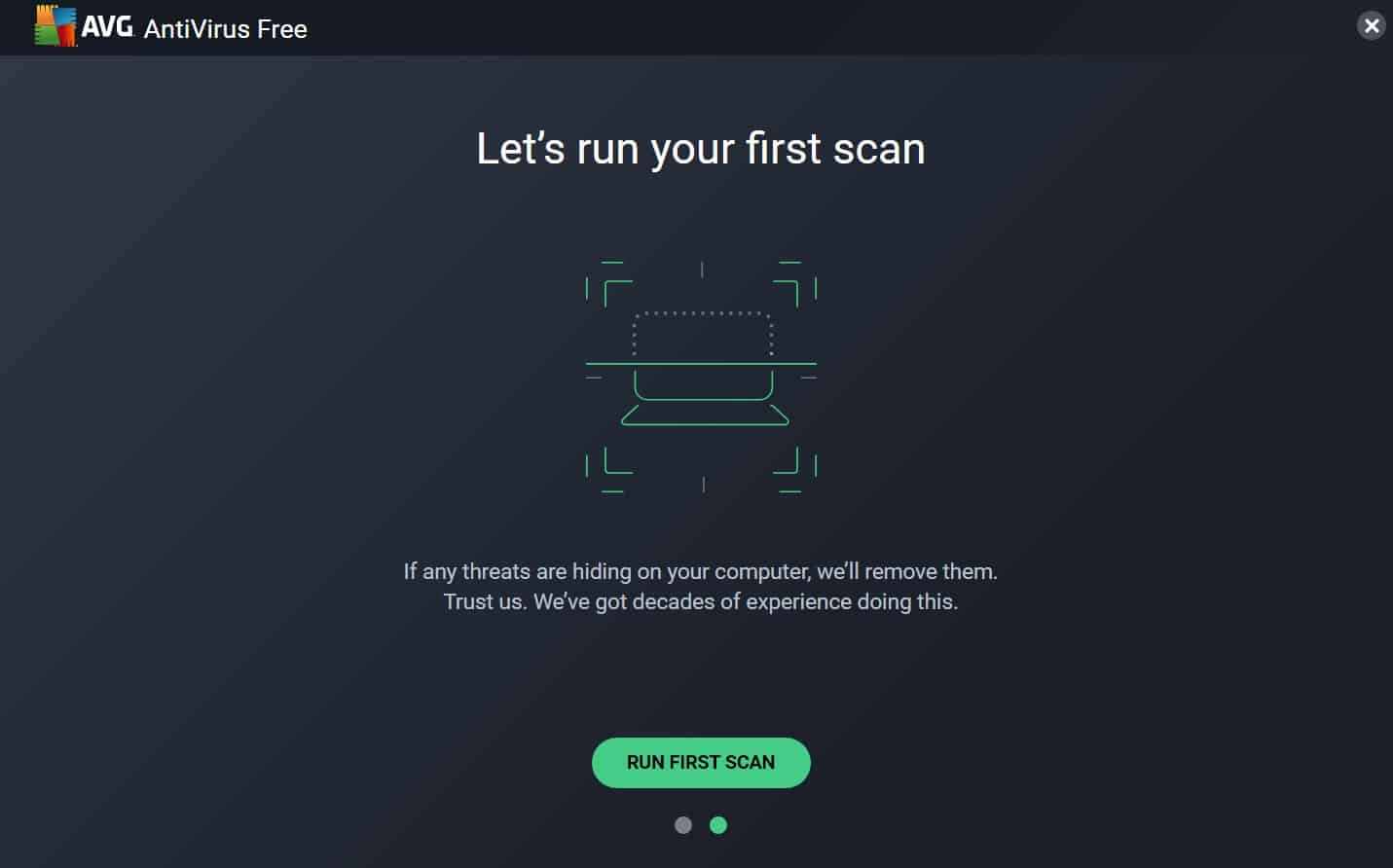 As you can see, these are all business-specific products; AVG doesn't make it clear exactly what consumer-facing products the money-back guarantee covers, so you'll have to request a refund to find out. Sorry we couldn't provide you with any more information!
AVG For Business
That's it for AVG's products for personal use, but if you're looking for an antivirus for business, it's also a good option with a few different products to choose from.
| Product | One-Year Price | Two-Year Price | Three-Year Price |
| --- | --- | --- | --- |
| AVG AntiVirus Business Edition | $46.99 | $70.49 | $98.68 |
| AVG Internet Security Business Edition (AVG Cloud Management Console) | $61.41 | $92.12 | $128.96 |
| AVG File Server Business Edition | $20.41 | $30.41 | $44 |
| AVG Email Server Business Edition | $25.21 | $37.62 | $54.65 |
| AVG Patch Management | $14.99 | $28.49 | $40.49 |
AVG AntiVirus Business Edition
AVG's software aimed specifically at businesses covers multiple devices and starts at $46.99. This is a little less than the personal subscription pricing, but only slightly.
AVG Internet Security Business Edition (AVG Cloud Management Console)
If antivirus software isn't cutting it and you want more protection for ransomware, phishing, spam and more, the Internet Security Business Edition, otherwise known as the Cloud Management Console, costs a minimum of $61.41 per year. That's pretty steep, especially because AVG doesn't make it clear exactly how many devices are covered; since we didn't test these business-related products out ourselves, we highly recommend speaking to a sales rep at AVG so you can decide for yourself if they're worth the money.
AVG File Server Business Edition
Rather than installing antivirus software on all of your employee's devices, another option is to implement it on their file servers; that way, you'll be able to perform updates from a single device, which should make things easier, especially if you're overwhelmed with other tasks (read: constantly).
AVG Email Server Business Edition
If your business uses Microsoft Exchange for emails, then AVG's Email Server Business Edition can block viruses from your emails to make sure they're secure. That being said, many email servers have these sorts of antivirus protections built-in, so again, we recommend doing a little more research before hitting purchase.
AVG Patch Management
Last but not clear is Patch Management for Windows, which does any automatic software updates for patches. However, your Windows computer may have automatic updates for patches already set up, so be sure to check this out before buying Patch Management; nine times out of 10, it won't be necessary, especially if you already have a dedicated IP staff.
| Features | Price per year |
| --- | --- |
| AVG Antivirus Free | $0.00 |
| AVG Internet Security for 1 device | $34.99 |
| AVG Internet Security for 1 device | $44.99 |
| AVG Ultimate for 10 devices | $59.99 |
| Secure VPN | $59.88 |
| Antitrack | $49.99 |
| Secure Browser | $0.00 |
| Breachguard | $19.99 |
| Tuneup | $34.99 |
| Driver Update | $39.99 |
| AVG Battery Saver | $29.99 |
| Express Install | $19.99 |
| AVG Antivirus Business Edition | $46.99 |
| AVG Internet Security Business Edition (AVG Cloud Management Console) | $61.41 |
| AVG File Server Business Edition | $20.41 (1 time fee) |
| AVG Email Server Business Edition | $125.60 (1 time fee) |
| AVG Patch Management | $14.99 (1 time fee) |
Background on AVG Technologies
Pricing isn't the only factor we consider when choosing an antivirus software; we also look into the company itself to make sure it's trustworthy. And while AVG is one of the better-known brands in the digital security industry, they have run into some scandals regarding their privacy policy. Its parent company, Avast (which you can read more about in our Avast review), used something called Jumpshot to collect user data and sell it to third party companies, although this information was anonymized according to Avast.4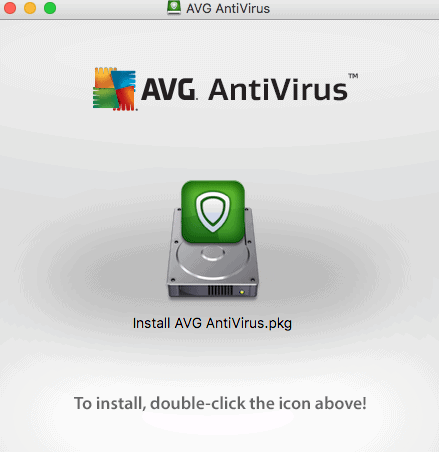 However, when Vice's Motherboard reported this, Avast quickly shut down Jumpshot, and since the information was anonymized, we don't see it as a dealbreaker for AVG, necessarily. However, someone extremely concerned about privacy may want to avoid AVG even with its current privacy policy, which states that the company logs users IP addresses on Macs and Windows. One solution is to use a VPN with AVG in order to replace your IP address with a fake one, keeping your device's real IP address a secret.
Summary
AVG offers a bunch of different digital security products, and finding the prices on their website isn't the easiest thing to do, so we're happy to lay out the prices here. To learn more about antivirus software in general, read our antivirus buyers guide, and don't forget to be secure!
FAQs
We're not done talking about AVG. Here are the answers to the questions we get most often.