Kangaroo Doorbell Camera Review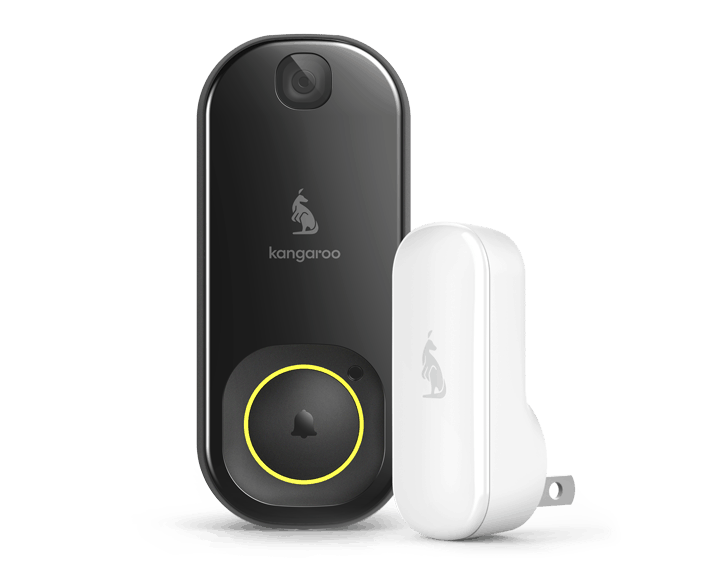 What We Like
Affordable: Kangaroo's biggest selling point was its price point. At just $19.99 the brand new Doorbell Camera + Chime is one the most affordable doorbell cameras on the market.

1

Other doorbell cameras like the Nest doorbell we reviewed and the Ring doorbells we reviewed cost anywhere from $99.99 to $229.99. Because we were saving money to buy a house in Brooklyn and didn't want to spend a lot on a doorbell, the Kangaroo's affordability stuck out to us.
Easy to Install: Installing the Doorbell Camera + Chime was very easy. The doorbell came with an adhesive backing as well as a screw mount. We were happy to have the peel and stick option, which is how we chose to install our camera.
Battery-Operated: Another feature that stood out to us was that this doorbell was battery-operated, meaning we didn't have to worry about hardwiring. Our home is rented and if there was any damage when we moved out, we wouldn't get our security deposit back. Therefore, having the option to have a doorbell without having to hardwiring was a bonus.
What We Don't Like
No video Option: It's important to note this doorbell camera did not come with a live video option, or any video option for that matter. The camera only took still pictures when motion was detected. Those pictures were pieced together in a sequence that looked like a flip book. While we thought it was a cool concept, it wasn't as useful as actual video footage.
No Two-Way Audio: Because the doorbell camera had no speaker or microphone built in, we couldn't communicate with the person outside through the Kangaroo app. Two-way audio is a pretty standard feature for other doorbells so we were disappointed the Kangaroo didn't offer that as an option.