What to Do if Your Home Floods
We have tips for putting your house back in order.
All of our content is written by humans, not robots.
Learn More
A flood is one of the worst things that can happen to a homeowner. The flood itself can be scary, but then you have to leave your home and go through the process of cleaning and replacing carpets, furniture, mattresses, and pictures. The whole process requires an enormous amount of energy and patience.
You can handle it though, and we're here to help. We've put together a complete list of what to do should you find yourself a victim of home flooding. So take a deep breath. You'll find all the answers you need below.
Security System Finder
By answering a handful of easy questions, you can discover the security system that's perfectly tailored to your needs!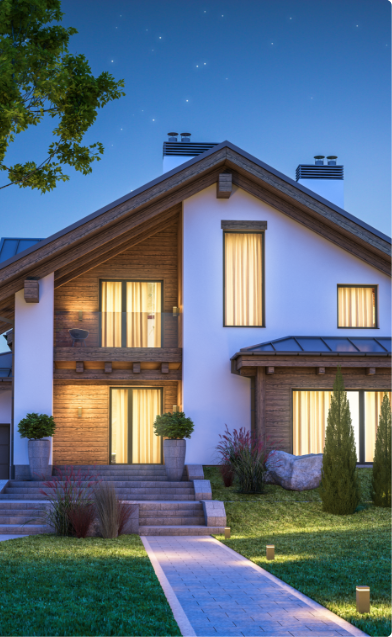 What to Do if Your House Floods
Obviously, if you've just faced a flood, the aftermath can seem overwhelming, but taking it one step at a time can make it much easier.
Act fast. First and foremost, make sure you and your family are safe, and avoid any extra risks. In some cases, your most important job will be to get yourself to safety. At the same time, though, you want to take as many early steps as you can to minimize the damage:

Stop the water at its source. You can't stop floodwaters caused by a river that has overflown its bank. Many floods, though, have more localized sources, like burst pipes. If you're dealing with a flood you can control, you want to find the source immediately and shut off the water.Sometimes, you can turn the water off from inside the house. If, for instance, a leaky washing machine or bathroom plumbing is the source of the flooding, you'll find shut-off valves in the laundry room or bathroom, typically. If the problem is in your walls, you may need to shut off the water main to the house. Sometimes water mains are inside, but often they are external to the house or even on the street.
Turn off the electricity. Your electrical wiring runs throughout your house, in places you can't see, but where water can reach. If you can, shut off the main power immediately when a flood begins. This can prevent permanent damage to your wiring, not to mention electrocution. Once the floodwaters have receded, it's a good idea to have a professional electrician check out your wiring, especially if the water rose above the electrical outlets.
Turn off the natural gas. If your home runs on natural gas, shut this down as well. A flood can create leaks in gas lines, which can be dangerous for you and your family. Typically, you'll find the shut-off valve on the exterior of your house, attached to the meter and supply pipe.

Evaluate the structure. Don't reenter your home until you have evaluated the structure thoroughly and have determined it is safe to enter. Problems to look for include:

Wet insulation
Rust seeping from cracks
Cracks in wooden structures
Cracks in the foundation
Swollen windows and doors
Wet electrical circuits
Damaged wires and pipes

Any of these signs could mean that the structure is dangerous. If you are at all concerned about the building's structural integrity, you should hire a structural engineer to evaluate it before you return.

Find out if you're in a disaster area. If the floodwaters came from outside your home, you should check to see if the president has declared your region a disaster area. FEMA (Federal Emergency Management Assistance) offers a search tool for finding this information at https://www.fema.gov/disasters/disaster-declarations. In addition, it provides the paperwork for claiming disaster benefits at https://www.disasterassistance.gov/.

FYI: While governors can request that their states be designated "disaster areas," only the president can make the declaration.

Document absolutely everything. After a flood, get proof of both what happened and what you have lost. Take photos of everything, including all the damage to your home and belongings. If you can, take pictures before the water has receded to show the extent of the flood. Don't remove any items from the structure until your insurer has given you permission. The adjuster may need to see the scene as it was when the flood occurred. Finally, in addition to taking photographs, document all your contacts, including all names and dates.
Dry things out. You should dry things out early and as soon as possible to minimize damage, within the first 24 hours to 48 hours. Getting rid of standing water and moisture can also help prevent mold growth, a significant health hazard. Exposure to mold can cause coughing, eye irritation, and respiratory illness.

1

As you go through the clean-up process, keep these tips in mind:

Wear protective clothing, and use the appropriate gear. You can find the right gear at your local hardware store. These items include:

Long pants and long sleeves to protect your skin
Boots
Rubber gloves
Goggles
An N95 mask, also known as a particulate-filtering face piece

Flooded House

Remove standing water. For a large amount of water, i.e., more than 1 inch of standing water, you'll need to use flexible, plastic buckets.

2

A wet/dry vacuum can help you eliminate smaller amounts. Most commercial vacs can pump out 5 to 10 gallons of water at a time. Vacs are especially useful for removing leftover water from carpets.
Increase the airflow in the structure. Airflow helps the structure to dry out. Drying fans accelerate the drying process. Dehumidifiers work well, too. Also, you may want to open doors and windows to improve airflow, but only if the air outside your home is drier than the air inside. Never use fans if mold has already begun to grow, as air accelerates mold growth.

3

Look for and remove hiding water. Removing standing water won't solve your mold problems if you ignore the water that's hiding in your home's structural cavities, like walls and flooring. If flooring and drywall show water damage signs, there is likely water damage behind them. Remove the drywall and flooring to get to the water.
Use a moisture meter. Consider buying a moisture meter. You can purchase these handheld devices from your local hardware store and use them to identify anywhere where water might be lurking.
Remove all wet items. Once your insurance company has given you the OK, you can remove wet items from your home. Removing wet items helps your home's structure dry more thoroughly. You should throw out anything that has been saturated for more than 48 hours, since it may already have begun to grow mold.
Dry out keepsakes. Handle valuable keepsakes carefully, as they can be fragile when they are wet. You should use gentle air drying to remove all moisture, and use soft cloths and brushes to remove any debris.

Tip: If you don't have time to dry out documents and photos after a flood, you can place them in plastic bags and freeze them. This will keep them safe until you have time to dry them out properly.

Throw out any food that might have been contaminated. Floodwater can contain mud, chemicals, and sewage. As a result, you should discard any food that the water may have touched.
Remove all porous materials. You also should remove any porous material that floodwater may have touched, as mold can grow in the pores. This includes anything made of wood as well as drywall. You should also throw out carpet padding.
Throw out wet insulation. As you search for hidden water and remove flooring and drywall, throw out any wet insulation as well.

Disinfect everything. Once the structure is dry, you should disinfect any affected areas. Some tips for this process, include the following:

Make sure the area is well ventilated. Cleaning solutions can be toxic. In addition to wearing gloves, masks, and eye protection, you should ensure the air doesn't become oversaturated with chemical particles by leaving doors and windows open to allow fresh air to circulate in.

4

In addition, keep in mind that damaged home appliances such as furnaces can cause CO2 leaks. A CO monitor installed in the right place can warn you if you're in danger.
Use a bleach solution. Clean any nonporous hard surfaces with a solution made up of 10 percent bleach and 90 percent water. Remember that mixing chemicals is dangerous. For example, ammonia and bleach in combination create chloramines, toxic gases that can cause shortness of breath, nausea, and pneumonia.

5

Use a stiff brush to clean surfaces like concrete. The brush will ensure the cleaning solution gets deep into the cavities of the surface to prevent mold from growing.
Let surfaces dry before rinsing. Once you've cleaned surfaces thoroughly, allow them to dry for at least 10 minutes before rinsing them with warm water. This gives the cleaning solution time to disinfect.
Clean fabrics. You can clean fabrics by saturating them in clean water and then drying them out thoroughly. You might also consider taking them to a professional dry cleaners.
Clean out air ducts. If water reached any air ducts during the flood, you should thoroughly clean them, or hire professionals to clean them. If air ducts become contaminated with mold, they can blow this material throughout your home.

Call your insurance company. If you have insurance that covers flooding, call your insurer as soon as possible after documenting everything with photos. Then, work with them closely to recover. We've outlined this process below:

Notify the agency of the flood.
Don't remove any items from the flooded area before you contact your insurer.
Keep receipts of any emergency services you used to stop the flood.
Meet with the adjuster at the scene to evaluate the damage.
Sign an initial proof of loss statement during the first meeting. You can always add items to this list later.
Allow the adjuster time to determine the cause of the flood and the extent of your coverage.
Submit formal documentation of your losses.

Replace what is lost. Last, but certainly not least, you can rebuild your home and replace what was lost. As you do, keep in mind the following:

Don't do anything until the insurance OKs it. Don't purchase any services or replacement items until you know for certain that the insurance company will cover it.
Use reputable contractors to make repairs. If the flood damage was extensive, you will likely need to hire professionals to help you recover. Make sure you hire people you can trust. These tips can help:

Shop around. You can ask for referrals from friends, do a basic online search, or use a contractor-matching service like HomeAdvisor. You should compare at least three different contractors before making your decision to make sure you're getting the best work for a fair price.
Look for companies and individuals who specialize in flood restoration.
Ask for the contractor's license number, then verify this with the National Association of State Contractors Licensing Agencies (NASCLA) at https://www.nascla.org/page/LicensingInfo.
Ask to see proof that the contractor has liability and workers' compensation insurance.
Check to see the company or individual has worked with insurance companies before.
Get everything, including estimates, in writing.
Make sure you have the proper permits before doing any construction work. Permit types and regulations vary widely by location, and which permits you might need will differ based on the extent of the damage your home has suffered. You might, for example, need permits for repairing the structure itself solely. However, if the damage was extensive, you might need permits for utility companies, like electricians and plumbers. The easiest way to find out what permits you might need is to contact your city or county building office and describe the damage and services needed.
Make sure the company or individual offers transparent pricing so you know exactly what everything will cost.

Wait to replace furniture. Don't buy any new furniture to go into your home until renovations have been completed, since the restoration process can damage the furniture. Recognize that this process can take some time – weeks to months – depending on the amount of damage your home has suffered.
What Happens if You Don't Clean Your Home After a Flood
Cleaning your home after a flood can be a costly, time-consuming project. Avoiding the cleanup process can be even more costly, though. The consequences can include:
Damage to your health. As we mentioned earlier, mold, in particular, can be hazardous to your health. If it grows unchecked, you risk a cough, itchy eyes, wheezing, and throat irritation. If you have asthma or mold allergies, your symptoms could include trouble breathing.
Weak floors and walls. If you don't get rid of the water quickly and dry your home out, you risk structural damage. It can be dangerous, of course, to live in a home with compromised structural integrity. It can also cause your home to depreciate in value.
Damaged electrical systems. Water can do damage to your home's electrical system, which can lead to power losses or even fires. Pay attention to any unusual electrical activity such as chirping smoke alarms. And for more tips on how to prevent fires specifically, check out our complete guide to fire safety.
Bugs. Lots of bugs, including mosquitos, roaches, ants, wasps, and termites, thrive in wet environments.

6

It's likely you'll see a rise in these pests outdoors after a flood. Don't invite them in by leaving water and moisture in the floors and walls of your home.
Flood Insurance: Are You Covered?
According to analysis by the First Street Foundation, the estimated annual property loss due to floods in America totals $20.3 billion, or an average loss of $3,548. This number is expected to increase by 65 percent over the next 30 years to $34 billion total and $5,854 on average per household.7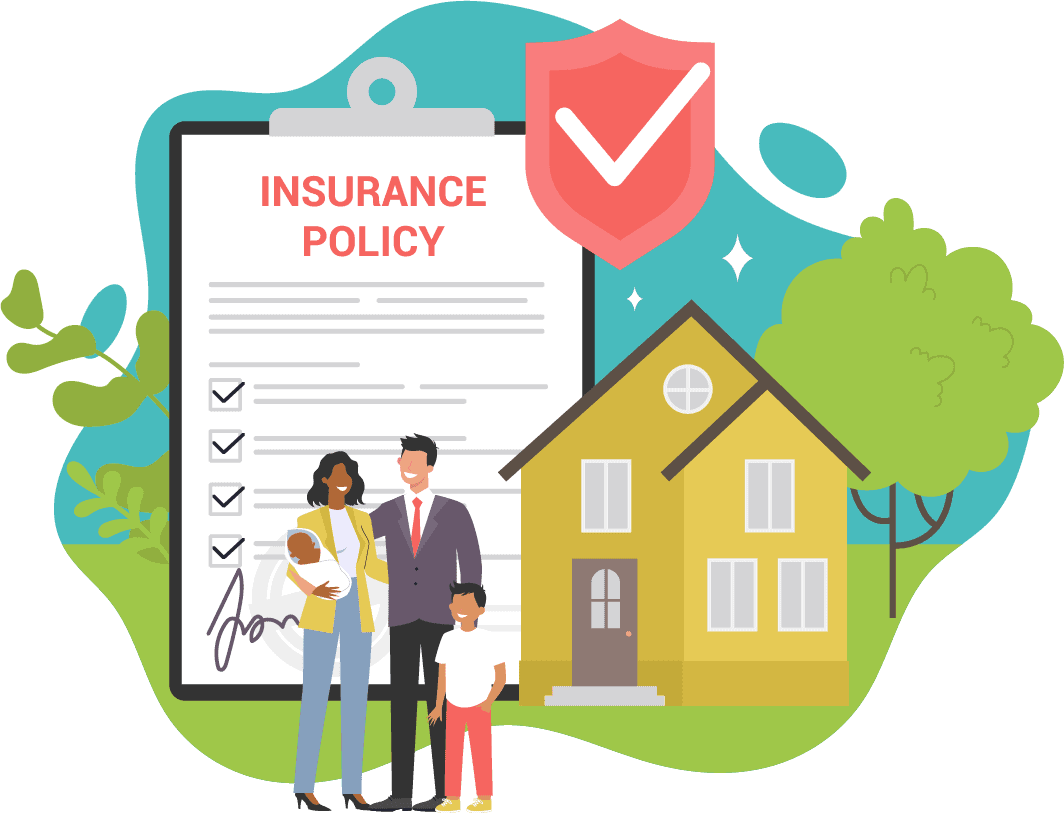 These numbers suggest that flood insurance is an important investment and will become even more important in the future. The problem is, flood insurance is a complicated topic. There are three distinct types of policies, and each covers flooding in a slightly different way:
Homeowners policies: Most homeowners' policies cover damage if an internal source, such as burst pipes or leaking water heaters, causes it. They don't, however, cover flooding due to outside sources like creeks, lakes, and rivers. For that, you'll need flood insurance.
NFIP government policies: Dozens of insurance companies, including such recognizable names as Liberty Mutual, Allstate, and Geico, offer flood insurance through the U.S. government's National Flood Insurance Program (NFIP). These policies will reimburse you for up to $250,000 in damages to your home itself and up to $100,000 in damages to your belongings. For more information, call the NFIP at 877-336-2627 or visit https://www.fema.gov/flood-insurance.
Private flood insurance: Finally, a new market has developed for private flood insurance. Companies such as Assurant and Flood Guard offer policies specially designed for homeowners who want more coverage than what NFIP can provide.
| Flood insurance | Coverage maximums for homes | Coverage maximums for belongings |
| --- | --- | --- |
| NFIP | $250,000 | $100,000 |
| Assurant | $800,000 | $250,000 |
| Flood Guard | $5 million | $1 million |
Planning for a Flood
You can't stop natural disasters from happening, but you can do things to prevent everyday flooding events. Best practices to keep your home safe from water damage include doing these things:
Fix small leaks. If you fix small leaks as soon as you notice them, you can prevent bigger leaks from forming. One easy way to find these leaks is to install a leak detector, available from a number of security companies. For some great examples, check out our pages on Ring prices, Vivint prices, and SimpliSafe prices.
Ensure the ground slopes away from your house. Make sure that water runs away from your house rather than toward it. If water is rolling downhill toward your home, it can cause basement flooding or even foundation damage. Usually, changing the slope involves digging up sizable portions of your lawn and moving dirt around.
Keep gutters and spouts clear. If gutters and spouts clog, the water can back up and find its way into the house.
Make sure gutters direct water away from the basement. If gutters deposit rainwater too close to the house, that water can damage the basement or even the foundation.
Check sump pumps regularly. A sump pump sits at the lowest point of your home and pumps groundwater away when the soil becomes too saturated.
Remove snow from your roof. Meltwater can become trapped beneath large piles of snow and can slowly seep through your roof and into your attic. Remove snow regularly throughout the winter.
Install a generator. Natural disasters, including floods, often knock out the power grid. To keep your home warm and dry during these events, it's a good idea to buy a generator.
Keeping Your Pets Safe During a Flood
If you have a pet, you'll want to make sure they're safe during natural disasters like floods. Once again, the best way to do this is to plan ahead:
Make an emergency go-bag. A go-bag might contain:

Food
Water
Treats
Bowls
A collar and leash
Bedding
Poop bags
Basic medical kit
Identification
Medications

Keep your pets' tags, licenses, and chips up to date. If you should become separated from your pet during a flood, you'll want ways to track them down.
Know your pets' hiding places. Under the stress of a flood event, a pet may seek out a place they feel comfortable. Knowing what these areas are will help you find them if you need to evacuate.
Consider buying a life jacket for your pet. If you live in a place that's subject to floods, or if you know a flood may be coming, it's a good idea to buy your pet their own life jacket. That way if you need to swim, you won't have to worry about carrying them as well.
Additional Resources
If you find yourself in the unfortunate position of recovering after a flood, know that you aren't alone. In fact, there are many resources and lots of people who specialize in helping people just like you put their lives back together, such as:
The American Red Cross: In the immediate aftermath of a natural disaster, the Red Cross will always show up to provide shelter, food, water, and comfort.
FEMA: One of the best ways to start rebuilding after a flood is to work with FEMA. This government agency has a number of resources specifically aimed at flooding. These resources include updates on disaster areas, maps of flooded regions, and programs for reuniting children and parents. In addition, FEMA offers a number of financial resources, including money for temporary housing, counseling, and legal services.
Restoration companies: Many contractors specialize in home restoration after a flood. A good restoration company knows what you're going through and how to help you work with your insurance company to rebuild.
Recap
Dealing with the aftermath of a flood isn't easy. Sifting through your belongings, and making decisions about rebuilding takes courage and patience. If you follow the steps we've outlined, however, you can get through a flood and maintain your sanity.
Frequently Asked Questions
Need answers about home flooding fast? Check out our list of frequently asked questions below.