Link Interactive Home Security Systems
Here's everything you need to know about Link Interactive, a security company that requires long-term contracts.
Easy DIY installation
Monthly monitoring starting at $30.99/mo.
30-day money back guarantee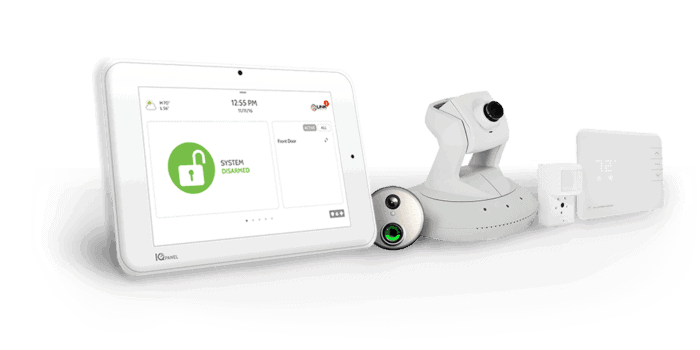 All of our content is written by humans, not robots.
Learn More
By

&

Are you tech-savvy, hands-on, and not afraid of a little DIY? Link Interactive offers high-quality DIY security systems that are very user-friendly. If you're anything like us and prefer to only pay for features you'll actually use, then Link Interactive may be a promising option. There are no pre-packaged bundles, and there's no need for a landline to take advantage of all this company has to offer. In this article, we will go over what we love about their security system, the equipment and monitoring pricing, the smart home integrations available, and how it stands up to its competitors.
Contract pricing
| Plans | Cost per month |
| --- | --- |
| Standard | $30.99/month |
| Gold | $39.99/month |
| Elite | $44.99/month |
Did You Know: In 2015, more than 50% of robbery victimizations were committed by strangers.1 By investing in a quality security system, you can protect yourself and your family and decrease the chances of a burglar targeting your home.
What We Love About Link Interactive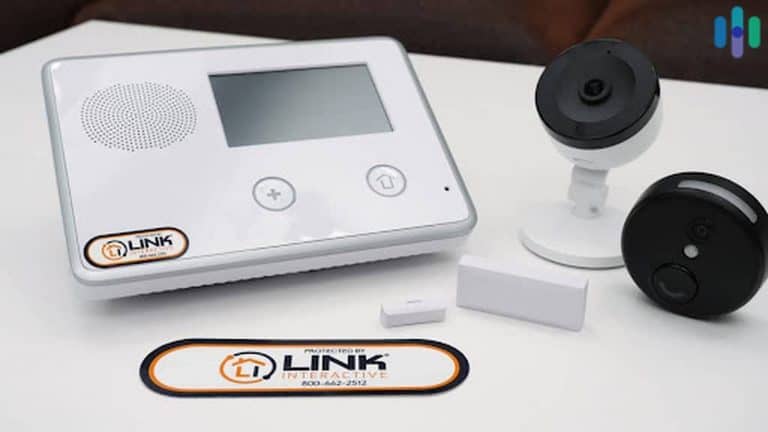 When shopping for a home security system, we want one that is easy to install, simple enough to use every day, but also smart enough to integrate with our other IoT devices. In a nutshell, we love that Link Interactive offers…
Easy, DIY installation (and top-notch customer service whenever needed!)
Seamless integrations with Alexa & Google Assistant
Reasonable monthly fees
An "à la carte" approach, which allows us to purchase only what we need to make the most of our security system
Self-monitoring & professional cellular monitoring options
Three different professional monitoring plans to suit every budget
Integration with Alarm.com, a mobile app that allows us to control the security system remotely via smartphone
As you'll see by the end of this article, Link Interactive is an affordable, yet solid home security contender with just one main drawback— a lengthy contract. To learn more about our security system in use, read our full review.
More Security.org Recommendations
Check out more of our favorite home security systems.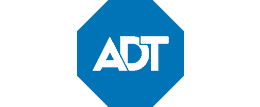 Link Interactive's Equipment Costs
One of the main things that attracted us to Link Interactive was their wide selection of security and smart home products available to make our home safer. The company has door sensors, security cameras, fire alarms, and more! As we've mentioned above, we are a fan of this à la carte approach because we were able to truly customize our security system according to our priorities.
Equipment Cost Rundown for Link Interactive
| Item | Price |
| --- | --- |
| Premium Smart Home Panel | $331 |
| Smart Home Panel | $251 |
| Glass Break Sensor | $69 |
| Panic Button | $29 |
| Tilt Sensor | $29 |
| Image Motion Sensor | $112 |
| Door & Window Sensor | $22 |
| Secondary Touchpad | $138 |
| Outdoor Sensor | $61 |
| Motion Sensor | $50 |
| IQ Remote | $207 |
| Smoke/Heat/Freeze Sensor | $66 |
| Carbon Monoxide Detector | $80 |
| Premium Thermostat | $132 |
| Touchpad Deadbolt | $135 |
| Touchscreen Deadbolt | $204 |
| Garage Door Controller | $114 |
| Smart LED Light Bulb | $22 |
| Lamp Module | $42 |
| Outdoor Camera | $199 |
| Indoor Camera | $140 |
| Premium Indoor Camera | $280 |
| Doorbell Camera | $167 |
| Slim Doorbell Camera | $177 |
| Onsite Video Recorder-1TB | $325 |
Monitoring Package Options
Link Interactive's security system allows for both self-monitoring, which is free, and professional cellular monitoring. The monthly fees for professional monitoring start at $30.99 and go up to as high as $44.99.
Why Professional Monitoring?
While self-monitoring is an affordable way to keep your home safe, it doesn't allow for other practical features that 24/7 professional monitoring does. Once during work hours, we had a family member fall down the stairs at home and need assistance. Thanks to professional monitoring, an alert was sent out immediately to a monitoring station where a trained professional was able to help her via two-way talk and a call to the local police station for help in person.
In addition to on-call emergency help, professional monitoring may include other useful features like home automation and HD video monitoring.
Hot Tip: Travel a lot? Professional monitoring may be a great investment to keep your home safe while you are away. In the event that something suspicious takes place, professional monitoring services can alert authorities if you're not home or unreachable.
Breakdown of Monitoring Packages
Currently, there are three different monitoring package plans to choose from. Each plan comes with professional cellular monitoring, two-way voice, intrusion, fire, and crash/smash alarms. The most basic plan goes for $30.99 per month and includes the bare essentials like smoke, fire, and CO detectors. With the gold plan at $39.99 per month, you get all of what the standard plan offers, plus some home automation features like energy management, locks, lights, thermostats, and remote control abilities online or via the Alarm.com app. Lastly, the elite plan is Link Interactive's top-tier plan that includes everything the gold plan offers, plus HD on-demand, scheduled, and object-activated video monitoring with analytics.
Monitoring Plan Snapshot for Link Interactive
| Features | Standard | Gold | Elite |
| --- | --- | --- | --- |
| Cost | $30.99 | $39.99 | $44.99 |
| 24/7 Professional Monitoring | Included | Included | Included |
| 100% Cellular | Included | Included | Included |
| Intrusion, Fire, Crash/Smash | Included | Included | Included |
| 2-Way Talk | Included | Included | Included |
| Smoke, Fire, CO Detectors | Included | Included | Included |
| Home Automation | Not Included | Included | Included |
| HD Video Monitoring | Not Included | Not Included | Included |
As we were inquiring about the different package options, we learned that there is a standard 36-month contract in place that you must sign. The only way to get a 12- or 24-month contract instead is to either already own the security equipment, or pay for it upfront. With that said, Link Interactive may not be the best choice for those looking for a shorter, monthly contract. However, one good thing about the long terms lengths is that they won't increase during the term of the contract, locking in a rate.
Are you possibly moving soon? Link Interactive allows you to move your security system for free, as all installation is totally DIY. Another option is to see if the new owners of your home would like to take over your contract, with no additional transfer or activation fees.
Link Interactive takes care of its customers by offering a 30-day, money-back guarantee and a three-year warranty on all of its equipment. Cancellation after this period, however, may incur a fee.
How Does Link Interactive Integrate With A Smart Home?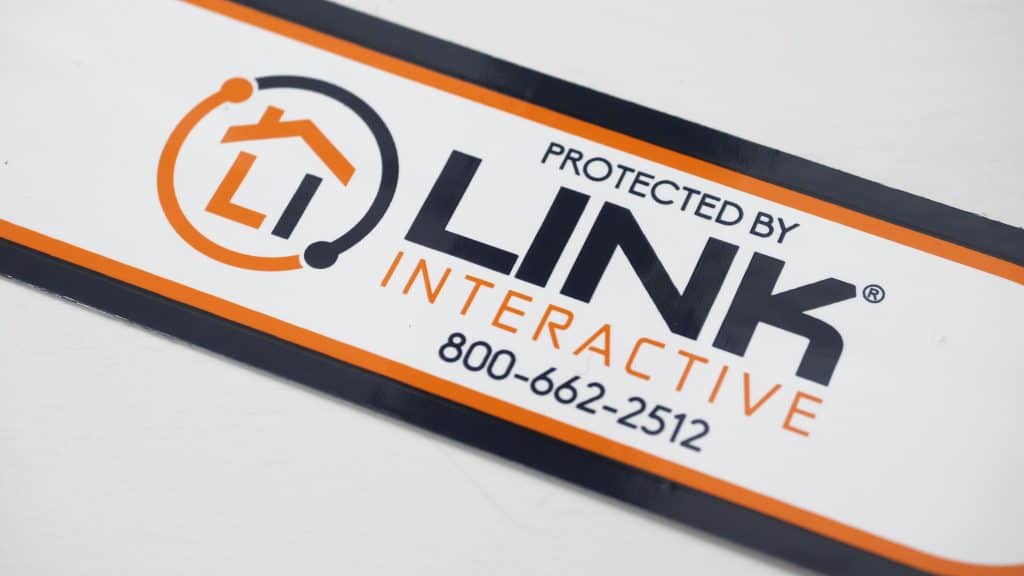 It's 2023, and home automation has become a norm for many households. With that said, we were pleased to confirm that not only does Link Interactive excel in the home security department, the company also offers a plethora of home automation equipment! Their system relies on Z-Wave technology2 to power their home automation equipment, which includes thermostats, lights, video cameras, smart door locks, doorbell cameras, and garage door controllers and sensors. All of these can be easily managed remotely via the Alarm.com app3 on a smartphone. In short, Link Interactive covers all of our bases when it comes to home automation and security needs!
In addition to Z-wave devices, their security system works with Amazon Alexa and Google Assistant. We already use Alexa and Google Assistant all the time in our home, so we could choose which one we wanted to use with this security system in particular. However, for those not as obsessed with voice assistants as we are, you will only need one or the other to control your devices. Here are some examples of commands we currently say on repeat to both assistants:
Set the temperature to 75 degrees.
Turn off bedroom lights.
Lock all doors.
Arm my security system.
Turn on the living room lights to 20%.
Is my security system armed?
Close the garage door.
Sure, it's convenient to manage these same controls via the Alarm.com app, but the voice control option is nice to have when we don't have our phones nearby. Long gone are the days we have to get out of bed to flip a switch to turn off our lights!
Hot Tip: 57% of Americans say that smart home technology products save them an average of 30 minutes per so we recommend getting some smart tech in your home today!
How Link Interactive Stacks Up to Competitors
Selecting the right home security system for your home can be tedious. You may be wondering, "what makes this security company different from other home security brands?" The same thought crossed our minds when we were shopping around. From all of our research and going through the purchasing process, we learned a few things that made Link Interactive stand out from the crowd.
We've reviewed systems from a plethora of home security companies, but let's use Frontpoint as an example and point of reference to see it compares. A notable difference between the two brands is their monitoring costs. Frontpoint is more expensive, with their monitoring price range starts at $44.99 per month, going up as high as $49.99 per month. Link Interactive has a wider range to accommodate more budgets, starting at $30.99 per month for the basic plan and going up as high as $44.99 per month for the top-tier plan. As far as compatibility goes, Link Interactive also steals the spotlight. Their security products are compatible with a wide variety of brand-name security products, so you have a lot of choices. But one area that Frontpoint won was the installation, as we found their systems easier to set up.
Overall Value
Link Interactive has economical options for every budget. We appreciate that we didn't have to pay extra money to have someone come out and install the system. Rather, we were able to do it ourselves, relying on their customer service team to help us out when needed.
We also like the company's "à la carte" approach. While other brands may require customers to pay for pre-made packages, being able to pick and choose what we wanted made us feel like we were getting our money's worth. It would be nice if the company offered shorter contracts without requiring people to purchase equipment up-front, however. But in short, we would recommend Link Interactive to our friends who aren't afraid of a little DIY or to sign up for a three-year contract.
FAQs
Now let's answer a few frequently asked questions about Link Interactive, especially its pricing, plans, contracts, and offerings.