Frontpoint Home Security Systems
Frontpoint is one of our experts' favorite security companies. Here's everything you need to know about their pricing and how they fit into your smart home.
Fast and easy DIY installation
Smart home features and integrations
Industry's best customer service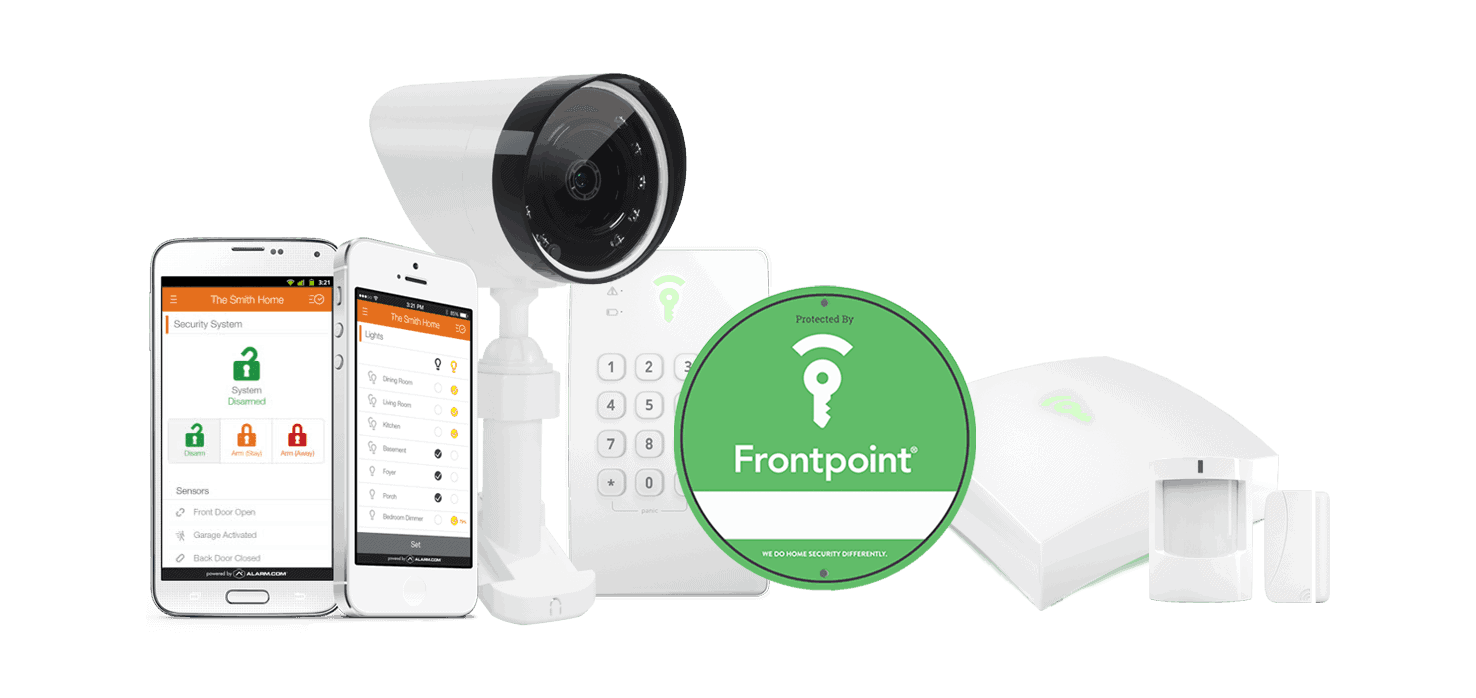 All of our content is written by humans, not robots.
Learn More
By

&

It's hard to find a more consistently well-liked security system than Frontpoint. It works well, integrates with Alexa and Google Assistant, and lets users save money by offering DIY installation. Whether you live in a mansion or a studio apartment, Frontpoint lets you customize your home's security, but how much harm will it do to your wallet? Here, we're breaking down all of Frontpoint's pricing, from the equipment itself to the monitoring costs and everything in between. But note that currently, Frontpoint is offering a free doorbell camera and free shipping, so if you're going to buy, now is the time.
Frontpoint Pricing Summary
Frontpoint is a budget-friendly home security system, but it requires a monthly fee to work. That's not new, as even some of our top picks (listed below) require professional monitoring with a monthly fee. What's different about Frontpoint is that there's only one monitoring option, and depending on your home security goals, that may or may not work in your favor. Keep reading to find out why.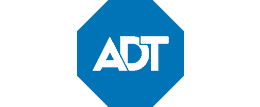 How Much Do Frontpoint's Packages Cost?
If you buy a package from Frontpoint, the cost ranges from about $325 all the way up to $600. And the good news is you don't have to pay upfront. You can pay in six or 12 monthly installments, or, you can get interest-bearing financing with Bread, payable in 36 months (three years).
Component
Price of component
Price of component with 25% discount
The Safehouse
The Bunker
The Fortress
Frontpoint hub and keypad
$304.98
$228.74
1
1
1
Door and window sensor
$32.99
$24.74
2
3
6
Motion sensor
$64.99
$48.74
1
1
2
Yard sign
$0.00
$0.00
1
1
1
Door decal
$0.00
1
1
1
Window decal
$0.00
$0.00
3
3
3
Door stickers
$0.00
$0.00
1
1
1
Indoor camera
$99.99
$74.99
0
1
1
Smoke and heat sensor
$64.99
$48.74
0
1
1
Doorbell camera
$0.00
$0.00
1
1
1
Total monthly cost with 25% discount
n/a
n/a
$129.00
$475.44
$598.41
Total monthly cost with 25% discount and 36-month financing through Bread
n/a
n/a
$4.16
$15.34
$19.31
However, you can also buy Frontpoint's equipment individually to really customize it to your needs.
Frontpoint's Equipment Prices
Through Frontpoint's Build Your Own System offer, you can purchase a kit that includes a hub, keypad, and any other components you want from Frontpoint's catalog. Better still, you can currently buy this equipment at 25-percent off of the retail price.
| Component | Price |
| --- | --- |
| Carbon monoxide sensor | $67.49 |
| Door stickers | $2.99 |
| Door/ window sensor | $24.74 |
| Doorbell camera | $142.49 |
| Extra keypad | $41.24 |
| Flood sensor | $33.74 |
| Garage door tilt sensor | $33.74 |
| Glass break sensor | $56.24 |
| Indoor camera | $74.99 |
| Keychain remote | $23.99 |
| Motion sensor | $48.74 |
| Outdoor camera | $149.99 |
| Outdoor smart plug | $28.49 |
| Panic pendant | $29.99 |
| Premium indoor camera | $149.99 |
| Smart door lock | $134.99 |
| Smart thermostat | $149.99 |
| Smoke and heat sensor | $48.74 |
| Touchscreen | $112.49 |
| Window decals (set of 3) | $2.99 |
| Wireless light control | $37.49 |
| Yard sign | $2.99 |
This is where you can get creative. Need a security system for a small apartment? You might be able to get away with having only a motion and entry sensor for a total cost of about $65. Or, if you want to pack on cameras, Frontpoint's prices are actually at or below market averages. A Frontpoint indoor camera, for instance, costs just $74.99, while a Blue by ADT indoor camera runs for more than twice that, $199. As you can see, even though Frontpoint is one of the better-known security companies, their equipment pricing is pretty reasonable. That's true whether you're looking for glass break sensors or outdoor cameras. Plus, with financing through Bread, you don't have to have the money up front; rather, you can pay in six,12, or 36 monthly installments.
FYI: Can't afford Frontpoint upfront? One of your options is to finance your equipment through Bread.
Some more good news? Frontpoint's prices are as low as they've been in years, and the company even issued a price-lock guarantee last November. Even better, the company no longer does credit checks and is now open to renters, making Frontpoint available to more customers than ever before.
Monthly Fees with Frontpoint
Okay, so you've picked out your Frontpoint equipment. Now, how much is this going to cost you monthly?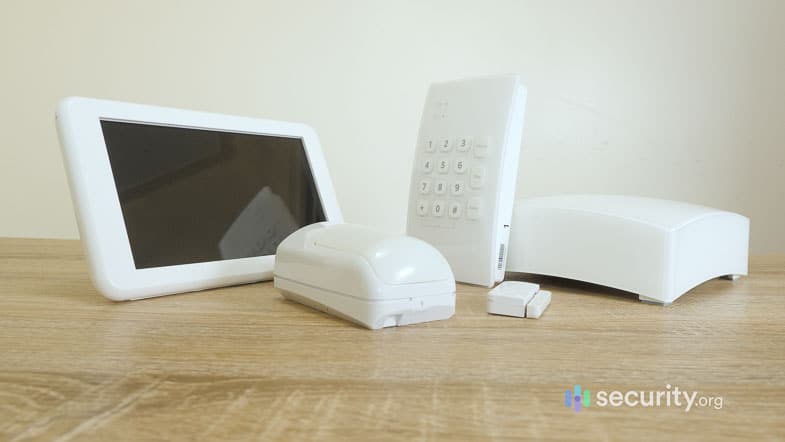 Frontpoint's pricing is pretty straightforward, as there is only one plan available: Ultimate Monitoring for $49.99 a month. That means all Frontpoint customers will get 24/7 professional monitoring and cellular backup, which will make sure the system stays on in a blackout. On top of that, all customers will get access to live stream footage, the Frontpoint mobile app, and smart home automation features. These are all features we consider essential in home security.
Equipment Fees Breakdown for Frontpoint
| Plan Name | Ultimate Monitoring |
| --- | --- |
| Price | $49.99 per month |
| 24/7 Professional Monitoring | Yes |
| 100% Wireless & Cellular | Yes |
| Automated System Check | Yes |
| Expandable and Portable | Yes |
| Unique User Codes | Yes |
| Crash and Smash Protection | Yes |
| Geo-location Services | Yes |
| Mobile Alert & Notifications via Email and Text | Yes |
| Remote Access and Control | Yes |
| Sensor History | Yes |
| Live Video Streaming | Yes |
| Video and Image History | Yes |
| Motion Triggered Alerts | Yes |
| Night Vision Enabled | Yes |
| Light Control | Yes |
| Smart Lock Control | Yes |
Frontpoint's Ultimate Monitoring plan is monthly, so you won't need to make a long-term commitment, another recent update as of this year. You can't really do much better than absolutely no cancellation fees! Do you have more questions about Frontpoint's fees or possibly other things? If so, check out our Frontpoint FAQ page to get your questions answered.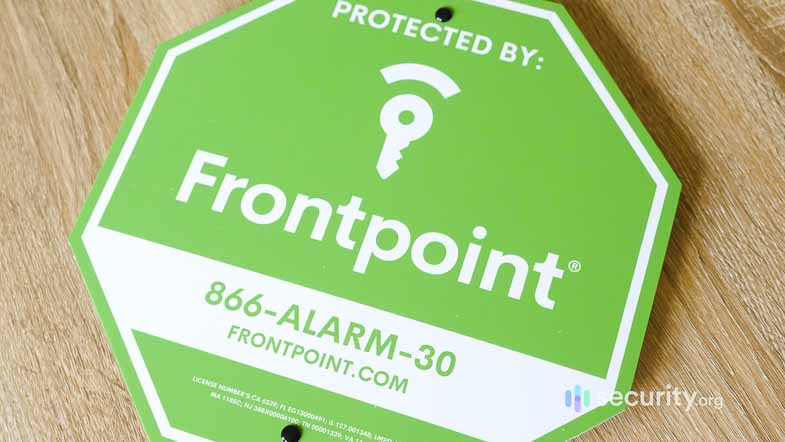 Frontpoint's Pricing vs. The Competition
Frontpoint isn't on an island by itself; these days, there are dozens of smart home security companies to consider, so how does Frontpoint compare? When matched with other traditional security companies, Frontpoint's costs are very reasonable, especially for its equipment. We've seen outdoor cameras sold for $400, entry sensors sold for $50 each, and video doorbells sold for around $250, so they're really under the rest of the market when it comes to the devices themselves. While the monthly prices are a bit high compared to some recent disruptors like Ring Alarm (see our Ring Alarm vs Frontpoint comparison page) and SimpliSafe, they are certainly not the highest we've seen, which is about $60 per month. Plus, Frontpoint is one of the few companies to finance, making it a good option for someone who doesn't have all the money to spend at once. However, we'd like to note that since Frontpoint has only one monthly plan available, you will pay the same amount per month no matter the size of your Frontpoint system. The best way to get the most out of your monthly payment is to go all-in with security cameras and home automation.
Home Automation with Frontpoint
One of the benefits of having a WiFi-connected security system is that it works with other connected devices in your home. As you saw in the equipment section, Frontpoint offers several smart home products that aren't directly related to security, but work with your security system, like:
Yale smart lock: Users will be able to lock and unlock their doors remotely as well as provide entry codes to let people in when they're not home.
Wireless light control: Smart lights have become an increasingly popular IoT product, allowing users to control their lighting remotely. Not only does the wireless light control work with smart bulbs, but it also works with smart appliances, allowing users to control them remotely for the Frontpoint app.
Smart bulb: Smart bulbs allow users to automate their lights, either by setting the bulb to schedules or connecting it to other smart home devices. An example would be to have the lights turn off when someone locks the front door, meaning they left the house. Plus, good news for your wallet, LED bulbs reduce energy usage by anywhere from 70 to 90 percent compared to regular old incandescent bulbs.

1

Same light, less money and energy used? Sounds good to us!
Did You Know: Yale smart locks are easy to integrate with your Frontpoint security system and add that extra layer of security.
Just how did we automate actions with Frontpoint? Well, we have our front door lock as soon as we arm our system so no one can get inside. At the exact same time, our lights in the dining room go on to make it seem like someone is home, while the upstairs light shut off to save electricity. Not only does this save us from having to run around adjusting the lights all the time, but it also is a simple way to boost our home's security.
Frontpoint works with Alexa, Amazon's voice assistant, as well as Google Assistant, Google's version. We could have Alexa arm and disarm our security system, unlock our door, change the thermostat, turn lights on and off, and have the camera record or pan.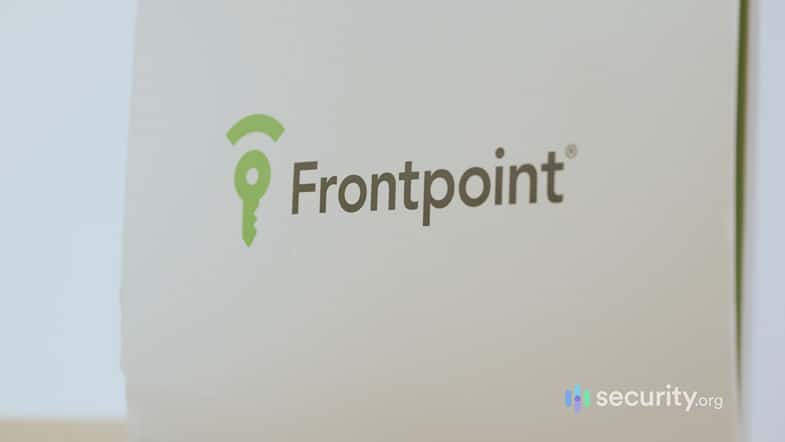 Now, with Google Assistant, things worked a little differently. In order to connect Frontpoint to Google Assistant, we needed to download the Alarm.com action and log in using our Frontpoint username and password. From there, we had Google arm our security system, control lighting, thermostats, and smart locks.
Overall, we were really impressed with how seamlessly Frontpoint added to and integrated with our existing smart home. And as Alexa and Google Assistant are the two most commonly-used voice assistants, we're not alone. So get used to it, voice assistant usage went up 9.5 percent in 2018 alone, and by 2019, 33.8 percent of the population used a trusted voice assistant.2
Can Frontpoint stand toe-to-toe with other brands? Find out below.
Frontpoint is a great choice, but there may be better options out there. See how Frontpoint compares to our favorite home security system.
Recap: So Is Frontpoint A Good Buy?
Short answer? Yes, Frontpoint is definitely a good buy! Not only are its prices affordable, but the company has really gone out of its way to make it affordable for a larger group of people, due to the lack of credit checks and the financing through Bread. This way, more people can enjoy Frontpoint's security system and home automation products, while having their homes protected by 24/7 professional monitors. Read our review of Frontpoint to learn more about the system itself.
Frontpoint FAQs
Recently, Frontpoint updated its pricing structure, so people have had a lot of questions.