Link Interactive Security System Review
Our experts tested out Link Interactive's 2Gig Go!Control Panel, Alarm.com indoor camera, smart lock, and entry sensors. Here's what we found.
What We Like
Easy, DIY installation allows for people who would rather put together their security system on their own time without worrying about hefty installation fees.
A large array of home automation features gives homeowners and renters the luxury to integrate with Amazon Alexa.
Affordable hardware pricing and a 30-day money-back guarantee provide us with a sense of confidence with the purchase.
What We Don't Like
The lack of professional installation option makes Link Interactive less than ideal for those who aren't as hands-on.
3-year contracts are standard with Link Interactive unless you specifically request from the sales team for a shorter one and two-year contracts, although contingencies may apply.
Some technical knowledge is required to fully take advantage of and integrate home automation services, which can be frustrating for those not as tech-savvy as our home security experts.
Bottom Line
With professional monitoring, environmental monitoring, video monitoring, and home automation, Link Interactive hit a lot of things we look for from a home security system and more. Plus, we didn't mind their 30-day money-back guarantee, taking the risk out of the purchase.
Are you the kind of person that agrees with the sentiment, "If you want something right, do it yourself"? If so, you might be interested in Link Interactive for your home security. With Link Interactive, you'll only have to pay for the home security and automation features that you actually use as opposed to a pre-made package. In this review, we will give a quick run-down on what comes with a Link Interactive security system, the set-up process, how well it works, monitoring packages, our favorite a la carte options, and more!
Did you know that an average of 20 in 1,000 homes were burglarized in 2017? That's a lot of burglaries considering the millions of homes in America.1 As you might guess, burglars are most attracted to homes that do not have home security systems installed. Don't be an easy target. If you're not sure where to start, let us provide you with some insight on what Link Interactive can provide for your home & family!
Link Interactive Security System Smart Home Integration
| | |
| --- | --- |
| Voice assistants | Alexa and Google Assistant |
| Smart thermostats | Nest, Alarm.com, and Z-Wave |
| Garage door controller | MyQ LiftMaster and Z-Wave |
| Smart lights | Z-Wave |
| Appliance control | Z-Wave smart plugs |
Editor's Rating
Easy DIY installation
Monthly monitoring starting at $30.99/mo.
30-day money back guarantee
More Security.org Recommendations
Check out more of our favorite home security systems.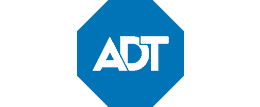 Our Experience With Link Interactive's Security System
We had an exemplary experience with Link Interactive. Our first encounter was with their sales department. Unlike a lot of sales departments we're used to, Link Interactive's was not pushy at all. Rather, the representative we spoke with on the phone was friendly and made it a goal to break down their available options to us, along with respective pricing, so that we were able to make an informed purchase. They addressed our questions thoroughly and assured us that the company would be with us every step of the way. This first impression was very refreshing!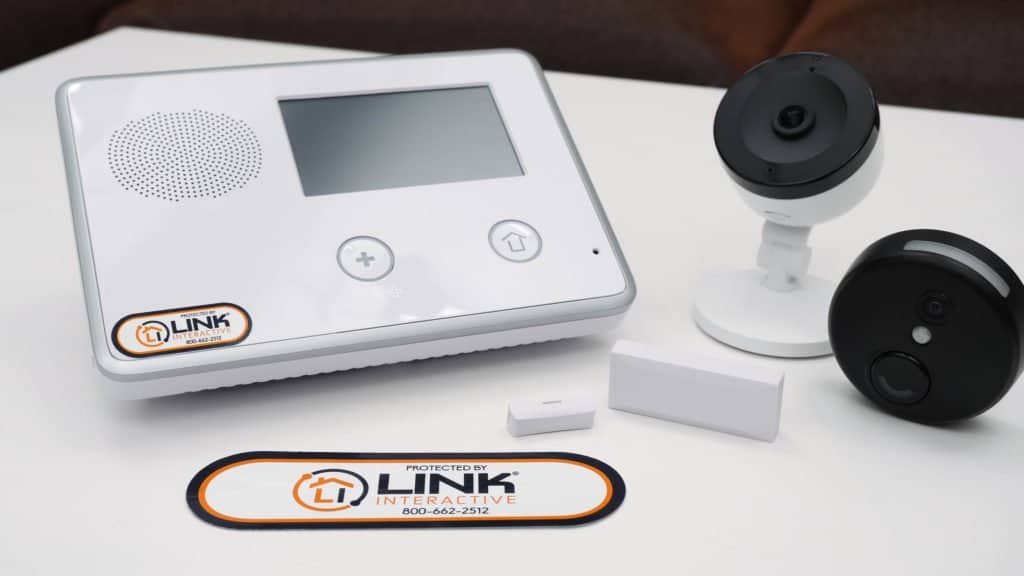 Fast forward to purchasing and installing the security system. Reaching the customer service department was hassle-free. With our background in security system installation, the DIY setup went relatively smoothly. The representative we spoke with on the phone walked us through the few steps we weren't 100% sure on. It turns out, there was a part that happened to be missing in our kit that put us off, but customer service overnighted it to us. Then, they had us activated quickly, and we were on our way to enjoying the new security system!
As far as the system quality goes, we'd say that you get fantastic value for what it is. Everything we need from a security system, we got, with no gimmicks or issues. Every day, we arm the system when we are away from home, set up lights to go on and off at certain times, and can see who is at the door without even being near it. The Alarm.com app2 worked seamlessly with the system to inform us when things might not be quite right, like when our garage door was accidentally left open. In such an instance, we can quickly close the garage door with no delays via the app. In short, Link Interactive makes us feel protected, no matter what.
Food For Thought: Reconsider getting Link Interactive's security system if you aren't hands-on and want professional installation.
What System Components Does Link Interactive Offer?
Our customized package from Link Interactive included the 2Gig Go!Control Panel and Cell Module, the SmartCode Deadbolt, the SkyBell Doorbell Camera, the V522IR Interior Camera, and two-door & window sensors. As you can see, Link Interactive outsources a lot of its equipment to third party companies, so let's see exactly how well they work.
Alarm.com V522IR Indoor Camera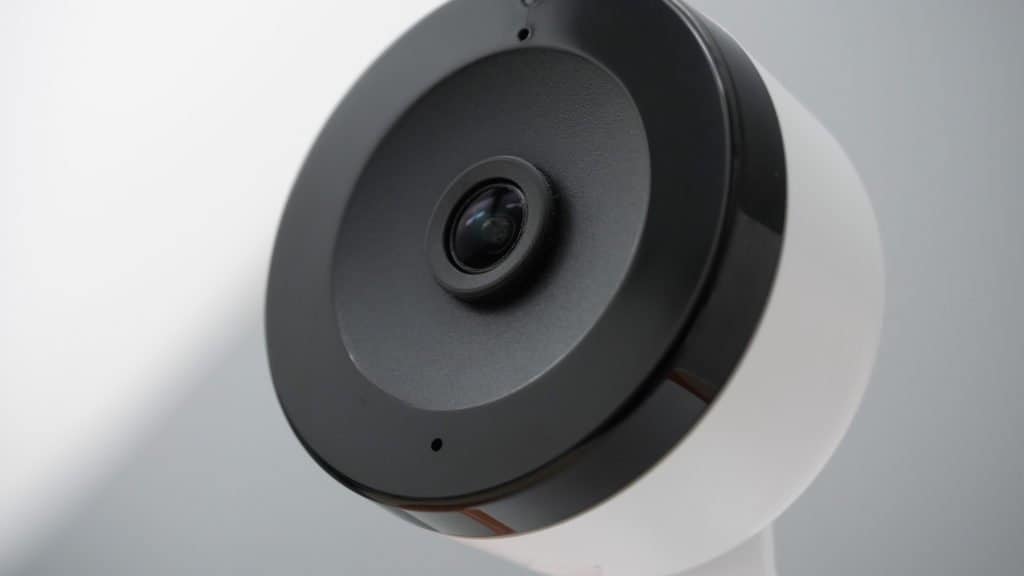 There are numerous indoor and outdoor security cameras offered with all the features we'd expect and want in them. We especially love the Alarm.com V522IR indoor camera because it's a small but mighty one! It boasts a pretty impressive resolution of 1080p HD, up to 15 feet of infrared night vision, and two-way audio, to name a few. This feature made it easy to communicate with our significant others at home, whether we were traveling for work, at the office, or even at the supermarket asking their preferred flavors and brands. Shopping lists are so yesterday.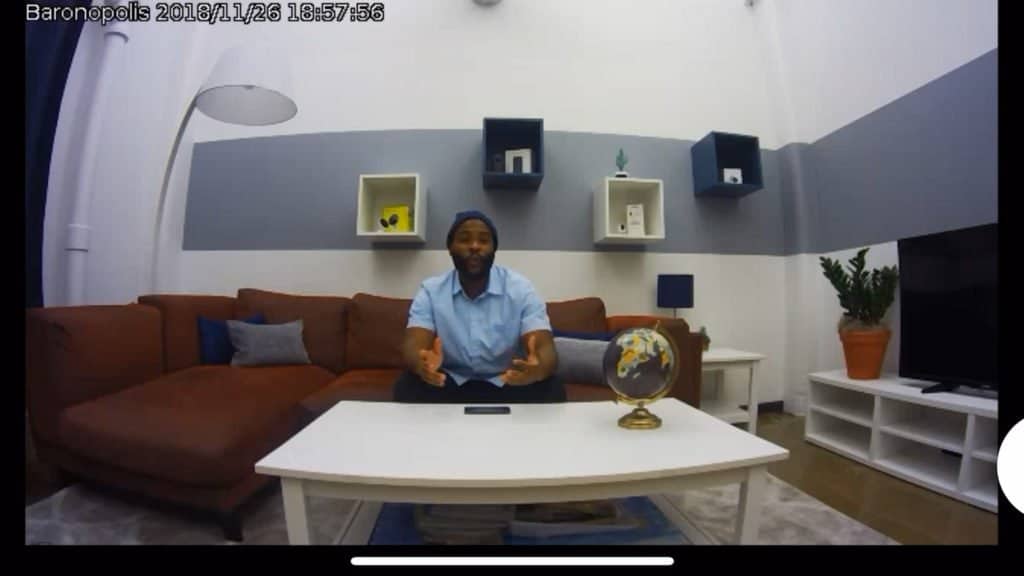 We use this indoor camera to not only keep an eye out for suspicious activity at home while we are away but also to check up on our furry friends remotely!
One thing to note is that you do need the Elite monitoring package to take advantage of security camera support.
Skybell Slim Line Video Doorbell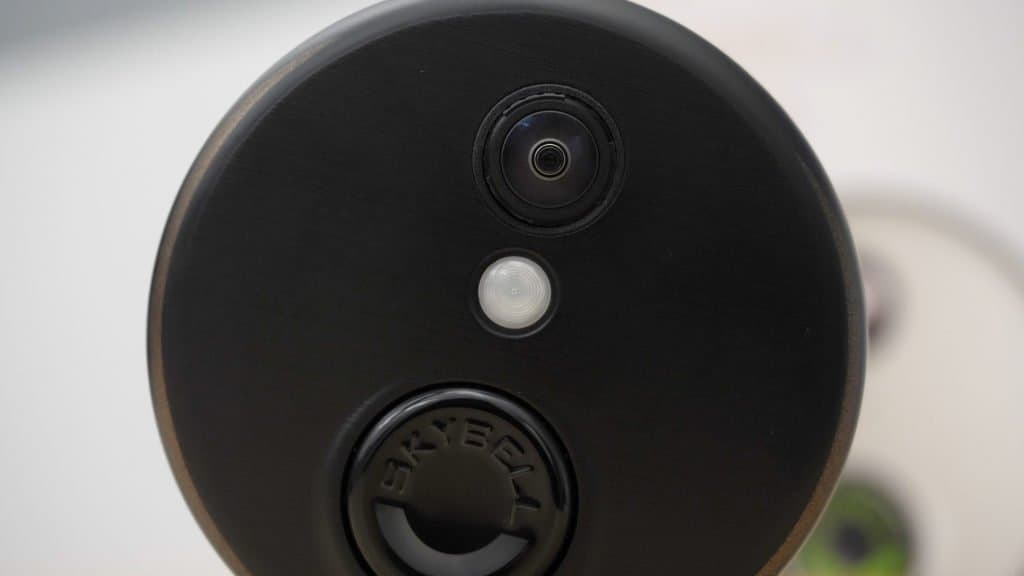 While we're still on the topic of cameras, let us not forget the Skybell Slim Line Video Doorbell, which gives us major porch power! We knew exactly when our kids got back from school, and who was ringing the doorbell before we opened the door.
If you get a lot of packages, like us, you'll love being able to know exactly when your packages are safely delivered to your door. This doorbell camera features night vision (from a bright white light, so it's color), a field of view of 180 degrees, doorbell-triggered video clips, two-way audio, and 720p HD video, which is a bit less clear than we'd like it to be (typically, we prefer 1080p HD and higher).
One thing the doorbell lacked was person detection, so we definitely got some unnecessary recordings of cars driving by, a drawback of the Slim Line.
At this time, Skybell does not have smart platform integration options, but they say that it's in the works. From our experience, the installation was a bit tricky on this one. But once we figured out the wiring, we were able to get the Skybell doorbell up and running within 30 minutes.
SmartCode Deadbolt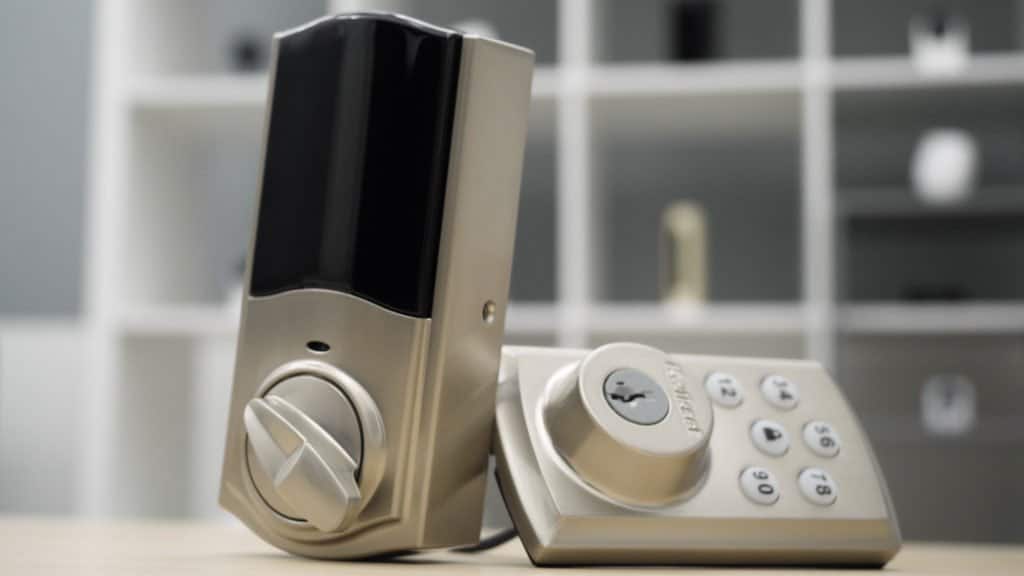 The Kwikset SmartCode Deadbolt relies on Z-Wave technology to communicate with the Go!Control Panel. We love that we're able to lock and unlock the deadbolt remotely through our smartphones or computer, as well as receive alerts on the lock's activity via text message and email. Best of all, there's no need to worry about keys or being locked out! This aspect is a relief, as we don't enjoy handing our hard-earned cash over to a locksmith.
Door and Window Sensors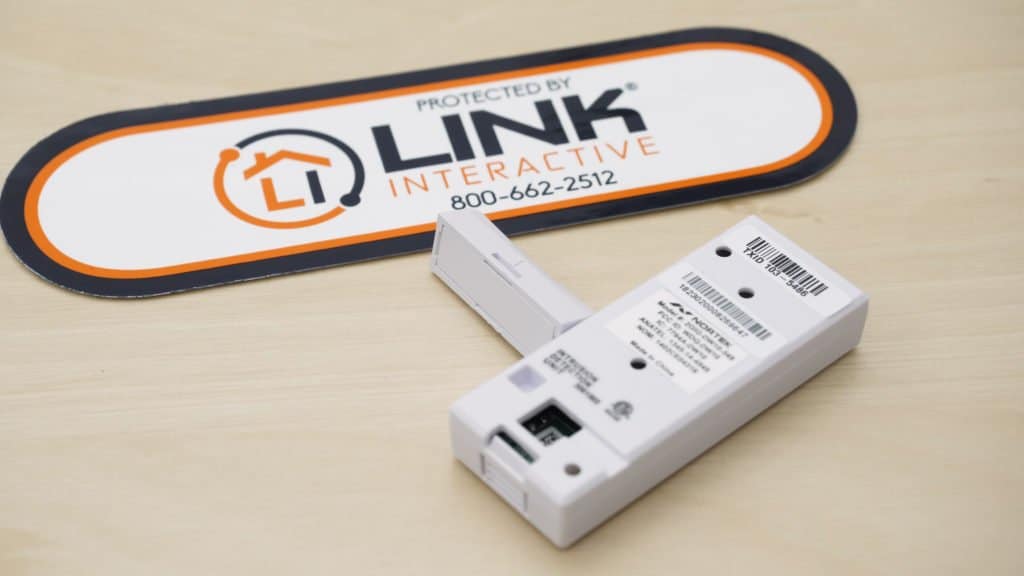 Door and window sensors helped us to keep track of who is entering or leaving the house, either through, you guessed it, the doors or the windows. Link Interactive also offers glass break sensors and motion sensors, but we decided to keep things simple with these contact sensors, otherwise known as entry sensors.
And that's it for our Link Interactive system, although there are many other devices available on their website.
Installing Link Interactive at Home
We were pleasantly surprised at how nicely Link Interactive pre-configures its systems, making everything easy to set up upon receipt. When we received our kit, we noticed that all the sensors had already been set up, named, and connected to the control panel. Additionally, there was no need to drill any holes into the wall! For the most part, all we had to do was peel and stick the sensors to the walls, making the installation process a breeze.
In other words, you don't need to be a master craftsman to set this up. The system comes with easy-to-follow instructions for the more complex things that need to be installed, like the doorbell camera and deadbolt. Moreover, we were able to find additional support for their other products on the manuals found on the Link Interactive Support Page.3
Depending on what you get with your personalized system, you may need a screwdriver or some experience with tools to install the more advanced pieces successfully. Even then, we found it to be far from rocket science. The installation process is ideal for both renters and homeowners alike, as there are no wall holes or messy wires involved to get the system up and running.
Putting a little time and effort to install a DIY home security system like Link Interactive's is worth it. A study on the habits and motivations of burglars conducted by UNC Charlotte4 found that 83% of burglars admitted that they specifically look in to see if there's an alarm, and 60% would change their mind if they saw one installed. So, even just by having one installed, you're already dramatically reducing the likelihood of a burglary.
Link Interactive's Monitoring Options
With Link Interactive, you can choose between self-monitoring and round-the-clock professional monitoring. Depending on the plan you choose, professional monitoring rates differ. While the company advertises flexible contract lengths and low monthly fees, we found it a bit confusing to figure out how it all works. We then learned that it is possible to opt for a 12- or 24-month contract, but there is a drawback. You must pay up-front for the security equipment, or already have your own to take advantage of these shorter contracts. Otherwise, you must sign their standard 36-month contract.
After the equipment has been paid off, you can then opt for a shorter contract. With that said, this may not be the best choice for short-term renters if they do not want to invest in the equipment upfront or already have the equipment. Link Interactive's monthly monitoring fees start at $30.99 and go up to as high as $44.99. Their system relies on its sensors, hub, and smart components to communicate with each other via wireless, cellular signals. What does this mean for us as consumers? Simply, intruders cannot cut our landlines or internet lines to disable the security system! Now, this isn't the lowest pricing we've seen, but it's on par with companies like Frontpoint and ADT, which can even go up to $60 a month. Learn more on our Frontpoint costs and ADT costs pages.
Monitoring Options Matrix for Link Interactive
| Feature | Standard ($30.99/month) | Gold ($39.99/month) | Elite ($44.99/month) |
| --- | --- | --- | --- |
| Professional Monitoring | Yes | Yes | Yes |
| Life Safety | Yes | Yes | Yes |
| Home Automation | No | Yes | Yes |
| HD Video Monitoring | No | No | Yes |
Link Interactive takes care of its customers by offering a 30-day, money-back guarantee5 and a three-year warranty on all of its equipment. Cancellation after the 30-day period, however, may incur a hefty fee. Be prepared to pay 75% of your remaining balance. At the end of the day, it is important to read the fine print before making any purchasing decisions.
Pro Tip: Make sure to install your security system as soon as you receive it. This way, you'll be able to take advantage of the full 30 days to ensure it's the right one for you and that any issues you may encounter are taken care of before the money-back guarantee window closes.
Smart Home Integrations
Link Interactive integrates with Alexa, Google Assistant, Apple TV, Z-Wave technology,6 Nest thermostats, SkyBell video doorbells, and several door lock brands, including Kwikset. It's easy to create custom settings, use voice commands, and stream videos with Link Interactive.
The Z-Wave home automation platform is a low-power radio communication system that serves a local network to connect your devices throughout the home. When you set up your system, you can get Z-wave devices like smart door locks, lightbulbs, garage door controllers, smart plugs, and thermostats, for example.
Door locks come with a built-in keypad that can be accessed remotely on your phone, and integrate into the security system, so you never have to worry about forgetting your keys. Link Interactive integrates well with other Z-Wave smart door locks, including August, Yale, Schlage, and Kwikset locks, which you can find on Link Interactive's website. You can control these locks through the Alarm.com app on your smartphone or the control panel. The system also can be set to disarm when doors unlock and arm when doors lock to ensure optimal home security, which we definitely took advantage of during testing.
Automated lights are a staple to any smart home. Set lights to turn on automatically while you're away (to give the impression to others that you are home, discouraging burglars from committing a crime), or remotely turn lights on/off via the Alarm.com app.
Garage door controllers are game-changers. Long gone are the days we leave the house wondering whether or not we left the garage door open! Link Interactive's garage door controllers allow you to check the status of the door, and open/close it right from your phone!
Link Interactive's most popular automation device is the smart thermostat from Nest, which makes it a breeze to maintain the perfect temperature. Change the temperature at any time from anywhere on your phone or create an automated "schedule" that works for you. This setup saved us money on our energy bill, which was great news for our wallets.
We love asking Alexa to do things for us, like asking her to turn the living room light off and changing the temperature with a single voice command. These are just some of the many other convenient features that you can do when you combine Amazon Echo and Link Interactive. Link Interactive is also compatible with Google for Google Assistant users. Similar to Alexa, you can ask your Google Assistant to control your home via voice control when you're at home. Try asking Alarm.com to arm the security system or lock the front door.
Our Video Review
Check out Link Interactive in action! See our video review below, which will go over some of the pointers we've mentioned here.

Customer Support with Link Interactive
Need assistance? Link Interactive provides a couple of different ways to reach them if you need help. You can get in touch either via phone or email or simply visit their website and fill out the contact form under the "support" tab. While the installation was relatively simple, we did come up with a few questions along the way. We gave Link Interactive a ring and found that their sales and customer service were exceptional. The agents were truly helpful in ensuring that our installation experience went smoothly.
Alarm.com – Link Interactive's Mobile App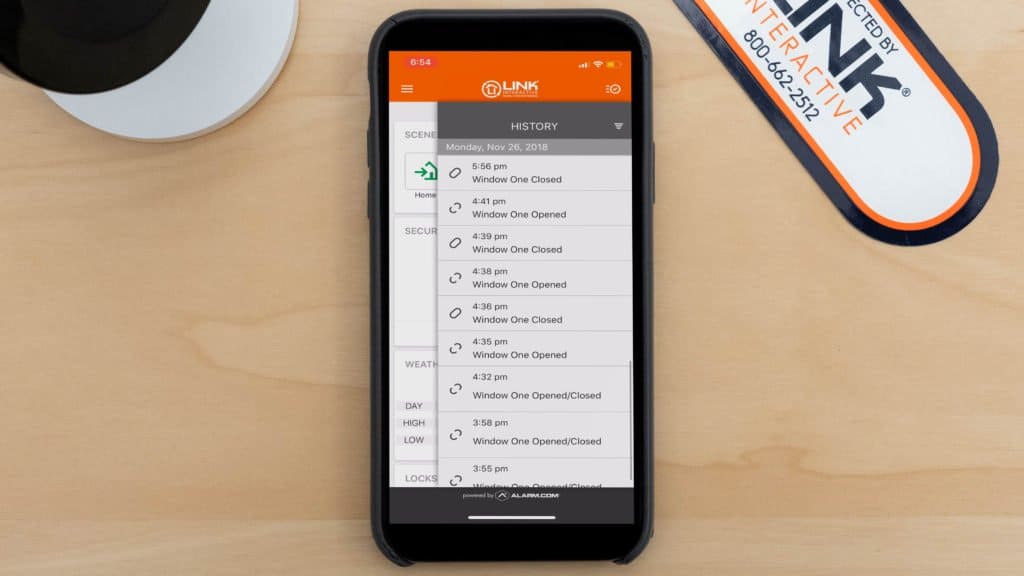 Before doing any research, we tried to look up "Link Interactive" on the App Store and were not able to find anything. After a bit of digging, we learned that Link Interactive relies on the Alarm.com mobile app for iOS and Android.
FYI: Link Interactive relies on the Alarm.com mobile app for remote capabilities via your smartphone.
This handy app can do everything that our control panel could. We gave it a try and found it to be pretty straightforward when it came to controlling smart home devices, viewing camera video feeds, and arming and disarming the system, to name a few capabilities. We also set it up so that we could receive real-time email, text message, and push notifications for specific events that mattered to us, like if our contact sensors went off when the system was armed. All in all, the Alarm.com made keeping up with our home's security possible no matter where we were, with minimal effort on our end.
Summary of Link Interactive
Link Interactive is an awesome choice for the DIY crowd. It stands out from other security system brands in that it allowed us to truly customize a home security system to best suit our needs, all at an affordable price. We were able to get professional cellular monitoring and experience impressive safety and response times from emergency professionals without needing to fork out extra money for the installation.
Overall, we love that Link Interactive takes on a highly customizable approach with flexible plans and a solid line of equipment. Whether you are looking to step up your defense against intruders, or simply want to improve your home's smart capabilities, the possibilities are endless. Plus, with the company serving up quality home protection for nearly 70 years, you can trust Link Interactive to protect both your home and your family.
FAQs
For the questions still burning in the back of your mind, we've got answers.