Experian IdentityWorks Identity Theft Protection
One of the three major credit-monitoring bureaus, Experian also offers identity monitoring.
US-based fraud resolution specialists
One-tap credit file locking/unlocking
Comprehensive fraud protections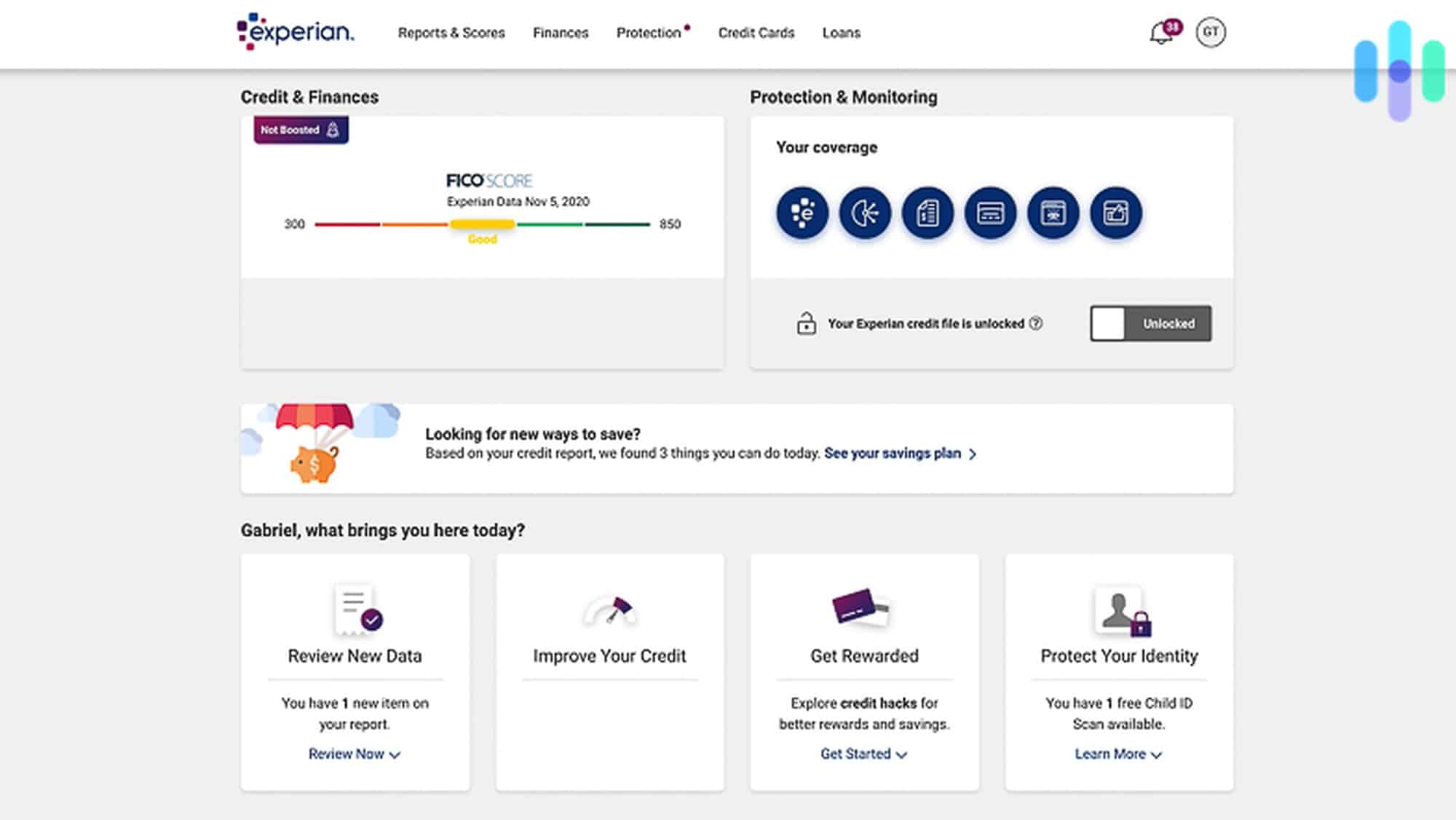 All of our content is written by humans, not robots.
Learn More
By

&

Last Updated
Nov 21, 2023
Since identity monitoring services normally offer similar defenses against identity theft, even small differences in cost or specific services offered can sway our decision on which one to use. On this page, we'll discuss Experian's pricing for their IdentityWorks subscriptions, and whether or not it's worth it for the services provided.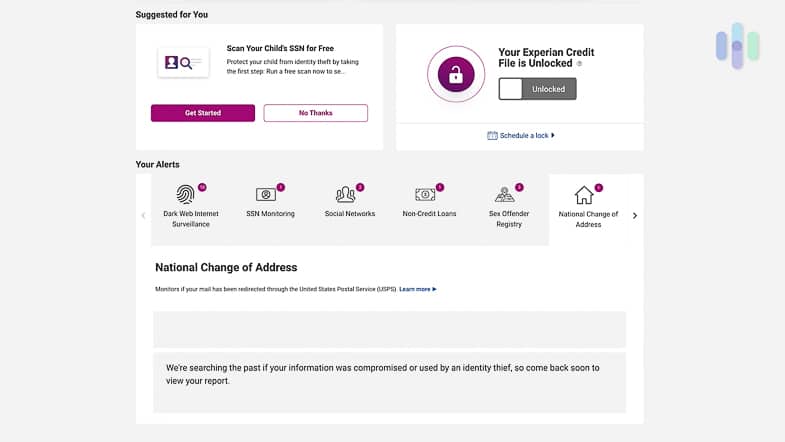 App ratings
| Experian app version | Rating |
| --- | --- |
| Android | 4.7 |
| iOS | 4.8 |
Experian IdentityWorks Subscription Offerings
Experian offers identity protection for all types of individuals and families, with plans for one adult, one adult with up to ten children, and two adults with up to ten children. All the basic "Plus" plans have starting prices under $20 per month, making Experian one of the more affordable monitoring services on the market.
| Plan Name | Plus | Premium | Plus | Premium | Plus | Premium |
| --- | --- | --- | --- | --- | --- | --- |
| Coverage | One adult | One adult | One adult, 10 children | One adult, 10 children | Two adults, 10 children | Two adults, 10 children |
| Credit Bureaus Monitored | Experian | Transunion, Equifax, Experian | Experian | Transunion, Equifax, Experian | Experian | Transunion, Equifax, Experian |
| Monthly Cost | $9.99 | $19.99 | $14.99 | $24.99 | $19.99 | $29.99 |
If you're looking for long-term protection, we definitely recommend paying annually rather than monthly. For one adult, a Premium account costs about $239 when paying monthly, but only $199 when paying annually. That means saving almost a fifth of the cost per year. Count us in!
Hot Tip: One million children had their identities stolen in 2017, over half of which were under seven years old,1 so don't count out kids when it comes to identity theft.
Like with most plans, you'll need to splurge for the Premium subscription if you want credit monitoring from all three credit bureaus. We think that the coverage from three credit-reporting bureaus makes the plan worthwhile, but let's look at a breakdown of what else we actually got with this coverage.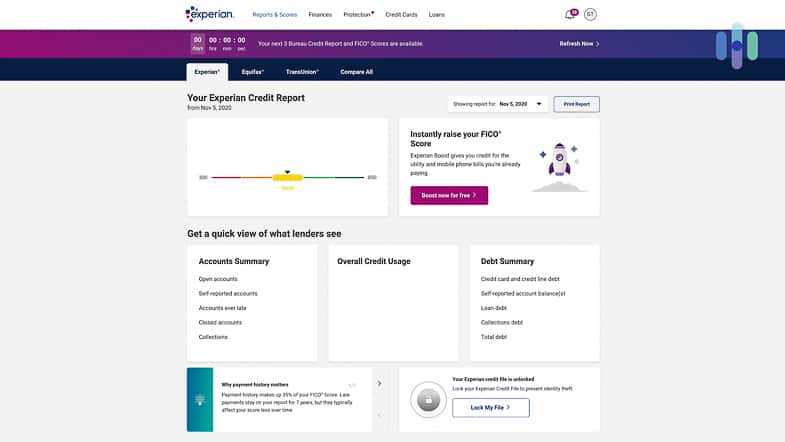 How Experian Stacks Up to the Competition
Experian is a robust service, but their data collection policies seemed a little off to us, and their app was somewhat underwhelming. With that in mind, it certainly pays to shop around when you're selecting an identity theft protection provider. Check out the three top options below to see if they might be a better fit: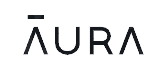 What Does Experian IdentityWorks Cover?
Even with Experian's basic plan (which, yes, is called "Plus" even at the base level because marketing, or something), there are a lot of offerings to understand. Every plan provides these essential services:
Identity theft insurance: This is designed to cover some of the costs related to identity theft, reimbursing victims for money spent on reclaiming their financial identities, repairing their credit reports, and of course any money the thieves spent. Those costs can range from phone bills to legal help. Experian's Plus plan offers a $500,000 maximum reimbursement, but the Premium plan doubles that ceiling to $1 million, which is the standard across the industry.
U.S-Based Fraud Resolution Specialist: The fraud specialist is there to help with every stage of the worst-case scenario when an identity has been stolen.
Lost Wallet Assistance: If we ever end up losing our wallets, the restoration specialists would help us cancel the cards and replace them. We could do this ourselves, but it sounds calming to have a helping hand in what we assume would be a super-stressful situation.
Identity Theft Monitoring & Alerts: We aren't trying to fool ourselves here—not even the best of the best monitoring services can always fully protect our identities from being stolen. But what they can do is alert us at the slightest sign of trouble if our credentials are found someplace they're not supposed to be, detecting warning signs to limit the damage. Both levels of Experian protection monitor:

Social Security Number usage
Dark web surveillance
Address Change Verification
Real-time Alerts on Attempted Credit Inquiries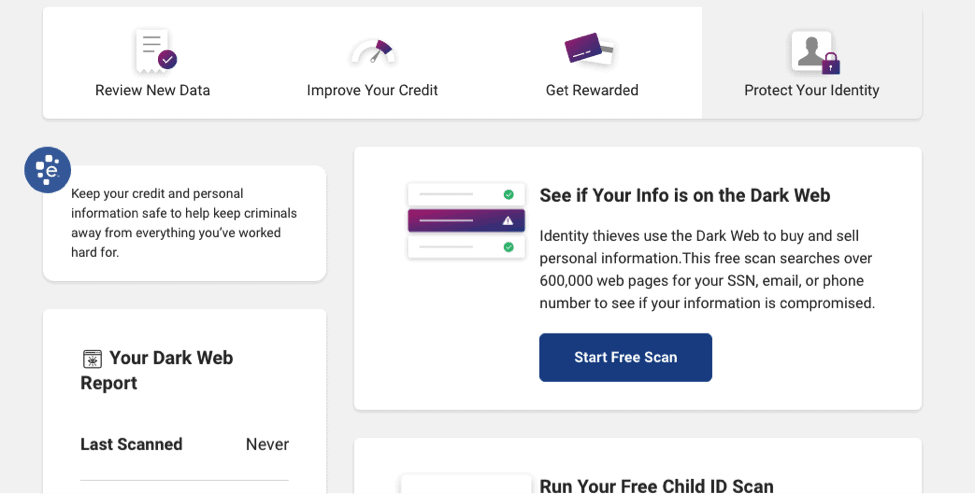 Lock and Unlock Your Experian Credit File: If anything suspicious happens (are we jinxing it by mentioning the possibility too much?) one of the first things we'd do is to lock our credit reports so nobody can take action with them. And once the issue has been resolved, we'd be able to unlock them just as easily.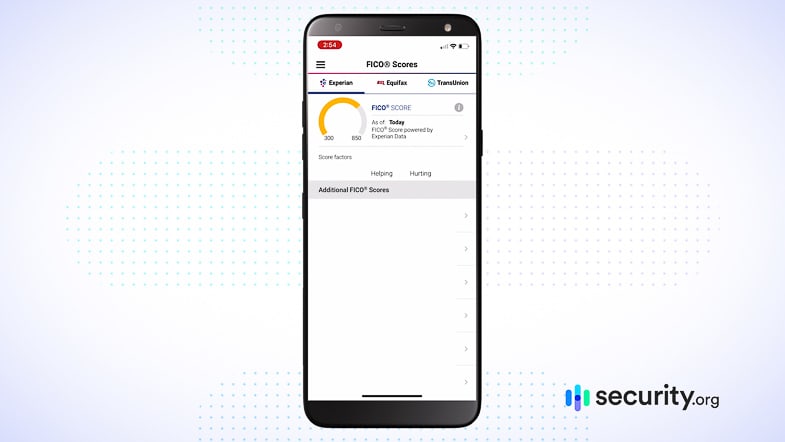 Daily Experian FICO Score Alerts: Every. Single. Day. We understand this might not be the type of clingy relationship everybody might want to have with their FICO score, but if you're trying to improve your score or build credit toward a specific goal like buying a house, these daily alerts can provide all the motivation you need. Experian has a few FICO offerings:

Score Tracking
FICO Score Simulator
Additional FICO Scores
The More You Know: FICO is a type of credit score that lenders use frequently to figure out how likely customers are to repay a loan.2 A three-digit number, your FICO score can affect the size, length, and interest rates of the loans you receive. Over 90% of the most commonly used lenders use FICO scores when making loan decisions, so if we're ever going to get a mortgage for a fancy Brooklyn brownstone, our FICO scores are key.
That's a lot of coverage that makes us think our identities will be pretty safe. But there's a $10 difference between Plus and Premium plans at every level, so we wanted to make sure we break down exactly what the difference between the two is—since our instinct would immediately say to just go with the basic (hey, we're not made of money!). How much more could we really get for $10? Well, here's what we learned: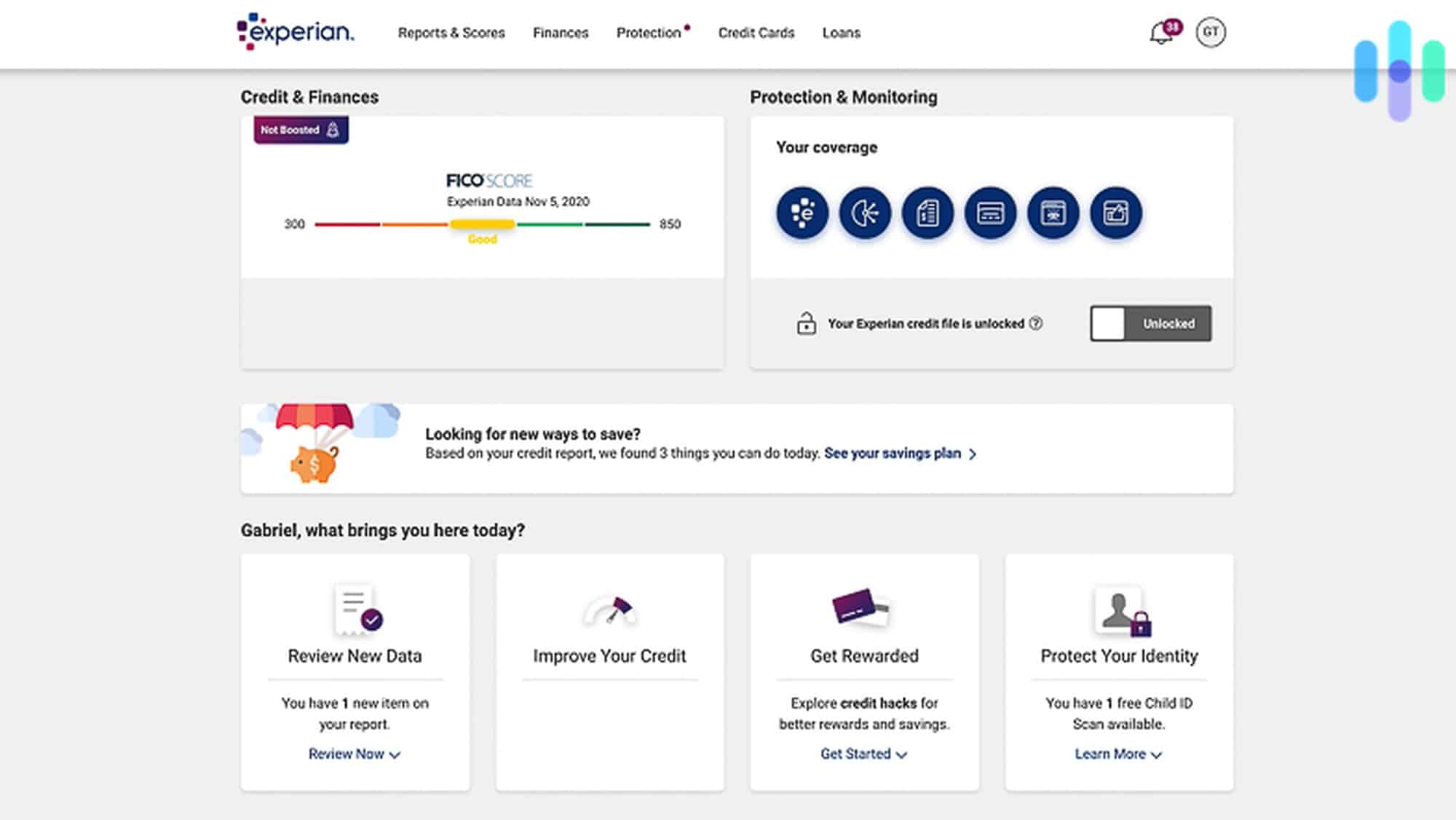 A huge difference between the two plans is that the Premium plan monitors credit from all three credit bureaus (Experian, Equifax, and TransUnion), while the Plus plan only monitors credit from Experian. At first we weren't sure if this was worth the extra cost, but Premium members also receive quarterly FICO score updates based on scores from all three credit bureaus, in case the daily updates from Experian weren't enough. That's a major point for Premium because it's important to understand credit scores from all of the bureaus; you never know which one a lender or landlord might look at!
We found another big disparity in the identity theft insurance maximum reimbursements. With the Plus plan, the maximum is $500,000, while the Premium Plan doubles to $1 million, again, typical for identity theft protection across the industry. At first we thought this was overdoing it a little. A million dollars? But when we started adding up all the things somebody could buy with our identities—and all the processes we'd have to go through to undo it all—it actually didn't seem too silly to splurge for the million dollars.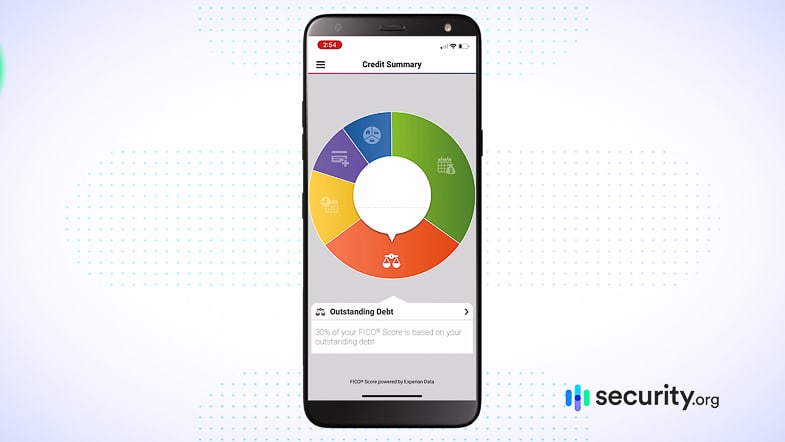 The Premium plan also monitors many more areas than the Plus plan, including:
Financial account activity
Payday loan and non-credit loans
Court records
Sex offender registry
File-sharing and social network monitoring
Premium users also receive identity validation alerts—think of it like two-step verification for our identities, with push alerts sent from the app straight to our phones. Match point, Premium.
FYI: Hackers stole almost half a million consumer records containing personal information in 2018—a 126% jump from the previous year.3 Experian's file-sharing and social network monitoring could let you know if your information has been compromised, but it also helps to mix up your passwords and avoid the easy ones (looking at you, Password123).
Does Experian Offer a Free Trial?
Experian offers a 30-day free trial. The catch? We had to give them our Social Security Number, which made it feel like a little bit more of a commitment than our free trials at the gym or the local food co-op. One the free trial period ended, we were signed up for a Premium account automatically, so if we'd wanted to continue, it would have been $19.99 per month.
How to Cancel Experian
We're not going to lie—Experian is one of those companies that makes it tricky to cancel your subscription. The best bet seems to be calling them directly at 1-479-343-6239. We had a feeling it wasn't going to be easy based on our past experience with Experian customer support, which was a little lacking. There's definitely no charge if you decide to cancel before your free 30-day trial has ended, but after that, you won't be able to pro-rate your current month's paid membership fee.
Favorite Features
If you haven't already checked it out, we've done a full review of Experian's identity monitoring services. Overall, we were pleased with it. Here's what we were most excited about:
Daily credit reports and scores: When we're paying for a credit and identity monitoring service—especially for one directly from a credit bureau—the main thing we want is a lot of data. The daily credit reports and scores definitely filled that gap and are perfect for anybody looking to keep a close eye on their financial information.
Great apps on iOS and Android: Apps are key these days. Honestly, you could be offering us free ice cream cones every day, but if the app to get them is hard to navigate, we won't bite very often. The Experian app is definitely more focused on credit rather than their side-gig identity protection, but it's ideal for a quick check-in to make sure everything looks okay.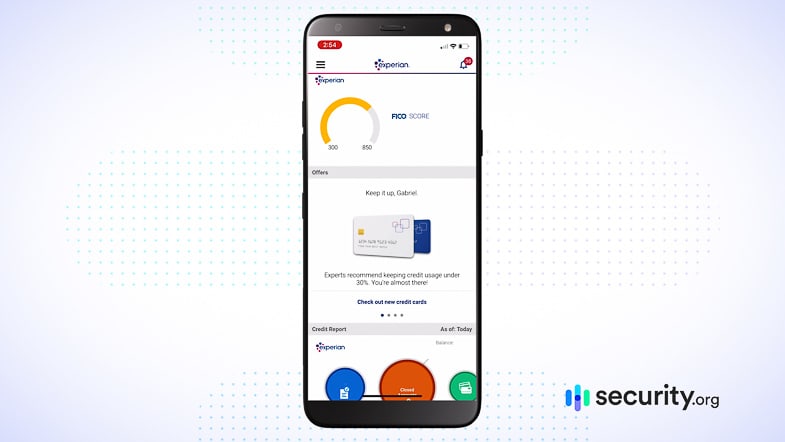 Free 30-day trial: Nothing beats free, and with an entire month of IdentityWorks, we felt we had enough time to confidently decide if this service was the right one for us.
Recap
Ultimately, Experian IdentityWorks is not our absolute favorite identity theft protection service this year, which is not to say that we wouldn't recommend it at all. However, the app isn't anything to write home about, and the customer service was truly lackluster, which was really annoying for us at times. And don't forget that they're collecting all that identifying information that we've asked them to protect. It gave us the heebie-jeebies, but hey, at least they haven't had any big breaches lately, unlike some other companies. And Experian does come at a great price point, especially for large families. With a free trial, affordable prices, and extensive monitoring, they'll definitely help you to stay safe online as they did us.