Experian IdentityWorks Review 2023
Complete ID theft protection and credit monitoring backed by Experian
What We Like
Free 7-day trial
Daily credit report and scores
Highly-rated apps for iOS and Android
What We Don't Like
Free plan doesn't have enough protection
Lackluster customer support
Logging of information like IP addresses, operating system versions, and wireless carriers
Bottom Line
Experian IdentityWorks is a good choice if you're looking for iron-clad monitoring of all your financial and personal data. Experian's premium individual plan costs a bit more than what we're used to paying, and customer support has been shaky in the past, but the family plan may be a good option for households that are serious about keeping their sensitive details off the dark web.
If you've ever checked your credit report, you probably already know Experian. They're one of the three major credit reporting bureaus in the U.S. But Experian also offers premium identity monitoring services with a free 7-day trial. Note that 7-day trial period because we're going to come back to it.
However you feel about free trials, it's a good idea to take identity theft seriously in 2023. We've transitioned to a digital economy at the speed of a bullet train. There's a lot of convenience there, but a ton of exposure to the worst types of financial crime at rates you wouldn't believe. In 2022 alone, 40 million Americans lost more than $43 billion to identity theft, according to a recent Javelin study.1 Although ID theft losses were down 17 percent from 2021, that news will be cold comfort to the millions of U.S. families that saw their pensions plundered or their credit wrecked.
Bottom line? ID theft is real, it's bad, and you should take steps to protect yourself, which is where Experian IdentityWorks, Experian's ID monitoring service, comes in.
Experian IdentityWorks ID Theft Protection Snapshot
| | |
| --- | --- |
| Triple-bureau credit monitoring | Yes |
| SSN monitoring | Yes |
| Financial account monitoring | Yes |
| Dark web monitoring | Yes |
| Family plans | Yes |
| Financial account monitoring | Yes |
| Price | Free – $34.99 per month |
Editor's Rating
US-based fraud resolution specialists
One-tap credit file locking/unlocking
Comprehensive fraud protections
Experian vs. The Competition
As far as ID protection goes, I found that Experian offered top-notch, if somewhat pricey, credit and data monitoring, and their 7-day free trial period gave me enough time to get to know their service completely. For comparison, some of our favorite ID monitoring services don't offer a grace period at all. Other top names, like Aura ID theft protection, are free for 14 days.
Not a bad start. However, a little digging through the Better Business Bureau's archives was all it took to see that Experian doesn't always go the extra mile for their customers. Maybe because they're too busy keeping tabs on the nation's credit. Either way, if you ever fall victim to identity theft, you'll want to be able to lean on your ID theft provider for guidance. Here are three identity protection brands we've reviewed that earned top marks in customer support.
A word or two on these recommendations because each has its own focus. Grabbing a LifeLock plan makes sense if you want to bundle in quality antivirus software. And you should probably consider it. ID theft providers like Experian keep an eye out for suspicious transactions. They can't keep goons from hijacking our devices and selling our data on the dark web. Antivirus protection can. Here's how LifeLock stacked up in our tests.
For budget-minded individuals, Identity Guard packages are pretty cheap across the board. Identity Guard has been around forever and they get bang-up customer reviews. Here's what we found when we tested Identity Guard's ID theft protection services for a week.
Finally, our number-one, all-around pick for ID security, Aura, is a particularly good choice for families looking for quality ID theft solutions. Aura also has couples plans, FYI. Read my complete Aura review for the details.
Did You Know: According to a 2019 report by the RAND Organization, juvenile gang members are leaving the drug trade behind for the less risky, more profitable business of dark web grifting with a focus on identity fraud.2
Experian IdentityWorks Features and Pricing
Experian has a free plan and this is unusual. Right out the gate, I noticed that, without paying a dime, registering for an IdentityWorks account gave me credit monitoring and alerts, dark web reports, and a personal privacy scan — plus a FICO score tracker and monitoring. Not bad on paper, but in practice? Here's what I found.
On the free plan, credit monitoring turned out to be single-bureau (Experian). Those dark web reports weren't timely alerts, and the "personal privacy scan" basically combed the web to see if any of my personal information had been compromised in breachs. So not complete protection by any means.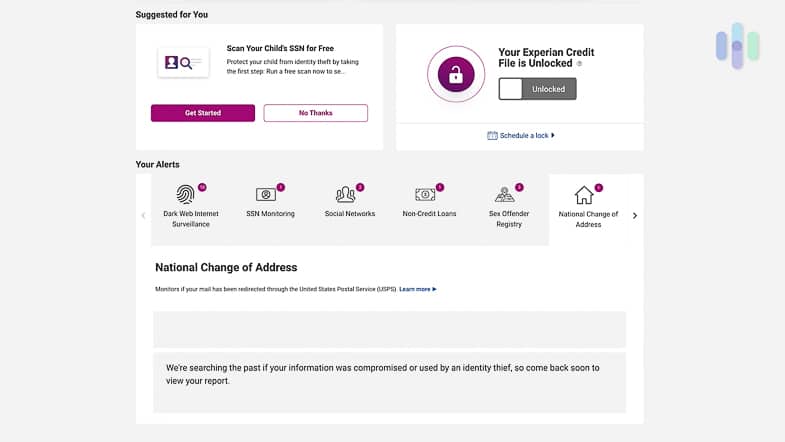 To get the good stuff, which we'll talk about in just a sec, I'd need to pay $24.99 per month. For perspective, a standard LifeLock plan is $11.99. Aura is a bit pricier at $15 per month, but you can drop that to $12 by paying annually. So Experian's premium fee wasn't exactly tempting me. Here's a snapshot of Experian IdentityWorks' three plans side by side.
IdentityWorks Pricing Breakdown
| Plan | Free | Premium | Family |
| --- | --- | --- | --- |
| Price per month | — | $24.99 | $34.99 |
| Price per year | — | $299.88 | $419.88 |
| Number of subscribers | One | One adult | 2 adults + 10 children |
A quick note on this table. IdentityWorks doesn't offer any discounts for paying upfront for a year like you get with an Aura, IdentityGuard, or premium IdentityIQ subscription. That said, Experian did deliver on ID theft protection. Here's a list of everything a premium IdentityWorks plan would have monitored for me:
Dark web: The dark web is just a fraction of the internet, but it punches well above its weight when it comes to fraud.

3

Denizens of the dark web are anonymous, and often but not always criminals, so it makes sense that our stolen credentials end up here. Experian had my back against dark web ID theft with their free plan, but it wasn't automatic. I had to jump online and perform a dark web scan myself to see if my personally identifiable information (PII) had been compromised.
Social Security number: We only get one of these in our lifetimes, so it's vital that our ID theft provider tell us the minute someone is using our SSN to forge a second criminal identity. Experian's free plan didn't check this box, but its premium plan did.
Address changes: This isn't very common, but sometimes grifters file "change of address" forms with the USPS using stolen information. Experian gives paid subscribers the heads up if this happens.
Financial accounts: If anyone tried to open a new bank account or take over my actual bank account using stolen data, I'd be alerted, provided I was a paying subscriber.
Payday and non-credit loans: Trying to get cash on the quick using our names? Not so fast. Experian can detect these attempts so that we're the only people using our identities to apply for non-credit loans.
Court records: With paid plans, Experian also cross-checks court records to see if any crimes have been reported in our names. Again, this isn't likely, but it's far from impossible. The kinds of low-life imposters that steal people's identities are much more than likely than the average citizen to commit crimes.
Sex offender registries: Although Experian would have alerted me when a sex offender moved into my neighborhood, they weren't checking to make sure my name hadn't popped up on any registries, which was a bit disappointing. Why? Because bona fide sex offenders will do anything not to be on a registry, including stealing our identities and using them to sneak into communities where they can find their next victims.
ID theft insurance: If my identity was ever compromised — and I had a premium ID theft package — that's when Experian's identity theft insurance would kick in, with a $1 million maximum reimbursement. I'd also have a fraud resolution specialist to help me pick up the pieces.
FYI: $1 million in ID theft insurance is par for the course. Every company we've reviewed offers something similar. How good they are at digging you out of an ID-theft-sized hole is another story. For that, you need a company with reputable white glove restoration services.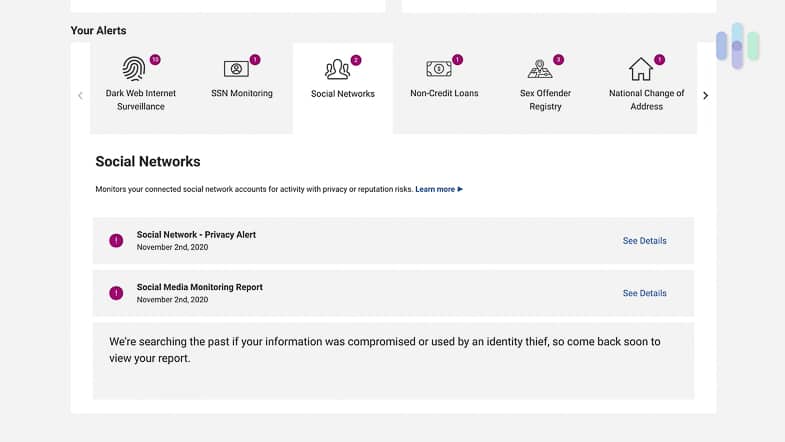 To recap, that's quite a lot of protection. Just keep in mind that like every other identity monitoring service out there, Experian couldn't prevent my identity from being stolen. Remember, grifters are like cockroaches — they're constantly putting out their feelers for cracks in our defenses. Rather, Experian would alert me when they found my credentials where they weren't supposed to be or when they detected early warning signs, like someone using my drivers license to take out a new credit card.
And that's precisely where a free IdentityWorks account wouldn't have cut it for me. If something did happen and my drivers license or SSN was compromised, I might not know about it. I'd have to be running Experian's personal privacy scan every day and night hoping for the best. That's not exactly my idea of security.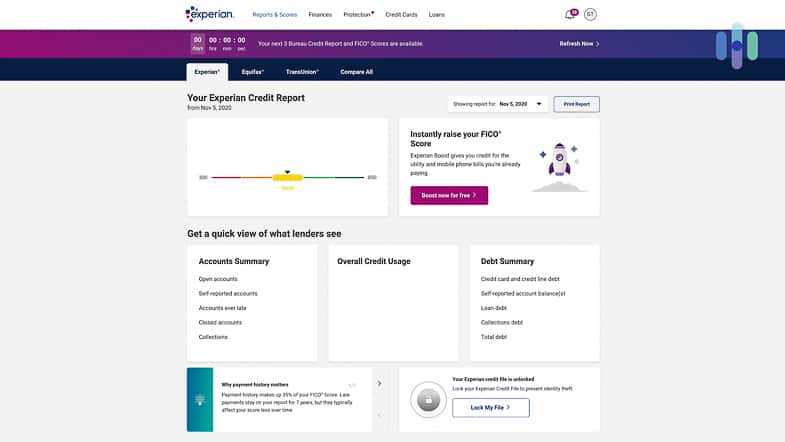 Experian IdentityWorks and FICO
Experian is one of the three major credit bureaus, so it makes sense that they'd keep tabs on our FICO and credit scores. The only problem was, with a free account, I didn't have any access to my TransUnion and Equifax numbers.
This could have been a recipe for financial disaster because the three bureaus don't share information. They're competitors. So my credit could have been sunshine and roses at Experian, but something could have been rotten in Denmark at Equifax, and again, I wouldn't have known.
Now that we've got Experian's major protections out of the way, here's a complete plan-by-plan breakdown of everything you get with their two premium plans.
Pro Tip: The three-digit FICO number is a credit score that 90 percent of lenders use when making loan decisions. Your FICO score can affect the size, length, and interest rates of your loans. You should be aiming at a score of 670 or above. Scores over 800 are considered exceptional.
Experian Subscription Breakdown
Feature
Free
Premium

$24.99 per mo.

Family

$34.99 per mo.

Experian credit report and FICO Score
Yes
Yes
Yes
Experian credit monitoring and alerts
Yes
Yes
Yes
FICO Score tracker and monitoring
Yes
Yes
Yes
Dark web surveillance reports
Yes
Yes
Yes
Personal privacy scans
Yes
Yes
Yes
Monthly privacy scans
No
Yes
Yes
3-bureau credit monitoring and alerts
No
Yes
Yes
Dark web internet surveillance alerts
No
Yes
Yes
Financial account takeover alerts
No
Yes
Yes
Social Security number trace alerts
No
Yes
Yes
Change of address alerts
No
Yes
Yes
Court records and booking alerts
No
Yes
Yes
Non-credit loan alerts
No
Yes
Yes
Sex offender registry alerts
No
Yes
Yes
Social network monitoring alerts
No
Yes
Yes
Identity validation alerts
No
Yes
Yes
Experian CreditLock with alerts
No
Yes
Yes
Up to $1 million identity theft insurance※
No
Yes
Yes
Dedicated fraud resolution support
No
Yes
Yes
Lost wallet assistance
No
Yes
Yes
Daily Experian FICO Scores
No
Yes
Yes
As you can see, IdentityWorks clearly offers a ton of ID security. If you were counting, that's over 20 individual protections — most of them only available with a paid plan.
To paint this in broad brushstrokes, Experian's free plan focuses on one bureau (Experian) and is more of a tool to self-monitor your credit and sensitive details. Outside of Experian, the bureau, you don't get any alerts if someone's been tampering with your personal information. For that, you'd need to upgrade to a paid subscription.
As for Experian's subscriptions, the only real difference between the premium and family plans is the number of users. You get one with the premium plan and up to 11 with the family plan. While IdentityWorks' $24.99 individual plan is a little prohibitive price-wise, for families (two adults and 10 children), $34.99 is more attractive. Though — and I'm not trying to knock the wind out of Experian's sails, — you can swipe up an Aura family plan for $25 and it covers five adults and unlimited children.
Did You Know: Experian's premium plans come with "lost wallet assistance." If you ever end up losing your wallet, their restoration specialists help you cancel and replace your cards and recover your losses.
Video Review
To see the Experian app in action, watch the below video. We'll also go over pricing, ease of use, and other factors you need to know about Experian IdentityWorks.
Using Experian IdentityWorks: Our Experience
Setting up an Experian account online was easy. Everything was completely free, and that won't change. I never had to enter any bank account or credit card information either. They did ask for my Social Security number, birthday, and phone number to verify my identity, but don't worry. This is standard operating procedure. Experian can't monitor our credentials unless they have them on record.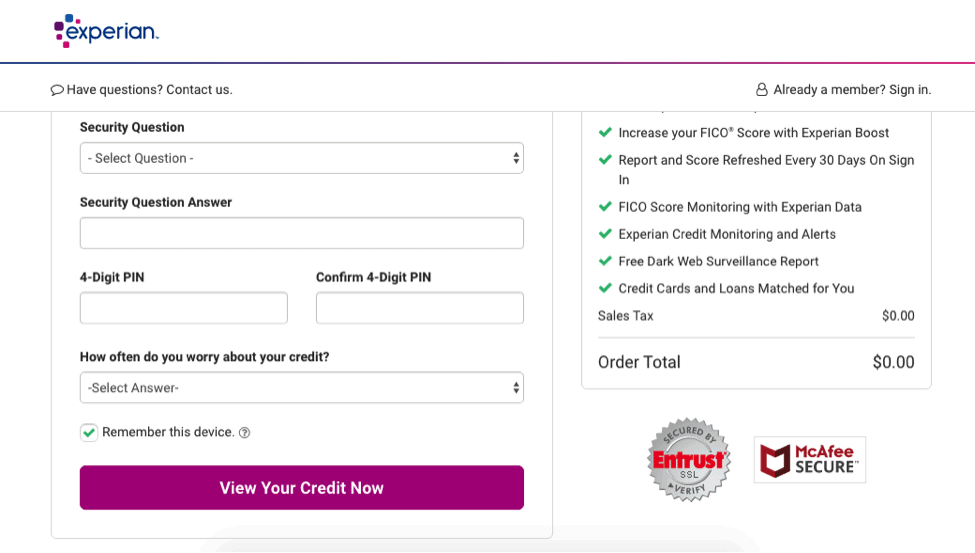 After setting my security questions, I got to see my FICO score, which was "good."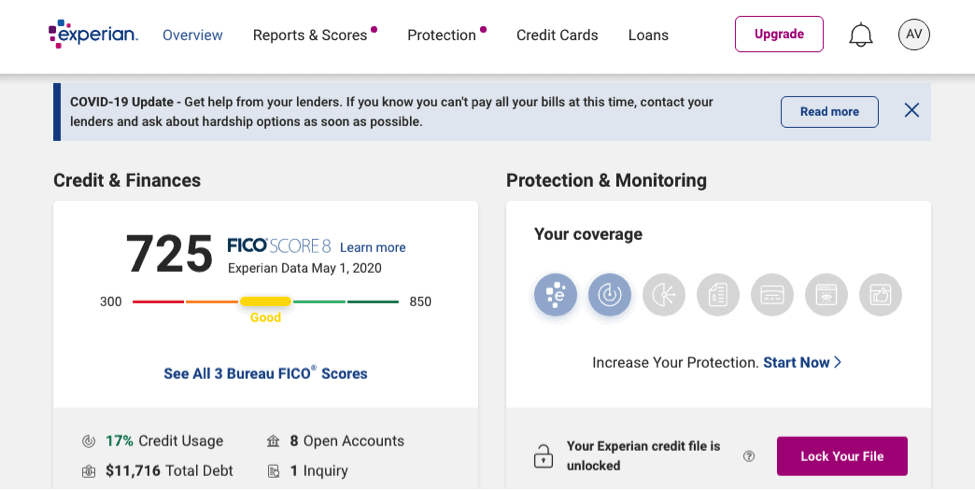 Then it was time for the big moment: my dark web scan.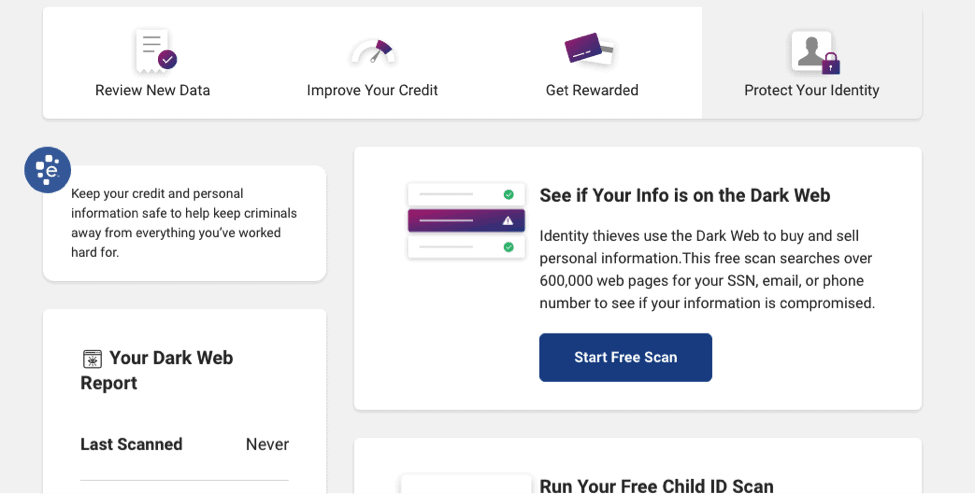 As it turns out, my phone number was compromised! While Experian wasn't going to help me resolve this issue (not with a free account), they did give me a phone number to call. The folks there would apparently be able to tell me if my identity had actually been compromised. (It hadn't, thank God.)
From there, I was prompted to add more info in case I ever upgraded to a paid subscription — drivers license number, passport number, medical ID number, bank account, credit card information, retail cards, and social media accounts. I left those fields blank for the time being. And that was it. Now all I had to do was download Experian's mobile app. Speaking of which…
The Experian App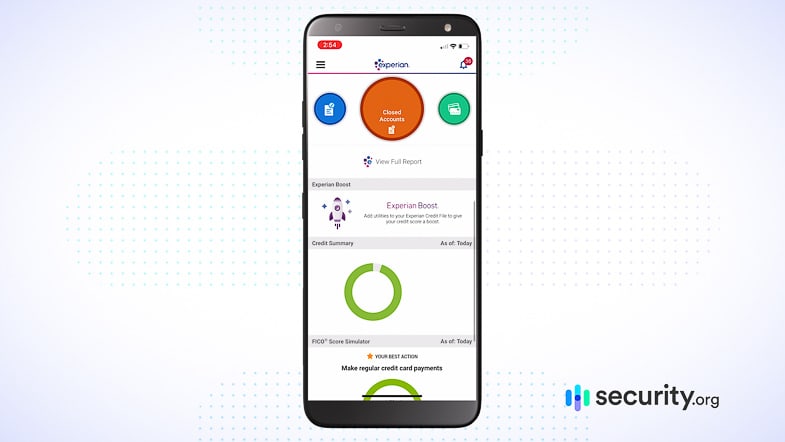 For identity monitoring on the fly, I downloaded the 4.8-star Experian app from the App Store. (The Android app also gets high scores.) Having the app in my front pocket wasn't just for convenience. When a suspicious activity alert comes in, you'll want to see it immediately, so I definitely recommend having your ID theft protection app handy wherever you are.
The iOS app was pretty stripped-down, but it worked without a hitch — though without a premium subscription, I could only check my Experian credit scores and reports. Most of the ID monitoring features weren't available.
Experian Customer Support
I can't speak for the many subscribers who have vented about Experian's less-than-stellar customer support. But I can tell you that I did have a little trouble with their "online help center." There was no email or live chat feature, just a knowledge base, which was perplexing.
Experian did have a toll-free number, but I wasn't really interested in spending 10 minutes on the phone just to ask a simple question about social media monitoring. A quick online chat would have been a lot more efficient.
Experian IdentityWorks: Is It Safe?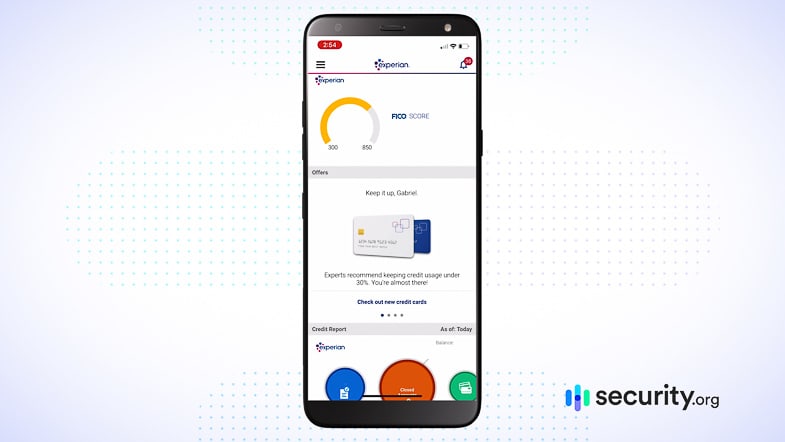 There's no doubt that I'd fed Experian more information than I'd tell a priest, so kudos to them for requiring multi-factor authentication to access it. If you're unfamiliar with multi-factor, or two-step, authentication, that means I couldn't access my account with just a password. Anyone could get their hands on that. I needed to give Experian a second means of verifying my identity — in my case via an SMS sent to my phone.
Speaking of sensitive information, you should know that since Experian is based in California, technically, the United States government could force them to hand over their customer data. That's because the U.S. is part of the major international surveillance alliances known as the Five Eyes, Nine Eyes, and 14 Eyes. A quick look at their privacy policy told me that. And, frankly, I wasn't really surprised or disturbed by this.
That said, the policy did reveal that Experian also logged the following:
IP address
Time and pages visited
Computer device type
Operating system version
Browser type and version
Wireless carrier
Wi-Fi status
Crash logs
Cookies
Pixel tags…
…and many other device identifiers.
On top of that, Experian can share the data it collects with third parties for advertising purposes, although that information would be aggregated and anonymized and users can opt-out if they want to. That did feel invasive. The government already has my SSN. They aren't entitled to my browsing history.
Bottom line? I think it's safe to say that Experian has some distance to cover in user privacy. However, the company hasn't had any data breaches in recent memory, unlike the credit-monitoring bureau Equifax, which exposed 147 million people's personal information back in 2017.4 In light of that, I'm willing to cut Experian a little slack.
Experian IdentityWorks ID Theft Protection: Is it Worth It?
Experian obviously has its drawbacks. Their plans are pricier than the competitions' and they've been struggling as a company in the customer support department. The IdentityWorks family plan is also strangely limiting — no grandpas or grandmas, but up to 10 children? Still, make no mistake, Experian's ID theft protections are the real deal, and their free account is free forever. If you're ok with bare-bones, single-bureau credit monitoring, the basic plan could be a good option.
Otherwise, $24.99 per month is pretty steep, even for iron-clad ID theft protection, especially since you can scoop up an Aura or LifeLock plan for half of that. Aura premium plans ($12 monthly if you pay for a year upfront) have more flexible family plans. LifeLock is Norton so you can add first-rate antivirus protection to your package.