IDnotify Identity Theft Protection
We tested out the Premier Plan from IDnotify, which provided comprehensive identity theft protection.
Range of social monitoring features
Affordable plans start at just $9.99 a month
Owned by major credit bureau Experian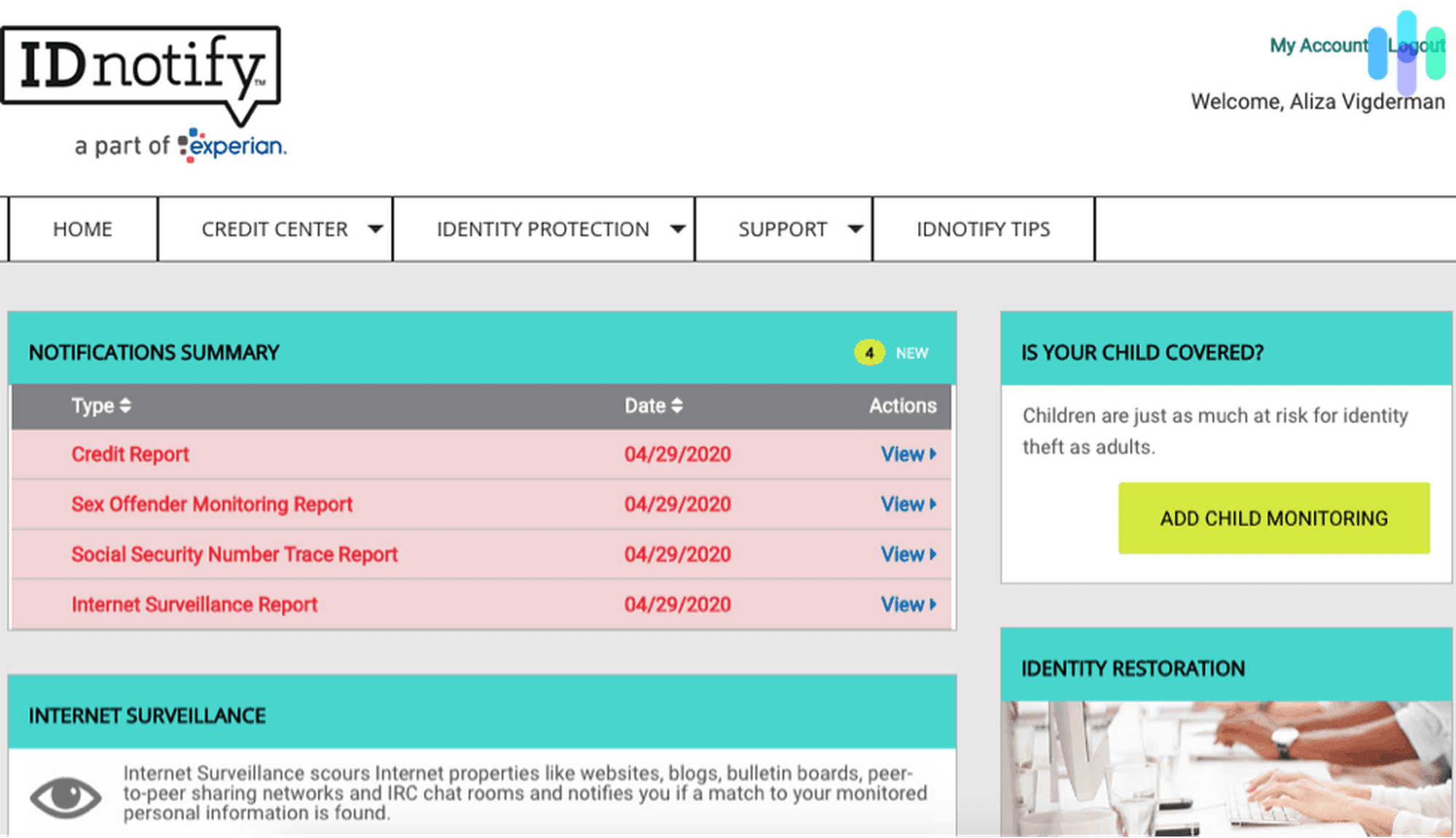 All of our content is written by humans, not robots.
Learn More
By

&

Last Updated
Apr 12, 2023
Think of your personal identity security on the web like straining rice through a piece of cheesecloth, except the rice is your personal information. You'll be able to catch most pieces that are trying to get through, but smaller, faster grains might slip past. Using a service like IDnotify is like folding that piece over on itself so that eventually, in case something does get through, you'll know exactly where it went. On this page, we'll dive into everything you need to know about IDnotify, an all-encompassing identification and credit monitoring service from Experian, one of the largest consumer credit reporting companies in the world. Note that Experian owns another identity theft protection service that we've tested, Experian IdentityWorks.
Plan features
| | |
| --- | --- |
| Three-bureau credit reports | Premier plan |
| One-bureau credit reports | Select plan |
| Three-bureau credit monitoring | Premier plan |
| One-bureau credit monitoring | Select plan |
| Monthly VantageScore updates | Premier plan |
IDnotify Subscription Options
With three pricing plans (Essential, Select, Premier) and the option to add child identity theft monitoring or monitoring for the whole family, we found ourselves wondering which subscription would get us the best coverage and the most value. Although the Essential Plan provides very solid foundational coverage, it lacks identity theft insurance, something we consider essential as no service can protect us from identity theft 100%. The Select Plan offers an even deeper look into potential breaches in both our credit and identity, but this plan lacks financial account takeover coverage, and it only monitors one credit bureau. For those reasons, we decided to go with the Premier Plan, the plan that included everything that IDnotify had to offer.
Tip: Always pick a plan with identity theft insurance. That way, on the rare occasion the service misses something and your identity is stolen, you're covered for any lost funds.
| Features | Essential Plan | Select Plan | Premier Plan |
| --- | --- | --- | --- |
| Credit bureaus monitored | 1 | 1 | 3 |
| Credit reports | No | Yes | Yes |
| VantageScore reports | No | No | Yes |
| Monthly VantageScore Updates from How Many Credit-Reporting Bureaus | 0 | 0 | 1 |
| Online identity monitoring | Yes | Yes | Yes |
| Privacy and reputation monitoring of social networks | Yes | Yes | Yes |
| Change of address monitoring | No | Yes | Yes |
| Social Security number trace | No | Yes | Yes |
| Payday loan monitoring | No | No | Yes |
| Financial account takeover monitoring | No | No | Yes |
| Sex offender registry monitoring | No | No | Yes |
| Identity restoration services | Yes | Yes | Yes |
| Identity theft insurance | No | Up to $1 million | Up to $1 million |
| Monthly price for individuals | $9.99 | $17.99 | $25.99 |
| Monthly price for one adult and one child | $14.99 | $22.99 | $30.99 |
| Monthly price for two adults and up to 10 children | $19.99 | $27.99 | $35.99 |
One of the only disappointments is that IDnotify does not offer a free option. However, it does offer free trials occasionally on a promotional basis. If you happen to see promotions like that, that would be the best time to try out IDnotify's services.
More Security.org Recommendations
Check out more of our favorite identity theft services.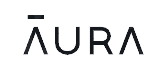 Why IDnotify? Our Favorite Features
We know that a chart doesn't suffice when it comes to studying a service's features. Fortunately, we tested out IDnotify ourselves, and we're here to talk about all the features we got from the service. It's important to note that not all of these features are available with every plan. The first thing we noticed was that luckily, IDnotify offers a lot of bang for your buck. Even at the Essential Plan level ($9.99), IDnotify covered things beyond the digital world, like lost wallets. See the list of our favorite elements of IDnotify's monitoring packages below: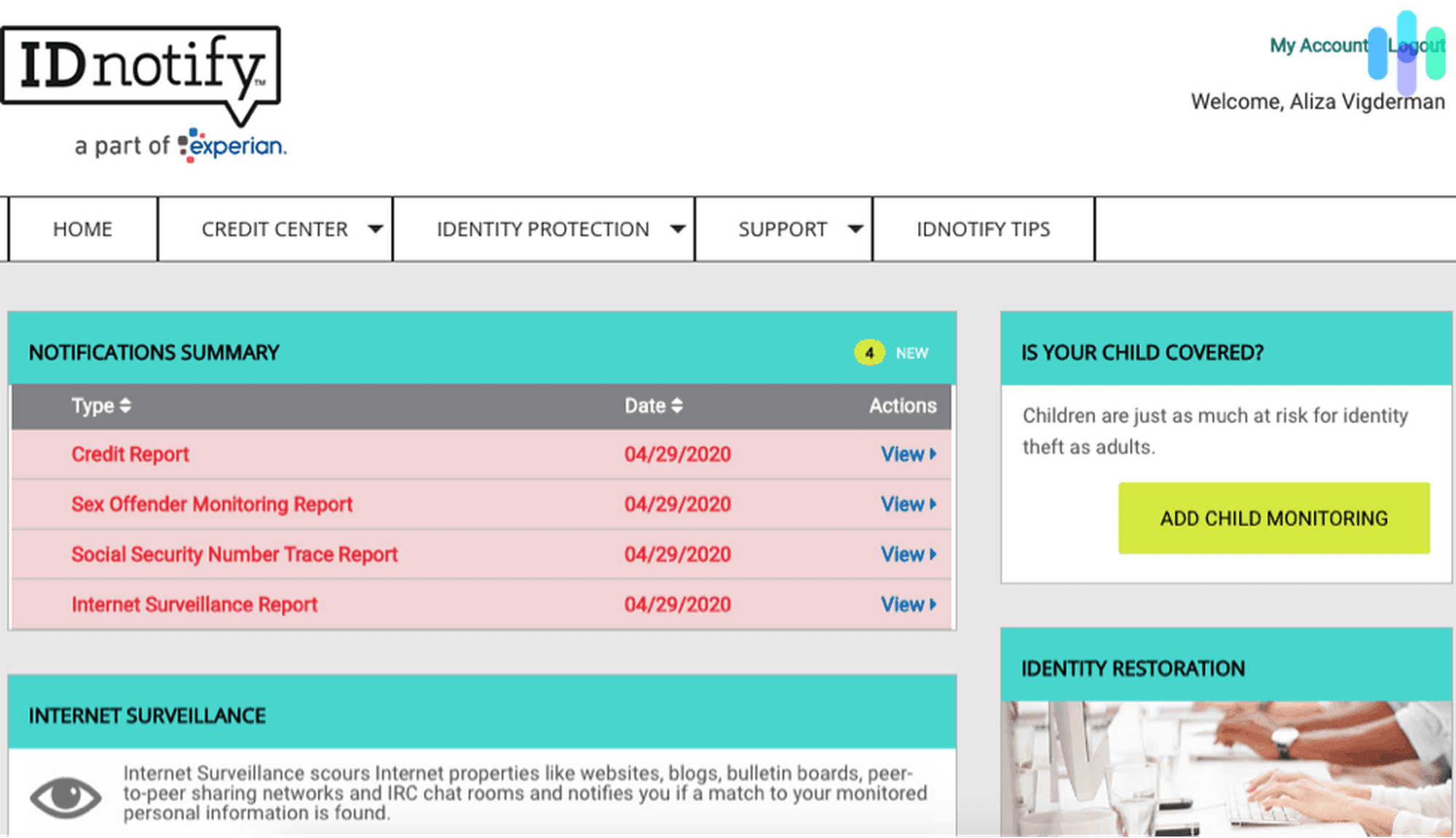 Identity restoration: When you discover a pass against your identity, no matter how small, it is incredibly stressful and confusing. When we noticed some unauthorized charges on our debit card a few months ago, having a specialist available to guide us through the restoration process was worth every penny. That's why IDnotify's 24/7 access to identity restoration specialists is one of our favorite features.
Lost wallet services: Speaking of our favorite IDnotify features that can really help us in a pinch, the lost wallet program is a lifesaver! If we ever lost our wallets, IDnotify would be able to help replace everything from insurance cards to driver's licenses, and even store membership cards and everything in between.
Financial account takeovers: One of the scariest and perhaps most destructive forms of identity theft is if anyone tried to open a bank or credit card account in our names, make changes to our current bank account or apply for a credit card with our information. IDnotify's diligence while monitoring financial accounts could spare us a serious loss if anyone tried that scheme on us.
Credit scores and reports: Using credit scores and credit reports from the three major credit-reporting agencies, Experian, TransUnion, and Equifax, IDnotify updated us any time our credit score improved or slipped.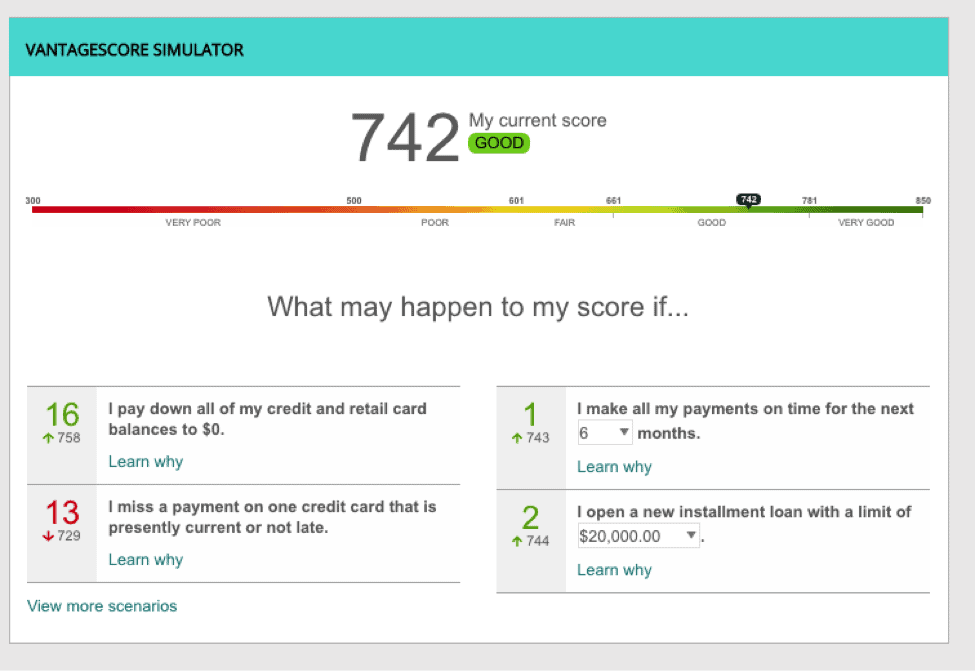 VantageScores: VantageScores are a combined credit score from all three agencies. Although it's not as popular as FICO scoring, nearly every lending industry uses VantageScore, except the mortgage market.
Child monitoring: We can clearly see the value of being able to track your child's information as well. According to Microsoft,

1

the average age that children are allowed to be online unsupervised is eight, so having an extra layer of security both before and while they're on the web is essential. An extra $5 per month is well worth that piece of mind, in our opinion.
Family monitoring: Expanding on child monitoring, IDnotify has plans that can cover an entire family consisting of two adults and up to 10 children. These plans tack on $10 more per month to the individual plan pricing, which is a pretty great price considering that they can provide protection to up to 12 people.
Internet surveillance: IDnotify used our information and credentials to scan the Internet for misuse, a typical but necessary part in checking if someone is using our identities.
Social network monitoring: IDnotify tracks social network accounts in two ways. First, it tracked our own social media accounts for any risks to our privacy or reputation, then it tracked mentions of our accounts for anything suspicious. As people who spend a significant amount of time on Twitter, Facebook, and Instagram, this service is all too necessary, especially for our professional careers.
Change of address monitoring: It's already a nightmare to try to change your information when you move, but what if someone did it without you knowing? IDnotify saved us from the headache by monitoring these potential changes before our mail started going missing. Gotta get those Chinese menus and credit card offers somehow!

Court records and booking monitoring: IDnotify monitors bookings and court documents to make sure that no one used our information if they were arrested or charged with a crime.
Social Security Number trace: This is the big one. IDnotify monitors hits on our Social Security Numbers to be sure that no one used them alongside another name or alias, or for any dubious purposes.
Non-credit loans: The two biggest non-credit loans that identity thieves frequent are quick-cash and payday loans. Thankfully, IDnotify's monitoring service watched out for our information to make sure no one was using our data to make a quick buck.
Sex offenders: From monitoring our neighborhood to making sure our names haven't been inadvertently placed on a sex offender watchlist, IDnotify has us covered.
For a deeper dive on all of IDnotify's features, check out our IDnotify review.
How Does IDnotify's Pricing Stack Up?
Now that we know how much IDnotify's services cost and what IDnotify can offer, it's time to assess its value. We've come to the determination that among the best identity theft protection services in the industry, IDnotify's best asset is its value. Across the board, the price for what you get with IDnotify is among the best in the field. Compared to offerings from companies like myFICO, whose monthly prices range from $19.95 to $39.95, we got high quality services at a lower price point from IDnotify. With starting prices at just under $10 per month and only going just above $30 for the full suite of features, IDnotify also falls in line with plans from LifeLock ($8.99 to $25.99 a month) and plans from Identity Guard ($8.99 to $24.99 a month for individuals, $14.99 to $34.99 a month for families). When it comes to protecting yourself from identity theft, IDnotify's $9.99 option can set you up for success, but in order to reap the full benefits, including identity theft insurance, you have to spring for one of the more expensive options. Luckily, the rest of IDnotify's pricing is just as reasonable. Check the chart below to see how much IDnotify's plans will cost you in a year.
| Plan | 1 adult | 1 adult, 1 child | 2 adults, 10 children |
| --- | --- | --- | --- |
| Essential plan yearly cost | $119.88 | $179.88 (+$60 per additional child) | $239.88 |
| Select yearly cost | $215.88 | $275.88 (+$60 per additional child) | $335.88 |
| Premier yearly cost | $311.88 | $371.88 (+$60 additional child) | $431.88 |
FYI: To get a full picture of your credit history, we recommend going with any package that will monitor all three credit bureaus.2 Only IDnotify's Premier Plan can do that.
Canceling IDnotify
Canceling IDnotify is actually quite easy, but to be safe we both emailed their member's email address (memberservices@IDnotify.com) and reached out to them at their dedicated customer service line (1-888-883-1852). At the point of cancelation, we were permitted to continue using the month we paid for, but after that, IDnotify cancelled our subscription.
How IDnotify Protects Your Information
If we're going to trust a company to keep our identity safe, we needed to make sure that they, themselves, were trustworthy! Backed by Experian, one of the largest credit bureaus in the world, gives IDnotify the benefit of the doubt. According to IDnotify's privacy they will never sell or share our personal information for marketing purposes, a huge relief.
IDnotify also encrypted our information using Secure Socket Layer (SSL) to make sure that the only person seeing our personal information was us. On top of all of this, when we used the IDnotify app on our phones, we were able to set up multi-factor authentication and use our fingerprints to open our accounts. That meant that even if a hacker got our username and password through a phony phishing email, they still wouldn't be able to access our accounts.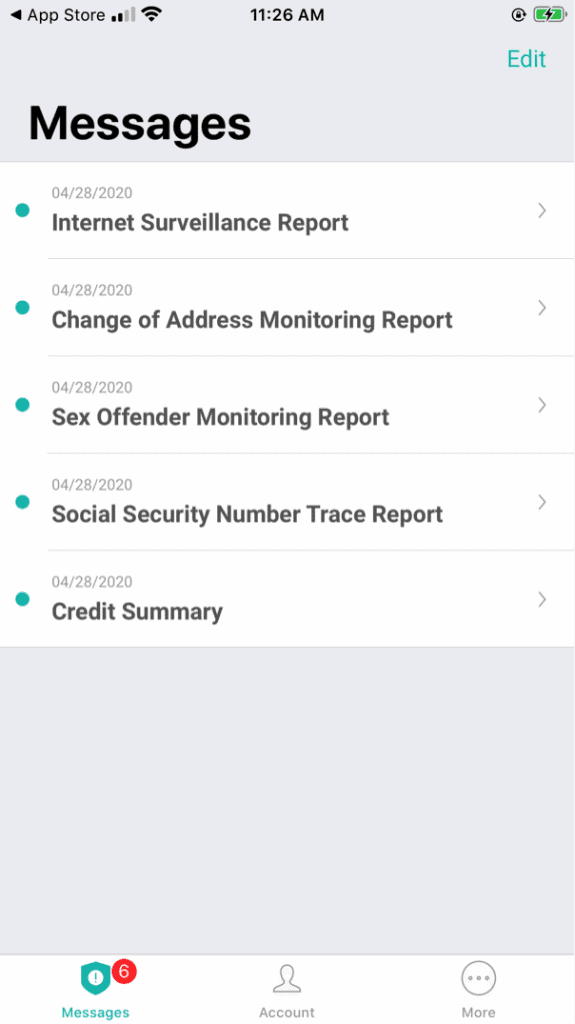 Recap
Alright, so we've learned a lot about the services and security measures of IDnotify, so it's best we do a quick rundown and review. Overall, IDnotify is one of the best-valued identity monitoring and security services on the market. If you want a lot of quality monitoring from a reputable source, without breaking the bank, IDnotify might be for you. The best option for a comprehensive identity protection and credit monitoring program will cost $17.99 per month and for only a few bucks more at $25.99 per month, you get a slew of elite options. The biggest downside of IDnotify, is the lack of identity theft insurance at the $9.99 level. Our research has shown identity theft insurance is an essential element of any protection plan, so not having it available at every subscription level is disappointing. In all, IDnotify is a great option for quality identity monitoring at a reasonable price.