With the rise of the Internet, teenagers and college students are more digitally connected than ever before. These days, just about every student owns a smartphone and computer. In fact, about 73% of all 13-17 year olds have smartphones, 87% of American teens have computers, and 72% of them engage on social media. Research also shows that 55% of Americans aged 18-29 have experienced at least one kind of data theft.
The constant digital connection makes online safety a notable concern for students, parents, and teachers. With that said, learning and practicing solid cybersecurity habits is crucial to a positive college experience. Doing so will prevent you from computer viruses compromising important data, hackers hijacking your accounts, cyberthieves stealing your identity, and vengeful exes ruining your reputation, to name a few. In this guide, we will go over the best ways to keep your identity and information safe online.
What the Experts Say
There is a lot to be said about data protection in the education space. Before going into the specifics, these expert insights may help capture the bigger perspective: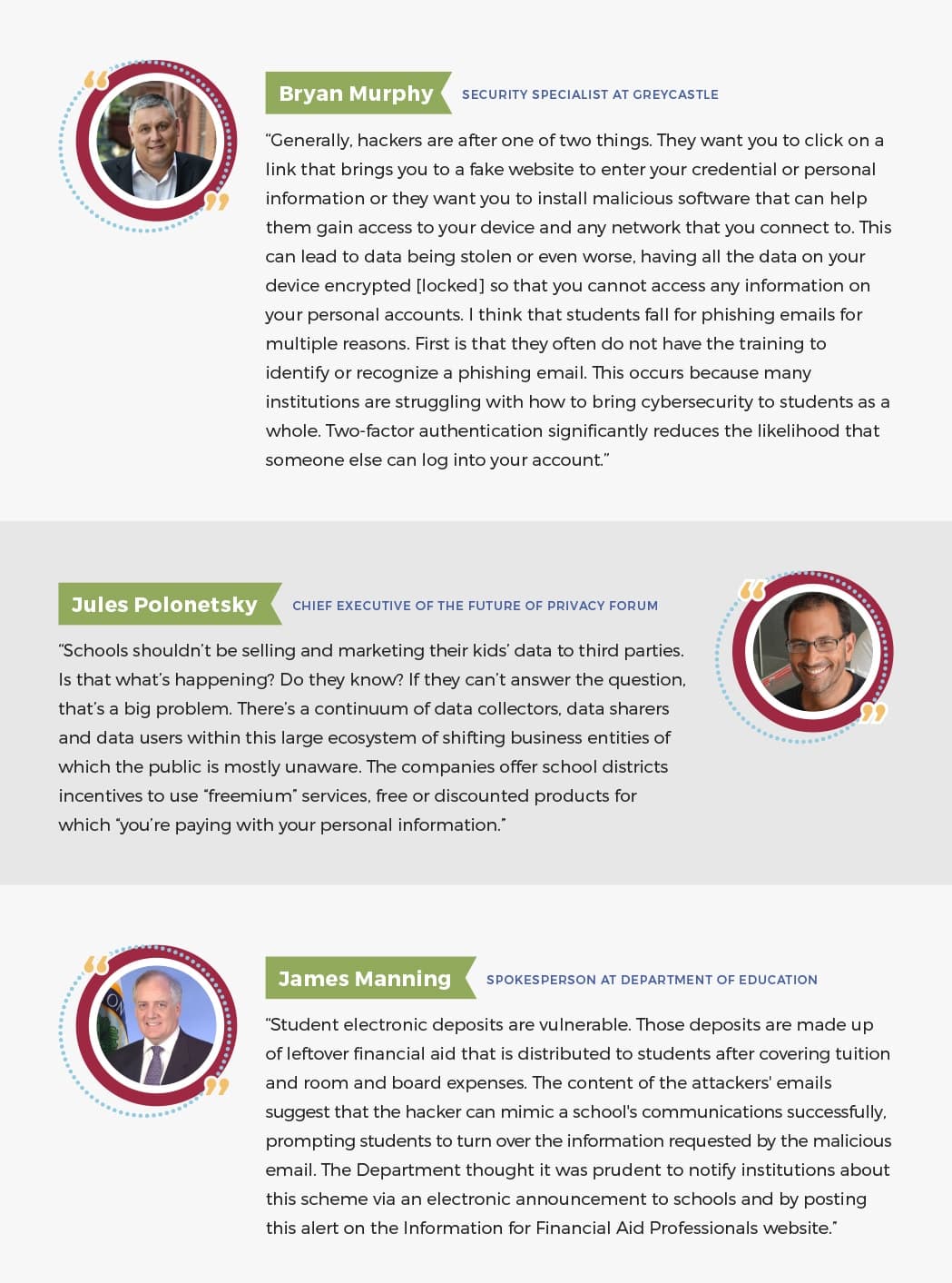 Busting the Cybersecurity Myths
There are a good number of cybersecurity myths floating around out there. Before we get started with stating all the facts, let's take a moment to debunk these myths.
Why Are College Students Prime Targets for Data Theft?
Fresh out of high school and into their first year independently as real adults, cybersecurity is often one of the last things on college students' minds. As a result, they are naive and uninformed about how identity theft takes place and what the consequences are. Aside from this main reason, below are a few other reasons why university students are especially vulnerable to data theft.
According to the Department of Education, students are also not the most careful with paper documents that may contain sensitive information. About half of college students get a credit card application at least once a week. Most of these students will toss these into the trash rather than shredding pre-filled-out applications. While students may not think much of this, it is basically a golden ticket for thieves to recover.
General Security & Privacy Tips for College Students
Proactively practicing solid security and privacy tips will go a long way in protecting your own identity and personal information throughout your college years. Not sure where to start? Here are some general tips to point you in the right direction:
Pointers for
Protecting Your Devices
You never know when you may misplace your gadgets, so it is crucial to keep the important data you can't live without backed up and stored in a safe space. Below are some key measures worth taking to protect your devices:
How to Protect
your Confidential Data
Keeping your confidential data safe is far from rocket science, but does require some regular attention. Keep these cyber security tips in mind throughout your college career (and beyond!):
Securing Your
Identity & Reputation
As a college student, you are just starting to form your identity and discovering who you are. Don't let a cyberthief ruin it. Start building good habits now.
Final Thoughts
Data theft is often overlooked by students, but should be taken more seriously. While you may feel that the chances of it happening to you are unlikely, consider the fact that ransomware attacks in the United States are up to 250% and 1.3 million people fall victim to identity theft each year. Protect yourself by practicing responsible Internet browsing habits, being extra careful with who you provide any personal information to, and backing up your data often. Additionally, following the tips we have outlined in this guide and adopting a new attitude towards cyber security will help you keep your reputation, devices, and information secure.
Further Reading