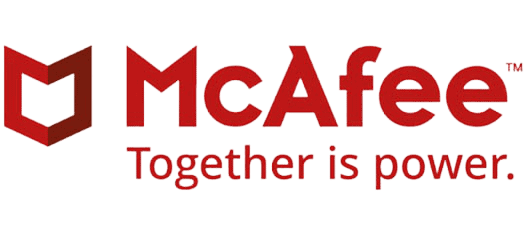 McAfee Antivirus Protection Cost and Plan Pricing
Antivirus software starts at $29.99 a year
VPN, password manager, identity theft protection, and bundle options
30-day Total Protection trial for Windows PCs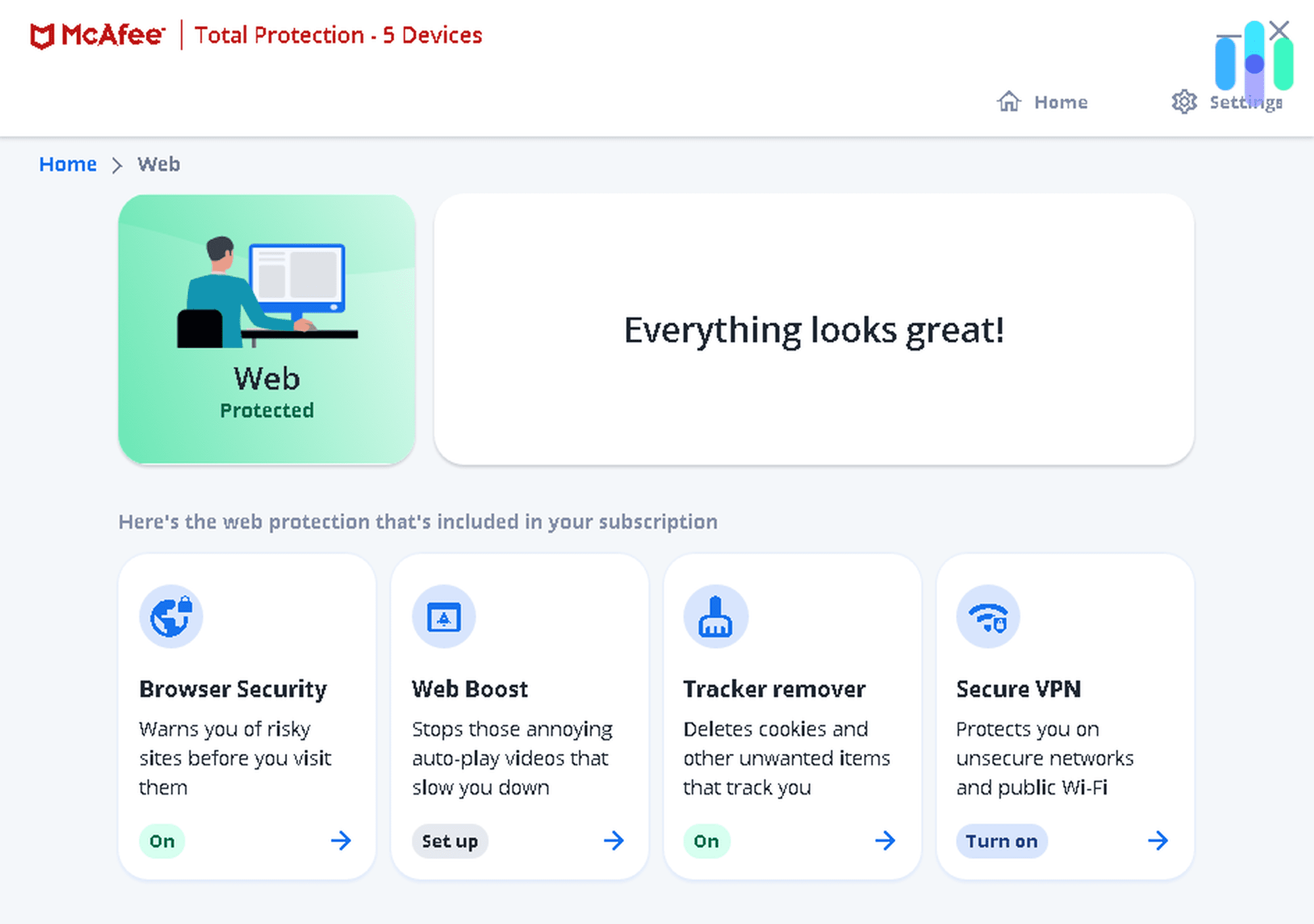 All of our content is written by humans, not robots.
Learn More
By

&

Antivirus shopping should be easy — pick a brand, pick a product, download. Unfortunately, that's not the case for most antivirus companies these days, and if you're here, we assume you've been to McAfee's website and got overwhelmed by the choices available.
Well, you've come to the right place. As cybersecurity experts, we're familiar with antivirus terminology and we can help you make sense of McAfee's products and offerings. As we go through them, keep your eyes open and you just might find a McAfee product that works for you.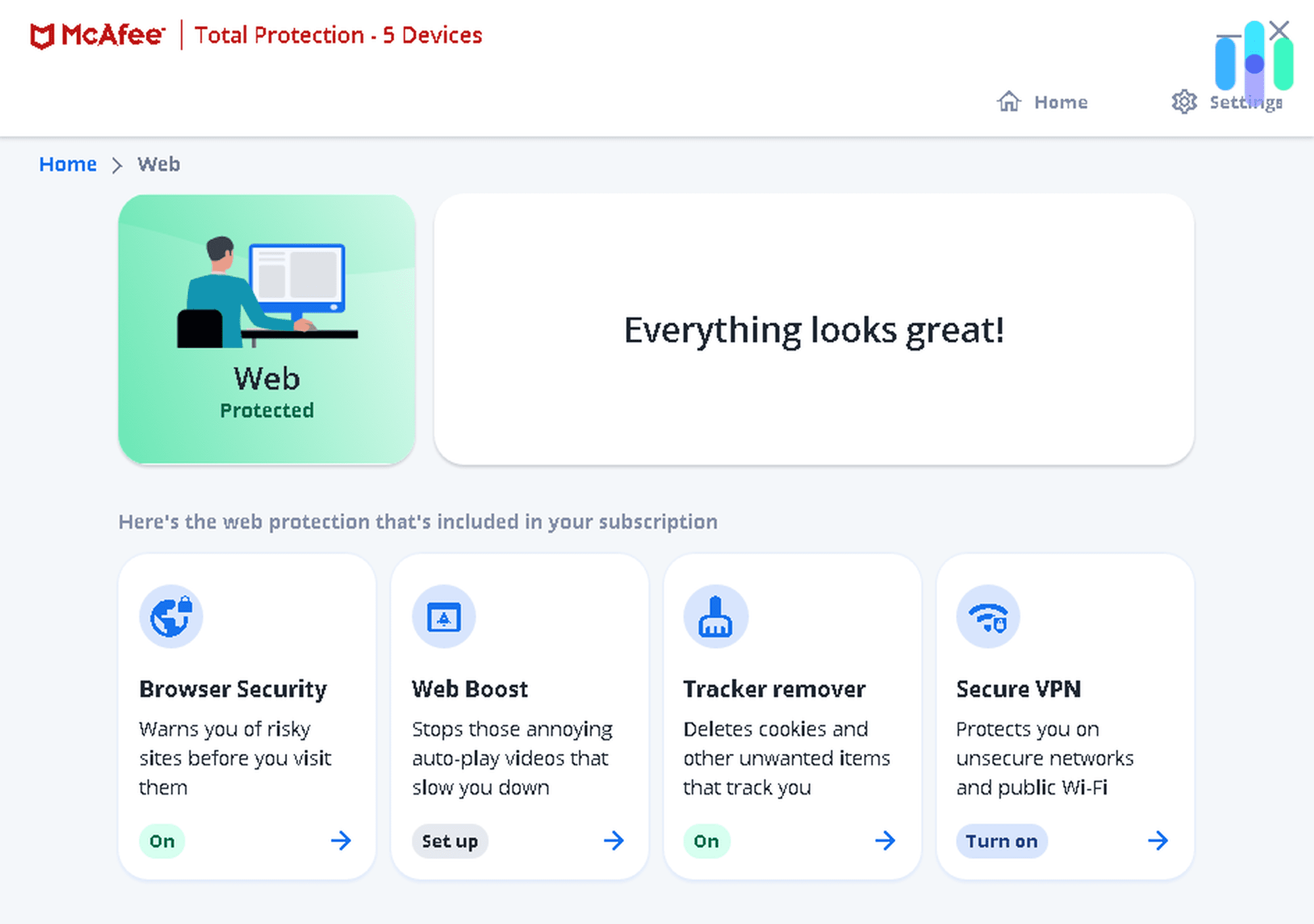 McAfee Overview And How It Compares
First, here's a little overview of McAfee: McAfee comes recommended as an all-around cybersecurity product. Its antivirus subscriptions include features like a a VPN and password manager. That said, it's pricier than some of the best antivirus we've tested. It also lacks a free option besides the free trial, which means you'll have to shell out money for it. Here are other top antivirus picks:


McAfee Antivirus: Is There Such A Thing As A Free Lunch?
If you're looking to try out McAfee for free, then you're in luck: McAfee gives Windows, Mac, and smartphone users a 30-day free trial of Total Protection, which comes with apps for all the platforms mentioned above. However, there's no free version of the Windows app that lasts forever, so after the first month, you'll need to pay for it. If you don't want to, you need to cancel seven days before the trial ends to avoid getting charged.
Note that Total Protection is McAfee's flagship product, kind of like an all-in-one service that covers everything from virus detection to web protection. We even reviewed McAfee Identity Theft Protection that comes with this package. Some want that robustness, but if you don't, know that there are cheaper McAfee products that don't offer as much protection. Either way, giving the 30-day trial a go will help you see if Total Protection is the right suite for you. If not, you can work your way down to the more affordable option.
Note: Only the iOS and Android apps have free subscriptions that don't end. On Windows, the free version only lasts for 30 days.
Subscription Options for McAfee Antivirus
McAfee calls its flagship subscription service Total Protection, which, as the name suggests, offers complete protection from several threats to our digital safety. Total Protection includes antivirus software, a VPN, a password manager, and identity theft protection, among other things, and the price ranges from $29.99 to $89.99 for the first year. We know that sounds expensive, but for reference, $29.99 for a year breaks down to less than $3 per month. Not bad considering all the protection it includes. A VPN alone can cost up to $12 per month.
Besides Total Protection, McAfee offers standalone Android and iOS antivirus plans, LiveSafe, AntiVirus Plus, and plans for gamers and small businesses, so there are tons of options for antivirus shoppers. What's the right one for you?
Total Protection
Total Protection comes in four plans: Basic, Plus, Premium, and Advanced (formerly Ultimate), but all four plans include the same base features:
Antivirus software
Firewall
Password manager
Identity theft protection service
Safe Browsing browser extension
PC Optimization software
File Shredder software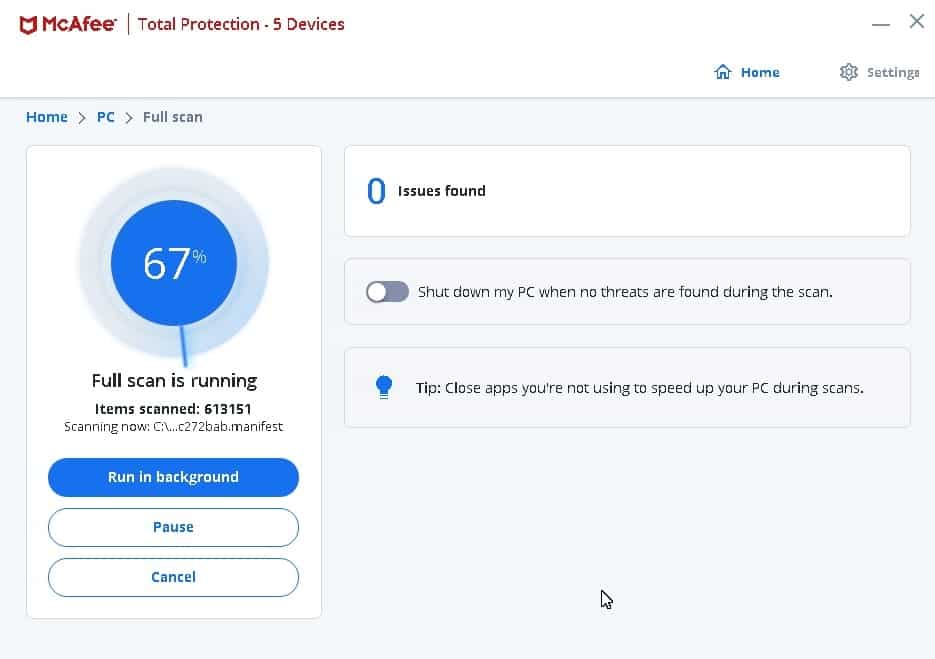 So, how do the Total Protection plans differ from one another? The chart below lays it all out for you.
McAfee Plans and Prices
Total Protection Plans
Basic
Plus
Premium
Advanced
Device limit
1
5
Unlimited
Unlimited
VPN access
No
Yes
Yes
Yes
VPN device limit
n/a
5
(unlimited if you enable plan auto-renewal)
5
(unlimited if you enable plan auto-renewal)
Unlimited
Parental controls
No
No
Yes
Yes
Identity theft insurance
No
No
No
Up to $1 million
Personal data cleanup
No
No
Automatic detection + manual removal
Automatic detection + full-service removal
First-year price
$29.99
$39.99
$49.99
$89.99
For our McAfee antivirus review, we purchased the Basic plan, which cost us $29.99 for a one-year subscription. Not bad, considering the amount of features it included. However, it's not for everyone due to its one-device limit.
If, like most of us these days, you have more than one device, the Plus plan might be a great fit. For $39.99 per year, it protects up to five devices and provides access to McAfee's VPN.
Lastly, if you want protection for the whole family, the Premium and Advanced plans are your best options. Both plans protect an unlimited number of devices. In addition, both come with more advanced identity protection features. The Premium plan scans data broker sites for your personal information, then guides you on how to remove your data. The Advanced plan does the same, but it comes with full-service data removal, so McAfee will do the heavy-lifting for you. Additionally, the Advanced plan comes with identity theft insurance coverage up to $1 million.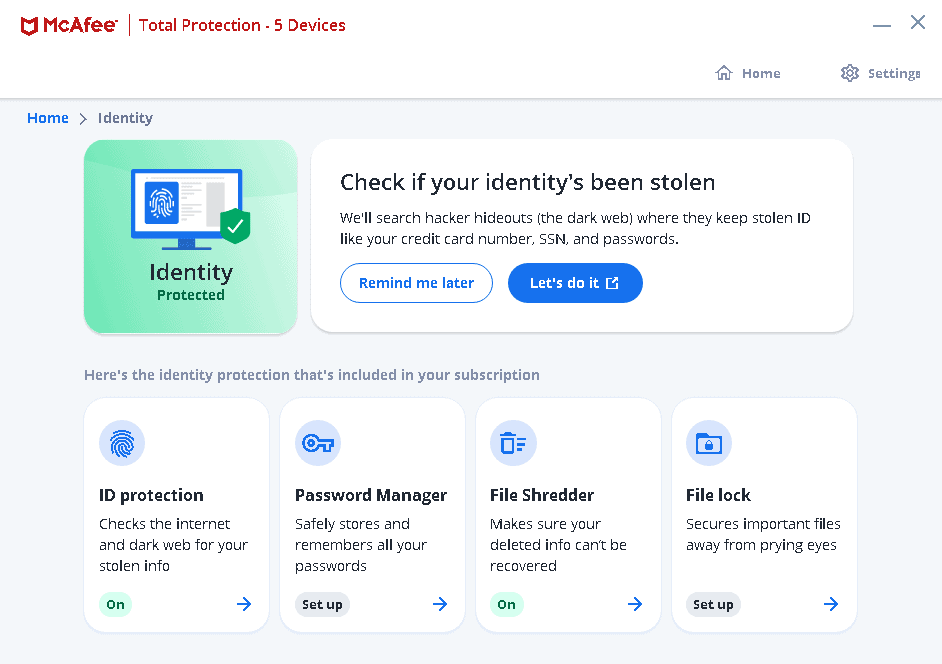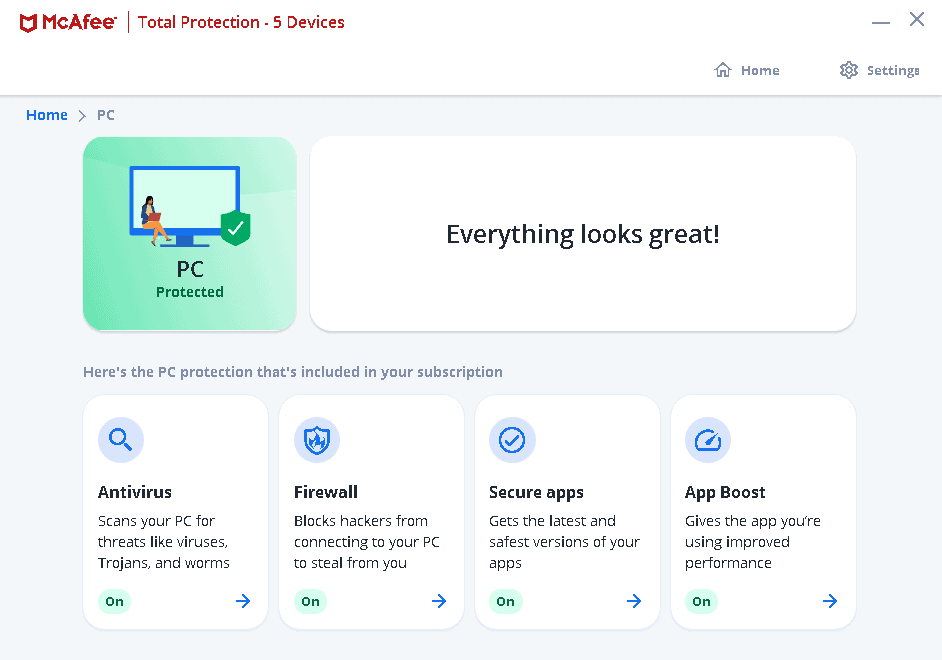 Mobile Security
As we've mentioned, McAfee offers its Android and iOS apps for free indefinitely. There's no time-limit like with the Windows and Mac free trials. However, should you choose to expand your protection, you have options that involve paying a monthly fee.
Before, these extra protections came in plans exclusively for iOS and Android devices. But just recently, in a move that we couldn't agree with more, McAfee decluttered its offerings and merged its PC, Mac, and smartphone plans. If you want mobile security now, your options are the same as if you want to protect your Windows PC or Mac: $29.99 for Total Protection Basic, $39.99 for Total Protection Plus, $49.99 for Total Protection Premium, or $74.99 for Advanced.
Additionally, there's an ultra-affordable option called AntiVirus Plus, which we'll discuss below.
LiveSafe
Yet another antivirus bundle is LiveSafe, which combines antivirus protection with a VPN, parental controls, identity theft protection, anti-spam software, a password manager, Web Advisor for safe browsing, optimization for PCs, and more. It covers as many devices as you want for a year, starting at $39.99 for the first year. But note that it only includes a VPN if you enlist in auto-enroll, a relatively new feature.
FYI: LiveSafe is McAfee's most affordable antivirus software that covers an unlimited number of devices.
Sound familiar? Technically, LiveSafe has a lot of the same features as Total Protection, but it's more budget-friendly. It protects an unlimited number of personal devices for $39.99 for the first year, which is $50 cheaper than the Total Protection Advanced plan. However, LiveSafe lacks a VPN, unless you select auto-enroll, essentially signing yourself up for two years.
| Plan details | McAfee LiveSafe |
| --- | --- |
| Compatible devices | Windows, macOS, iOS, Android |
| Price for first year | $39.99 |
AntiVirus Plus
For those on a tight budget who want antivirus protection and nothing else, McAfee has a subscription called Antivirus Plus. This subscription offers protection for up to 10 devices to the tune of $29.99 per year. It covers antivirus protection, PC optimization, and Safe Search browsing.
| Subscription information | McAfee AntiVirus Plus |
| --- | --- |
| Number of devices | 10 |
| Price for first year | $29.99 |
AntiVirus Plus is a strong offering if you're only after antivirus software. Since it doesn't include the bells and whistles that come with Total Protection, it's more affordable. It's also a good, affordable alternative for families. With licenses for up to 10 devices, it can protect the devices of an entire household.
Gamer Security
| Subscription information | McAfee Gamer Security |
| --- | --- |
| Price for first year | $19.99 |
| Number of PCs | 1 |
Gamers will appreciate the antivirus software from Gamer Security; aside from detecting viruses, it also optimizes your device so that you minimize lag while gaming.
Small Business Security
| | Small Business Security |
| --- | --- |
| Compatible devices | Windows, macOS, iOS, Android |
| Price for first year | $94.99 |
McAfee Small Business Security is a scalable antivirus solution that protects up to five desktops and an unlimited number of Android and iOS devices for your business, initially. It has flexible licensing, which means that as your business starts to grow and the number of your devices increases, it will be easy for you or your IT administrators to protect more devices.
Cancelling McAfee Antivirus
You have 30 days from your purchasing date to cancel an annual subscription from McAfee for a full refund. In fact, it's a money-back guarantee! However, monthly subscribers will not be able to get their money back.
Other McAfee Software and Pricing
McAfee is more than just an antivirus company with 7.5 percent of the market share (sixth largest, overall) as of 2020.1 They also offer plenty of standalone services that you can use to increase your digital security and data privacy.
Safe Connect VPN
We go into this in more detail in our review, but at first glance, McAfee's pricing is pretty fair, especially if you sign up for a year.
| Features | McAfee Safe Connect |
| --- | --- |
| Compatible devices | Windows, Chrome, Android, iOS |
| Number of licenses | 5 |
| Monthly cost with annual plan | $3.33 |
| Total amount billed with annual plan | $39.99 for first year, $47.99 for second year and beyond |
Safe Family
As of 2018, 94 percent of American kids ages three to 18 already had access to the internet in their homes.2 So how can you keep them from viewing unsafe or inappropriate content? Safe Family lets parents set parental controls, block websites or apps, set limits on screen time and track their children's locations.
| Features | McAfee Safe Family |
| --- | --- |
| Compatible devices | Android, iOS, Windows |
| Length of free trial in days | 30 |
| Monthly cost with monthly plan | $7.99 |
| Monthly cost with annual plan | $4.17 |
| Total amount billed with annual plan | $49.99 |
Identity Theft Protection
While McAfee used to have standalone identity theft protection plans, it has since migrated the service to its Total Protection plans. Now, if you want identity theft protection from McAfee, you'll need to purchase a Total Protection plan.
The upside of that is that you'll have access to antivirus protection, McAfee's VPN, and numerous other digital safety features. The downside is that Total Protection plans cost more than the usual identity theft protection service, which is often in the $20 to $40 price range. Granted, you'll get more features with Total Protection, but if you're shooting for a standalone identity protection service, McAfee probably isn't for you. Also, keep in mind that of the four Total Protection plans, only the Ultimate plan includes identity theft insurance.
Secure Home
Just as there's more than one way to skin a cat, there's more than one way to protect your Internet of Things, or IoT devices. One way is to buy a secure router. While McAfee doesn't sell them directly, their Secure Home Platform is available on routers from D-Link and Arris. Essentially, these routers put McAfee's device protection into any devices on these routers' networks, which is ideal for someone with an extensive smart home. But if you already have a router that you don't want to replace, another option is simply to get a VPN that you can configure on your router, protecting any and all devices on its networks. All of the best VPNs for Xbox, for example, can be connected to routers.
Our Favorite Things
We've thrown a lot of information your way, so to quickly summarize what we liked about McAfee antivirus:
Fair prices
On-demand and on-access malware scans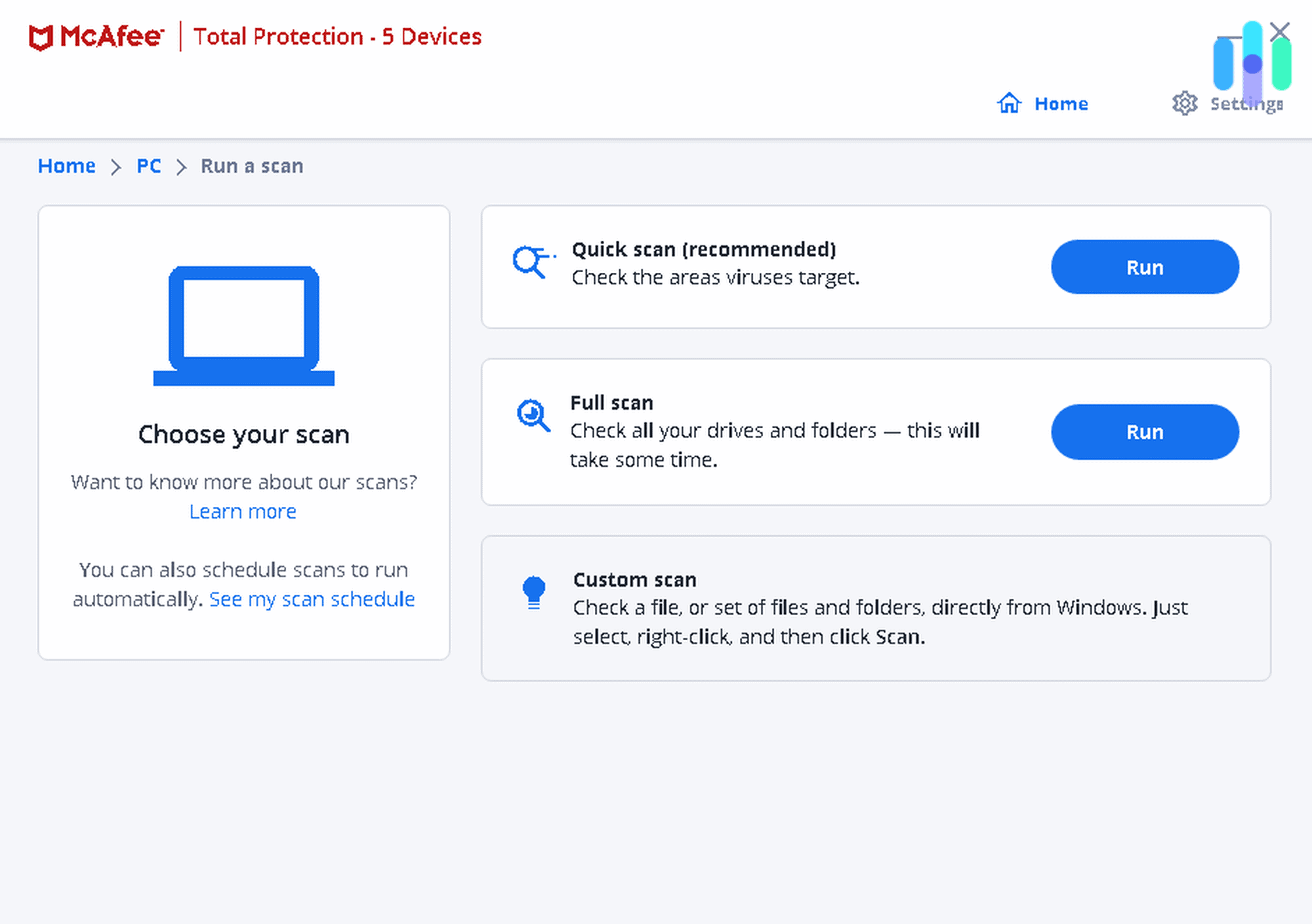 Behavior-based detection
VPN, identity theft protection, safe browser, parental controls and more products available
Subscriptions for individuals, couples, families and businesses
Detected 99.9 percent of malware on Android
Free apps for iOS and Android
30-day free trial for Windows PCs
30-day money-back guarantee
McAfee Mobile Security app has a 4.7 rating on the Apple store
Mobile Security: VPN Proxy & Anti Theft Safe Wi-Fi has a 4.5 on the Google Play store
Year-long contracts
Recap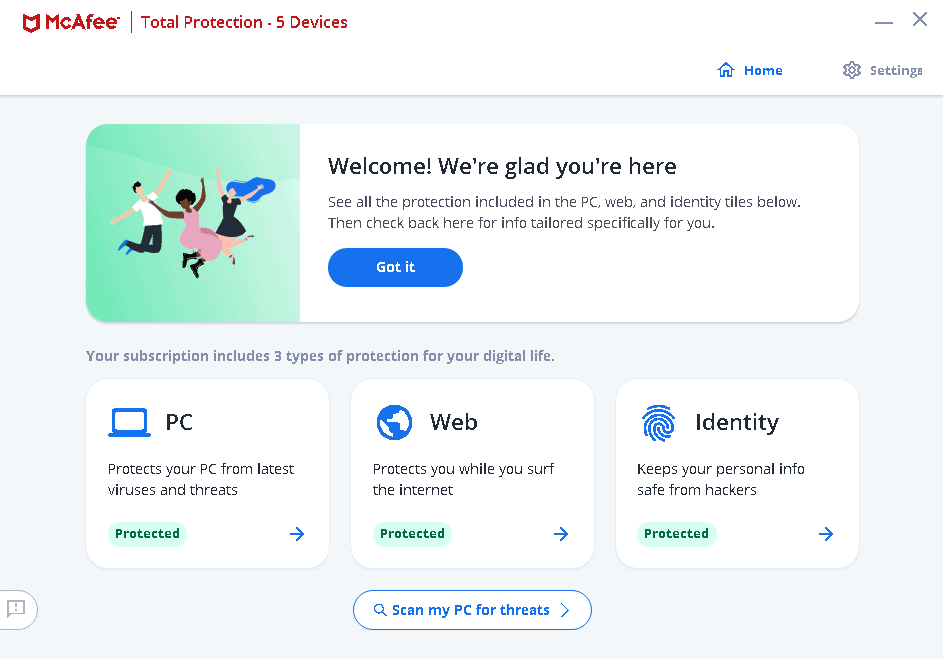 That covers all there is to know about McAfee's pricing and plans, but if you want to explore other options, we recommend checking out our page on the best antivirus software. We test out each software, along with researching its costs so that you can make an informed decision.
Frequently Asked Q's
Here are the most frequently asked questions about McAfee: