Kaspersky Antivirus Cost and Plan Pricing
30-day money-back guarantee
Coverage for up to five devices
Free antivirus software available for Windows, Android and iOS devices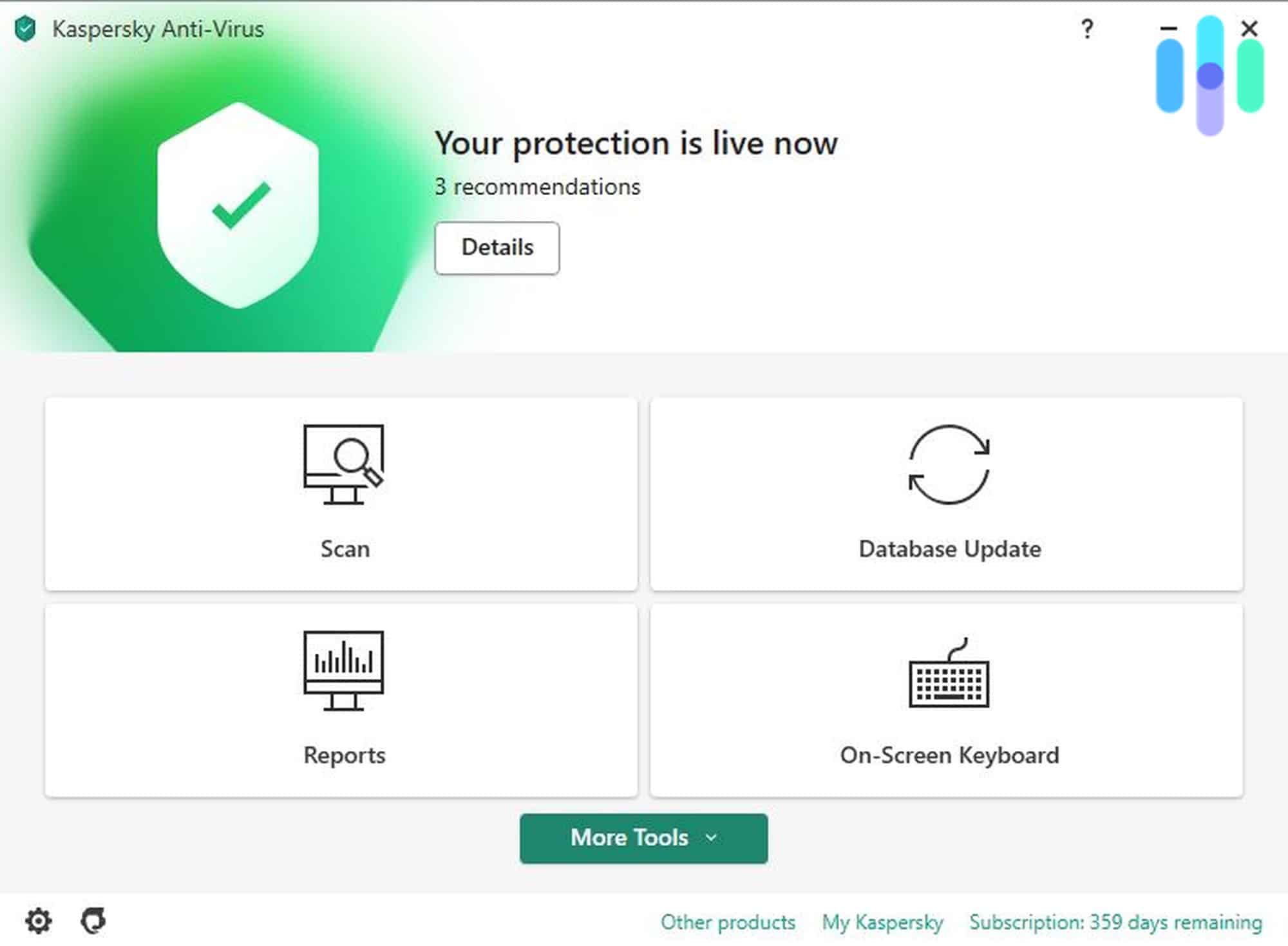 All of our content is written by humans, not robots.
Learn More
By

&

Last Updated
Nov 21, 2023
Businesses around the world spend billions of dollars in cybersecurity every year, but for average internet users like us, securing our digital life doesn't have to be expensive. In fact, you may not have to spend anything at all with all the free options available from reputable brands.
One such option is Kaspersky. The Russian cybersecurity company offers premium antivirus software, but what many don't know is that they also have one of the best antivirus software you can get for free. We tested Kaspersky ourselves, and our experience with both the free and premium antivirus was overwhelmingly positive. Of course, there were also a few downsides, especially when it comes to the brand's reputation.
Is Kaspersky a good buy despite that? Is the free option reliable? Where can you get the best deals? We'll answer all those in this page all about Kaspersky's pricing, so kick back, relax, and keep reading.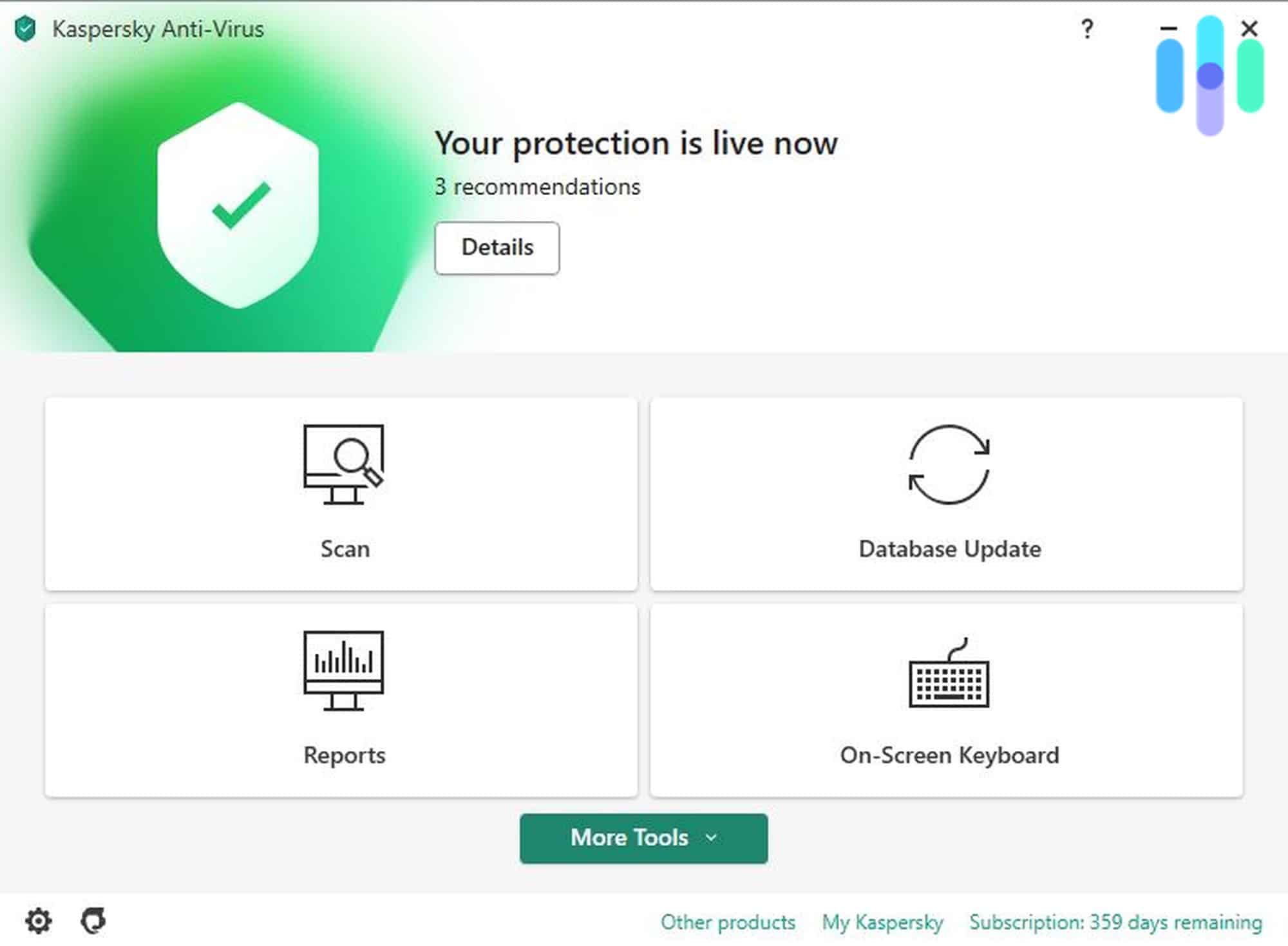 Kaspersky Antivirus Pros
There's always so much to talk about when it comes to testing and reviewing antivirus software. That's why we made a separate page for our Kaspersky antivirus review. Head over there for a more detailed assessment of the software.
On this page, we're focusing on Kaspersky's overall cost, the inclusions of the free antivirus, and whether or not it's a good purchase considering its features.
Let's start with a high-level overview of Kaspersky's best features based on our testing.
Detected 100 Percent of Viruses
We like to be hands-on in our tests, so we downloaded five different types of malware posing as regular computer files and hid them all throughout our test computer. Of the dozens of antivirus software we tested, Kaspersky was one of the only two that found all viruses. That's an impressive feat, which was later corroborated by AV Test. More on that below.
Detected 99.9 to 100 Percent of Android Malware
Unlike our one-time virus detection test, the folks over at AV Test use a much larger sample size to test antivirus software, and they do these tests on a regular basis. In the latest published results (January and February 2023), Kaspersky notched a 100-percent score in both detecting zero-day attacks (new malware that haven't been added to databases yet) and detecting prevalent malware in the past four weeks. That goes for Kaspersky's Android and Windows apps.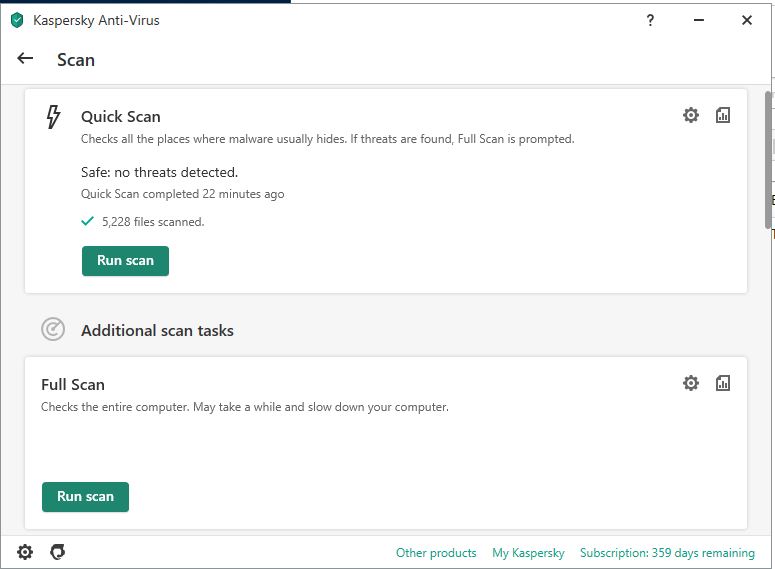 Free Antivirus Software
As previously mentioned, Kaspersky offers free antivirus software. And not to spoil anything for you, but even with the free software, Kaspersky is still great at detecting viruses. Keep reading to find out why.
Highly-Rated iOS and Android Apps
On the Google Play store, the Kaspersky Mobile Antivirus: AppLock & Web Security app has a 4.8, while the Kaspersky Security Cloud & VPN has a 4.7 on the Apple store.
Discounts for Longer Subscriptions
Commitment pays! If you're looking for antivirus software you can use for the next couple of years, sign up for a two-year subscription to enjoy the best prices. One-year subscriptions are also available.
Does Kaspersky Offer Full Platform Coverage?
Kaspersky offers plans for every budget, including one that's absolutely free, though that free version doesn't perform real-time scans. We were a little surprised, though, to find that not every Kaspersky plan works on the major platforms. For that, you might need to look at some other antivirus companies. We most often recommend looking at these three:



What Makes The Free Kaspersky Antivirus Great
The aptly named Kaspersky Free software is great not just because it's free, but because it's effective. It uses the same virus detection database as the premium version, which means if the premium antivirus can detect a piece of malware, so can the free software. In fact, during testing, it caught all five viruses we hid in our computer.
That's not all. The free antivirus is also very thorough. In our testing, it managed to catch the viruses we hid several folders deep and in .zip archives. There are premium antiviruses that can't do that, which begs the question: If the free Kaspersky antivirus is so good, why would you pay for premium software?
There are two reasons. First, the free version doesn't actively protect your devices. It can hunt malware down when you scan your computer, but it doesn't offer real-time protection to prevent your device from getting malware in the first place. If you forget to scan your computer, there's a chance it might still get infected. With the premium software, every file you download, access, or view gets scanned in real-time.
Second, the premium version comes with useful extras, such as a VPN, password manager, and parental control features, which can help you keep your kids from seeing inappropriate content online. It also offers extended protection against phishing and ransomware. So if you want a more rounded-out protection, go with the premium Kaspersky antivirus.
Note: Kaspersky's free antivirus app does not work on macOS devices. Rather, you'll need to choose either an Kaspersky Plus or a Kaspersky Premium plan to cover your Macbook.
Pricing
Kaspersky bundles its antivirus service with other digital protections like VPNs, firewalls, payment protection, and more. They also offer a number of add-on products for personal use, which we'll cover below, as well as antivirus for business, which we won't get into. First, let's start with those package options.
Standard vs. Plus vs. Premium
Essentially, Kaspersky offers four packaged options that provide a varying level of cybersecurity. The lowest on the list is the free version, called Antivirus Free, while the Kaspersky Premium package offers the most all-around protection.
The pricing for each package varies depending on the number of devices they cover and the length of the subscription. In simple terms, they become more expensive as you protect more devices, but the cost of protecting each device lowers as you increase the subscription term length.
Of course, you don't have to go all in right off the bat. That's what the free version is for. You can start with the free antivirus, and once you get the hang of things and you're sure that Kaspersky is right for you, you can upgrade to a premium package for better coverage.
| Product | Antivirus Free | Kaspersky Standard | Kaspersky Plus | Kaspersky Premium |
| --- | --- | --- | --- | --- |
| Compatibility | Windows, Android, iOS | Windows | Windows, macOS, Android | Windows, macOS, Android, iOS |
| Antivirus | Yes | Yes | Yes | Yes |
| Anti-malware | Yes | Yes | Yes | Yes |
| Anti-phishing | No | Yes | Yes | Yes |
| Anti-ransomware | No | Yes | Yes | Yes |
| Defends against network attacks | No | Yes | Yes | Yes |
| Payment protection | No | No | Yes | Yes |
| Two-way firewall | No | No | Yes | Yes |
| VPN | No | No | Yes | Yes |
| Block unauthorized access to smart cameras | No | No | Yes | Yes |
| Encrypted vault | No | No | No | Yes |
| Password manager | No | No | No | Yes |
| Parental controls | No | No | No | Yes |
| 3 devices, 1 year price | $0.00 | $23.99 | $31.99 | $35.99 |
| 3 devices, 2 years price | $0.00 | $47.99 | $63.99 | $71.99 |
| 5 devices, 1 year price | $0.00 | $31.99 | $35.99 | $39.99 |
| 5 devices, 2 years price | $0.00 | $63.99 | $71.99 | $79.99 |
| 10 devices, 1 year price | $0.00 | $51.99 | $55.99 | $59.99 |
| 10 devices, 2 years price | $0.00 | $103.99 | $111.99 | $119.99 |
Security Cloud Personal
In addition to the four bundles above, Kaspersky has what they call a Security Cloud, which is a cloud-based solution that combines all of their apps into one package. It comes in Personal (for personal use) and Plus (for commercial use) variants, but here, we'll focus on Security Cloud Personal. The package includes:
Data leak monitoring
Wi-Fi network monitoring
Device optimization
VPN with a daily data limit of 500 MB
Encrypted browser
Anti-phishing
Authentication
Hard drive health monitor
GPS tracking and alerts for kids
Monitoring of Facebook
Website filters
Screen time and application usage control
| Features and prices | Security Cloud Personal | Security Cloud Family |
| --- | --- | --- |
| Compatibility | Windows, macOS, Android, iOS | Windows, macOS, Android, iOS |
| Number of users | 1 | 10 |
| Parental controls | No | Yes |
| Price per year | $26.99 for 3 devices or $29.99 for 5 devices | $44.99 for 10 devices |
There's no doubt that the Security Cloud offers the most protection of any packages on this list, making it one of the best digital security products for families.
VPN Secure
| Number of Devices | Time Period | Cost |
| --- | --- | --- |
| 5 | 1 year | $30.00 |
| 5 | 1 month | $4.99 |
If you want to buy a VPN separately, that's also an option, although Kaspersky's VPN only covers five devices maximum. Many VPNs cover unlimited devices, so this deal won't be for everybody, especially considering that the average adult in America has more than 10 IoT devices in their own homes.1
Safe Kids
There are a ton of risks for kids online, from child identity theft to general inappropriate content. We love that Kaspersky has a free app that lets parents control what online content their kids are seeing, and we think that this is sufficient, as many of the features in Premium, like child locator and Youtube search history, can be obtained in other ways for free, like through their phones' GPS or in your browser's search history.
| | Safe Kids Free | Safe Kids Premium |
| --- | --- | --- |
| Filter for online content | Yes | Yes |
| Youtube safe search | Yes | Yes |
| Control of app usage by time, age or category | Yes | Yes |
| Screen time management | Yes | Yes |
| Screen time scheduling | No | Yes |
| Child locator | No | Yes |
| Battery tracker | No | Yes |
| Social network monitoring | No | Yes |
| Youtube search history | No | Yes |
| Real-time alerts | No | Yes |
| Annual Cost | $0.00 | $14.99 |
Password Manager
Kaspersky also has a password manager, available for 15 usernames and passwords for free and an unlimited number of usernames and passwords for $14.99 a year. This is a pretty reasonable price, considering the fact that popular password managers like Dashlane charge $59.88 for a year of the exact same service. If you're one of the 45 percent of Americans who use passwords of eight characters or less, as we found out in our password habit research, password managers can generate more complicated passwords for you, making your accounts more secure.
| | Free | Premium |
| --- | --- | --- |
| Maximum number of items | 15 | Unlimited |
| Compatibility | Android, iOS, macOS, Windows | Android, iOS, macOS, Windows |
| Maximum number of users | 1 | 1 |
| Annual Cost | $0.00 | $14.99 |
Student Discounts: How To Save
Want an extra 10 percent off of anything on Kaspersky's website, and we do mean anything? Just verify that you're a student with UNiDAYS2 to unlock that discount. However, the student discount is only one of the several ways you can save with your antivirus purchase. If you're not in a hurry, for example, you can wait for holidays to come around before shopping. Kaspersky often offers significant price-offs around Thanksgiving and especially on Cyber Monday.
Ways to Pay
Kaspersky accepts a number of payment methods, including Visa, Mastercard, and PayPal. Unfortunately, Discover and American Express cardholders won't be able to use their cards, so the only option if you have those cards is to use PayPal.
In fact, we recommend paying through PayPal regardless of your credit card provider. PayPal is a safe payment processor, much safer than putting down your credit card information. Instead of seeing your payment information, websites you sign up with can only see your PayPal account, which significantly reduces the risk of your credit card being included in data breaches. At the same time, your bank or card provider won't see what you purchased with your PayPal account. They'll see that you used PayPal, but they won't see what you used it for.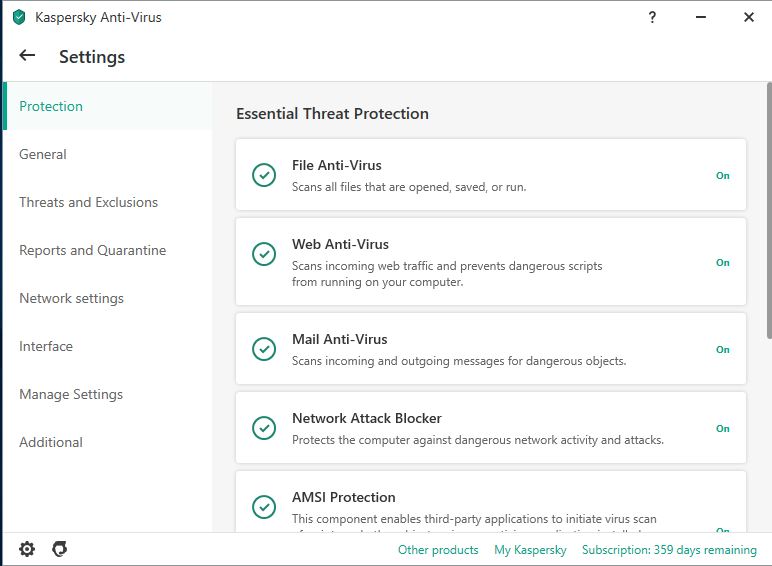 Canceling
From the day you click purchase, you have 30 days to return any Kaspersky product for a full refund; simply look up your order3 and request a refund, and you'll get reimbursed within five to seven business days. After that 30 days, you won't be able to get reimbursed, though.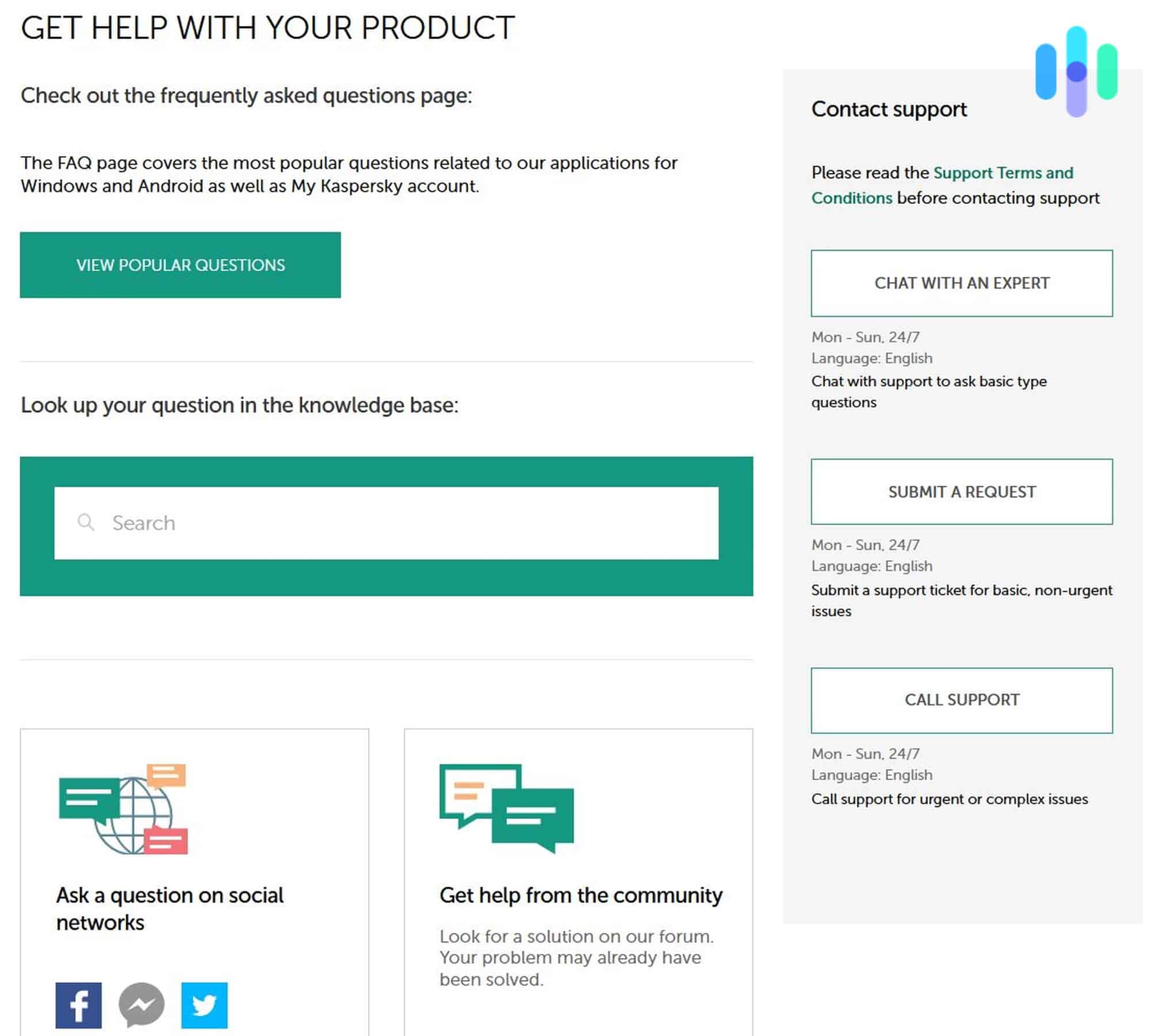 Business Background
Want to learn more about the company behind the software? Kaspersky was founded in 1997 and now has more than 400 million users as well as 270,000 business clients. Clearly, they're a very recognizable name in the cyber security industry, but the company is not without its hardships.
For example, in 2019, a German journalist found a security flaw in their antivirus software that would have allowed hackers to spy on users online.4 Since, the company has issued a patch, but this is more than a little disheartening for a company whose aim is to protect users against hackers, not expose them more. However, these sorts of vulnerabilities are incredibly common, so we can't knock Kaspersky for something that literally all major tech companies have experienced.
The other biggest media story surrounding Kaspersky is its rumored ties to the Russian government, being a company founded in Russia. In fact, government computers are banned from using Kaspersky on their computers since 2017,5 but if you're not concerned about Russian hacking, or you aren't dealing with sensitive national security data, it shouldn't be too big of a concern.
Overall, Kaspersky isn't anantivirus to avoid just because of those allegations. It has denied its involvement with Russia, and even moved its data centers out of the country to prove its innocence.
Recap
Kaspersky's rates are more than reasonable. Its subscription plans for its antivirus software and other digital security products are affordable, and they offer a lot of value considering their price.
We recommend buying multi-product packages to save money, but if you already have a VPN, password manager, and parental control software, Kaspersky has antivirus-only plans as well.
We also suggest buying a long-term subscription for those extra savings. That's how you can get the most value from your purchase.
Of course, if you're a little low on budget, basic protection from Kaspersky's free antivirus software is available. As long as you remember to scan your devices regularly, it should be able to protect you without the premium features of paid-for plans.
Kaspersky Antivirus FAQs
We're absolutely out of breath from telling you everything about Kaspersky's pricing, but we'll answer the questions we get the most for the cheap seats in the back.