Teens and young adults are connecting and sharing their lives in an increasingly complex digital world. Parents fret about online security, the appropriateness of content, and a kind of harassment they themselves never had to navigate: cyberbullying. No longer confined to school playgrounds and hallways, bullying has been taken to a new level. About 37% of young people are estimated to have been bullied online. Cyberbullying presents a special challenge because parents and teachers feel that they lack the technological knowledge to keep kids safe. The sites, apps, and games young people are using are frequently changing which means cyberbullying can be tough to detect and combat.
What is Cyberbullying?
Cyberbullying is bullying that takes place over digital devices and it most commonly occurs over social media, text, instant messages and email. It can also happen through online gaming and forums. Cyberbullying can be particularly cruel and scary because it is done from behind a computer screen and often anonymously. Most young people do not believe social media platforms are doing enough to stop cyberbullying on their platforms.

Examples of cyberbullying include:
Sending hateful or threatening messages
Sharing someone's personal information or photos with others to embarrass
Hacking into someone's account and posting or sending messages as that person
Posting mean and hurtful things publicly on social media
Creating false social media profiles to hurt someone's reputation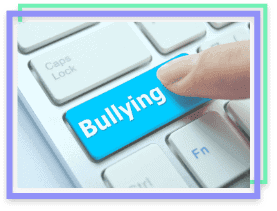 How can I educate myself
and my child or student?
We've put together a guide for parents and teachers who want to learn more about how to prevent, spot, and respond to cyberbullying among kids and teens.
Organizations that can help
There are a large number of organizations out there sharing information around cyberbullying. The websites below are creating and sharing useful content that is truly helpful to anyone anxious about or experiencing cyberbullying.
Stopbullying.gov is an official government website aimed at preparing families and caregivers to prevent and addressing bullying issues. The resources on this site are free to be printed and shared, and are mainly for kids and teens. The organization also maintains a blog, social media pages, and a YouTube channel. Stopbullying.org has a section specifically for cyberbullying that includes:
Tips on prevention
Warning signs
Rules to establish
Tips for educators
Ways to get help
Cyberbullying Research Center at cyberbullying.org aims to bring research based support to those who need it. The website has a wealth of resources for teachers, parents and teens and even has advice for adult victims of cyberbullying. They publish research and educate on cyberbullying laws across the country. Resources include presentations, blog posts, and printable tip sheets. You can even contact them for help with a bullying issue that you have been unable to resolve on your own.
Dosomething.org describes themselves as a "youth-led movement for good". It encourages young people to take action for good and includes a section on bullying. This is content directly aimed at young people and uses familiar acronyms and language. It provides resources for stopping cyberbullying when you see it, and encouraging young people to bring about positive change in their communities. It also includes a guide on how to report cyberbullying on each of the major social media networks.
Stompoutbullying.org is an organization trying to put an end to cyberbullying through education and awareness campaigns. They have a blog and YouTube channel like many other organizations but they also run a free online help chat run by volunteers. The chat line is open 2 days a week and is open for anyone ages 13-24 who needs help dealing with bullying.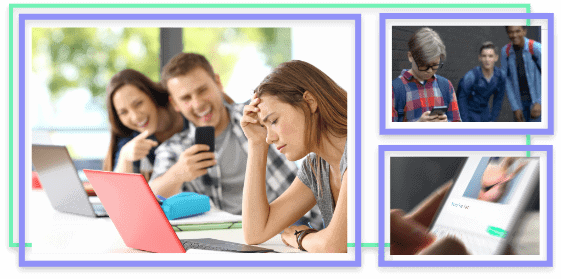 Blogs & Podcasts
Because cyberbullying is an ever-evolving problem, keeping up with blogs and podcasts that focus on the topic is a great way to stay up-to-date and get the latest advice or perspective.
National Crime Prevention Council hosts a podcast series exploring general cyberbullying information, taking action in schools, creating community change and how teens feel about cyberbullying
Stopbullying.gov posts timely and relevant articles in their blog that include tips for cyberbullying prevention, advice on talking to your kids, additional resources, and more.
The Doctors behind the Cyberbullying Research Center write blog articles monthly on specific topics related to cyberbullying.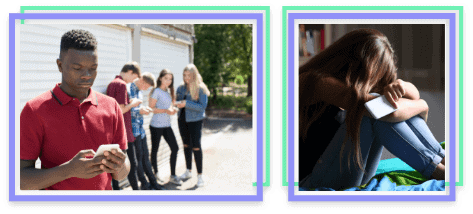 Books
Stories for kids and teens
Bully is an illustrated book that tells the story of a girl who moves to a new school and stands up to bullies, only to become a victim herself. This is a good choice for read-aloud and group discussion about cyber bullying. Recommended for ages 7-10.
A fictional story, Backlash tells about a cyberbullying incident and how it affects everyone involved. Be aware this book takes on serious themes such as depression and suicide in an attempt to look at the consequences of cyberbullying. Recommended for young teens age 13 and up.
Aimed at young adults, Don't read the comments is a novel about an online gamer finding community and responding to harassment she faces through the game.The book is praised for being contemporary and "wonderfully geeky". Recommended for teens and young adults.
Educational for parents and teachers
Bullying Today: Bullet Points and Best Practices
Written by the Co-Directors of the Cyberbullying Research Center, this book promises to be a practical and specific guide for anyone who wants to help young people through bullying issues.
Apps and software
There are numerous products out there that allow parents to restrict and/or monitor their children's online activity. It is up to each parent to decide whether this kind of monitoring is appropriate based on their child's age and internet habits. Some even scan for language that might be bullying.
ReThink is a free app that detects offensive language that someone is about to post and alerts them that they should rethink that choice. They claim that when adolescents are alerted to rethink their decision, they change their minds 93% of the time.
KnowBullying is an app to help parents talk to their kids about bullying, and was created by the Substance Abuse and Mental Health Services Administration (SAMHSA)
There are also companies partnering with schools to allow for anonymous reporting of bullying incidents. Find out if your child's school uses any of these solutions like Stop!t and Speak Up! or ask how they are encouraging students to report cyberbullying.