What We Like
Real-time scanning of threats
Affordable pricing for personal or family use
Easy-to-use software
What We Don't Like
Long scan durations
Features such as real-time scanning affect your device's performance
McAfee collects a substantial amount of data about you
Bottom Line
McAfee+ (formerly Total Protection) offers exactly what we've come to expect: total protection from malware. Especially if you go with one of the more advanced plans from the brand, you'll get protection for all of your devices, while enjoying identity protection, too.
McAfee is one of the oldest antivirus brands in the United States, but impressively, it managed to stay relevant to this day. That's a product of continuous innovation and the brand's ability to adapt to changing cybersecurity landscapes.
Today, McAfee offers one of the most comprehensive digital and personal data protection packages in McAfee+ (McAfee Plus, formerly Total Protection). In addition to malware protection, McAfee offers identity theft protection, a VPN, and a bunch of other useful tools for protecting your devices and digital information.
Still, we can't help but wonder: How good is McAfee's antivirus now? We'll talk about that in this review, as we reveal to you our findings about its features, capabilities, and limitations. One thing we can say, though, is that while it's not the perfect antivirus, it's definitely a good buy. Just look at the summary of included features below.
McAfee Antivirus Features
| | |
| --- | --- |
| Scan type | On-demand and on-access |
| Firewall | Yes |
| Blocks ransomware | Yes |
| Blocks spyware | Yes |
| Annual price | $29.99 – $89.99 |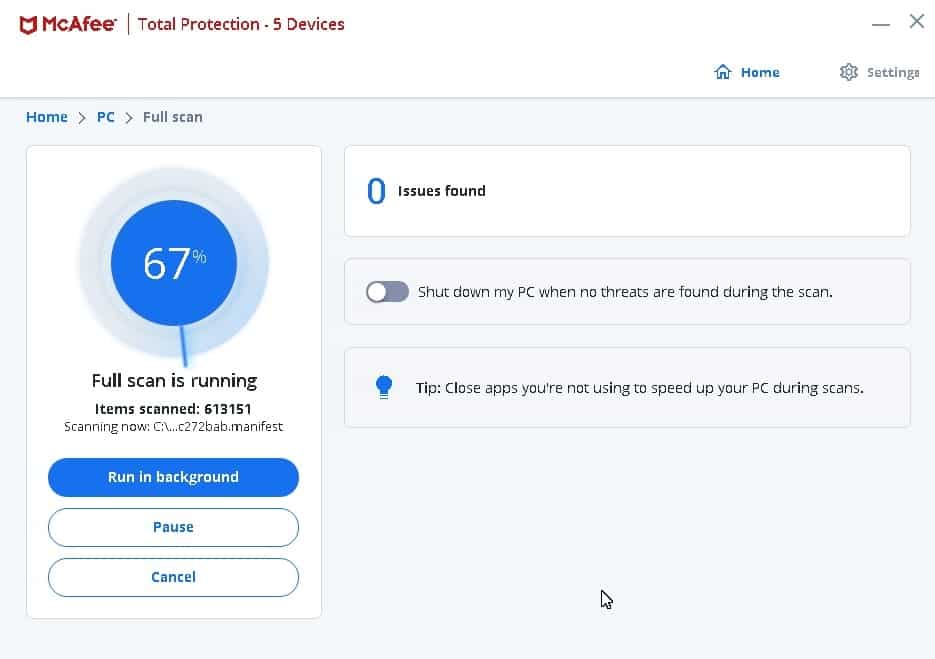 Looking For Dedicated Antivirus Software?
McAfee offers comprehensive all-in-one cybersecurity and digital data protection packages. That's good if you don't have identity protection and a VPN yet, but if you already do, check out these dedicated antivirus software that we've tested. They are some of the best in the business, and unlike McAfee, digital security add-ons are optional.


McAfee Total Protection: Is The Protection Really Total?
Digital protection is no longer just about keeping our devices safe from malware and viruses. The internet plays a huge part in this shift. As we connect our devices to the internet and use online services like social media platforms, our digital life has become intertwined with other aspects of our lives.
With McAfee+, McAfee's newest and most comprehensive digital security suite, malware protection is just one of the many features.
PC: It defends the user's devices from threats like viruses, malware, spyware, and ransomware through the use of antivirus and a firewall.
Web: It shields users from cyber threats while surfing the internet. It does so by removing cookies and other trackers that websites may use and warning users when entering risky websites. All plans also include access to a virtual private network (VPN).
Identity: It aims to prevent and detect identity theft using an array of built-in tools. For instance, it has a password manager. It also searches the internet and dark web for any signs of identity theft, with the highest tier offering identity theft insurance, as well.
We focused our tests on PC protection, as we wanted to see how well McAfee's antivirus software worked. After all, this is an antivirus review. If you want information about McAfee's VPN, our McAfee Safe Connect VPN review has what you need.
To test McAfee's antivirus, we used an Acer Aspire 5 running the latest version of Windows 10 as well as an Android smartphone. Here's the full scoop.
Real-Time Scanning: The Antivirus That Never Sleeps
Back in the day, if you wanted to keep your computer virus-free, you had to scan it periodically using antivirus software. Today, protection comes in real-time.
McAfee's real-time protection did most of the heavy-lifting. It scanned our computers in the background constantly as we opened, downloaded, or accessed files. It also monitored background processes.
Here's an example of how it works. When you click on a program to run it, let's say, Google Chrome, a lot of processes happen in the background. McAfee checks every one of those processes and isolates those that seem to be running suspicious operations. For example, if you were hit by the Poweliks trojan1, several fake Google Chrome processes will crowd your CPU usage. You won't know they're running because no window or tab will be opened, so the only way to know is to check your background processes. With McAfee, though, you won't have to do that since it automatically checks background tasks, and it will flag down those fake Google Chrome processes.
To test the feature in action, we downloaded an anti-malware test file from EICAR.org.1 The file wasn't harmful, but it mimics the characteristics of simple viruses, so antivirus software should be able to detect it. As soon as the download finished, McAfee must have scanned the file already since a notification popped up telling us that McAfee stopped a threat. The No Action Is Required notice was a nice touch, and it certainly was reassuring. So our verdict is that real-time protection works.
You have to keep in mind, however, that real-time protection operates at the expense of your device's CPU. In addition to running the normal processes, your computer will have to run McAfee in the background. That's something to consider, especially if you're using a computer that has seen better days.
In our testing, real-time protection caused some programs to open a couple of seconds longer than normal. And that's on our laptop with 16 GB of RAM, so you'll definitely feel a difference there. In our opinion, though, a couple of seconds of delay is worth it if it means gaining total protection from malware.
Scan On-Demand
If real-time protection doesn't suit your digital lifestyle, you can still utilize McAfee's malware detection using on-demand scans. You can do a full, quick, or custom scan, and you can do those whenever convenient. Just leave your computer on and let McAfee do the rest.
Here's how each option worked.
Full Scan: It checked every folder and file in our computer's drive. As expected, each scan took several hours. Our initial scan lasted five hours and 22 minutes, checking over 460,000 items and removing four threats in the process. Subsequent full scans lasted less than two hours on average.
Quick Scan: Quick scans were, you guessed it, shorter, averaging only eight minutes during our tests. That's because they checked only the areas that viruses tend to infest, like system files and registries. McAfee didn't specify how it chose the files it checked, nor did it have the option to customize the scope of the scan, but the reports showed that it scanned over 12,000 items. That's not bad for eight minutes!
Custom Scan: Custom scans checked the files, folders, or drives we specified. It was pretty convenient to use. All we had to do was right-click on the items we wanted to scan and select the Scan option. It worked on single or multiple files, folders, and even entire drives.
Scheduled Scan: This was a full scan that ran automatically based on the schedule we defined. There were preset schedules, like every second Monday of the month, but there was also an option to create a custom schedule by setting the frequency, day, and time of each scan. Keep in mind, though, that full scans may affect your PC's performance, so be sure to schedule the scans when you don't have anything RAM-heavy to do on your computer.
Pro Tip: For best results, run a full scan once a month and a quick scan every time you use your computer. Quick scans can easily run in the background without significantly affecting your device's performance.
Virus Detection Test: Is It Up To The Challenge?
We mentioned earlier that McAfee was able to detect the EICAR virus test file we downloaded, but how about real, live computer viruses? Well, we tested McAfee further by downloading five harmful viruses, each disguised as a harmless file. We performed this controlled experiment on every antivirus software we reviewed, and out of the 40-something brands we tested, only two managed to detect all five viruses. Unfortunately, McAfee was not one of those two. Here's how McAfee fared.
| Virus File Type | Did McAfee Detect It? | How Many Antivirus Software Detected It? |
| --- | --- | --- |
| .xlsx | Yes | 34 percent |
| .exe | Yes | 66 percent |
| .doc | Yes | 36 percent |
| .xlsm | No | 35 percent |
| .xls | No | 51 percent |
Out of the five viruses, McAfee detected three. That's fairly average, but on the brighter side, McAfee detected viruses number one and three. Only about one-thirds of the antiviruses detected those files, so that's a win for McAfee. Overall, though, McAfee is in the middle of the pack when it comes to virus detection.
Firewall
McAfee also shielded us from network-based threats using a firewall. It monitored incoming and outgoing network traffic, prevented potentially risky programs from gaining access, and helped us manage the Wi-Fi networks we connected to our laptop.
One of our favorite firewall features was NetGuard, which monitored all our network activity and prevented us from connecting to suspicious URLs or IP addresses. It also monitored the programs running in the background. For instance, when a security camera companion software tried to connect to a server that appeared to be in Russia, the firewall immediately stopped it. If it had been a spyware, then McAfee just saved us from a potential identity theft. Fortunately, the software was only trying to connect to its cloud server in Russia, so we manually allowed it in the firewall settings.
FYI: McAfee's firewall allows for dozens of customizations, so check out each setting to find the setup that works best for you.
The User Experience
Now, with the exception of real-time scanning and scheduled scans, you'll be interacting with McAfee's app a lot to use its features, so we'll tell you what to expect from the app experience-wise. Take note, though, that while we're trying to keep this page updated, McAfee also makes changes to and improves its software all the time. Some details here, particularly the set up process, might not match the current version to the dot, but the overall feel of the app remains the same.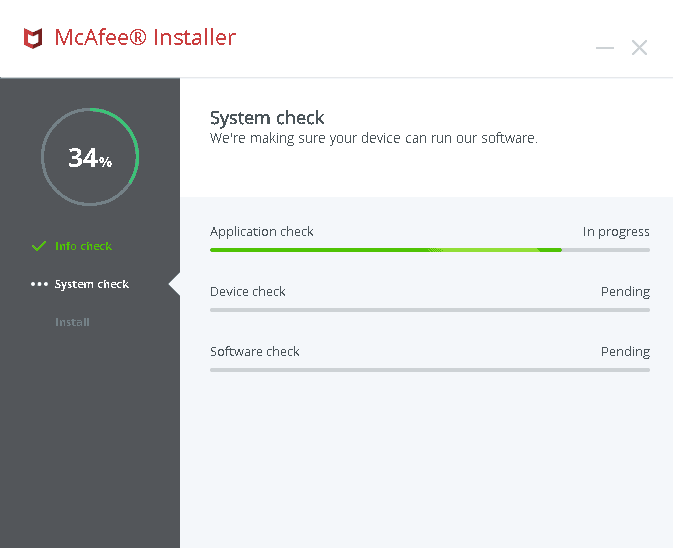 Upon launching the installation wizard, it checked our system to see if it met the requirements and if there were other programs that might interfere with the installation. It flagged down Bitdefender VPN, which we were testing at the time, so we turned off the VPN and proceeded. The rest of the process went smoothly and McAfee was up and running in no time.
When we launched the program, we were greeted by a neat and simple home screen. There was a brief status report at the top. Below it were the shortcuts to the PC, Web, and Identity protection features. There's also a button that leads directly to the scan interface at the bottom. We liked how neatly arranged the features were, but if you're in a hurry, the gear icon at the top right corner of the window opens the settings to all the features. We also liked that the features were color-coded— there's a green "on" icon next to features that are turned on and a red "off" icon next to the ones that are off. Just like reading traffic lights, it was easy to see which features needed attention.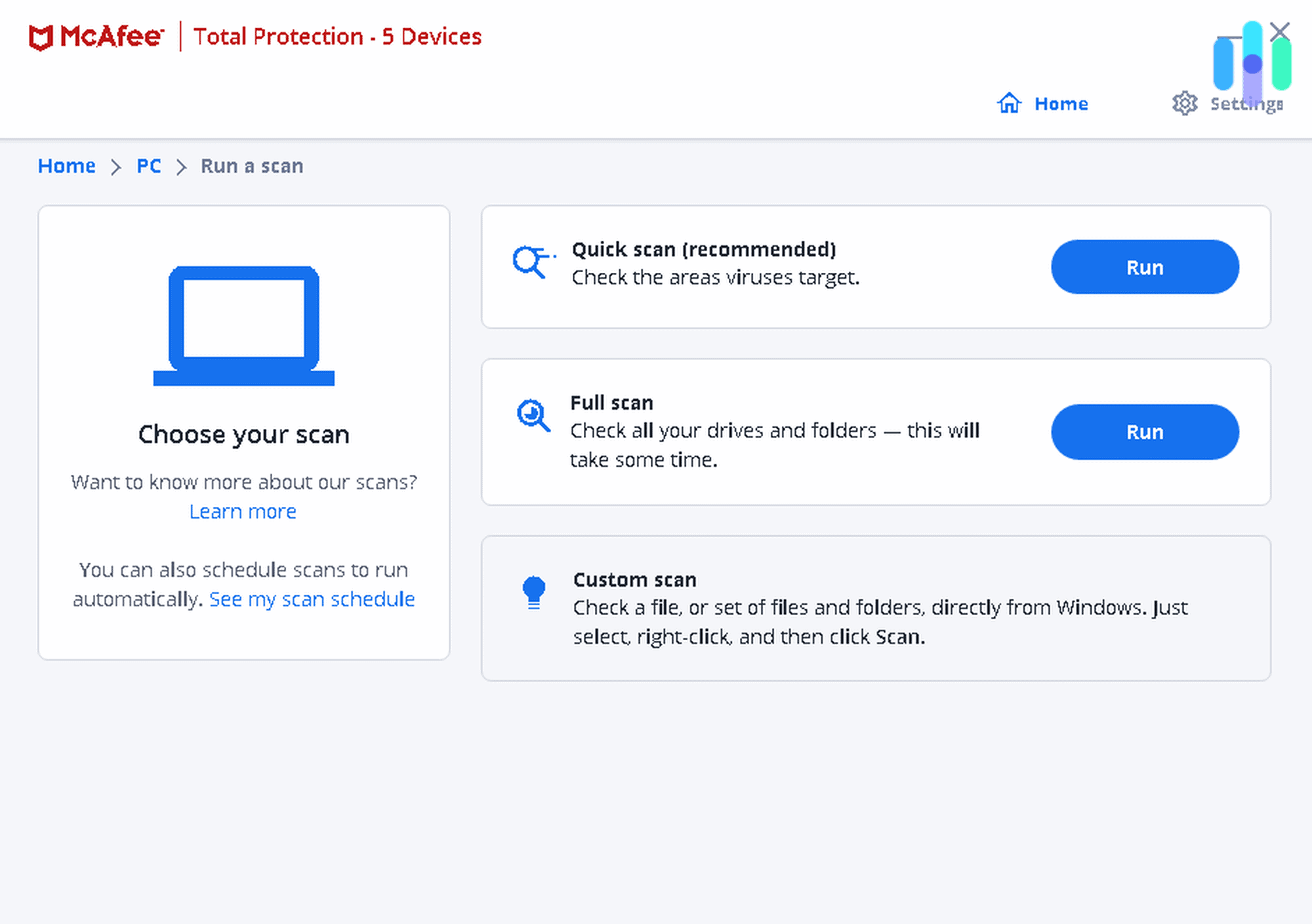 A word of warning, though: The Web Protection feature changed our default search engine without our permission. We use Google most of the time, but after installing McAfee, our default search engine became the McAfee Secure Search powered by Yahoo. As you probably know, Yahoo isn't nearly as good as Google in terms of being a search engine, so we weren't thrilled by this. Needless to say, we reverted back to Google as soon as we found out.
One nice thing we learned because of this, though, is that anytime we want to do a private search, all we need to do is type "McAfee" into the URL bar and hit space. Doing so gave us temporary access to McAfee Secure Search, which is a lot better than using it as our default search engine.
Tip for safe browsing: You can use McAfee's Secure Search anytime even if it's not your default search engine. Just key in "McAfee" into the search bar, hit space, and then type your search query.
Mobile Apps: Protection On-The-Go
Aside from the Windows version of the McAfee antivirus, we tested the mobile app version as well. The iOS app is called McAfee Mobile Security. On Android, it's called Mobile Security: VPN Proxy & Anti Theft Safe WiFi. Both apps featured McAfee's trademark simplicity while providing a high level of digital protection from viruses, malware, and other threats. Because of that, both apps have high customer ratings—4.7 stars on iOS and 4.6 stars on Android.
The apps' high ratings were further backed by lab test results from AV-Test, an independent IT security institute. They concluded that the Android version of the McAfee antivirus detected 99.6 percent of malware attacks in real-time and 100 percent of the widespread Android malware discovered in the last four weeks at the time of the test. Those results are as good as it gets for Android antiviruses, so good job, McAfee!
Customer Support
After our five-hour long initial full scan, we decided to contact McAfee and ask if that was normal or if there's anything we could do to speed things up. Both their email and chat support were available 24/7, so we opted to chat with an agent to get a quicker response. After filling up the required forms, the agent explained that initial scans really take longer and that the next scans will be shorter. He also gave us tips on how to optimize our computer for the scan, like defragmenting the hard drive and closing unused and background apps. Overall, the agent seemed knowledgeable, and the fact that support was available 24/7 made us really happy.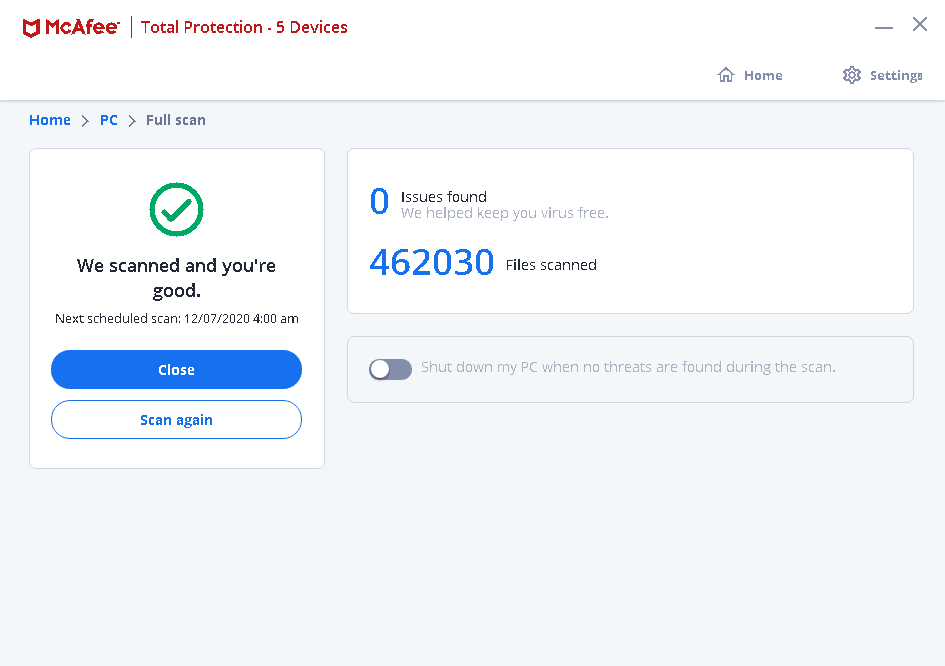 Privacy Policy
We went ahead and read McAfee's privacy policy, and here's the takeaway: McAfee collects a ton of data that users provide, including the following:
Contact information (name, email, phone number, etc.)
Payment information (credit card numbers, bank account numbers, etc.)
Login information (McAfee account login, social media accounts protected by Identity protection features)
Device identifiers (IP address, MAC address, IMEI)
Usage data (URLs of websites visited, installed applications or software, data traffic, etc.)
Location information.
Another thing to note is that they share some of the data collected to third parties, particularly to advertisers. According to them, they share the data with their partner advertisers in order to deliver relevant ads to users while on their website or while using their services. While there were no pop-ups during our tests, the Secure Search search engine did display ads along with our search results.
The amount of data McAfee collected is concerning, to say the least. But believe it or not, many antiviruses collect just as much data from their users. So while we're not very thrilled with McAfee's data collection policies, it's an industry norm that we can't control.
The Cost of McAfee Protection
No matter how good its features were and how easy they were to use, the fact remains that it costs money to use McAfee. So how much should you expect to pay? Well, that will depend on how many devices you want to protect.
| Plan details | Basic | Plus | Premium | Advanced |
| --- | --- | --- | --- | --- |
| Price Per Year | $29.99 | $39.99 | $59.99 | $89.99 |
| Number of Devices | 1 | 5 | Unlimited | Unlimited |
| Length of Subscription | 1 year | 1 year | 1 year | 1 year |
Considering that McAfee Total Protection includes antivirus, firewall, web protection, identity protection, and a VPN, it offers a pretty good value for its price. Check out our McAfee antivirus pricing page to learn more about McAfee's subscriptions.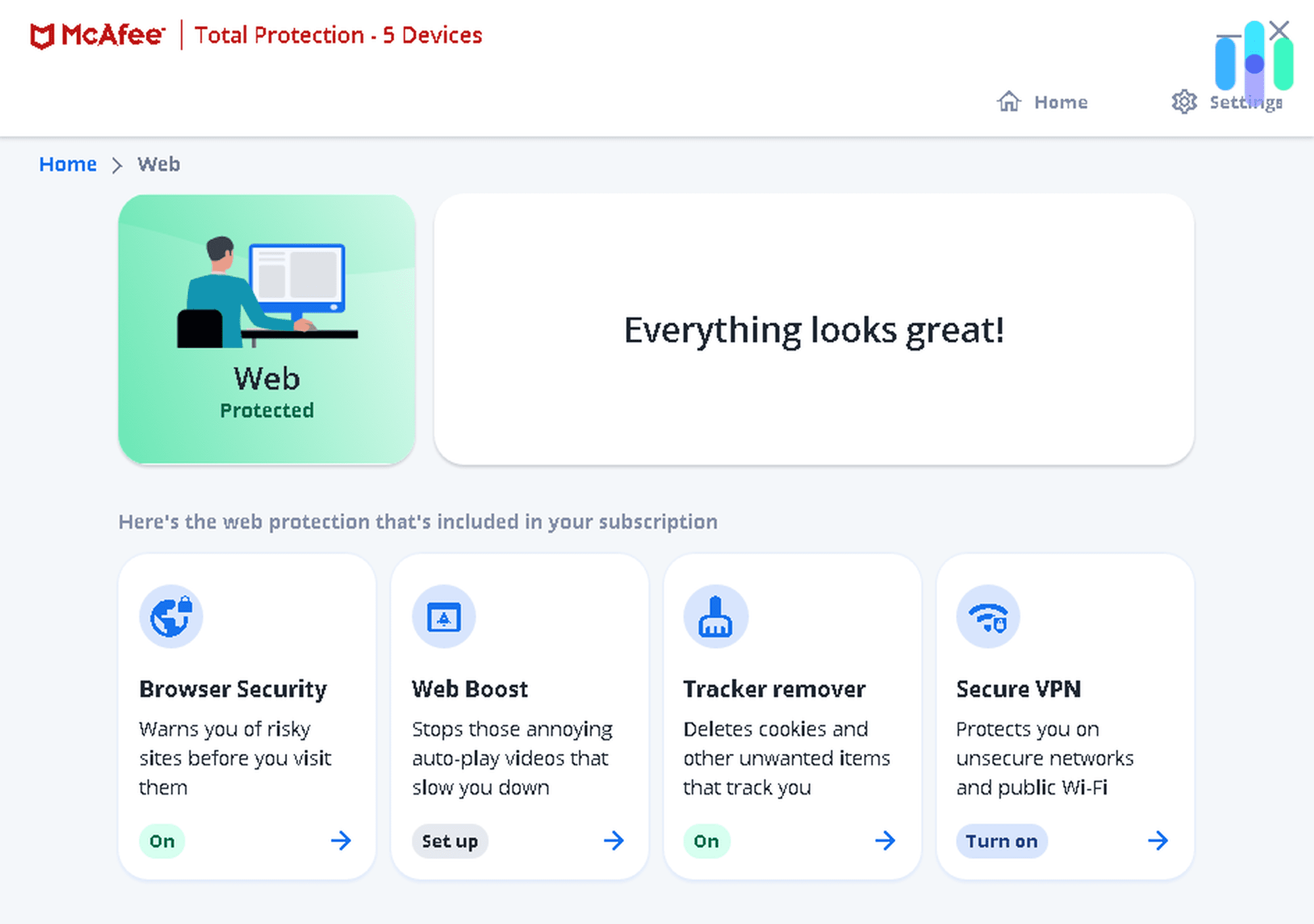 Recap
McAfee is undoubtedly a smart choice for an antivirus, especially if you choose one of the all-in-one packages like McAfee+. It's affordable, it did a good job of detecting threats, it's easy to use, and it has multi-platform support for Windows, Macs, iOS, and Android. However, what works for us might not work as well for you.
If you're looking for other alternatives to McAfee, we suggest reading our review of the best antivirus software. Picking an antivirus is not an easy task, but with the help of our research and hands-on experience, you will find the right antivirus software for you in no time.