Arlo vs. Lorex Security Cameras Comparison
Our experts put two smart security cameras, Arlo and Lorex, head to head.

Best Smart Detection

Exceptional video quality up to 4K
Commercial-grade quality and construction
Several custom recording options
Best Advanced Tech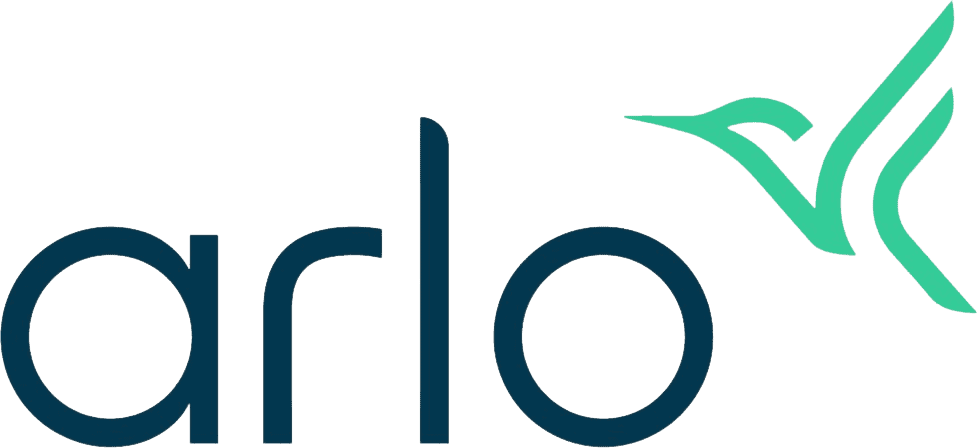 Wireless home security cams
Wide-range of high-quality camera options
Third-party smart home integration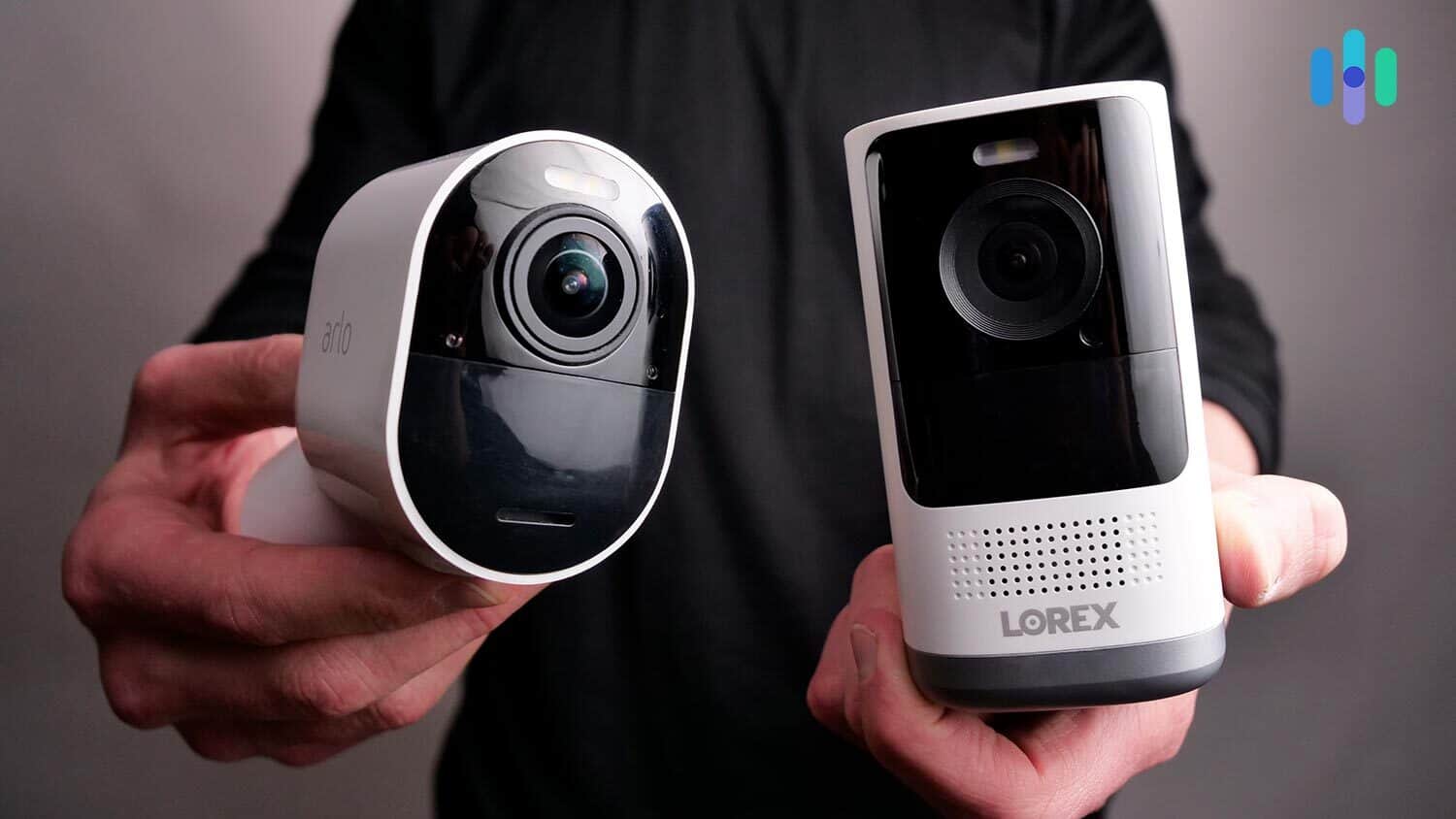 Arlo and Lorex are home security powerhouses that offer a wide range of security camera options. Both have numerous indoor cameras, outdoor cameras, and video doorbells. And if you're looking for the most advanced and most sophisticated security camera features, you can look to these two brands to provide exactly what you need.
In this comparison, we'll put Arlo and Lorex head to head to decide which offers better cameras, video storage solutions, and smart features. We'll also discuss their pricing and our experience installing security cameras from both brands. Let's go!
Overview of Arlo and Lorex
Much like a boxing match, let's start by introducing our contenders.
Arlo is the security camera brand that pioneered completely wire-free security cameras. It all started with the Arlo Wire-Free, a battery-powered camera that uses Wi-Fi to stream and record videos. From there, Arlo grew its lineup, adding smarter features, improving the video quality, and streamlining the video storage options. Most recently, Arlo launched a whole-home security system with specialized multi-purpose sensors.
On the other hand, Lorex has been a trusted security camera maker for a long time. It's probably best known for its tough-as-nails professional-grade cameras that monitor malls, government establishments, and commercial spaces all across the country. That being said, Lorex offers hundreds of residential security camera options.
Both are trusted names in home security, but each has its own strengths and weaknesses.
Similarities and Differences
Arlo and Lorex do have a few things in common, but they have way more differences.
Equipment options: Lorex offers thousands of cameras, recorders, and camera systems, whereas Arlo offers about a dozen. There's a stark difference in the type of equipment being offered too. Arlo focuses on wireless and wire-free cameras, while most of Lorex's cameras are wired.
Video storage: Lorex cameras typically store videos in an NVR or DVR, a local recording device with a hard drive. Arlo also offers local storage options, but most of its cameras store videos in the cloud.
Video resolution: Arlo cameras range in video resolution from 1080p HD to 4K. Lorex cameras offer the same picture quality.
Monthly fees: Most cameras from Lorex don't require monthly fees for cloud storage. With Arlo, you can get away with using the free cloud storage, but there's an option to pay a monthly fee to access more space.
Smart features: Arlo cameras come with advanced features like person detection and facial recognition. Most Lorex cameras don't have these features.
Night vision: Both Arlo and Lorex cameras feature night vision, but Lorex cameras are known for having exceptional range. Some of Lorex's cameras can see up to 150 feet away in total darkness.
Arlo and Lorex Equipment Options
Now that we've given you an overview of our two heavy-hitting security camera brands, let's get into more details, starting with the options they offer.
Lorex Cameras
Lorex cameras offer a wide variety of features, video resolution, and storage options. It categorizes its cameras into four types: analog cameras, digital IP cameras, wireless (Wi-Fi) cameras, and wire-free cameras.
Analog cameras use DVRs to store footage. They are the most affordable options, but they come with the downside that they have to be connected through wires. The DVR will sit within your home, and you'll have to connect to it each camera using coaxial cables.
Digital IP cameras use NVRs for video storage, which is much like DVRs, but instead of coaxial cables, you'll use Ethernet cables. These cables transmit videos faster, and because the cameras capture digital video instead of analog, the picture quality is better.
Next, we have wireless Wi-Fi cameras. As the name suggests, they are wireless because they use Wi-Fi. They still have to be plugged into a power outlet, but it's much easier to install them because you don't need wires to connect them to a DVR.
Lastly, wire-free cameras are battery-powered. They either connect to a DVR or save videos to a cloud storage. They are completely free of wires and are the easiest to install but also the costliest options from Lorex.
Arlo Cameras
Arlo offers only two types of cameras: wireless and wire-free.
The Arlo Q and Q Plus, as well as the Arlo Essential Indoor, are all wireless cameras. They need to be plugged into a power outlet, but they connect wirelessly to Wi-Fi.
All the other security cameras in Arlo's lineup are wire-free. They are battery-powered, weatherproof, and Wi-Fi-ready. Currently, the Arlo Essential Wireless, Arlo Pro 4 and 5, and Arlo Ultra 2 are Arlo's best-selling wire-free cameras.
If you're looking for the best picture quality, the Arlo Ultra is the best option, as it offers 4K HDR video. You can read about it in our Arlo Ultra review. Meanwhile, the Arlo Pro series starting from the Arlo Pro 4 offers a 2K HD resolution, and the Essential series offers a 1080p HD resolution.
Arlo has one other camera called the Arlo Go, and it's special because it uses 4G/LTE instead of Wi-Fi. Because of this, you can place it virtually anywhere, from a cabin in the woods to a yacht. It is by far one of the most expensive Arlo cameras, and a monthly data plan is required to use it.
Our Pick For Equipment
Arlo and Lorex both make a good case for themselves. The sheer number of options from Lorex is enough to accommodate any security camera shopper, but the quality of Arlo cameras is undeniable.
In the end, it's all about what you're looking for. If you want rugged, well-built cameras with local video storage, Lorex offers plenty of options. If, on the other hand, you want wireless or wire-free cameras with advanced features and tech, Arlo is the better choice.
Video Storage: Cost and Features
After buying your equipment, the next thing you'll have to figure about is where your recorded videos will go. Cloud and local storage are your primary options, and Arlo and Lorex offer both.
Local Storage
For local storage, Lorex is our top pick. Lorex cameras either use a DVR or NVR. These are like computer boxes with a built-in hard drive that can store anywhere from 500 GB to 4 TB of videos.
The reason that we picked Lorex is that NVRs and DVRs are expandable and versatile to use. These recorders can accommodate additional hard drives, and because they offer so much storage space, Lorex cameras can record continuously 24/7.
In comparison, to use Arlo's local storage, you'll need to plug a USB flash drive into a base station, a central device to which wire-free cameras connect. Arlo cameras don't record continuously, and only select models can store videos locally.
In terms of cost, however, Lorex's DVRs and NVRs can cost you hundreds of dollars. On average, a basic DVR with 1 TB storage costs $200. With Arlo, all you need is a USB flash drive, as the base station comes with your first purchase of an Arlo camera.
Cloud Storage
For cloud storage, Arlo is our pick. That's because Arlo's cloud plans include more than just storage. With the Arlo Secure plan, which is $2.99 per month for one camera or $9.99 per month for unlimited cameras, you'll get 30 days of cloud storage plus a swath of additional features.
For starters, your cameras will be able to distinguish people from other moving objects, reducing false alarms. You'll also gain access to activity zones, animated previews on the app, audio detection of smoke alarms, and more. Paying for a cloud plan also activates Theft Replacement, wherein Arlo will replace your security cameras if they are stolen.
With Lorex, not all cameras support cloud storage. Those that do come with a generous seven days of free storage, but if you want more, you'll have to shell out at least $2.99 per camera.
Our Pick for Video Storage
Once again, this comes down to your preference. If you like local storage, Lorex is the better option, with its DVRs and NVRs that can store rolling videos for days or weeks. If you prefer the convenience of having access to your videos anytime and anywhere, Arlo's Secure plan is an advanced option with lots of great extra features.
Video Quality Battle
Arlo and Lorex both offer several security cameras, and their video resolutions vary. For this part, we're taking popular options from each brand and comparing them.
For Arlo, we're taking the Arlo Ultra that we tested alongside Arlo Pro models in our Arlo security camera review. And to represent Lorex, we have the Lorex 4K UHD that we featured in our Lorex review.
Resolution
Both the Arlo Ultra and Lorex 4K UHD boast a 4K Ultra HD resolution, the highest resolution from both brands. Arlo has a slight leg up because it uses HDR technology to enhance images. Basically, whenever there are both dark and bright areas within its frame, it automatically adjusts its lighting so that both areas are clearly visible. Lorex doesn't have this on the Lorex 4K UHD.
Night Vision
Both cameras feature color and Infrared night vision.
Let's start with Arlo. The Arlo Ultra's color night vision is powered by its integrated spotlight that turns on automatically when movement is detected. You can also configure the light to turn when you're streaming live. Otherwise, you'll get Infrared night vision, which shifts the image to black and white. In terms of range, it's quite impressive, as it uses high-powered Infrared LEDs. We could see our entire yard and beyond at night thanks to these LEDs.
As for the Lorex 4K UHD, we've long been impressed by Lorex's night vision tech. It doesn't need an integrated light source to offer color night vision. It simply relies on ambient light from surrounding sources, combined with its powerful image sensor. When there's not enough ambient light, it switches to Infrared night vision, which produces an astounding 150-foot range.
Overall, we prefer Lorex's night vision.
Field of View and Zoom
Next, let's talk about coverage.
The Arlo Ultra has a 180-degree viewing angle. One of these cameras can monitor your entire front yard. In addition, its 8 MP image sensor allows for up to 12 times digital zoom without losing much clarity.
On the other hand, this is where the Lorex 4K UHD falls short. It has a 105-degree viewing angle, leaving lots of peripheral blind spots. Typically, we recommend cameras with a 120- to 130-degree viewing angle at a minimum. With its narrower field of vision, you'll need a couple of cameras to monitor a wide space like a front yard. Fortunately, the camera zooms well without losing video quality.
Our pick for field of view and zoom is Arlo.
Our Pick for Video Quality
Between these two cameras from Arlo and Lorex, our pick goes to the Arlo Ultra, but keep in mind that the Arlo Ultra is Arlo's highest-tier camera. There are more expensive Lorex cameras we haven't tested that can go toe-to-toe with it. You can explore other options in our Lorex equipment pricing page.
Smart Detection
Security cameras are more than just for recording. They can give you insight about your home that no other security products can. For instance, with person detection, a camera can tell you if there's a person inside your home. With facial recognition, a camera can tell you if that person is someone it recognizes.
Arlo and Lorex offer those smart features, but let's see which one does it better.
Arlo Smart Detection
Arlo uses different methods to improve detection. The most simple is zone-based detection, letting you identify zones within the frame where motion detection is necessary. Any movement outside of those zones is ignored. This is a useful feature if your camera faces the street, for example, and you want to cut down the number of false alarms you get.
Going a step further, Arlo can tell you if the movement it detected is caused by a human being. Person detection is valuable especially for outdoor video monitoring. Besides that, some Arlo cameras have package detection, which allows them to notify you if a package has been delivered to your doorstep. It can also be a useful feature to combat porch pirates.
FYI: You'll need a paid cloud plan to access person and package detection, starting at $2.99 per month for each camera or $9.99 per month for unlimited cameras. Learn more from our Arlo pricing page.
Lorex Smart Detection
The smart detection features you will have access to will depend on your Lorex DVR and camera model, but essentially, Lorex offers person detection, motion zones, and facial recognition.
With facial recognition, for example, Lorex will show you faces it recently saw. Clicking on those faces will take you to the recording where they were captured.
We'd like to note, however, that setting up these smart detection features isn't as easy with Lorex cameras as it is with Arlo. For instance, you can't just do it with an app. You'll need physical access to the DVR to set up motion zones, create a face database, or adjust person detection sensitivity. Once they're set up, though, it's smooth sailing from there.
Our Pick for Smart Detection
Although Arlo offers a more seamless experience, we're giving Lorex the win because of how sophisticated its smart detection features are.
Cost Comparison
Lastly, let's talk about pricing, both for equipment and cloud recording.
With Arlo, camera prices range from $99 to $299. The Essential Wired is the cheapest, while the Arlo Ultra 2 is the most expensive. With Lorex, prices can range from $50 to over $1,000, but those that cost over $200 are usually sets with four or more cameras and a DVR or NVR. On average, Lorex cameras cost more or less $100 each.
In terms of storage costs, you'll need to shell out an extra $2.99 per camera per month if you want Arlo to keep your videos. If you have multiple cameras, you can go for the $9.99 monthly plan that accommodates an unlimited number of cameras. With Lorex, cloud storage is not necessary, as most Lorex cameras record to a DVR or NVR. A DVR costs about $200, but one is usually included in Lorex security camera bundles.
Overall, Lorex is the more budget-friendly option, with its affordable cameras, no monthly fees, and large video storage space.
Arlo or Lorex: Which Is Better?
Arlo and Lorex are both excellent security camera brands, and you can't go wrong with either of them. That said, here are the key points of this comparison to help you decide which is better for you.
The case for Lorex:
Lorex makes hardy security cameras that are versatile and affordable. They don't disappoint in terms of video quality and night vision, although they do have narrow viewing angles. We like that Lorex cameras store videos locally; if you want to avoid monthly fees, we think you will too.
The case for Arlo:
Arlo's cameras are high-tech and smart, and they look the part. You can choose from three different lines — Essential, Pro, and Ultra — with varying features and video resolutions. Arlo cameras tend to be pricier, but you get what you pay for. But remember: You'll need a cloud plan to store videos.
FAQs
Have some more questions? Let's sort them out here.