Best Power over Ethernet Security Cameras
Power over Ethernet (PoE) security cameras enjoy the reliability of wired security cameras with less cable management required.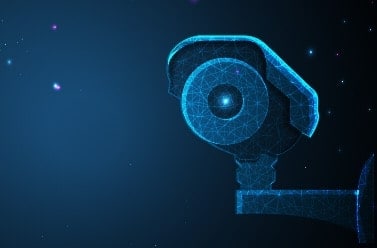 5,000+ research hours
100+ cameras tested
250+ simulated break-is
50+ devices reviewed
4 cameras recommended
Power over Ethernet (PoE) security cameras combine the ease-of-setup of wireless cameras with the reliability of wired cameras.
Typically, PoE cameras connect to a DVR or NVR for local storage, but there are some that connect to a router to send and store videos in the cloud.
Most PoE cameras don't offer as advanced features as Wi-Fi cameras, but check out our Lorex review. You'll be surprised by its features, especially the video quality.
| PoE security cameras | Local storage capacity in TB |
| --- | --- |
| Swann SWNVK-886808FB-US | 2 |
| Reolink RLK16-410B8 | 4 |
| Lorex LNK782C2D2KB | 2 |
| Reolink RLK8-520D4 | 2 |
Wireless security cameras have their benefits, but due to potential wireless signal issues, some homeowners may prefer wired security cameras. Fortunately, wired cameras, particularly those that utilize PoE or Power over Ethernet, are an excellent option.
Wired cameras typically require two cables: One for power and another for internet connectivity or connection to a central recording device. PoE cameras simplify this setup by utilizing a single Ethernet cable for both functions, making installation easier without sacrificing reliability.
Pro Tip: PoE cameras use special hardware to deliver power and telecommunication through a single cable, and due to this, most PoE systems are pretty expensive. That said, Swann has the cheapest PoE cameras you'll ever see. Read more in our Swann pricing guide.
We've tested dozens of PoE security cameras, and these four are the best ones thus far.
The Best PoE Security Cameras of 2023
Spec-by-Spec Comparison of the Best PoE Security Cameras
Lorex 8 Channel 2 TB NVR + 2x Bullet and 2x Dome 4K PoE Cameras
Swann 8 Channel 2 TB NVR + 8x 4K PoE Cameras with Dual LED Spotlights
Reolink 16 Channel 4 TB NVR + 8x 5 MP Super HD PoE Cameras
Reolink 8 Channel 2TB NVR + 4x 5 MP Super HD PoE Cameras
Product Code/Model
LNK782C2D2KB
SWNVK-886808FB-US
RLK16-410B4
RLK8-520D4
Price
$649.99
$1,199.99
$755.99
$339.99
Usage
Indoor and Outdoor (IP 66 rated)
Indoor and outdoor (IP 66 rated)
Indoor and outdoor (IP 66 rated)
Indoor and Outdoor (IP 66 rated)
Camera Resolution
4K
4K
Up to 5 MP
Up to 5 MP
Field of View
93 degrees
90 degrees
80 degrees
80 degrees
Night Vision
Infrared night vision and color (using spotlights) for low-light conditions
Infrared and color (using spotlights)
Infrared
Infrared
Night Vision Range
Up to 130 feet with infrared night vision
-Infrared: Up to 200 feet

-Color: Up to 115 feet

Up to 100 feet
Up to 100 feet
Audio
Microphone only
Two-way
Microphone only
Microphone only
Local Video Storage
2 TB NVR
2 TB Network Video Recorder (NVR)
4 TB NVR
2 TB NVR
Maximum Number of Cameras
8
8
16
8
Free Cloud Storage
N/A
-7 days free cloud storage with Swann Secure+ Service

-Backup videos and photos to a personal Dropbox account

Upload to user's File Transfer Protocol (FTP) server
Upload to user's File Transfer Protocol (FTP) server
Paid Cloud Storage
N/A
$4.99 per month for each camera or $14.99 per month for up to 10 devices
N/A
N/A
Paid Cloud Storage Features
N/A
-60 days of cloud backup

-Vehicle and pet detection

-Extended warranty

-Alerts with snapshots

-Free camera replacement if stolen (with a valid police report)

N/A
N/A
Smart Platform Integrations
N/A
Alexa and Google Assistant
N/A
N/A
Artificial Intelligence
N/A
Person detection and facial recognition for free, vehicle and pet detection with a paid plan
N/A
N/A
Camera Resolution Fact: 5 MP cameras have approximately 5 million pixels, whereas 1080p HD cameras have 2 million, and 4K cameras have over 8 million. Because the number of pixels plays a big role in the image quality of cameras, that means 5 MP is better than 1080p HD, but 4K still stands the tallest.1
Highlights of the Best PoE Security Camera Systems
1. Lorex - Best 4K PoE Camera System

What We Like:

4K resolution with 93 degree viewing angle
Infrared LED lights for night vision and spotlights for low-light conditions
H.265 video compression to maximize video storage
Expandable NVR storage up to six TB

What We Didn't Like:

No cloud storage options
Expensive for a four-camera system
Uses an older Lorex mobile app (Lorex Cirrus)
Limit of eight cameras for one NVR

DIY Installation, Professional-Grade System

Lorex security cameras are known for their hardiness and are often used in commercial security settings. Even so, we found that the setup process for a Lorex camera system was straightforward.

Lorex places great emphasis on designing high-quality security camera systems, evident in the thoughtful details included in their products. For instance, the system we tested came with four cameras, each with a 100-foot Ethernet cable, giving us plenty of cable length to facilitate a cleaner cable setup by routing them through the attic. Additionally, we appreciated that both the dome and bullet cameras were wall and ceiling mountable, and the cameras came with mounting kits for both options.

You can learn more about the setup process in our Lorex camera review or if you prefer a video review, check out our YouTube channel.

Mounted Lorex Camera

Exceptional Video Quality

One of the things that stood out was the video quality of the Lorex 4K PoE camera system. It wasn't the only 4K PoE camera we tested, but it had just the right mix of technologies to make it stand out. It automatically switched between daytime videos, infrared night vision, and color night vision depending on the light condition. It was capable of zooming in without losing quality. And of course, the 4K resolution made its videos almost stunning.

One thing that could be improved, though, is the viewing angle. With a 93-degree field of view, it didn't capture as wide an area as we want in outdoor security cameras. Typically, we prefer cameras with a viewing angle more than 130 degrees. The narrower field of view of Lorex is not a deal-breaker, though, as the cameras were inexpensive so it's possible to add more to cover a wider area without putting a ding on our wallets.

Intelligent Video Compression

We loved Lorex's 4K resolution, but we know that 4K videos take a lot of storage space. Fortunately, Lorex's 4K PoE cameras use h.265 compression instead of the usual h.264. The higher compression rate means the size of the video files are greatly reduced; according to Lorex, by up to 50-percent. That seems to be true. It took all four cameras an entire week of recording continuously to fill our 2 TB NVR.

2. Swann SWDVK-445802V - Best PoE Camera System with Smart Platform Integrations

What We Like:

4K resolution
Infrared and color night vision
Alexa and Google Assistant Integrations
Included local video storage and free cloud storage

What We Didn't Like:

Most expensive
90 degrees field of view
NVR supports only up to eight cameras
Vehicle and pet detection requires a cloud subscription

Simple Installation

The Swann 4K PoE camera system included all the accessories and cables we needed for installation, not that it needed a lot anyway. A 60 feet Cat5e Ethernet cable supplemented each camera and a three feet cable of the same came with the NVR. Once we decided where to place the cameras, we used the longer 60 feet cables to connect them to the NVR and the shorter cable to connect the NVR to our router. Just a little bit of setting up on the software side of the NVR and voila! All eight cameras were up and running in more or less than 30 minutes. That's impressive for a PoE security camera system.

Free Person Detection and Facial Recognition

Although the Swann 4K PoE system was the most expensive on this list at $1,200, it was well worth it. That's because it's also the only one with artificial intelligence capable of person detection and facial recognition with no subscriptions required. With person detection, the cameras alerted us if there was a person in view. The one we placed above our apartment's front door, in particular, helped us stay in the know if there was someone at our door. With facial recognition, the cameras put a name on the faces it saw, with our help, of course. We uploaded our faces to the NVR under Advanced Analytics and after that, the cameras were able to tell if we were in the frame. But that's not the best part. The NVR software allowed for tons of customizations. For instance, when an underaged cousin stayed with us, we set one of the cameras to alert us if he's seen anywhere near where we hid our liquor, while the rest simply ignored him. Not on our watch, Brian.

Swann Camera

Integrations with Alexa and Google Assistant

Its integrations with Alexa and Google Assistant was another unique thing about the Swann 4K PoE system. The integrations came in handy when we wanted to view our cameras on our smart displays, namely, the Echo Show 8 and the Google Nest Hub Max. Both smart displays were in our living room, so if there's someone at our door, we just asked Alexa or the Google Assistant to show our front door camera.

FYI: The cameras didn't directly integrate with Alexa or Google Assistant, but rather, the NVR made the connection possible. If you're planning to purchase the PoE cameras for use with an existing Swann NVR, your NVR must also support the integrations to enable voice control.

3. ReoLink RLK16-410B4 - Best PoE Camera System for Local Video Storage

What We Like:

3 TB NVR with two slots for additional hard drives
NVR supports up to 16 cameras
Compatible with most personal FTP servers
5 MP resolution

What We Didn't Like:

No smart platform integrations
Narrow 80 degrees field of view
Lacks free and paid cloud storage options
No speakers for two-way audio

Plug-and-Play

The Reolink 5 MP PoE camera system was truly plug-and-play. We plugged in the NVR and connected to our router, then we used the included Ethernet cables to connect and power the cameras. Each cable was 18 meters (approximately 60 feet), which was more than sufficient even for the cameras we placed outdoors. And because they were IP 66 rated— which means they were waterproof and dustproof— we didn't worry about leaving them out under the sun or in the rain. We just made sure to use the included waterproof lids to protect the part of the cable that plugged into the cameras.

Need a Longer Cable?: The Reolink 5 MP PoE cameras can transmit videos to its NVR through a CAT6 Ethernet cable up to 330 feet long without losing its reliability.

Versatile Local Video Storage

The NVR that came with the Reolink 5MP PoE system was the RLN16-410, and it's a pretty flexible NVR. For starters, it had a built-in three TB hard drive pre-installed, which was more than enough to store several days worth of videos from the eight included cameras. However, it also had two more available hard drive slots, each capable of supporting a SATA drive up to four TB. We had one lying around and we used it to expand the storage to seven TB. That's a couple of weeks worth of video storage for us. Another great thing about the NVR was that it supported up to 16 cameras, perfect for large homes or businesses. That many cameras would have been overkill for our mid-sized apartment, but it was good to know that we could add more cameras if needed.

ReoLink Cloud Storage online

Local and Remote Video Streaming and Playback

The NVR was also capable of video output to a TV or monitor that supports HDMI or VGA inputs. We had it connected to our bedroom TV via HDMI so that we could check on things without getting out of bed just by turning on our TV and selecting HDMI as the video source. But even when we weren't home, we could still watch our cameras through the Reolink mobile apps, PC clients, and web apps. They had software for Android and iOS mobile devices, Windows and Mac computers, and Internet Explorer, Edge, Chrome, and Firefox browsers.

4. ReoLink RLK8-520D4 - Most Affordable PoE Camera System

What We Like:

5 MP resolution at 30 frames per second
Entry-level pricing with four cameras and an NVR
Up to 100 feet night vision using 18 infrared LED lights
Micro-SD card slot for additional video storage

What We Didn't Like:

Lacks person detection, facial recognition, and other artificial intelligence
Doesn't work with Reolink cloud storage subscriptions
Includes dome type cameras only
No Alexa and Google Assistant integrations

Easy Setup and Installation

This Reolink 5 MP PoE camera system included four dome type cameras, each with a 60 feet Ethernet cable for PoE installation. The setup process followed the usual steps for installing PoE cameras— plug in the NVR and connect the cameras to it using the Ethernet cables. However, what we particularly liked about the camera was that we were able to adjust it freely post-installation. The camera rotated freely on its base up and it tilted up and down up to 70 degrees. This made it easy for us to adjust the viewing angle while the camera was on, using the live stream as a reference.

Installing ReoLink

Affordable PoE Camera System for Residential Use

The Reolink 5 MP PoE system with an eight-channel NVR was one of the most affordable PoE cameras we tested. The entire system— cameras, NVR, and accessories included— only cost $340. Better still, when we sprung for additional cameras, each one cost us just under $50. If we do the math, we could have built an eight-camera system for $540. That's a hard-to-beat price considering that similar PoE systems are usually in the $800 to $1,200 price range.

FTP Server as Backup Storage

Another cool thing about the Reolink 5 MP PoE system was that it was able to backup video clips to our FTP server. We've been using an FTP server to share work files among our colleagues, and because it had a considerable amount of storage space, we used it as backup storage for our Reolink cameras. It was pretty easy to set up. Using the NVR itself, we just entered our server IP address, input our username and password, and defined the rules for saving videos to the server. We set up our NVR so that it would backup motion activated videos to our FTP server. The advantage of this setup is that if someone breaks in and manages to destroy all video evidence in the NVR, we'd have backup videos safely stored in the FTP server.
How We Picked The Best PoE Cameras
Testing and comparing security cameras is our bread and butter, and so we always make sure to cover all the important aspects when putting together our best security cameras pieces. We usually spend months researching, buying, and testing cameras. We also devise unique methodologies for comparing cameras.
For PoE security cameras, in particular, one of the main factors we considered was the ease of installation. What each camera system included in the box spoke volumes, particularly the mounting accessories and length of cables. For instance, even though we live in a mid-sized apartment spanning about 30 feet from wall to wall, we needed Ethernet cables no shorter than 45 feet so we could neatly hide the wires. Anything shorter than that and we would have had to risk tripping on cables running through our living room. But that's just one part of our ease of installation test. Going through the installation process ourselves, we paid attention to how easily (or otherwise) the cameras paired with their respective NVRs, their mounting options, and how well they adapted to outdoor conditions and temperatures.
Given that PoE camera systems often come with a dedicated local recording device like an NVR and DVR, we also compared their local storage capacity. Ideally, an eight-camera system needs two TB of video storage or more while a four-camera system needs at least one TB of storage. But since high-resolution videos take up more storage space, we also looked for systems with an expandable storage capacity. That means either the NVR has free ports for additional hard drives or the cameras have micro-SD slots. We prefer the former as it's more practical and easier to implement than putting in micro-SD cards to each camera.
We also made sure that each camera's video quality was up to our standards. That means they had a 1080p HD resolution or higher, infrared night vision, and a wide field of view, ideally at least 120 degrees. However, we've found that most PoE cameras have a limited field of view. So we made do with what's available and chose the ones with the widest viewing angles.
Of course, security is the main reason people buy security cameras, so we also tested each camera for security features. The bare minimum security feature we require is motion detection, and fortunately, most of the cameras we tested had this feature. That means they were able to send motion alerts to us as well, either via mobile app notifications or email. We also checked for smart features that would improve the cameras' ability to detect possible threats, such as person, pet, and vehicle detection, activity zones, and facial recognition. More and more people are buying into the idea of smart home security; research predicts that the smart home security segment will become a $15 billion market by So while artificial intelligence features are not yet absolutely necessary today, they might become the norm in the future. Unfortunately for PoE cameras, only a select few brands offer these features.
Lastly, we checked for smart platform integrations or the ability to integrate with the likes of Alexa, Google Assistant, and Siri. Because PoE cameras are often parts of standalone camera systems, there weren't many options for smart platform integrations. Only one system with integrations made it to this list, as highlighted in our feature breakdown.
To sum it all up, the top factors we considered for this list were the following:
Ease of installation
Video storage
Video quality
Security features like motion detection
Artificial intelligence
Smart platform integrations
Also, we compared each camera's:
Cost
Overall value
Extra features
Availability of cloud storage
Mobile app performance
Frequently Asked Questions
An entire article isn't enough to cover everything about the best PoE security cameras, so if you have additional questions, check out this FAQ section.