Canary Camera Review
Canary offers all-in-one home security devices for a feature-rich experience that doesn't involve dozens of pieces of equipment.
What We Like
All three available cameras connect through Wi-Fi
Built-in advanced person detection
Free cloud storage for one day's worth of clips
What We Don't Like
Not all cameras have Google Home integration
Customer support only available with paid subscription
No local video storage options
Bottom Line
Canary's two indoor cameras, the View and the Pro, plus their indoor/ outdoor camera the Flex, also have the same great 1080p HD video, infrared night vision, and integrations with Alexa, Google Assistant, and Apple Watch. With prices ranging from $99 to $169, there's a camera to fit all budgets when you're shopping with Canary.
Canary may not be one of the biggest fish in the smart home pond, but it's kept on swimming, releasing three different security cameras to choose from. Founded in 2013,1 Canary focuses on WiFi-connected cameras with person detection and optional premium features through their Canary Membership, now called the Premium Service. We've tested out all three of Canary's options, the Canary View, the Canary Flex, and the Canary Pro, formerly known as the Canary All-In-One. Would we recommend Canary overall and if so, which camera is right for you? Let's get into it now.
Premium service membership features
| | |
| --- | --- |
| Video history | 30 days |
| Live video streaming | Yes, via mobile and web app |
| Artificial intelligence | Person detection |
| Motion zones | Yes |
| Video history | 30 days |
Editor's Rating
At $99, the Canary View is a solid entry-level indoor camera.
The Canary Pro provides more than just security for $169.
At $199, the battery-powered Canary Flex isn't cheap. (See our Arlo review for budget-friendly but top-quality battery cameras.)
See How Canary Stacks Up
Right off the bat, we have to point out one of Canary's shortcomings: Its lack of variety. Canary offers three types of cameras, and two of those are basically the same. The Canary Pro just has extra sensors in it, but when it comes to camera features, it's the same as the Canary View. If you need just one or two cameras, Canary will work out just fine, but if you're looking to build a security camera system, have a look at these options that offer a wider range of products: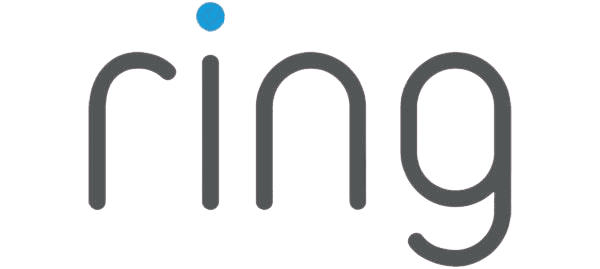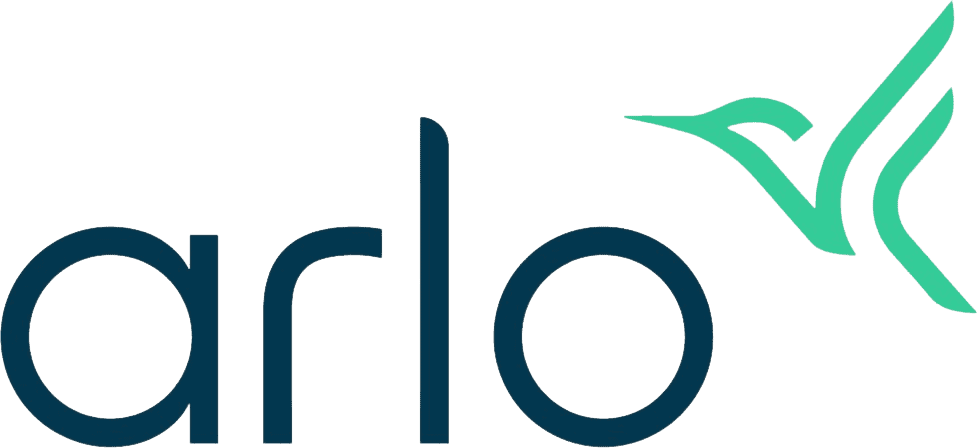 Canary's Camera Breakdown Matrix
| | Canary View | Canary Flex | Canary Pro |
| --- | --- | --- | --- |
| Price | $99.00 | $139.00 | $169.00 |
| Indoor/ Outdoor | Indoor | Both | Indoor |
| Wireless or Plug-In | Plug-In | Either | Either |
| Quality | 1080p HD | 1080p HD | 1080p HD |
| Field of View | 147 | 116 | 147 |
| Infrared or Color | Infrared | Infrared | Infrared |
| Two-Way Audio | Yes, with membership | Yes, with membership | Yes, with membership |
| Local Storage | None | None | None |
| Cloud Storage | 24 hours of free storage, 30 days with membership | 24 hours of free storage, 30 days with membership | 24 hours of free storage, 30 days with membership |
| Smart Platform Integration | Alexa, Google Assistant, Apple watch | Alexa, Google Assistant, Apple watch | Alexa, Google Assistant, Apple watch |
| Artificial Intelligence | Person detection | Person detection | Person detection |
| Extras | N/A | N/A | 90-decibel siren, HomeHealth technology |
How Are Canary's Cameras Similar?
No matter which camera we tested out, we noticed a few things remained constant.
Video Quality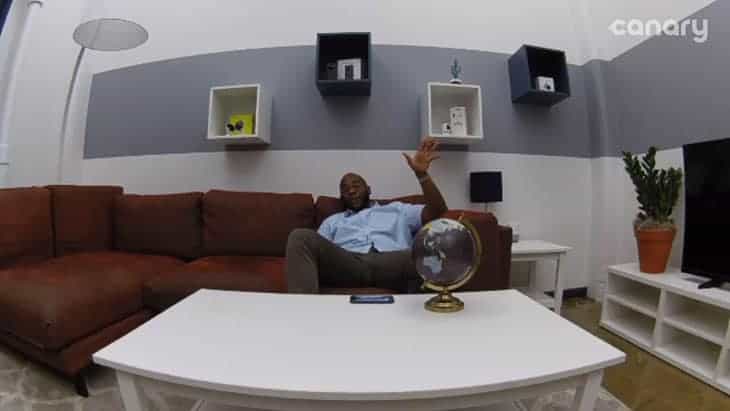 Canary's cameras didn't differ when it came to video quality, all shooting in clear 1080p HD. This is the standard we've come to expect from security cameras, so we were happy with the footage we got from Canary, both day and night, which brings us to our next point…
Infrared Night Vision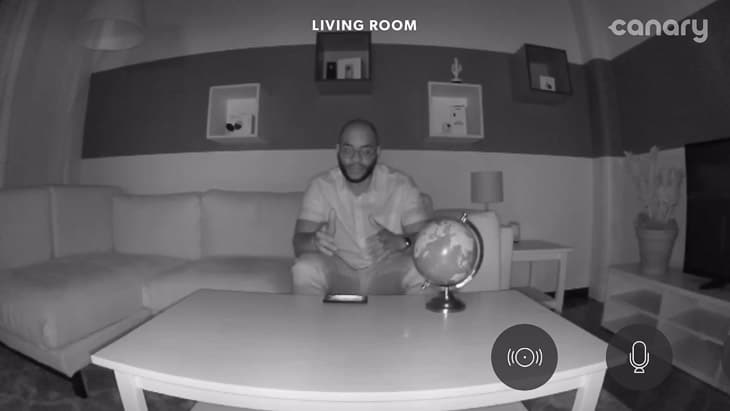 1080p HD video doesn't mean much if it's dark outside, which is why Canary included infrared LED sensors on all of its devices. For us, that meant that we could see exactly what was going on at night, which was mostly related to squirrels, fortunately.
Two-Way Audio With Membership
| Feature | Free Access | Membership |
| --- | --- | --- |
| Motion-activated Recording | Video Clips | Full-length Videos |
| Video History (in Days) | 1 | 30 |
| Safety Button | x | ✓ |
| Unlimited Video Downloads | x | ✓ |
| Two-way Audio | x | ✓ |
| Desktop Streaming | x | ✓ |
| Custom Modes | x | ✓ |
| Device Warranty | 1 Year | 2 Years |
| Incident Support Services | x | ✓ |
| Monthly Price | $0 | $9.99 |
| Yearly Price | $0 | $99 |
| Yearly Savings | N/A | $20.88 |
| Number of Devices | Up to 4 | First 5 |
Most smart security cameras we review come with two-way audio, stemming from built-in speakers and microphones. Canary, on the other hand, charges monthly for two-way audio, which was a bit of a bummer as it's typically included in the equipment cost. Of course, we shelled out the money for the Premium Service (which includes more than just two-way audio), and we enjoyed having conversations with friends, family, and the occasional takeout delivery person. With two-way audio, we didn't have to trudge downstairs for that Chinese food; rather, we just told the guy where our hidden key was and had him bring it right to our apartment.
Learn more about Canary's membership on our pricing page.
Storage
All of our Canary cameras lacked slots for micro-SD cards, so in order to back up our footage locally, we had to download it from the Canary app, which we were only able to do because we signed up for that Premium Service. Otherwise, our footage would've been stored for free for the first 24 hours only; however, thanks to our subscription, that time length expanded to 30 days. We like having a long buffer because sometimes we don't realize when we'll want to go back and save a clip, like if we had an intrusion. And by backing up our footage on a hard drive, we know that even if cloud storage fails, we'll still have what we need. Aside from cloud storage, the Premium Service Membership included a few other features, which you can learn more about in the chart below.
Alexa Integrations
Whenever we can do anything through hands-free voice command, we opt-in, and the Canary cameras are no exception. We used Alexa, Amazon's voice assistant, to control all of the Canary cameras. Since we have Fire TV, we simply told Alexa to show our footage on the big screen, and when we were finished checking things out, we told Alexa to "hide" the footage. We also showed the footage on our Echo Show 8 when we were in a different room from our Fire TV. We're on the Echo Show 8 all the time, so it was really convenient not to have to get out the Canary app just to check in with the livestream. However, it would've been nice to tell Alexa to arm and disarm our Canary cameras rather than just show their footage to us on different devices.
Apple Watch Integration
Apple watches are just one of the many wearables we have in our lives, and our Canary cameras worked with them quite well.2 Here, we could change the cameras' mode, whether it was armed in away mode, armed in home mode (where only some of the cameras are armed), or armed in night mode. We also scrolled through our household users and viewed a timeline of recent activity, which even included a screenshot of the most recent livestream. Especially when we were away from home, it was super quick and easy to be able to control our Canary cameras from our smartwatch.
Person Detection
Our Canary cameras included person detection, which meant that we only got alerted when our cameras saw people. Since we live in Brooklyn, the land of cars, squirrels, pigeons, and other moving objects, person detection reduced the number of unnecessary motion notifications we got. It was nice to be alerted when someone was actually there, and we could check in the livestream to see who it was. This was super helpful when we got Amazon packages (read: nearly every day), as we could speak to the delivery guy before he left, making sure our packages were protected inside rather than left out for all to steal.
The Canary App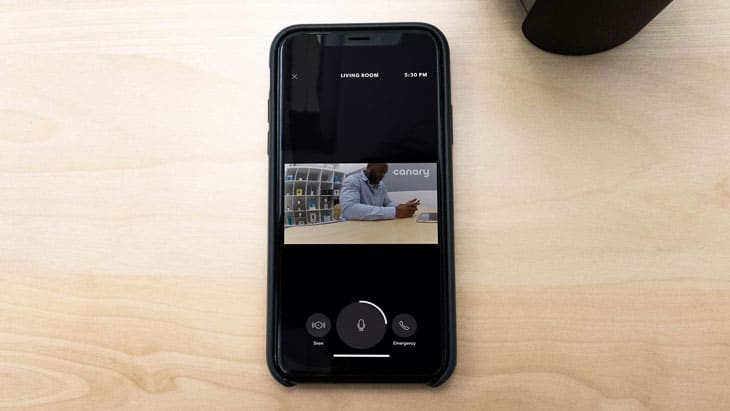 The Canary app was our home base for each of their cameras, where we live-streamed footage, received notifications, spoke through two-way audio, set up smart platform integrations, viewed and downloaded cloud storage, and more. Part of the Premium Service, the app also has a safety button that would connect us straight to emergency responders, if we were ever in an intrusion or hostage situation. The safety button also worked outside our apartment and almost anywhere in the country as it could track our current location.
The only negative of the app was getting support through it, again, only available with the Canary Premium Service. The only way to get support was through this messaging service; there was no option to call them directly, which meant that getting answers took a few days, way longer than we would've liked.
Incident Support
As part of the Premium Service, Incident Support is Canary's way of providing help to paying customers who were burglarized. Thankfully, we never had to test this feature, but in theory, here's how it works: in the event of a break-in or home invasion, Canary will connect you to a dedicated agent who will assist in finding and downloading video evidence from any and all of your Canary cameras. You can then turn over the video evidence to the cops to help in their investigation. Incident Support is particularly helpful for users who have hours or days worth of recordings stored in their cloud accounts and don't want to spend too much time finding the necessary evidence.
How Are Canary's Cameras Different?
Of course, Canary's cameras have their differences, as well! Here's what we found:
Pricing
We paid only $99 for the Canary View, an indoor camera, $169 for the Canary Pro, an indoor camera with HomeHealth technology and a siren, and $139 for the Canary Flex, the only camera that also works outdoors. Compared to other brands, which typically charge about $100 to $150 for an indoor camera and about $200 for an outdoor camera, Canary's pricing is very fair, but note that for a lot of premium features, we had to bite the bullet and pay for the Premium Service, an extra $9.99 a month that covered all of our cameras. That was a bit annoying, as some of these features come for free with other cameras, like two-way audio on the Nest Cam IQ Outdoor. However, that camera costs $399, so even with the Premium Service, Canary still comes out much cheaper.
Durability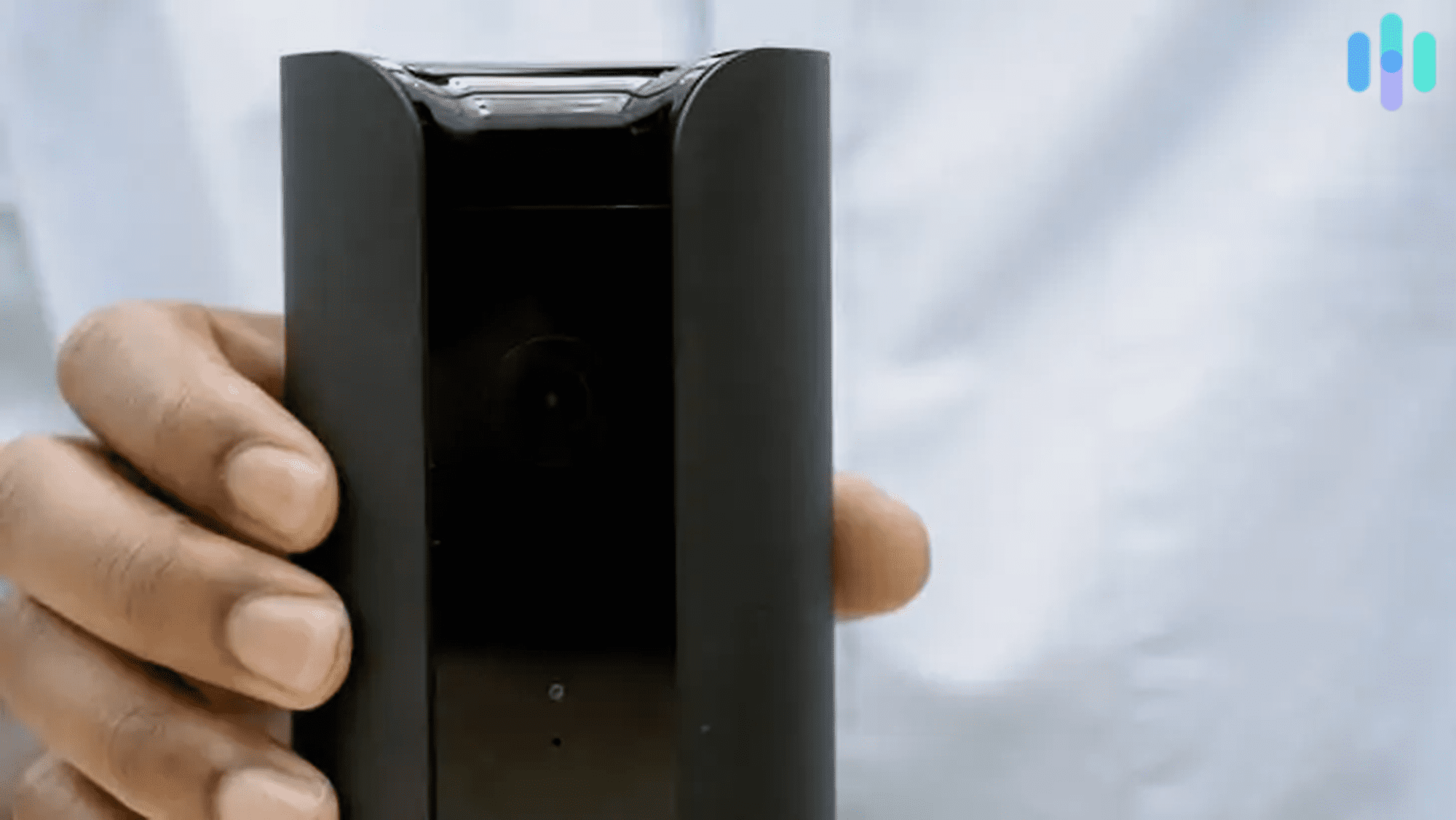 All Canary cameras are not created equal! With the View and the Pro, we made sure to install them indoors, as they aren't resistant to pesky weather conditions like rain, snow, or any form of precipitation. The Flex was the only camera we placed outside, as it's durable enough to last through the seasons. However, when we needed an extra indoor camera, we simply moved it inside, hence the name.
FYI: FYI: Don't use the Pro or the View outside, as these cameras are only intended for indoor use.
Power
While we plugged in the Canary View and Canary Pro to power, for the Flex, we had the option to either plug it in or go completely wireless. We opted for wireless, which made installation a lot easier. However, we like that Canary gave us options. For example, when we moved the Flex inside for a birthday party we wanted a video of, we plugged it in so we wouldn't have to be dependent on the battery levels, which by the way, could last for months if placed in an area with not much traffic. But once we moved it outside again, with no power outlet near, the wireless option came in handy.
Field of View
Field of view means how wide a camera's shot is, and that's really important because it doesn't do us much good if something happens slightly out of range. While we were pleased with the View and Pro's 147-degree field of view, which captured all of our living room and front hallway, respectively, the Flex's field of view was a bit narrow at only 116 degrees. Especially because we used the Flex outside for part of the time, this meant that we couldn't see as much of the street as we wanted, which may be worse for someone with a large front yard.
Pro Tip: If your Canary Flex doesn't cover as much ground as you want, considering getting two cameras instead.
Google Assistant Integrations
Only the Flex and the Pro worked with Google Assistant3, and even then, the commands we could use differed somewhat. For example, since the Canary Pro is the only one with environmental monitoring, we could ask it for the temperature and humidity levels, but not the Flex. We also used Google Assistant to check the battery level on the Flex. By asking "who is here?" we could have Google Assistant show our footage from either camera on our Nest Hub Max, but it would also work with Android TVs. We wish the View also worked with Google Assistant, but so far, it's only Alexa.
| Command | Canary Pro | Canary Flex | Canary View |
| --- | --- | --- | --- |
| Check Temperature | ✓ | x | x |
| Check Humidity | ✓ | x | x |
| Check Air Quality | ✓ | x | x |
| Check Batteries | x | ✓ | x |
| Show Footage | ✓ | ✓ | x |
Siren
Nothing startles us more than a siren, except of course our alarm clock telling us to get out of bed. Fortunately, the Canary Pro has one built-in, and it's 90 decibels; it was like having a lawnmower going off in every room! We used the siren once, accidentally, upon seeing a stranger go through the mail in our brownstone's foyer (it turned out to be another tenant's girlfriend). Sure, it scared her more than necessary, but if we ever have an intrusion, we feel confident knowing that the siren will let everyone in the building know.
HomeHealth Technology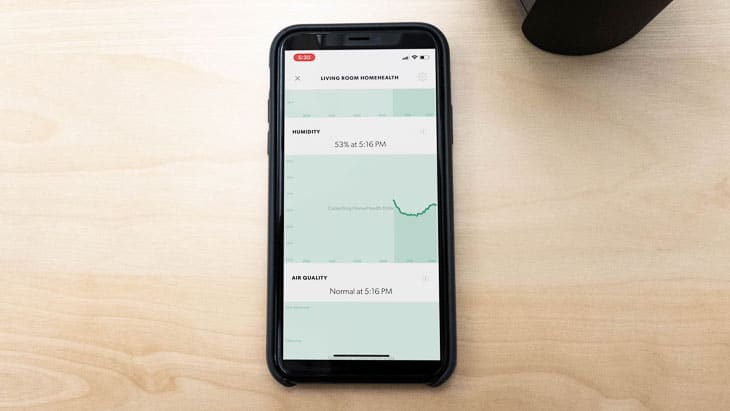 Another feature unique to the Pro is HomeHealth Technology, which meant that the camera could detect the temperature, humidity levels, and even air quality! Now, considering the Pro is an indoor camera only, it could only keep track of our indoor temperature, humidity, and air quality. Still, it proved helpful in reminding us to turn on our dehumidifier when it got too humid or when it's time to dust our furniture when our indoor air quality started dropping.
Installation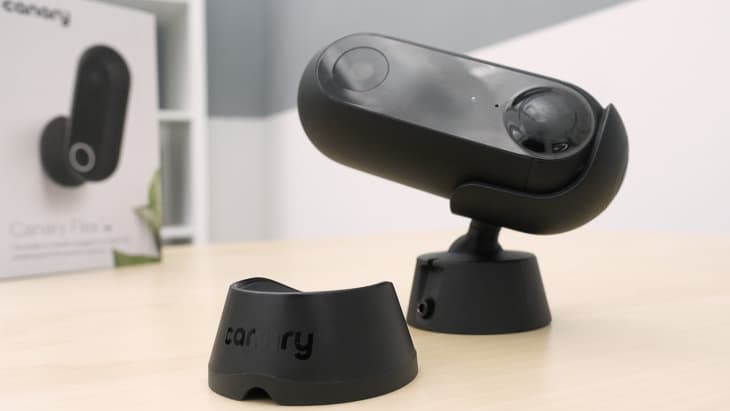 Part of the reason that Canary can keep its pricing so affordable is that the installation lies with the user, in this case, yours truly. The first step was to download the Canary app; we tried it out both on our iPhones and on an Android, but the process was basically the same on either. Once we got the app downloaded, which only took a few seconds, we made an account to register our three new cameras.
Next, the app guided us through the process step by step, which included connecting the cameras to our Wi-Fi network and naming them based on where we were going to install them. With the wireless cameras, installation simply meant placing them on shelves, but with the Flex, we had to buy a mount and screw it in next to our front door. There were other types of mount available for the Flex, like the super flexible twist mount or the discreet stake mount, but we found the secure mount best in our situation. Overall, the process didn't take more than 15 minutes for any of the cameras.
Which Canary Camera Is the Best?
If we had to choose, we'd recommend getting the Canary Flex if you want an outdoor camera, but the Canary View if you want an indoor camera. The Canary Pro's extra features, like the siren and the environmental monitoring, don't necessarily justify the extra $30 it costs when compared to the Flex, in our opinion. However, if you want your cameras to set off a siren, you can place one Canary Pro in a central location, like a living room.
We also recommend doing the Premium Service, especially for that cloud storage, two-way audio, safety button, and Incident Support.