Amazon Echo Show 8 Review
This eight-inch touchscreen display from Amazon comes with Alexa, the company's trusted voice assistant.
What We Like
Eight-inch screen: Watch TV and movies or video chat on the midsize Alexa smart display; not too small, but not too big.
Alexa: The most popular voice assistant, Alexa has skills in any area you could think of, be it games, health, cooking, and more.
Amazon shopping: Being able to order things from Amazon hands-free will certainly make things more convenient when you're on the go.
What We Don't Like
Price: At $129.99, the Echo Show 8 certainly isn't the cheapest smart display around.
No Dolby processing: Unlike the screenless Amazon Echo, the Echo Show 8 doesn't offer Dolby processing.
No Zigbee: And unlike the Echo Show 10, the Echo Show 8 doesn't have a Zigbee radio. It doesn't function as a hub for Zigbee smart home devices.
Bottom Line
Whether you want to listen to music, watch movies, or even get a recipe for delicious chocolate cookies, this eight-inch touchscreen from Amazon does it all. It even gives you access to Alexa, Amazon's voice assistant, which has over 100,000 skills to choose from.
Amazon has launched several Alexa devices over the years, and one of the popular options is the Echo Show 8. If you're new to Alexa products, the Echo Show line is a collection of Alexa-enabled smart displays. The Echo Show 8 is the second smallest smart display from Amazon, but it has a decent enough eight-inch touchscreen display for streaming and watching videos. And unlike its larger siblings, the Echo Show 10 and 15, its small frame makes it easy to move around.
The Echo Show 8 is also not too expensive at $129.99, but that's still not so cheap, so deciding whether to buy it or not isn't something you would want to take lightly. For that reason, we tested the Echo Show 8 to see if its features and value warrant the price. Here are our findings.
Are you in the Amazon smart home ecosystem and thinking about adding another display to your collection? Or maybe you have absolutely no IoT devices and want to get started. No matter where you're at, the Amazon Echo Show 8 is a solid option, with an eight-inch screen and access to over 50,000 Alexa skills. But for $129.99, this is a decision you don't want to take lightly, which is why I tested out the Echo Show 8 myself to see how well it worked. What were the results? Keep reading this Amazon Echo Show review to find out!
Echo Show 8 Capabilities
| | |
| --- | --- |
| Voice assistant | Yes |
| Music | Yes |
| Video | Yes |
| Web browsing | No |
| Shopping | Yes |
Amazon Echo Show 8 Design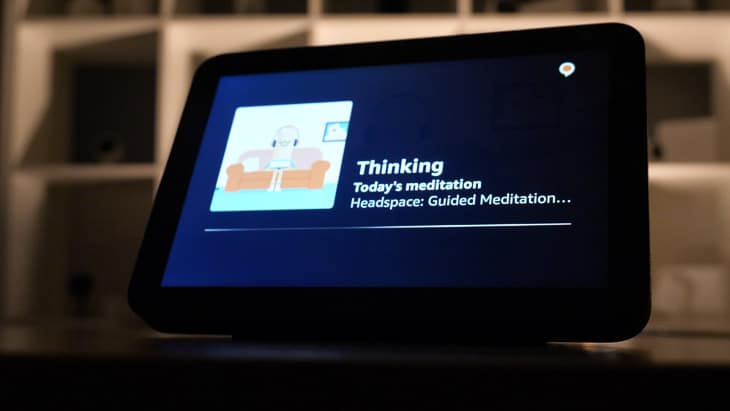 The Echo Show 8 appears like a tiny TV screen, available in charcoal or white. Plugged in to power, the device uses Wi-Fi to communicate with other connected devices in your home as well as the Alexa app. Of course, it has an eight-inch touchscreen, and is 5.4 inches wide and 3.9 inches deep. The Echo Show 8 does have a 13MP camera with a built-in shutter button for privacy (the same goes for the four microphones), plus two-inch speakers. The screen's display is 1280 x 800p, the highest quality Amazon has to offer.
Installing the Amazon Echo Show 8
Setting up the Echo Show 8 was like setting up a tablet, we just had to plug in the device first. Although you can purchase a battery base for the Echo Show 8, it was primarily designed to remain plugged in when in use.
Once we turned on the device, we simply connected it to our Wi-Fi. It's a touchscreen, so no other device is required for setting up. After that, we logged in to our Amazon account and voila! From there, we simply had to activate the Alexa skills we wanted to use.
Overall, Alexa smart displays are much easier to set up than smart speakers. You don't need a smartphone to set up a smart display, whereas with a smart speaker you'll need to use the Alexa app on your phone.
Amazon Echo Show 8 Features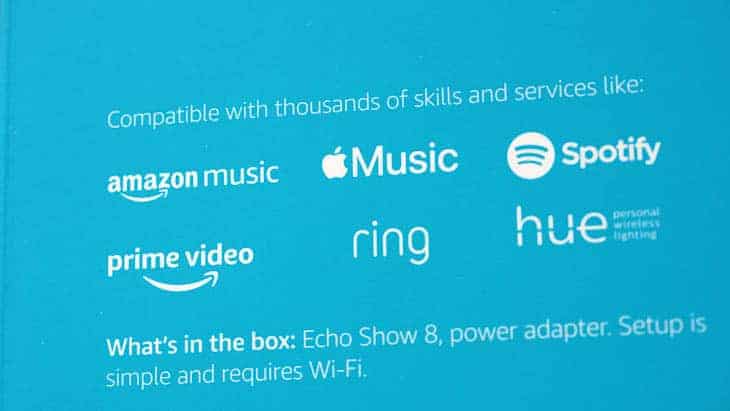 When it comes to features, the Echo Show 8 isn't limited, with both a camera, screen, speakers, and a microphone. You'll have access to Alexa, the most popular voice assistant, which has over 100,000 skills. Just say the wake word "Alexa" to ask your Echo Show 8 for your schedule, the day's weather, and thousands of other capabilities. Let's go into more detail.
Music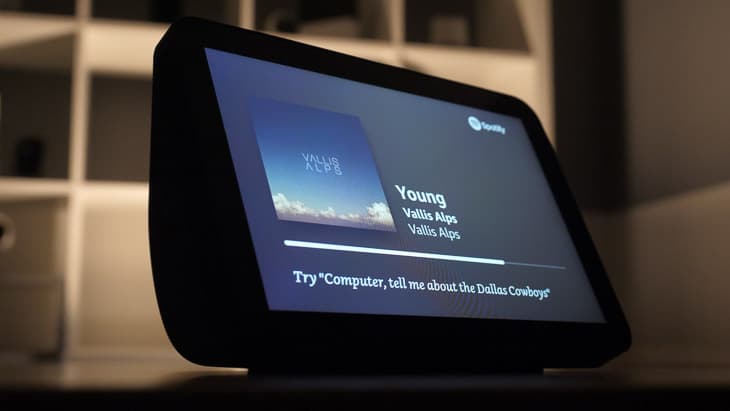 Music fans will appreciate the Echo Show 8, despite its lack of Dolby processing. You'll be able to listen to music, along with podcasts and audiobooks, on the following apps:
Amazon Music
Apple Music
Spotify
Pandora
Audible
This pretty much covers the most widely-used music platforms, so I'm really satisfied with the Echo Show 8 in that regard.
Video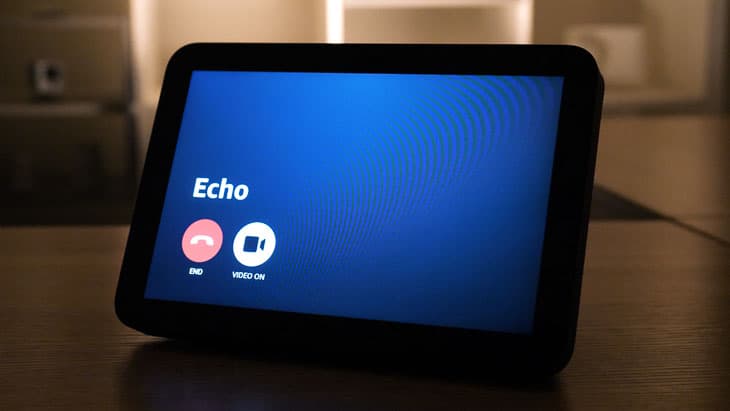 Skype with your Grandma, watch Hulu, Vevo, or Prime Video— it's all available on the Echo Show 8. You can also make video calls to another Echo, either sending voice messages to other rooms in your house or using Drop In as an intercom between rooms. This is great for someone who wants a home intercom system or anyone that wants to make sure loved ones are safe at home.
Web Browsers
Unfortunately, you can't search the web using voice commands, and the browsers are limited to Silk or Firefox. That's disappointing for all you Chrome users out there, but a Google Nest Hub might be more appropriate.
Shopping
What you will be able to do with voice commands is buy millions of different products from Amazon! That should come as no surprise, as this is an Amazon product, after all.
Cooking
Now, this is the part that gets me really excited— using the Echo Show 8 to cook food, order food, or make restaurant reservations. Completely hands-free, you'll be able to:
Set a timer
Convert measurements
Tell Alexa to buy an ingredient for you
Watch recipe videos
Search for recipes
Get step-by-step recipe instructions from Allrecipes
Order food through Seamless
Make OpenTable reservations
As anyone that's ever tried to read a recipe off a phone knows, these hands-free commands will definitely come in handy.
Recap of the Amazon Echo Show 8
Like the other smart displays from Amazon, the Echo Show 8 is a fantastic addition (or start!) of your smart home. However, like any purchase decision, it's going to depend on your personal preferences, so let me break down who I think the Echo Show 8 would be good for.
If you want something Alexa-integrated that's a little bit cheaper, we'd check out the Echo Flex, Echo Dot with Clock, or the Echo Show 5, the smallest Echo Show model. Or, if Google seems like a better fit, check out the Google Nest Mini.
Echo Show 8 FAQs
What can you do with an Amazon Echo Show?

With an Amazon Echo, you'll have access to Alexa, the most popular voice assistant, which has over 100,000 skills that include listening to music, podcasts, audio books, streaming videos from the likes of Prime Video and Hulu, hands-free Amazon shopping, and video chatting with other Echo Show users.

There's so much more you can do, of course, especially if you integrate Alexa with your smart home devices. In most cases, doing so would allow you to control smart home devices with your voice.

Does Echo Show need Alexa?

The Echo Show comes with Alexa built-in.

What is the best Echo Show?

The best Echo Show depends on what you're looking for. If something small and light is what you need, go with the Echo Show 5. If you want something with a large screen plus Zigbee Hub capabilities, go with the Echo Show 10. If you want an Echo Show that can double as digital wall decor, the Echo Show 15 might work for you. If you want something that is just right — not too big and not too small, not too fancy but not too boring — the Echo Show 8 hits the right spot.