Smart Home Consumer Trends and Shopping Insights: 2021
7 in 10 homebuyers are looking for a smart home
Written By: Security.org Team | Published: April 1, 2021
Smart home devices are highly coveted features in today's real estate market. Homebuyers and renters are on the hunt for smarter homes that offer more convenience while saving them both time and money. A past study we conducted examined how smart home technology usage was on the rise last year. Our newest research is an updated look at how Americans currently feel about smart home devices. We explored which devices people want the most, the top benefits they desire, and how the pandemic has affected their usage of smart home technologies.
Key Findings
7 in 10 homebuyers are looking for a smart home, and 78% are willing to pay more for a home with smart devices. Millennials were more likely to desire smart home devices than older generations.
A majority of homeowners use smart devices for convenience and time savings, followed by safety and security.
2 in 3 Americans desired a smart home device more due to events that unfolded over the past 12 months, and security-related devices were the ones people were most likely to desire more. Women were almost twice as likely as men to desire a smart alarm system.
Popular Smart Home Devices
From thermostats to door locks, the technology market is saturated with many different types of smart home devices. What are the most popular devices that homebuyers want today?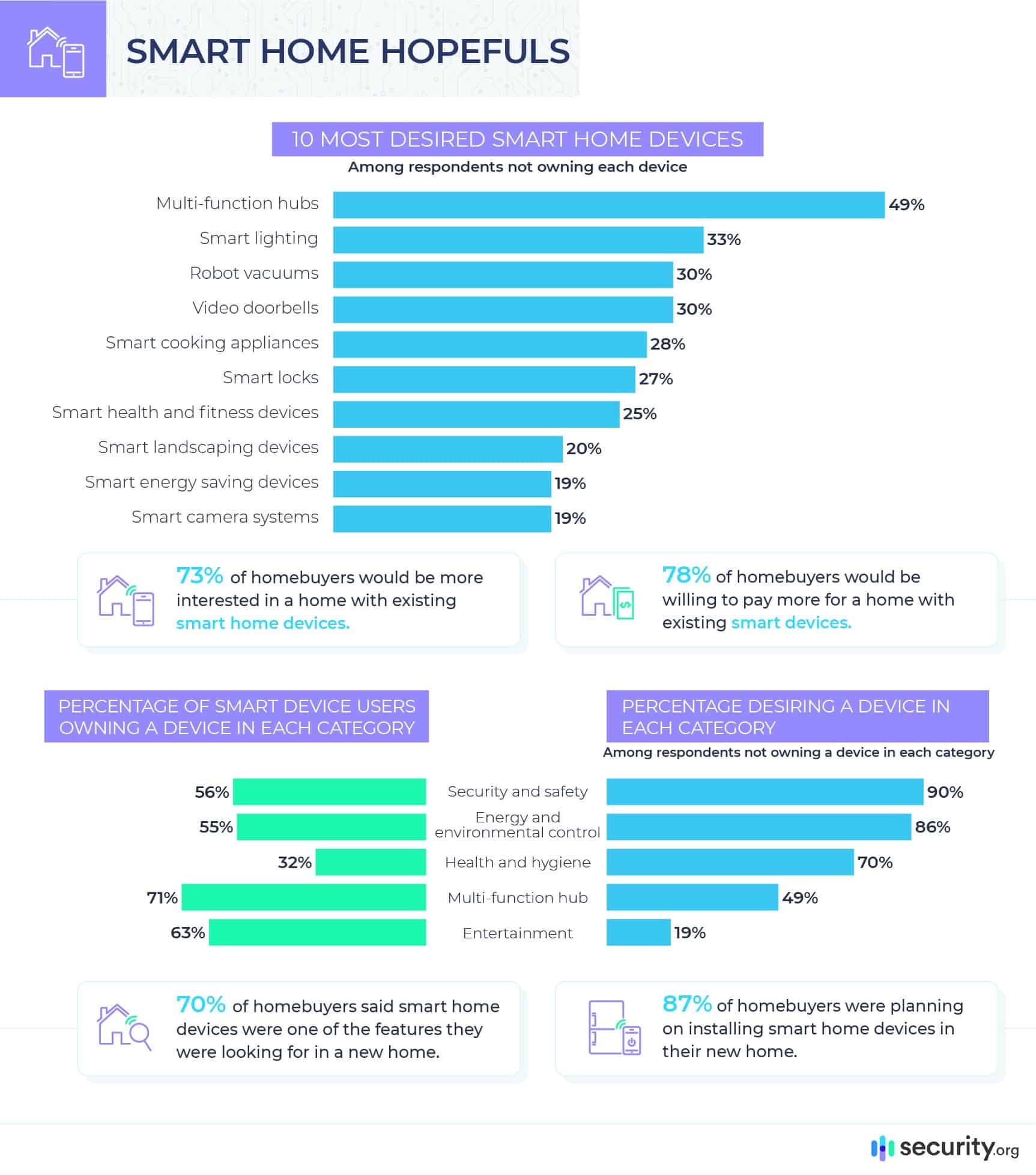 Smart home technologies are reshaping the real estate market as more people show interest in having these features in their homes. Smart home devices are particularly in high demand among Millennial homebuyers: 77% of the devices we asked about were more likely to be desired by Millennials than by older generations. Millennials were most likely to desire smart baby accessories, smart dog accessories, and multi-function hubs.
Another recent study on the impact of smart home devices in real estate found that many people are willing to pay more for a home that features smart technology. The study also reported that both renters and buyers were interested in homes with smart devices, especially for the benefits of energy savings and enhanced home security. Our study concluded that among people who didn't have a smart alarm system, women were almost twice as likely as men to desire one.
Why People Want Smarter Homes
People desire smart home technology to improve the quality of their lives: These devices provide a variety of benefits, depending on their design and function.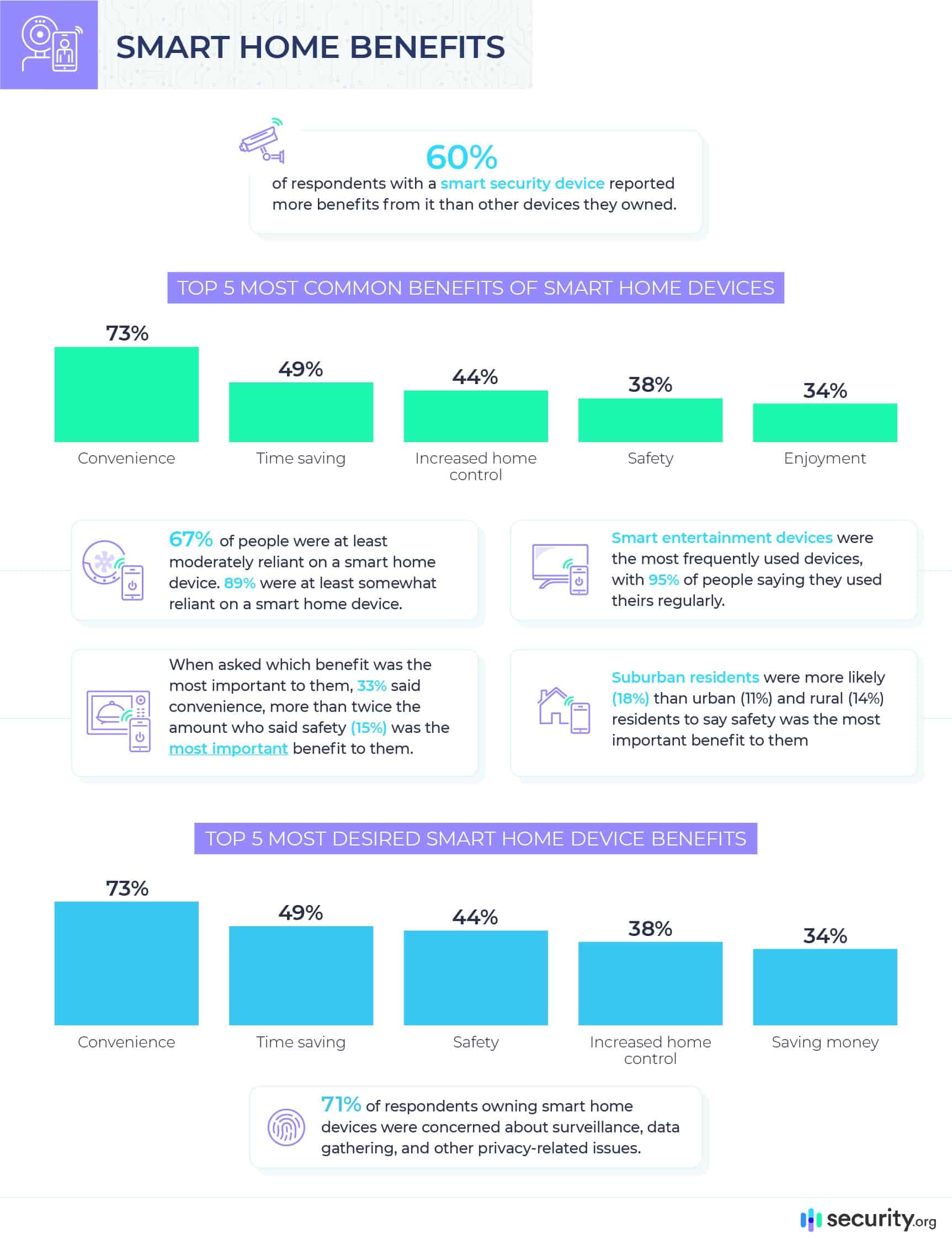 When our study took age into account, we found that millennials were more likely than other generations to desire convenience and time saving benefits from their smart devices. They were also less likely to desire safety and saving money. Safety was what women were most likely to value more than men: 60% of women found safety a desired benefit compared to 38% of men.
Concern for the environment is another reason why people want smarter homes. Eco-friendly technology comes with many benefits, such as lessening people's impact on the environment, increasing convenience and safety, and saving on energy costs. A recent study found that more than 4 in 10 Americans purchased a smart device to increase the energy-efficiency of their home.
Effects of the Pandemic 
When social distancing measures were implemented during the COVID-19 pandemic, Americans began spending more time at home than ever before. The final part of our study looks at how this recent event affected people's feelings about smart home devices.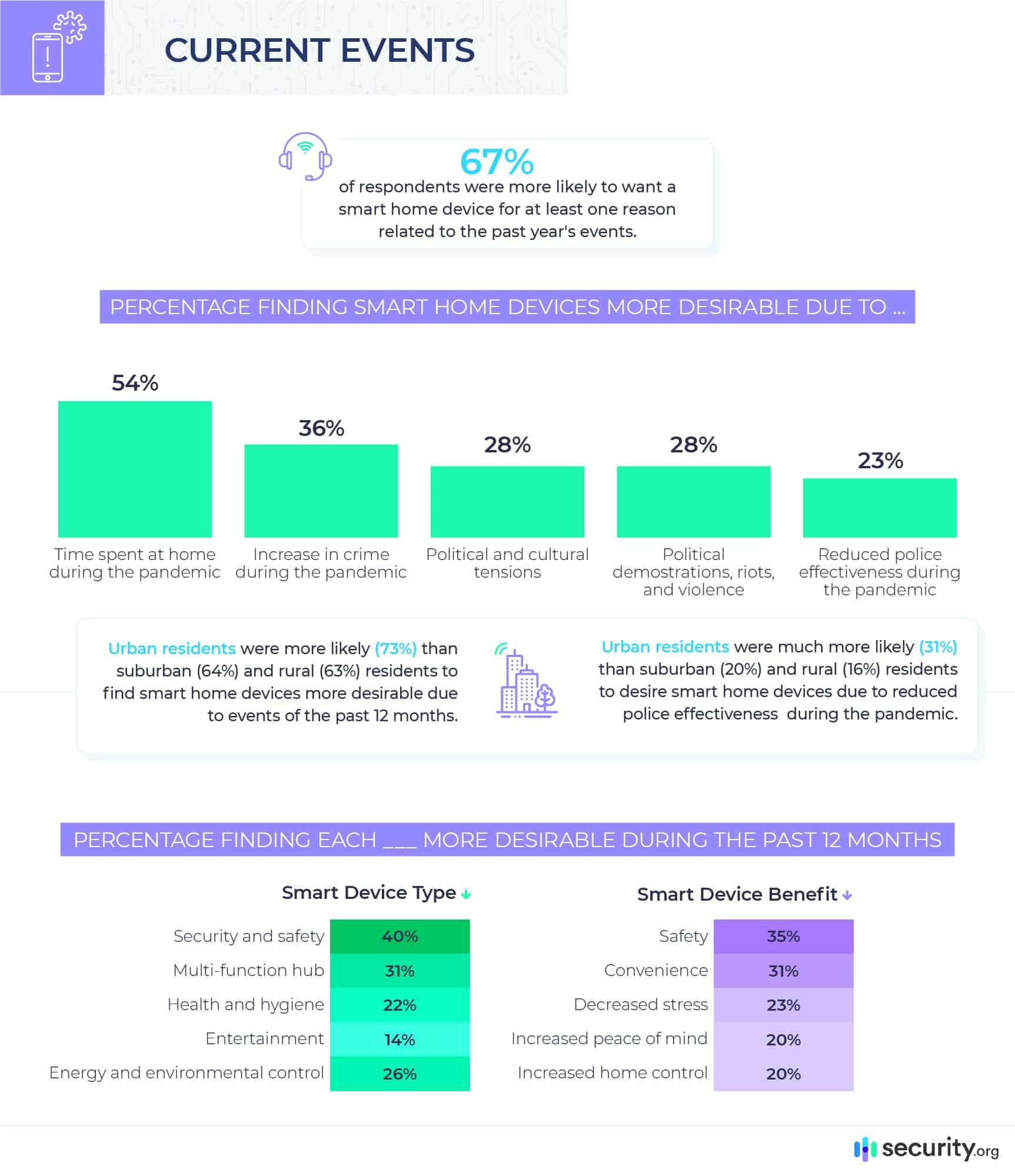 Overall, Millennials were more likely than older generations to desire smart devices due to the events of the past 12 months. Reduced police effectiveness and political demonstrations and violence were the top two reasons why Millennials now find smart home devices more desirable. Millennials were also more likely than older generations to find multi-functional devices, health and hygiene devices, and energy-saving devices more desirable due to current events. They were less likely to find security and safety devices more important.
Another study that explored the impact of COVID-19 discovered that one in four Americans were more interested in smart technology now than they were before the pandemic started. The main reason for this increase was the fact that many people were spending more time at home than usual. Experts agree that current world events have shaped people's home lives, pushing them to improve their safety, security, and comfort with smart home technologies.
Homeowner Desires 
Smart speakers and hubs are currently the most desired smart home devices, featuring voice assistants activated by voice commands. Smart speakers offer convenience and entertainment, but they can also increase home safety and security. We conclude that smart device usage will continue to rise as technology improves and offers more benefits to enhance home life.
Our Data
For this study, we surveyed 1,183 people and qualified a primary sample of 518 respondents based on their ownership of smart home devices and living arrangements. Among that primary sample of 518 respondents, 275 were male, 241 were female, and 2 identified as non-binary. Our respondents ranged in age from 18 to 77, with an average age of 38.
In order to help gather accurate responses, all survey respondents were required to identify and correctly answer an attention-check question. In some cases, questions and answers have been rephrased or paraphrased for brevity or clarity. These data rely on self-reporting. Potential issues with self-reported data include but are not limited to: telescoping, selective memory, and attribution errors.
Need additional insights for a story?
Send our research team an email