There's nothing like the sheer panic that comes with realizing you forgot to lock your front door, especially when you don't have enough time to go back and lock it. Even the most staunch security system becomes obsolete when the door is unlocked, which coincidentally is how most burglars enter homes. Fortunately, if you have a smart lock, you'll never experience that problem again, as they can be locked or unlocked remotely. Of course, smart locks are a pretty vast topic, with factors to consider like digital security, installation and equipment costs. This guide covers it all. Let's get started!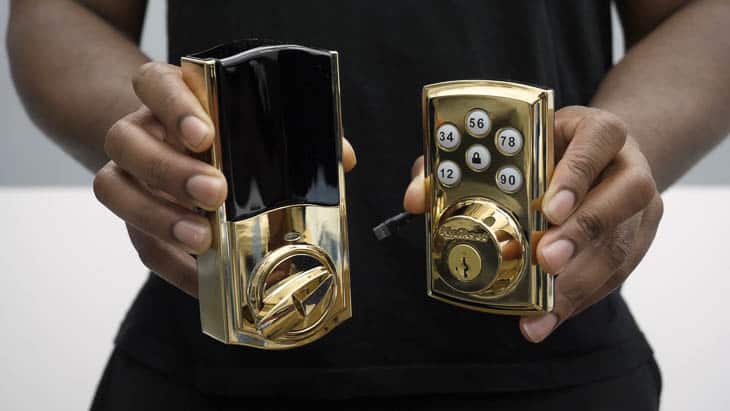 Who Should Get A Smart Lock?
Is a smart lock for you? In a perfect world, the answer would be yes, as anyone can benefit from the convenience of a smart lock, but realistically, it makes sense for some people more than others.
Homeowners
If you're a homeowner who's willing to replace your existing deadbolt, potentially, a smart lock is definitely for you. This is especially true if you have a family or roommates, or even visitors who need access to your home when it's empty. With smart locks, you'll be able to give guests temporary passcodes so they can unlock your door without you having to be there, or leave a key somewhere it could easily get in the wrong hands. Smart locks are also great for online deliveries, as you can let deliverymen in remotely and avoid the all too common porch piracy.
Renters
While renters certainly can benefit from smart locks as well, things get a little more complicated when a security deposit gets in the mix. For renters, you may want to look for a smart lock that's wireless and doesn't require replacing your existing deadbolt. Either way, we recommend checking in with your landlord before installing a smart lock. And while you're at it, check out the best security systems for renters as well.
TIp: To protect your security deposit, renters should ask their landlords before installing smart locks.
Which Doors To Secure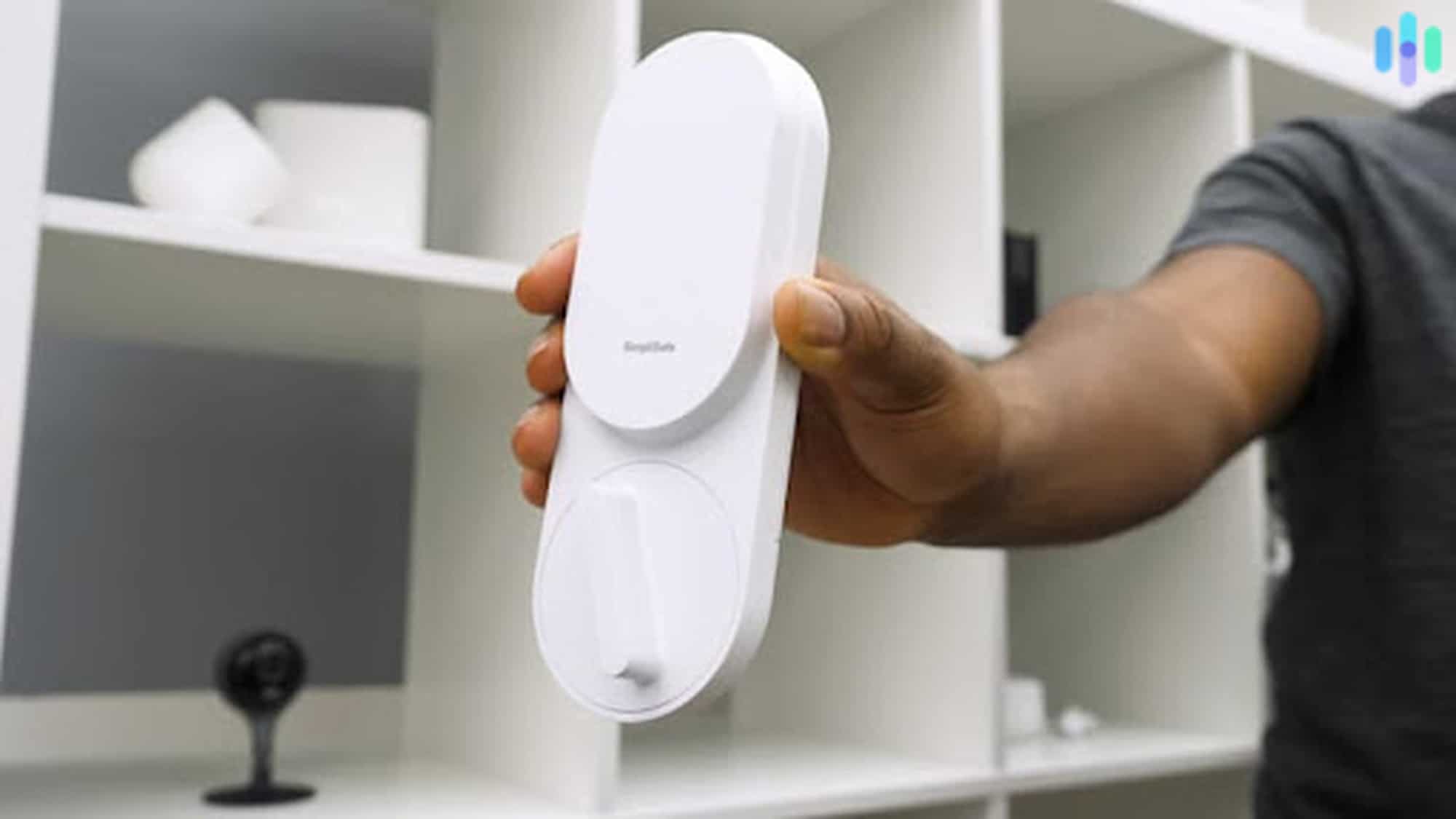 It's pretty obvious that any door that allows for outside access to your home on the ground level should be secured with a lock, smart or otherwise. But different kinds of doors work with different kinds of locks, and no two are created equal.
Front: If you're going to secure one door with a smart lock, start with your front door, or any doors on the ground level of your home that lead outside.
Bedroom: If you live with roommates who you may not be entirely comfortable with (we've all been there), you may be interested in getting a smart lock for your bedroom door, as well. However, the majority of bedroom doors lack deadbolts, which may limit the number of smart locks you have to choose from.
Sliding: Sliding glass doors on the ground level of your home should be secured as well but again, they're more difficult than regular doors. That being said, there are a few smart locks on the market designed specifically for sliding glass doors, like the options from AutoSlide.

1

Garage doors: Garage doors are another area where you'll have to do a bit more digging to find a smart lock that works. We recommend measuring the door's thickness beforehand, but many deadbolt locks can work.
Smart Lock Pros and Cons
Still not sure if a smart lock is the right choice for your smart home? Let's break down smart locks' best and worst features.
Pros
Convenience: There's nothing more convenient than your front door locking for you when you have arms full of groceries. And being able to give guests temporary passcodes takes the stress out of leaving a physical key under a fake rock.
Remote access: From out of town visitors to Amazon delivery workers, being able to control your lock remotely makes your home safer and easier to manage.
No keys needed: Although most smart locks also accept physical keys, they don't require them, so you never have to worry about losing your keys again.
Smart platform integrations: With integrations with voice assistants like Alexa and Google Assistant, you can literally open your door using your voice alone; again, useful when your hands are full.
Cons
May be dependent on power or WiFi: One problem that comes with electronic smart locks is that they may be dependent on your home's power or WiFi, so if it fails, the lock may not work.
Might be hackable: Like any Internet of Things (IoT) device, smart locks can be hacked, if digital security features aren't put in place (more on those later).
Expensive: The smart locks we've tested cost around $115, which is certainly more expensive than the average deadbolt.
Difficult installation: Especially if you have to replace the deadbolt, installing a smart lock can be an arduous task, even for us security experts. And if you opt to pay for professional installation, the cost can range from $100 to $150,

2

adding on to the already pricey equipment cost.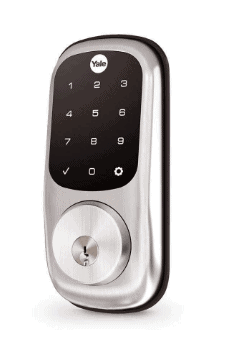 Smart Lock Buying Guide
Okay, so you've decided the pros outweigh the cons and you're ready to shop for a smart lock until you drop (or at least fall asleep over your laptop). But unlike many other IoT devices, smart locks require a good amount of thought before you buy.
Compatibility
First, let's talk about requirements. Different types of doors require different types of smart locks, so it's important to do the research to make sure a smart lock is compatible with your door as well as the rest of your smart home.
Lock setup: The first decision you'll need to make is whether to keep or replace your existing deadbolt. Some options are retrofit, meaning you can keep your deadbolt, an ideal choice for renters, given landlords' approval. However, most smart locks are meant to completely replace your deadbolt, which take a bit more effort when it comes to installation.
Hub: Some smart locks require hubs to forge connections between the smart lock itself and the Internet, be it through your router or the Z-Wave or ZigBee protocol built into the hub itself. If you already have a Z-Wave or ZigBee router, it would make sense to look for a compatible smart lock, which brings us to our next point…
Control protocol: The control protocol is the way or language that lets the smart lock communicate with the Internet and thus, your mobile application. Ever since the fall of the Tower of Babel, there have been multiple languages, and that applies to control protocols, as well.

Wi-Fi: Since most people already have Wi-Fi installed in their homes, having your smart lock use it will be a simple choice that won't require a hub. However, if your Internet goes haywire, you may have some issues controlling your smart lock through the app.
Z-Wave: Z-Wave is a wireless technology that operates on low power, specifically 908.42 Mhz in the U.S. It's biggest advantage? Z-Wave doesn't interfere with Wi-Fi, so your smart lock won't slow down that Netflix show you've been binging all week.

Yale Z-Wave Smart Lock

Bluetooth: Bluetooth is a mesh technology that many people already use for devices like Bluetooth trackers, AirPods and smart speakers. It doesn't require a hub, which is certainly advantageous.
ZigBee: Finally, ZigBee is another mesh network that IoT devices use. To compare it with Z-Wave, read our head-to-head review on Z-Wave vs. ZigBee.

Third Party Integrations: If you already use voice assistants or have IoT devices in your home, you want to make sure your smart lock will fit in as easily as socks in a drawer.

Security system integration: It's especially important that your smart lock works with your current security system so that you can have it lock when the system is armed and vice versa. Kwikset and Yale locks, for example, work with the systems from abode, while some ADT systems work with Schlage in addition to Kwikset and Yale. To learn more, read our abode review and our ADT review.
Voice assistants: You'll also want to make sure that your smart lock works with either Alexa, Google Assistant, or Siri, depending on the voice assistant you already have set up in your home. This will allow for hands-free commands, which are particularly useful for a smart lock. With the Kevo Kwikset lock, for example, we could have Alexa lock our front door without leaving our couch. We wish everything in life could be this friendly to couch potatoes like us!
Note: Most smart locks don't let you unlock them with voice commands for obvious reasons; if they do, you'll most likely have to say a voice PIN to enter.
Type of Smart Lock
Every year, there are awesome new types of smart locks for us to test out. Here are a few of the most common:
Deadbolt: Most smart locks, as we've said before, will replace your existing deadbolt. Deadbolts can come in different forms; they can either have a keypad with a knob, a keypad with a lever, or a keypad with a handle, depending on your personal preference.
Lever-style: Locks for with cylindrical levers make for easy entrance as opposed to a regular, spherical door knob.
Keypad and combination: Whether it's deadbolt or lever-style, a smart lock with a keypad will have you enter a code every time you want to enter your home or give guests access temporarily.
Fob-enabled: Some people would rather use a key fob or tag with their smart lock. Rather than enter a code, they just need to swipe their fob over the lock; however, this isn't that much different than using a key, just slightly more convenient.
Biometric: Some smart locks allow users to unlock them using biometrics like their fingerprints, which you can digitally share with others. Since everyone has a unique fingerprint, this method is one of the safest around.
Installation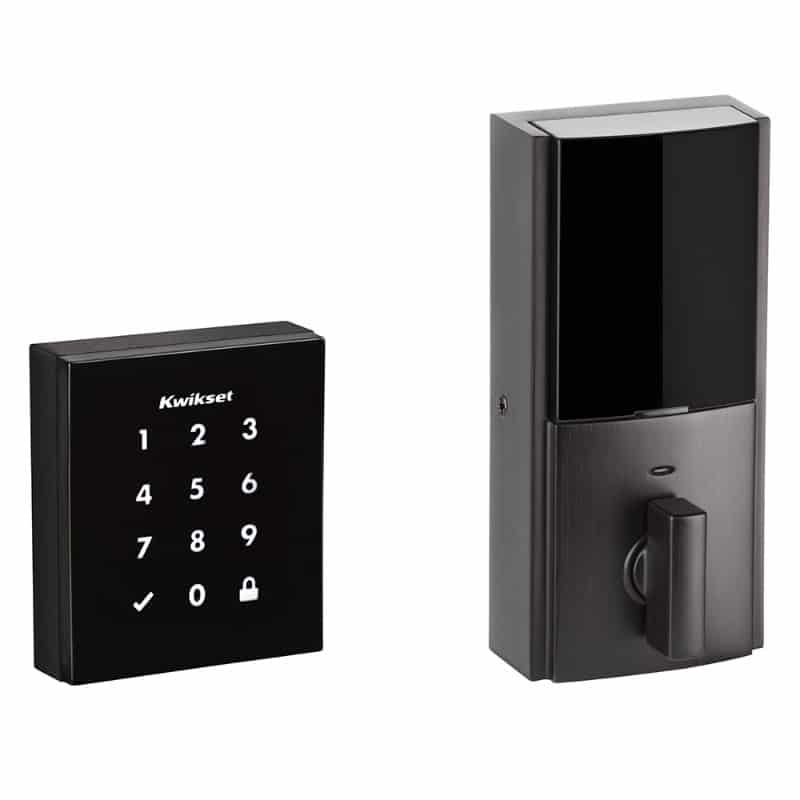 Unless you're buying it as part of a professionally installed system from a security company like Vivint or ADT, you may have to install your lock yourself. If you're replacing your deadbolt, this could be difficult, but there are a number of online resources with step-by-step instructions.3 If that still seems too hard, it might be worth it to hire a third-party installer but again, that'll cost you another $100 at the very least. In general, though, it's good to have an installation plan in mind before you buy your smart lock.
Features
Now that you've determined the basic parameters for your smart lock, the fun can really start, picking out colors, styles, and premium features like geofencing.
Color: Smart locks often come in a variety of colors, like gray, bronze, gold and black. You'll probably want one that blends into your front door and isn't too ostentatious, as you don't want to call attention to your smart lock. But that doesn't mean it can't look pretty!
Style: Smart locks also come in a variety of styles, from modern to classic and everything in between. Again, we recommend finding something that looks natural with the rest of your home and isn't too noticeable from the street.
Temperature range: Unless your smart lock goes on the interior of the deadbolt or your front door is inside, you'll want a smart lock that can withstand the temperature that your neighborhood reaches throughout the year. Many have large temperature ranges, so this shouldn't be too big of a problem, even if you live in an extreme climate.
Locking and unlocking mechanism: Do you want to unlock your door with a voice assistant? Keypad? Key fob? Fingerprint? Regular key as backup? App? All of the above? This will determine what kind of lock you get.
Auto-unlock and lock: Some locks will lock automatically as you exit your house; while this makes your weekday mornings easier, you might want the reassurance that physically locking your home provides.
Battery life: For wireless smart locks, battery life is a consideration. Look for smart locks that'll last about six months to a year, standard in this industry.
In-home delivery compatibility: One of the biggest advantages of a smart lock is that they allow for in-home delivery as opposed to leaving your precious packages on the porch. Unfortunately, increased online shopping only leads to more package theft, which affected 25 million households in the U.S last May, 2020, according to our package theft survey. As a response, some companies are allowing for in-home delivery. Amazon Key,

4

for example, combines Schlage smart locks with Ring video doorbells so that users can get alerted whenever their packages arrive and let the delivery person into their home, whether that's through a regular door, a garage, a gate or even a car, if they prefer. To learn more about what you'll need, check out our review of the Ring video doorbells.
Power backup: Obviously, we'd feel quite silly unable to access our home because our Internet or power was out; sometimes smart things are pretty dumb. That's why we recommend using a smart lock with some form of power backup, if you can't use a physical key. That may be cellular, landline, or battery backup; just make sure it's not totally WiFi or home power-dependent.
Geofencing: Your phone tracks your location all the time, so why not put it to good use? Some locks let us hook up their apps with the GPS from our phones so that they would unlock when we got nearby and lock when we left. This was convenient, but some people may prefer to skip this feature, as it can lead to doors unlocking prematurely, risking your home's security.
Access logs: Want to see exactly who came and went to your home like it's the lobby of a five-star hotel? Many smart lock apps provide users with access logs so they can track the lock's activity throughout the day. So you'll know if your kids went straight home to do homework after school, or if they dilly-dallied in the park for an hour.
Tamper alarms: If someone tries to mess with your alarm, it's important that you get alerted immediately, so look for smart locks with tamper alarms built in.
Rekeying: Rather than completely replacing a lock, some people prefer to rekey it, which basically means changing it so the old key won't work. Some smart locks are rekey-friendly like Kwikset SmartKey. While most people won't have rekeying as a concern, if you have someone in your life with a key to your house who you no longer want to have access, rekeying is much easier than starting from scratch with a brand new deadbolt.
Mobile application: Finally, each smart lock has its respective mobile app that you will use to control the lock remotely, get notified of its activity, set up geofencing and smart platform integrations, and more. Make sure it has decent ratings on the Apple or Google Play store before buying!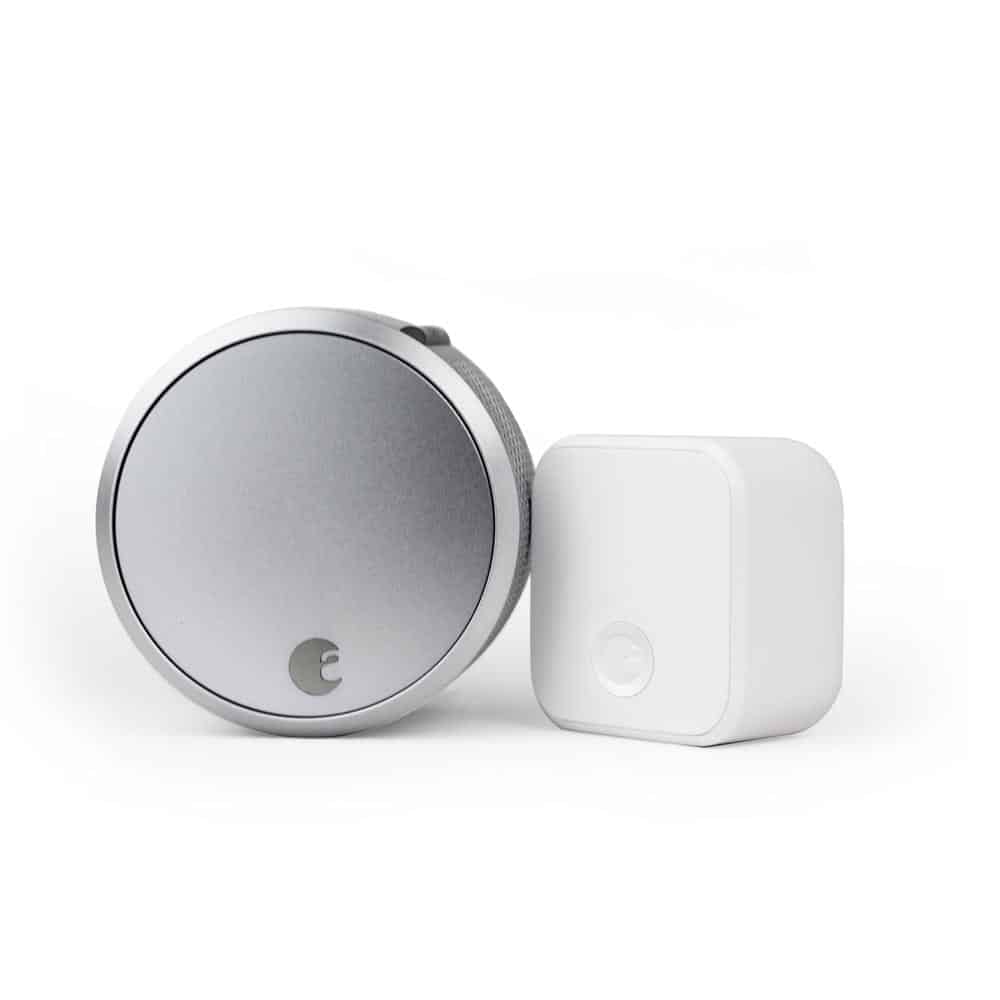 Costs
Of course, as with any purchase, the smart lock's cost will also influence your buying decision. Typically, smart locks cost around $115, but there are cheaper options, like the $87.37 Kwikset SmartCode 913 Deadbolt.
| Smart Lock | Cost |
| --- | --- |
| August Smart Lock | $120.17 |
| August Smart Lock Pro | $186.99 |
| Kwikset SmartCode 913 Deadbolt | $87.37 |
| Level Lock | $110.99 |
| Nest Yale Lock | $101.02 |
| SimpliSafe Smart Lock | $99 |
| Wyze Lock | $99.99 |
In general, we haven't seen smart locks sold for much more than $130, so we'd use that as a cap when shopping. Of course, don't forget about installation costs, if you plan on hiring a professional!
How We Test Smart Locks
We test smart locks from our apartment in Brooklyn, New York City, where 90,000 packages are stolen a day5 (yes, you read that number right). Of course, we install the smart locks ourselves to see how difficult the setup process is, for those that prefer DIY. We then see how the lock works with its app, noting user-friendliness, lag, and connectivity, among other features. We test out all of a lock's premium features like geofencing as well as voice commands to make sure they work well. We also do a ton of market research to find out how a smart lock's price compares to the rest of the market, given its features. All in all, we test out each of our smart locks for about a year before writing about them or mentioning them in the video reviews on our Youtube channel.6
Smart Lock Security and Privacy
We'll admit it: smart locks get kind of a bad rep for their digital security issues, and these concerns aren't unfounded. The truth is, any IoT device can be hacked, which is one of the advantages a regular lock has over a smart lock. Even large businesses like hotels have had issues with hacking. Researchers from F-Secure found that many large hotel chains use a smart lock system that attackers can exploit to gain access to guests' rooms;7 that's pretty scary, especially if you have your kids in the room.
Tips For Securing Your Smart Lock
But we don't mean to fear-monger. While you can't prevent a hack 100 percent, there are steps you can take to reduce its likelihood, keeping your home safe and secure.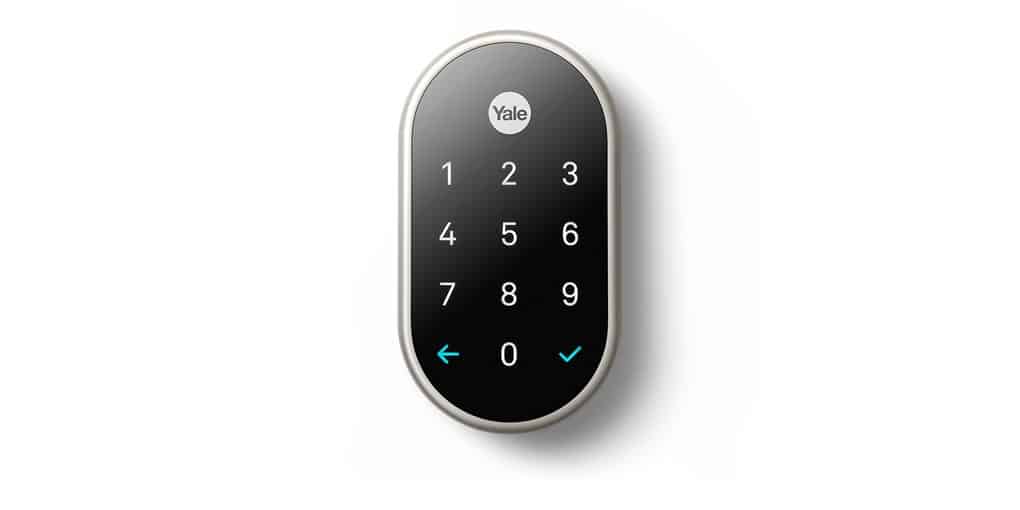 Use trusted brands: Sure, it's fine to order a random toilet paper brand off of Amazon, but when it comes to your smart lock, be sure to buy from a trusted brand, ideally one you've already heard of like Schlage, Kwikset or Yale.
Software update: Software updates are like tune-ups for your car, but instead, they're for your IoT devices. With each software update comes additional security features, so be sure to perform the updates as soon as you're notified.
Two or multi-factor authentication: The most common way that people hack IoT devices like smart locks is simply by getting their usernames and passwords through phishing, either by mail or over the phone, and then logging in as them. Yep, it's that easy. But, if you add two or multi-factor authentication to your account, if it's available, then the would-be hacker can't get in, even with your correct credentials. Two-factor authentication would require them to enter a passcode sent to your mobile device, while multi-factor authentication involves facial or fingerprint recognition. The result? No more unauthorized access; rather, you'll be totally in control of your smart lock online account.
Strong passwords: It's easy to use your address as a password, but it's also obvious and very hackable. Instead, use a strong and long password you haven't used anywhere else; if necessary, you can use a password manager to remember it.
Encryption: Look for an app that encrypts your smart lock's data through AES, either 128-bit or 256-bit (although 256 is preferred).
Secure router: Finally, if your smart lock is WiFi-dependent, have it connected to a secure router; extra points if it's a separate router specifically for your IoT devices.
Summary
Compared to other IoT devices on the market, smart locks definitely take a bit more planning in terms of research and installation, but once you get them up and running, they make your life super convenient. We love using our app to unlock our door, because it means that even if we leave our keys at the office, we can still come home. That beats standing in the cold for two hours, waiting for a locksmith to charge us hundreds!